Mint Chocolate Chip Green Smoothie
This Mint Chocolate Chip Green Smoothie is like dessert for breakfast with no guilt! It's loaded with cacao nibs, mint, coconut, creamy bananas and nutritious spinach. It's quick, filling, nutritious and so tasty!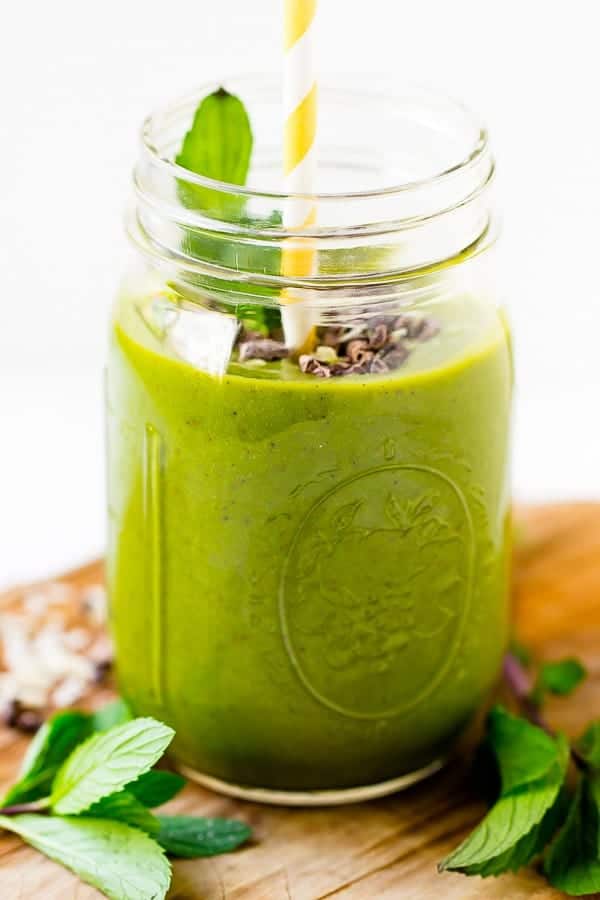 This is a sponsored conversation written by me on behalf of Silk! All opinions are mine. I love their products so much. Thank you for supporting the brands that help to support me!
Without a doubt, smoothies are one of my most favourite parts of life. Technically, they're like healthy milkshakes. You can put anything your heart desires in, like a grown up Build-a-Bear for food. Add, taste, increase this, enhance that, drink it all up. What's there not to love about smoothies? Even better than a smoothie that tastes great is one that tastes great, is filling AND is super nutritious. That's this Mint Chocolate Chip Green Smoothie for you.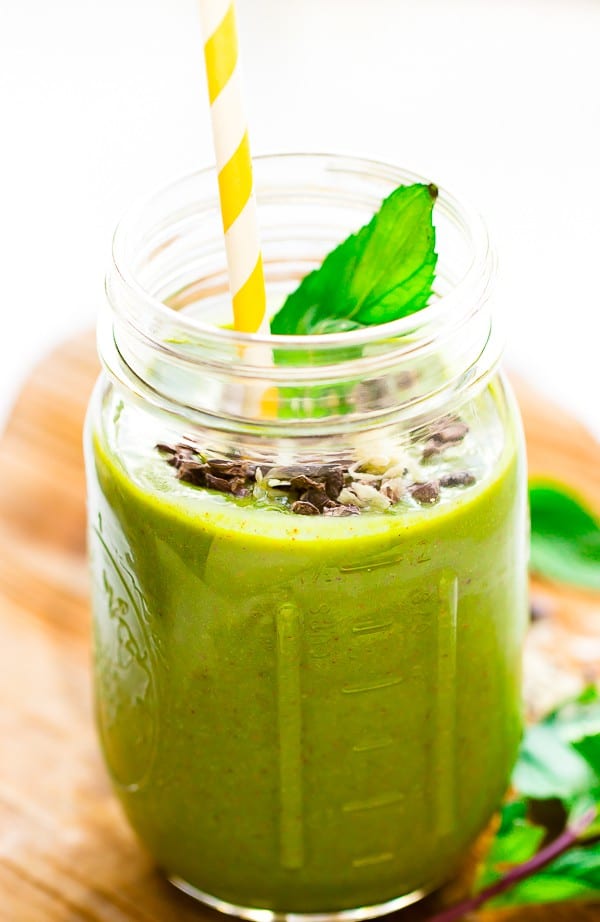 The Mr. and I just returned from an amazing first wedding anniversary in Tulum, Mexico. That meant one week away from the blog on vacation, and a week coming back just to recover from the vacation. Honestly, it was one of the best trips of my life. Vegetarian meals done like I've never had before, with fresh, seasonal ingredients so delicious that it's hard to describe! I have so many great inspirational ideas for recipes to recreate and share and I can't wait to share our vacation photos with you. I also took some time to unplug which although we've all heard is good for you, is actually GREAT for you. Seriously, spending the week by the beach, swimming in cenotes along fish and having the best Mexican food of your life needed to be done without being attached to my laptop.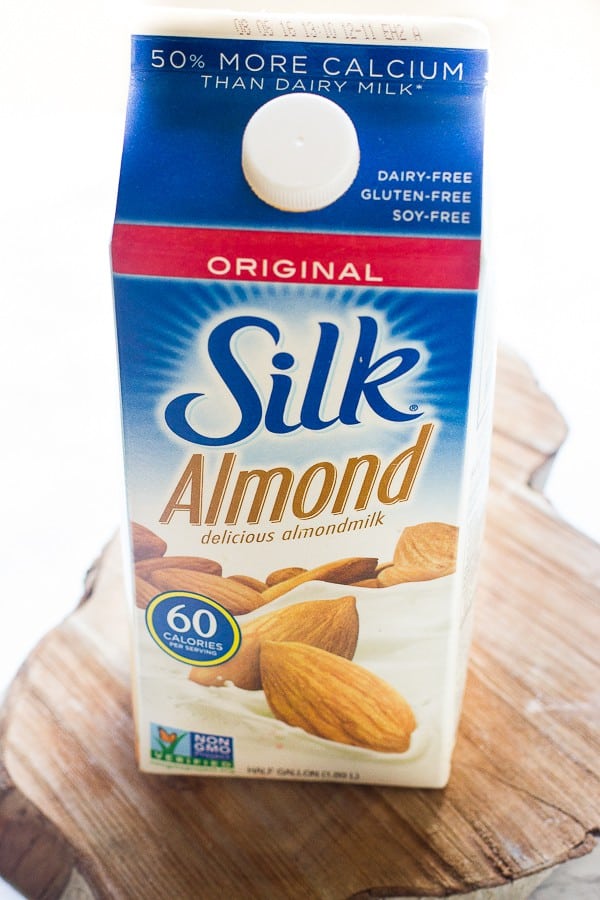 One thing that is needed after a week of endless mezcal drinks on the beach is definitely a green smoothie. I was literally craving a green smoothie upon returning home and couldn't possibly drink this down faster. There's something insanely satisfying about the taste, the cleansing feeling and that I'm ready to take on the world feeling it gives you. I decided to have some fun with this one so themed it after one of my favourite combinations of mint and chocolate chips. The base ingredients here are lots of spinach, a frozen banana, vegan protein powder, and Silk Almondmilk Original. I don't think I've ever made a smoothie without some version of Silk Almondmilk or Cashewmilk to be honest. It's so creamy, a great smoothie base taste that doesn't conflict with the other ingredients and is perfectly plant based. I used cacao nibs for the health benefits (and because I just love cacao nibs) and added in lots of coconut in the form of coconut meat and flakes.
What you get is a delicious, creamy and super minty green smoothie. It's not fake minty flavour, but a lovely natural flavour. You also get lots of great anti-oxidants, protein, digestion aids and a 100% plant based smoothie that will take you from that amazing indulgent vacation right back to being a super hero in real life, one to do list item at a time.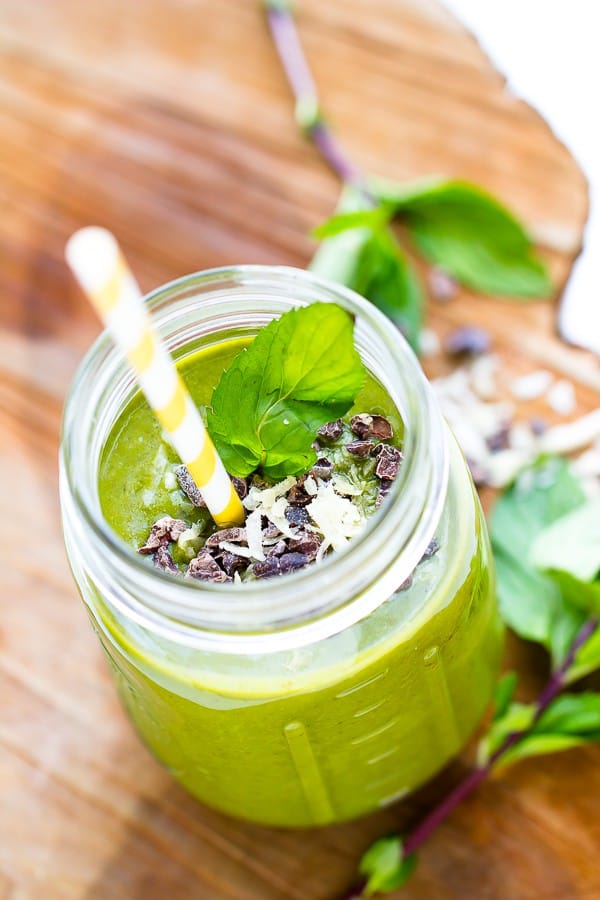 If you try this Mint Chocolate Chip Green Smoothie, please let me know in the comment section below, or tag me on instagram with the hashtag #jessicainthekitchen! For more exclusive recipes follow me on Instagram AND on Snapchat: jessinkitchen.
P.S. If you head over to Silk's website, you'll get a coupon instantly upon signing up as a member! You can sign up for their newsletter to also receive various other member perks including tons of giveaways (free stuff? Yes please)!
MORE YUMMY SMOOTHIES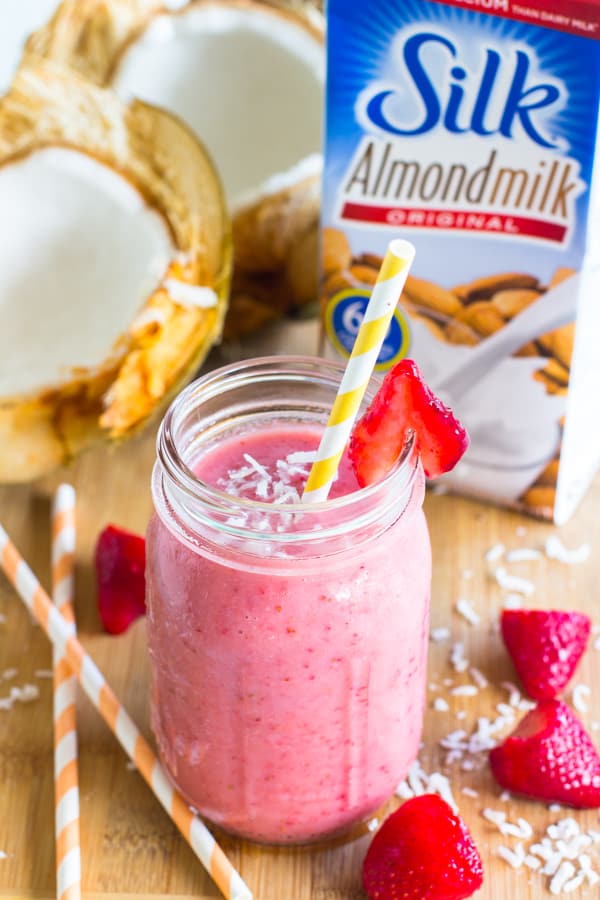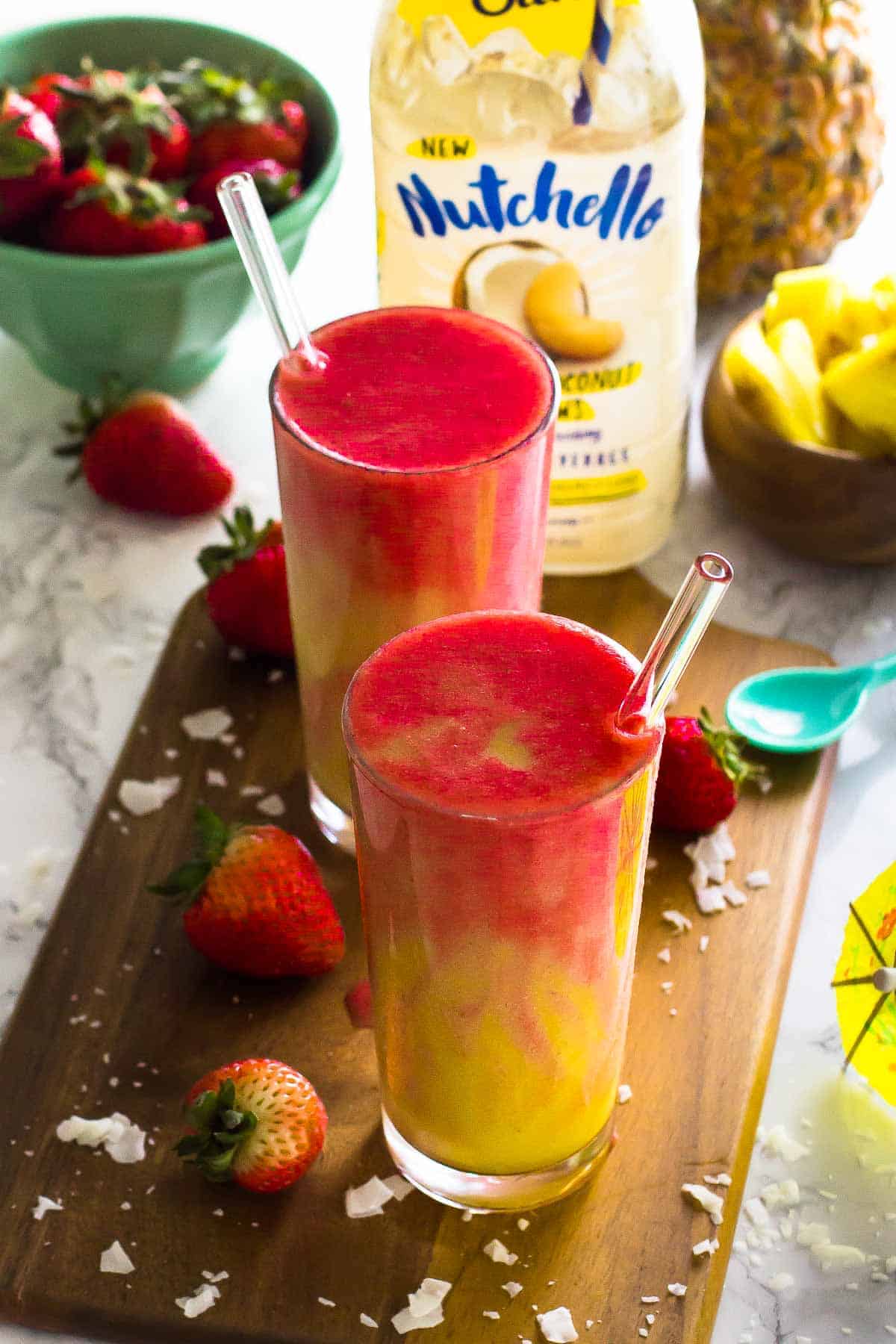 Strawberry Pineapple Coconut Smoothie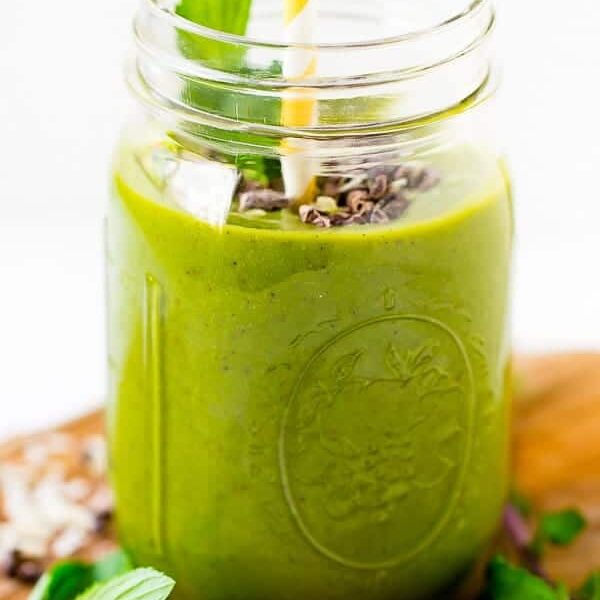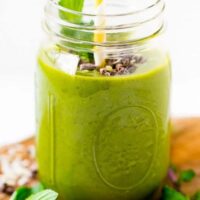 Mint Chocolate Chip Green Smoothie
This Mint Chocolate Chip Green Smoothie is like dessert for breakfast with no guilt! It's loaded with cacao nibs, mint, coconut, creamy bananas and nutritious spinach. It's quick, filling, nutritious and so tasty! 
Ingredients
1 scoop sweet vanilla vegan protein powder*
2 cups fresh spinach
1 cup Silk Almondmilk Original
1 medium frozen banana
1 teaspoon cacao nibs
About 8 mint leaves
1 tablespoon coconut meat
1 teaspoon coconut flakes
Instructions
Mix all the ingredients together until smooth and creamy. Add maple syrup to taste if you need the smoothie to be sweeter. Enjoy!
Notes
This recipe is naturally gluten free and vegan.
*I use a pea protein based protein powder, but any sweet plant based protein powder should be fine.
HOW TO STORE
This smoothie tastes best fresh!
Calories: 287kcal, Carbohydrates: 35g, Protein: 17g, Fat: 12g, Saturated Fat: 6g, Cholesterol: 23mg, Sodium: 398mg, Potassium: 852mg, Fiber: 7g, Sugar: 17g, Vitamin A: 5770IU, Vitamin C: 27mg, Calcium: 405mg, Iron: 3mg
Disclaimer: Although jessicainthekitchen.com attempts to provide accurate nutritional information, kindly note that these are only estimates. Nutritional information may be affected based on the product type, the brand that was purchased, and in other unforeseeable ways. Jessicainthekitchen.com will not be held liable for any loss or damage resulting for your reliance on nutritional information. If you need to follow a specific caloric regimen, please consult your doctor first.