Strawberry Coconut Smoothie
This Strawberry Coconut Smoothie is perfect for both spring and summer! It's bursting with delicious tropical flavours and packed with nutrition!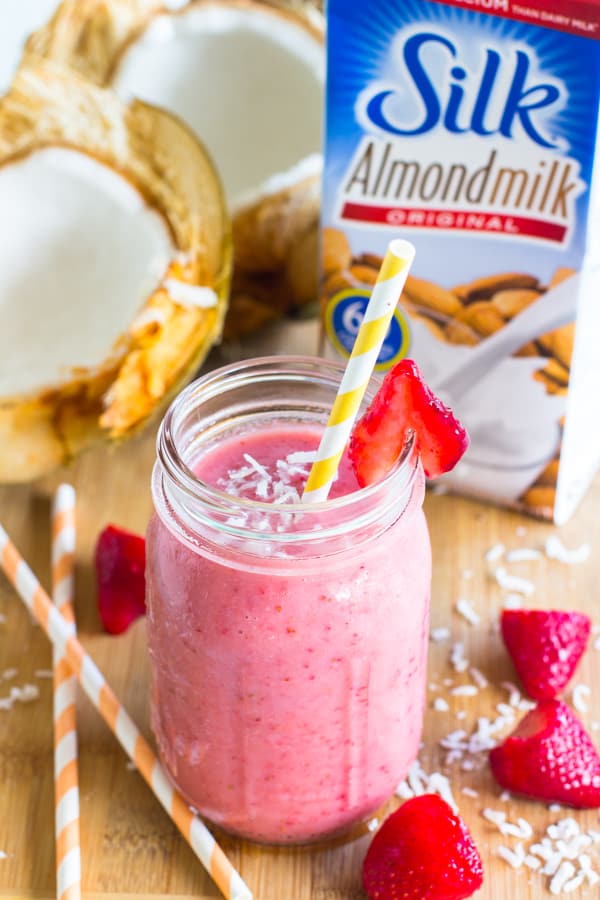 Can you believe we are already a month into Spring? We are certainly experiencing full Spring weather. The days have gotten much longer, and by 6 pm it's still pretty bright outside, florals and brights are all about and I'm using every opportunity possible to incorporate berries into everything. At the rate we are going, it's going to be summer in no time. So, if you haven't been celebrating spring and soon-to-be summer, why not start now with this delicious smoothie? Let me tell you all about it.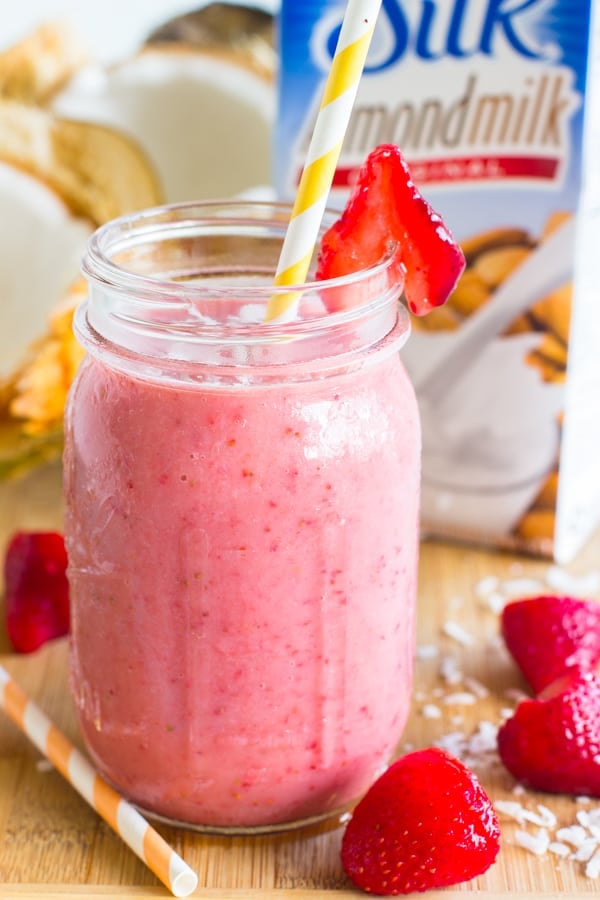 I'm a huge smoothie person. Thin smoothies, thick smoothies (thick smoothies are the BEST), fruit smoothies, or green smoothies, if it's a smoothie I'm there. I'm sure you get my point right now. Hence, I was pretty excited to pair up with Silk again for this post, because as I've said before, it's the only kind of non-dairy milk that I drink. Not only that, but they have quite the selection of smoothie bases whether you're looking for a delicious simple base, or a more indulgent base (Silk Chocolate Soymilk, I am looking RIGHT at you and our good memories together) or even a yogurt base. Silk is on a mission right not to provide THE smoothie solution and they are currently giving away a 10-speed Kitchenaid stand mixer so sign up for your chance to win PLUS get a free coupon. I see a win win situation right there.
A Refreshing Strawberry Coconut Smoothie
So let's get right to this delicious smoothie right here. Since my favourite is there the Silk Almondmilk Original, I decided to use that as my base. Then I thought, well strawberries is not only a smoothies must, but it's spring! Per-fect. Then out of nowhere, the need for coconuts popped up in my head. Coconut water! It's the perfect natural add in in a smoothie and is packed with nutrients and electrolytes on top of the already nutritious Silk Almondmilk Original and strawberries. Guys, I don't know why but instead of buying coconut water I insisted that we needed FRESH coconut water, which is of course the best, so off to my backyard the Mr. and I went! Two coconuts picked from the tree later, we had quite the experience hacking them open. I drank coconut water straight from one (whoops…) and we used the water in the other for the smoothie.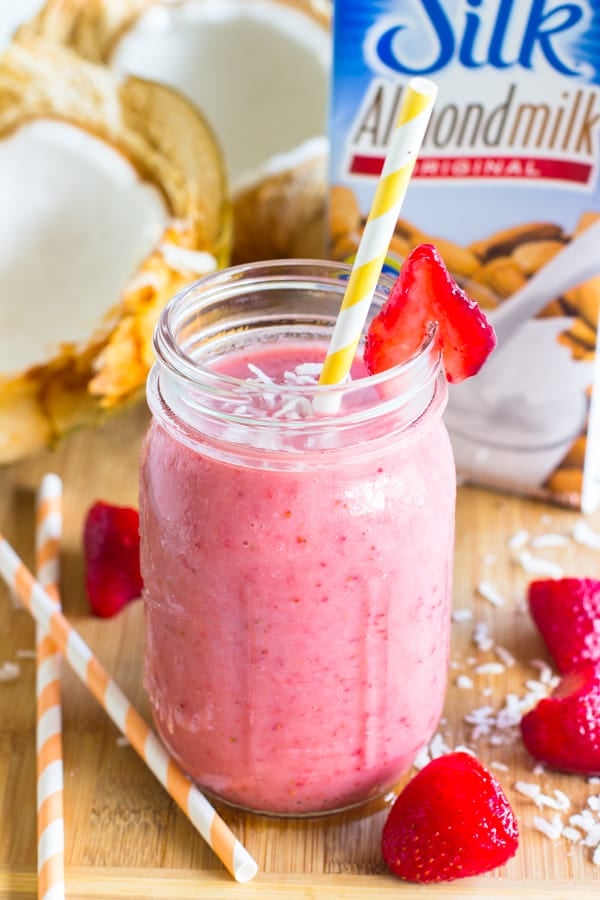 The result? A delicious, natural and crazy nutritious smoothie. Could there by any two other flavours that blended so well together?! I loved the taste and drank it right up. You could add a natural sweetener if you like your smoothie sweeter (included in the recipe) but I enjoyed the smoothie just as is. The Silk Almondmilk Original adds a great creamy base perfect for smoothies, the frozen strawberries blend together flawlessly and the coconut water gives it that kick of freshness and tropical-ness that we are all looking for in smoothies. This is one is being added to my list of favourites!
PS – if you have access to coconuts, save that jelly on the inside! It is perfect for thickening up puddings and smoothies too, or eating by itself!
Don't forget to sign up for Silk's Newsletter to get a free coupon AND for a chance to win that 10-Speed Stand Mixer! Happy Sipping!
This conversation is sponsored by Silk. The opinions and text are all mine.
More Strawberry Smoothies and Drinks
Ready to try out some more strawberry drinks? These are a few of my favorite recipes!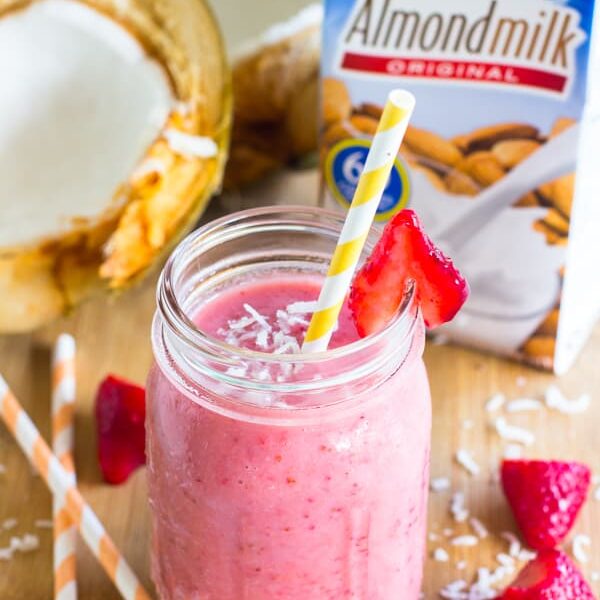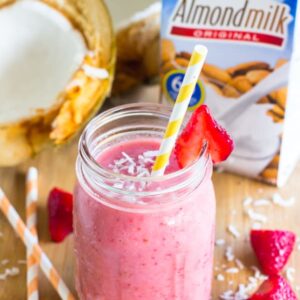 Strawberry Coconut Smoothie
This Strawberry Coconut Smoothie recipe is perfect for both spring and summer! It's packed with frozen strawberries, almond milk, and more.
Ingredients
3 cups frozen whole strawberries
1 cup Silk Almondmilk Original
1/2 cup coconut water
2 tablespoons agave nectar or maple syrup, optional
Instructions
Blend all the ingredients together in a high speed blender. Enjoy!
Calories: 152kcal, Carbohydrates: 33g, Protein: 3g, Fat: 2g, Saturated Fat: 1g, Sodium: 229mg, Potassium: 525mg, Fiber: 5g, Sugar: 24g, Vitamin A: 26IU, Vitamin C: 128mg, Calcium: 221mg, Iron: 1mg
Disclaimer: Although jessicainthekitchen.com attempts to provide accurate nutritional information, kindly note that these are only estimates. Nutritional information may be affected based on the product type, the brand that was purchased, and in other unforeseeable ways. Jessicainthekitchen.com will not be held liable for any loss or damage resulting for your reliance on nutritional information. If you need to follow a specific caloric regimen, please consult your doctor first.