Mexican Quesadillas with Avocado Cilantro Cream Sauce + Giveaway!
… These Mexican Quesadillas with Avocado Cilantro Cream Sauce are a quick, easy and delicious weeknight meal that's creamy, crispy and tasty!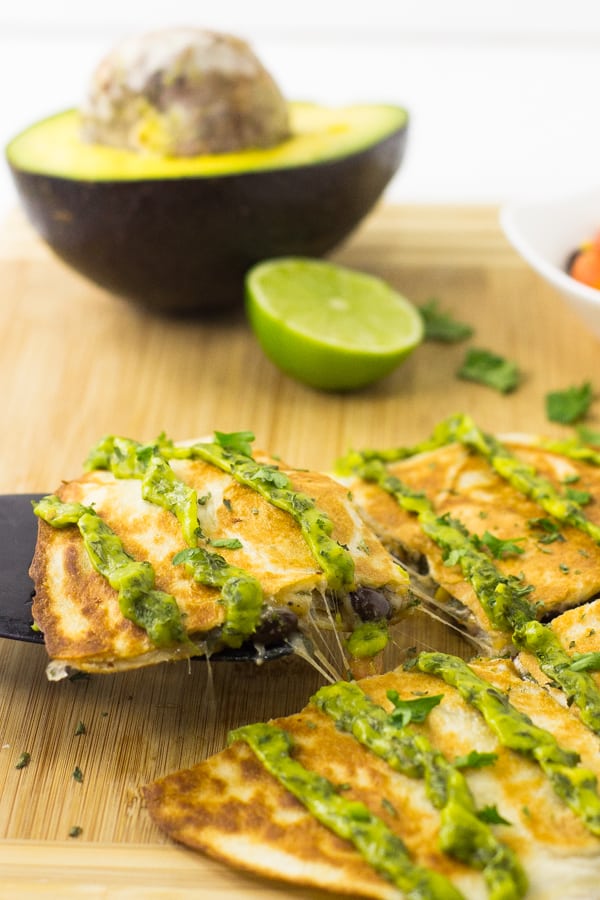 Am I the only one already in full Valentine's Day swing? I don't mean just the sweet side – I mean everything "for two". My wedding is in about 150 days (whoa!). I'm going to fit the dress next month (double whoa!). For some reason, my brain seems to be in a "for two" mode. For February I'm trying to focus on the less sweet side of Valentine's Day. So, things like breakfasts, dinners and maybe one sweet treat since we gotta eat food too! This quesadilla is perfect for a quick appetiser for two if you're really into great, easy Mexican food.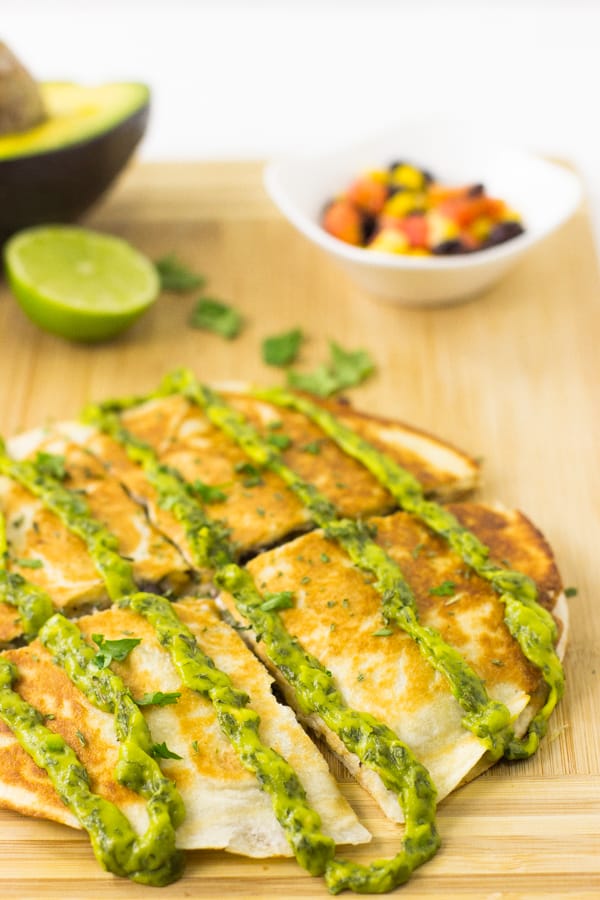 Speaking of February, a slight change on the blog. I'm going to be blogging twice a week for the next few months. With the wedding planning in full swing, I find myself barely able to find any time to do anything. I want to ensure that the posts I come out with are still of quality for you my readers. So you'll be seeing a little less of me a week but still a whole lot of me!
Now, to these quesadillas, and tying in the GIVEAWAY! I've been embracing my vegetarian self 100% and eating all things Mexican. These quesadillas come together so quickly that I've been making them for lunch. In 10 minutes I get a gooey and creamy on the inside, crisp on the outside, and avocado-y goodness topping. The filling is basically the same for my black bean salsa and can be put together ahead of time in the fridge.
Spread it on the inside with some Greek yogurt and garlic powder (my healthy alternative to sour cream). You can then add some cheese and pop it onto a grill or a panini machine like I do. You can close it or flip it to get the other side nice and crisp. Then top it with some avocado cilantro cream sauce which is just creamy avocado, chopped cilantro and lime juice and you have a delicious quesadilla. The Mr. and I shared two pieces each and by two pieces each. I mean I had one of his plus mine *oops* as an appetiser or you can eat everything for a full meal. Either way, you eat it, it's going to be totally delicious.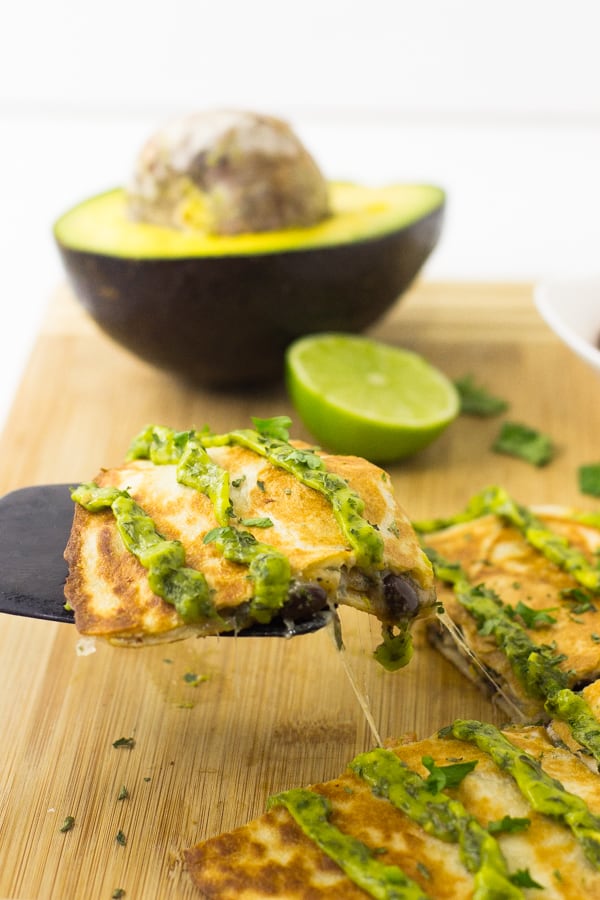 Now to the Giveaway! WÜSTHOF was generous and kind enough to not only send me a CLASSIC 7-inch Hollow Edge Chai Dao but also to allow me to give away one on the blog. I thought this post was ideal for the giveaway since you need an excellent knife to cut all those onions, parsley, cilantro, tomatoes etc. and to cut the tortillas into neat equal servings. The CLASSIC 7-inch Hollow Edge Chai Dao also works great with all other fruits and vegetables and is very sharp and easy to use. It retails for $119 so you're getting a great opportunity to win it for free! This is the description given by WÜSTHOF which puts it beautifully:
Inspired by the traditional Chinese cleaver, the Chai Dao's extra wide blade and razor-sharp fine edge has a rounded tip to facilitate "rocking" motion on cutting boards. Its new hollowed-edge helps prevent sticky foods such as raw potatoes from adhering to the blade.
This was one of my favourite knives to DATE (we kind of LOVE a great knife over in this household). It's the perfect addition to your collection! I'll have all the giveaway details below so be sure to enter!
Thanks so much to WÜSTHOF for sending me a knife and graciously sponsoring this giveaway!

If you try these Mexican Quesadillas with Avocado Cilantro Cream Sauce please let me know in the comment section below, or tag me on instagram with the hashtag #jessicainthekitchen! For more exclusive recipes follow me on Instagram AND on Snapchat: jessinkitchen.
MORE QUICK VEGAN DINNER RECIPES
Easy Quinoa Stuffed Peppers (Tex Mex Style)
Sweet Potato and Black Bean Tacos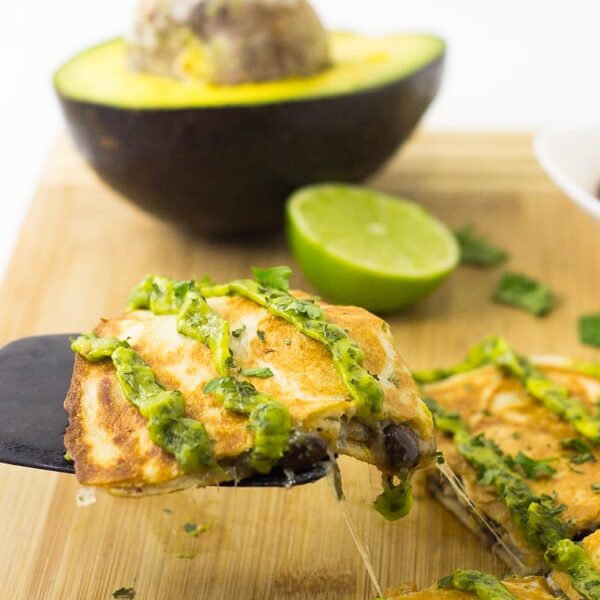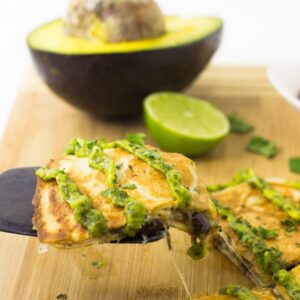 Mexican Quesadillas with Avocado Cilantro Cream Sauce + Giveaway!
These Mexican Quesadillas with Avocado Cilantro Cream Sauce are a quick, easy and delicious weeknight meal that's creamy, crispy and tasty!
Ingredients
2 to 3 tortillas, 8-inch
3 tablespoons corn
3 tablespoons tomatoes
3 tablespoons black beans
1 tablespoon salsa
1 tablespoon chopped parsley
1/4 teaspoon cumin
1/4 teaspoon chili powder
1/2 cup regular or vegan shredded cheese
2 tablespoons regular or vegan greek yogurt + 1/4 teaspoon garlic powder, mix together
Avocado Cilantro Cream Sauce:
1 cup avocado
1 tablespoon lime juice
1/4 cup cilantro
1/4 teaspoon salt
Instructions
Preheat a greased panini machine, or a indoor grill or even a large pan to medium heat.

In a bowl, mix the corn, tomatoes, black beans, parsley, cumin, and chili powder. Add the salsa and mix to combine.

On one of the tortillas, spread the entire greek yogurt and garlic powder mixture.

Add the black bean mixture to the top of the tortilla. Spread the cheese on top and top with the other tortilla.

Place on the heated machine to grill until crispy, about 3 minutes, and then flip. NOTE: If you're having trouble flipping, you can slide it on to a plate then flip it in the plate then place it back onto the machine. Alternatively, you can use a tortilla wrap twice the size and just fold in half for a top and bottom.

When crispy, remove from the machine and place onto a plate. Cut into four equal pieces and top with Avocado Cilantro Cream Sauce.
Avocado Cilantro Cream Sauce
Mix all the ingredients together.
Notes
This recipe is vegan.
2.HOW TO STORE
You can store these quesadillas in the fridge in a tupperware container or tinfoil for no more than 3 days. To reheat, you can pop them into the oven for 5 minutes in the tinfoil at 350 ° F/ 175° C.
Calories: 371kcal, Carbohydrates: 42g, Protein: 10g, Fat: 20g, Saturated Fat: 4g, Cholesterol: 1mg, Sodium: 852mg, Potassium: 633mg, Fiber: 10g, Sugar: 4g, Vitamin A: 769IU, Vitamin C: 17mg, Calcium: 83mg, Iron: 3mg
Disclaimer: Although jessicainthekitchen.com attempts to provide accurate nutritional information, kindly note that these are only estimates. Nutritional information may be affected based on the product type, the brand that was purchased, and in other unforeseeable ways. Jessicainthekitchen.com will not be held liable for any loss or damage resulting for your reliance on nutritional information. If you need to follow a specific caloric regimen, please consult your doctor first.