Black Bean Salsa
This Black Bean Salsa is the easiest dip you'll ever make! It's loaded with a variety of delicious flavors and it is bound to be a bit at your next party!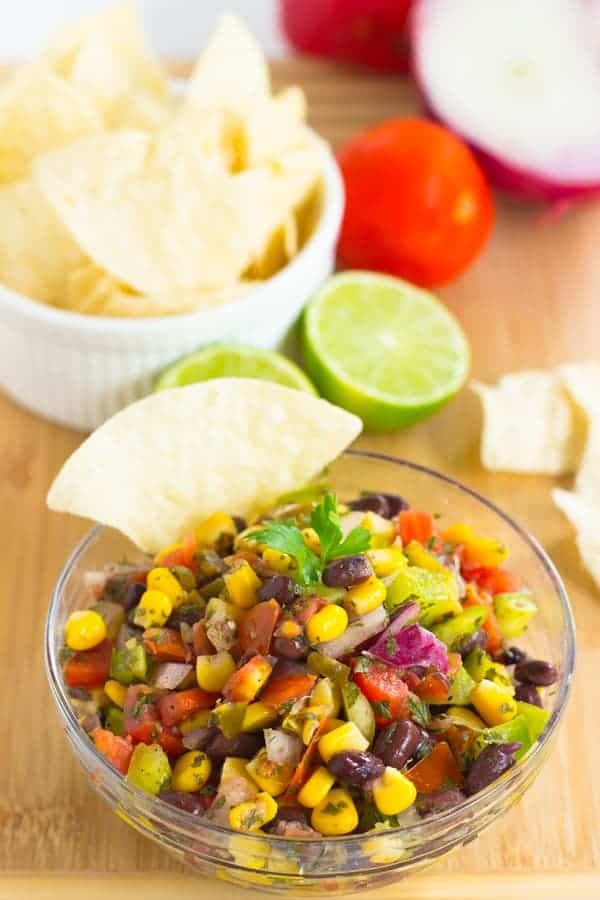 So, I'm just going to be straight forward here. Planning a wedding cuts your daily hours in half! HOW is it Friday?! Yesterday was our engagement shoot (!!!!!) and I'm so excited! It went really well and I really loved how natural the photographer was. I don't want to spill anything too soon but let's just say a big part of it was shot in our natural element; in the kitchen! I can't wait to share pictures.
While I don't have a ton of time, I HAD to share this Black Bean Salsa with you. You may have noticed my love for all things black bean (so much more to come) and I cannot, as in, cannot believe that this is the first time I am trying a black bean salsa.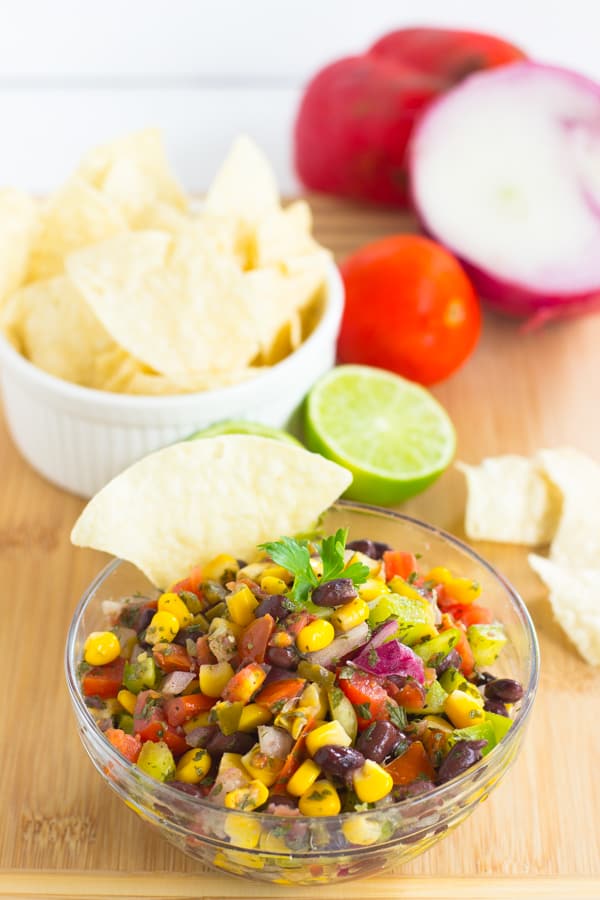 …I know right?! It's basically everything you could ever want in a dip. Think, your taco ingredients on a tortilla chip. No…wait, better than that. A punch of flavours from all the ingredients and it is so incredibly easy to make! Easier than eating it all as soon as you set down the camera and maybe pushing Mr. JITK (I am still trying to find an alternative name) out the way a bit to get the last piece because "well, I am vegetarian and you could eat anything else but this is all I can eat right now so bye". *grabs chip*
Food does these things to you.
As Super Bowl is just around the corner, promise me you'll make this easy dip?! It not only gets the award for an easy Super Bowl dip but also a naturally, accidental healthy Super Bowl dip. You'll not only please all your vegetarian and vegan friends (I'm one of two at our Super Bowl party this year and we are ensuring that we both get a ton of yummy dishes) but you'll have a pretty delicious dip that is bound to be finished before Half Time. SO make twice the amount, bring it out at Half Time, and be the Super Bowl star.
The second star, next to the team that wins of course.
RELATED POSTS
Quinoa and Black Bean Burrito Bowl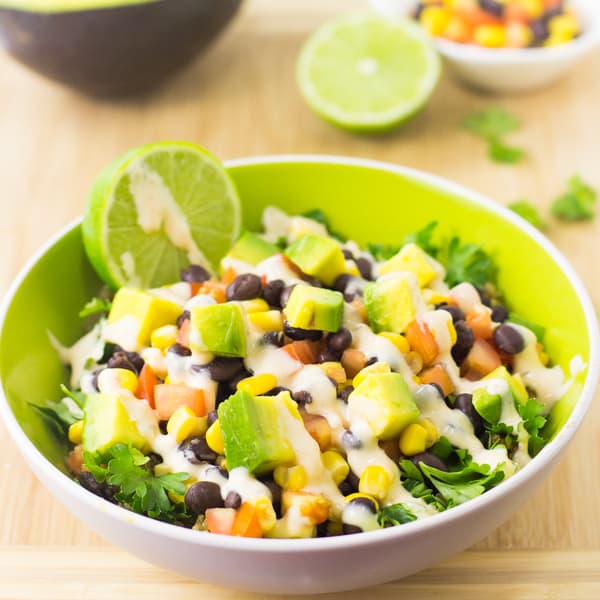 Whipped Feta Dip with Garlic Pita Chips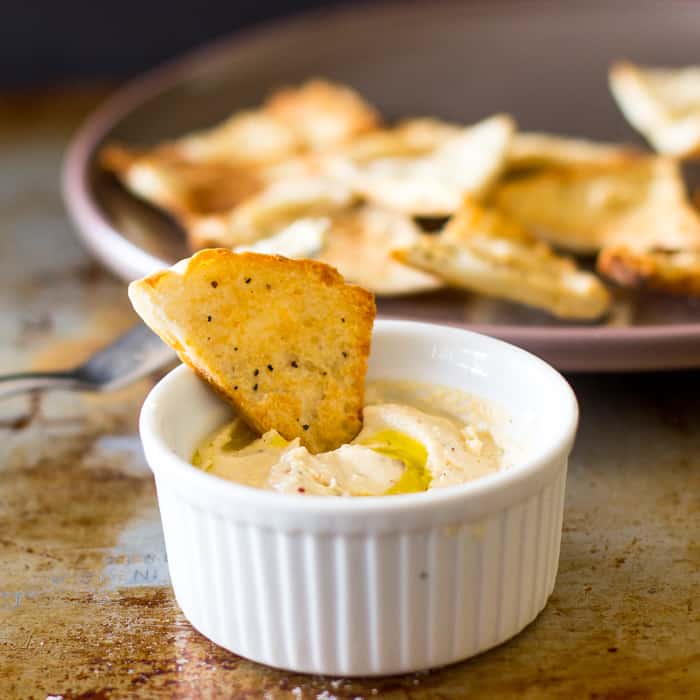 Cheesy Buffalo Cauliflower Wings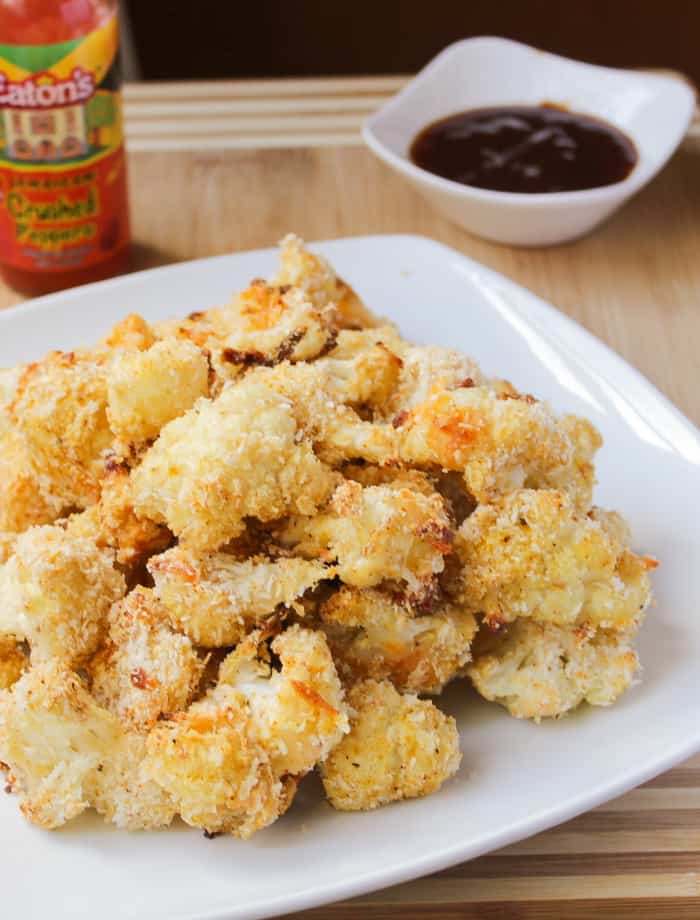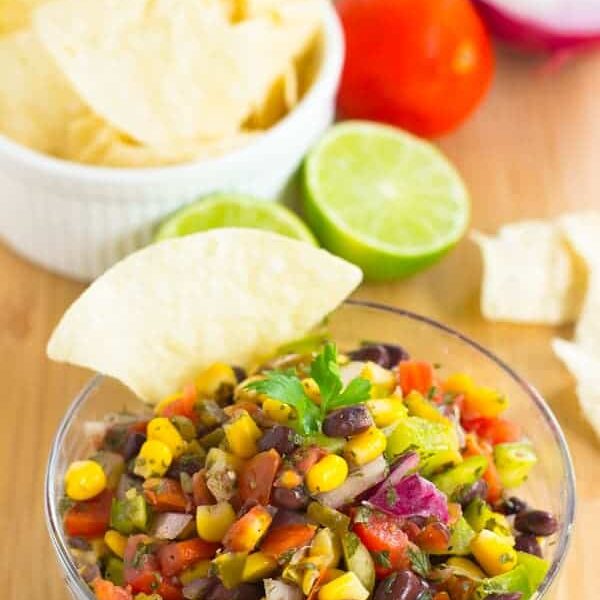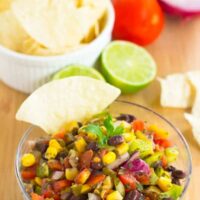 Black Bean Salsa
This Black Bean Salsa is the easiest dip you'll ever make! It's loaded with a variety of delicious flavors and it is bound to be a bit at your next party!
Ingredients
1/2 cup corn
1/2 cup black bean
1/4 cup bell pepper
1 tablespoon sliced jalapeños
1/2 cup tomatoes
1/4 cup red onions
1 tablespoon parsley
1/4 teaspoon cumin
1/4 teaspoon garlic powder
1/4 teaspoon ground black pepper
Pinch salt
Juice of one lime
Instructions
Mix all the ingredients together in a bowl and toss. Ideally, let it sit for 30 minutes so that the lime brings out the best flavors, but you can serve it immediately with tortilla chips.
Notes
Notes:
I personally add more jalapeños but wanted to ensure this was at a tolerable heat level for everyone. LEFTOVERS If you have any leftovers, you can add then to a tortilla with some cheese and tomato salsa and make a quesadilla.
Calories: 52kcal, Carbohydrates: 11g, Protein: 3g, Fat: 1g, Saturated Fat: 1g, Sodium: 61mg, Potassium: 178mg, Fiber: 3g, Sugar: 2g, Vitamin A: 498IU, Vitamin C: 22mg, Calcium: 9mg, Iron: 1mg
Disclaimer: Although jessicainthekitchen.com attempts to provide accurate nutritional information, kindly note that these are only estimates. Nutritional information may be affected based on the product type, the brand that was purchased, and in other unforeseeable ways. Jessicainthekitchen.com will not be held liable for any loss or damage resulting for your reliance on nutritional information. If you need to follow a specific caloric regimen, please consult your doctor first.