Whipped Feta Dip with Garlic Pita Chips
This whipped feta dip is so creamy, tasty and has a delicious hint of spice! Top it off with garlic pita chips and you've got a perfect party snack!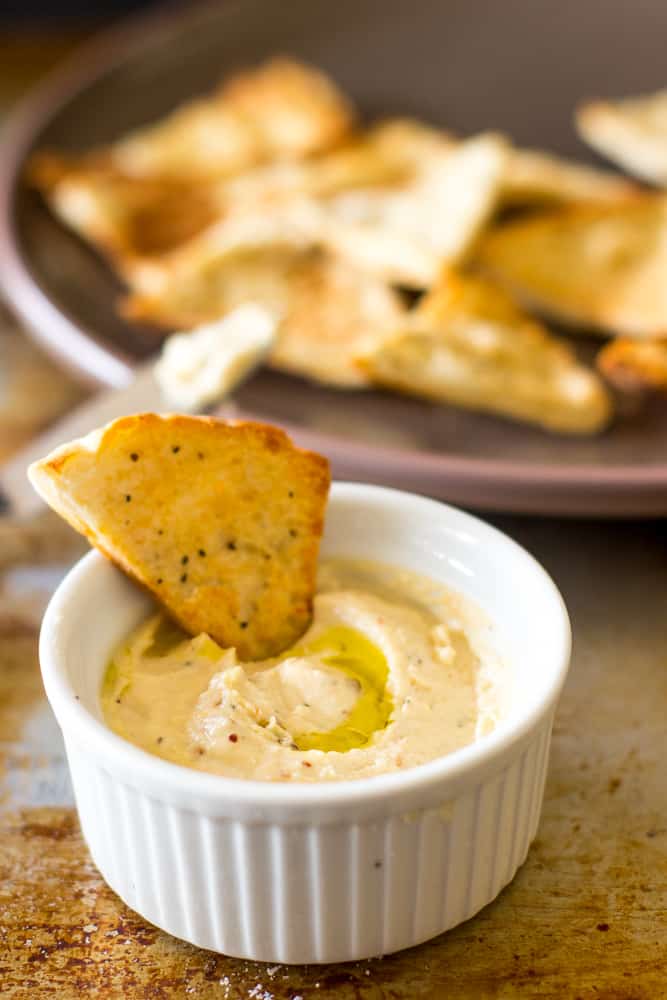 With World Cup being the most prominent event right now, I'm sure you're feeling pretty snack. I know I totally I am. While I'm usually up for any quick and yummy homemade snack, I've been craving feta cheese for a while, and had some ricotta in the fridge and we decided it was time to use it up. I had read about whipped feta and decided well, if feta is so delicious crumbled, it should be good whipped right?
Umm, AMAZING whipped.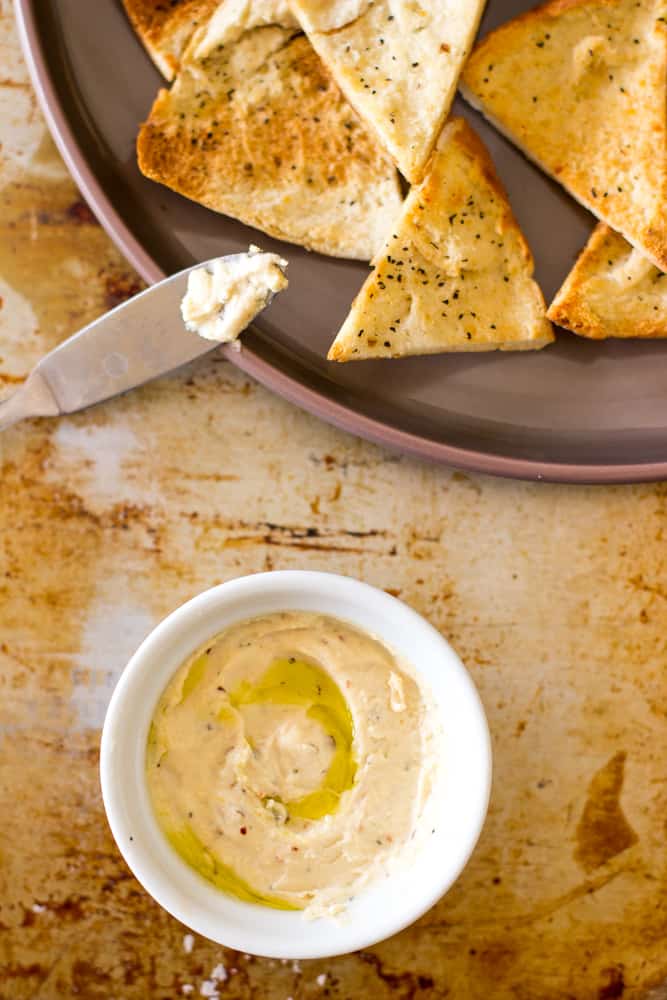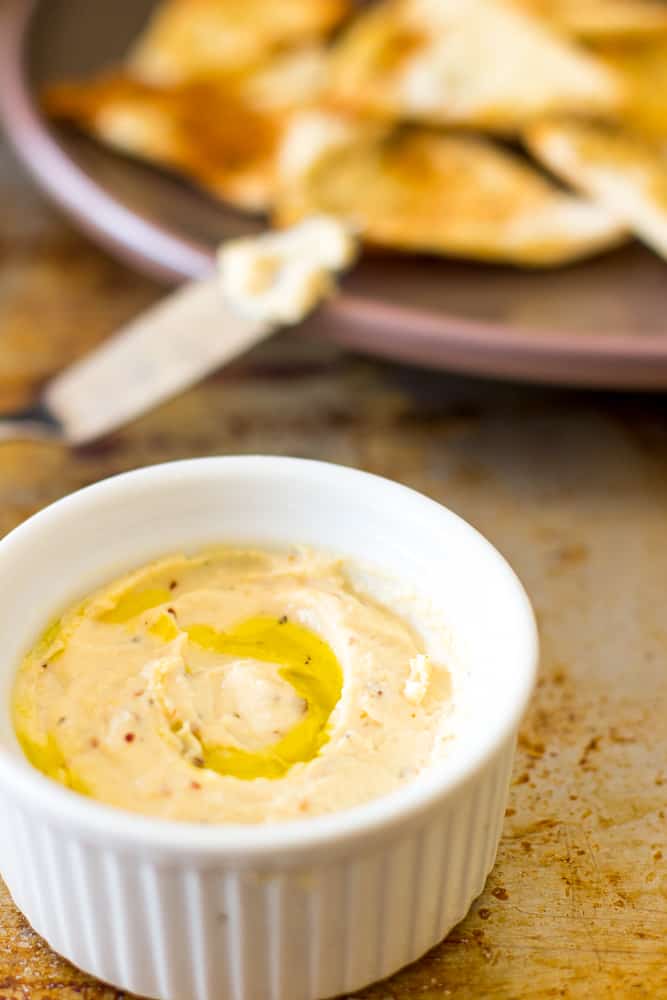 I'm talking Jessica-ate-everything-except-one-chip-poor-Mr.-Bakes (formerly known as Mr. Jessiker Bakes – thanks to JayCue for the new name!). I know sad, but I have no self control around feta and whipped feta made go insane. It's soft, SO soft, creamy beyond belief and SO flavourful. At first, we had whipped it for about 2 minutes then decided to add in the olive oil, then instead of a few more seconds of whipping we went for another 2 minutes. Mr. Bakes gave me the are-you-crazy look but I said trust me, with a broken leg for the past 7 weeks I've had a LOT of free time to think on this. Needless to say, it worked out perfectly. All the flavours were blended together and an 20 minutes later after this shoot, everything tasted even better. So, wait, trust me, and the results will amaze you.

If you're a cheese lover, you will love this recipe. Even if you aren't, you'll love this recipe. I loved the kick of spice it gave off with the addition of the red pepper flakes…which is obvious since as per above I ATE EVERYTHING. I gave up lunch and had this instead. P.S. the olive oil drizzling? YES. The pita chips are delicious by themselves, really, as evidenced by my little brother AND my dad snacking on the ones I might have burnt a bit because I wasn't paying attention because I was focusing on the dip oops. Even tasty that way. But with the dip? Fabulous. With the dip and a little olive oil drizzled on top soaked slightly into it? YES, NOW, ALWAYS.
Sorry that I'm shouting. I have been waiting to share this dip. My new thing is garlic bread with olive oil and balsamic vinegar like they serve at restaurants. Except, with the addition of my Mac playing endless YouTube videos all day. That would help with awkward restaurant dinner conversations.
P.S., not that I'm affiliated with them (yet hopefully!) but you should totally buy Athenos Feta Cheese. I literally buy this brand every time and it's pretty amazing. Just a heads up, because sometimes you ask me what specific brand I use and I want your recipes to turn out amazing too!
Anyway, I'm off to watch another match. Currently enjoying just how exciting this World Cup is! Happy Monday!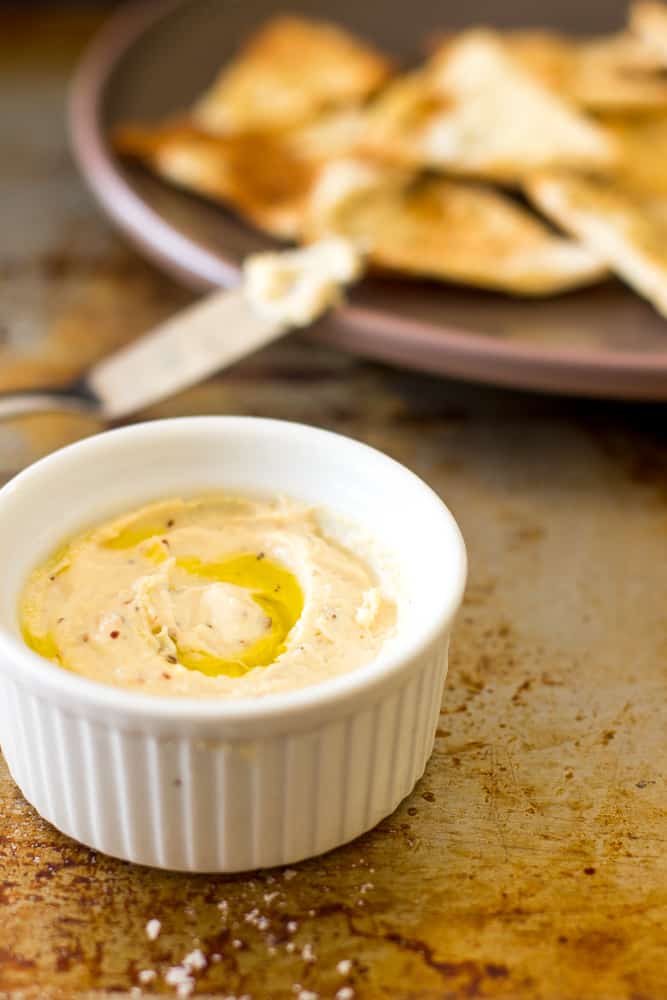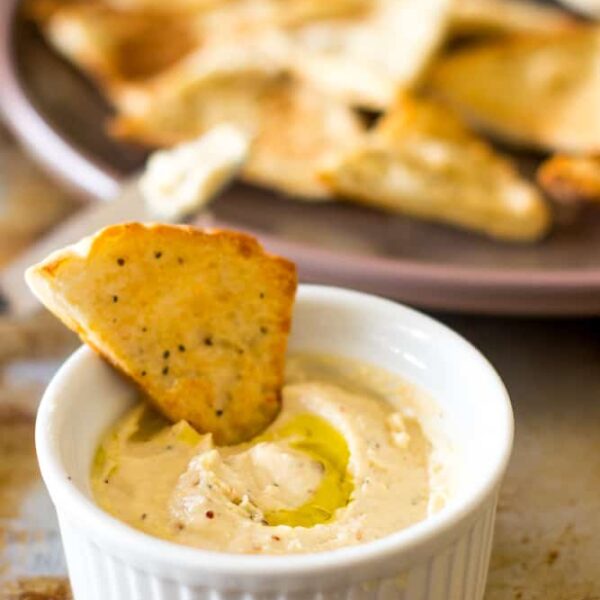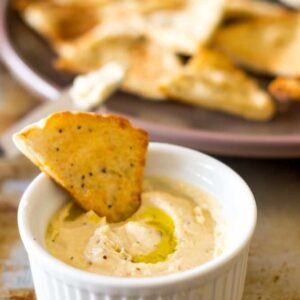 Whipped Feta Dip with Garlic Pita Chips
This whipped feta dip is so creamy, tasty and has a delicious hint of spice! Top it off with garlic pita chips and you've got a perfect party snack!
Ingredients
½ cup vegan ricotta, or vegan cream cheese
8 ounces vegan feta, I love the ones from Violife, Trader Joe's and Follow Your Heart crumbles
1 teaspoon ground black pepper
½ teaspoon garlic powder
½ teaspoon Italian seasoning, or other dried herb or 1 tablespoon fresh herbs
¼ to ½ teaspoon sea salt
1 teaspoon crushed red pepper flakes
1 tablespoon olive oil
Zest of 1 lemon, about 1 teaspoon
Extra Olive oil for drizzling
Optional add-in or garnish: drizzle of agave or maple syrup to balance flavours
Instructions
Blend all the ingredients together in a food processor or stand mixer for 4 minutes, scraping down the sides every 2 minutes with a spatula when off to incorporate all ingredients. Spoon into a bowl and drizzle with extra olive oil on top. Eat with garlic pita chips or any other crackers or chips.
Notes
Notes Dip can be stored in the fridge covered for up to a week (bearing in mind the expiry date of cheeses).
Pita chips can be stored in a ziplock bag to be kept crisp, and re-toasted in an oven for 2 minutes at 400 degrees.
Calories: 90kcal, Carbohydrates: 2g, Protein: 4g, Fat: 8g, Saturated Fat: 3g, Polyunsaturated Fat: 1g, Monounsaturated Fat: 4g, Sodium: 183mg, Potassium: 57mg, Fiber: 0.4g, Sugar: 0.1g, Vitamin A: 293IU, Vitamin C: 0.01mg, Calcium: 73mg, Iron: 0.4mg
Disclaimer: Although jessicainthekitchen.com attempts to provide accurate nutritional information, kindly note that these are only estimates. Nutritional information may be affected based on the product type, the brand that was purchased, and in other unforeseeable ways. Jessicainthekitchen.com will not be held liable for any loss or damage resulting for your reliance on nutritional information. If you need to follow a specific caloric regimen, please consult your doctor first.