Thai Peanut Sauce
This Thai Peanut Sauce Recipe is incredibly versatile and can be used as a dip, a dressing, a marinade or a sauce! I love using it in so many ways, and it only takes 5 minutes to make!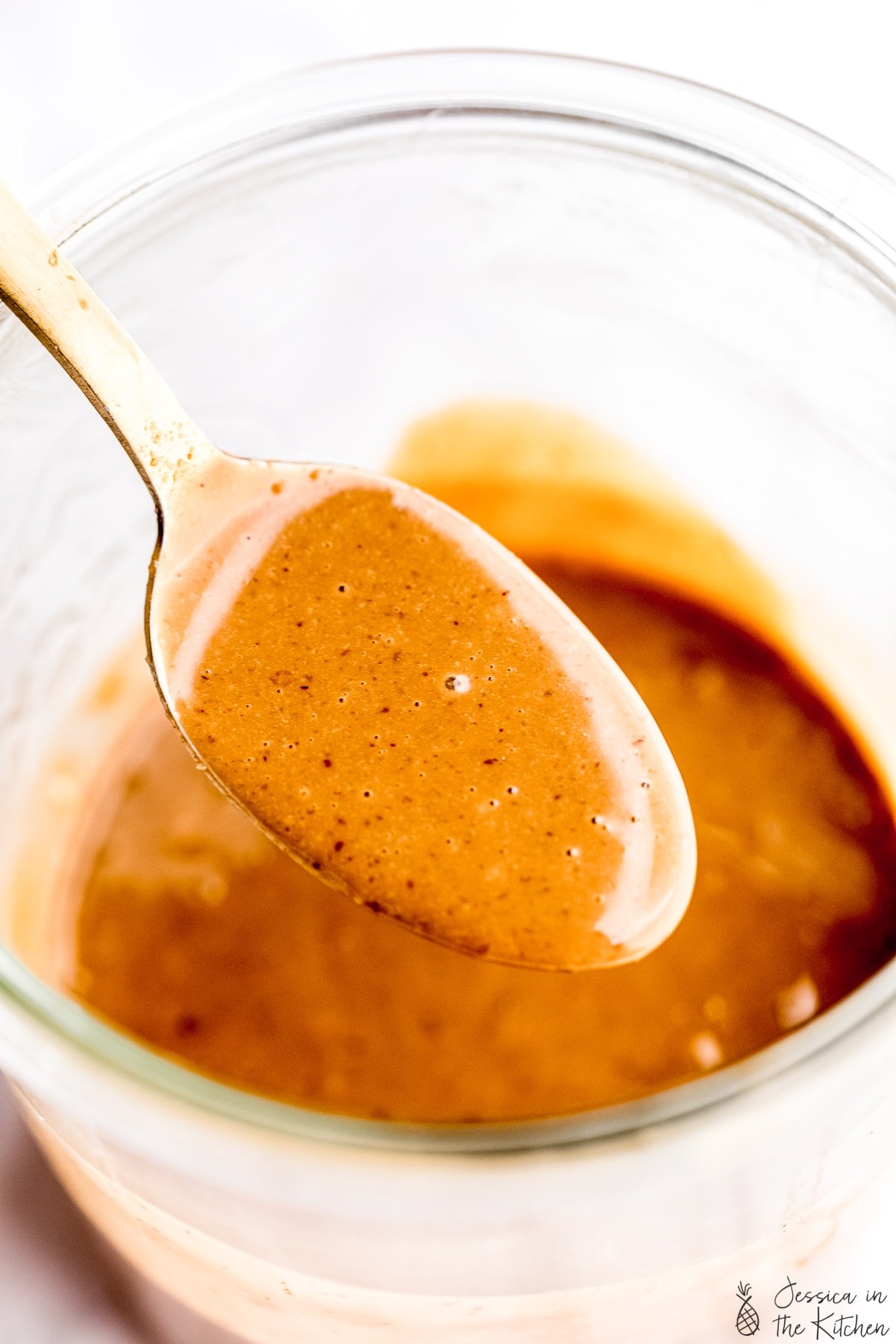 I love a great peanut sauce. I'm talking, absolutely head over heels for one, and this my friends is a great peanut sauce. I've used it with Fresh Spring Rolls, an Asian Noodle Salad, my Tempeh Stir Fry and even with a Cashew Thai Quinoa Salad. It's creamy, umami-packed, salty and high in protein and fat. Hello, flavour town. After realising that I was using it all the time and the feedback that it's gotten, I decided that it needed its own blog post!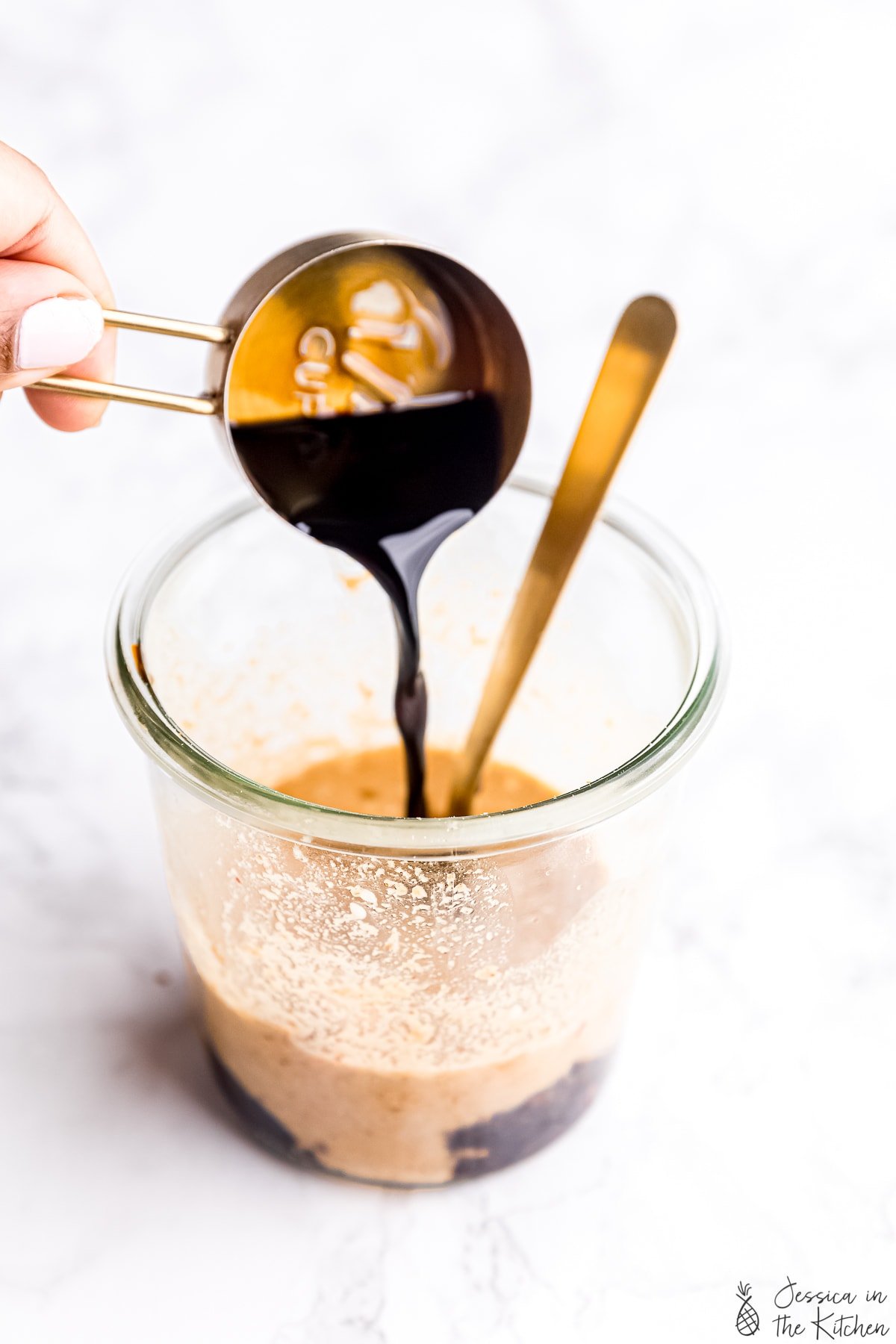 What is Thai Peanut sauce made of?
Thai Peanut Sauce is made up of peanut butter, soy sauce, ginger, a sweetener (I used maple syrup), rice wine vinegar, sesame seeds, a spice and water. In some more traditional versions, coconut milk is used instead of water, but I find this combination to be perfect. If you're new to using peanut butter in dressings, you're about to be blown away. Peanut butter brings all the ingredients together for a sweet spicy and salty sauce that works perfectly on salads, tofu, tempeh, noodles, as a dip for veggies and so much more.
How to make peanut sauce
Making the sauce is so easy. Blend all the ingredients together, and that's it! You can mix them by hand with a whisk, in a jar with a lid, or in a food processor or blender. I've done all three and it's really up to your preference. By hand will be the most natural consistency, and by blender will be the smoothest and creamiest.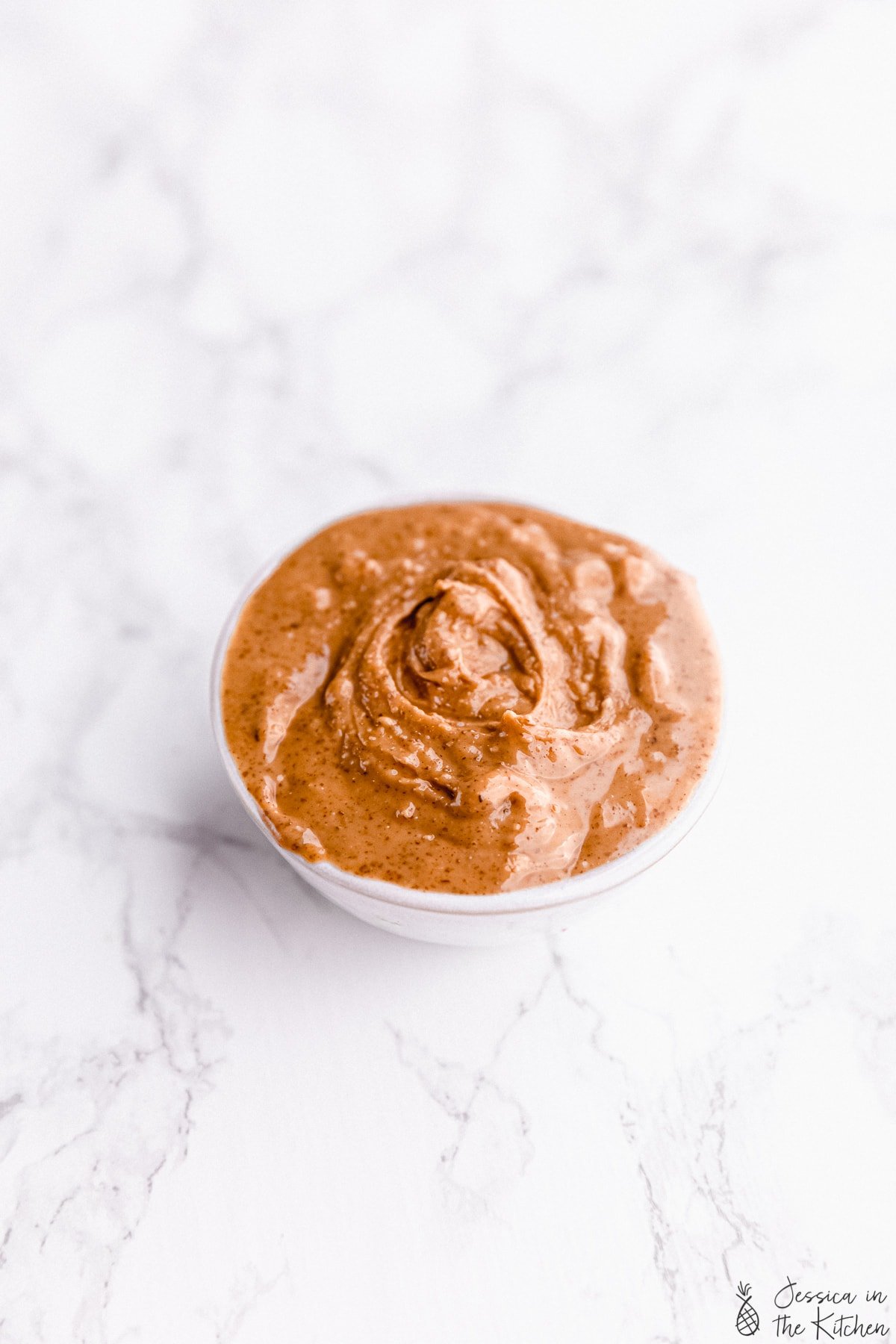 What to eat with peanut sauce
Man, this sauce goes with everything! Use these recipes below as a base, and just go from there!
Tips for making the peanut sauce
Start with smooth peanut butter instead of chunky. If your peanut butter is very thick, I would microwave it for about 15 seconds before starting so that it's smooth enough to blend with all the other ingredients.
Adjust the sauce for your taste. You can more it saltier, sweeter, spicier – it's up to you!
You can double this sauce if you desire! I recommend making it before you need it, but it stores in your fridge for up to a week.
Peanut substitute
If you're allergic to peanuts, you could easily swap it out. Almonds, tahini, sunflower seed butter – they'll all work as a great base.
Enjoy friends! If you make this Thai Peanut Sauce, please snap a photo and tag #jessicainthekitchen on Instagram! We'd also love it if you would leave a comment below, and give the recipe a rating! Thanks so much!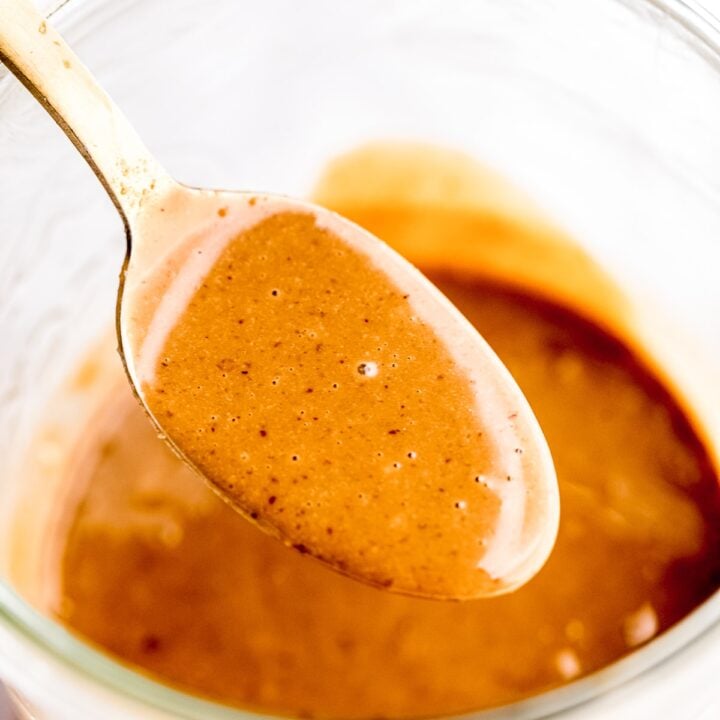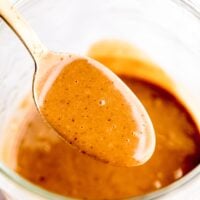 Thai Peanut Sauce
This Thai Peanut Sauce Recipe is incredibly versatile and can be used as a dip, a dressing, a marinade or a sauce! I love using it in so many ways, and it only takes 5 minutes to make!
Ingredients
1/3 cup natural peanut butter, if your peanut butter is thick, microwave is for about 15 seconds first
1/4 teaspoon ground ginger, or 1/2 teaspoon freshly minced ginger
1 tablespoon maple syrup
2 tablespoons low sodium soy sauce
1 teaspoon rice wine vinegar
1/2 teaspoon sesame seeds
2 tablespoons to 1/4 cup hot water
1/4 teaspoon crushed red pepper flakes, optional
Instructions
Whisk all the ingredients (minus 2 tablespoons of the hot water) together in a bowl, a jar with a lid (shake vigorously) or a small blender or food processor until smooth.

Add the extra water a little at a time depending on whether you need this for a sauce, dip or a dressing to your desired consistency.

 This can be made ahead of time and stored in the fridge, or used immediately!
Notes
To make this gluten free, use gf low sodium soy sauce, or liquid aminos
Calories: 195kcal, Carbohydrates: 11g, Protein: 8g, Fat: 15g, Saturated Fat: 3g, Sodium: 488mg, Potassium: 220mg, Fiber: 2g, Sugar: 7g, Calcium: 20mg, Iron: 1mg
Disclaimer: Although jessicainthekitchen.com attempts to provide accurate nutritional information, kindly note that these are only estimates. Nutritional information may be affected based on the product type, the brand that was purchased, and in other unforeseeable ways. Jessicainthekitchen.com will not be held liable for any loss or damage resulting for your reliance on nutritional information. If you need to follow a specific caloric regimen, please consult your doctor first.