How to Make Peanut Butter
Homemade peanut butter is easy to make, healthier than store-bought, and best of all, it tastes incredible! Here's how to make it.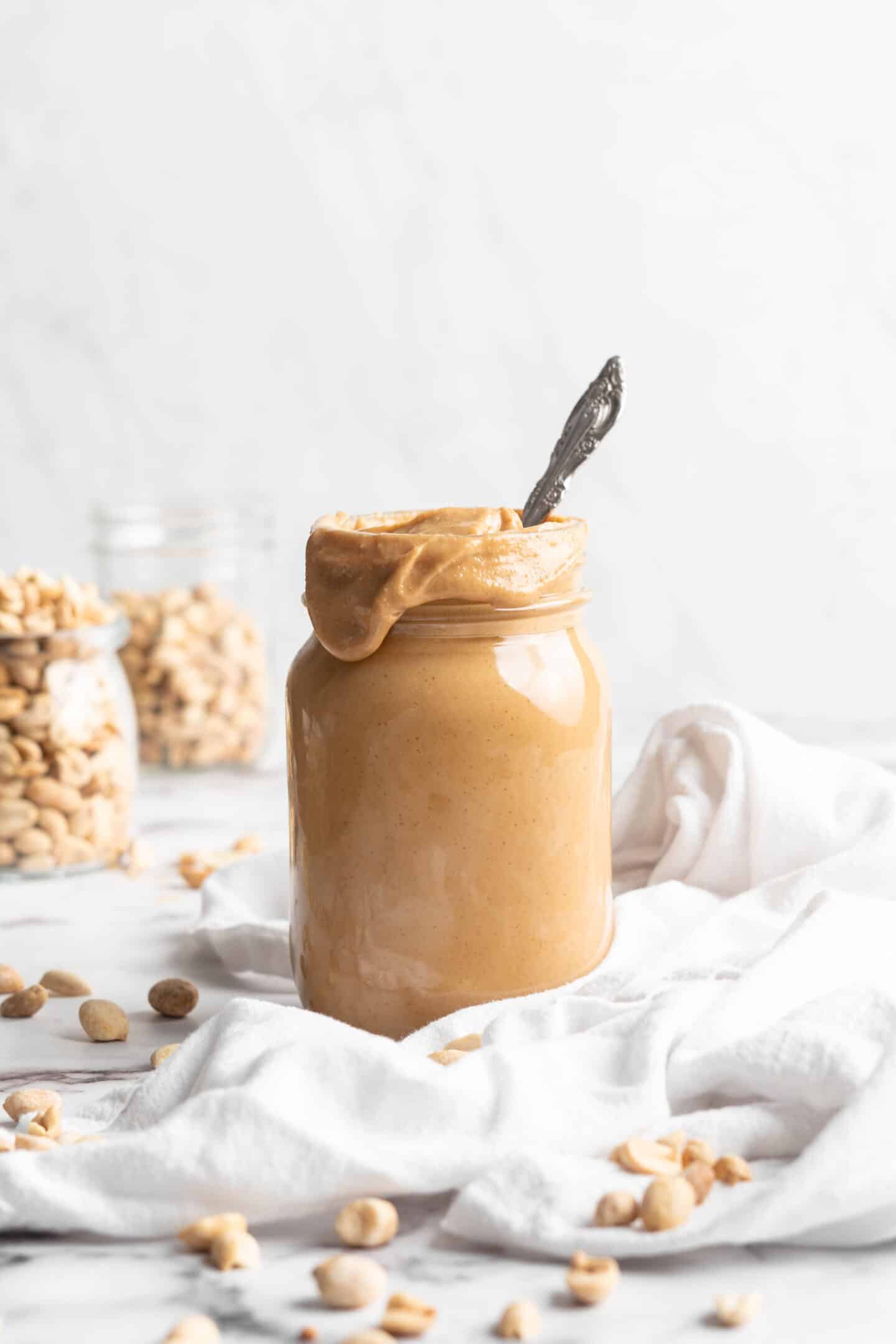 There are some homemade recipes that fall into the "why bother?" category. They're a lot of work, and the results really aren't that much better than store-bought. Then there are other recipes where homemade is cheaper, tastier, and easy to boot, like Homemade Hummus and Vegan Yogurt.
Friends, I'm happy to report that homemade peanut butter definitely falls into the latter category.
Why Make Your Own Own Peanut Butter
Well, first, it's really easy. Seriously, all you need to do is throw some peanuts into a food processor and let it run. Process until the peanut butter is smooth and creamy, or leave some bits of nuts in there for a crunchy texture.
Second, it's way cheaper than store-bought. Buy a big bag of inexpensive nuts in the bulk section of your grocery store and you'll have enough homemade peanut butter to last you for weeks.
You also get to control the ingredients, which means you can make it as healthy (or unhealthy) as you want. Unless you buy the fancy natural brands (which are expensive!), you'll notice that store-bought peanut butter has a ton of added sugar and weird filler ingredients. When you make your own PB, you can skip those ingredients without having to pay a premium.
And, of course, it tastes amazing. Seriously, once you've had freshly made nut butters, store-bought just isn't going to cut it anymore.
Is Peanut Butter Good for You?
Absolutely! Although almond butter gets a lot of attention for its health benefits, peanut butter is healthy too—especially when you make it yourself without a lot of added sugars and preservatives. It's high in protein and magnesium, and it pairs well with healthy foods like apples, pears, and celery. (And anything that makes celery delicious is worth it in my book.)
Notes on Ingredients
Please note that this is important information on the ingredients and instructions and the FULL recipe with amounts and details can be found DOWN BELOW (scroll to it) in the recipe card.
Dry roasted unsalted peanuts – If you want to make raw peanut butter, you can certain use raw peanuts, but the flavour of dry roasted is superior.
Sea salt – Add more or less to taste.
Optional for a sweet peanut butter:
Coconut or cane sugar
Cinnamon
How to Make Peanut Butter
Ready to get started? Here's what you'll need to do!
Prepare. Preheat your oven to 350°F/180°C and line a baking sheet with parchment paper or a silicone mat.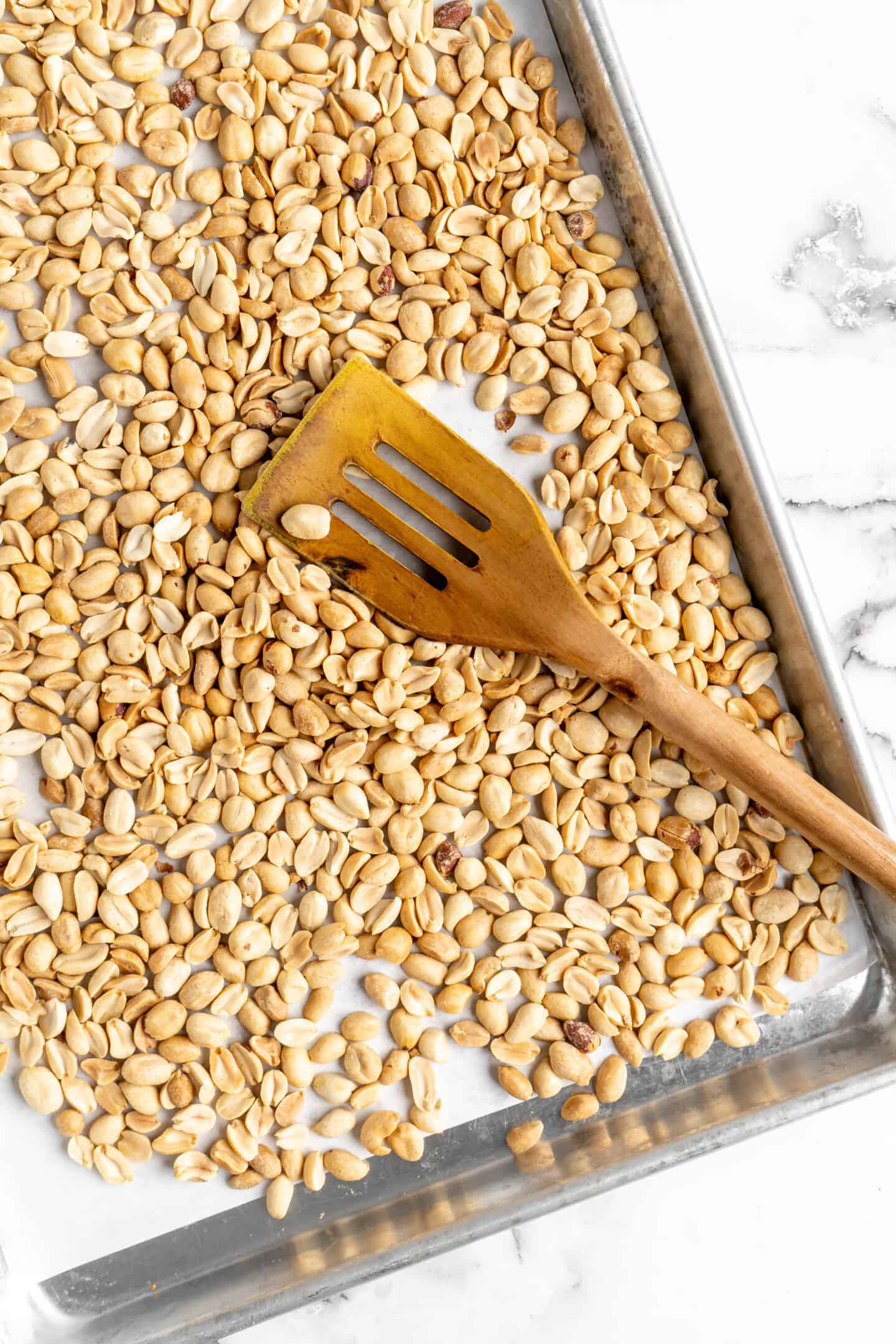 Roast the nuts. Place the nuts on the baking sheet and roast them for 5 minutes. This helps give the nuts a fragrant aroma and warms up the oils.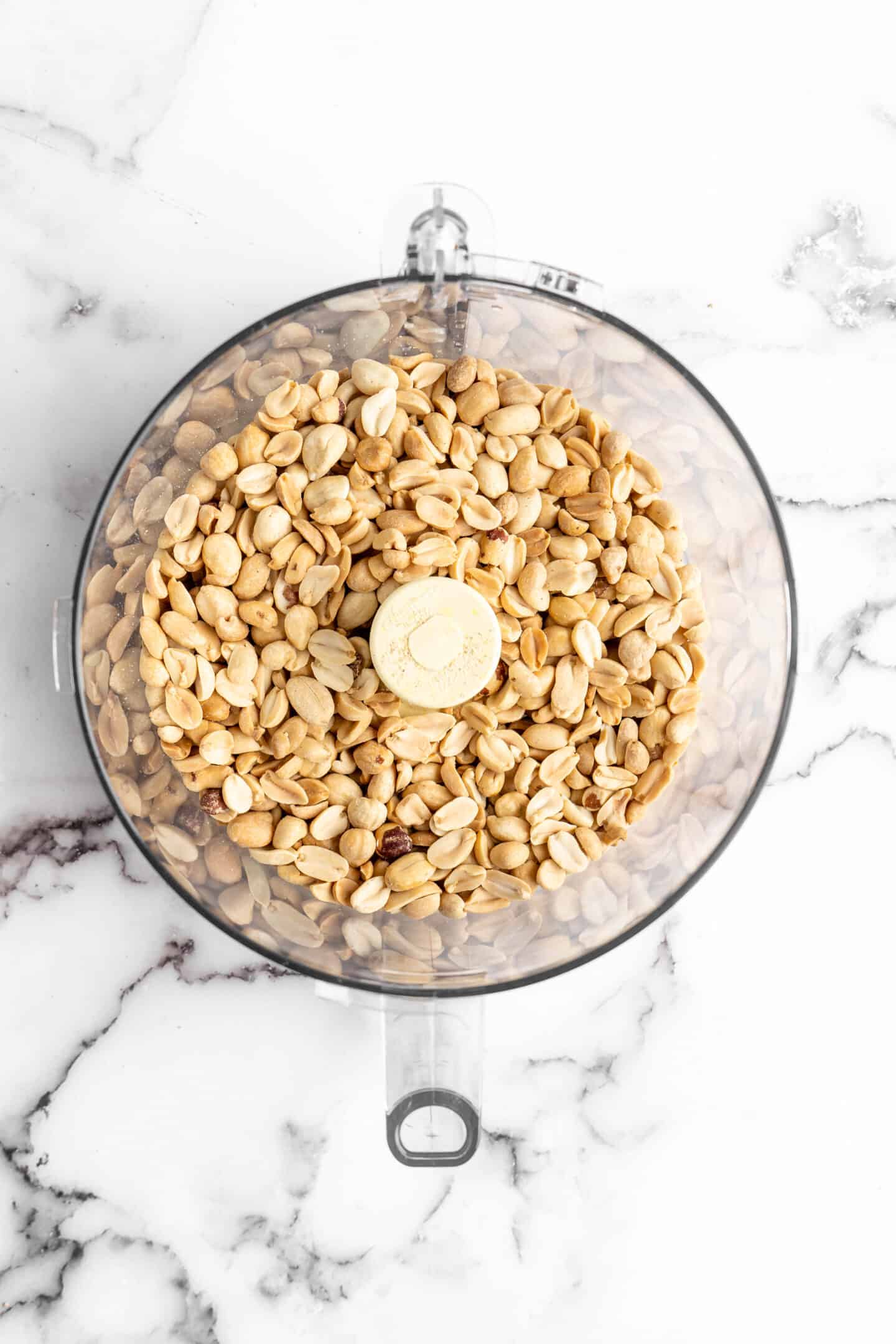 Process the peanuts. Let the nuts cool slightly, then add them to a food processor and process until the mixture is smooth, stirring occasionally. This will take a while; your food processor may get warm, so just turn it off for about a minute to prevent overheating if this happens.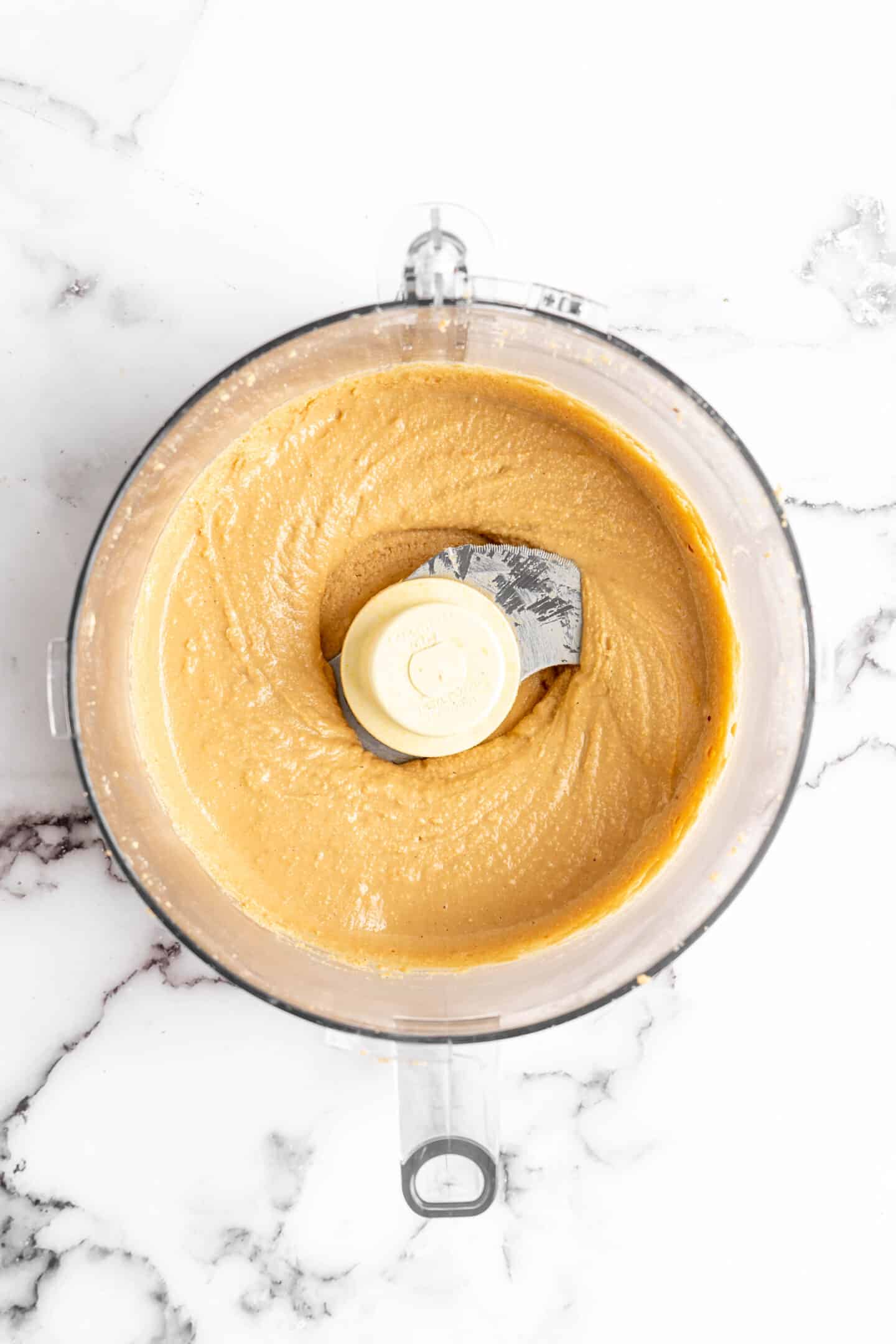 Season. Once the peanut butter reaches your desired consistency, add a pinch of salt (and any other add-ins) and pulse for 30 seconds to incorporate.
Tips for Success
In an easy recipe like this one, the quality of ingredients you use and the technique are critical. Here are some pointers for perfect homemade peanut butter:
Use unsalted roasted peanuts. Don't use flavoured peanuts, and avoid salted because using unsalted will allow you to control the flavour of the finished peanut butter.
Don't overdo it on the salt. A little pinch of salt is all you need to enhance the flavour here. If you add too much, it will be too salty, overpowering the natural, subtle sweetness you want.
Taste as you go. This is the best way to ensure that your peanut butter is exactly to your liking. Add more salt, sugar, or other flavours as desired.
Flavour Ideas
The other thing that's fun about making your own peanut butter is that you can customize the flavour! Here are some ideas for upgrading homemade peanut butter:
Add chocolate. A few tablespoons of melted chocolate will give you a rich, creamy chocolatey spread for homemade waffles or dipping your favourite fruits.
Make it spicy. Add a pinch of cayenne pepper if you want to spice things up.
Add a little bit of maple syrup. This will give the peanut butter a slightly sweeter, maple-y flavour.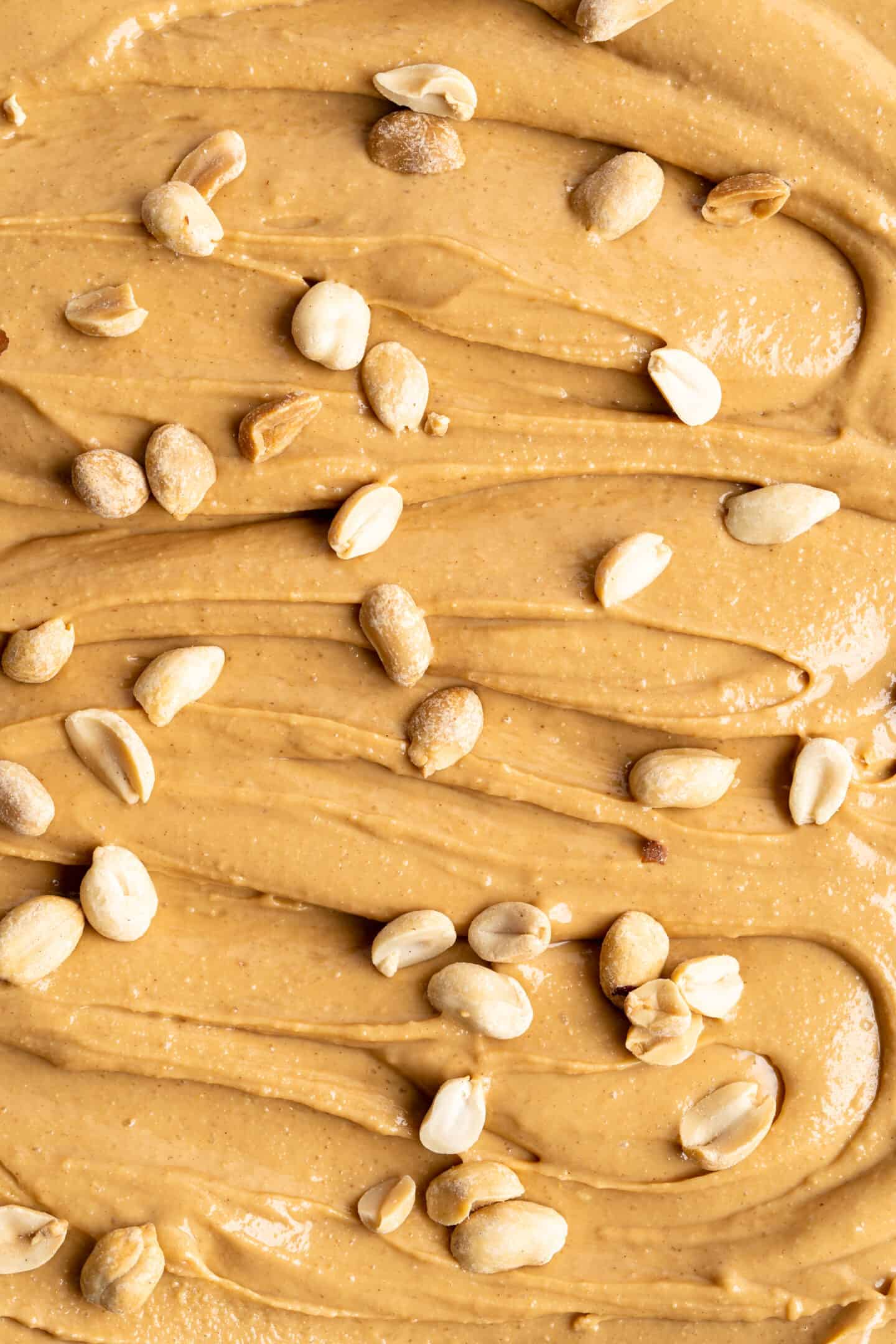 How to Store
Pour the peanut butter into a jar with a cover and place it in the fridge. You can use this nut butter anywhere you'd use store-bought, and it will last for about a month in the refrigerator. (You may need to give it a stir before serving.)
Can You Freeze Homemade Peanut Butter?
If you want your peanut butter to last even longer, you can freeze it for up to six months. Let it thaw in the fridge overnight before using.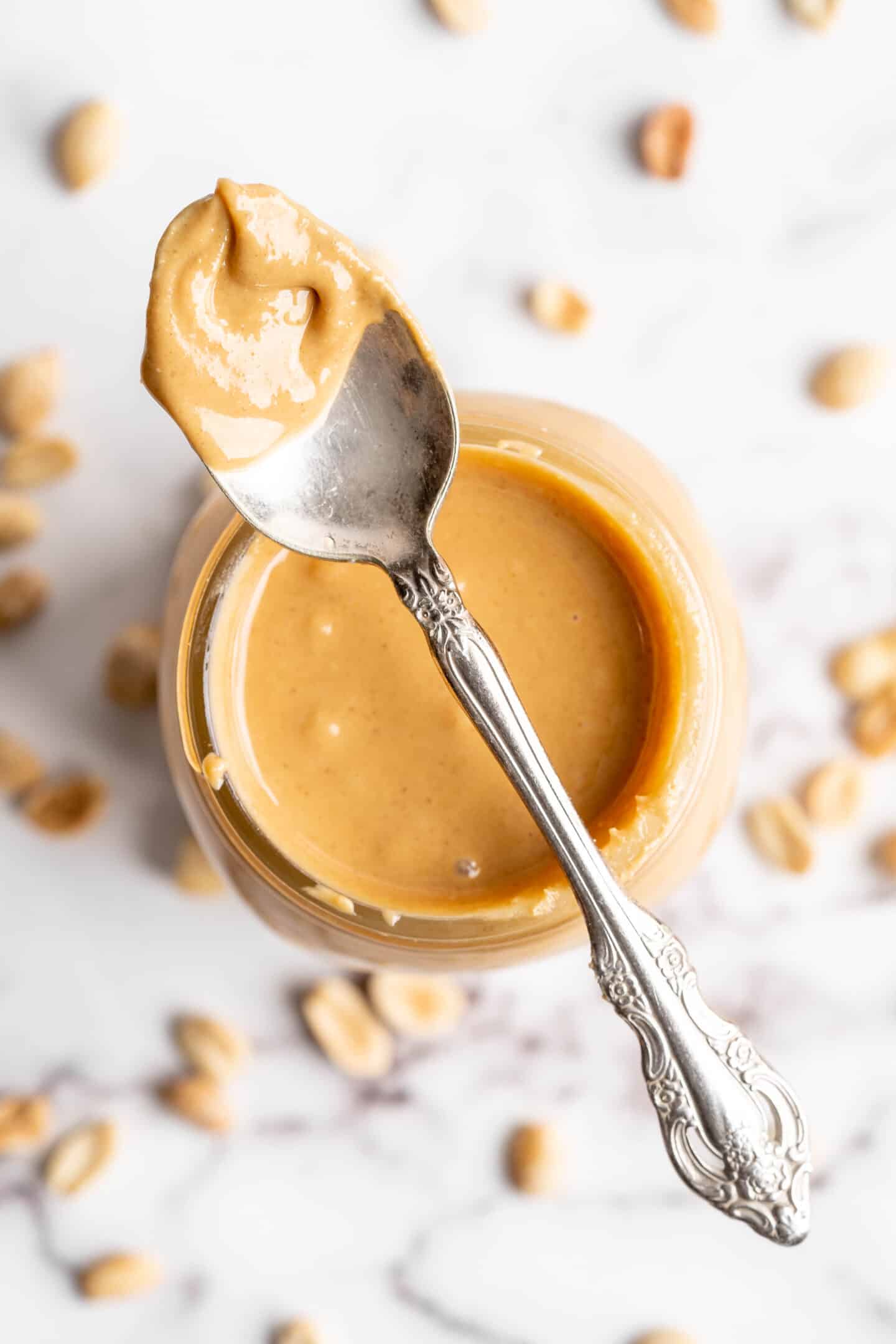 Enjoy friends! If you make this homemade peanut butter recipe, please snap a photo and tag #jessicainthekitchen on Instagram! We'd also love it if you would leave a comment below, and give the recipe a rating! Thanks so much!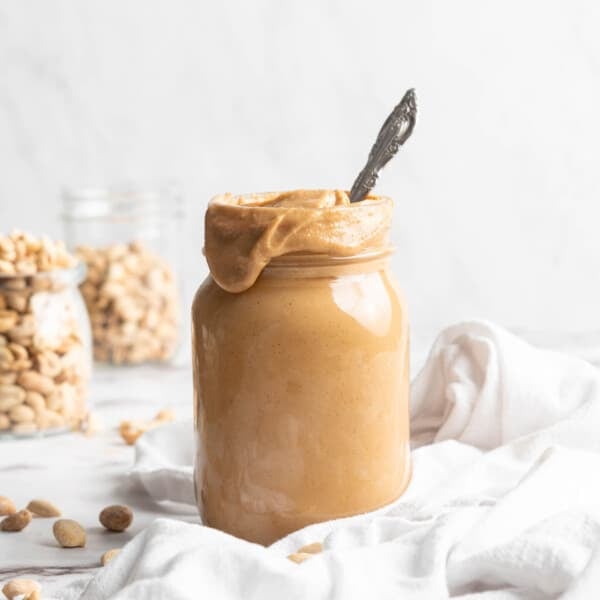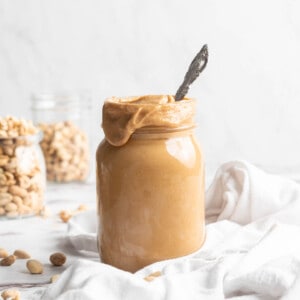 Homemade Peanut Butter
Wondering how to make peanut butter? This easy tutorial will show you how!
Ingredients
3 cups of dry roasted peanuts, or desired raw nut for other nut butters
½ teaspoon sea salt to taste
Optional for a sweet nut butter:
2 tablespoons coconut or cane sugar
1 teaspoon cinnamon
Instructions
Preheat oven to 350°F/180°C. Line a baking sheet with parchment paper or a silicone mat.

Add the nuts to the baking sheet and bake for 5 minutes. This helps to give the nuts a fragrant smell and to warm up the oils in the nuts.

Remove the nuts and add to a food processor. Pulse on low or high until combined into a nut butter. Your food processor may get a bit warm depending on how long it takes, so just turn it off for about a minute to prevent overheating if this happens. You may also need to stir everything together every few minutes.

When liquified into a nut butter, sprinkle over a pinch of sea salt and extra add ins if adding now too. Pulse for another 30 seconds to incorporate.

Pour into a jar with a cover and place in the fridge. You can use this nut butter anywhere you'd use storebought!
Notes
Toasting the nuts helps to warm up the oils in the nut, which helps it to blend easier. If you're making peanut butter, it's better to buy dry roasted, unsalted peanuts. How to store: Refrigerate the peanut butter in a jar for up to 1 month, or freeze it for up to 6 months and thaw it overnight. Stir it before serving, if needed.
Calories: 342kcal, Carbohydrates: 15g, Protein: 14g, Fat: 28g, Saturated Fat: 4g, Polyunsaturated Fat: 5g, Monounsaturated Fat: 15g, Sodium: 376mg, Potassium: 358mg, Fiber: 5g, Sugar: 6g, Vitamin A: 1IU, Vitamin C: 0.01mg, Calcium: 35mg, Iron: 1mg
Disclaimer: Although jessicainthekitchen.com attempts to provide accurate nutritional information, kindly note that these are only estimates. Nutritional information may be affected based on the product type, the brand that was purchased, and in other unforeseeable ways. Jessicainthekitchen.com will not be held liable for any loss or damage resulting for your reliance on nutritional information. If you need to follow a specific caloric regimen, please consult your doctor first.