30-Minute Quinoa Enchilada Skillet
This entire quinoa enchilada skillet dish is done from start to finish in 30 minutes, all in ONE pot! It's a healthy, nutritious & flavorful family-friendly dish!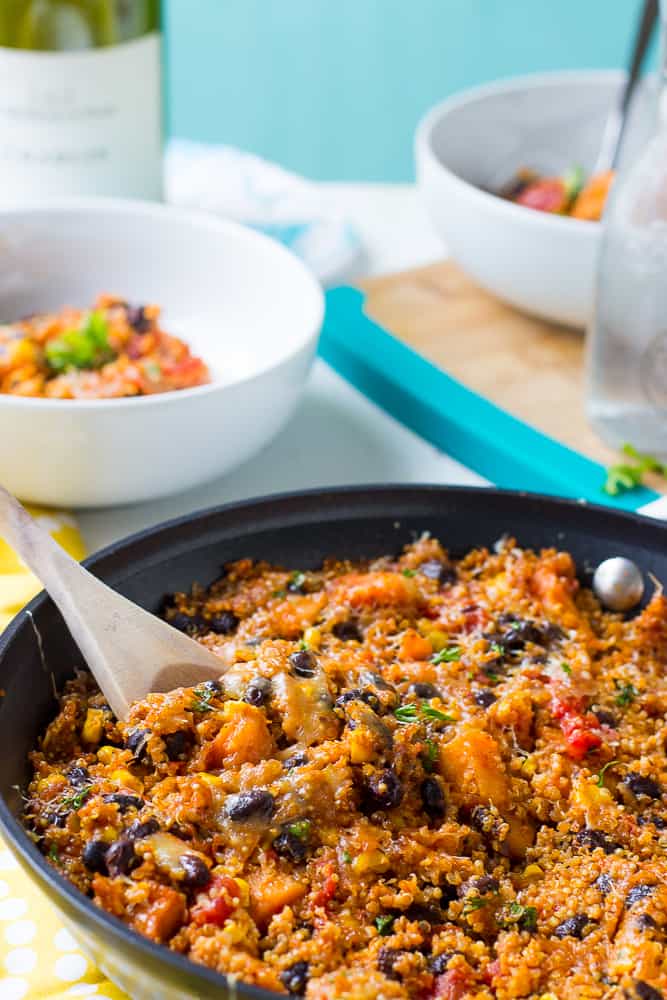 I have to say, this is probably one of my most favourite recipes to date. I'm very picky when it comes to recipes, so for me to say that, you've got to know that this recipe is the real deal. This was actually a "fridge dump" recipe, that came about because I really needed to go to the supermarket but also didn't want to go to the supermarket…because who enjoys that trip? I needed to use up a sweet potato, I always have cans of black beans and tomatoes, and quinoa is my ultimate go-to staple ingredient. 30 minutes later, this Quinoa Enchilada Skillet was born. I love that you just put all your ingredients into your skillet, let it all cook, and get to serve up a filling, protein packed, nutritious and healthy dish that can even by eaten by itself as a main dish.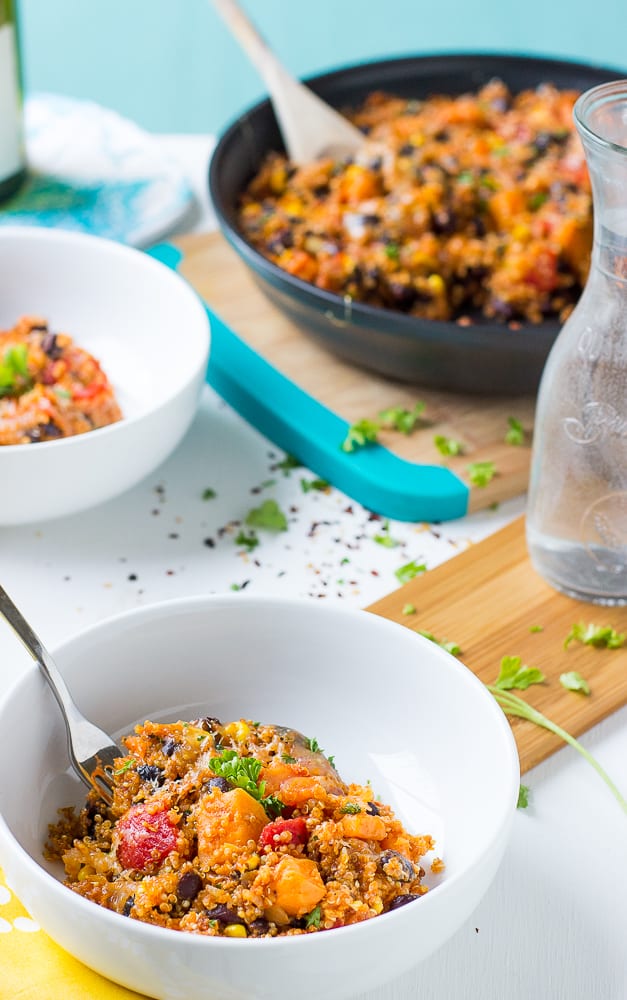 It's no surprise that I love this dish: I absolutely adore quinoa. I also love that this is such an easy dish to make. Throw in the sweet potato and garlic to heat, then you basically dump in the quinoa, broth and seasonings. This works so well because when regularly cooking quinoa, it soaks up all the liquid and delicious seasonings you put in the pot. The benefit here is that the sweet potato also benefits from all the delicious seasonings and gets to cook in the hot liquids. By the time everything is done, you get a dish that is SO well seasoned and a great feast in every bite.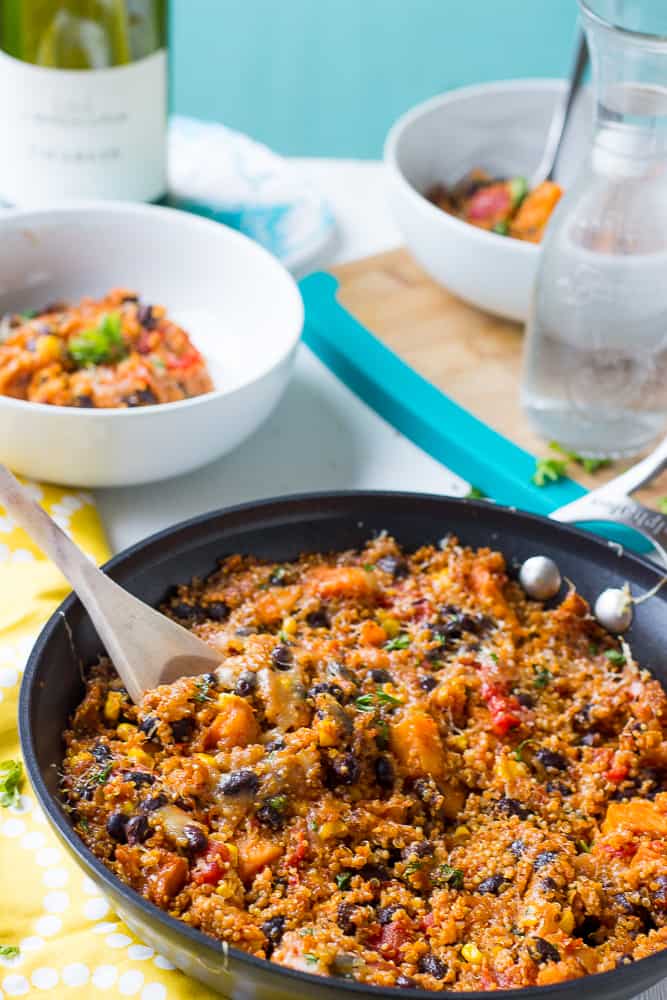 This quinoa enchilada skillet dish has all your favourite enchilada ingredients – sweet potato, black beans, corn, cumin, paprika…you name it. I actually threw in some red bell peppers I didn't finish using from my fresh spring rolls recipe in the beginning of the recipe, and you could mix it up with the seasonings if you want. I'm definitely guilty of snacking along the way…the sweet potatoes are SO tender are soaking in the vegetable broth while the quinoa soaks it up! I love the punch of colour that the dish provides and it's definitely an easy, quick and exotic way to shake up a regular dinner with ingredients that you probably already have in your fridge and pantry.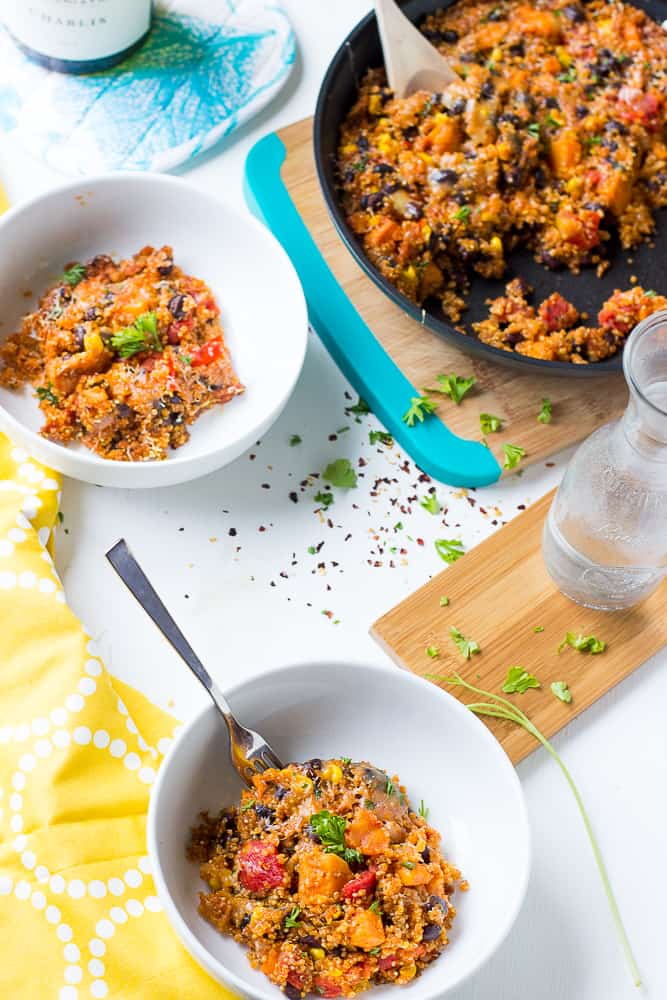 Needless to say, I've had this every single day since making it. It lasts really long naturally for a two people couple (the Mr. has been having it too) but this is great proof that it lasts a few days in the fridge. I actually preferred it even more the day after it was cooked! The flavours seemed to really come together much more. I love that this can be great for a work lunch too – it's just so versatile. Trust me, I'm swooning right now over this dish. I wish I could share it again and again! My favourite part is definitely that it is HEALTHY, nutritious and GOOD for you. Each serving is only 325 calories, 16 grams of protein, and 7.2 grams of fibre. It's:
Low in cholesterol
High in dietary fiber
High in iron
High in magnesium
Very high in phosphorus
Very high in vitamin B6
High in vitamin C
I'll be making this again and again!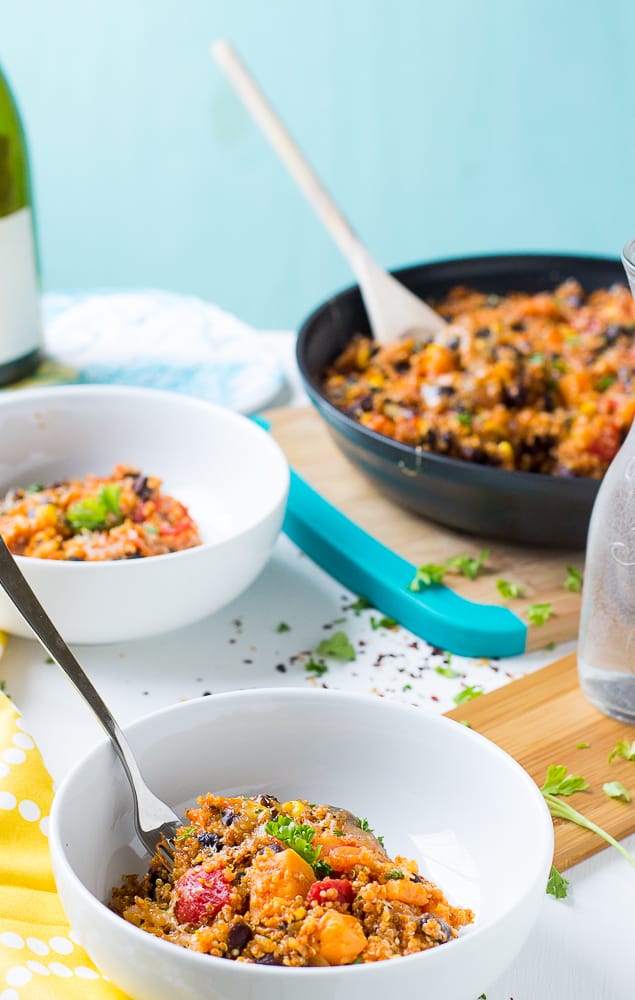 If you give this 30-Minute Quinoa Enchilada Skillet a try, please let me know in the comment section below, or tag me on instagram with the hashtag #jessicainthekitchen!
RELATED RECIPES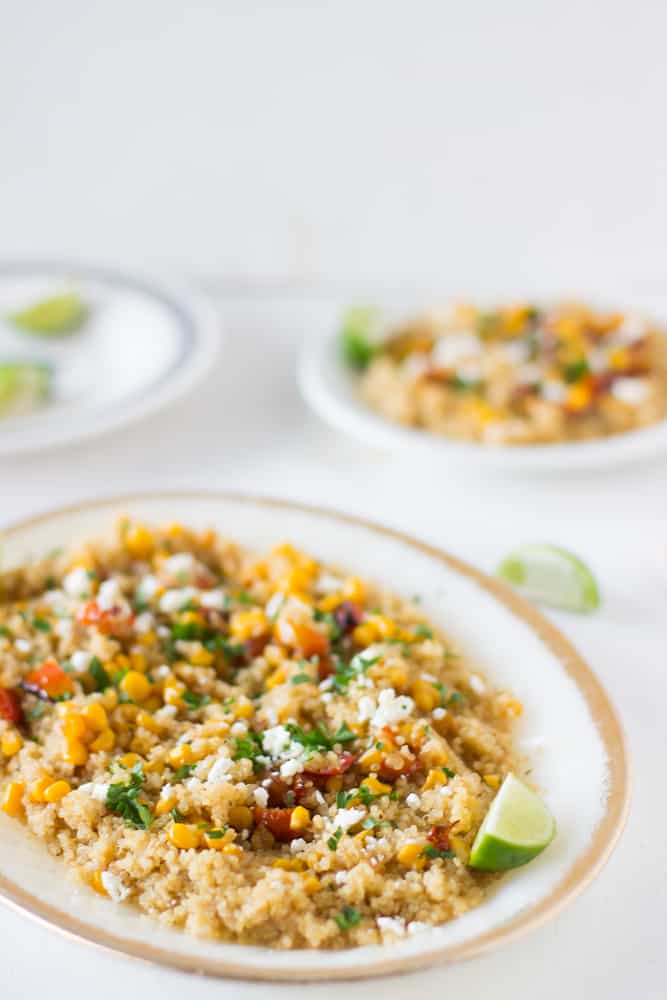 Quinoa and Corn Salad with Honey-Lime Dressing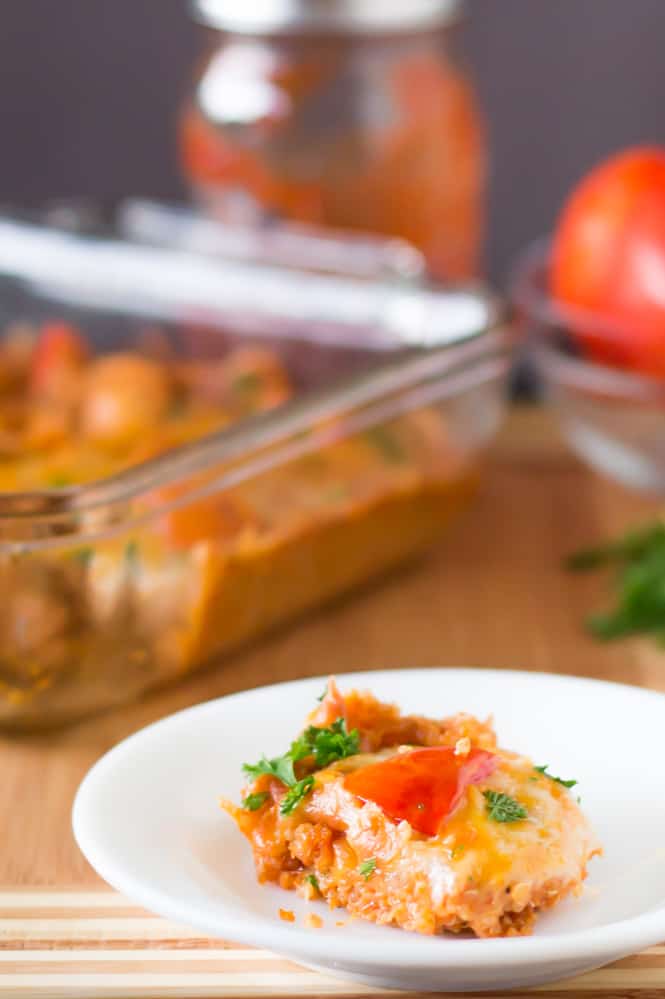 RECIPES AROUND THE WEB
Quinoa Enchilada Casserole by Damn Delicious
Quinoa & Egg Enchilada Skillet by Alaska from Scratch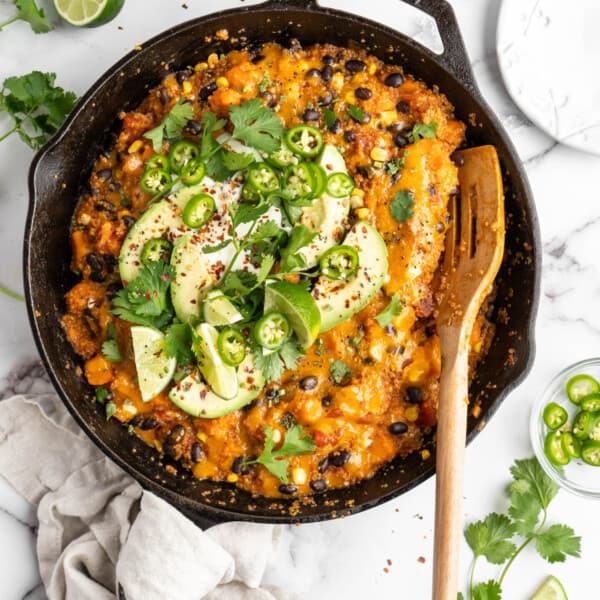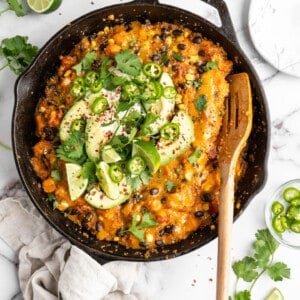 30-Minute Quinoa Enchilada Skillet
This entire quinoa enchilada skillet dish is done from start to finish in 30 minutes, all in ONE pot! It's a healthy, nutritious, and flavourful family-friendly dish!
Ingredients
1 large uncooked sweet potato, peeled and cubed
5 cloves of garlic, minced
1 cup uncooked quinoa, rinsed and drained
2 cups vegetable broth
1 teaspoon ground cumin
1/2 teaspoon paprika
1 teaspoon chili powder
salt & pepper to taste
1 cup enchilada sauce
1 15- oz. can black beans, drained
1/2 cup corn kernels
1 14 oz. can diced tomatoes, drained
1 1/4 cup vegan shredded cheese
Optional toppings: avocados, vegan sour cream/vegan greek yogurt on top, parsley for garnish
Instructions
In a 12-inch nonstick skillet with a lid, heat 1 tablespoon of oil (I used coconut oil, you can use the oil of your choice) over medium heat and add the sweet potato and garlic, stirring together with the oil to coat. Cook for about 2 minutes, stirring and watching the garlic so it doesn't burn.

Add the quinoa, vegetable broth, salt, pepper, ground cumin, paprika and chili powder and stir to combine.

Bring the mixture to a boil over high heat, then reduce the temperature to a simmer, cover, and continue to simmer to 15 minutes until most of the liquid has been absorbed by the quinoa and the quinoa has popped and begins to look fluffy.

Add the enchilada sauce, black beans, corn kernels, and diced tomatoes. Stir in and cook for another 5 minutes until heated through.

Sprinkle the cheese over the top of the dish and cover the skillet so that the cheese melts.

Serve with optional garnishes such as parsley, avocados and sour cream/greek yogurt on top. Enjoy!
Notes
This dish freezes well, but I would not add the cheese if I was freezing. After thawing, add the cheese when reheating the dish.
This dish tastes even better as leftovers! Leftover Quinoa Enchilada Skillet will keep in the fridge for up to 3 days. Reheat it in the microwave or in a skillet set over medium heat until warmed through.
Feel free to add in your own ingredients. You can add diced bell peppers, onions, anything in your fridge you need to finish!
Calories: 325kcal, Carbohydrates: 50g, Protein: 16g, Fat: 8g, Saturated Fat: 3g, Cholesterol: 18mg, Sodium: 1252mg, Potassium: 712mg, Fiber: 10g, Sugar: 7g, Vitamin A: 6199IU, Vitamin C: 11mg, Calcium: 199mg, Iron: 4mg
Disclaimer: Although jessicainthekitchen.com attempts to provide accurate nutritional information, kindly note that these are only estimates. Nutritional information may be affected based on the product type, the brand that was purchased, and in other unforeseeable ways. Jessicainthekitchen.com will not be held liable for any loss or damage resulting for your reliance on nutritional information. If you need to follow a specific caloric regimen, please consult your doctor first.