How to Make Crispy Roasted Chickpeas
Learn how to make crispy roasted chickpeas in the oven! They're the perfect high protein snack, great for meal prep, and you can customize them with your favourite seasonings and flavours!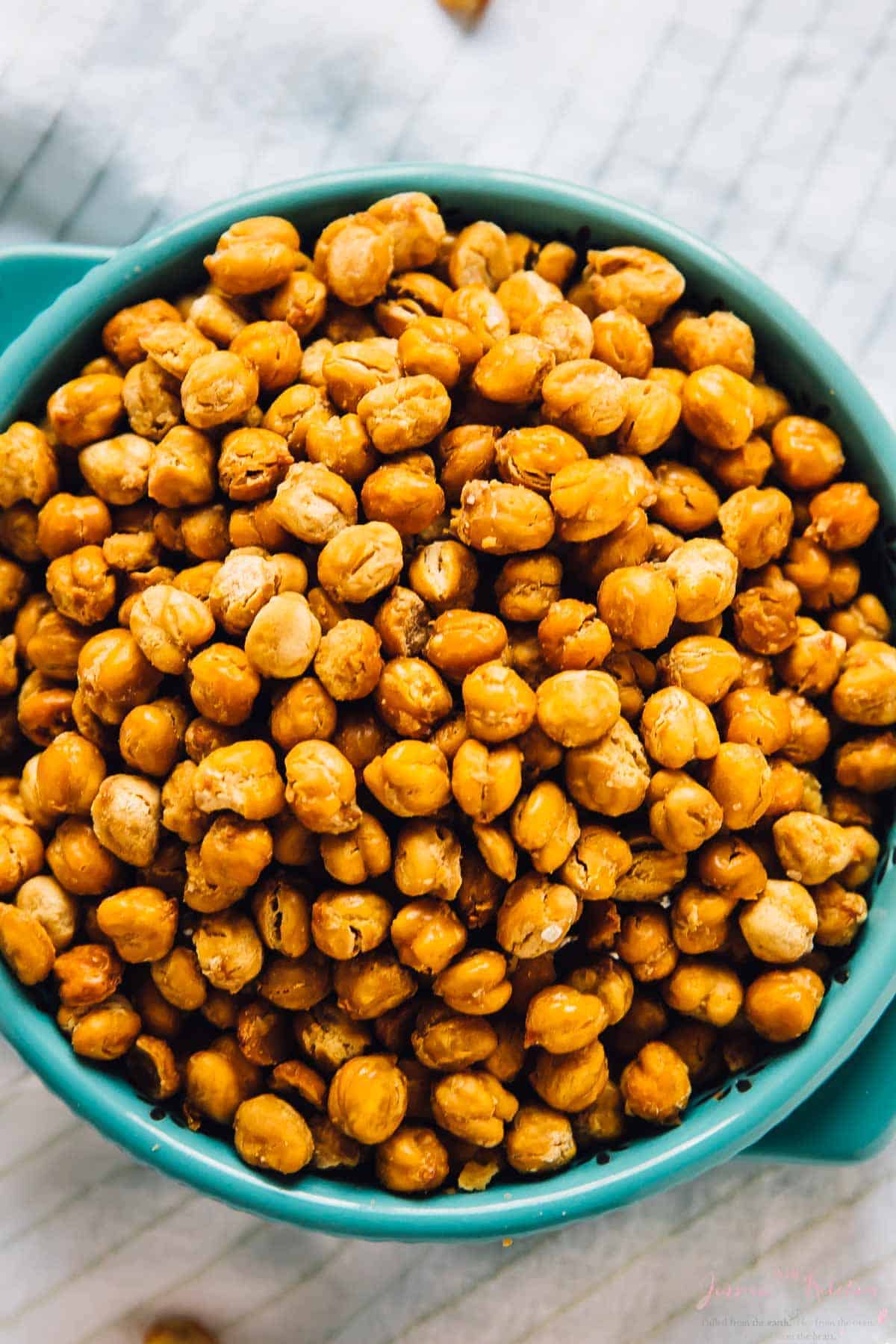 If you haven't tried crispy roasted chickpeas, now's the time. A handful of these will actually keep your hunger at bay, but they're so much more than just a snack—they're a crunchy addition to salads, meal bowls, and even soups!
The key to getting these chickpeas roasted to crispy perfection is ensuring that they are dry before going into the oven. Not pat lightly with a towel dry, but dry.
You also want to roast them on the best medium. I love my silicone mat for well, everything, because it maintains high heat without burning and I find that every single thing I make on it bakes perfectly. You can also use parchment paper if you don't have a silicone mat.
Once roasted, the chickpeas transform from soft, mushy beans into a crispy snack that you'd think you bought at a health food store. They're so easy, and my favourite part is popping way-too-hot chickpeas into my mouth for 'taste testing.' 
Best of all, you can easily switch up the flavours. I've got some ideas later in the post!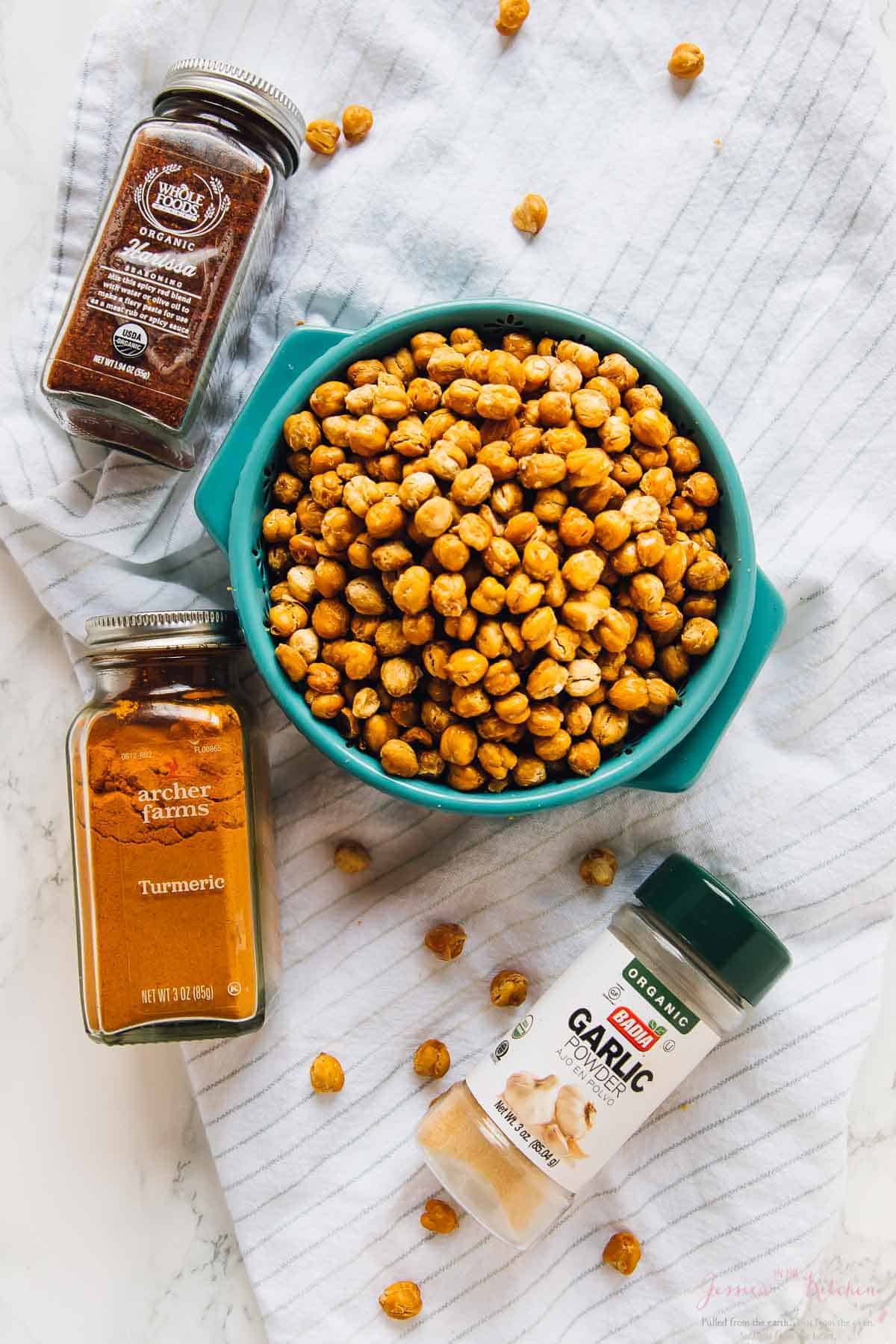 Notes on Ingredients
Please note that this is important information on the ingredients and instructions and the FULL recipe with amounts and details can be found DOWN BELOW (scroll to it) in the recipe card.
Chickpeas – You'll need 2 cans of chickpeas for this recipe. If you're using dried chickpeas, cook them first; you'll need about 3 cups.
Olive oil or coconut oil
Sea salt
Flavour options:
Maple cinnamon chickpeas – Add ground cinnamon and maple syrup.
Harissa garlic chickpeas – Add garlic powder and harissa powder.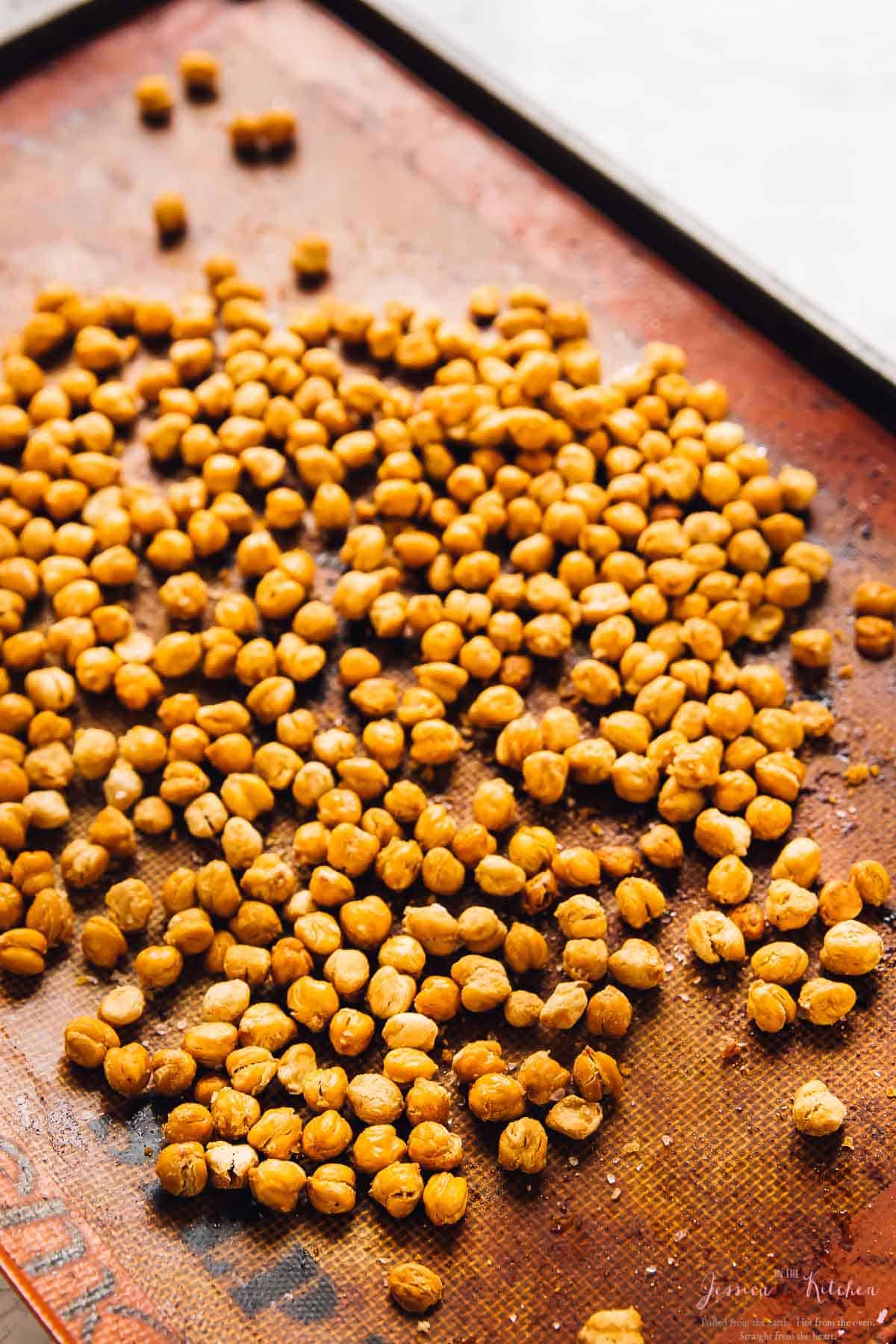 How to Make Crispy Roasted Chickpeas
This recipe is easy as can be! Here's what you'll need to do.
Prepare. Preheat your oven to 400ºF and line a baking sheet with a silicone mat or parchment paper. Rinse, drain, and thoroughly dry the chickpeas. 
Oil the chickpeas. Place the chickpeas on the prepared baking sheet and drizzle them with oil. Sprinkle them with salt, then use your hands to gently toss the chickpeas, ensuring that they're evenly coated in oil and spread out on the pan.
Bake. Roast the chickpeas in the oven for 15 minutes, then rotate the baking sheet and roast for 15 minutes more, or until the chickpeas are crispy.
Add flavours. If you want to season your chickpeas, do it now. Combine the maple and cinnamon and drizzle the mixture over the chickpeas, or toss them in harissa and garlic powder.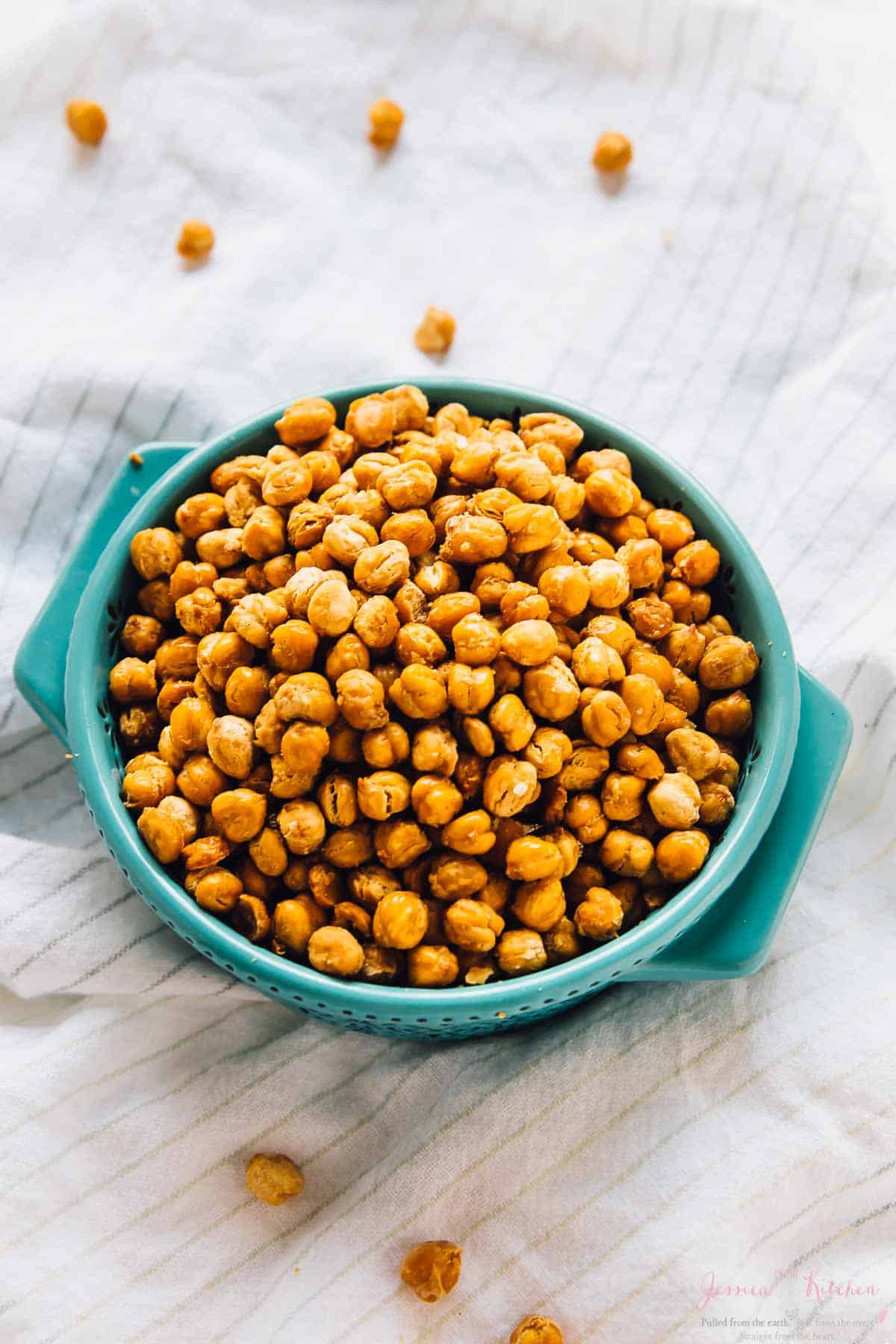 Why Won't My Chickpeas Get Crunchy?
There are a few reasons why your chickpeas might not be getting crispy in the oven:
They're not dry enough. If your chickpeas are even slightly damp, they won't get crispy in the oven. 
The oven isn't hot enough. The chickpeas need high heat to get crispy, so if your oven isn't hot enough, they won't crisp up.
You didn't bake them long enough. Chickpeas can take a while to get crispy in the oven; sometimes up to 30 minutes.
Tips for Success
Making crispy chickpeas is easy, but these simple tips will help you make them perfect!
Dry them well. Place the chickpeas on a kitchen towel and rub them until they're completely dry. Rubbing will also help loosen the skins; you can then slide off the rest of the skins, which will make the chickpeas crunchier.
Use a rimmed baking sheet (AKA a sheet pan). Otherwise, your chickpeas are likely to roll off the edges of the pan.
Enhance the crispiness. If you have time, return the chickpeas to the oven, turn it off, and leave the door open slightly to cool for another 30 minutes. This will ensure the chickpeas remain crispy for days.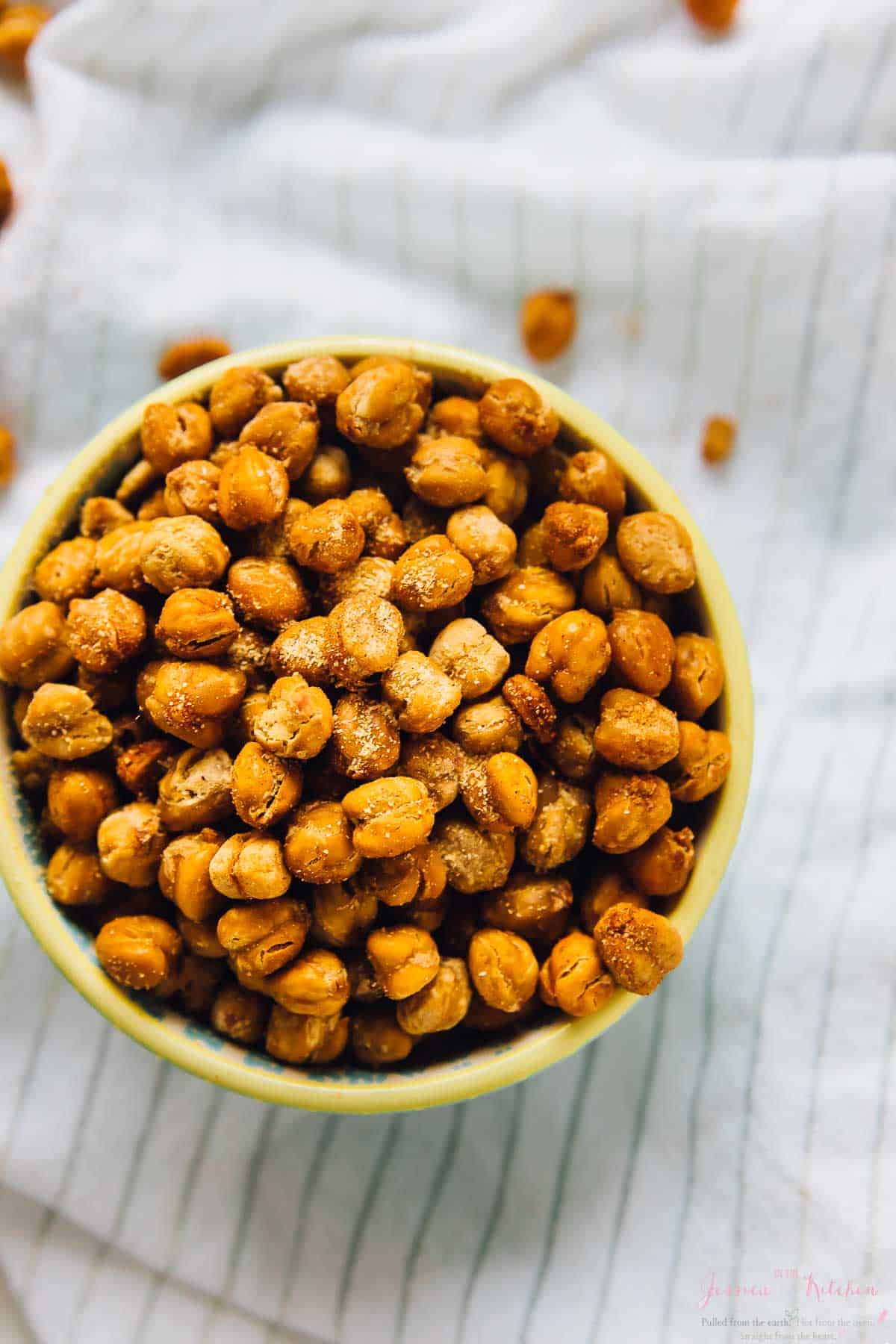 More Flavour Ideas
There are so many fun ways to season these chickpeas, but I recommend adding herbs and spices after the chickpeas are done roasting so they don't burn. Here are some additional ideas to try:
Lemon zest, minced rosemary, and cracked black pepper
Taco seasoning
Ranch seasoning
Everything bagel seasoning
Serving Suggestions
Use crispy roasted chickpeas: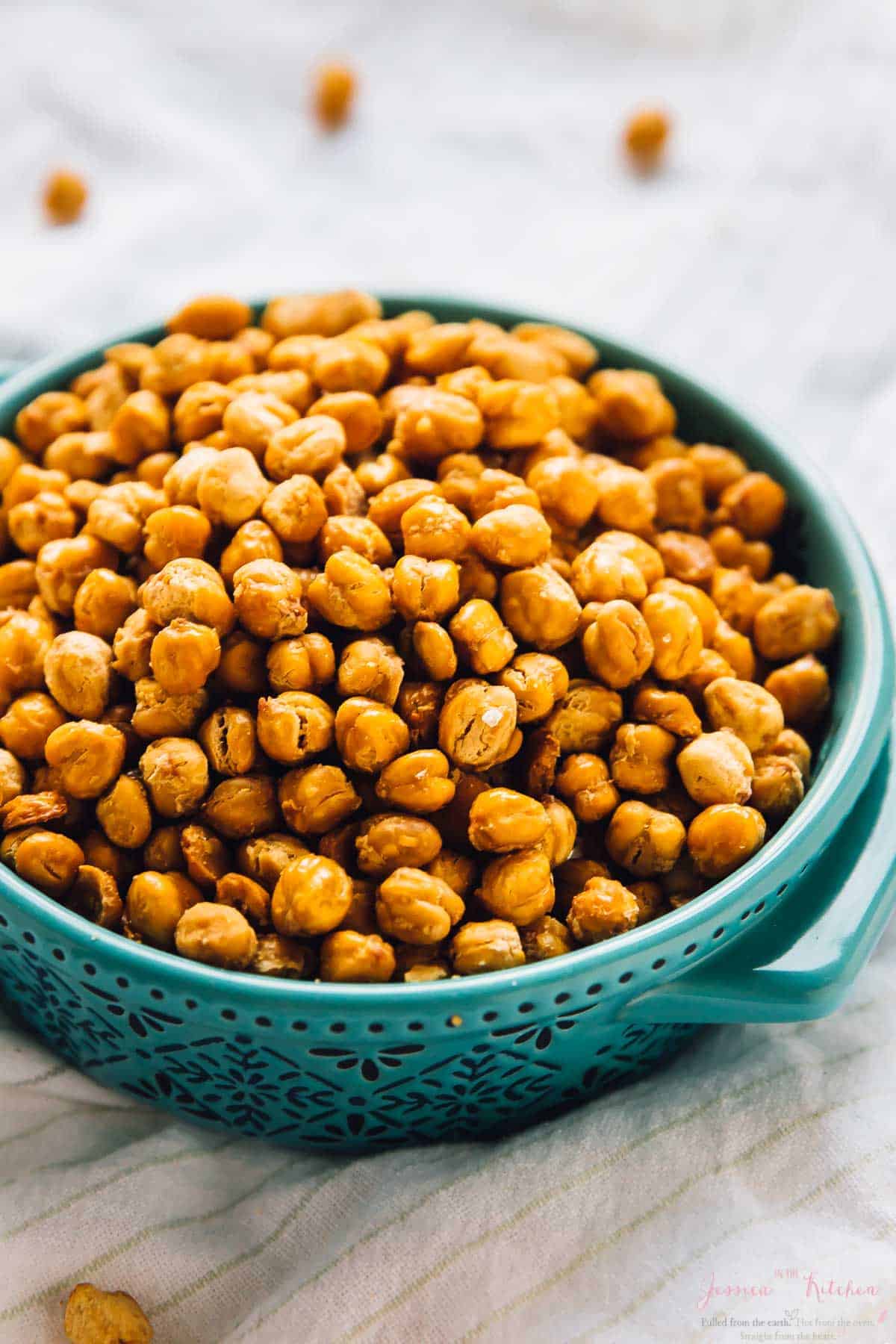 How to Store
Once they're roasted, these chickpeas will stay crispy for up to 5 days in an airtight container at room temperature. If they start to lose their crispiness, you can always pop them back in the oven for a few minutes to crisp them up again.
Can This Recipe Be Frozen?
No, if you freeze these chickpeas, they won't be crispy anymore. If you're looking for a freezer-friendly snack idea, try my Quinoa Pizza Bites.
Enjoy friends! If you make this crispy roasted chickpea recipe, please snap a photo and tag #jessicainthekitchen on Instagram! We'd also love it if you would leave a comment below, and give the recipe a rating! Thanks so much!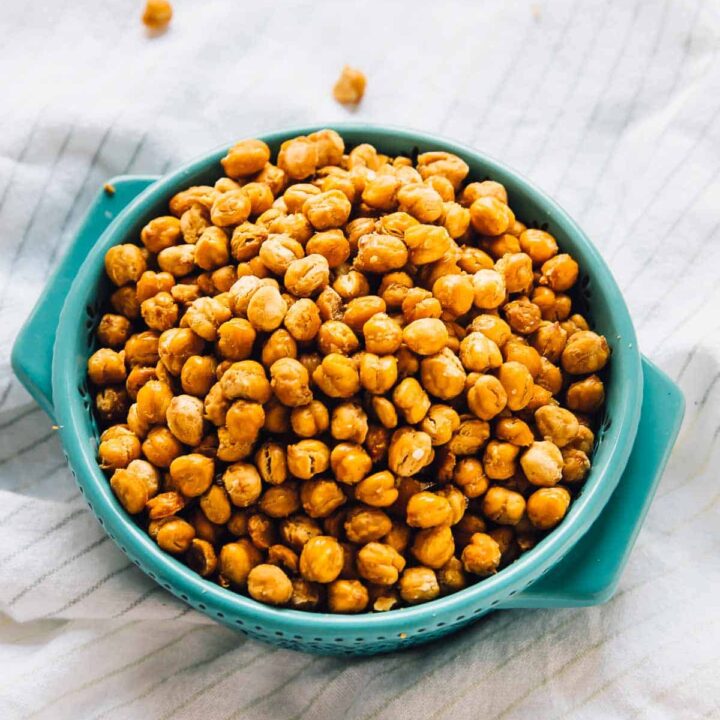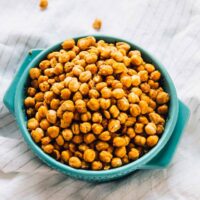 How to Make Crispy Roasted Chickpeas (+ Flavours)
Learn how to make absolutely delicious crispy roasted chickpeas! They're the perfect high protein snack and easy to customize with your favourite flavours.
Ingredients
Crispy Roasted Chickpeas
2 cups chickpeas, drained (about 2 cans chickpeas)
2 tablespoons olive oil or coconut oil
1/2 teaspoon sea salt
Different Flavours
cinnamon and maple syrup
garlic powder
garlic powder and harissa powder
Instructions
Crispy Roasted Chickpeas
Preheat oven to 400 F degrees. Rinse and drain chickpeas. Place them onto a kitchen towel and rub until completely dry. Remember, the chickpeas need to be very dry or they won't crisp up. This will also help to loosen up the skins. Slide off the rest of the skins – this will make the chickpeas a lot crunchier.

On a baking sheet lined with parchment paper or a silicone mat, add the chickpeas. Drizzle the oil over the chickpeas and the salt, and using your hands, rub to mix into the chickpeas. Ensure they are spread out on the sheet


Bake for 30 minutes, rotating the baking sheet pan halfway around at 15 minutes.

Test one of the chickpeas to ensure that it's crispy. Remove chickpeas, and if you're flavouring them, toss with the relevant flavourings:

Maple cinnamon – mix in about cinnamon, and drizzle from maple syrup over and toss lightly

Harissa garlic – mix with Harissa powder and garlic powder and toss together.

If you have time/want the crispness to last, place chickpeas back into the oven, turn off the oven and leave it slightly open to cool for another 30 minutes. This will ensure they remain crispy for days.

Remove from oven and enjoy! You can store them in airtight Tupperware containers for days. Enjoy!
Notes
This recipe is naturally vegan and gluten free. You can use any flavours that you'd like on these chickpeas. Don't put the seasonings on before baking – they tend to burn and will ruin the flavour of the chickpeas. These make a great meal prep snack!
Calories: 201kcal, Carbohydrates: 24g, Protein: 7g, Fat: 9g, Saturated Fat: 6g, Sodium: 305mg, Potassium: 239mg, Fiber: 6g, Sugar: 5g, Vitamin A: 22IU, Vitamin C: 1mg, Calcium: 40mg, Iron: 2mg
Disclaimer: Although jessicainthekitchen.com attempts to provide accurate nutritional information, kindly note that these are only estimates. Nutritional information may be affected based on the product type, the brand that was purchased, and in other unforeseeable ways. Jessicainthekitchen.com will not be held liable for any loss or damage resulting for your reliance on nutritional information. If you need to follow a specific caloric regimen, please consult your doctor first.