How to Make Crispy Roasted Chickpeas (Meal Prep Snack)
Learn how to make absolutely delicious crispy roasted chickpeas! They're the perfect high protein, addictive snack and so easy to add tons of seasonings and herbs to them!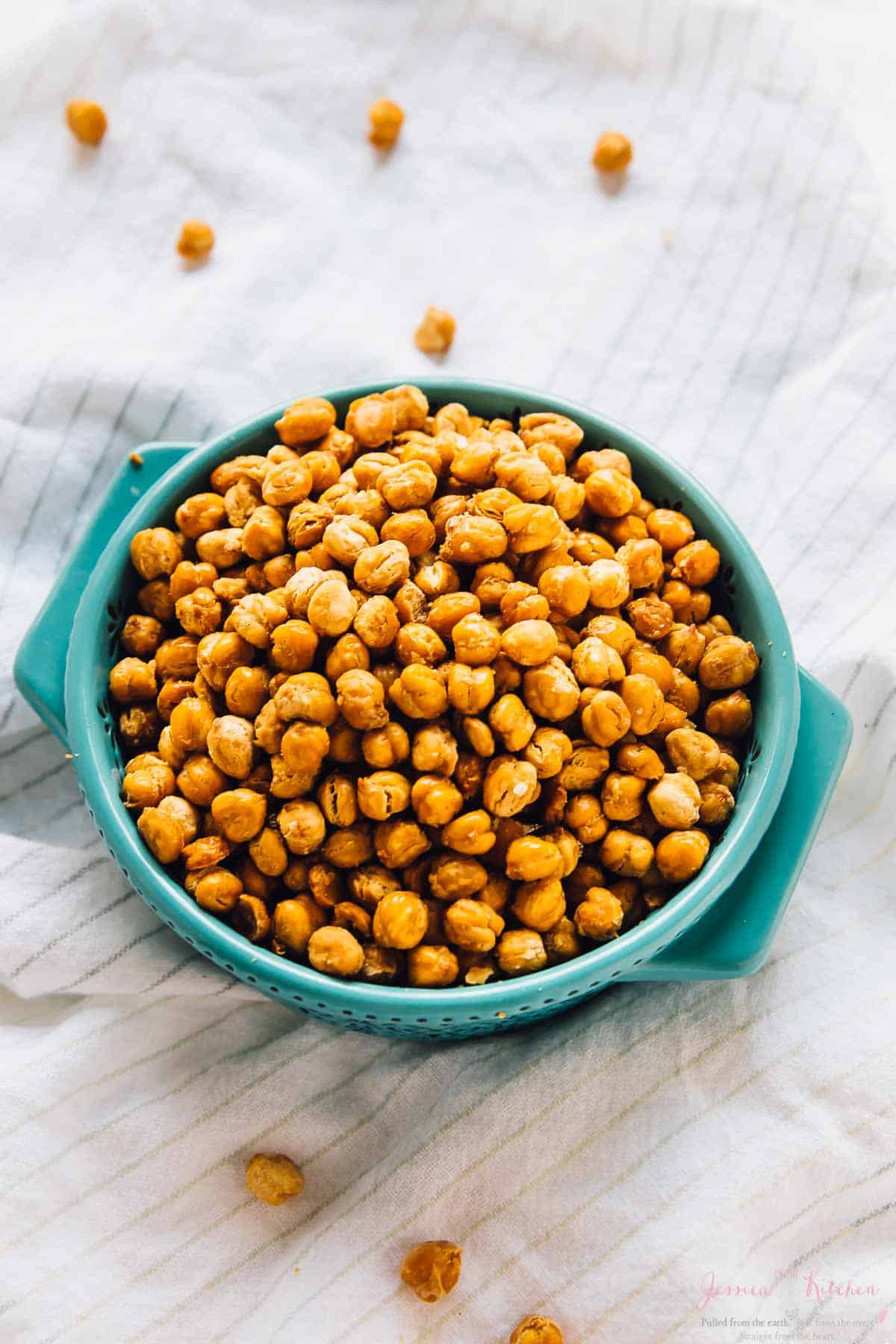 Happy Friday friends! Also, how is it Friday already again? I feel as if this week just started. It's been such an incredibly busy week, and these crispy roasted chickpeas certainly helped to make it a whole lot easier. I've made these before, and after one bite from this batch I realised that it's been way too long since the last time I enjoyed these! These are a crunchy, addictive and perfectly portable snack that also happen to be very high in protein. Plus, you can add any flavourings to them. Maple cinnamon chickpeas anyone (my favourite flavour)? Let's jump to see how to make these beauties!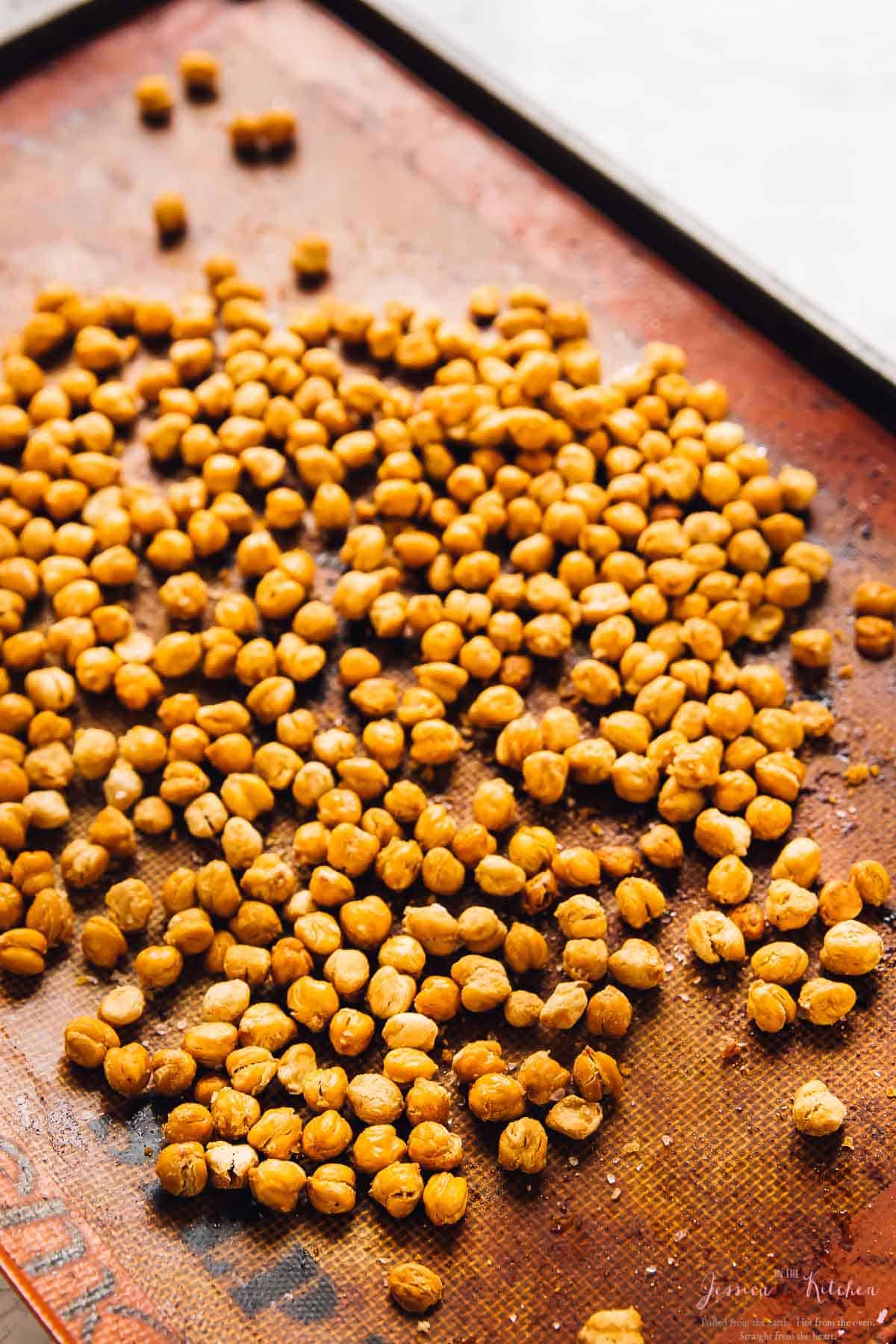 The Mr. did our meal prep this week, and I am over the moon grateful. As I've mentioned before, meal prepping is such an absolutely saving grace if you have a busy schedule. It ensures that you always have a healthy meal to eat, so there's no skipping meals and hopefully less chances of getting hangry (yup…that's me!).
Case in point: these crispy roasted chickpeas. We also bought a ton of fruits this week, so I've had some amazing snack options to alternate between. If you haven't tried crispy roasted chickpeas, now's the time for sure. A handful of these will actually keep your hunger at bay.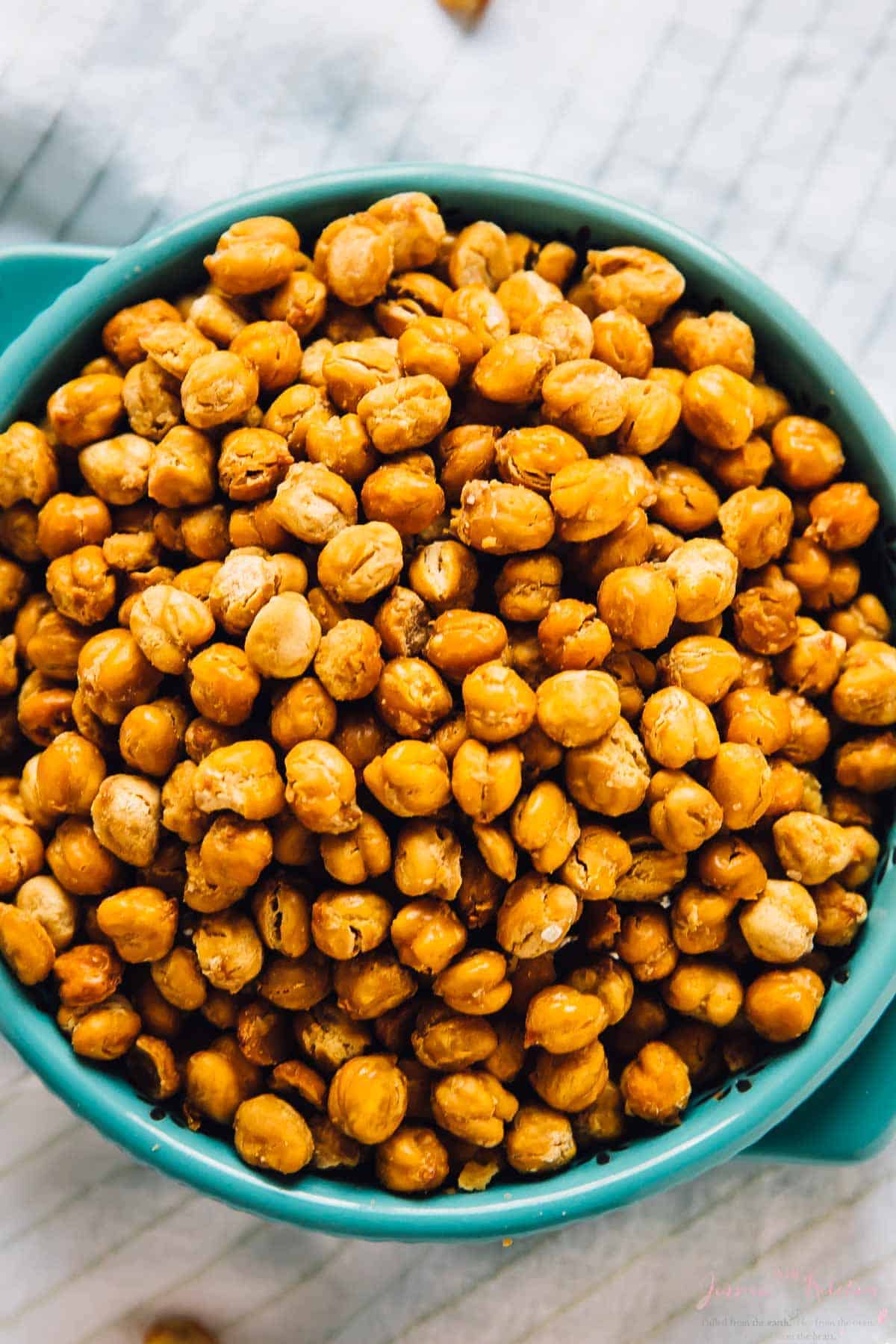 The key to getting these chickpeas to roast up is ensuring that they are dry before roasting. Not pat down lightly with a towel dry, but dry. I tend to place them in between a kitchen towel and rub (gently) until the towel itself is a little damp. It means there isn't anything blocking them from heating up to crisping up level, which is exactly what we want. You also want to roast them on the best medium. I love my silicone mat for well, everything, because it maintains such high heat without burning and I find that every single thing I make on them bakes perfectly. You can also use parchment paper for this for sure.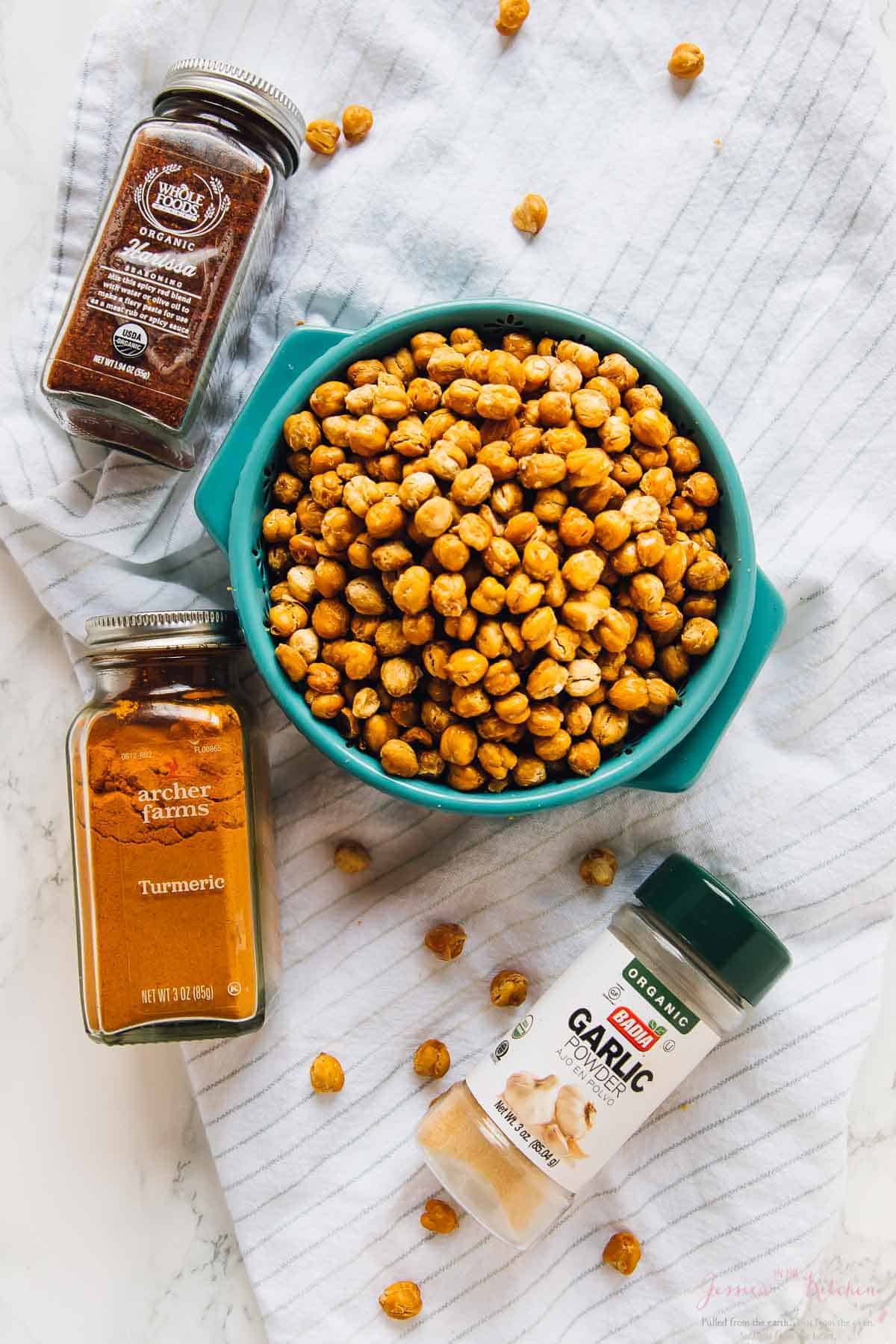 Your chickpeas end up transferring from soft, mushy beans into a crispy snack that you'd think you bought in your health store. They're so easy to do, and my favourite part of it all is popping way too hot chickpeas into my mouth for 'taste testing'. Best of all, you can switch up the flavours. You can have them plain, or flavoured. The world is your oyster here – the flavours are 100% up to you! You can do maple cinnamon, garlic, Harissa garlic, chili lime (yum!!), ranch…anything! It's a fun and creative snack that will reward you right back with every single bite.
Enjoy and happy snacking! I stored mine in Tupperware containers afterwards and they kept them crisp (plus the tip in the recipe). Although, I definitely finished them the next day. 😉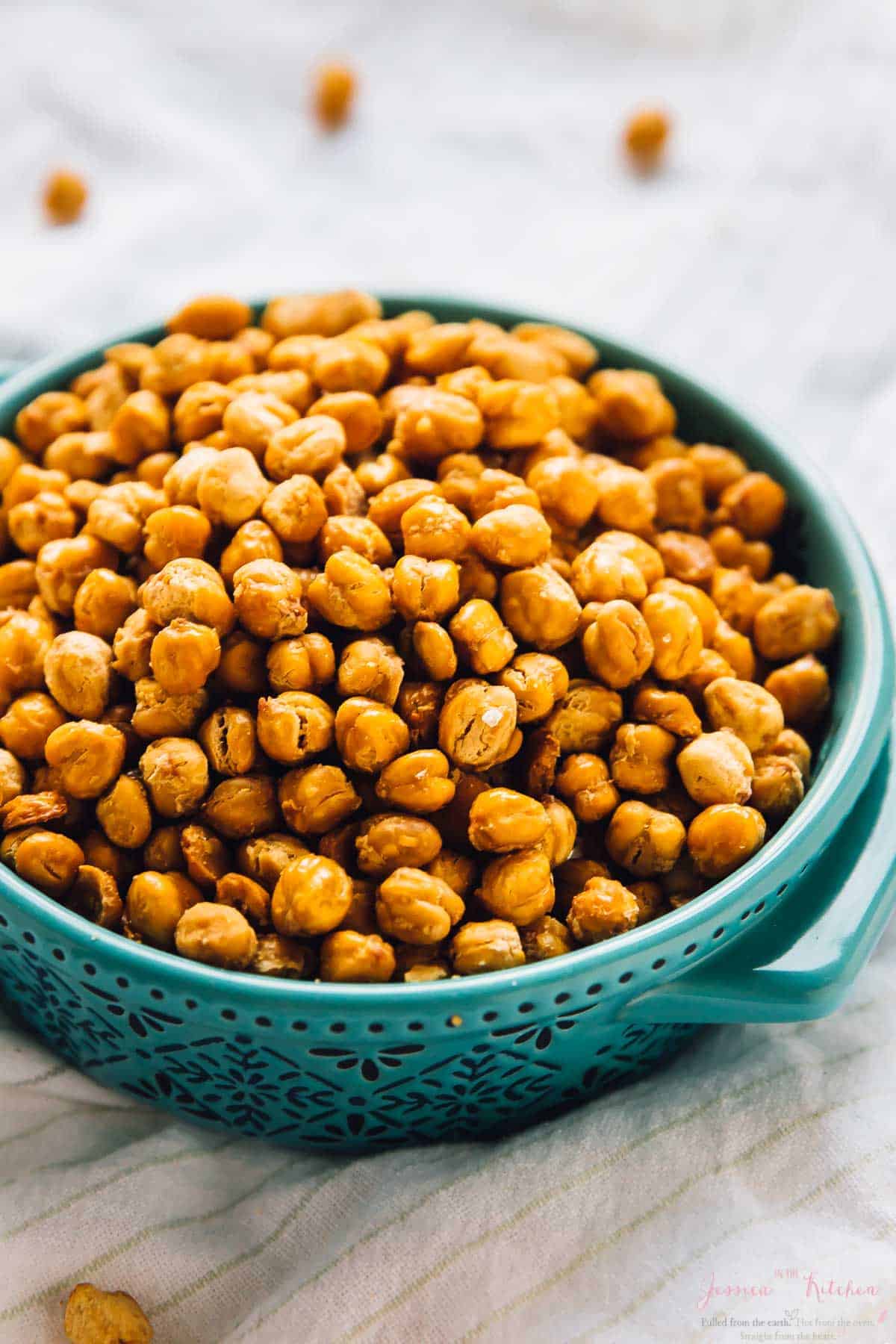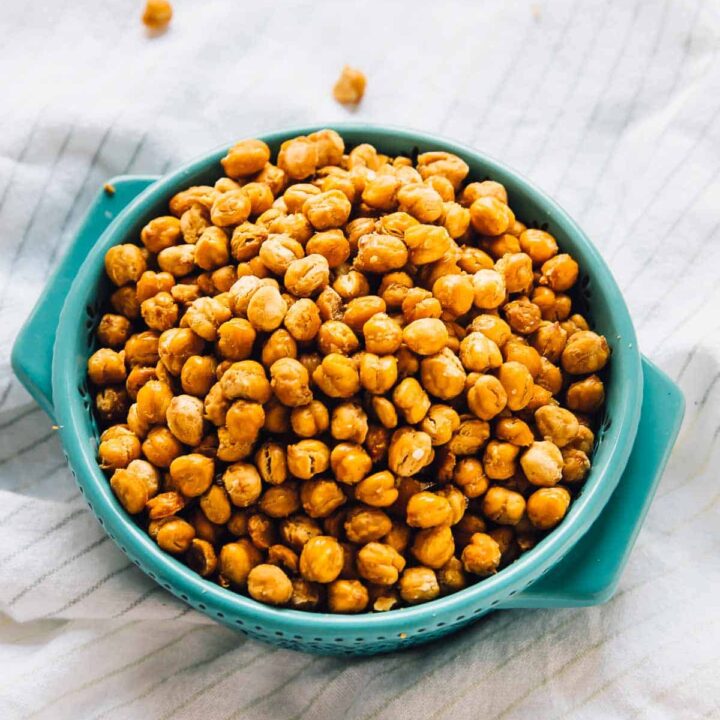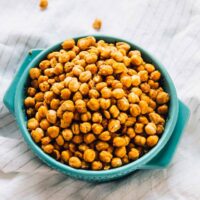 How to Make Crispy Roasted Chickpeas (+ Flavours)
Learn how to make absolutely delicious crispy roasted chickpeas! They're the perfect high protein snack and easy to customize with your favourite flavours.
Ingredients
Crispy Roasted Chickpeas
2 cups chickpeas, drained (about 2 cans chickpeas)
2 tablespoons olive oil or coconut oil
1/2 teaspoon sea salt
Different Flavours
cinnamon and maple syrup
garlic powder
garlic powder and harissa powder
Instructions
Crispy Roasted Chickpeas
Preheat oven to 400 F degrees. Rinse and drain chickpeas. Place them onto a kitchen towel and rub until completely dry. Remember, the chickpeas need to be very dry or they won't crisp up. This will also help to loosen up the skins. Slide off the rest of the skins - this will make the chickpeas a lot crunchier.

On a baking sheet lined with parchment paper or a silicone mat, add the chickpeas. Drizzle the oil over the chickpeas and the salt, and using your hands, rub to mix into the chickpeas. Ensure they are spread out on the sheet


Bake for 30 minutes, rotating the baking sheet pan halfway around at 15 minutes.

Test one of the chickpeas to ensure that it's crispy. Remove chickpeas, and if you're flavouring them, toss with the relevant flavourings:

Maple cinnamon - mix in about cinnamon, and drizzle from maple syrup over and toss lightly

Harissa garlic - mix with Harissa powder and garlic powder and toss together.

If you have time/want the crispness to last, place chickpeas back into the oven, turn off the oven and leave it slightly open to cool for another 30 minutes. This will ensure they remain crispy for days.

Remove from oven and enjoy! You can store them in airtight Tupperware containers for days. Enjoy!
Notes
This recipe is naturally vegan and gluten free. You can use any flavours that you'd like on these chickpeas. Don't put the seasonings on before baking – they tend to burn and will ruin the flavour of the chickpeas. These make a great meal prep snack!
Calories: 201kcal, Carbohydrates: 24g, Protein: 7g, Fat: 9g, Saturated Fat: 6g, Sodium: 305mg, Potassium: 239mg, Fiber: 6g, Sugar: 5g, Vitamin A: 22IU, Vitamin C: 1mg, Calcium: 40mg, Iron: 2mg
Disclaimer: Although jessicainthekitchen.com attempts to provide accurate nutritional information, kindly note that these are only estimates. Nutritional information may be affected based on the product type, the brand that was purchased, and in other unforeseeable ways. Jessicainthekitchen.com will not be held liable for any loss or damage resulting for your reliance on nutritional information. If you need to follow a specific caloric regimen, please consult your doctor first.