Nourishing Vegan Buddha Bowl
This protein-packed Vegan Buddha Bowl is filled with the flavours of caramelised, crispy, and crunchy veggies, tender baked tofu, and a spicy harissa tahini dressing. It's perfect for meal prep, too!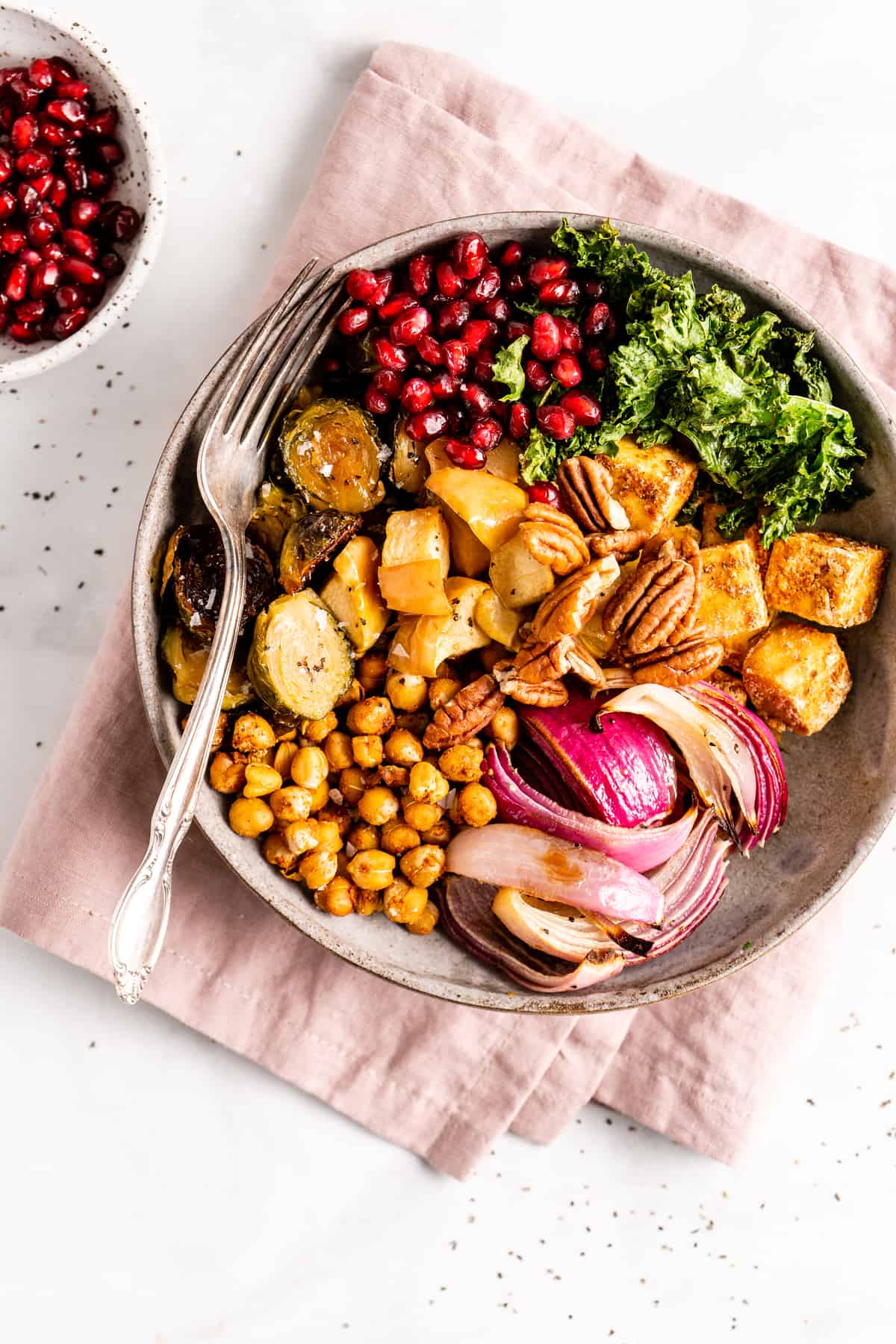 This vegan Buddha bowl was inspired by my love of fall and winter flavours. Although it might seem like there are a lot of steps involved, if you watch this video, you'll see how it all comes together. (Bonus: you'll also be able to see what I eat in a typical day!) It's minimal mess and meal-prep-friendly, which is something we can all use more of in our lives, right?
This particular Buddha bowl starts with a combination of sweet-and-savory roasted Brussels sprouts, apples, and onions. For protein, I add crispy baked chickpeas and tofu, then to amp up the veggie factor even more, I add homemade kale chips. To tie everything together, I drizzle it all with a creamy harissa tahini dressing. So good!
When I make this for meal prep, I cook and store the ingredients separately so I can combine them in any quantity that I feel like. Everything will last about a week in the fridge, so you can cook on a Sunday night and have lunches ready all week long! For maximum crispiness, I recommend making the kale chips right before you're ready to eat, but if you don't mind softer kale, you can make that in advance as well or use raw kale instead of roasting it.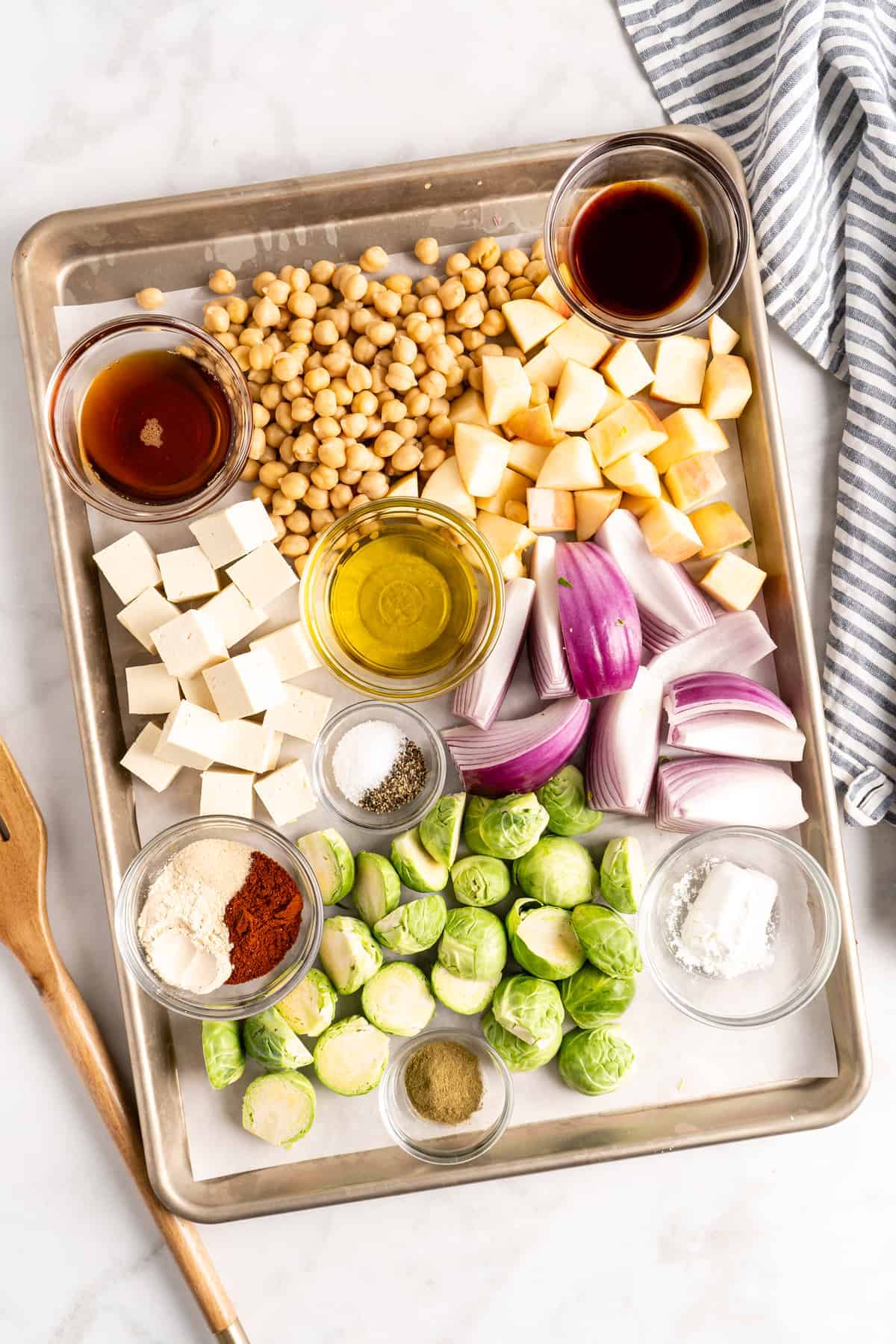 Notes on Ingredients
Please note that this is important information on the ingredients and instructions and the FULL recipe with amounts and details can be found DOWN BELOW (scroll to it) in the recipe card.
For the Brussels Sprouts, Apples & Onions:
Brussels sprouts
Red onion – For a more pronounced flavour, you can use two shallots instead.
Apple – Any firm apple that's good for baking is good for roasting. I recommend Pink Lady, Braeburn, or Honeycrisp.
Olive oil
Maple syrup – Use a dark, robust-flavoured maple syrup.
Fine sea salt
Black pepper
Sprigs of thyme
For the Baked Tofu & Chickpeas:
Chickpeas – Make sure the chickpeas are very dry before you roast them. If they're still wet, they won't get crispy!
Tofu – I suggest using extra-firm tofu for this recipe. Learn more: How To Cook Tofu 101 + Best Tips on Making the Most Delicious Tofu
Liquid aminos – You can use soy sauce or tamari, too.
Olive oil
Cornstarch – This gives the tofu a crispy exterior.
Garlic powder
Onion powder
Paprika
Sea salt
Black pepper
For the Kale Chips:
Kale – Any type of kale will work for this recipe.
Olive oil
Salt
Black pepper
For the Harissa Tahini Dressing:
Tahini – Here's how to make your own tahini.
Salt
Black pepper
Harissa powder – If you can't find harissa powder, you can use harissa paste. Add a very small amount to start; taste and add more if necessary. Harissa paste can vary in intensity!
Water
Lime juice – You can substitute lemon juice if you like.
Garlic powder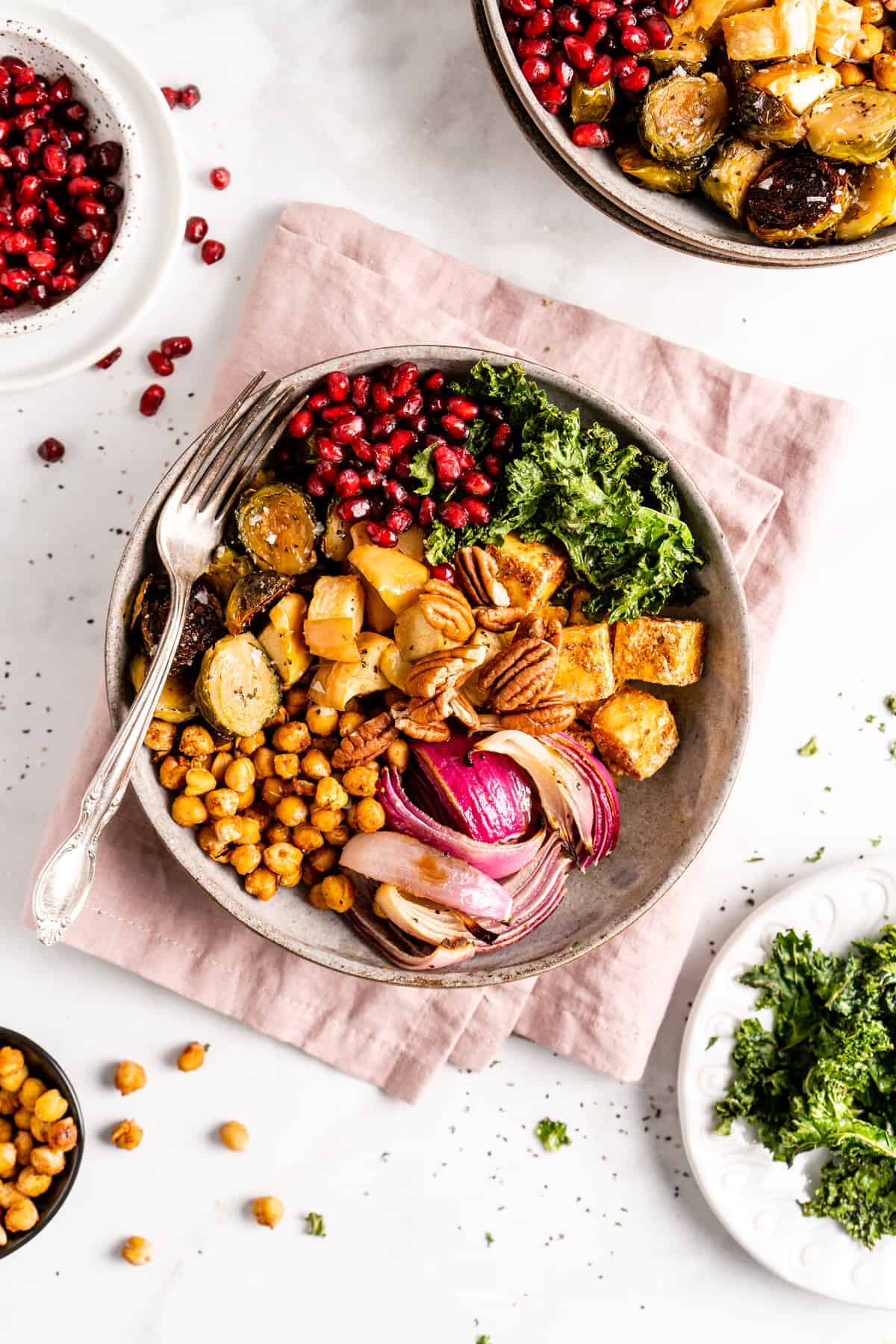 How to Make Vegan Buddha Bowls
Ready for a hearty, healthy plant-based meal? Here's what you'll need to do!
For the Brussels Sprouts, Apples & Onions:
Prepare. Preheat your oven to 400°F/200°C and line a baking sheet with greased foil, parchment paper, or a Silpat.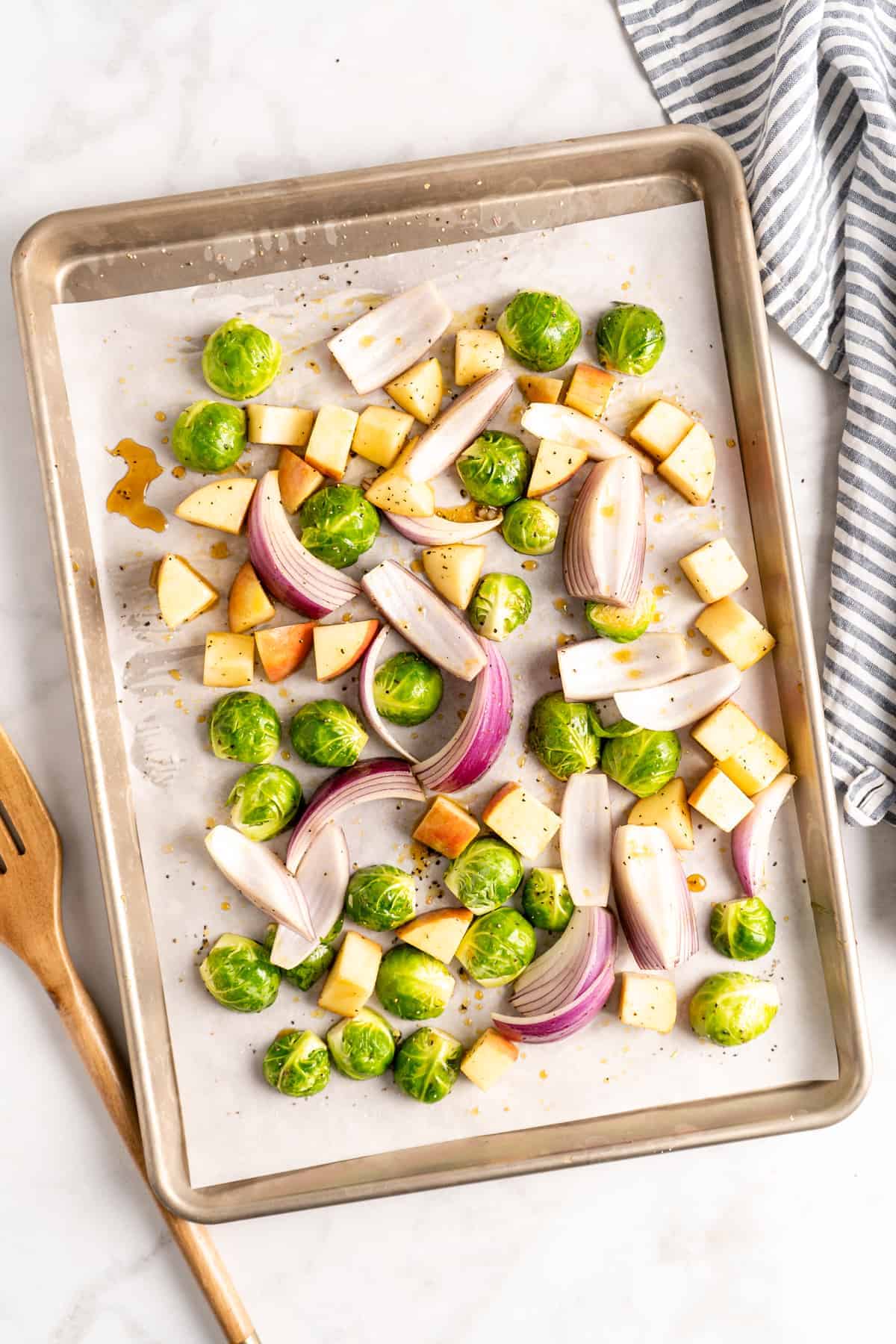 Combine ingredients. Place the Brussels sprouts, onions, and apples on the prepared pan. Whisk the olive oil, maple syrup, salt, and pepper in a small bowl, then drizzle this mixture over the vegetables. Add the thyme sprigs and stir the vegetables to ensure they're evenly coated with the glaze.
Roast. Place the pan in the oven and roast for 30 to 35 minutes, stirring once or twice during the cooking time to ensure that everything is evenly roasted.
For the Baked Tofu & Chickpeas: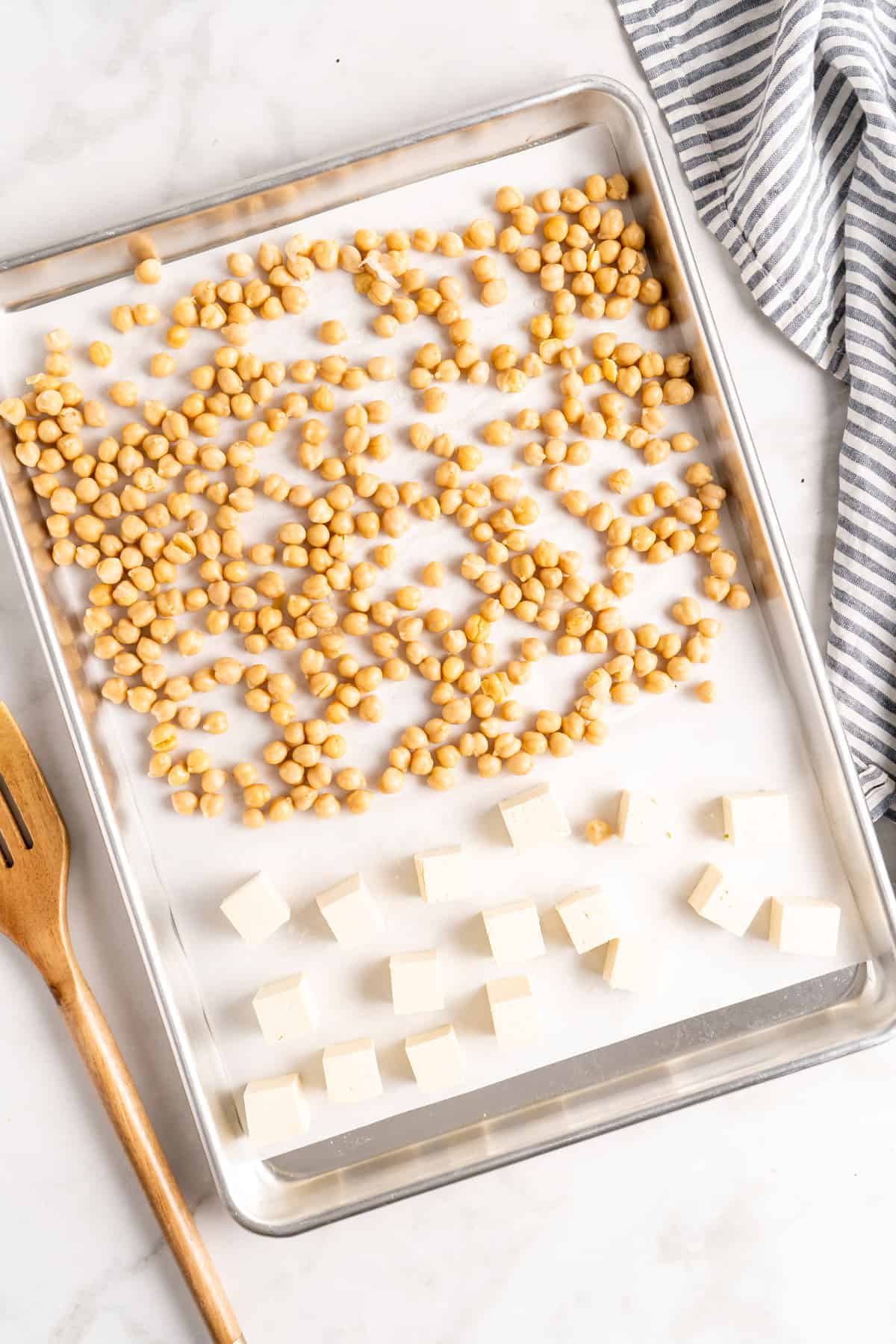 Prepare and season. Place the tofu and chickpeas on opposite sides of a lined baking sheet. Sprinkle them with garlic powder, onion powder, paprika, sea salt, and black pepper and stir to coat. Add the cornstarch to the tofu side and stir again, ensuring that it's fully coated.

Roast. When the vegetables have 20 minutes left, add this sheet pan to the oven and bake for 20 minutes, flipping the tofu and stirring the chickpeas halfway through the cooking time.
For the Kale Chips:
Season the kale. Add the kale to a third lined baking sheet. Drizzle with the olive oil, sea salt and black pepper, and massage these into the leaves. Spread the kale on the baking sheet, keeping it from overlapping.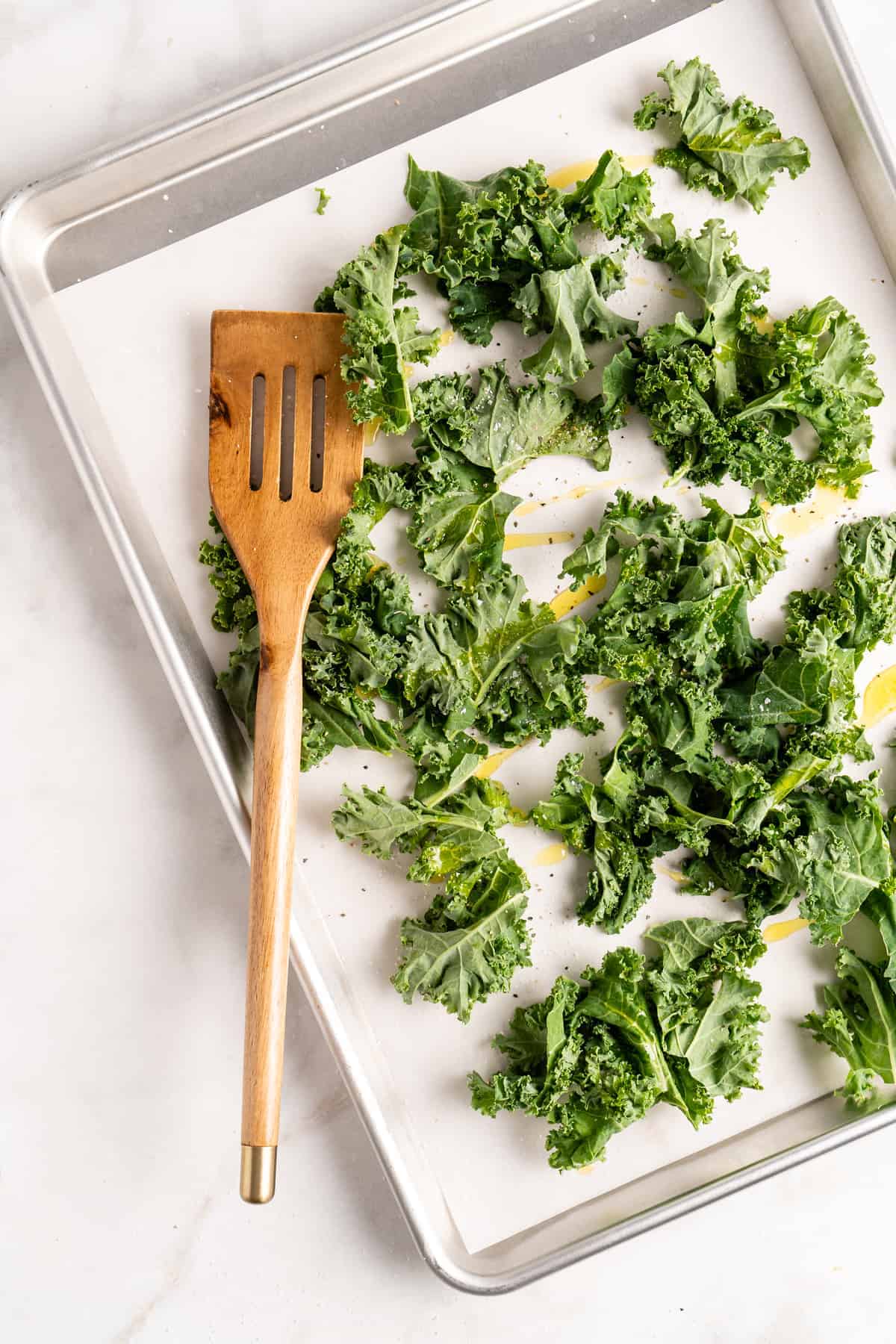 Bake. Place this pan in the oven for the last 5-10 minutes of cooking time. (If you don't have 3 racks in your oven, you can bake the kale after the veggies and proteins are finished cooking.)
To finish: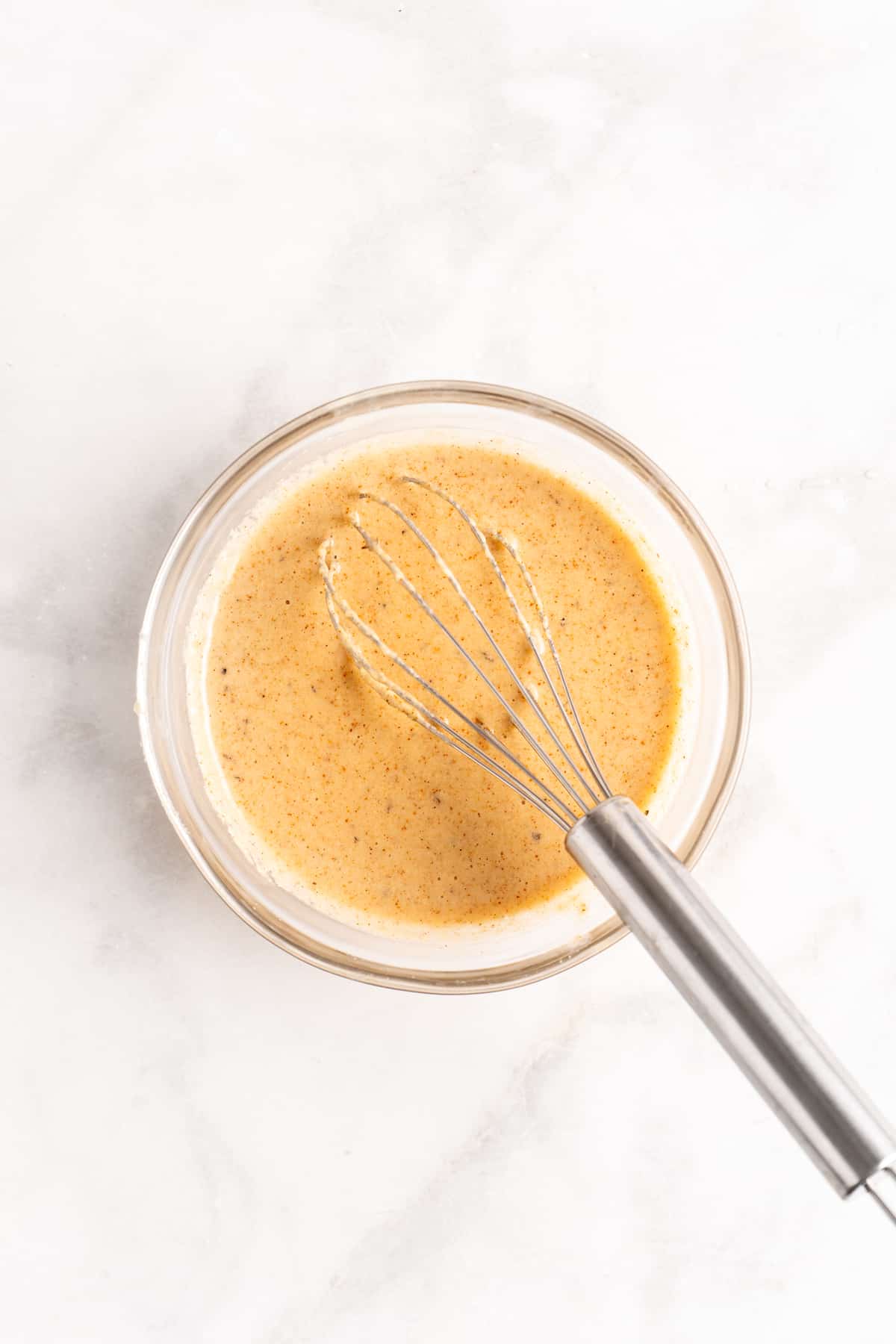 Make the dressing. Whisk all of the dressing ingredients in a small bowl.
Assemble. Divide the kale, veggies, and proteins into bowls and drizzle with the dressing.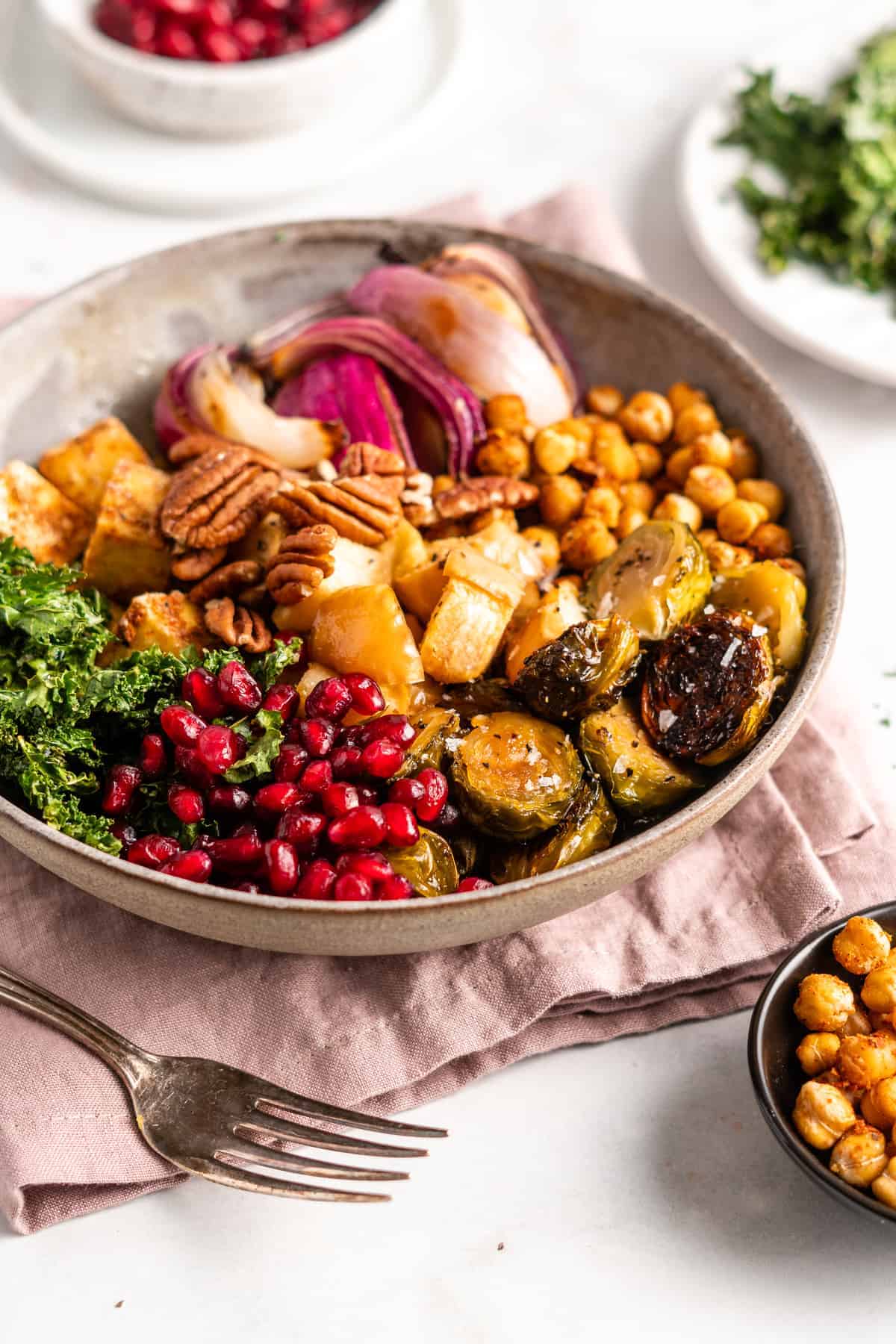 Tips for Success
Here are some of my tips for making a perfect Buddha bowl.
For caramelised Brussels sprouts. Turn all of the Brussels sprout halves cut side down on the baking sheet.
Make it your own. Swap the tofu for tempeh, use a different dressing, add quinoa or another grain, switch up the veggies. The great thing about Buddha bowls is that they're super customizable!
Meal prep tips. Keep each component of your Buddha bowls separate and then assemble when you're ready to eat or make a lunch for work. This keeps everything fresh! Alternatively, if you have meal prep containers or bento boxes that have compartments for different ingredients, you can divvy everything up into those and keep them in the fridge all week.
How to Store
Each component of this vegan Buddha bowl recipe will keep in the refrigerator for about a week when stored separately in an airtight container. You can enjoy your Buddha bowl warm or cold.
Can This Be Frozen?
This recipe doesn't freeze well, so I don't recommend it. The dressing can be frozen, but the rest of the components will have a softer, less appetizing texture when frozen and reheated.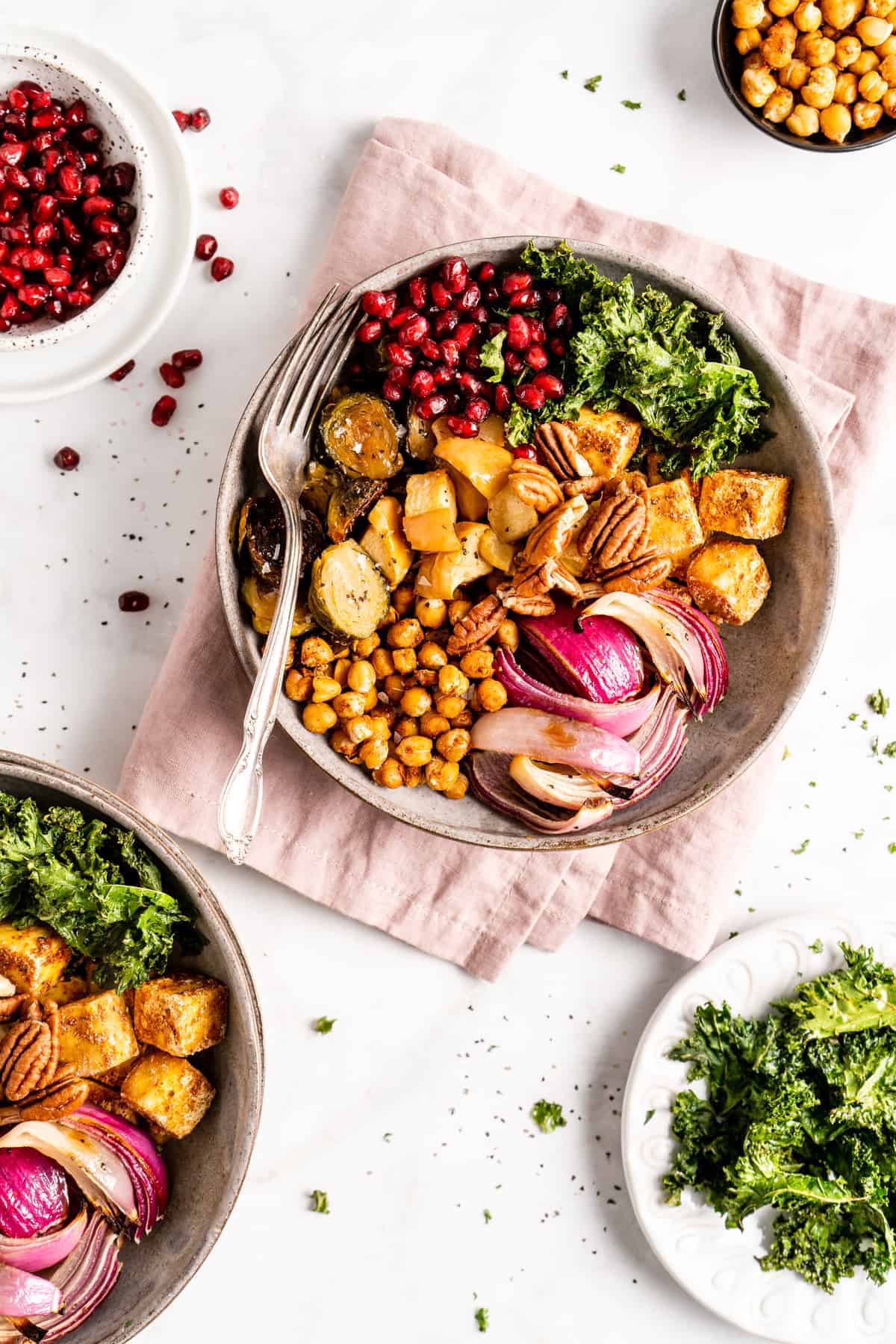 Enjoy friends! If you make this vegan Buddha bowl recipe, please snap a photo and tag #jessicainthekitchen on Instagram! We'd also love it if you would leave a comment below, and give the recipe a rating! Thanks so much!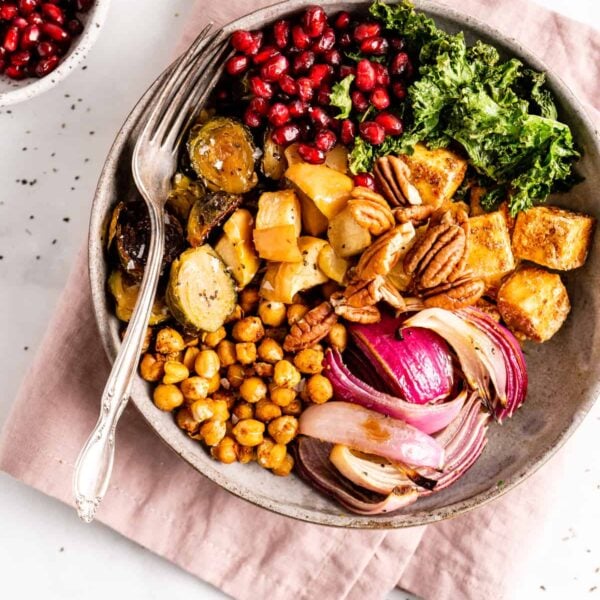 Vegan Buddha Bowl
These protein-packed Buddha bowls are filled to the brim with fall and winter veggies! Tie it all together with a creamy, spicy tahini dressing.
Ingredients
Brussels Sprouts, Apples & Onions
1 pound Brussels sprouts, ends trimmed and outer leaves removed
1 medium red onion, cut in wedges
1 large apple, cored and cubed
1 tablespoon olive oil
2 tablespoons maple syrup
1 teaspoon fine sea salt
¾ teaspoon ground black pepper
3-4 sprigs of thyme
Baked Tofu & Chickpeas
1 15 ounce can chickpeas, drained, rinsed and pat dry
1 16 ounce block tofu, pressed and cubed
1 tablespoon liquid aminos
2 tablespoon olive oils
2 teaspoons cornstarch
2 teaspoons garlic powder
1 teaspoon onion powder
2 teaspoon paprikas
1 teaspoon sea salt
1/2 teaspoon ground black pepper
Kale Chips
1 whole bunch of kale, stems removed, torn, rinsed and pat try
2 teaspoons olive oil
pinch of salt, add more after it's done to taste
1/4 teaspoon ground black pepper
Harissa Tahini Dressing
1/4 cup tahini
1/4 teaspoon salt
1/4 teaspoon ground black pepper
1 teaspoon harissa powder
¼ cup water
1 1/2 tablespoons lime juice
1/2 teaspoon garlic powder
Instructions
Brussels Sprouts, Apples & Onions
Preheat the oven to 400°F/200°C. Cut the brussels sprouts in half. Add the brussels sprouts, onions and apples together onto a silpat lined or foil greased baking sheet.


Mix the olive oil, maple syrup, salt and pepper together then drizzle over brussels sprouts mixture. Stir until everything is thoroughly coated (you can use your hands if you want). Turn all of the Brussels sprouts halves with the cut side down. This ensures that they get beautifully caramelised. Add some thyme sprigs to the baking sheets on top of or around the vegetables.


Bake for 35 minutes, shaking the pan a few times while baking, until apples are tender, onions soft and brussels sprouts begin to caramelise. You'll want to watch it around the 30 minute mark that it doesn't burn. Some of the Brussels sprouts skins may darken a lot, but they still taste delicious (and not burnt)
Baked Tofu & Chickpeas
Add the pressed and cubed tofu and chickpeas to a lined baking sheet, on opposite sides. OR, add them to separate bowls (whichever is easiest for you) before adding to the baking sheet. Watch the video below!

Sprinkle over all of the seasoning ingredients (garlic powder, onion powder, paprika, sea salt, and black pepper) EXCEPT the cornstarch and coat to combine.

Add the cornstarch to the tofu only, and coat to combine. Lay out the tofu so it isn't touching, and then lay out the chickpeas on the other side of the baking sheet. It's okay if this touches.

When the oven is at the 20 minute mark, add in this baking sheet and baked for 20 minutes, flipping the tofu at the 10 minute make and also stirring around the chickpeas at this time, then back into the oven for the final 10 minutes.
Kale Chips
Add Kale to a separate lined baking sheet. Add the olive oil, sea salt and black pepper and massage into the kale. Spread the kale apart on the baking sheet.

Bake for the last 5-10 minutes in the oven alongside the rest of the vegetables.
Harissa Tahini Dressing & Put it All Together
Whisk all the ingredients together with a spoon. Drizzle over the bowls, or store in the fridge until needed.

Portion out the bowls as in the video, drizzle with some sauce, serve and enjoy!
Notes
When it comes to your kale chips, be sure to watch them carefully! Depending on the kale and how large you tear it, some may be done in 5 minutes, some in 10. I tested mine a few times and only once was a different type done before (about 8 minutes). Also be sure to under salt them. It's better to add less salt than too much when it comes to kale chips. Remember they shrink up!
Pressing Tofu
If you don't know how to press tofu, you can find the instructions in this blog post: How to Cook Tofu 101
To store: The components will keep in the refrigerator for about a week when stored separately in airtight containers. Buddha bowls can be eaten hot or cold. I do not recommend freezing this recipe.
Calories: 616kcal, Carbohydrates: 68g, Protein: 29g, Fat: 29g, Saturated Fat: 4g, Sodium: 1701mg, Potassium: 1113mg, Fiber: 16g, Sugar: 20g, Vitamin A: 4368IU, Vitamin C: 149mg, Calcium: 336mg, Iron: 8mg
Disclaimer: Although jessicainthekitchen.com attempts to provide accurate nutritional information, kindly note that these are only estimates. Nutritional information may be affected based on the product type, the brand that was purchased, and in other unforeseeable ways. Jessicainthekitchen.com will not be held liable for any loss or damage resulting for your reliance on nutritional information. If you need to follow a specific caloric regimen, please consult your doctor first.