Loaded Taco Salad Bowl with Lime Crema
This Loaded Taco Salad Bowl with is jam-packed with delicious flavours! It's super filling, and the lime crema adds so much extra flavour!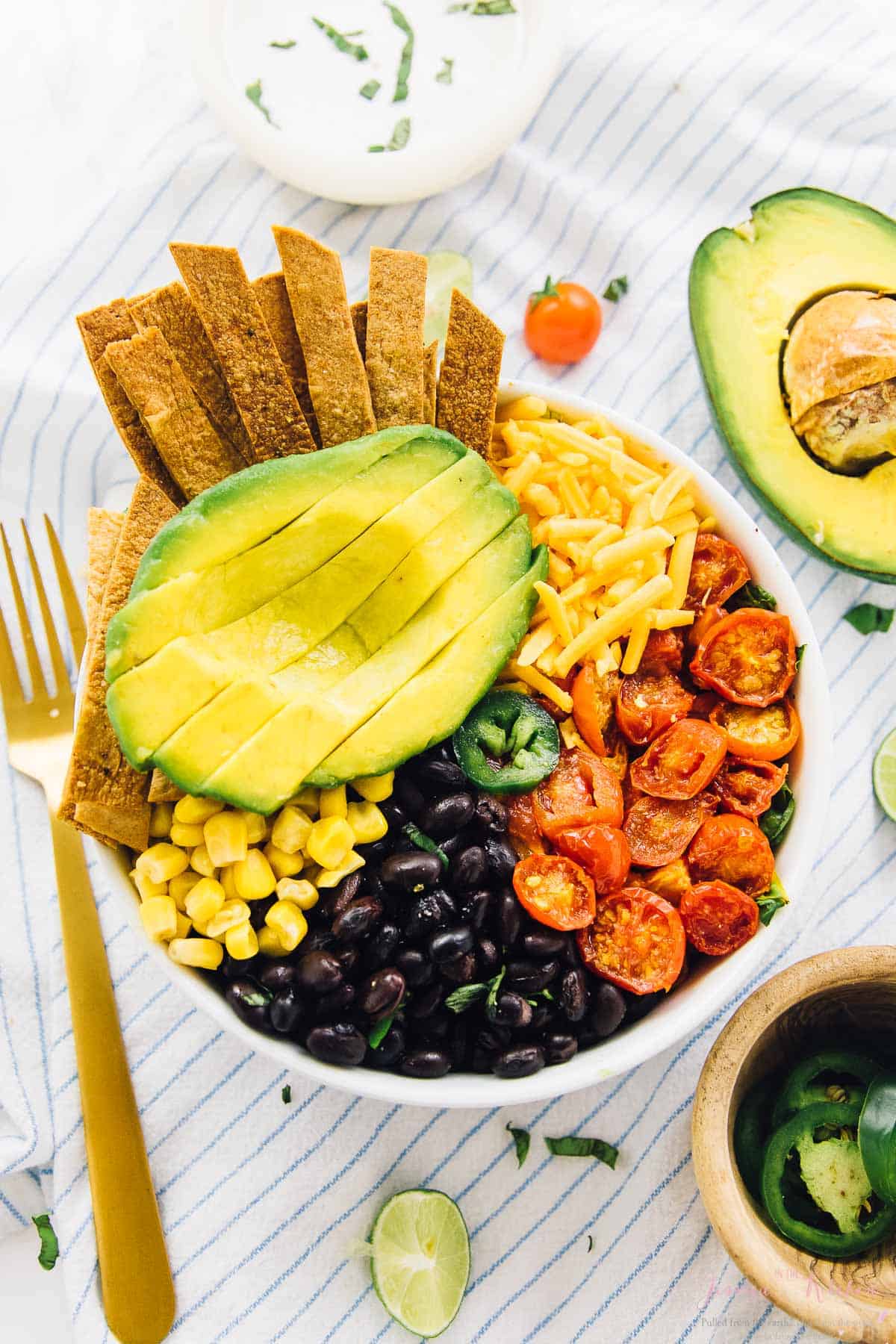 Hi there ? gorgeous, loaded salad! ? Over the years, I haven't shared many salads, but when I do, it's a rock-your-world kind of dish. Salads should be filling. Salads deserve all the toppings, all the textures and all the flavours. THIS Loaded Taco Salad Bowl satisfies all of that. Yes friends, that's quick roasted tomatoes and oven baked tortilla chips. HELLO weeknight dinner!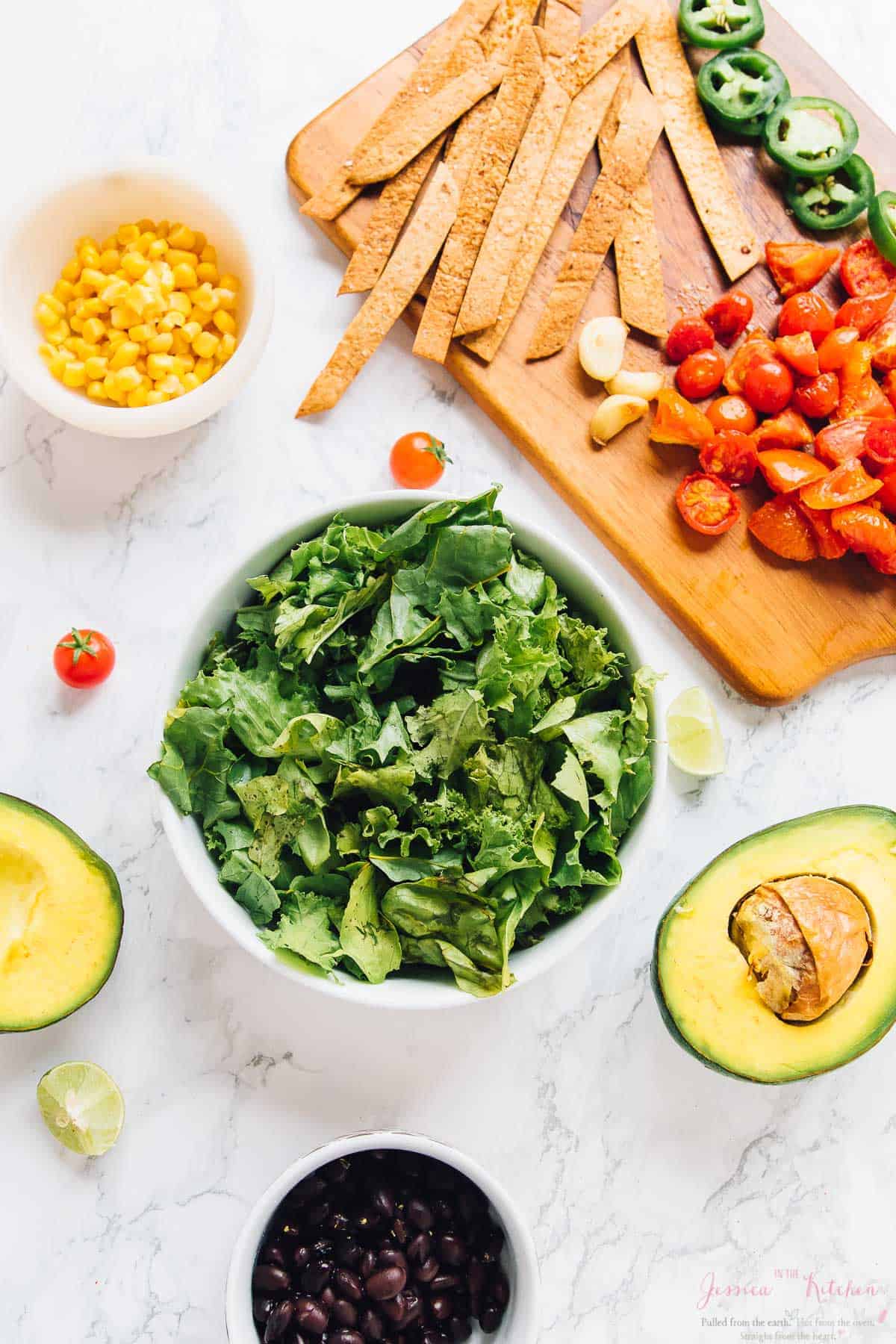 This Loaded Taco Salad Bowl immediately satisfied for my need for amazing salads,plus my need to have tacos in every way imaginable. Let's get into the lovely flavours here. It's packed with your favourite usual toppings – black beans, corn and cheese. Great for protein, flavour and variety. Then, add in the creamy avocado (yesss), roasted tomatoes (YES) and baked tortilla/taco chips (YES!!). Yes, you're still awake friends this isn't a dream.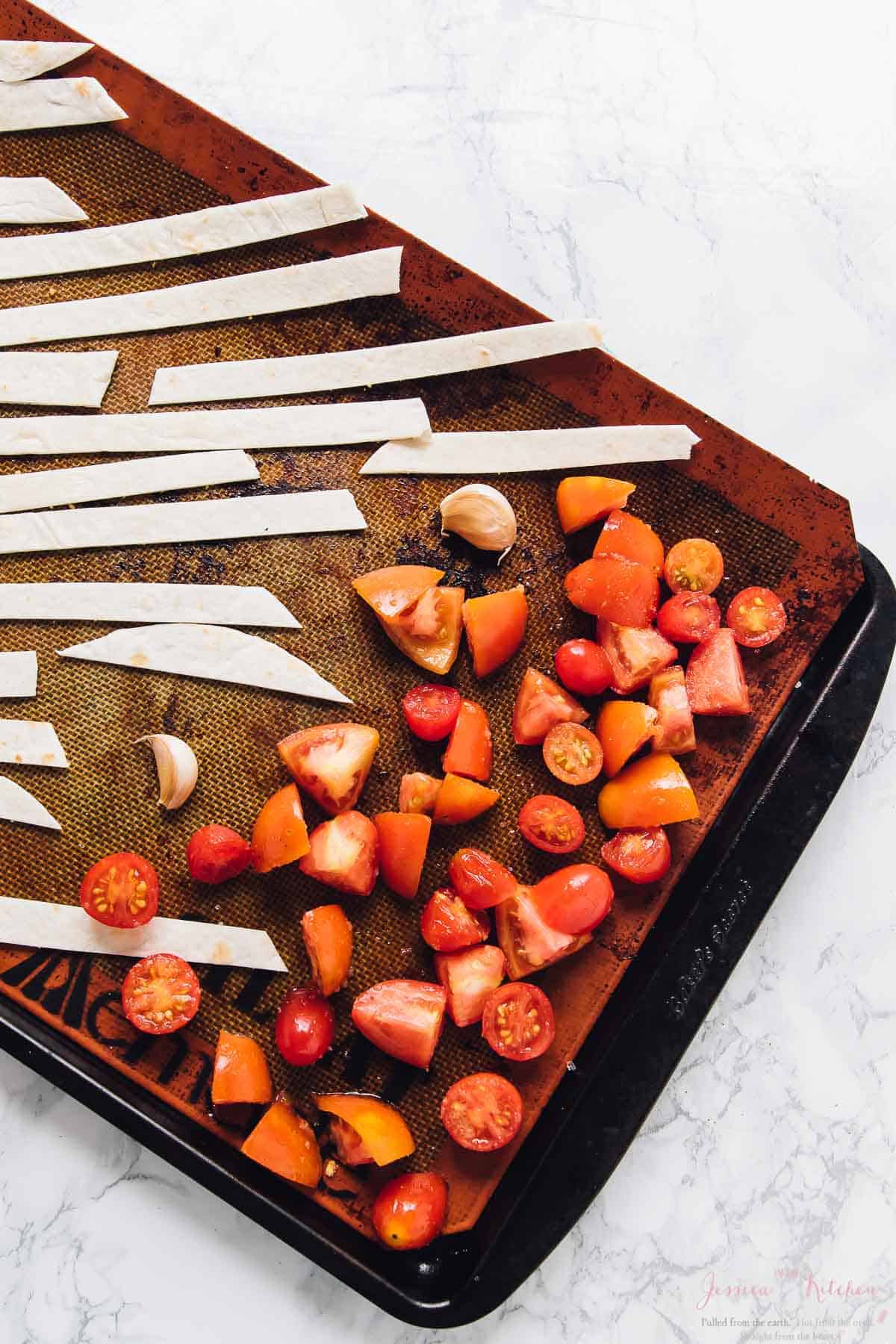 The tomatoes are quickly roasted in oven, just enough to get it bursting flavour, and turning this dish into an actual meal, not just a cold salad. This is along side three cloves of garlic (which you'll need for the lime crema anyway, now with extra garlic flavour) and the soft taco shell. It's as easy as cutting it into strips, baking it, and adding it into the salad.
Oh my gosh, this takes it over the top.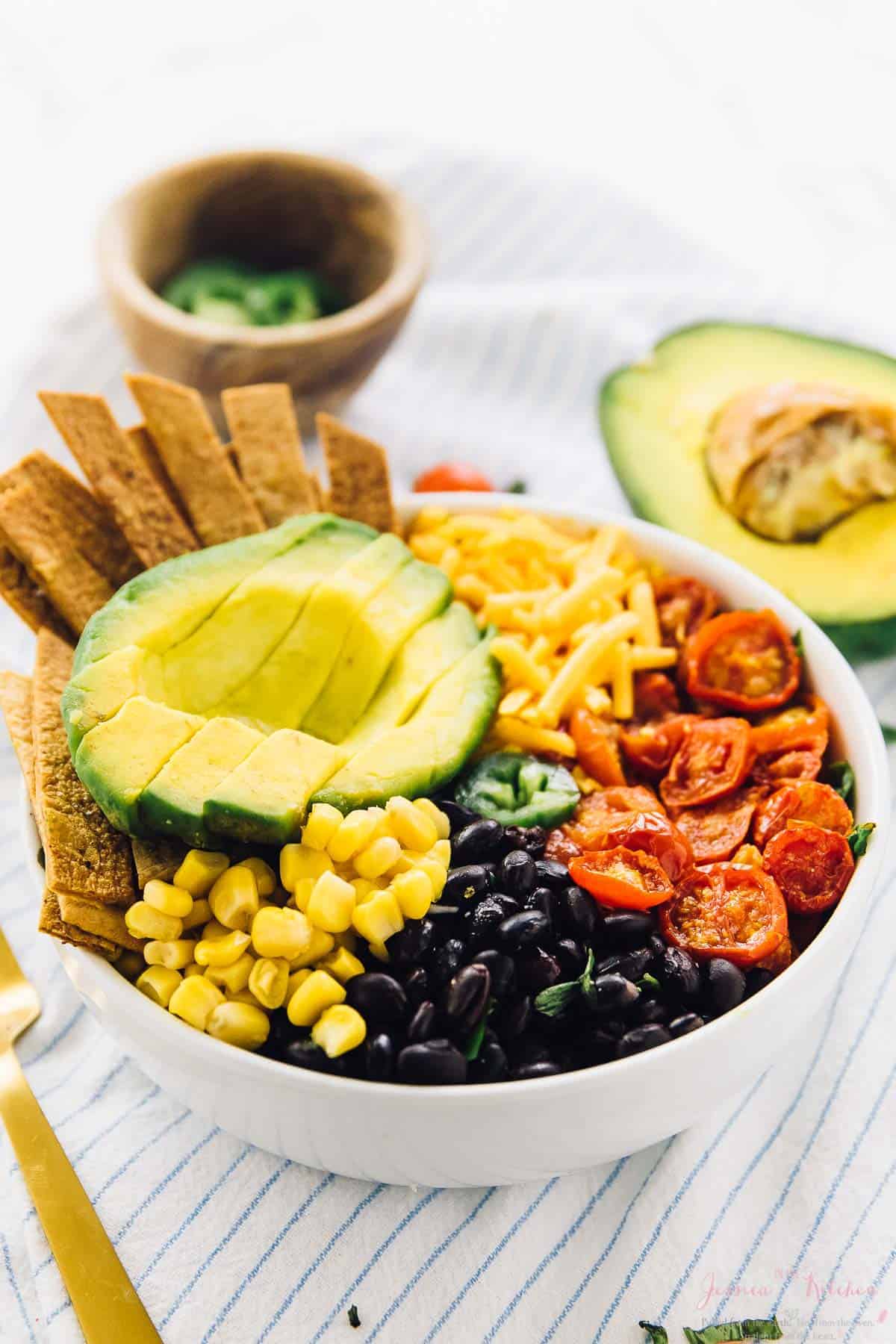 These extra steps really amp up the flavours here in loaded taco salad bowl. Can you get more taco-esque than that in a salad?? Don't think so. Oh wait, the lime crema, that's right!
Creamy, tangy, but perfectly balanced lime crema sauce on top. Add some spice or heat to it if you want, or have it plain, it MAKES this salad.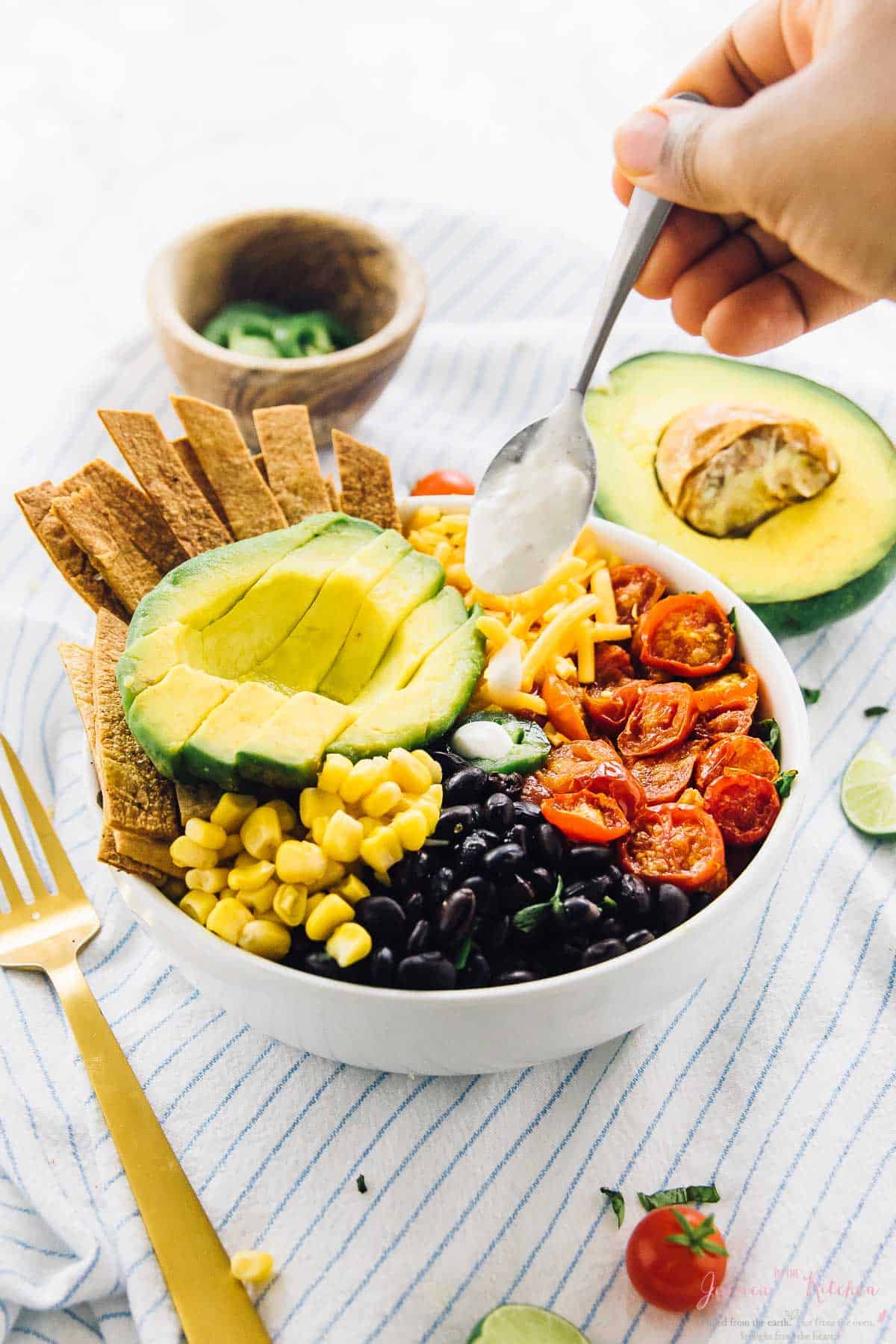 I hope you try this and love it! It's takes just a few steps, and the results are so worth it. Also, can we get a clap for that gorgeous avocado?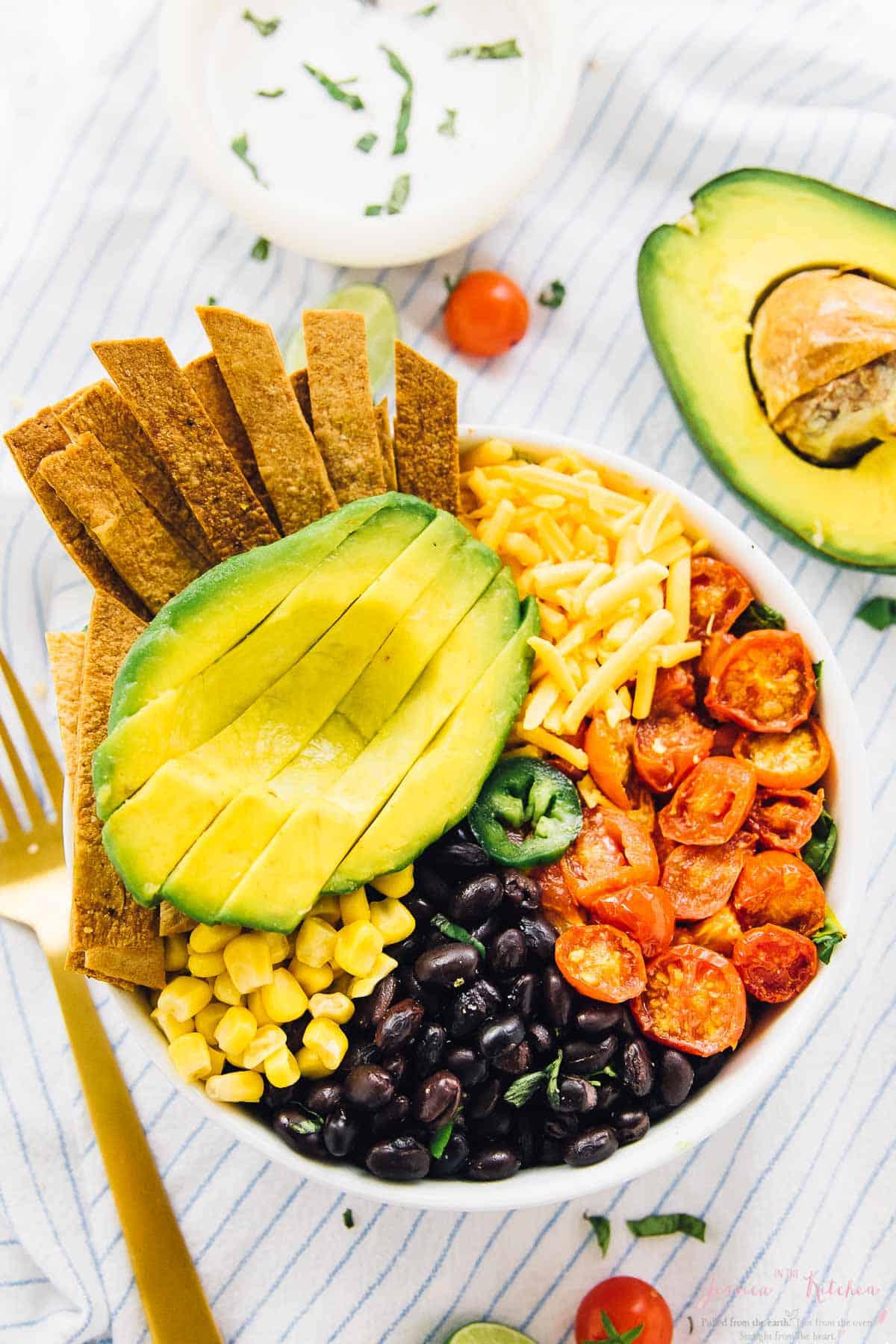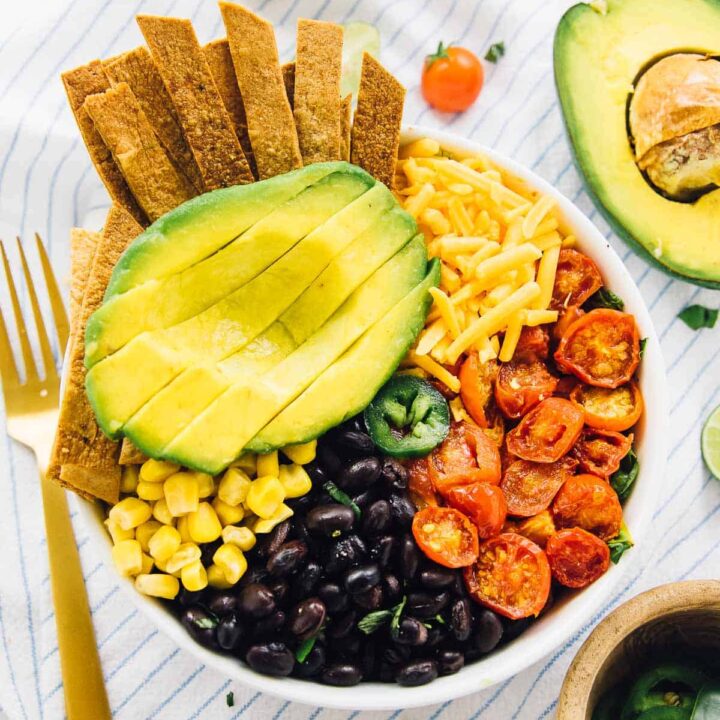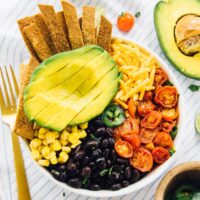 Loaded Taco Salad Bowl with Lime Crema
This Loaded Taco Salad Bowl with is jam-packed with delicious flavours! It's super filling, and the lime crema adds so much extra flavour!
Ingredients
Baked Shells and Quick Roasted Garlic and Tomatoes
1 or 2 small 6 inch taco shell, sliced into 3/4
1 cup halved cherry tomatoes
3 cloves garlic, skins still on
1 teaspoon olive oil
1/2 teaspoon garlic powder
Pinch sea salt
6 cups mixed greens
1/2 avocado
1/4 cup shredded cheddar cheese, or vegan cheese shreds
1/2 cup black beans
1/4 cup corn
3 tablespoons diced jalapeños, de-seeded
Lime Crema
The three roasted garlic cloves, from the first step
1/4 cup greek vegan yogurt, or regular vegan yogurt
sea salt and pepper
1 tablespoon water
Juice of half a lime
Instructions
Loaded Taco Salad Bowl with Lime Crema
Preheat oven to 350 F degrees. Line a cookie sheet with parchment paper or a silicone mat. Rub the taco shells and tomatoes with the olive oil and garlic powder (I split it ¼ teaspoon for the strips, ¾ for the tomatoes). Sprinkle the salt over everything.

Bake for 13 minutes (check to ensure they don't burn). If you'd like, you can leave the tomatoes and garlic in for an extra 10 to 15 minutes (totally optional, adds even more flavour). Remove from oven and remove skins from garlic (you'll need the garlic for the sauce)

Assemble the rest of the salad as you desire, also topping with the tortilla/taco chips and the roasted tomatoes.
For the lime crema, add the garlic to a small bowl and mash with the back of a spoon until essentially pureed. Add in the rest of the ingredients and mixed together throughly until blended. Taste test before pouring it on the salad for your own adjustments of salt and pepper. Pour over salad, mix in and enjoy!
Notes
If you try this Loaded Taco Salad Bowl with Lime Crema please let me know in the comment section below, or tag me on instagram with the hashtag #jessicainthekitchen! For more exclusive recipes follow me on Instagram AND on Snapchat: jessinkitchen.
Calories: 334kcal, Carbohydrates: 38g, Protein: 13g, Fat: 17g, Saturated Fat: 5g, Cholesterol: 15mg, Sodium: 443mg, Potassium: 899mg, Fiber: 9g, Sugar: 6g, Vitamin A: 2236IU, Vitamin C: 86mg, Calcium: 203mg, Iron: 3mg
Disclaimer: Although jessicainthekitchen.com attempts to provide accurate nutritional information, kindly note that these are only estimates. Nutritional information may be affected based on the product type, the brand that was purchased, and in other unforeseeable ways. Jessicainthekitchen.com will not be held liable for any loss or damage resulting for your reliance on nutritional information. If you need to follow a specific caloric regimen, please consult your doctor first.