Creamy Vegan Mac and Cheese
This Creamy Baked Vegan Mac and Cheese is undeniably divine! Made with an amazing, cashew based 'cheese' sauce, it's the perfect addition to any meal!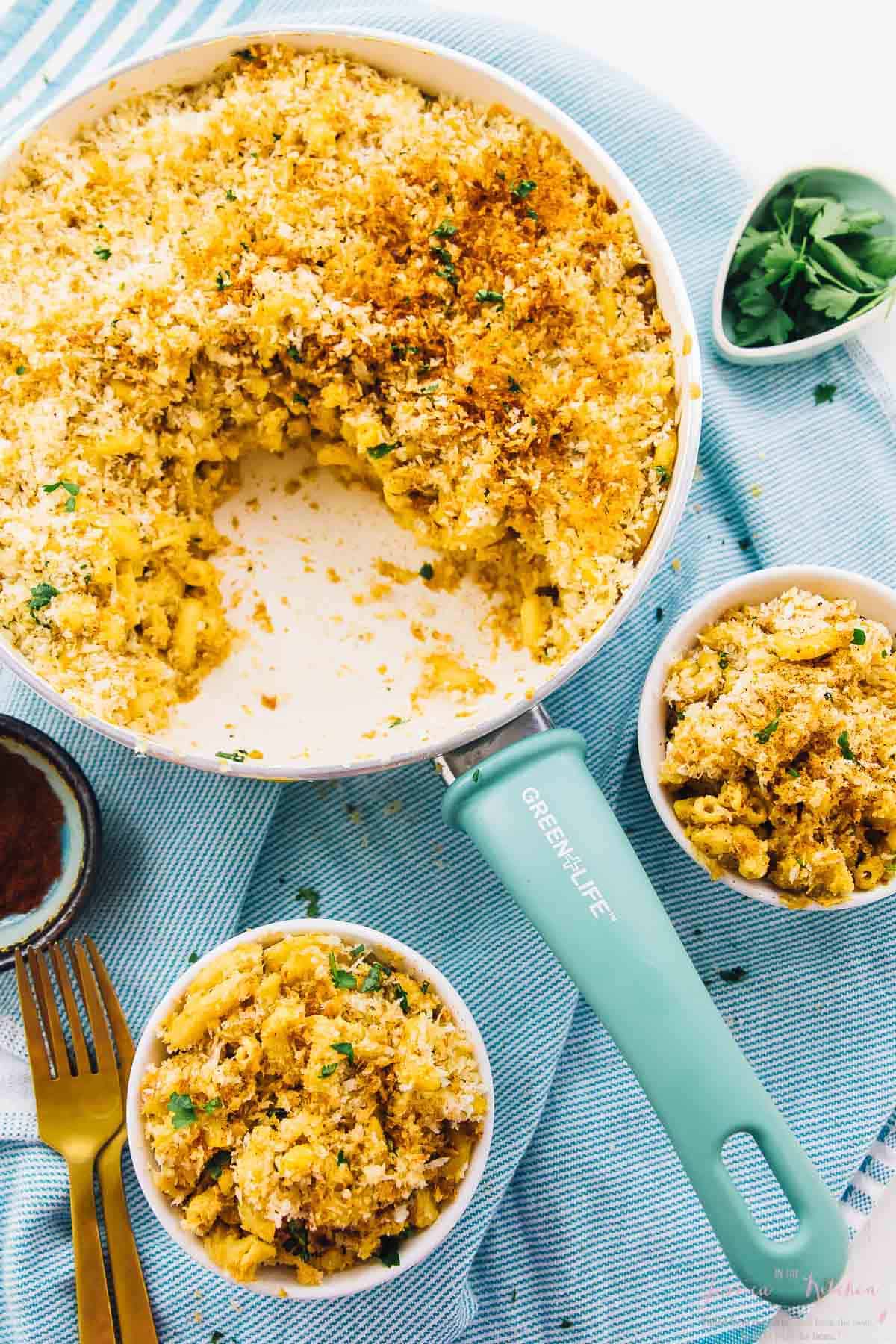 Hey friends! In my kitchen, aka Jessica's kitchen, I've made many dishes. Everything from tacos to no bake chocolate pudding to ice cream to even cauliflower buffalo wings. I've even made vegan mac and cheese before, but it was very seasonal using squash and pumpkin. After ENDLESS requests, finally, I have an everyday, weeknight vegan mac and cheese that will satisfy your cheese cravings (truly).
Oh my, friends – you will LOVE this. It's the closest you'll get to the real thing, and the cheese sauce is OUT of this world. Friends, this Baked Vegan Mac and Cheese is on POINT.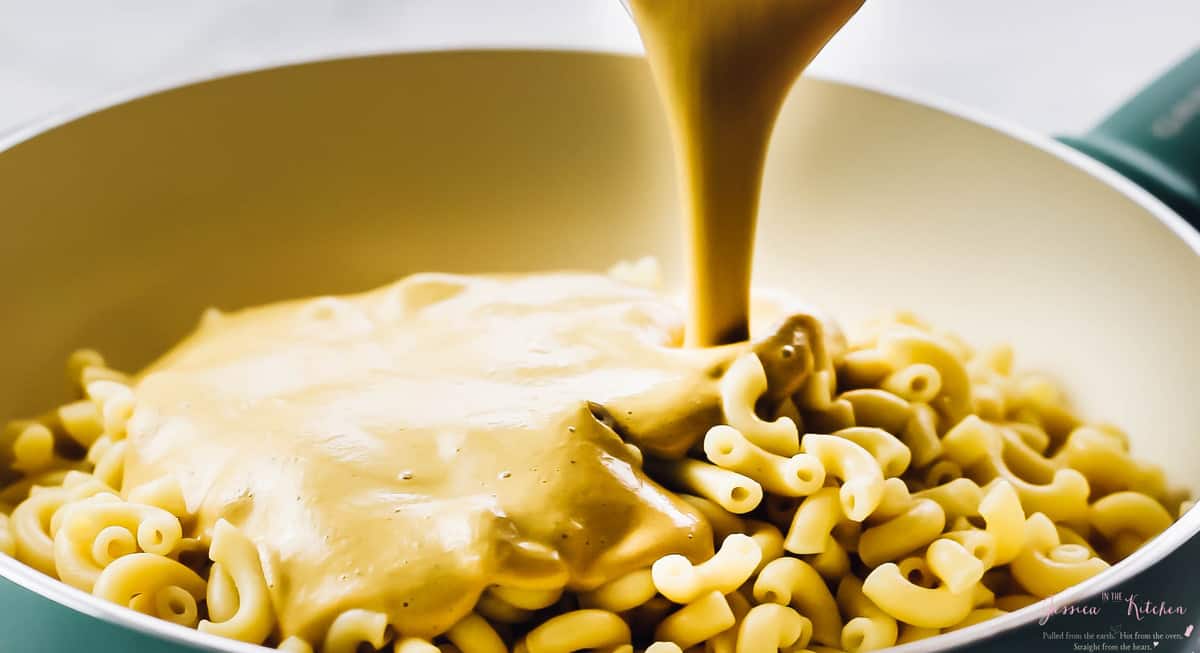 First of all, how am I just making this?! You may be asking. I've stayed away from vegan mac and cheese for a long while, because I knew that I would want to ABSOLUTELY perfect it. I wanted to make a vegan mac and cheese that had an explosive cheese taste that would make you want to share it with everyone.
I'm teaming back up with GreenLife Cookware, a healthy ceramic non-stick coating cookware company for this post and I couldn't be more excited. If you saw my Thai Green Curry Recipe post, you know I fell in love immediately with this GreenLife Cookware because of these gorgeous turquoise pans, and also because its lead and cadmium free, and manufactured without PFAS and PFOA.
Making this vegan mac and cheese in the skillet also means you can just use the same skillet you cook in to bake it in = less dishes too friends! It also means cleanup is a complete breeze because the GreenLife Cookware pots and pan are really non-stick. If you've made mac and cheese before, it usually STICKS like crazy for cleanup – not here though. I am not exaggerating when I say that one quick swipe cleaned these right up.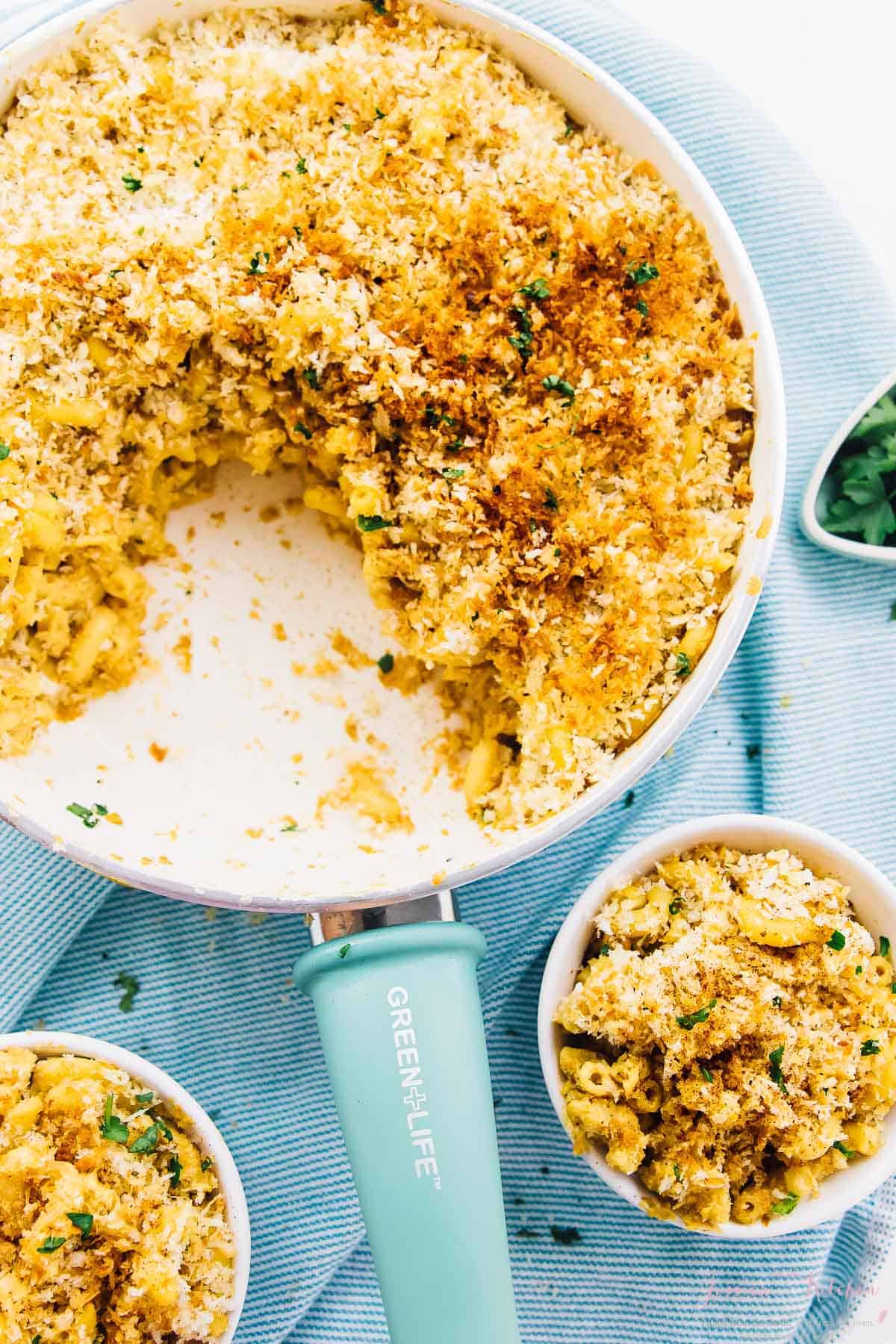 After lots of research, trial and error, I've come up with a recipe I truly love. The Mr. is a mac and cheese aficionado, tasted the cheese sauce first and gave me the official thumbs up. I'm definitely doing a separate post on this sauce I want to bottle because you NEED to pour that over your
roasted potatoes
(done), had it like nacho cheese with chips (done too) and use it anywhere and everywhere your heart desires!
I heavily modified my
vegan cheese ball
recipes so that's it was more of a sauce but still creamy. Then, I added a combo of sautéed carrots, garlic and onions to it for colour and to give the sauce some body. I learned that trick while making my
scotch bonnet pepper hot sauce
, which by the way, would be divine drizzled over this vegan mac and cheese!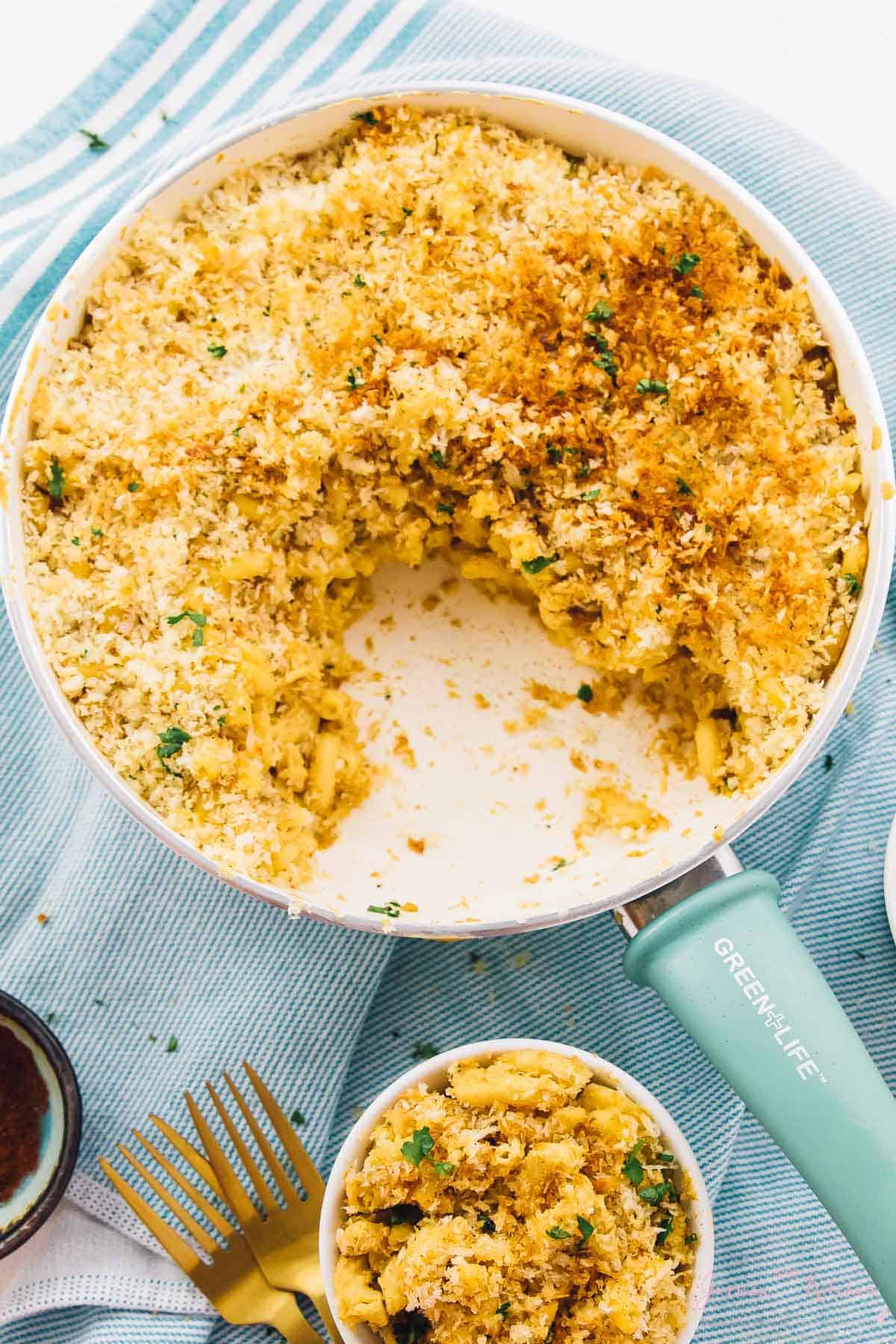 After the sauce was complete, it was as simple as pouring it over the macaroni in the GreenLife pan, breading it, and baking it in the oven to set. I waited patiently for it to cool but I was definitely doing a little dance in my head. One bite into the hot, creamy and definitely cheesy mac and cheese and I knew I had to share this with you guys. Yes, I even had it for dinner that night. That alone, with some hot sauce of course. It's that good.
By the way, if you've never tried it, this baked vegan mac and cheese transforms beautifully into mac and cheese waffles, just like these
waffles
. I love recreating leftovers, and the flavours are even more developed. A slightly crisp outside with a creamy inside? Sounds like the mac and cheese waffles of my dreams. Enjoy!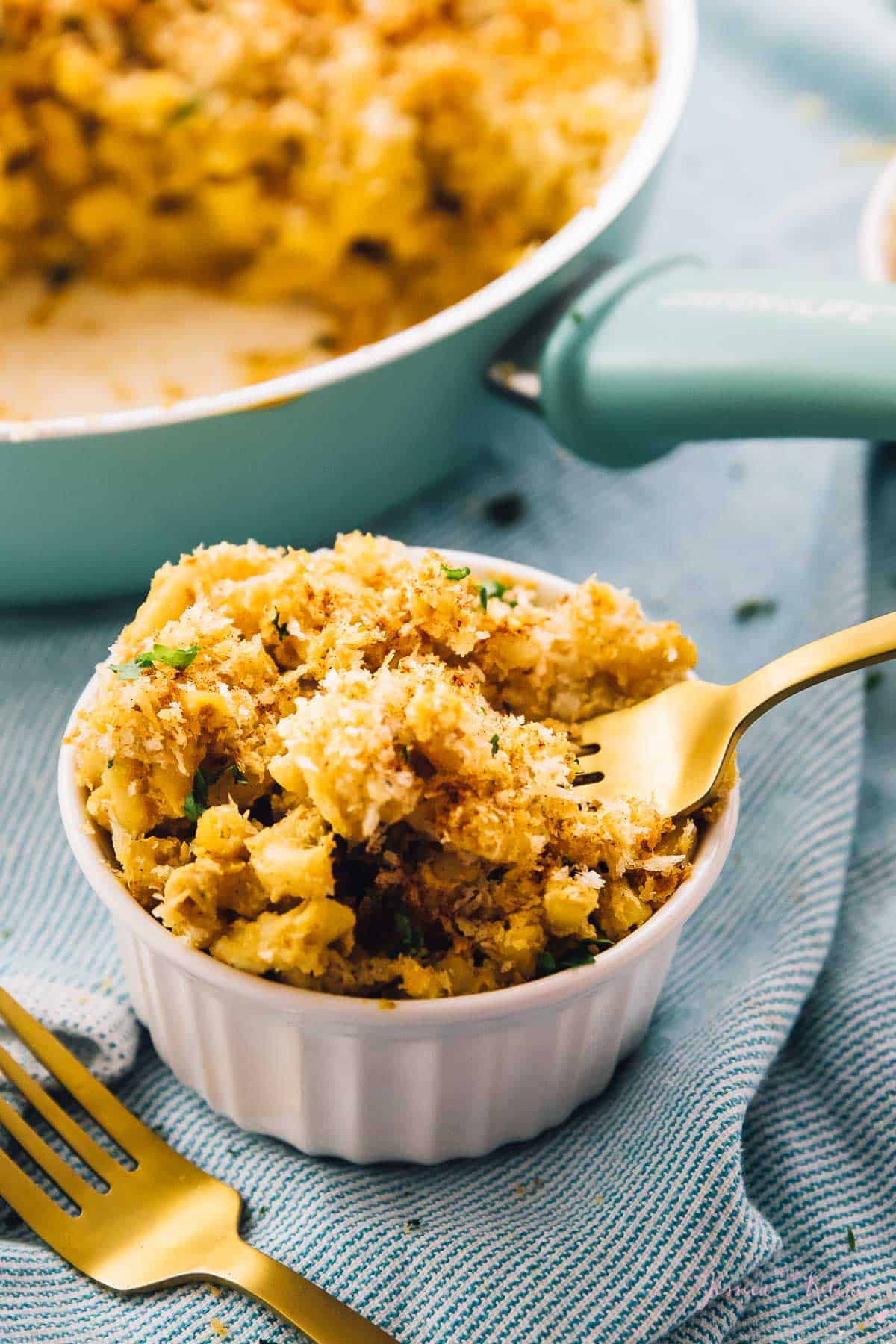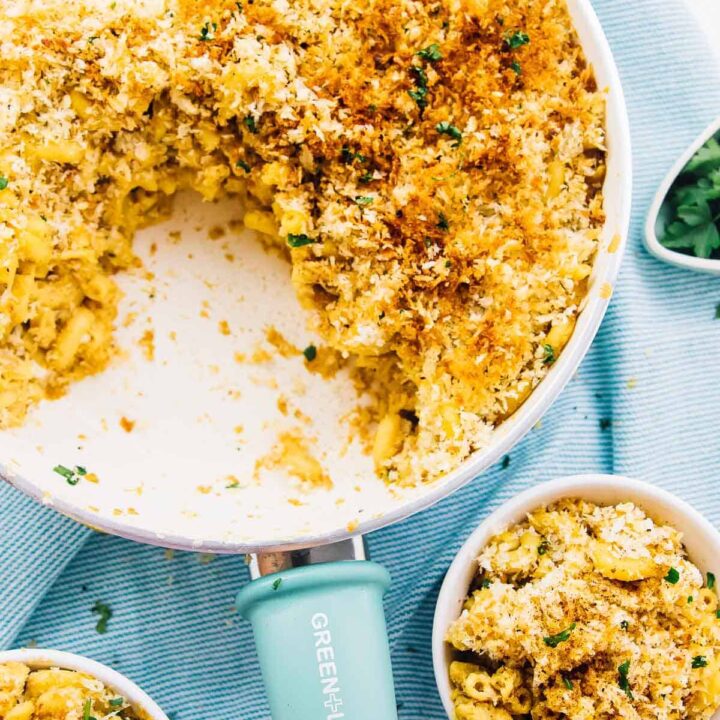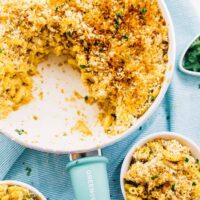 Creamy Vegan Mac & Cheese (Gluten Free)
This Creamy Baked Vegan Mac and Cheese is undeniably divine! Made with an amazing, cashew based 'cheese' sauce, it's the perfect addition to any meal!
Ingredients
Creamy Vegan Mac & Cheese
3 cups elbow macaroni, gluten free if needed, 12 oz/340g
1 tablespoon olive oil or coconut oil, 12.5g
1 large carrot, 112g, chopped
1 small yellow onion, 72g, halved and chopped
3 garlic cloves, minced
1 cup raw cashews, soaked in water overnight
1 teaspoon sea salt
1/2 teaspoon ground black pepper
1 teaspoon dry ground mustard
Juice of one lime, 1 tablespoon
1/2 tablespoon tamari/liquid aminos
1/2 cup nutritional yeast
2 teaspoons paprika
1/2 teaspoon ground nutmeg
1 1/2 cups coconut milk
Breadcrumb Topping
1 cup gluten free breadcrumbs
salt & pepper to taste, for breadcrumbs
3 tablespoons vegan butter/coconut oil
Instructions
Creamy Vegan Mac & Cheese (Gluten Free)
Preheat oven to 350 F degrees.

Prepare elbow pasta according to package directions. You can do this while the carrots are being cooked. Drain and pour into a pan (You can use the same pan as below - just leave the pasta in a colander, then after carrot mixture has been made, add to pan).

In a pan over medium heat heat the oil add in the carrots, onions and the garlic, stirring to combine. Cover with lid and allow to steam/roast until carrots are tender, about 10 minutes.

Remove from heat and allow to cool slightly.

In a large high speed blender add the carrot mixture, cashews, salt and pepper, ground mustard, lime juice, tamari, nutritional yeast, paprika, ground nutmeg, and almond milk.

Blend together for about 1 minute on a strong speed, until sauce is completely smooth and incorporate. Taste and add more salt if necessary.

Pour the sauce over the Mac and cheese in a skillet. Stir to combine.

Mix breadcrumbs, salt and pepper to taste and vegan butter in a small dish with a small whisk or fork until combined. Sprinkle over the top of the Mac and cheese, covering completely.

Bake for 15 minutes until Mac and cheese is set, then broil for a few minutes until top is golden brown.

Remove from oven, allow to cool slightly then serve and enjoy!
Notes
This recipe is vegan and gluten free.
To make this soy free, you can use coconut aminos instead of tamari or liquid aminos, and soy-free vegan butter.
Prep time doesn't include soaking the cashews overnight.
If you try this Baked Vegan Mac and Cheese please let me know in the comment section below, or tag me on instagram with the hashtag #jessicainthekitchen! For more exclusive recipes follow me on Instagram AND on Snapchat: jessinkitchen.
This post is sponsored by GreenLife Cookware. All opinions and text are my own. Thank you for supporting the brands that support Jessica in the Kitchen.
Calories: 480kcal, Carbohydrates: 58g, Protein: 14g, Fat: 23g, Saturated Fat: 11g, Sodium: 404mg, Potassium: 432mg, Fiber: 4g, Sugar: 4g, Vitamin A: 1721IU, Vitamin C: 2mg, Calcium: 32mg, Iron: 4mg
Disclaimer: Although jessicainthekitchen.com attempts to provide accurate nutritional information, kindly note that these are only estimates. Nutritional information may be affected based on the product type, the brand that was purchased, and in other unforeseeable ways. Jessicainthekitchen.com will not be held liable for any loss or damage resulting for your reliance on nutritional information. If you need to follow a specific caloric regimen, please consult your doctor first.