Crispy Zucchini Tacos with Crunchy Cabbage Slaw & Lime Crema
These crispy zucchini tacos pair tender oven-baked zucchini with zesty slaw and vegan crema for a Tex-Mex dinner with so many layers of texture and flavour!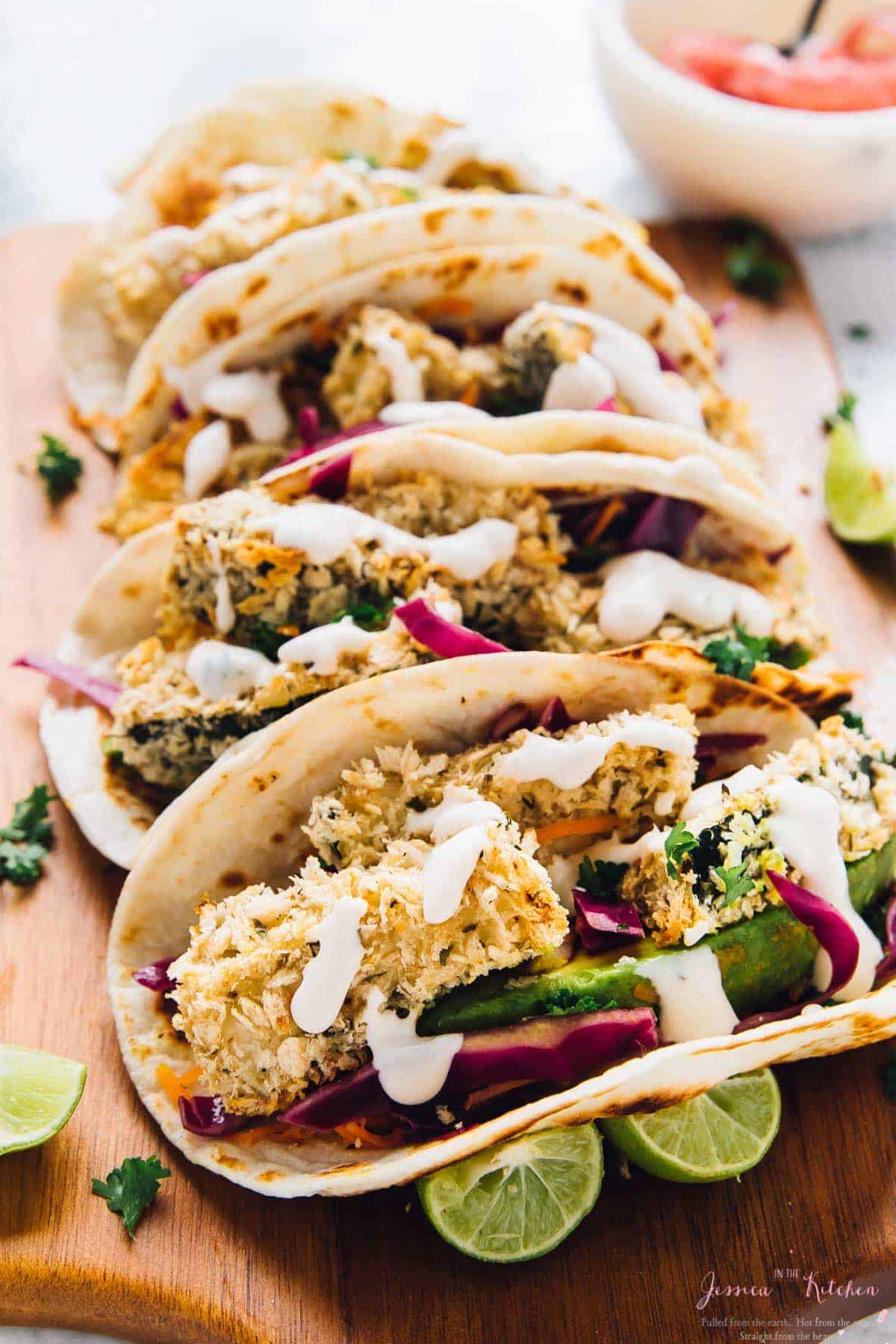 Some people think that veganism means limited options. I think the opposite: going vegan has introduced so many new options to my dinners. Take tacos, for example. Instead of just filling tortillas with meat (yawn), I can choose from Vegan Birria Tacos, Crispy Cauliflower Tacos with Chipotle Crema, BBQ Chickpea Tacos, and these crispy zucchini tacos on Taco Tuesday. So! Many! Choices!
If you like zucchini fries, then you're going to love these zucchini tacos. The zucchini is breaded to make it crispy on the outside, but it's baked in the oven to make it tender in the middle.
The brine and crunch of the kale cabbage slaw, creaminess of the avocados (or as I call them, God's gift to man), and the silky texture and lime-y flavour of the crema make this the ultimate loaded taco treat.
Zucchini tacos—who knew?!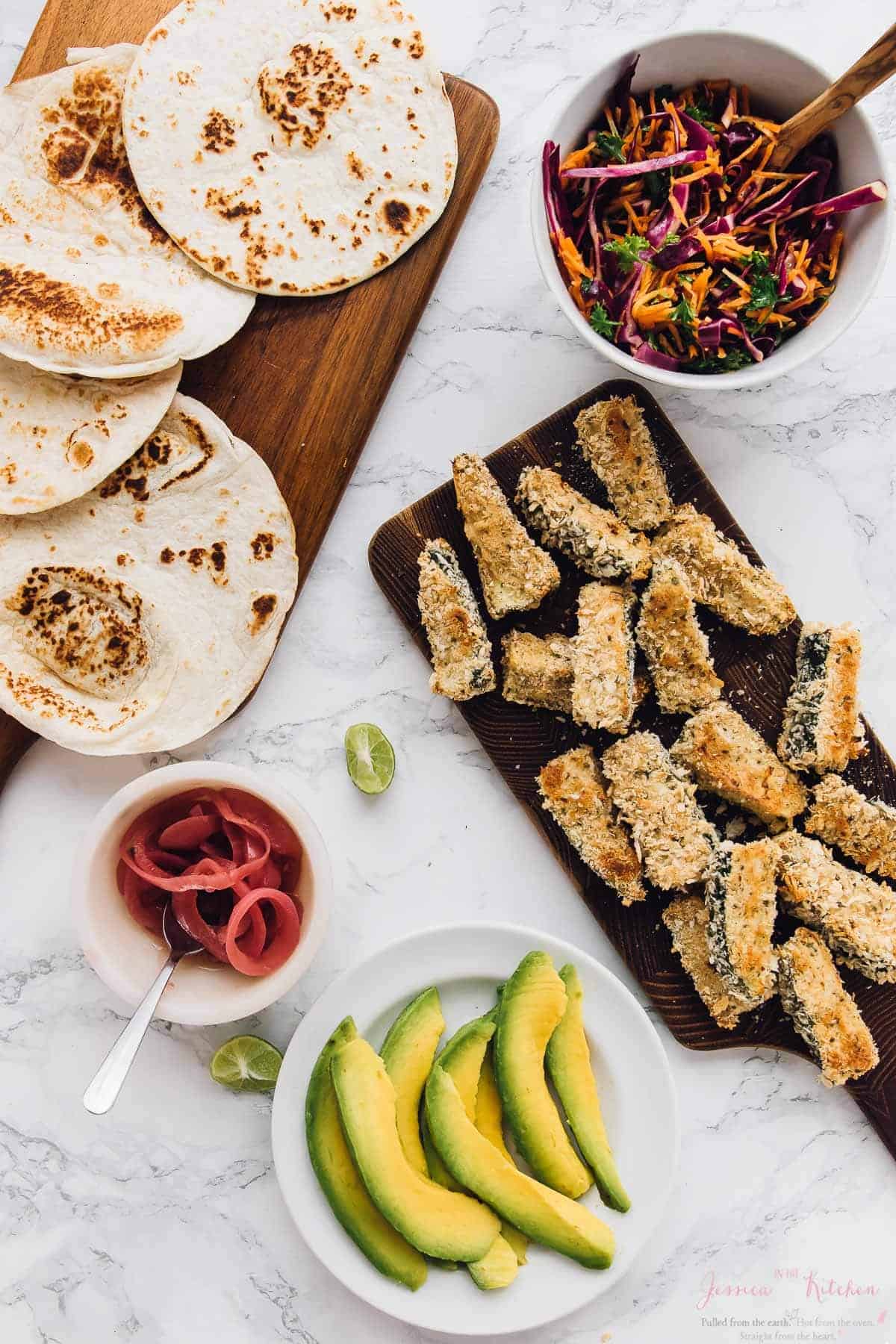 Notes on Ingredients
Scroll down to the recipe card to find the ingredient quantities and recipe instructions.
Crispy Zucchini:
Zucchini – Don't use the extra-large zucchini you often find in the garden at the end of the summer. It doesn't taste as good and the seeds are large and tough!
Gluten-free all-purpose flour – Or use regular all-purpose flour.
Almond milk – Or another plant-based milk you have on hand.
Salt
Ground black pepper
Garlic powder
Crushed red pepper flakes
Gluten-free bread crumbs – Swap in regular bread crumbs if you're not on a gluten-free diet.
Kale Cabbage Slaw:
Kale – Any variety will work here!
Carrots – Save yourself some time and buy a bag of pre-shredded carrots.
Purple/red cabbage – If you can't find it, green cabbage is fine too.
Apple cider vinegar 
Coconut sugar – Or granulated sugar.
Sea salt and ground black pepper
Extra-virgin olive oil
Lime Crema:
Vegan Greek yogurt or mayo – Use homemade vegan mayo or store-bought.
Lime juice
Garlic
Sea salt and ground black pepper 
Chipotle chili in adobo – This is optional, but it adds a nice smoky heat to the crema.
Paprika
Almond milk – Or another plant-based milk.
Tacos:
Jalapeño – Skip these if you prefer your tacos milder!
Pickled onions
Avocado
Parsley – You can substitute cilantro if you'd like.
Limes
Tortillas
Are Tortillas Usually Vegan?
Yes, most tortillas are vegan. That said, you should double-check the ingredient list just in case, as some brands use lard or other animal byproducts.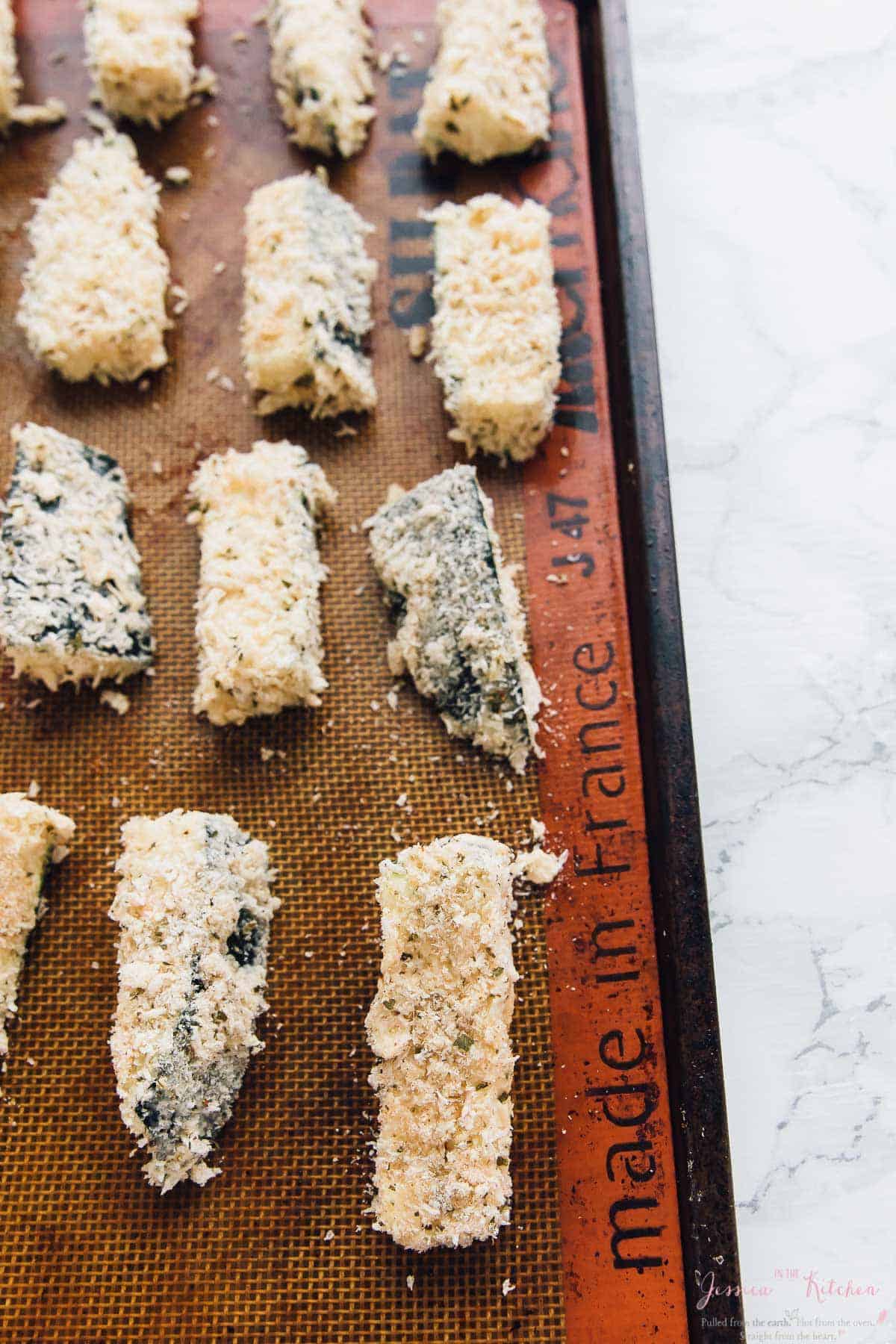 How to Make Crispy Zucchini Tacos
To get a head start on this recipe, you can make the slaw and crema a day in advance.
Prepare. Preheat your oven to 450ºF and line a baking sheet with parchment paper or a silicone mat. Cut the zucchini into three-inch spears.
Set up a dredging station. In a shallow bowl, whisk all of the batter ingredients together except the bread crumbs. Place the bread crumbs in a second shallow bowl.
Coat the zucchini. Dip the zucchini into the batter, tapping off the excess. Then, coat the zucchini in the breadcrumbs and place them on the prepared baking sheet.
Bake. Place the baking sheet in the oven and bake for 25 minutes, or until the zucchini is crispy on the outside and tender on the inside.
Make the slaw. Toss all of the slaw ingredients in a mixing bowl and set aside.
Make the crema. Blend the crema ingredients in a small food processor or with an immersion blender. Add a tablespoon of water at a time to thin, if needed, then season with salt and pepper. Refrigerate until you're ready to assemble.
Warm the tortillas. Heat a teaspoon of oil in a skillet set over medium heat, then add a tortilla. Once brown spots appear and the tortilla starts to get puffy, flip and cook the other side. Repeat with the remaining tortillas.
Assemble. Add the slaw, zucchini, and avocado to the tortillas, then drizzle with the crema and add other toppings, as desired.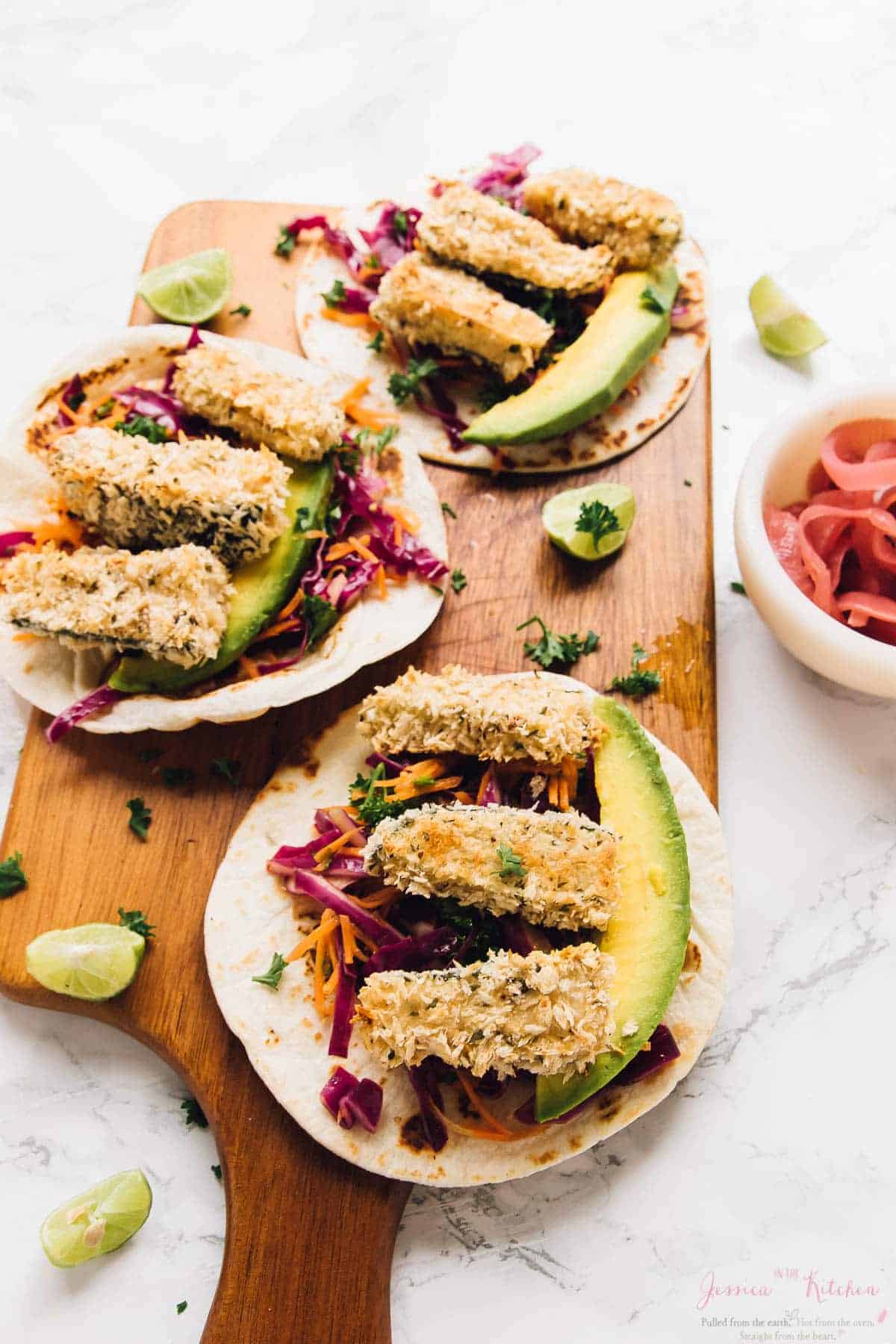 Tips for Success
These simple tips will help you make sure your crispy zucchini tacos turn out perfect!
Don't line the baking sheet with foil. The zucchini will stick! Parchment paper or a silicone mat are best.
Cut the zucchini into uniform pieces. This ensures that it will all be done baking at the same time.
Cook the zucchini right before serving. While the slaw and crema are great for making in advance, the zucchini will be crispiest if it's baked right before you assemble the tacos.
Variations
These tacos are super versatile and can be customized to suit your tastes. Here's some inspiration:
Instead of tortillas, you can serve assemble these tacos as lettuce cups.
Swap the crema for my Easy Mango Basil Salsa or Restaurant-Style Blender Salsa.
Use crunchy hard taco shells instead of the soft ones for extra texture. 
For more summery goodness, top the tacos with a rainbow of heirloom tomatoes.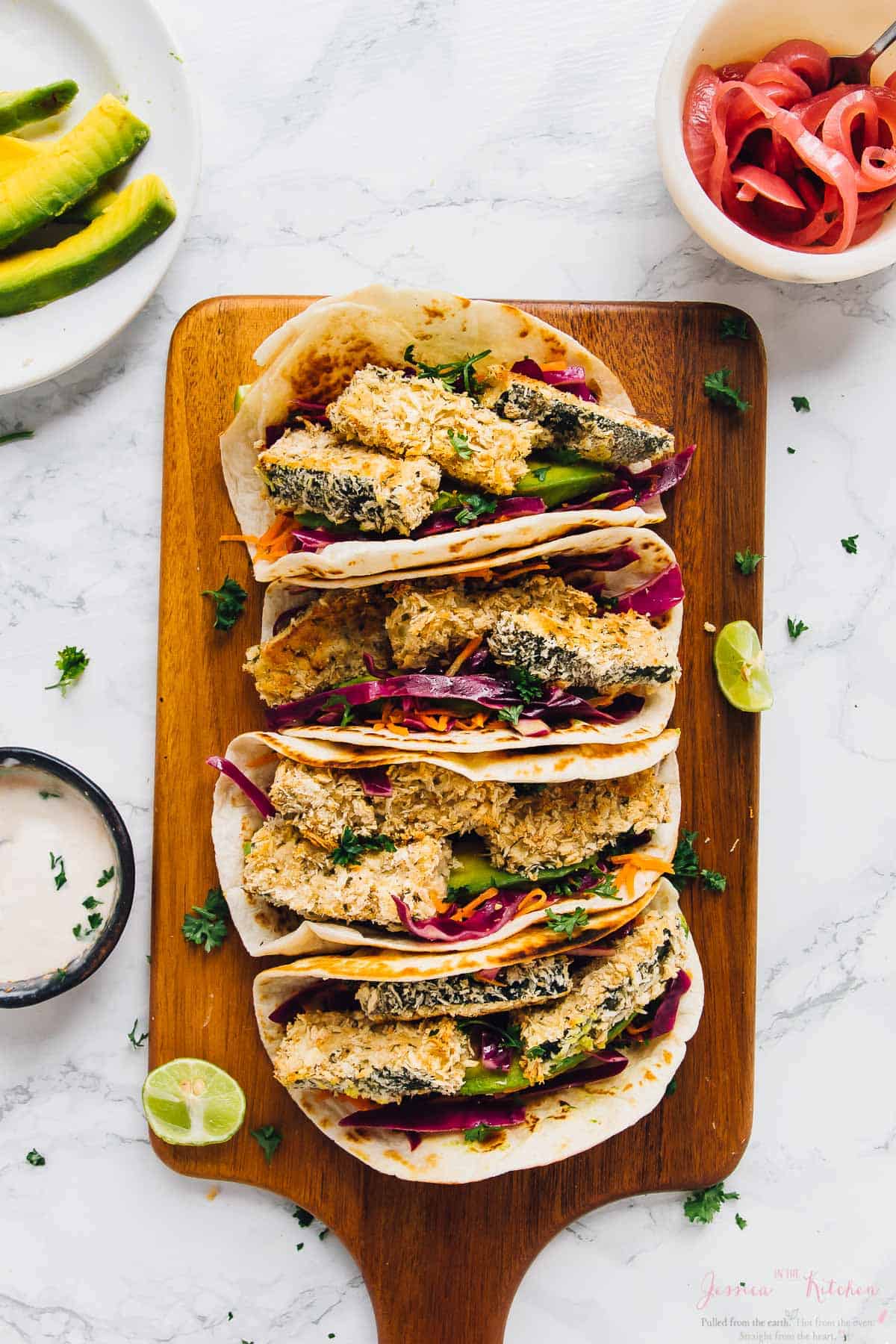 How to Store Leftovers
If you have leftovers, it's best to store each component separately, rather than assembling the tacos and then storing them. This will help ensure everything retains its texture!
Reheat the zucchini in a 400ºF oven to restore some of its crispiness, or use a microwave if you're in a time crunch. Then, assemble the tacos and serve.
Can This Recipe Be Frozen?
No, this is not a recipe that freezes well. If you'd like a freezer-friendly taco option, try my Sweet Potato and Black Bean Tacos; the bean and potato filling can be frozen.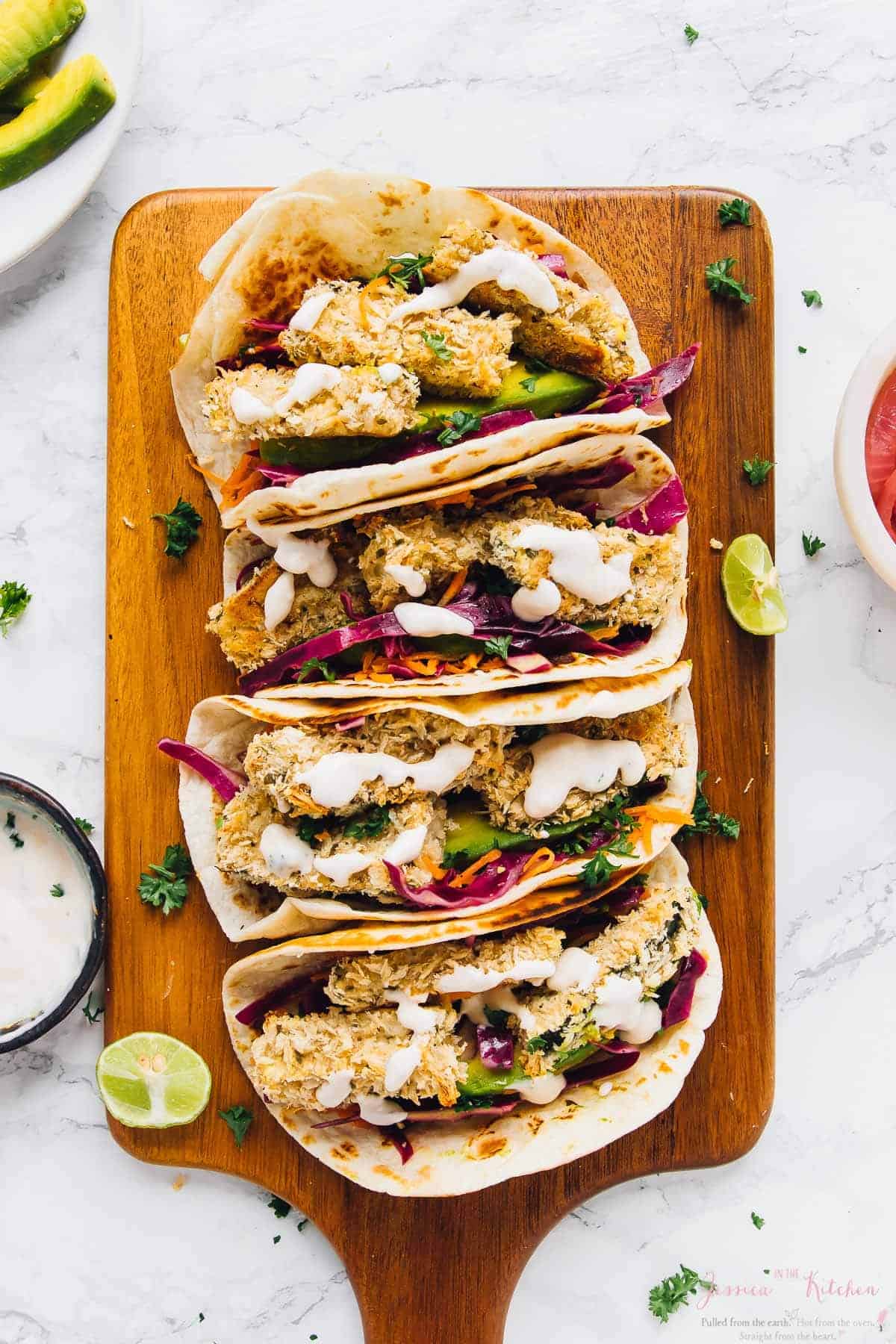 More Zucchini Recipes
P.S. Here are some of the items I used to make this recipe if you'd like to use them too:
| WHAT YOU'LL NEED // SHOP MY FAVORITE INGREDIENTS & PREP PRODUCTS |


Enjoy friends! If you make this crispy zucchini taco recipe, please snap a photo and tag #jessicainthekitchen on Instagram! We'd also love it if you would leave a comment below, and give the recipe a rating! Thanks so much!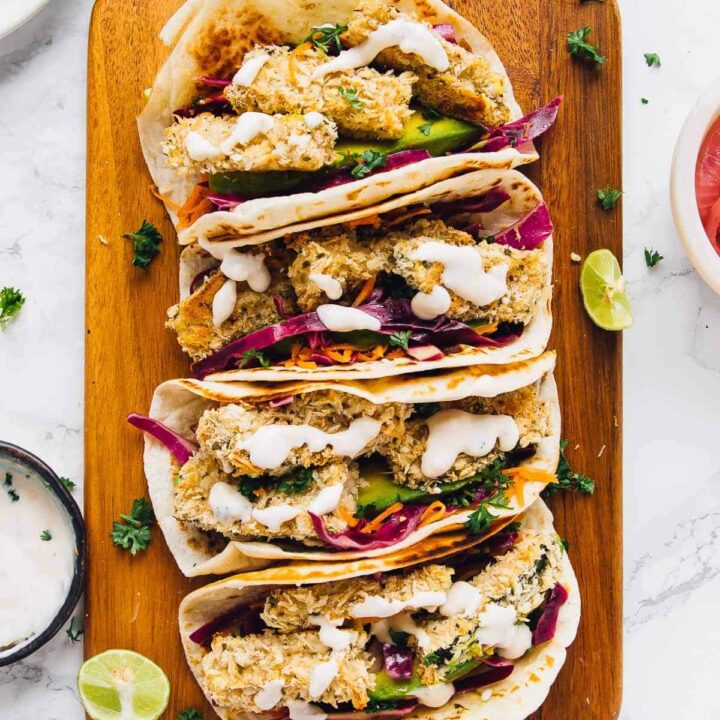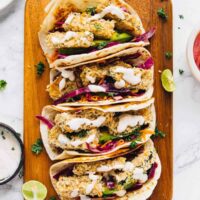 Crispy Zucchini Tacos with Crunchy Cabbage Slaw & Lime Crema
These crispy zucchini tacos pair oven-baked zucchini with zesty slaw and vegan crema for a Tex-Mex dinner with layers of texture and flavour!
Ingredients
Crispy Zucchini
1 lb zucchini
3/4 cup AP gluten free flour
3/4 cup almond milk
3/4 teaspoon salt
1/2 teaspoon ground black pepper
3/4 teaspoon garlic powder
1/2 teaspoon crushed red pepper flakes
1 cup gluten free bread crumbs, seasoned with salt and pepper
Kale Cabbage Slaw
2 cups shredded kale
2 cups shredded carrots
2 cups shredded purple/red cabbage
1/4 cup apple cider vinegar
1 tablespoon coconut sugar
sea salt and ground black pepper to season
2 tablespoon extra virgin olive oil
Lime Crema
1/4 cup thick vegan greek yogurt or mayo
1 teaspoon lime juice
1/2 tsp finely minced garlic
sea salt and ground black pepper to taste
1 chipotle chili in adobo, finely minced (optional, adds lots of spice and flavour)
1/2 teaspoon paprika
1 tablespoon almond milk
Tacos
3/4 of a small jalapeño, sliced (about 1 1/2 teaspoons) (optional)
Pickled onions, optional
1/2 ripe avocado, sliced
2 tablespoons parsley, chopped
2 limes, sliced into wedges for garnish and fresh squeeze over tacos
tortillas
Instructions
Tacos
Preheat oven to 450 degrees.

Prepare a baking sheet by lining it with a silicone baking sheet or parchment paper, NOT foil.

Cut the zucchini into spears about 3 inches long and an inch wide roughly. You can do this by cutting it like you would a potato into wedges.

In a separate bowl, whisk all the batter ingredients together EXCEPT the bread crumbs. Place the bread crumbs in a bowl. Line it up beside the batter bowl.

Toss the zucchini in the mixture one at a time, shaking off excess batter. Then, dip the zucchini into the breadcrumbs to coat, then place onto the baking sheet. Repeat until all of the zucchini spears are coated.

Bake for 25 minutes.

Remove from oven. Set aside.
Kale Cabbage Slaw
Mix all the ingredients for the slaw together while zucchini20 is baking. Let sit on the counter or in fridge if not using immediately while everything else is being made so all the flavours can marry together.
Lime Crema
While zucchini is baking, in a small food processor or with an immersion blender, blend all the ingredients together. Add a tablespoon or water to thin out the lime crema for drizzling if you so desire. Season with salt and pepper to taste. Place in a squeeze bottle and in the fridge until ready, or in a small bowl to spoon over tacos.
To Assemble Tacos
Heat 1 teaspoon olive oil in a skillet over medium heat (if possible, brush with a pastry brush).

Place a taco shell in the heat until golden brown spots appear and they are slightly puffy for a few seconds, then flip and cook the same. Set on a plate to assemble.

Layer with slaw, crispy zucchini and avocados over the soft taco shells. Add other toppings here if so desired.

Drizzle the tacos with the lime crema.

Serve with limes to squeeze over for a fresh burst of flavour. Enjoy!
Notes
This recipe is vegan. TO MAKE IT GLUTEN FREE Use gluten free breadcrumbs and soft taco shells. You can make the kale cabbage slaw ahead of time, even before you put the crispy zucchini tacos in to bake. Making it while it's baking is just another option, although the flavours will marry together even better if made before. HOW TO STORE You can make the different parts of the taco and store separately in airtight tupperware containers. Leave the slaw in its juices to keep it fresh and flavourful. When you're ready to eat, reheat the zucchini in the oven or a toaster oven, heat the tacos fresh and assemble.
Calories: 384kcal, Carbohydrates: 61g, Protein: 10g, Fat: 14g, Saturated Fat: 2g, Sodium: 790mg, Potassium: 951mg, Fiber: 10g, Sugar: 13g, Vitamin A: 15397IU, Vitamin C: 110mg, Calcium: 221mg, Iron: 3mg
Disclaimer: Although jessicainthekitchen.com attempts to provide accurate nutritional information, kindly note that these are only estimates. Nutritional information may be affected based on the product type, the brand that was purchased, and in other unforeseeable ways. Jessicainthekitchen.com will not be held liable for any loss or damage resulting for your reliance on nutritional information. If you need to follow a specific caloric regimen, please consult your doctor first.