Easy Mango Basil Salsa – 10 Minutes, Vegan
This Easy Mango Basil Salsa takes only 10 minutes with 5 ingredients! It's a sweet and spicy salsa that is a total crowd pleaser and great for parties!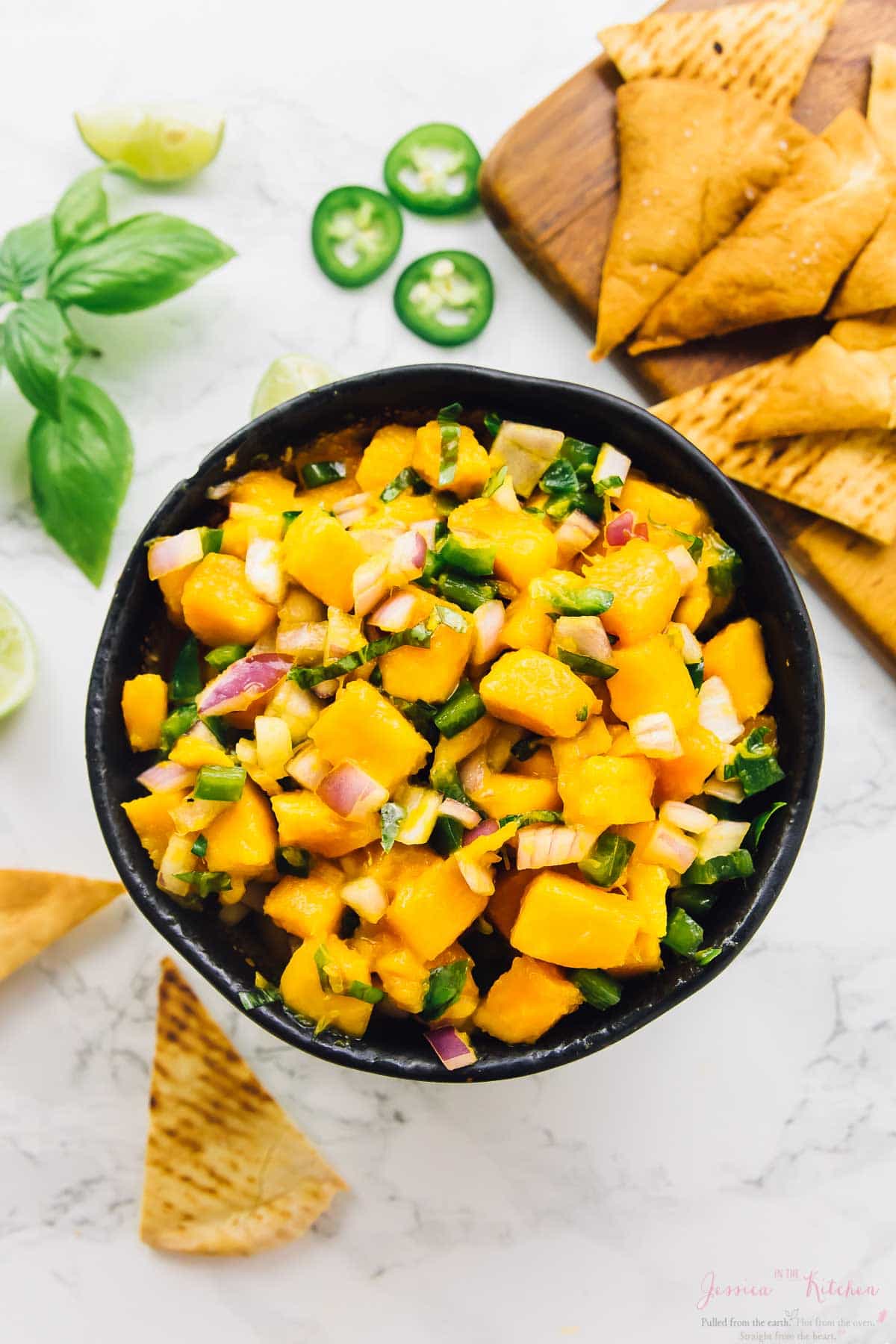 Here's my favourite part about spring crossing over into summer: the fruits. Oh my, the FRUITS. One day you're in soup heaven, then the next you've crossed immediately into fruit heaven. Mangoes, strawberries, everything! What goes greatly with these fruits? Herbs. OH MY. As if fruits couldn't get any better, herbs come right into the picture and kick it up ten levels. When I was greeted with about a dozen mangoes, I knew I had to make a salsa out of them. Basil immediately popped into my mind and this Mango Basil Salsa was born.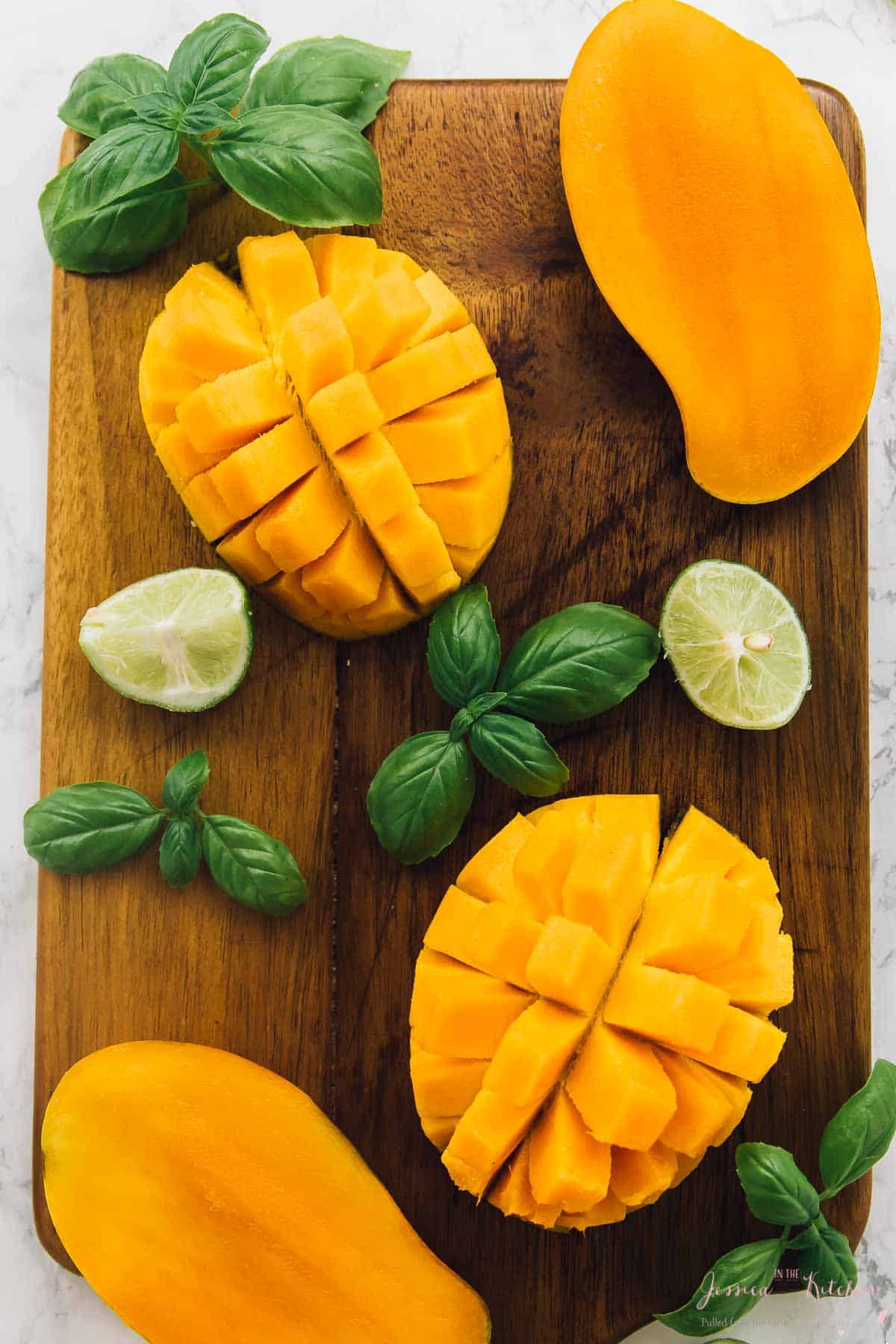 If you've been around, you know I'm growing my own basil. Have I screamed it loud enough? The Mr. and I are now growing three types of basil, rosemary, spinach, tomatoes, thyme and mint. While I started it with the advice and growing help of some amazing parents of friends, aka, just-like-family angels + my own amazing family's advice, the Mr. has gotten in deep (literally) with helping me. We spent hours this week re planting, pruning and just having fun and laughing in the garden that I am just so excited to grow more, more and more!
Ok, this gardening newbie could literally talk about plants for hours, but I'm known by all to ramble so let's get back to the Mango Basil Salsa, right?!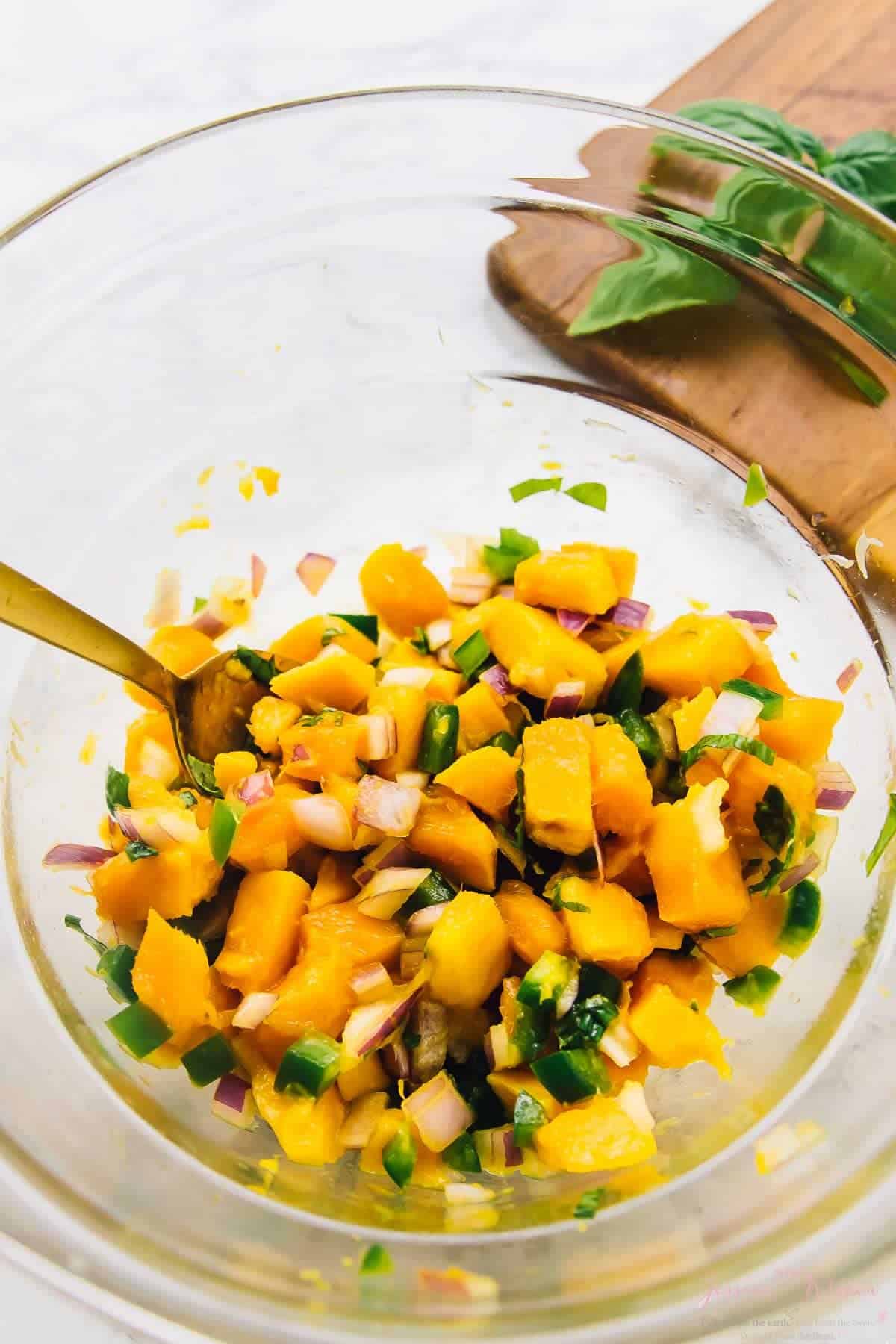 Like I said, due to the amount of basil we've been going, the moment we got these mangoes I knew I had to use basil with them. OH the combination. How have I never thought of mixing mango with basil?! I asked quite a few of you to guess what I would be making on Instagram and you too were in love with the flavour combo. It's hard to explain, but know that they bring out the absolute best in each other.
The other parts of the salsa just make it even better. You get this subtle spicy sweet salsa that will go perfectly in everything! The lime is the bring-it-all-together essential that'll make you want to eat this Mango Basil Salsa for days. I love that this is a healthy salsa, so easy to make, and will leave you wanting more, whilst nourishing you so much at the same time! YAY for mango and basil!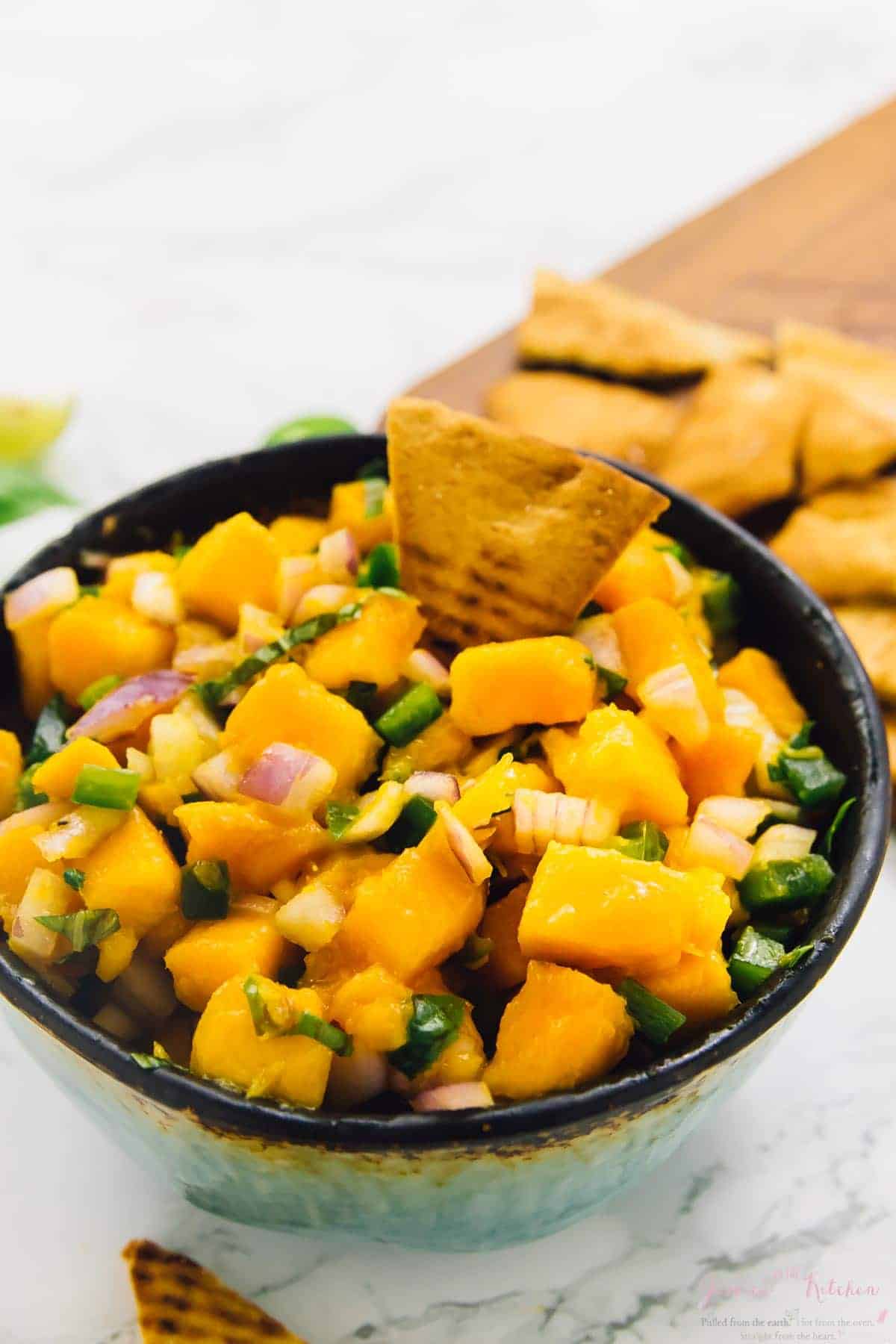 You can whip this up right before your party or bbq, easily store it in a container and bring it over. Eat it with some chips. Or on top of your veggie burger, on bruschetta, tacos, burritos…anything your heart desires. Dig in friends!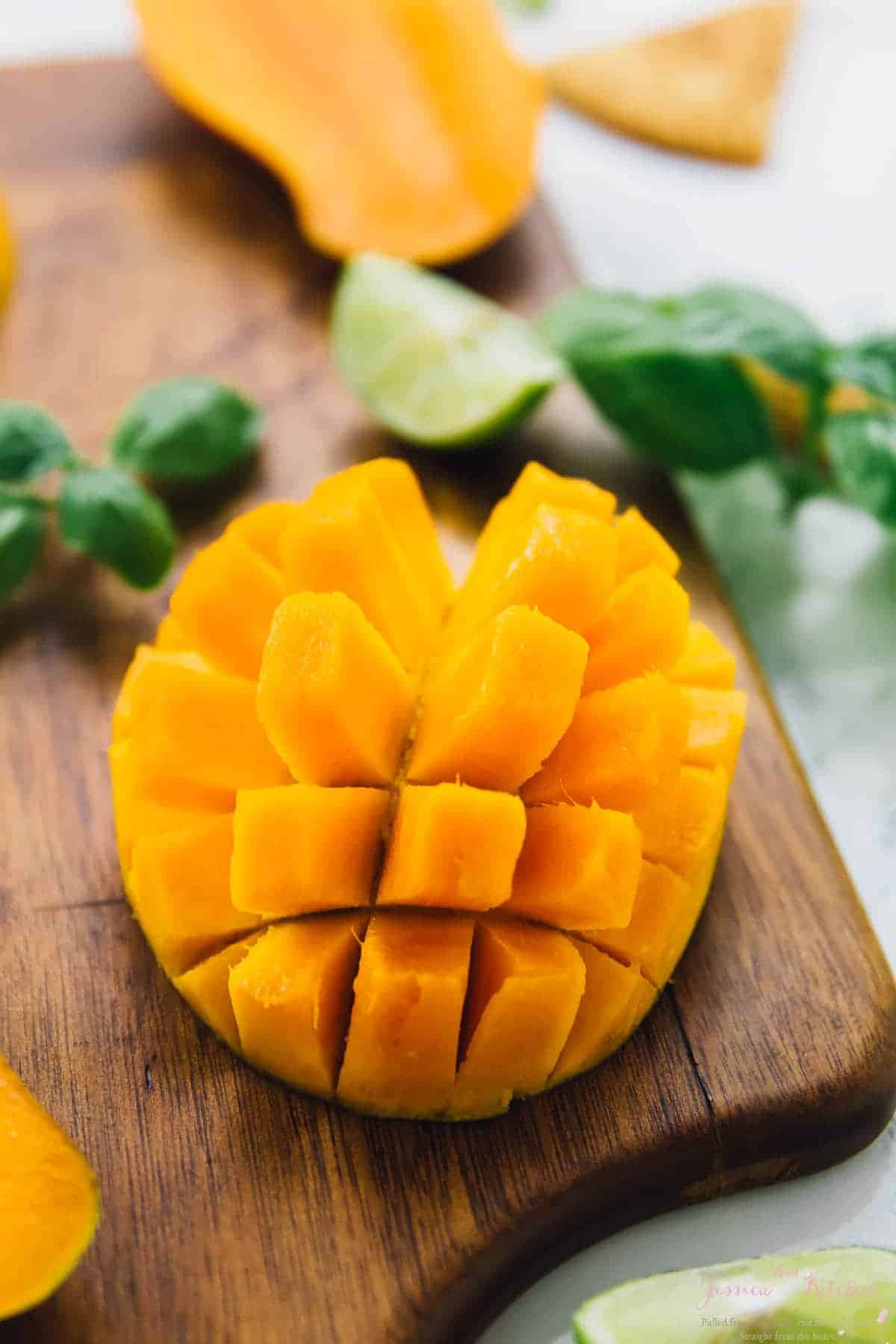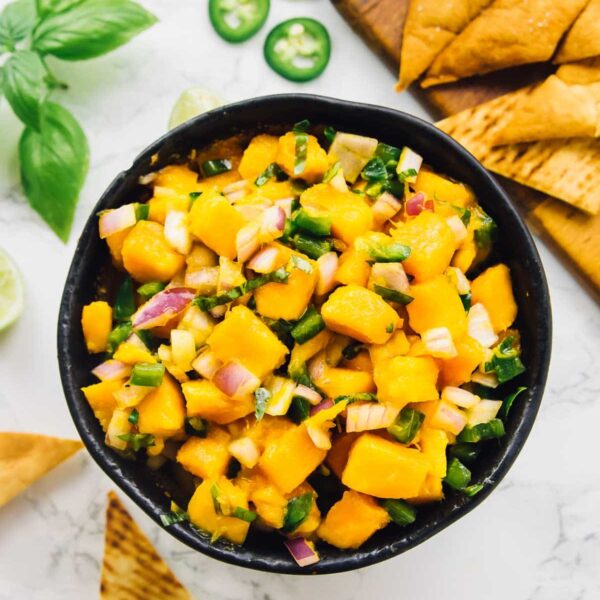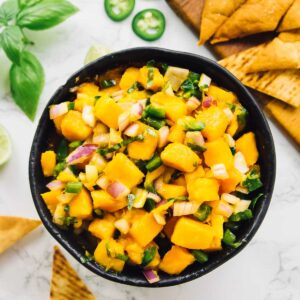 Easy Mango Basil Salsa
This easy mango basil salsa is a sweet-and-spicy crowd-pleaser, perfect for parties or for snacking at home. You only need 5 ingredients and a few minutes to make it!
Ingredients
Easy Mango Basil Salsa - 10 Minutes, Vegan
2 cups or 2 mangoes, peeled and cubed
1/4 large red onion, diced
1 jalapeño seeded and diced
juice of a large lime
3 tablespoons fresh basil, julienned
Instructions
Easy Mango Basil Salsa - 10 Minutes, Vegan
Mix all the ingredients together in a large bowl and toss lightly to combine.

Let sit for a few minutes for all the flavours to meld.


Serve with chips and enjoy!

Notes
Notes:
This recipe is vegan and gluten free. You can easily double or triple the recipe depending on your party size.
Your mango may produce different amounts of cups. You can easily adjust the other measurements based on the mangoes though.
HOW TO STORE
This salsa is best made and served fresh. While you can store leftovers in the fridge, the mango will begin to get mushy after being in the fridge for a day or so. I recommend making and serving it fresh.
I don't recommend freezing this salsa.
Calories: 54kcal, Carbohydrates: 13g, Protein: 1g, Fat: 1g, Saturated Fat: 1g, Sodium: 1mg, Potassium: 149mg, Fiber: 2g, Sugar: 12g, Vitamin A: 1010IU, Vitamin C: 35mg, Calcium: 12mg, Iron: 1mg
Disclaimer: Although jessicainthekitchen.com attempts to provide accurate nutritional information, kindly note that these are only estimates. Nutritional information may be affected based on the product type, the brand that was purchased, and in other unforeseeable ways. Jessicainthekitchen.com will not be held liable for any loss or damage resulting for your reliance on nutritional information. If you need to follow a specific caloric regimen, please consult your doctor first.