Vegan Mango Ice Cream (3 Ingredients)
This no-churn Vegan Mango Ice Cream is a creamy tropical dream come true! Bonus: you only need three ingredients to make it!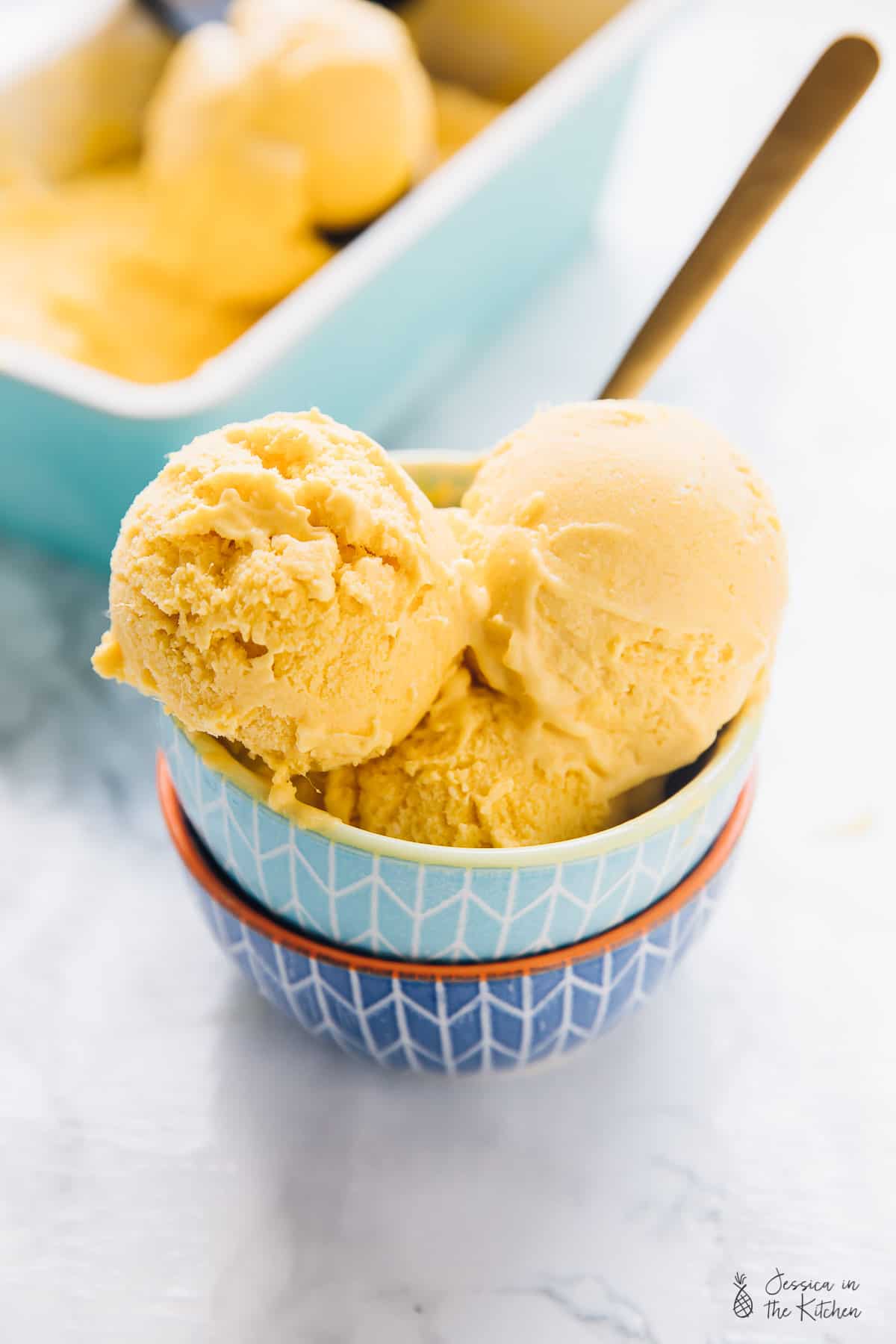 Is there any fruit more perfect than the mango? It's soft, fragrant, and oh-so-sweet—at least when it's ripe. I'll take mangoes any way I can get them, but this vegan mango ice cream might just be my favorite way to enjoy them. (Okay, maybe second to just cutting them open and digging in.) It has all that tropical mango flavor, the creaminess of coconut, and the convenience of an ice cream you don't even need an ice cream maker to make.
Whaaaat?!
Yep, no ice cream maker! Remember the banana "soft serve" recipe that broke the internet about a decade ago? Well, this is kind of the same idea, except that frozen mangoes are used instead of frozen bananas. Then, since mangoes don't have that natural creamy texture of bananas, I add in coconut cream for that authentic ice cream creaminess. Give everything a whirl in the food processor and grab a spoon!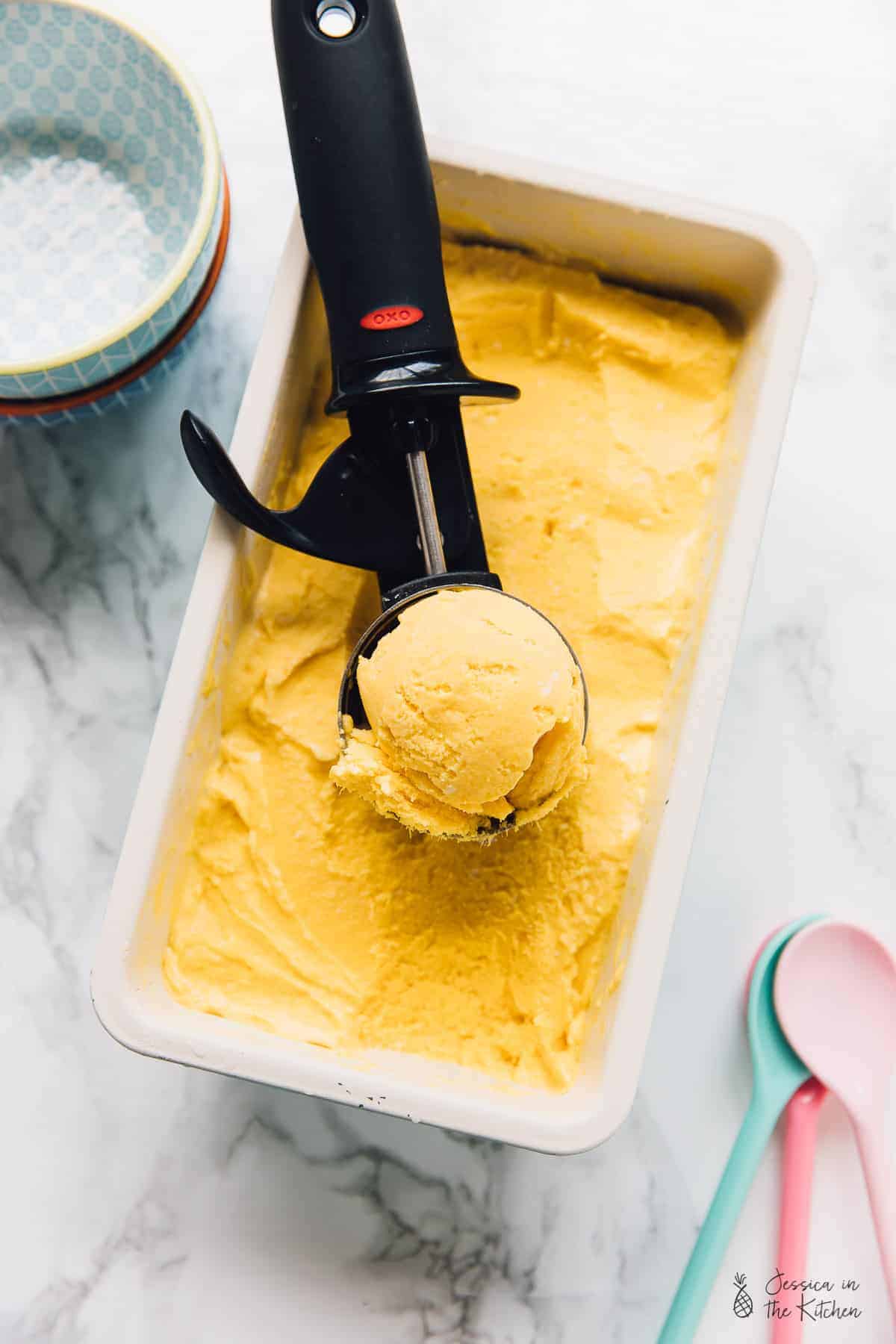 Notes on Ingredients
Please note that this is important information on the ingredients and instructions and the FULL recipe with amounts and details can be found DOWN BELOW (scroll to it) in the recipe card.
Mango – Being that I'm from Jamaica, I'm pretty partial to Jamaican mangoes! But any kind you like will work in this recipe. Ataulfo (also known as champagne or honey mangoes) are the perfect balance of sweetness and texture, since they don't have the stringiness of many other varieties. When mangoes aren't in season, simply use frozen.
Coconut cream
Vanilla extract – Friends, this doesn't just add taste—it helps keep your vegan mango ice cream smooth instead of icy! Vanilla extract has alcohol in it, which keeps ice crystals from forming in the mixture.
How to Choose a Ripe Mango
If you buy unripe mangoes, you can keep them at room temperature until they ripen. This is probably the best way to make sure your mangoes are perfectly ripe when you're ready to use them. Now, if you want to go out right now and buy ripe mangoes to make ice cream immediately, then you're going to want to look for mangoes that have some give when you squeeze them (kind of like a peach or nectarine) and that are fragrant when you smell near the stem.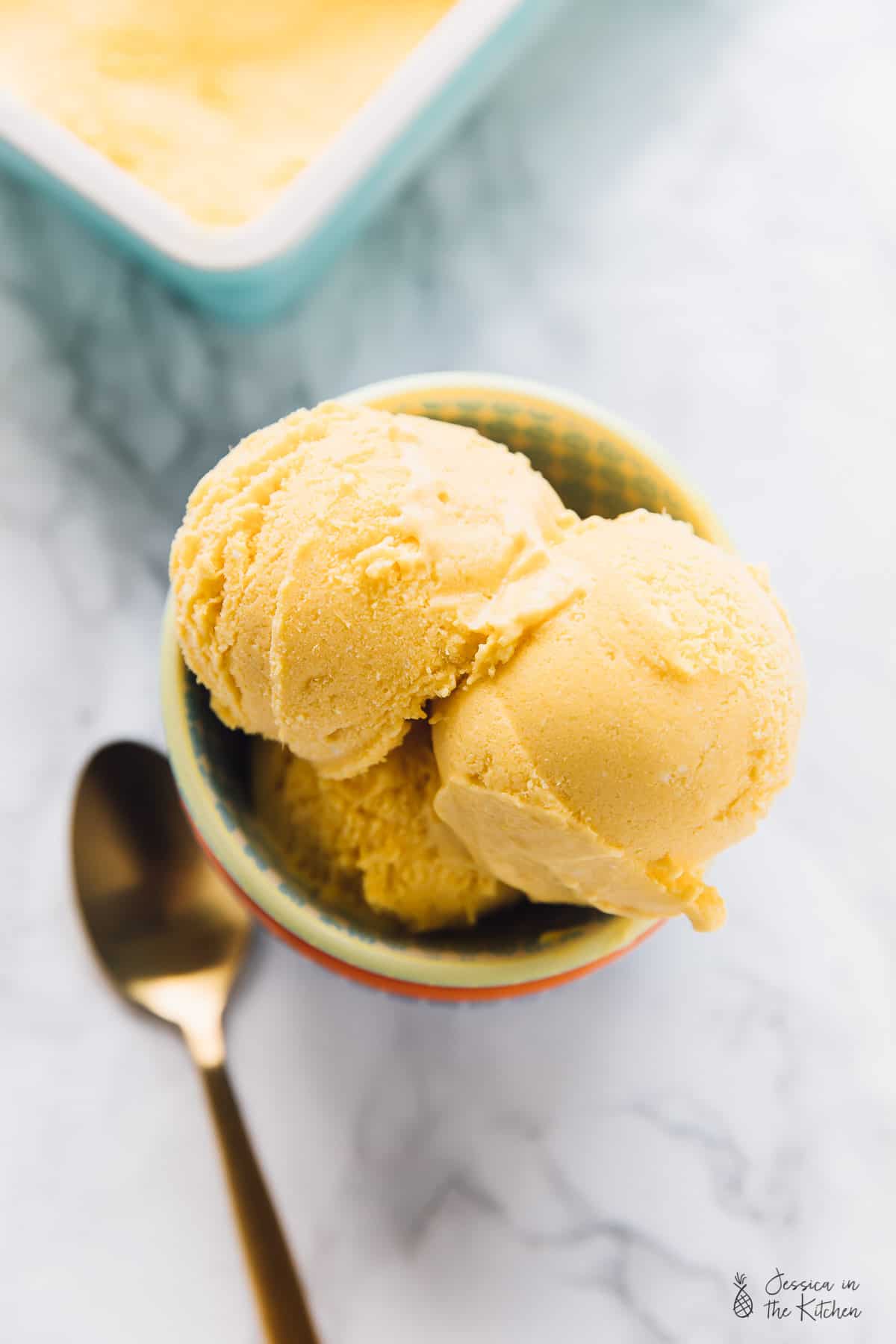 How to Make No-Churn Vegan Mango Ice Cream
This only takes a few minutes to make, but you'll need to freeze the mango ahead of time and then freeze the ice cream for an hour before serving.
Blend. Place the frozen mango in a food processor and pulse it until small chunks form. Add the coconut cream and the vanilla extract and blend until the mixture completely smooth, scraping down the sides if necessary.
Freeze. Pour the mango ice cream into a freezer-safe container and freeze it for an hour.
Serve. Thaw the ice cream for 5 to 10 minutes, then scoop and serve.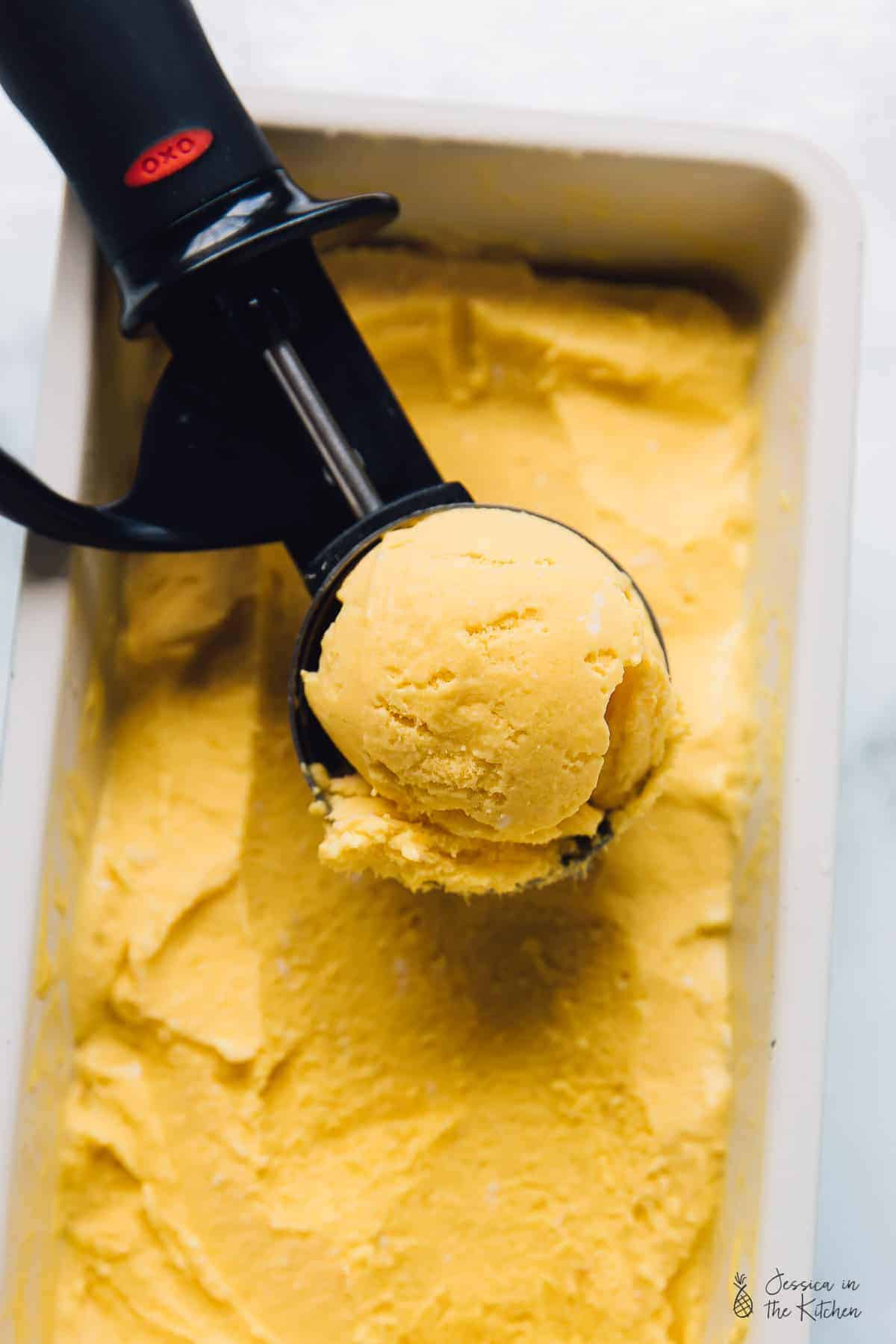 Tips for Success
This is a simple recipe, but read through these tips before you make it. They'll help you get the best possible results!
About the coconut cream. Coconut cream is such a popular ingredient these days that you can often buy it in a can at the grocery store. If your store doesn't sell it, you can make your own coconut cream with a can of full-fat coconut milk. Stick in the fridge overnight, turn it upside down, pour off the coconut water and use the thick cream in the recipe. Or you can use my super handy trick and stick it in the freezer for a few hours to speed up the process.
Adding sweeteners. While I didn't use sugar, you can add your sweetener of choice if your mangoes seem a bit tart.
Preventing ice crystals. The vanilla extract will go a long way to make a smooth mango ice cream, but you can also whisk the ice cream mixture every 10 to 20 minutes to keep ice crystals from forming.
How to Store
Cover the ice cream in the container and store it in the freezer for up to a month.
Serving Suggestions
I love enjoying this mango ice cream as-is, but if you want to add some toppings, try one of these:
Strawberry sauce
Granola
Toasted coconut flakes
Fresh fruit
Enjoy friends! If you make this vegan mango ice cream recipe, please snap a photo and tag #jessicainthekitchen on Instagram! We'd also love it if you would leave a comment below, and give the recipe a rating! Thanks so much!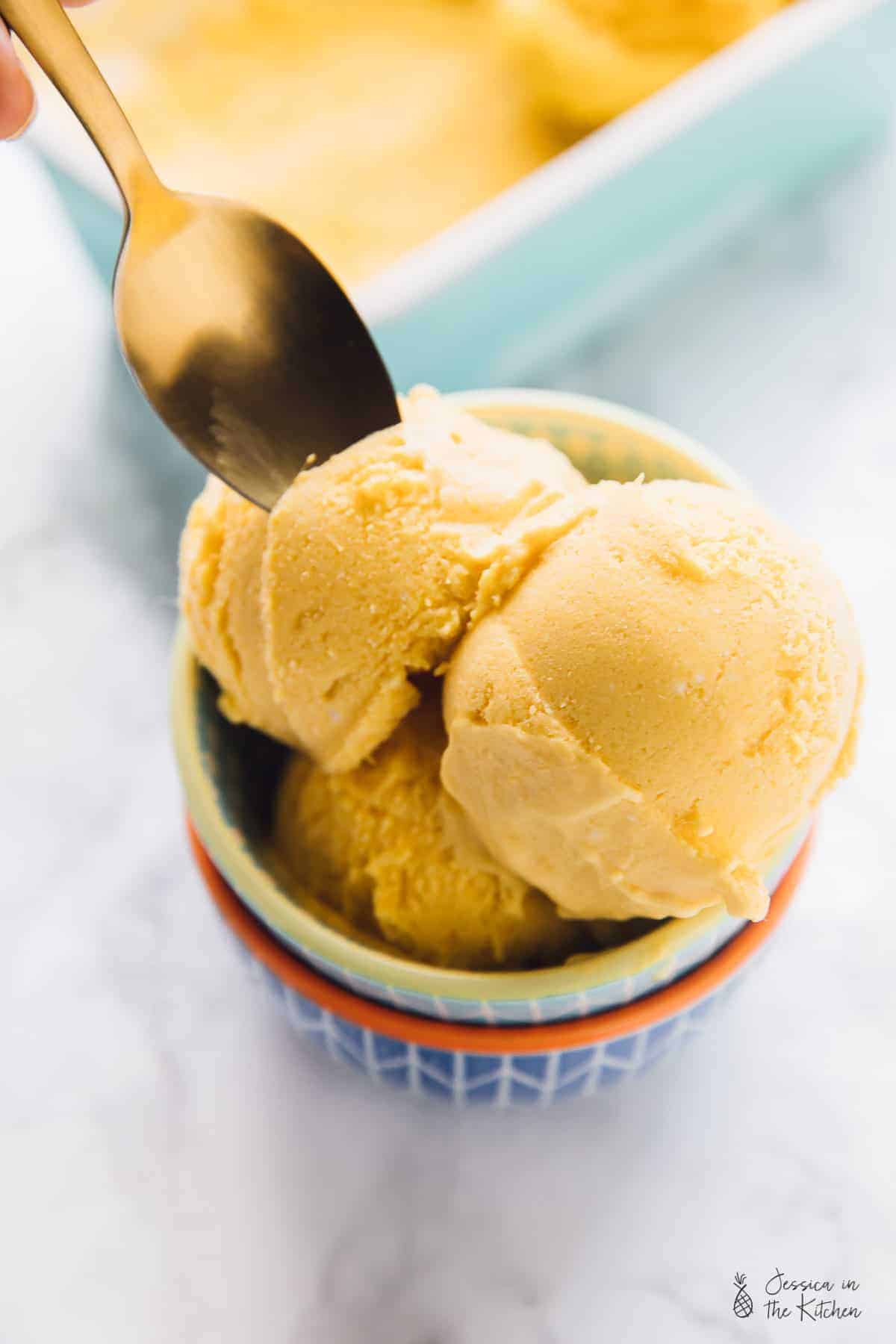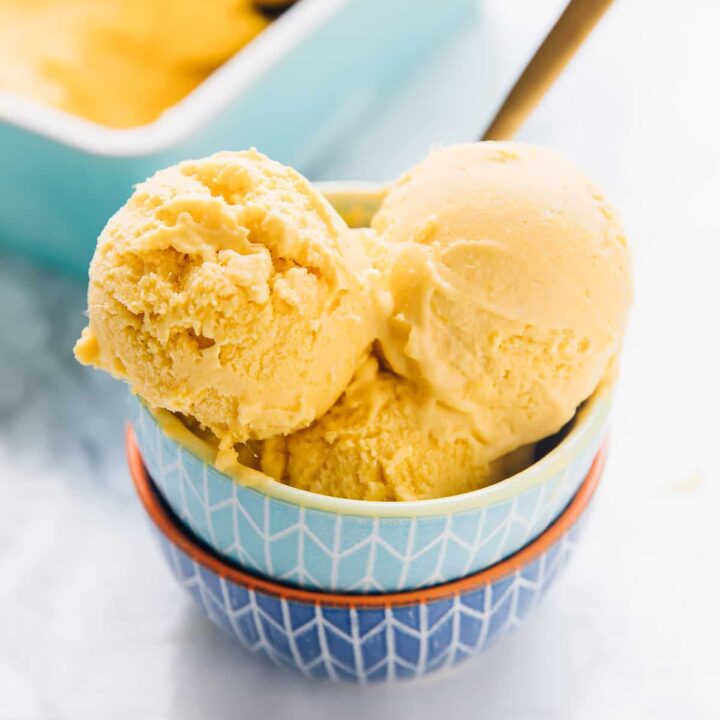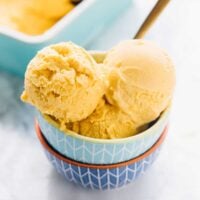 Vegan Mango Ice Cream
This easy vegan mango ice cream recipe requires only 3 ingredients and no ice cream maker!
Ingredients
1 14 oz. can coconut milk, you only need the ¾ cup coconut cream – see instructions below
4 cups frozen mango chunks
1 tablespoon vanilla extract
Instructions
In a food processor, add the frozen mango and blend until in frozen smaller chunks, about 1 minute.

Add in the coconut cream and the vanilla extract. Blend until completely smooth and incorporated, scraping down sides as necessary, for about 3 minutes.

Pour/spoon the ice cream base into a freezer-safe container and place in the freezer and allow to freeze for 1 hour.

While not necessarily, I love to go in, whisk the entire thing for about 10-20 minutes, then place back in the freezer, to prevent ice crystals forming. Freeze until frozen.

To eat: serve immediately or when you are ready for it (after it's been in the freezer), thaw for 5-10 minutes and scoop with an ice cream scoop. Enjoy!
Notes
*If you can't find coconut cream, add 1 can (14 ounces) full fat coconut milk, in the fridge overnight. After being refrigerated overnight, turn the can upside down and and pour out the coconut water liquid on top. Then scoop the solids of the coconut cream out of the jar. They should come up to about ¾ cup every time from a 14 ounce can. How to store: Cover the ice cream in the container and store it in the freezer for up to a month. 
Calories: 235kcal, Carbohydrates: 21g, Protein: 3g, Fat: 17g, Saturated Fat: 15g, Sodium: 12mg, Potassium: 371mg, Fiber: 3g, Sugar: 18g, Vitamin A: 1190IU, Vitamin C: 42mg, Calcium: 23mg, Iron: 1mg
Disclaimer: Although jessicainthekitchen.com attempts to provide accurate nutritional information, kindly note that these are only estimates. Nutritional information may be affected based on the product type, the brand that was purchased, and in other unforeseeable ways. Jessicainthekitchen.com will not be held liable for any loss or damage resulting for your reliance on nutritional information. If you need to follow a specific caloric regimen, please consult your doctor first.