2-Ingredient Vegan Blueberry Ice Cream
This 2-Ingredient Vegan Blueberry Ice Cream (no churn) is creamy, healthy, absolutely delicious and so easy that you can have ice cream in just 10 minutes!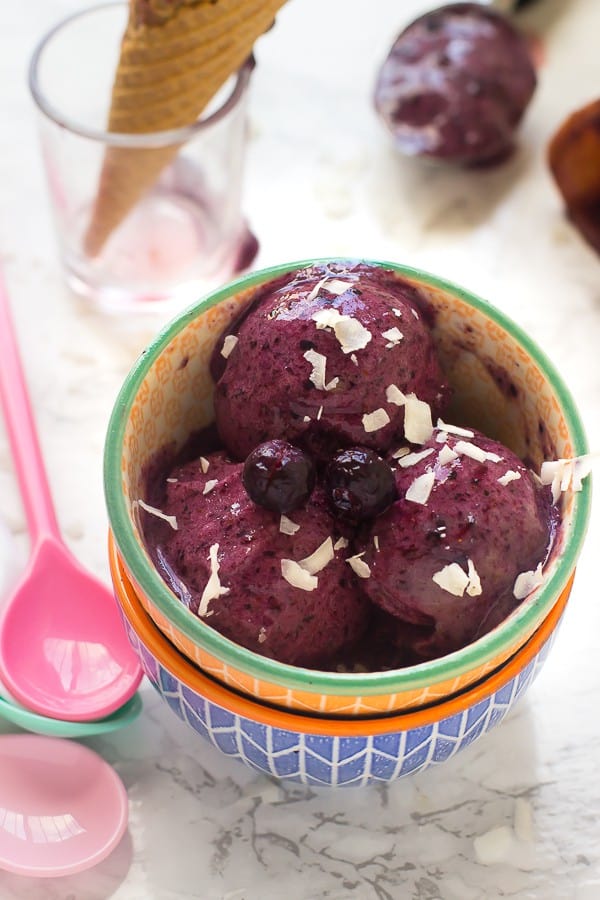 What is this summer's best kept secret? Banana "nice" cream, aka the easiest possible way on earth to make ice cream. All you need are frozen bananas, and your favourite fruit for your desired ice cream flavour. In ten minutes, you have frozen, scoop able ice cream. Yes, I was shocked too when I found out about it, and it was by mistake, too. That mistake led to this amazing 2-Ingredient Vegan Blueberry Ice Cream, so you definitely need to read on to find out how to make your own super easy fruit ice cream.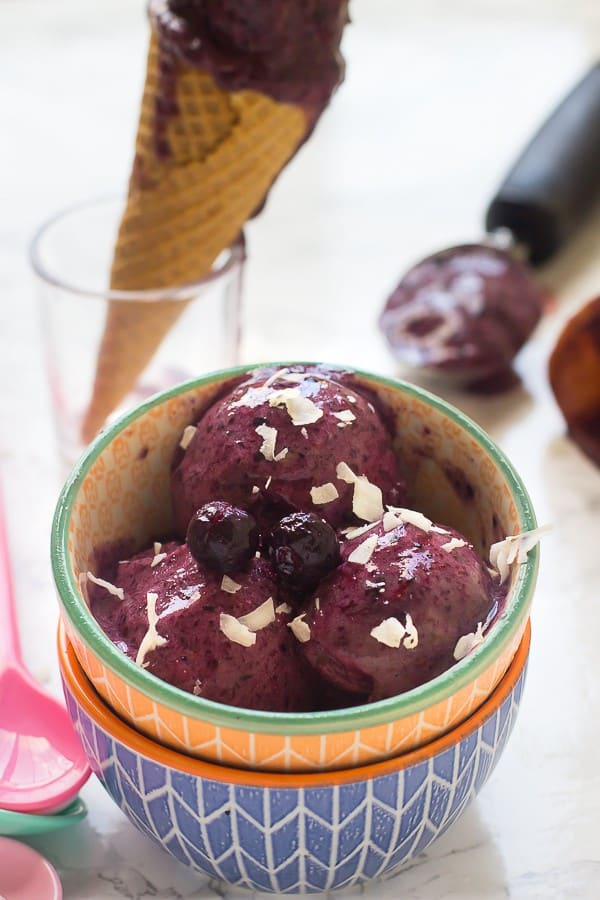 It all happened when I was making a smoothie bowl. I was so proud of my self that I had diligently remembered to freeze my bananas so I wouldn't have to add ice (Jessica 1 – 0 Watery Smoothie). The very first time I put the frozen bananas in a food processor before adding the rest of my smoothie ingredients I didn't expect anything extraordinary to happen. I just wanted to mash them together before adding in everything else. As we all usually do, I got distracted and went on my phone – hello cat videos. A few minutes later I remembered where I was and looked down at the food processor. What was once hard frozen banana coins was now a creamy, soft-serve like consistency.
"What?!" Was my first thought. Then, "this is just like making peanut/almond/cashew butter!!" I googled "ice cream made with bananas" and the nice cream world came tumbling towards me. It was as if I had unlocked a secret level on my favourite video game, or found a magical section on Netflix of unlimited series. Anyway, I was hooked.
One taste and you'll also be in love. Fruity, creamy, delicious vegan blueberry ice cream and so easy. You can actually serve it immediately for a soft serve consistency or freeze it up to get a thicker consistency. Like I said, either way, you'll be hooked.
| WHAT YOU'LL NEED // SHOP MY FAVORITE INGREDIENTS & PREP PRODUCTS |

RELATED RECIPES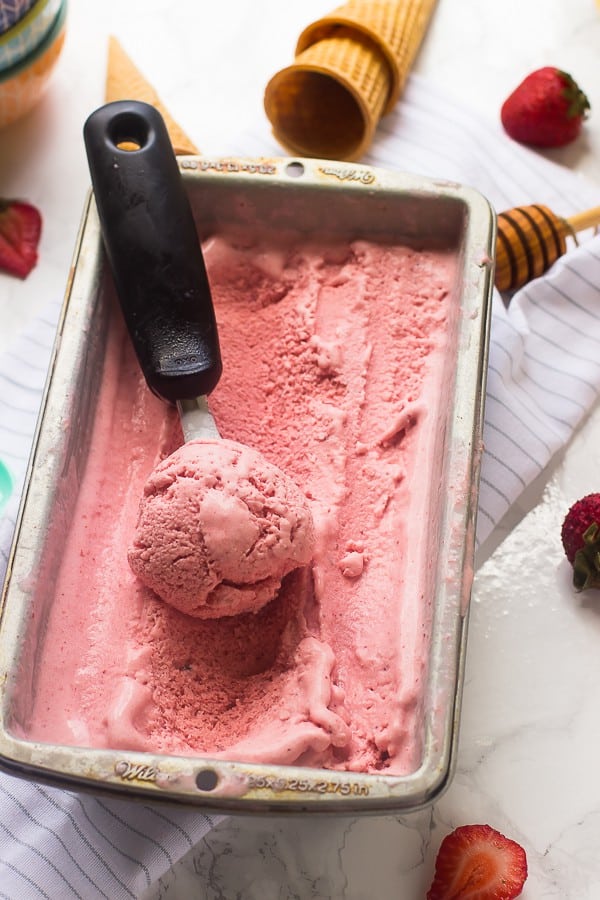 Vegan Strawberry Ice Cream (No Churn)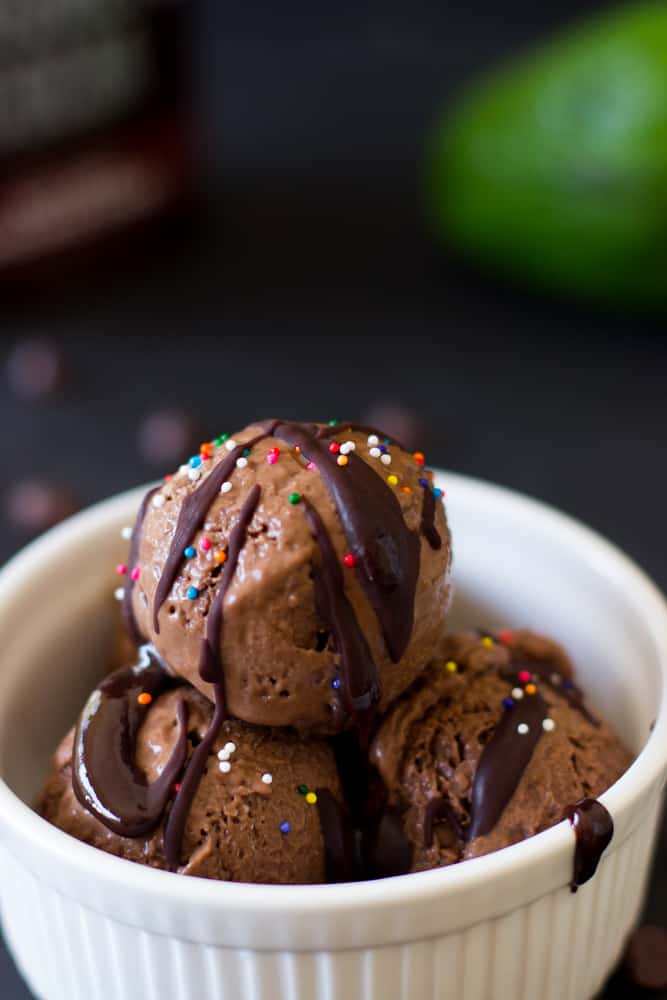 Vegan Creamy Chocolate-Avocado Ice Cream (No Churn)

If you try this 2-Ingredient Vegan Blueberry Ice Cream please let me know in the comments section below, or tag me on instagram with the hashtag #jessicainthekitchen! For more exclusive recipes follow me on Instagram AND on Snapchat: jessinkitchen.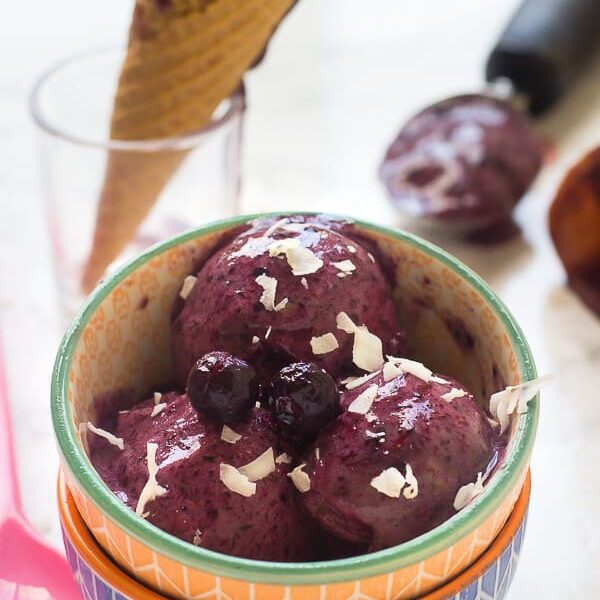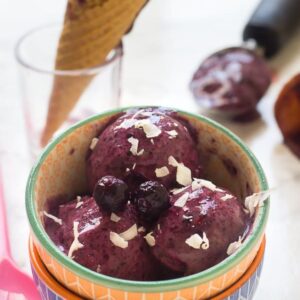 Vegan Blueberry (Nice) Ice Cream
This 2-Ingredient Vegan Blueberry Ice Cream (no churn) is creamy, healthy, absolutely delicious and so easy that you can have ice cream in just 10 minutes!
Ingredients
4 large bananas, frozen
2 cups frozen blueberries
For garnish, coconut flakes and more blueberries
Instructions
Add the bananas to a food processor and blend. They will break into hard pieces, and will begin to blend into a smooth cream after a few minutes of blending.

Add the blueberries in as soon as they become creamy. Blend together until combined.

Served immediately or add to a freezer safe container in the fridge and freeze for at least 2-4 hours.

Scoop and enjoy!
Notes
This recipe is vegan and gluten free.
Calories: 294kcal, Carbohydrates: 75g, Protein: 4g, Fat: 1g, Saturated Fat: 1g, Sodium: 4mg, Potassium: 959mg, Fiber: 10g, Sugar: 44g, Vitamin A: 231IU, Vitamin C: 35mg, Calcium: 21mg, Iron: 1mg
Disclaimer: Although jessicainthekitchen.com attempts to provide accurate nutritional information, kindly note that these are only estimates. Nutritional information may be affected based on the product type, the brand that was purchased, and in other unforeseeable ways. Jessicainthekitchen.com will not be held liable for any loss or damage resulting for your reliance on nutritional information. If you need to follow a specific caloric regimen, please consult your doctor first.