Summer Fruit Spring Rolls with Mango Dip
These Summer Fruit Spring Rolls are a colorful, crunchy vegan meal that are perfect for a light breakfast, dessert or appetizer! They are served with an amazing Mango Dip and are gluten free!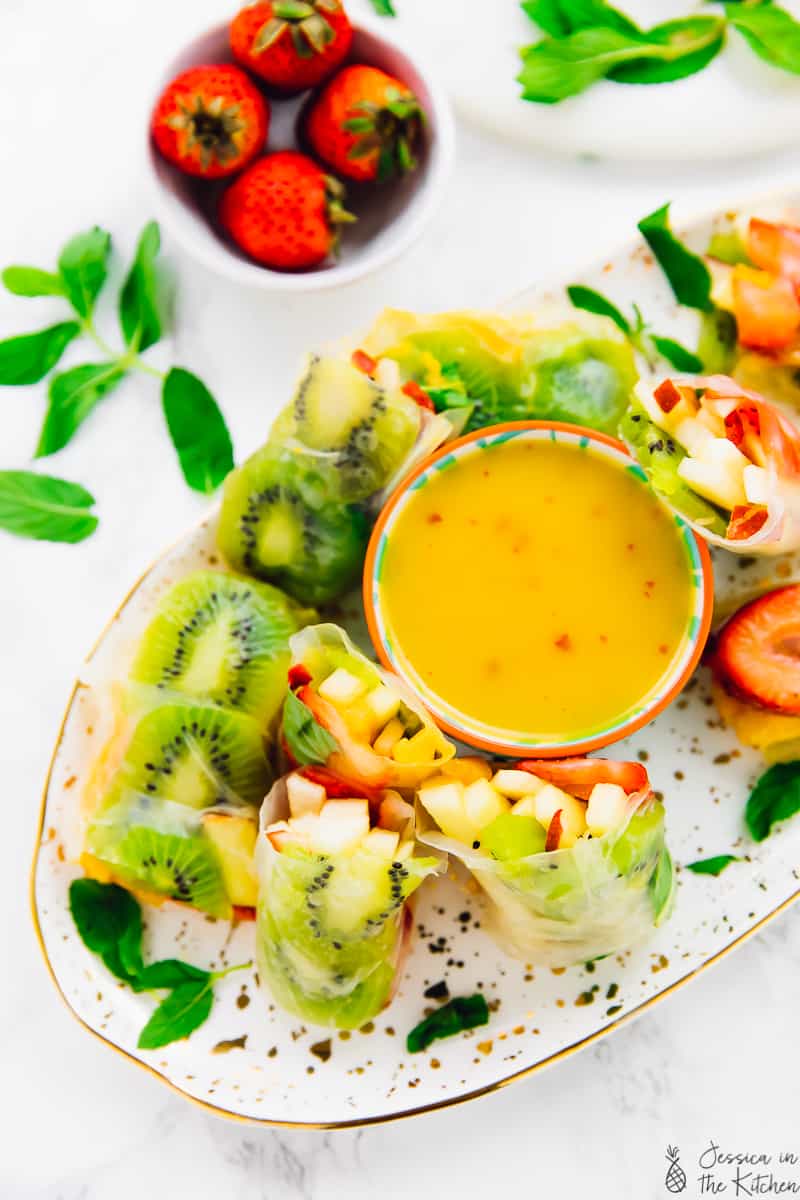 I'm in full blown summer mode and eating all the fruit! After our recent trip to Mexico, my love of fruits has been reignited. We had fruits at pretty much every single breakfast and even as a dessert sometimes, and it reminded me just how much I love tasting the rainbow colours of fruits. Although I'm still pretty biased towards my favourites like strawberries, pineapples and mangoes, there's nothing like enjoying all the colours all at once. You know I'm a fan of fruit bowls, and that's the direct colour and vibe inspiration behind these summer gems: These Summer Fruit Spring Rolls with Mango Dip!
These Fruit Spring Rolls are everything I didn't know I needed! If you've been here for a while then you know that I have a recipe for savoury spring rolls with a peanut ginger dipping sauce. Not only do I adore those spring rolls, the peanut ginger sauce is one of my go to sauces. It occurred to me that if they tasted so amazing savoury, then what about sweet?!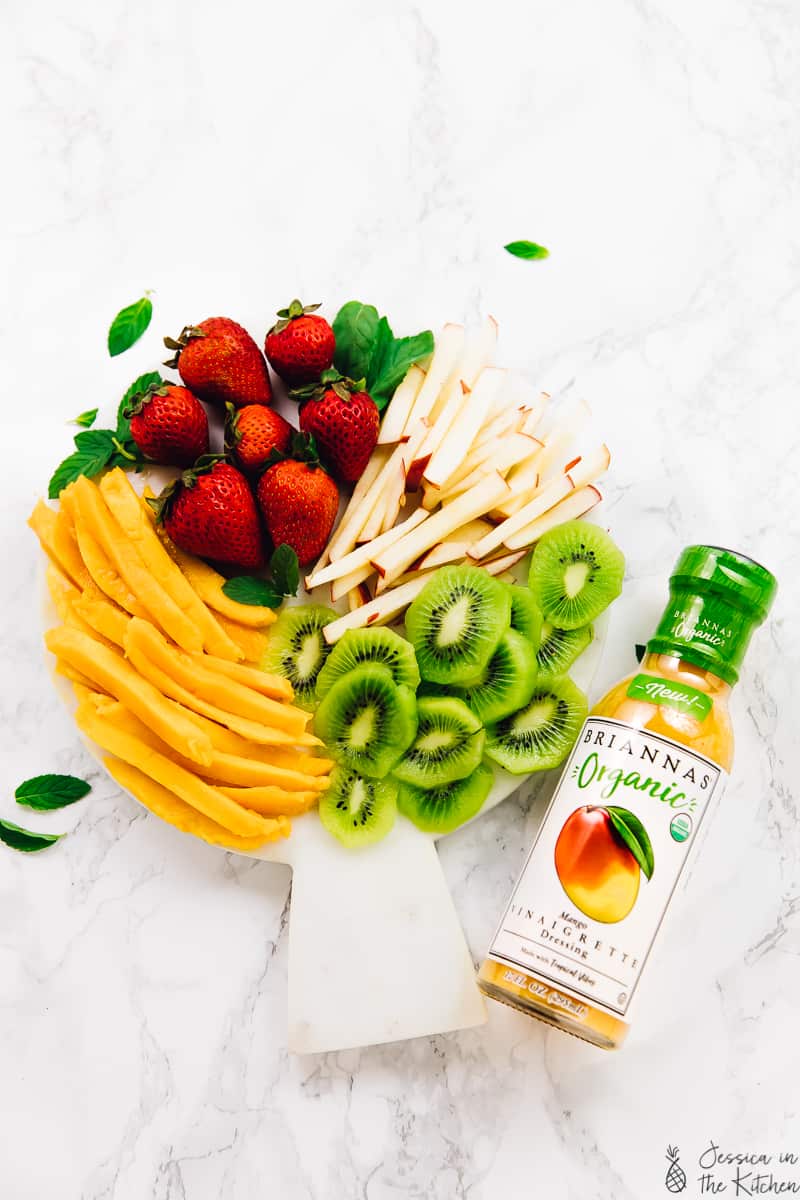 Spoiler alert: they're absolutely delicious. They're served alongside the perfect dip: BRIANNAS Fine Salad Dressings' Organic Mango Vinaigrette Dressing from their new Organic Line! Let's chat a little about this. I rarely ever have salad dressings in the house: this one made my exception. BRIANNAS Organic Mango Vinaigrette has no corn syrup, no gluten, it's all vegan and even kosher! I love that it's made with great ingredients and the kind that I don't feel bad drizzling over my salad or using here as a dip. It's:
Creamy
Fruity
Incredibly divine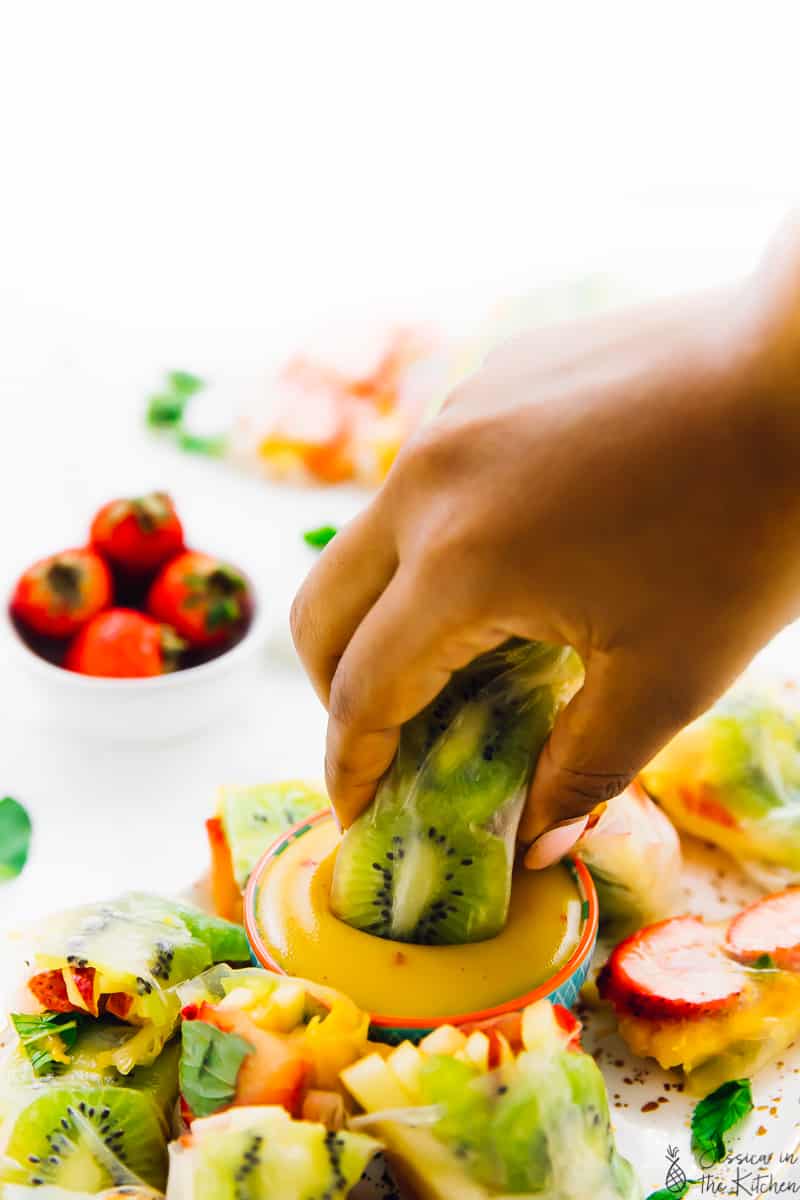 A little goes a long way and I've actually had like three extra cups of spinach for the last three days, just so I can drizzle a little BRIANNAS on it! My husband is shocked – this will be the first time I finish the spinach so quickly. In fact, while we enjoyed these fruit spring rolls by themselves (and by enjoyed I mean we were constantly devouring them) the second we tried them with the Organic Mango Vinaigrette our love of them tripled.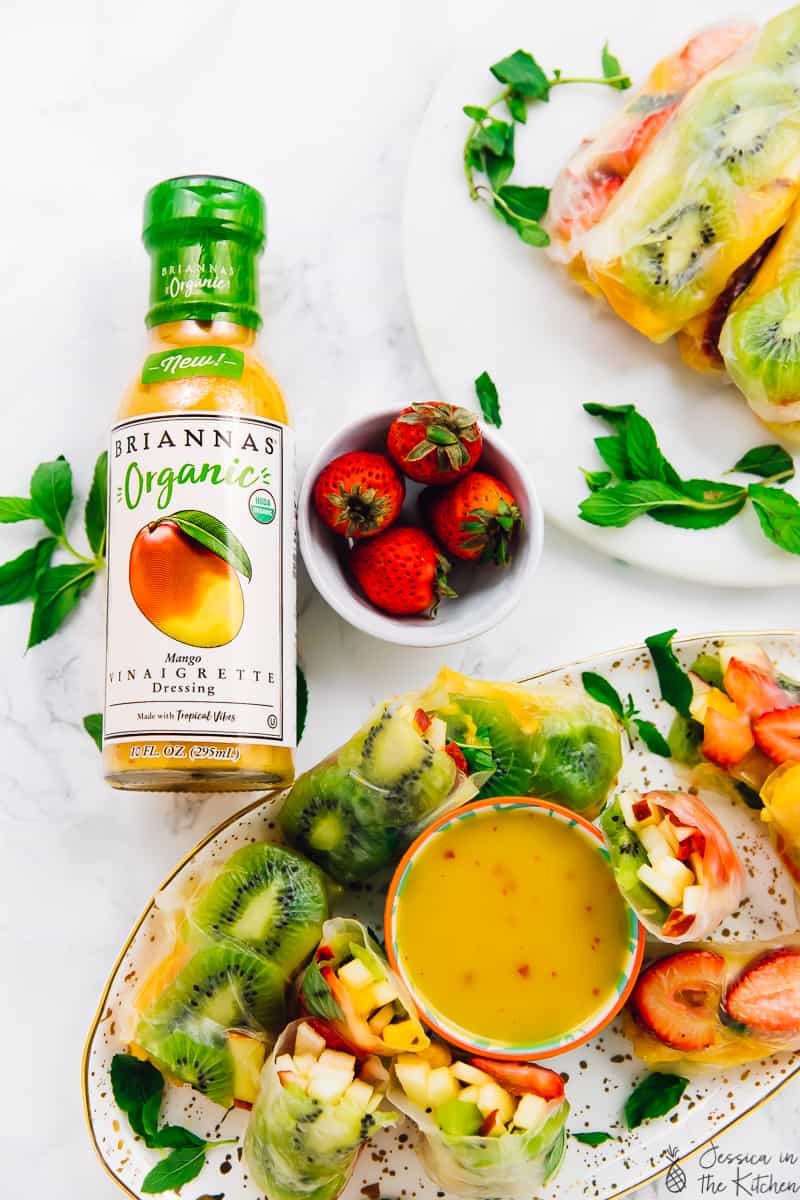 Needless to say, this pairs perfectly with these Fruit Spring Rolls. They absolutely complete the dish and give it an incredible kick. These Fruit Spring Rolls are great for a multitude of occasions:
A snack
A unique twist on a fruit salad
A fun healthy dessert
A treat for kids – who can also help make them!
A party appetizer!

Tips for Summer Fruit Spring Rolls
The fruits that you put on the bottom will be the ones that show on top, so you can focus on arranging those prettily or in a style!
The first spring roll may be a bit hard to roll if it's your first time, but by the third one you'll get it!
Feel free to customise these. Other fruits that work really well in these are blueberries, pineapples and sliced grapes. You could even use a star cookie cutter for fun shapes.
You can store these on a damp paper towel to keep them moist and from tearing.
Roll these as tight as you can without tearing them. They not only look better, they're easier to hold and keep their shape.
Give these a try this summer (and beyond). I guarantee you'll love them so much friends! Eat up and enjoy!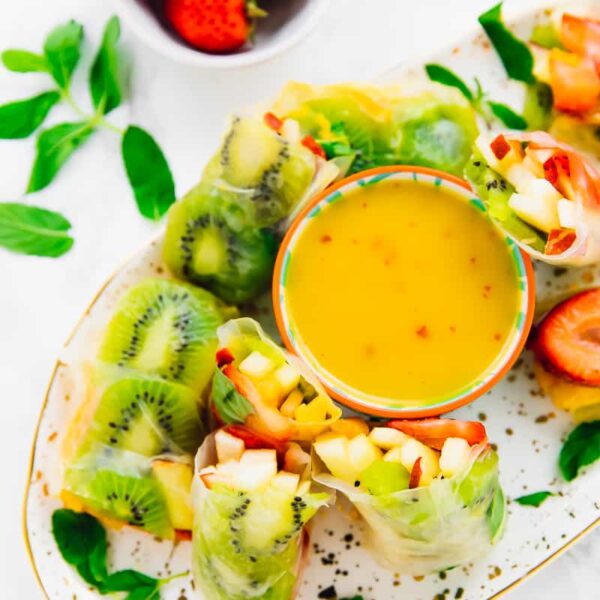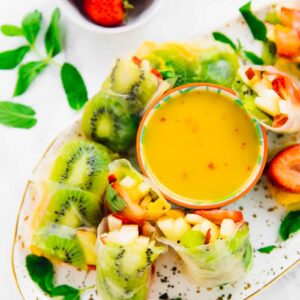 Summer Fruit Spring Rolls
These Summer Fruit Spring Rolls are a colorful, crunchy vegan meal that are perfect for a light breakfast, dessert or appetizer! They are served with an amazing Mango Dip and are gluten free!
Ingredients
9-10 Rice paper rolls
1 mango, cut into slices
10-12 large strawberries, hulled and sliced
1 red or green apple, cored and cut into matchsticks
2 tablespoons chopped mint
3-5 kiwis, peeled and sliced
Instructions
Chop up your fruit and place on a cutting board.

Prepare the rice paper wrappers as per the instructions on your packaging. I poured water into a large wide bowl. I then dipped the rice papers into the water, until they began to become completely transparent. You want to ensure it's soft, but not so soft that it can be easily ripped. For my rice papers, this was 20 seconds.

Remove the rice paper with two hands, allow the excess water to drip off and place on a plate or board (I found a plastic or silicone mat made it easier than wood) and slightly pat dry.

Fill your rolls - lining them up in the centre of the rice paper. The arrangement is completely up to you, but here are two general layouts I did:

- 3 Strawberry slices slightly overlapped with some mint, apple on top, mango on top, then some slices of kiwis
- Kiwi on the bottom, then mango slices, then apple, then strawberries


Use about 1/10th of the amount of fruit on each roll, so it's evenly distributed. If you want more kiwis or less strawberries, it's totally up to you! Just have a fruit on the bottom that's good for structure of the rolls.

Now, roll the rolls like you're rolling a burrito. I folded the top and bottom of the rolls over the filling, then rolled from left to right. So I rolled the left of the rice paper over the filling, then began to tuck the filling in as I rolled towards the right like a burrito. I continued to roll tightly until finished, then lay them on the folded edges and set on a plate. This took me about 30-45 seconds to do including putting in the filling.

Calories: 93kcal, Carbohydrates: 21g, Protein: 2g, Fat: 1g, Saturated Fat: 1g, Cholesterol: 2mg, Sodium: 104mg, Potassium: 177mg, Fiber: 2g, Sugar: 8g, Vitamin A: 300IU, Vitamin C: 41mg, Calcium: 25mg, Iron: 1mg
Disclaimer: Although jessicainthekitchen.com attempts to provide accurate nutritional information, kindly note that these are only estimates. Nutritional information may be affected based on the product type, the brand that was purchased, and in other unforeseeable ways. Jessicainthekitchen.com will not be held liable for any loss or damage resulting for your reliance on nutritional information. If you need to follow a specific caloric regimen, please consult your doctor first.