My Ultimate Tulum Travel Guide: Food, Where to Stay, What To Do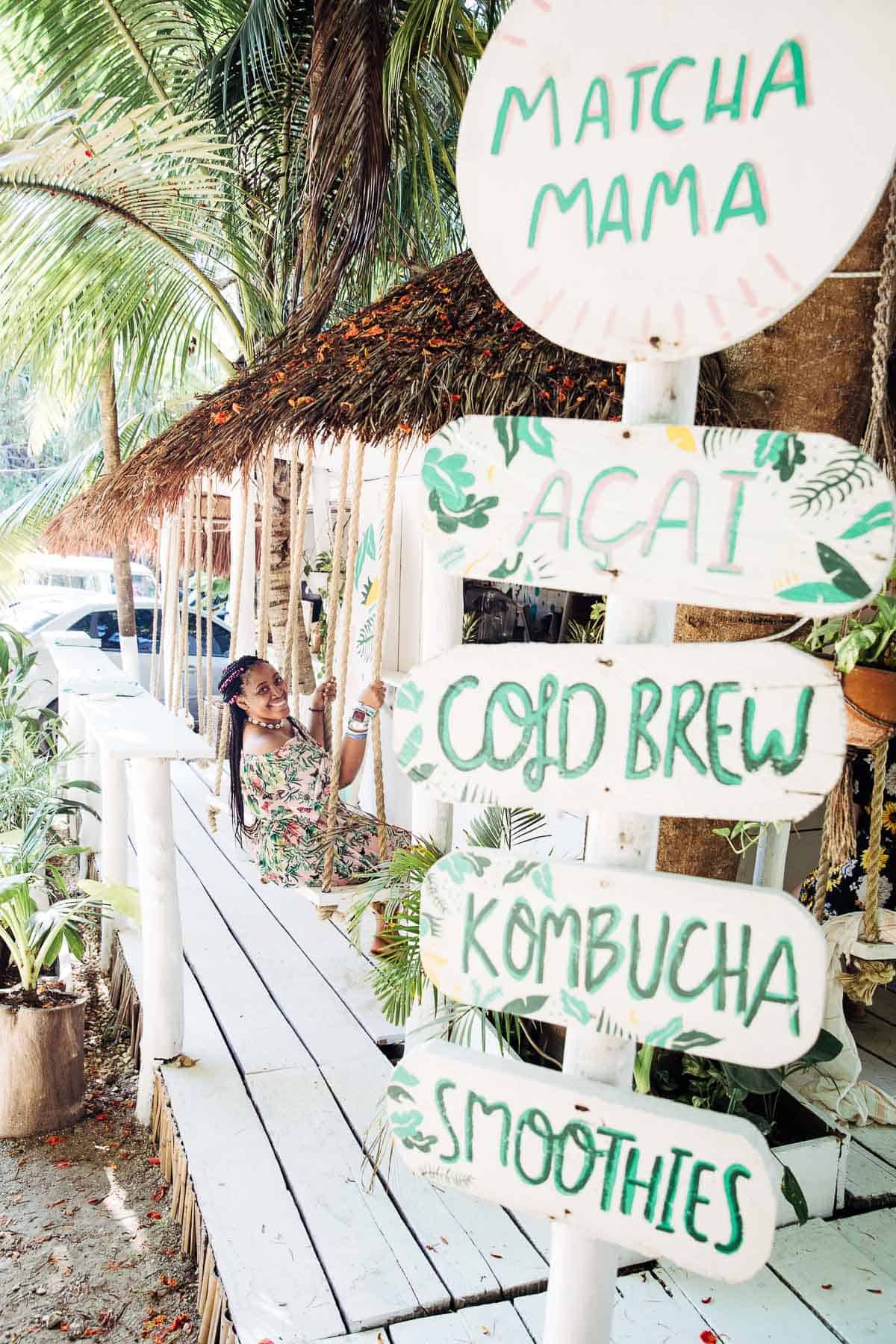 Welcome to my Ultimate Tulum Guide! If things look a little bit familiar it's because yes: we have been to Tulum before and I did write a guide about that experience. I always knew I would love travelling to Tulum. What I didn't know was that I would really fall madly in love with this town, and make it my first non U.S. travel destination to actually return to. Two years later we found ourselves back in Tulum, Mexico for our third wedding anniversary, having visited it for our 1st wedding anniversary.
Friends, Tulum now has an even more special place in my heart. If you're wondering about it as a travel destination, take my word for it: do it. I'm sharing a combination of everything that I've learned over my two visits to this beautiful heaven on earth. Where to eat. Where to stay. What to do. Even day trips you can take from Tulum! Read on to experience the magic!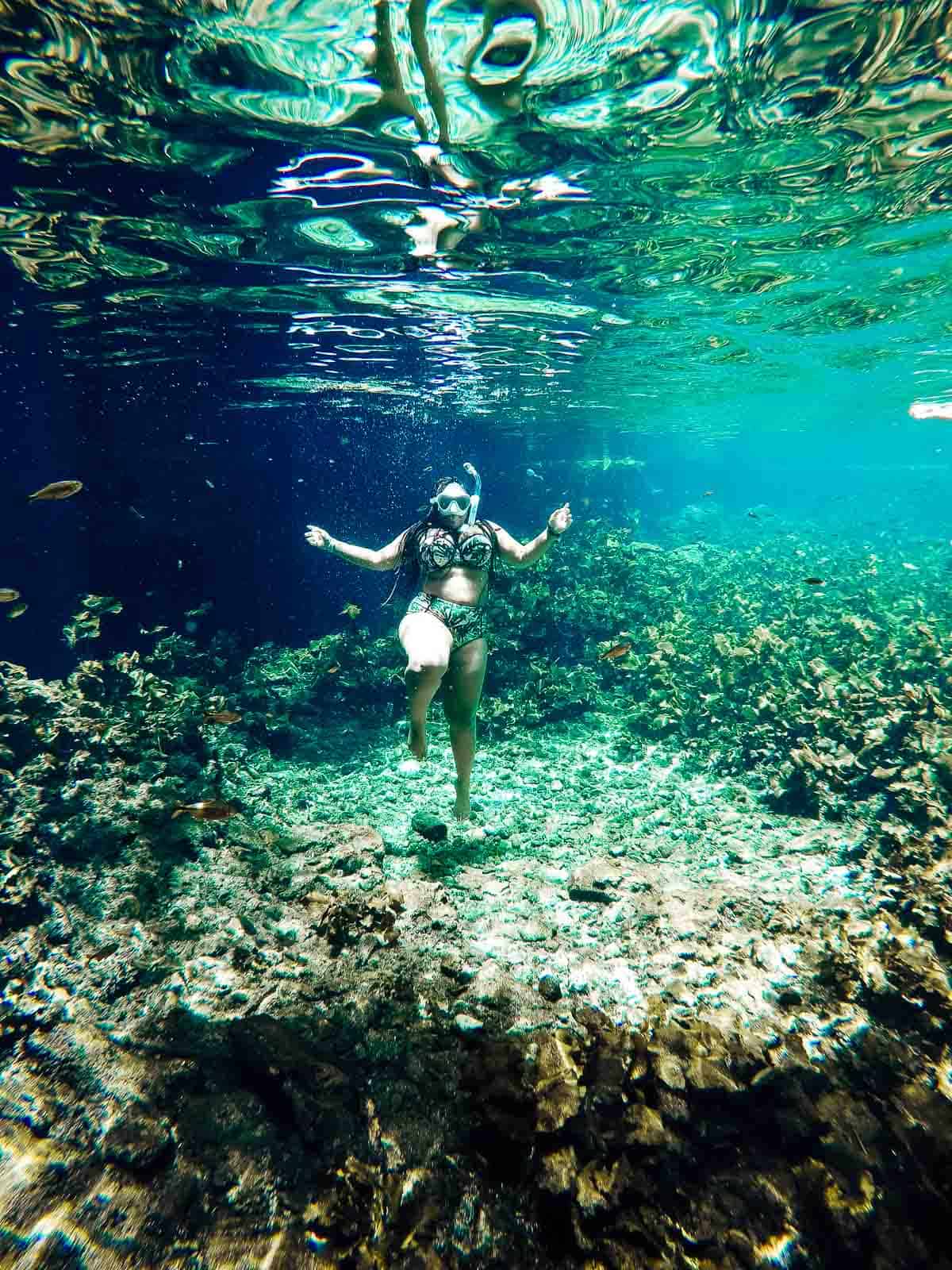 About Tulum
Tulum is a town located in Quintana Roo, Mexico, and is basically everything you didn't know you needed. It is in the heart of the rainforest in Quintana Roo and is the home of the Mayan Ruins. Tulum actually means wall, and the town was originally a major port for the entire area. The scenery, the food, and the beach all attracted us. If you're looking for a tropical destination that's a bit off the grid, with some of the best food you'll ever eat, while still having your modern amenities (in good limitations – looking at you Wifi), then this is the town for you.
Since Tulum is located in the rainforest, you should expect a rainforest feel. They do everything to protect their flora and fauna, so for example, you can't even wear toxic bug spray when swimming in the cenotes. Supporting the local vendors is heavily promoted, and you will be hard pressed to find a franchise or any fast food in Tulum. I like to think of it as my second hippie home away from home.
Tulum is broken up into Tulum Town (Pueblo) and Tulum Beach (Playa). Having now stayed on both, I would definitely recommend staying on the beach, but let me tell you – staying in the Town is incredible for budget travellers. You'll get fantastic airbnbs for low prices.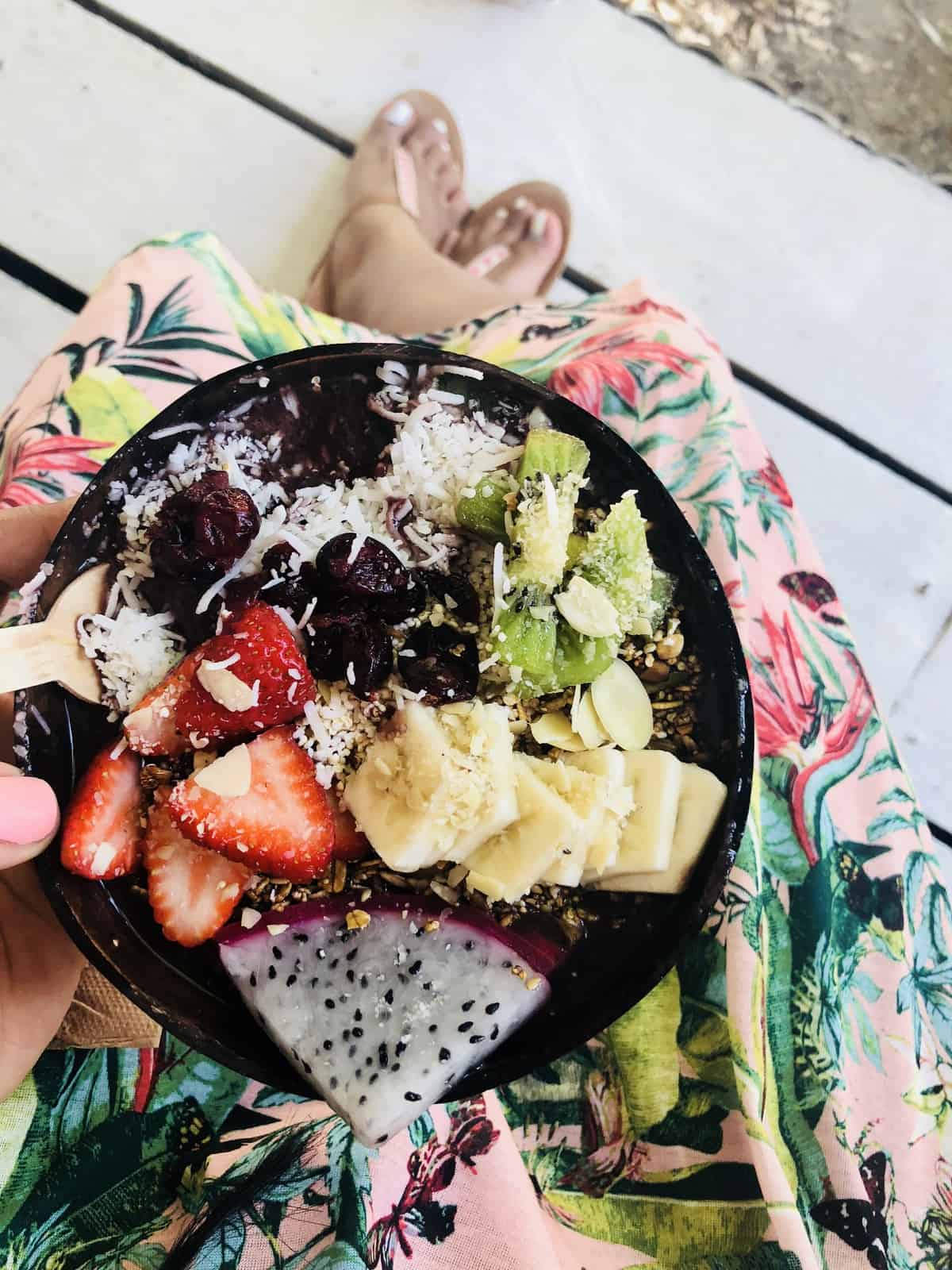 What You Need To Know Before You Go/Important Information: Getting There, Getting Around Immigration Forms, Currency, Cards vs Cash
Visa/Getting There – Firstly – do you need a visa? Chances are no, but you should check this list to see if you need a visa, but we did not and there are several exemptions. There is no airport in Tulum, and the closest one is in Cancun, so you can fly into Cancun. When you're in the airport, you'll be given an immigration form. Do not lose this. Just keep it with your passports – you'll need it to leave.
From there, you can take a shuttle or public transportation to Tulum. We took the most popular company at the airport Super Shuttle, especially after reading horror stories from other visitors about accidentally taking illegal services when looking for cheap alternatives. Like I said, you can always take the public transportation too, or rent a car. We rented a car our first time at the airport, and took a shuttle this time. We definitely preferred the shuttle. Our driver even bought us a 6-pack of beer!
When to visit Tulum and For How Long – you can pretty much visit Tulum at any time of the year. We always go in July. While it isn't overcrowded, it was more crowded this time than the last. With most tropical destinations, down seasons are from like October to May and so you can probably get cheaper accommodation then. I would recommend at least 5 days in Tulum, and up to a month if you can. Honestly, there is so much to do and see here that you're never going to want to leave anyway.
Safety – A lot of you asked me about this. Tulum is a very safe place for tourists, speaking from personal experience. We've stayed in both the town and on the beach, and it felt very safe both times, all the way up to hanging out until midnight.
Currency – In Tulum they use Mexican Pesos or MXN. We always exchange our USD at a bank in town. You can use USD, but it'll be at a very beneficial rate for them, so I recommend changing out your money. Speaking of money…
Cards vs. Cash – okay this is a BIG ONE. Tulum is a CASH town. Sure, you'll find some places using cards, but trust me – you'll want to have cash on you, no matter what you see online. We ran into a slight incident when at Charly's Vegan Tacos since OpenTable says they take card, but they don't and we had no cash and the ATMs were not working. That's the other thing – a lot of the ATMs don't work, which is why it's good to just change at the bank. Fortunately the owner was so kind and said we could pay the next day, or let us pay via Paypal!! More on those mind-blowing tacos below.
Don't drink the tap water & don't flush the toilet paper – Ah. Don't drink the tap water in Mexico, ever. Always buy bottled water, which is usually in a glass jar so you don't need to worry about plastic :). Nothing else to say here – please don't chance this, you will get sick. This includes do not get water in your mouth while showering, or brushing your teeth with it. Also – don't flush the toilet paper. It can clog the pipes, especially since it's a rainforest and all the water runs through everywhere. If it feels weird at first, you'll get used to it after a day or so.
Wifi – Don't expect wifi in your room. We brought our own wifi device, but it barely worked in our rooms and the hotel wifi was strongest on the beach and in the lobby. For someone who was trying to take a real vacation, this was like a Godsend. It forced me to take plenty of downtime, and to know that my wifi time was limited, which I used mainly for uploading photos to instagram.
Rent a car vs Taxi vs Biking – honestly speaking, I would recommend renting a car while in Tulum or biking. There is nothing wrong with taking the taxis – they are safe and are pretty consistent with the cost, but it costs like $7-10 USD to go one way on the strip, so almost $20 just to go to dinner and back basically. Plus, while your hotel will call your taxi for you, you now have to go out and find one. We rented a car the first time, and tried not to this time around. Long story short, by day two of this trip we had rented a car! It is so much easier to have one, especially for taking trips to cenotes, dinner and any day trips away from the strip.

Where to Stay (Staying in Town (Pueblo) vs Staying on the Beach (Playa))
Papaya Playa Project
I sing the highest of praise about this hotel. I was curious about it from our first trip, and then saw that my amazing designer Katelyn had stayed there for her honeymoon. She gave me the green-light to book and we did. We even got upgraded to the Jungle Breakfast, and stayed in Casita D which was a room out of this world. Take a look at that photo.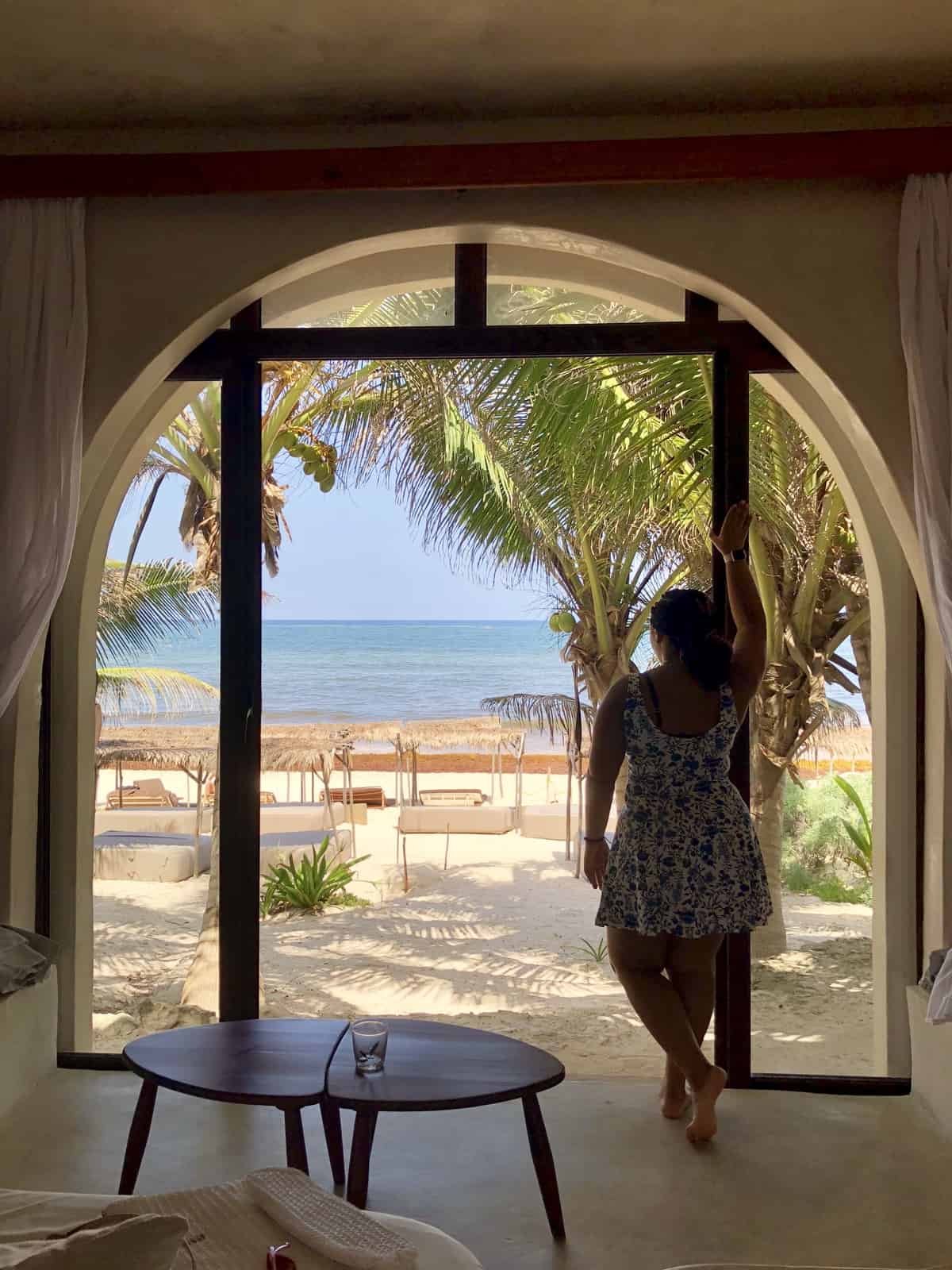 But it was so much more than the incredible room with a direct ocean view ON the beach, and the entire top floor which was the bathroom and outdoor tub and basically having an entire sanctuary to ourselves. The staff was outstanding especially Ricardo, a member of the reservations team. They did everything for us. We were provided with unlimited water, they called cabs for us, they helped us with any directions we needed. They even called the rental car place for us – and then Hertz met us AT our hotel! I've never had that happen. Plus, they have vegan food galore friends, I promise you. Everything from the beach to the morning yoga to people remembering us made this feel like home. Stay here – you'll love it.
Los Amigos
We stayed at Los Amigos the last time we were in Tulum, which is in Tulum town. If you're staying in town, I 100% recommend Los Amigos. Although it's on Airbnb, it's actually a small boutique hotel, so someone even cleans your room daily and there's a little office where you can ask directions and everything! They have bikes outside that you can ride, and a rooftop pool. We stayed in the Honeymoon suite I think, we had a skylight. It's a great location for sure.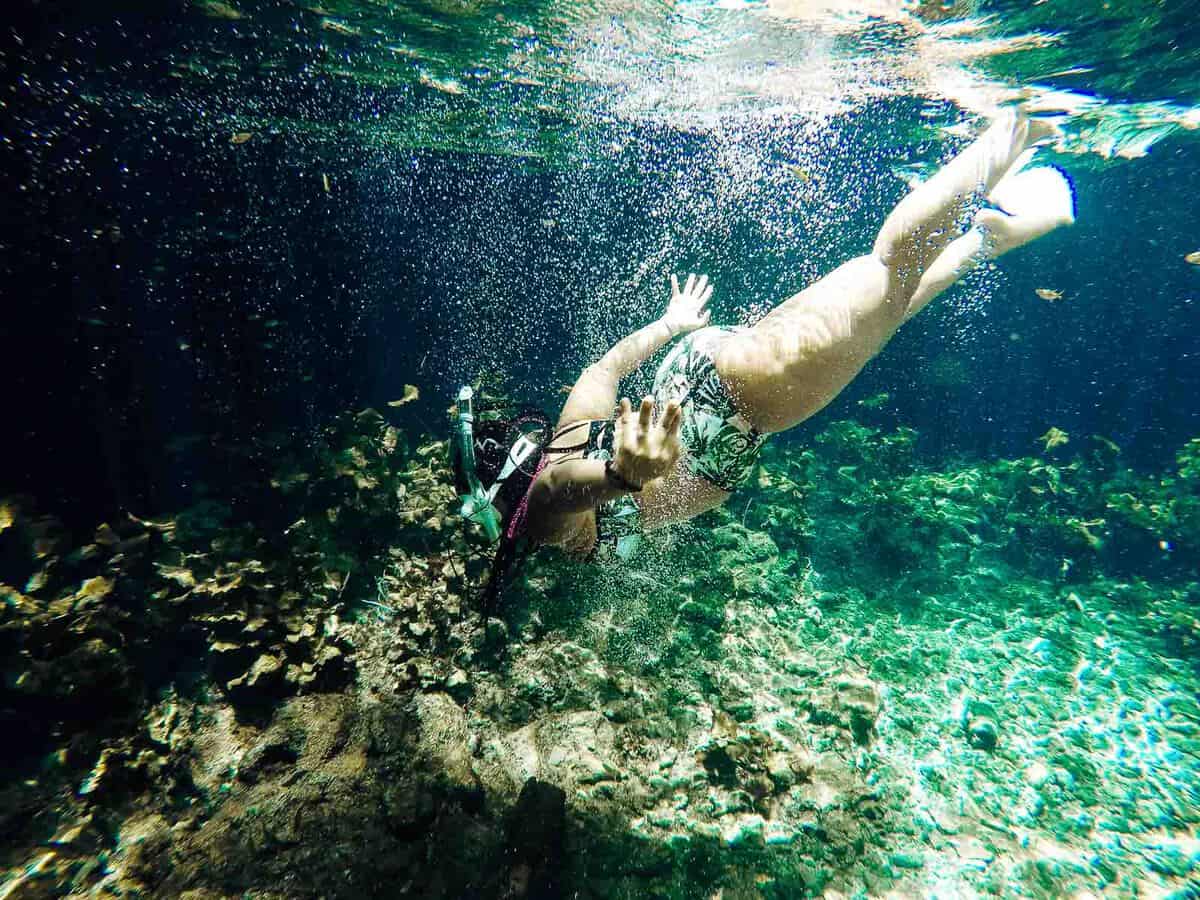 What To Do in Tulum & Around Tulum (Excursions & Our Itinerary)
Cenotes
Gran Cenote, Dos Ojos, Nicte-Ha – you can't come to Tulum and not go to a cenote! A cenote is an underwater sink hole, and there are thousands of them. The magical thing about cenotes is how clear the water is (as you can see above) and how stunning it is underwater. That, and that are you swimming with sea life too! It's a truly surreal experience. Nicte-Ha is now our favourite cenote in terms of looks, but Gran Cenote and Dos Ojos are much larger. You can also dive there, so I would recommend checking out a few. P.S. if you can't swim – several cenotes have life jackets. Fun fact: Gavin used to swim for Jamaica's National Swim Team, and I did synchronised swimming and then coached it for 3 years!
Maya Ruins of Tulum
We visited these the last time we were in Tulum. Surprisingly, I enjoyed the Mayan Ruins of Tulum even more than Chichen Itza. Hearing the history of the royal lives in comparison to the people was so intriguing, the inventions, and the fact that many of the houses/properties in the ruins still stand until this day. Remember to bring sunscreen and a hat and sneakers for these tours – it is HOT here. You can also swim in the beach here.
Coba Ruins – we didn't get to visit this, but it is stunning and you can climb it!
Day Trips from Tulum
Chichen Itza
If you can spare a day, go to Chichen Itza! I won't go into too much, because learning about the area is what makes the whole trip, but we had an absolute blast. We learnt quite a lot and had a great tour with Santiago and it was amazing hearing his own story (he's from the nearby town with some of the last surviving original Mayan families). As an aside, we skipped buying souvenirs at the tourist venue and stopped by a local vendor who was making the most breathtaking souvenirs. It felt amazing getting something unique, hearing the origin of the piece, and connecting with the maker. By the way ATM access is very limited here so remember to bring enough cash!
Swimming with Giant Turtles in Akumal Beach
You have to watch this video from my instagram page! Akumal means turtle in Spanish, and boy, are they gorgeous. These babies are like 4 ft long! I love how much Mexico cares about their animals, and so this ecological site does not allow you to ride these turtles or even touch them. You can't even wear fins in the water since you might kick up the site too much. Basically, we are given the privilege to even be near them, without disturbing their home.
Akumal Monkey Sanctuary
I also wrote about this on instagram oh this was so much fun! Sanctuaries are such a blessing and are so amazing to visit! The Akumal Monkey Sanctuary is located across the highway from Akumal Beach, so you can definitely do both in about 3-4 hours!
Sian Ka'an
We didn't get to do this day tour, but there's always a next time! Sian Ka'an is a biosphere reserve and a UNESCO Heritage Site in Tulum. You do a beautiful day tour on a boat and see the site, animals and have a blast. This tour is about 6-7 hours long, so I wouldn't recommend making any solid plans for the rest of the day.

Where to Eat & Drink
Papaya Playa Project
If you're vegan, you'll definitely have plenty to eat here. In fact, for dinner there's an entire page that's just vegan meals! We had our first meal here and it was such a pleasant welcome meal! We had a mix of (all vegan) Barbacoa tacos, Tinga De Jamaica and some amazing tacos.
Charly's Vegan Tacos (pictured above)
After that photo, do I really need to say anymore? But seriously, Charly's Vegan Tacos was such a vegan haven for us during our trip. The tacos are out of this world. Charly and his team make creations that you want to immediately replicate at home, and that have you dreaming about his tacos. Best of all, he doesn't just serve tacos – you can get a plated meal, salads, a large variety of appetisers and even dessert. We went there twice, and my husband got to feed his corn craving that he's been having since going vegan. Like I mentioned above, Charly really treated us like family too.
Matcha Mama
Matcha Mama is great, especially for a light meal in between a late breakfast and an early dinner. They serve the best smoothie bowls and have such a beautiful shoot location!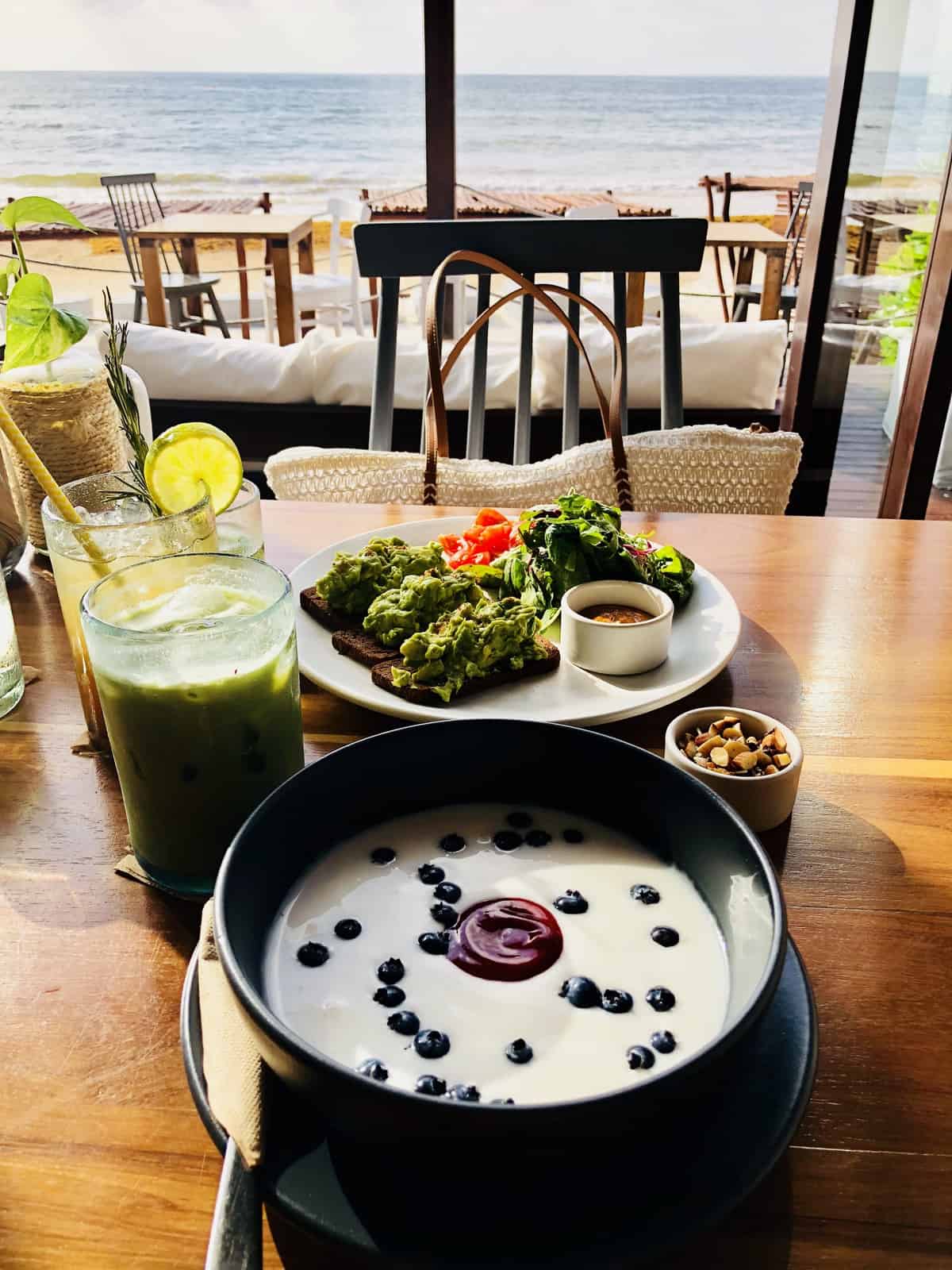 The Real Coconut (at Sanara)
Wow, this did not disappoint. Having breakfast at Sanara with a view is something you'll never forget. It was so great to have such light food after so many tacos, too. I had the coconut yoghurt with fresh fruit, a superfood mix and a homemade jam puree in the middle. Gavin had avocado toast on plantain bread, which blew my mind. I also got a coconut matcha – praise the Lord as it was my first one all trip!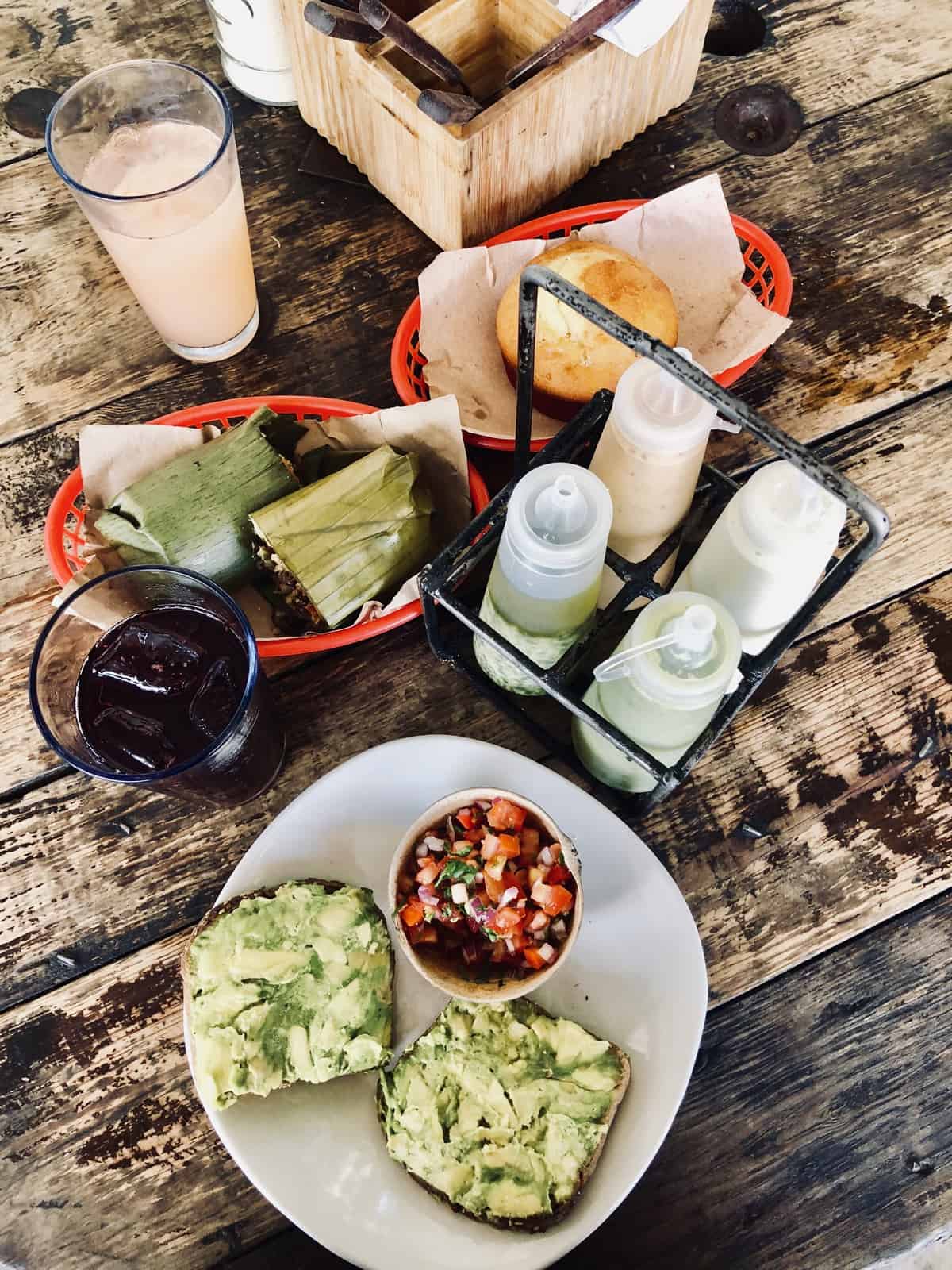 Burrito Amor
Burrito Amor was a favourite of ours from our first trip, so we couldn't wait to return! I'll admit – it was good, but we had had some fantastic food on this trip, and I think the memory of it was really embellished in my head. I will say though – it was the cheapest food of the entire trip, and I will definitely go back next time too.
Kin Toh
I had a particularly unpleasant experience at Kin Toh and did not enjoy my food at all, but it's on the list because Gavin's vegan truffle fettuccine was the best pasta I've ever had. Be prepared that it's a pretty stuffy restaurant compared to most, but if you want that high life living experience in Tulum for just a night, it's definitely your place.
Bolas de Postre | I Scream Bar
Go here. First of all, going to the I Scream Bar was the best night of my entire trip. We listened to a Mexican band whose lead singer sounded like Amy Winehouse, play popular American hits, while intermixing it with English and Spanish. The vibe was out of this world, and the drinks were fantastic and cheap. It was definitely the cheapest drinks that we had on the whole strip. Oh – you probably came here for the ice cream? This bar serves vegan ice cream and specialises in it friends. I had corn ice cream and loved it. Come for the ice cream, stay for the vibe.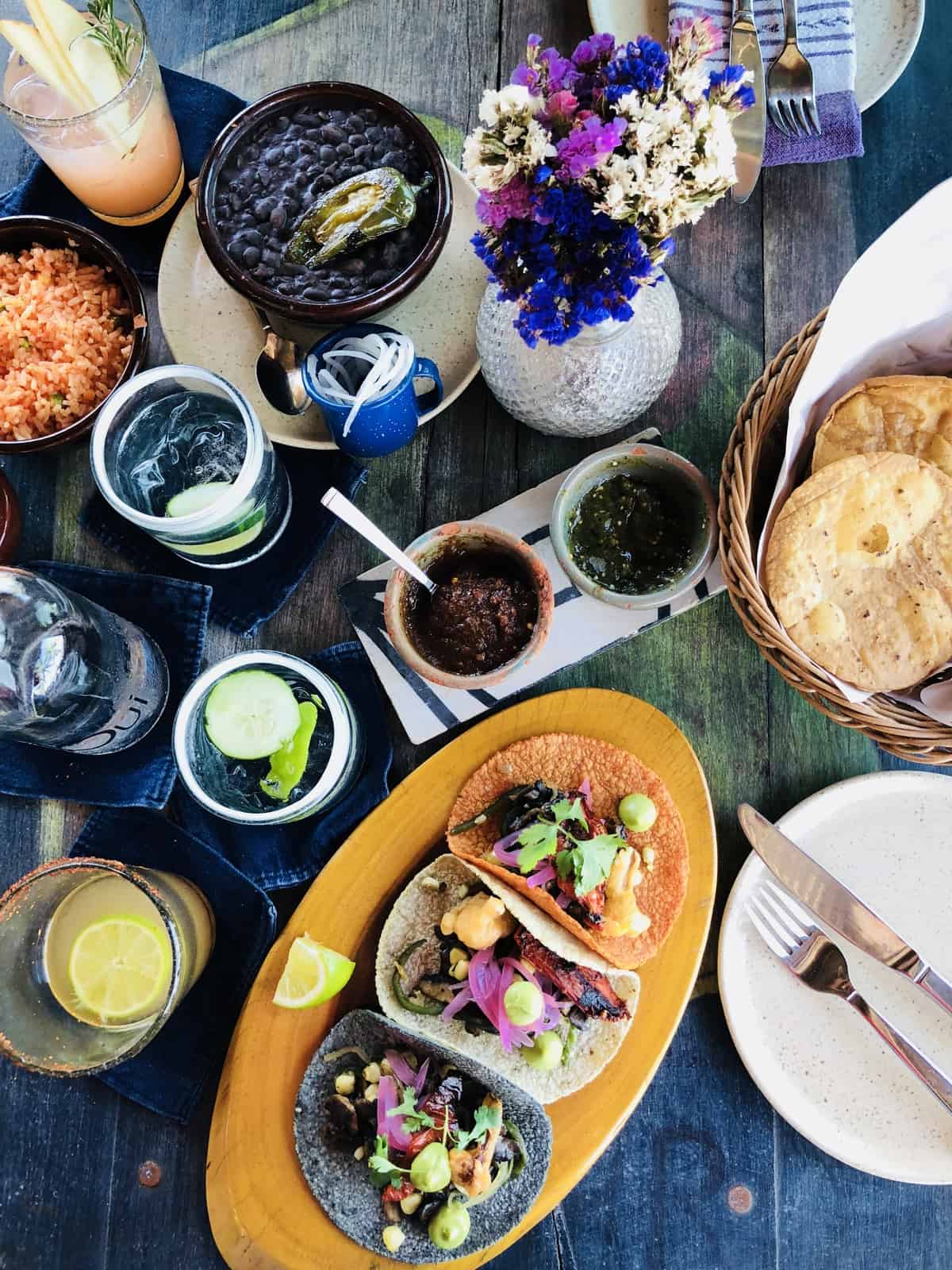 La Zebra
Once again, La Zebra did not disappoint. I mean – just look at that spread. La Zebra will also probably be the best drinks that you have on your entire trip. I should note – Tulum is very vegan friendly, and if you don't speak Spanish, ensure to include "vegano" in your order (Pronounced bEH-gAH-no – no I am not a linguist expert just trying to help here haha). They will immediately alert you to what dish has/had cream, or anything like that. La Zebra swapped out the cream in these Cauliflower Tacos for me for an avocado cream instead.
Co.Co Amor/Raw Love/Nomade
I didn't get to go to any of these, but they all came highly recommended. Co.Co Amor is vegetarian with several vegan options, Raw Love is vegan, and Nomade's daytime menu *NOT their nighttime menu* is extremely vegan friendly.
Top 5 Travel Tips for Tulum
Rent a car – I truly recommend, yet again, renting a car. We did this last time, and this time tried to do without. After our first full day we rented a car. Renting in Mexico is pretty affordable and allows you to travel anywhere without having to rely on a cab. We were able to travel easily to Akumal and back, and stay out as late as we wanted to.
Buy natural bug spray – mosquitos and Tulum go hand in hand. Especially if you plan to visit the Akumal Monkey Sanctuary, please buy bug spray. Most places will not allow OFF or any commercial brands, so get an all natural one. Spray yourself often! Also, if you drink an ACV drink in the morning I guarantee it'll help to ward off mosquitos.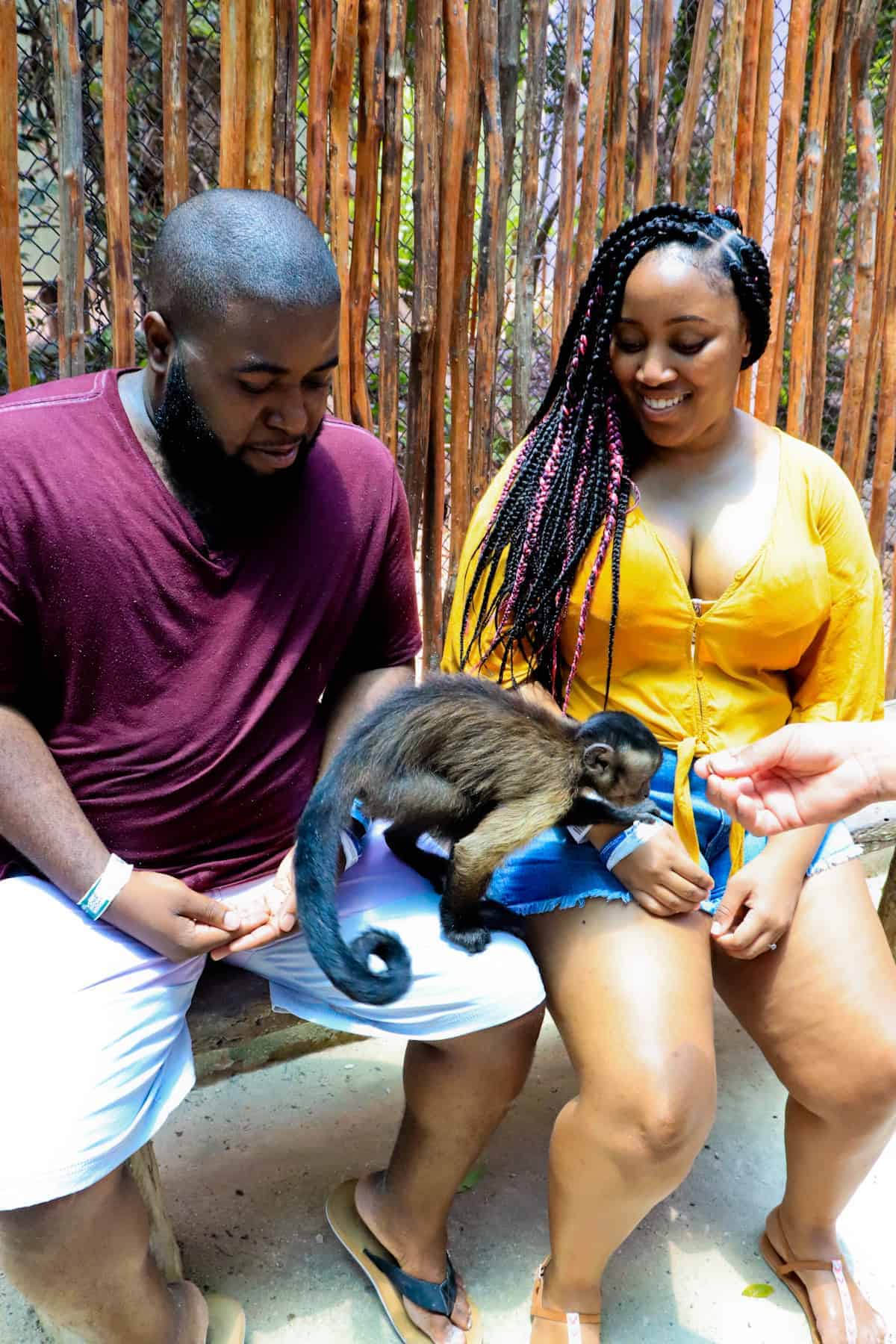 Come with an open mind – in my last post I mentioned that I had the chance to eat cactus and I regretted that I didn't. I'm happy to say that I had cactus twice on this trip. Tulum is filled with such a variety of fruits and vegetables that you may not have anywhere else, so definitely keep an open mind to trying everything. Try something you've never done before. For me, that included holding a snake. I had sooo many animal interactions this trip I feel like I'm now a level 5 Animal Warrior.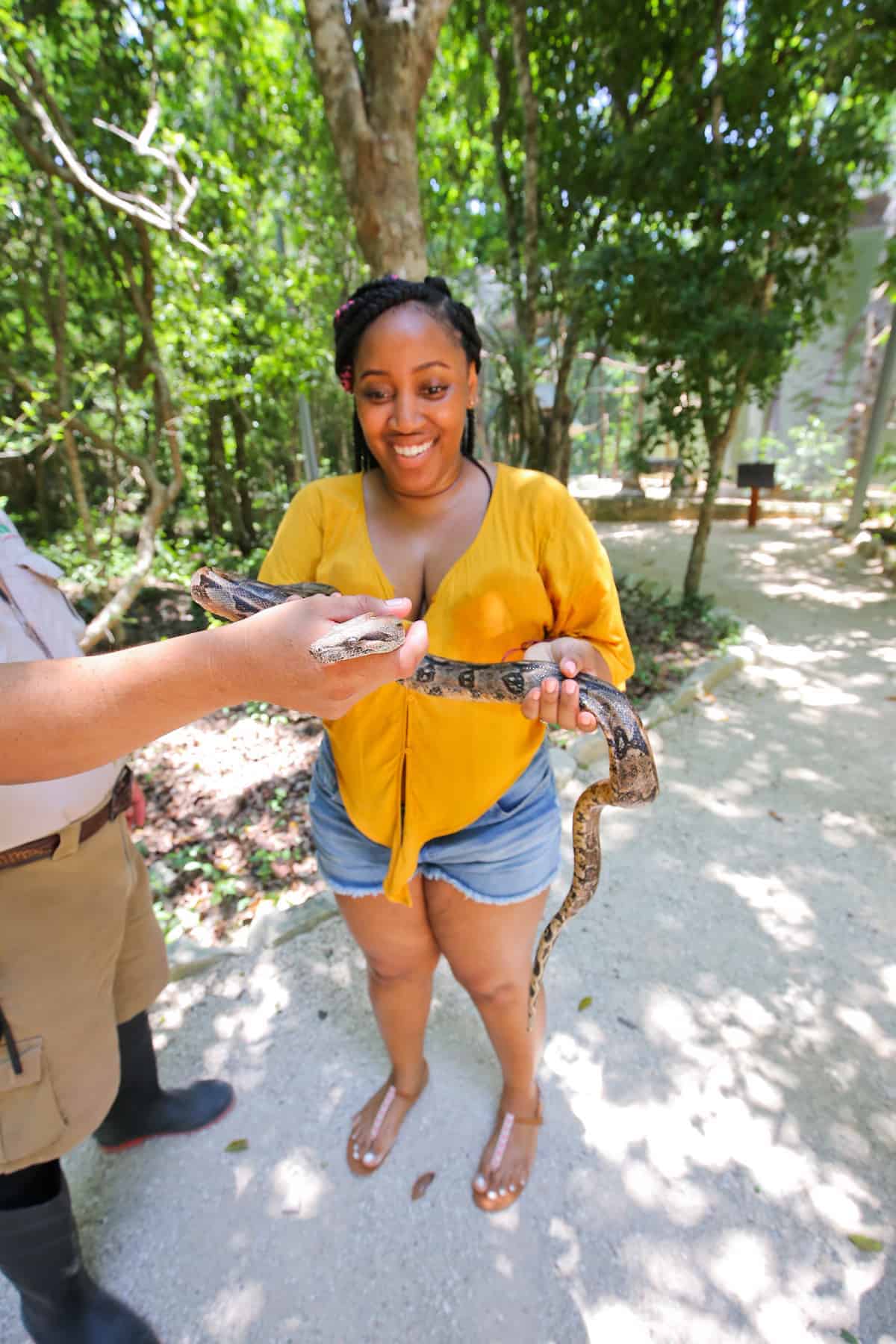 Visit the town – whenever Gavin and I travel, we aim to break out of the typical tourist attractions. Visiting Tulum is an incredible idea since you get to hang out with locals, eat amazing and cheap food, and shop! You'll get so many colourful souvenirs to bring home. Seriously though, have a meal in town and you'll know what I mean. It's such a different vibe and so great to experience on your trip.
Unplug – friends – this isn't a work trip! Come here to wear your hair done, relax and let go. Chances are like me, you'll end up not wearing any makeup. You'll find you had the best sleep in months. You'll be smiling and laughing and chilling. Go to Tulum and leave with a heart full of happy memories. It's okay to put your phone away and just listen to those waves, music and enjoy that mezcal.

I hope you guys enjoyed my Ultimate Guide to Tulum! Tell me – when are you going and what do you plan to do there? Did I miss anything? Let me know in the comments section below!