Cheesy Baked Ziti (5 Ingredients)
5 Ingredient Cheesy Baked Ziti which is – no joke – the BEST pasta dish I have ever made! To quote my brother "I wish I could pay you to make this again." It's loaded with divine flavour since it's only 5 ingredients, is great for weeknights and holidays!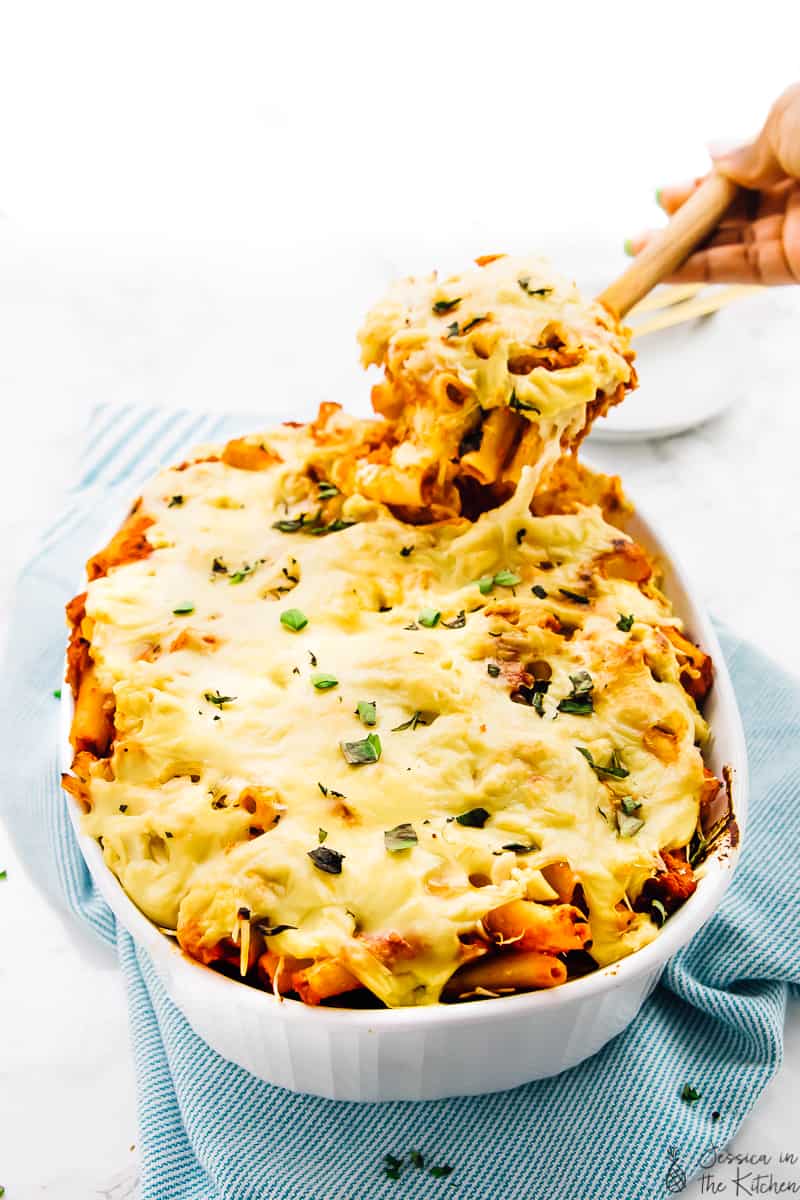 Cheesy Baked Ziti. Also known as the pasta dish that my brother "wishes he could pay me to make again.". You're in for a real treat, friends.
Italian food! It was the highlight of my life when I was younger. Maybe you've heard it before on the blog, but Italian food was my favourite growing up. Going to Italy renewed my love of Italian food, and now I realise that I want to recreate all the favourites I used to enjoy, into a vegan format! That includes all the pastas and pasta bakes. That's not only so that I can enjoy my carbs when I want to, but because Italian food reminds me of family. My mom made lasagna all the time growing up. When I became vegetarian she always prepared a vegetarian lasagna for me for family dinners. Italian food for me, for that reason, has a special place in my heart. Also, my stomach.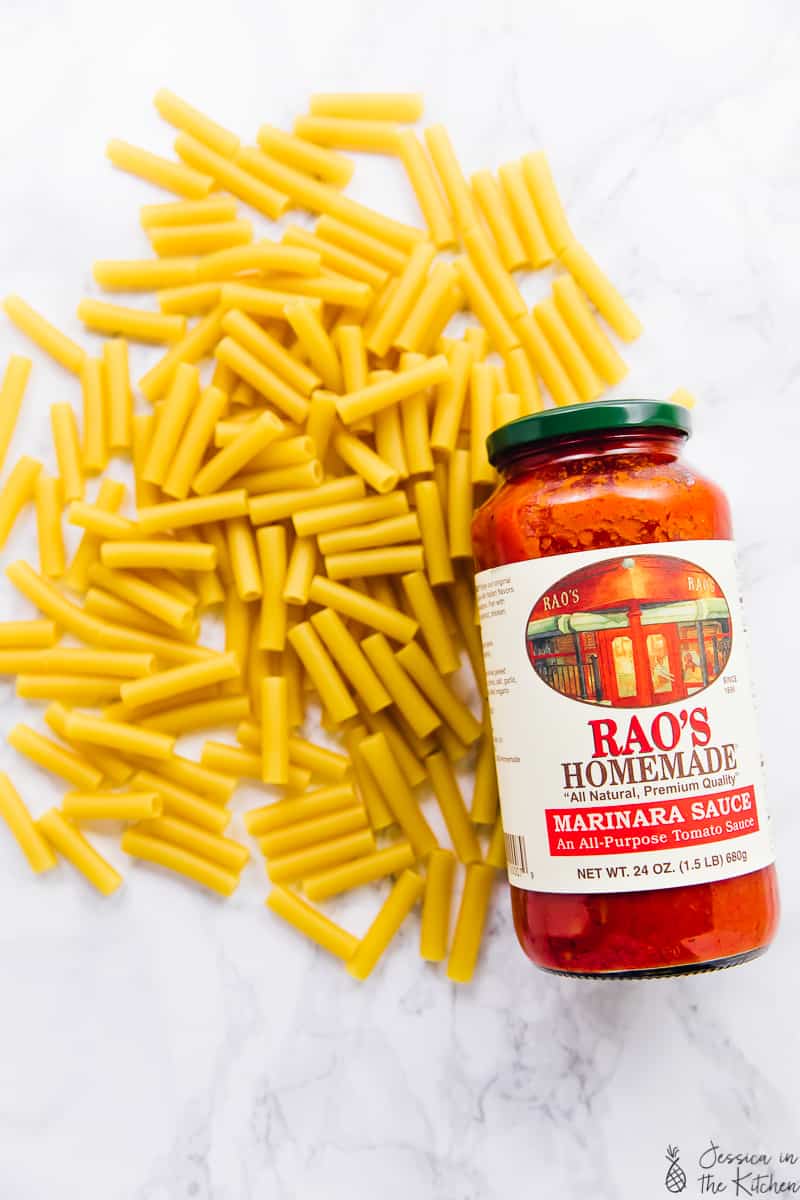 This Cheesy Baked Ziti is like lasagna, but easier. Incredibly easier. It's lasagna's laid back cousin. It happens to be incredibly delicious and something you can totally prepare on a weeknight, a date night, a family night, a friends night, or any night. To keep it even easier, I wanted to give you the perfect tomato sauce that you won't need to add a drop of anything to: Rao's Homemade Marinara Sauce. I'm so excited that Rao's Homemade is partnering with me on this blog post!! I actually have a fun story about Rao's Homemade that I want to share.
A while back, I began to follow a fitness blogger who became one of my favourites to follow, and she was obsessed with using Rao's Homemade sauces since they are not only delicious but also pretty low carb. Intrigued, I gave it a try and immediately fell in love. One taste was like heaven. I said to myself wow, I would love to work with Rao's Homemade one day!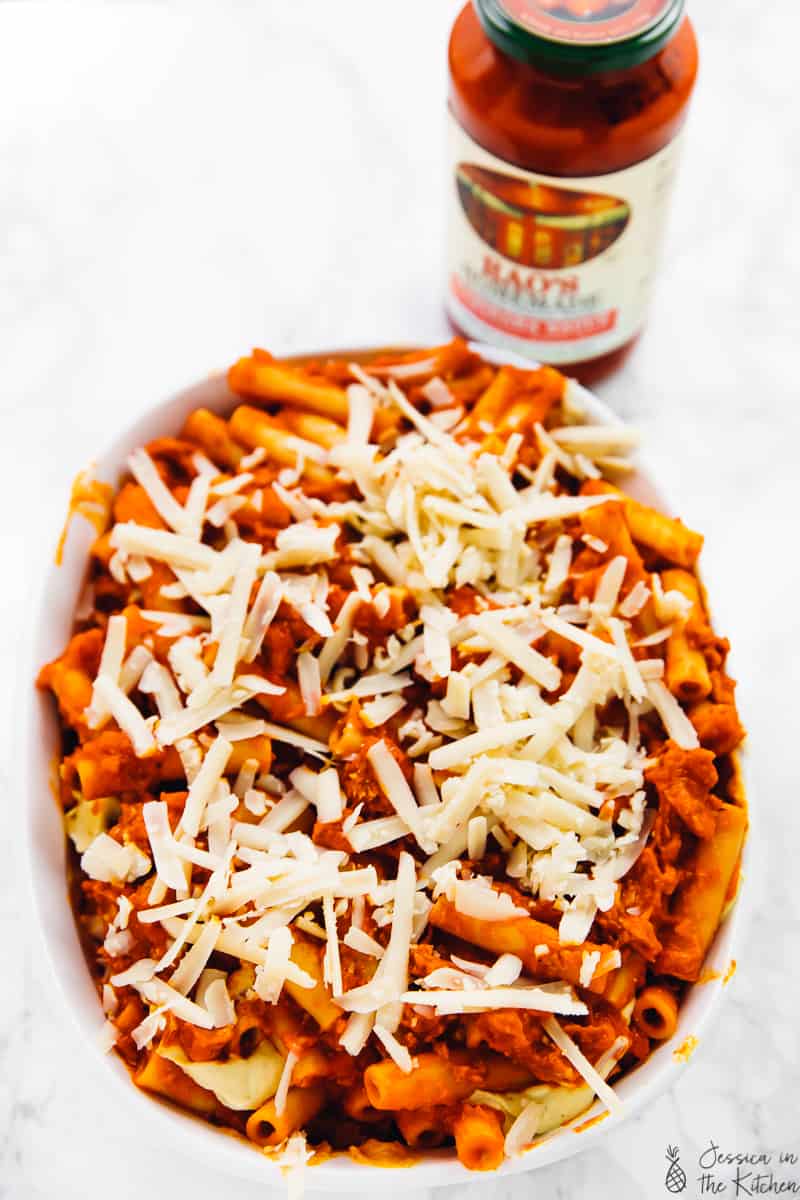 I kid you not, fast forward some months and Rao's reached out to me! So, the fact that I'm sharing this post today with their divine sauce and this Cheesy Baked Ziti feels very meant to be. Rao's Homemade uses incredibly simple, premium ingredients in their sauces that you could pick from a garden yourself. It contains no tomato blends, paste, water, starches, colours or added sugar. Needless to say it makes me super proud to be sharing with you since you guys know how careful I am about sharing only the very best with you.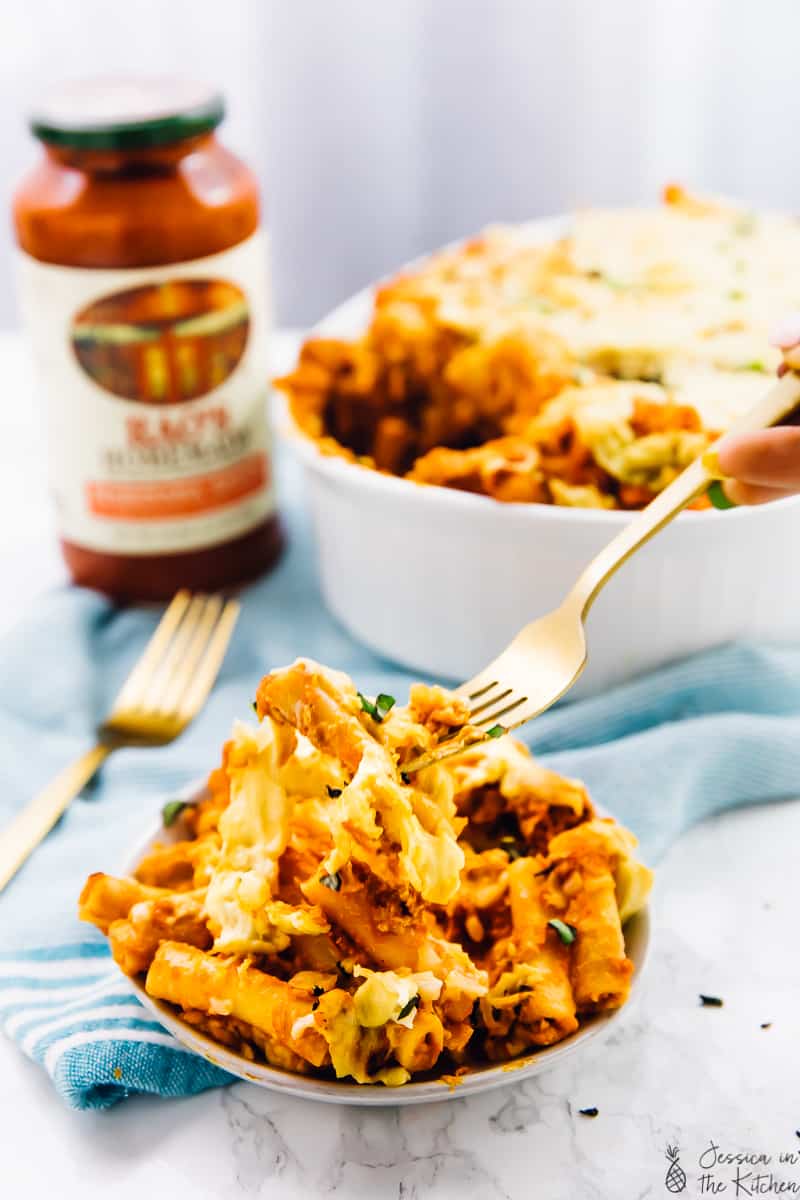 We didn't need to add anything – it was perfectly seasoned. When I shared that I was using Rao's Homemade, I got a ton of comments from you guys that it was your favourite tomato sauce. So if you've never tried it, now is definitely the time.
Definitely give this Cheesy Baked Ziti a chance. I know you'll love it and it'll love you right back. Eat up and enjoy friends!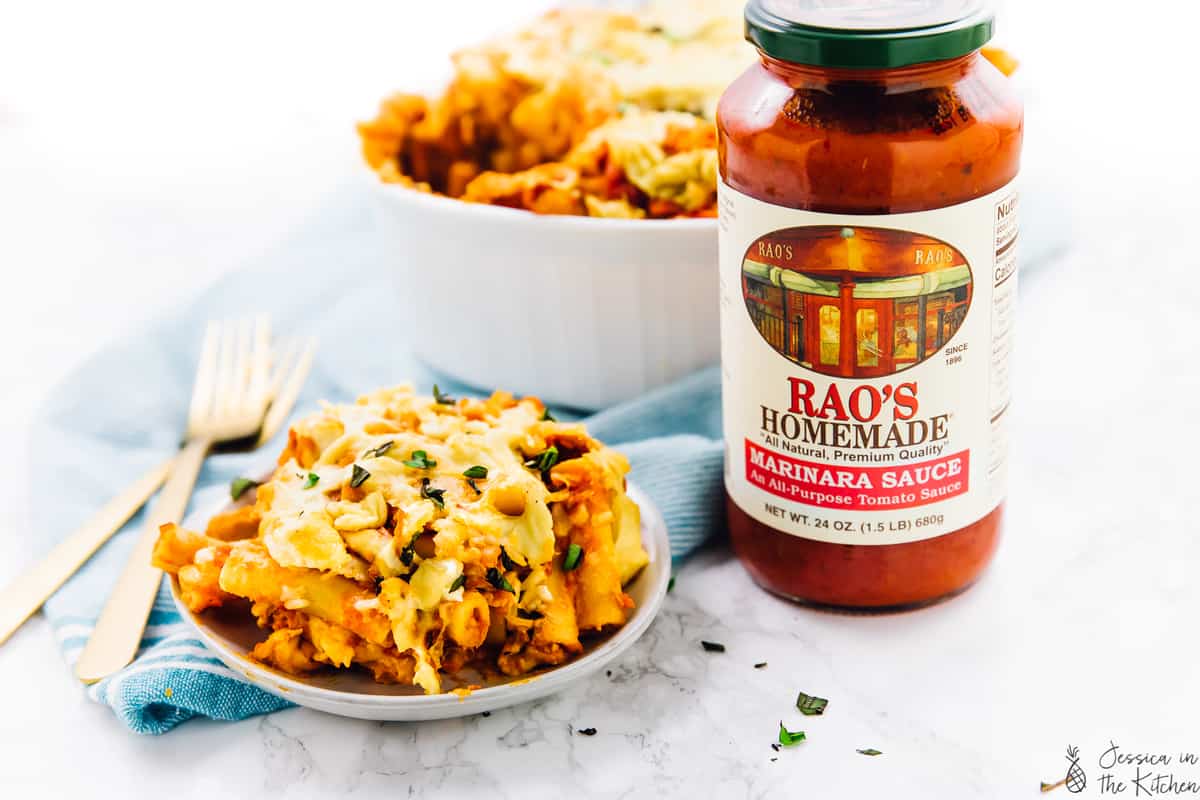 P.S. – I made the vegan ricotta and the vegan mozzarella from scratch. Please know that you can definitely purchase your favourite store bought brand!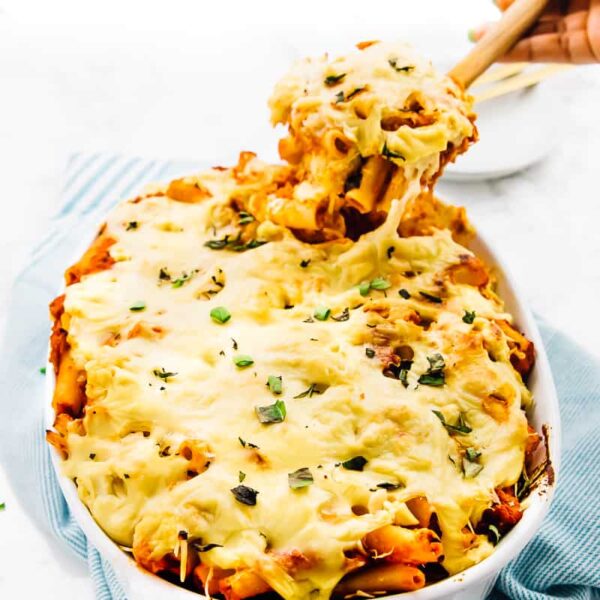 Cheesy Baked Ziti
5 Ingredient Cheesy Baked Ziti which is - no joke - the BEST pasta dish I have ever made! To quote my brother "I wish I could pay you to make this again." It's loaded with divine flavour since it's only 5 ingredients, is great for weeknights and holidays!
Ingredients
1 lb ziti pasta
2 cups vegan ricotta
2 24 ounce jars Rao's Homemade Marinara Sauce
2 cups shredded vegan mozzarella
9-12 ounces vegan meat alternative crumbles, I crumbled up Veggie burgers
Basil for garnish, optional
Instructions
Cook pasta according to package directions in a pot of salted water. Drain the pasta.

Lightly grease a 13" x 9" pan, and set aside.

In a pan over medium heat, add both jars of

Rao's Homemade Marinara Sauce

. Heat over medium for about 3-5 minutes until heated through. Add in the drained pasta and the vegan meat alternative crumbles and stir to combine. 

Add half of the pasta and sauce mix to your 13" x 9" pan, spreading evenly across the bottom. Spoon over half of the ricotta, gently stirring into so there's still somewhat of a layer on top, and half mixed in. Sprinkle half of the mozzarella cheese on top. Add the other half of the pasta, dollop the ricotta on, mixing in slightly, and sprinkle the rest of the mozzarella cheese on top.

Bake at 400 degrees for 15-20 minutes so everything comes together beautifully and the cheese melts. Top with basil and serve and enjoy!
Calories: 312kcal, Carbohydrates: 44g, Protein: 10g, Fat: 10g, Saturated Fat: 3g, Cholesterol: 1mg, Sodium: 818mg, Potassium: 358mg, Fiber: 4g, Sugar: 4g, Vitamin A: 266IU, Vitamin C: 5mg, Calcium: 71mg, Iron: 2mg
Disclaimer: Although jessicainthekitchen.com attempts to provide accurate nutritional information, kindly note that these are only estimates. Nutritional information may be affected based on the product type, the brand that was purchased, and in other unforeseeable ways. Jessicainthekitchen.com will not be held liable for any loss or damage resulting for your reliance on nutritional information. If you need to follow a specific caloric regimen, please consult your doctor first.