15 Minute Vegan Pasta Salad
This 15 Minute Vegan Pasta Salad is perfect for lunch, a quick weeknight dinner, and so much more! It's loaded with flavour and topped with a flavourful homemade Italian vinaigrette!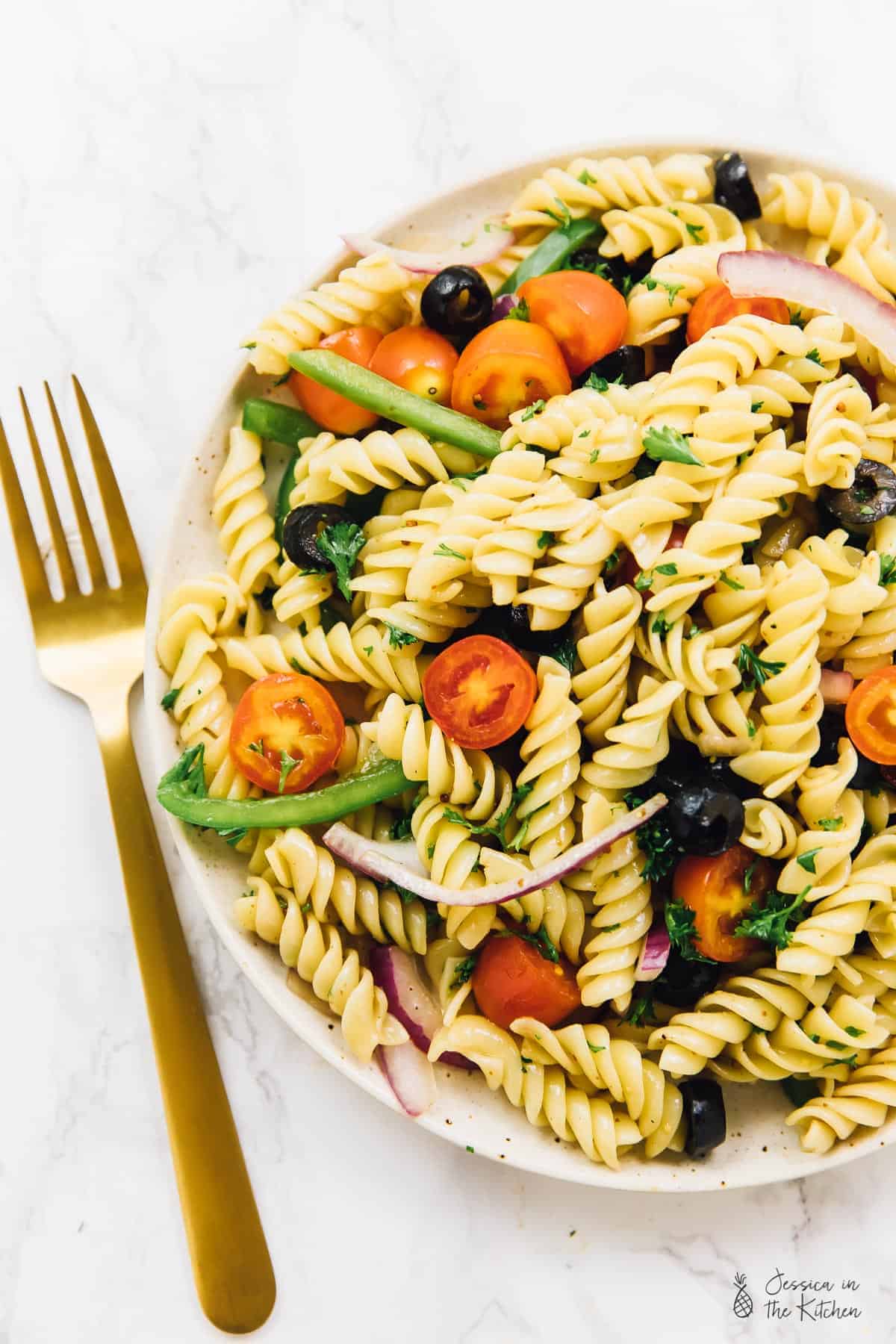 I haven't been the biggest fan of pasta in the last few years since going vegetarian. Every time I order pasta while out, it's done the same way. Copious amounts of low quality cheese, penne, and barely any fresh herbs thrown on top. For some reason, I haven't found many places that switch it up when it comes to the "veggie" option. So I've had stopped ordering it out.
I do find that the vegan pasta takeout options tend to taste so much better though. "Rasta pasta" is a really popular vegan option here and includes lots of coconut milk, seasoning, and chopped and sautéed vegetables. It was such a lovely change that I've been doing more and more vegan pasta ideas, here on the blog (hi
mushroom pasta
&
garlic Alfredo pasta
!). It's been so nice to be getting back into it that I knew I wanted an even easier, barely any cooking kind of vegan pasta dish for the blog.
This 15 Minute Vegan Pasta Salad is exactly that. It reminds me of the prep for Rasta pasta, minus the coconut milk, and instead with a vinaigrette. It's a well seasoned pasta dish that is so incredibly easy to prep. I went more on the Greek side with ingredients, and you could definitely add my tofu feta in this to add even more depth of flavour.
While the pasta is boiling, cut up the veggies and make the dressing. Drain the pasta, cool slightly and mix it all in. Done and done. The pasta works for a lunch, a quick weeknight dinner, a side dish, a potluck, a summer party, and can be served cold or hot (preferably cold). You could even add in some plant protein. It would boost it up to make it into an even more filling meal.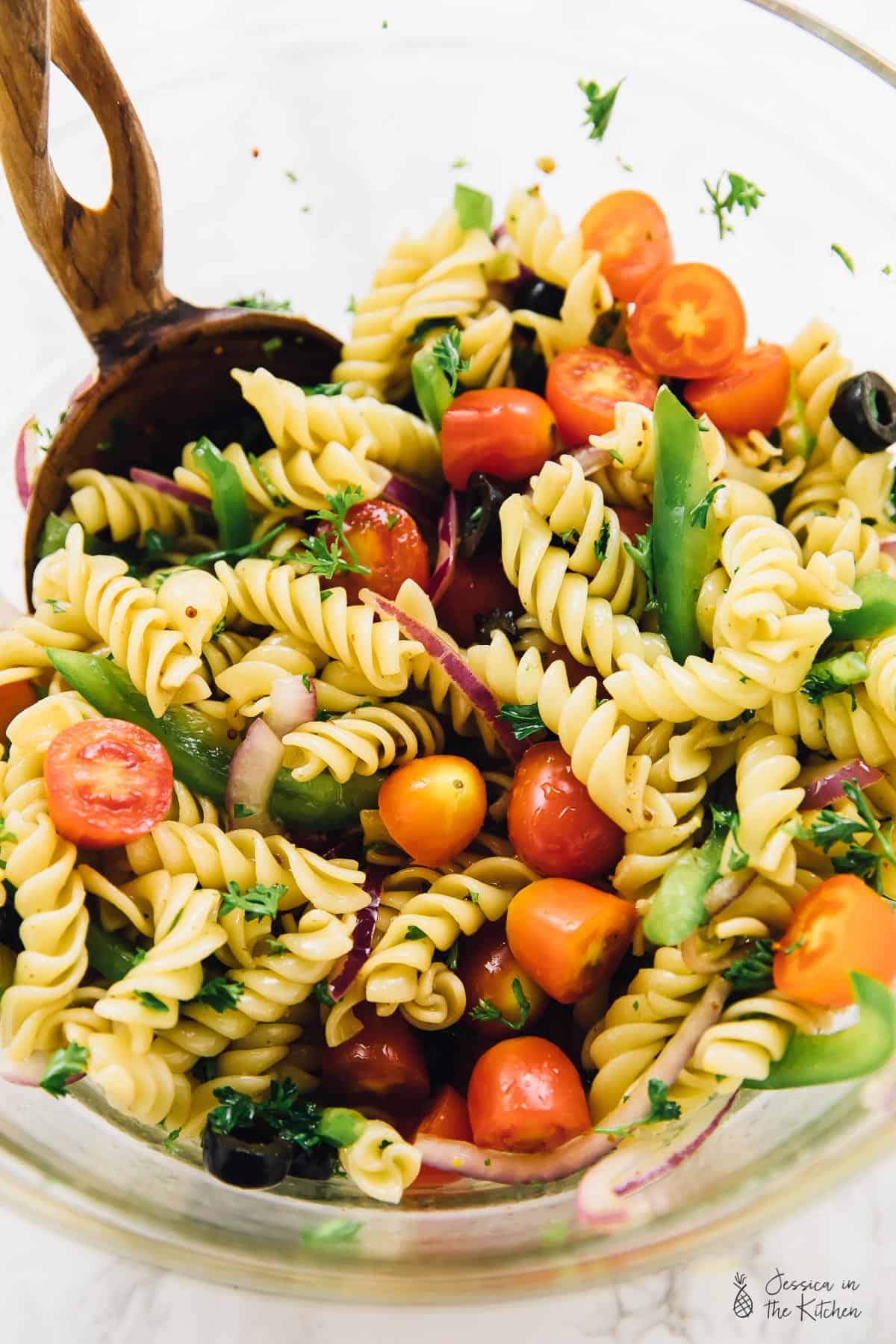 That vinaigrette though. Vinaigrettes are so incredibly easy to whip up and versatile that it's crazy. I love that whether on a salad, a quinoa dish or now on this 15 vegan pasta salad, it works so well.
Leave this to sit for even 30 minutes and the flavours intensify even more. BUT. You know those meals that just speak for themselves?! I could keep saying the word flavour 15 more times or you could try it and enjoy it so much!!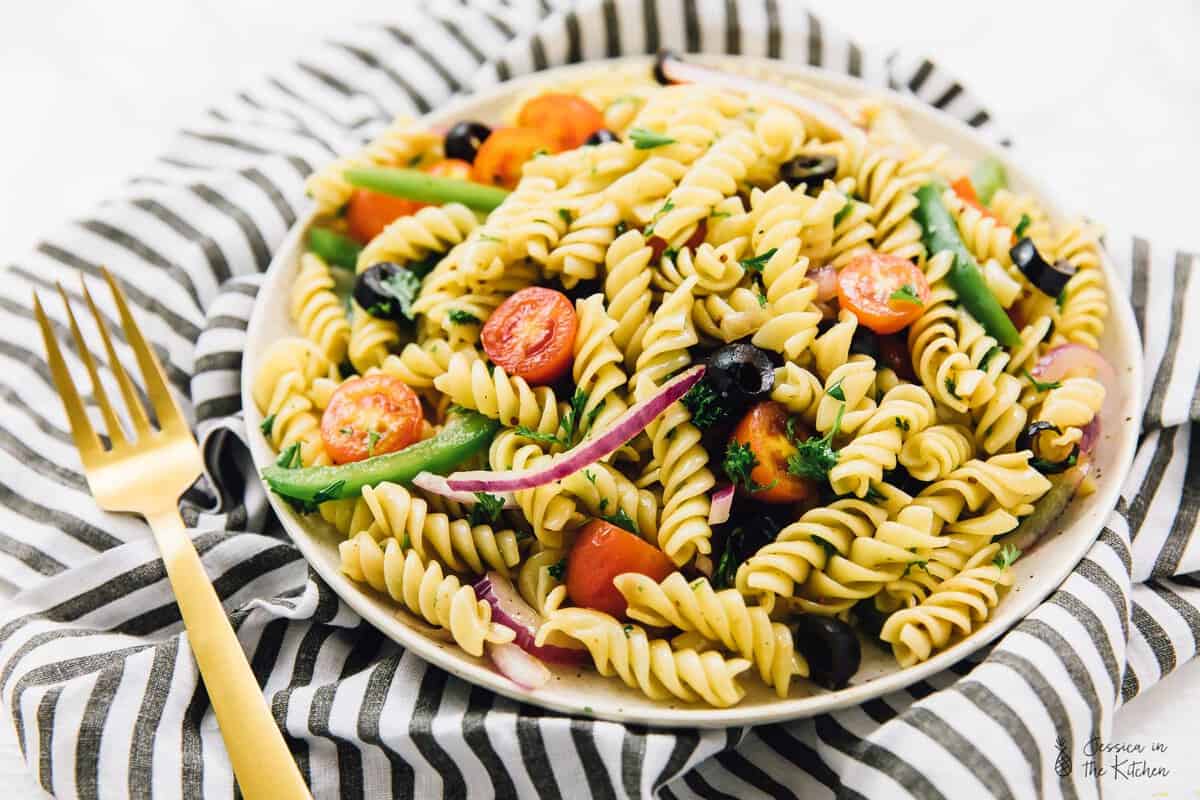 WATCH THE VIDEO BELOW TO SEE HOW IT'S MADE!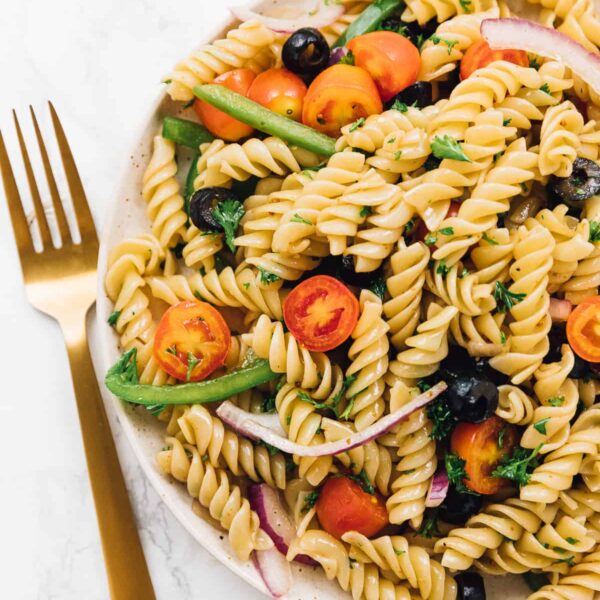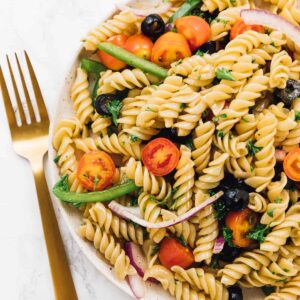 Vegan Pasta Salad (15 Mins)
This Vegan Pasta Salad is perfect for lunch, a quick weeknight dinner, and so much more! Made in only 15 minutes!  It's loaded with flavour and topped with a flavourful homemade Italian vinaigrette
Ingredients
Italian Vinaigrette
3 tablespoons extra virgin olive oil
2 tablespoons balsamic vinegar
2 teaspoons lemon juice, or apple cider vinegar
1 teaspoon dijon mustard
1/2 teaspoon sea salt
1/4 teaspoon ground black pepper
Pasta Salad
8 ounces rotini pasta, uncooked
¼ cup green bell pepper, ½ green bell pepper ( 70 g )
½ cup cherry tomatoes, Sliced (95g)
¼ cup parsley, (8g)
¼ cup black olives, sliced (37g)
1/4 red onion, Sliced (57g)
Instructions
Italian Vinaigrette
Add all the ingredients into a mason jar or a bowl. Shake the mason jar to combine, or stir vigorously in the bowl. Shake/stir again right before you're about to add it to the pasta salad.
Pasta Salad
Cook the pasta according to package directions in a boiling pot of salted water. While the pasta is cooking, you can cut up all the ingredients and make the dressing.

Drain the pasta according the package directions, then allow to cool slightly (I like to run mine under cold water to stop the cooking). Add in all the pasta salad ingredients. Pour the vinaigrette over it and stir to combine.

You can taste and add more salt or acid if you like. You can eat it right away or let it sit for about 30 minutes for the flavours to meld even more. Eat and enjoy!
Notes
Can I make this pasta salad ahead of time? Yes you can! This is perfect for meal prep and keeps in the refrigerator well. If you're serving this for a crowd (and not for meal prep) I would prepare this one day in advance for the freshest flavour.
How long does this last in the refrigerator? This recipe holds up really well in the refrigerator it lasts for about 5-6 days.
Can I use other pastas? Yes you can! Other pastas (ziti, penne, bowtie) work perfectly here and if you're gluten free, gluten free pasta can be subbed as well.
What vegetables can I substitute?
Zucchini
Carrots
Spring onions
broccoli
Baby spinach
An expert tip is to leave this to sit for at least 30 minutes and the flavours intensify even mo
Calories: 333kcal, Carbohydrates: 46g, Protein: 8g, Fat: 13g, Saturated Fat: 2g, Sodium: 446mg, Potassium: 223mg, Fiber: 3g, Sugar: 4g, Vitamin A: 475IU, Vitamin C: 18mg, Calcium: 21mg, Iron: 1mg
Disclaimer: Although jessicainthekitchen.com attempts to provide accurate nutritional information, kindly note that these are only estimates. Nutritional information may be affected based on the product type, the brand that was purchased, and in other unforeseeable ways. Jessicainthekitchen.com will not be held liable for any loss or damage resulting for your reliance on nutritional information. If you need to follow a specific caloric regimen, please consult your doctor first.