Low Carb Vegan Waffles (Gluten Free)
These Low Carb Vegan Waffles are absolutely divine! They're still fluffy, great for meal prep and are gluten free! These waffles have 13.2g net carbs!
Oh my gosh after ENDLESS tries it's finally here!! These Low Carb Vegan Waffles are low carb friends! If I sound like I'm shouting, it's because I am – with joy!
Making low carb vegan waffles (that are also gluten free) is not easy. Most non-vegan recipes use eggs as a binder, and most regular vegan recipes use gluten, since it's literally what binds the waffles together and gives it its fluffy interior. But after requests from you (and my inner child) to be able to enjoy as many
waffles
as possible, I kept pushing on. If you follow me on IG you may have actually witnessed some of the sad attempts (cue opening the waffle iron to a crumbled mess), so when I actually got these right I actually danced from the kitchen, to the living room and back, all while doing Rocky like upper cuts into the air to celebrate my victory. I hope you do the same when you make these.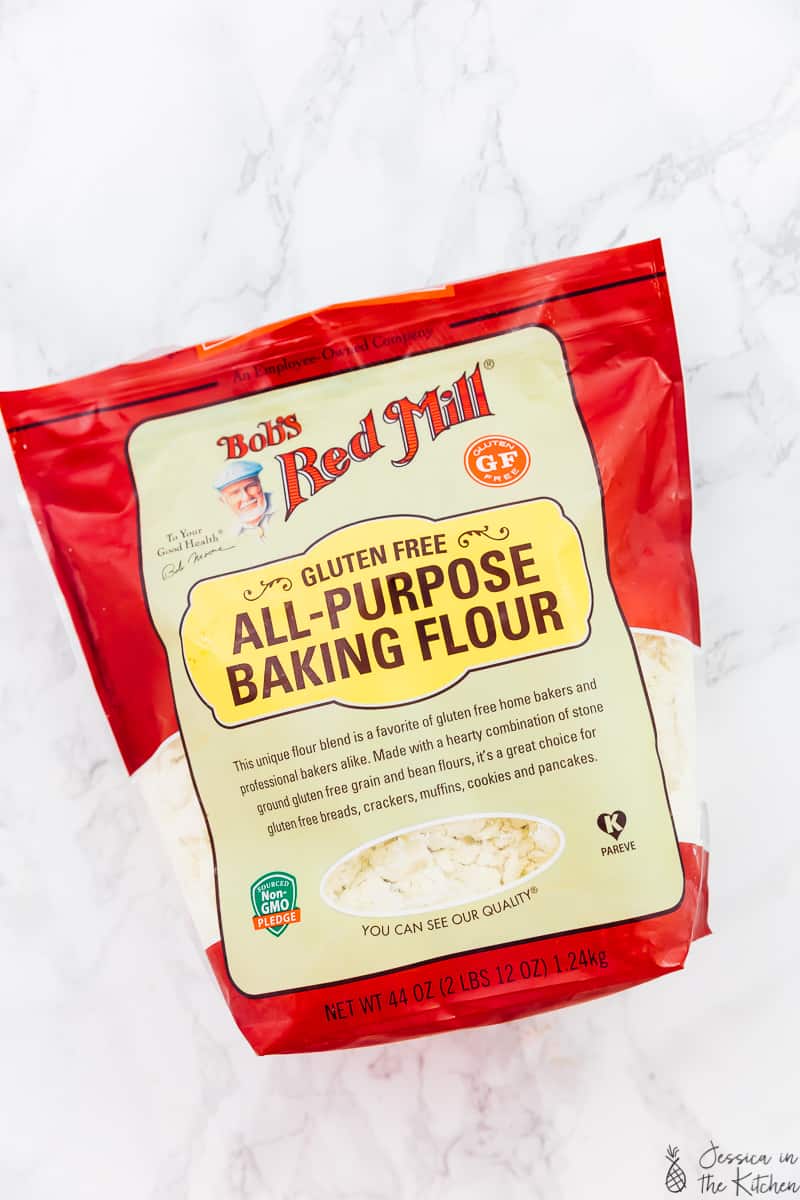 Low Carb Vegan Waffles vs. Regular Waffles
By the way, for context, my regular waffles recipe (which are absolutely delicious by the way) have 38.5g net carbs, in comparison to these waffles which have 13.2g of net carbs per waffle! This post is not to say one is better than the other, but rather that I want to start providing you guys with all the dietary requirements that you need.
As always, these are made courtesy of the gluten free flour king itself:
Bob's Red Mill
. It's the only gluten free flour we use here, so if you ever see me refer to gluten free flour in the ingredients of a recipe, it was Bob's Red Mill. It never lets me down, and was the perfect gluten replacement in these waffles. I have always loved Bob's Red Mill's commitment to quality ingredients, including of course the ones used here in this waffle!
How to Make Low Carb Vegan Waffles
The key to making these low carb vegan waffles (that are also gluten free) is properly mixing flours to balance out the texture of the waffles, while keeping it gluten free, and still healthy. For these waffles, I used a combination of
Bob's Red Mill All Purpose Baking Flour
and
Bob's Red Mill Organic Coconut Flour
. Reason being? Their All Purpose Baking Flour has less carbs, and Coconut flour is so great at absorbing that it also works as an excellent binder. They also have great textures, so no lumpy waffles here. Everything mixes so smoothly together, giving you only the best quality.
These waffles are:
Low carb
Fluffy
High fibre
Meal preppable
Freezer friendly
So delicious!
I hope you love these so much friends! If you want, you could even swap out the strawberries for chocolate chips, blueberries or anything else you want! Eat up and enjoy!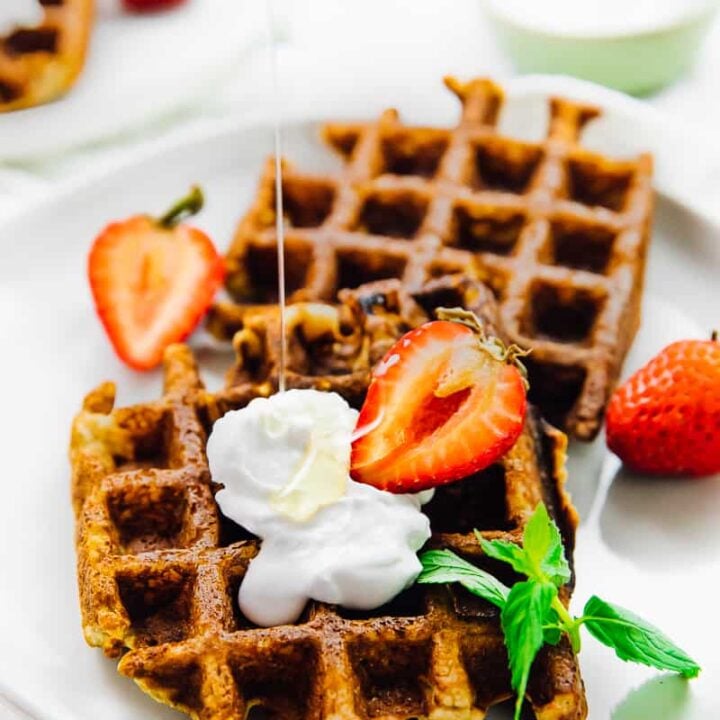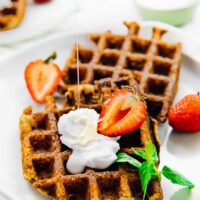 Low Carb Vegan Waffles (Gluten Free)
These Low Carb Vegan Waffles are absolutely divine! They're still fluffy, great for meal prep and are gluten free! These waffles have 13.2g net carbs!
Ingredients
1 cup unsweetened almond or coconut milk*
2 teaspoons apple cider vinegar
2 tablespoons ground flaxseed, (aka flaxmeal)
1 tablespoon baking powder
1/4 teaspoon sea salt
1 tablespoon coconut oil
1 tablespoon maple syrup
1/2 teaspoon vanilla extract
Strawberries to serve
Dollop of vegan whipped cream
Instructions
Mix the unsweetened nut milk and apple cider vinegar together in a large bowl or large measuring cup. Let sit for one minute to create a vegan buttermilk. Whisk in all of the flax meal until fully incorporated. Place in your fridge to set up for 15 minutes until thick and gelatinous. After 15 minutes stir it one more time to fully incorporate.

In a large bowl, mix the Bob's Red Mill All Purpose Flour, the coconut flour, baking powder and sea salt. Set aside.

Pour the nut milk flax mixture into the dry mix. Add the coconut oil, maple syrup and vanilla extract on top and mix until combined. Mix for about 1 minute until fully incorporated. It doesn't need to be fully smooth.

Turn on and preheat and grease your Waffle Maker according to which done level that you want. I set mine in about the middle because I like mine slightly crisp on the edges crisp and brown but also very fluffy.

When preheated, use a heaping 1/4 cup/62.5ml measuring cup, scoop out some batter and pour/spread into the middle of each side of the waffle maker (so 1/4 cup per side*). You don't need to push it to the edges. Close and remove when the timer on the Waffle Maker is finished and the waffle maker beeps.

Remove each waffle (I use a chopstick since it's wooden and easy to scoop under the waffle) and place on a baking sheet in your oven or toaster oven on "warm" or 200F/95C to keep warm and crispy until finished with the entire batter. Continue with the rest of the batter.

Top with your favourite toppings like chocolate chips, sliced strawberries and maple syrup (optional). Enjoy!
Notes
*If you're using coconut milk, use a boxed version instead for lower carbs and calories. ** You can make these carbs even lower by using a sweetener replacement. I've included carbs for maple syrup.   You can easily double or triple this recipe!
Calories: 125kcal, Carbohydrates: 15.6g, Protein: 2.8g, Fat: 3.9g, Sodium: 128.4mg, Fiber: 4g, Sugar: 2.2g
Disclaimer: Although jessicainthekitchen.com attempts to provide accurate nutritional information, kindly note that these are only estimates. Nutritional information may be affected based on the product type, the brand that was purchased, and in other unforeseeable ways. Jessicainthekitchen.com will not be held liable for any loss or damage resulting for your reliance on nutritional information. If you need to follow a specific caloric regimen, please consult your doctor first.