Banana Bread Waffles (with Chocolate Chips)
These Banana Bread Waffles are like having dessert for breakfast, but healthy! They're sweetened with bananas, gluten free and are so meal preppable!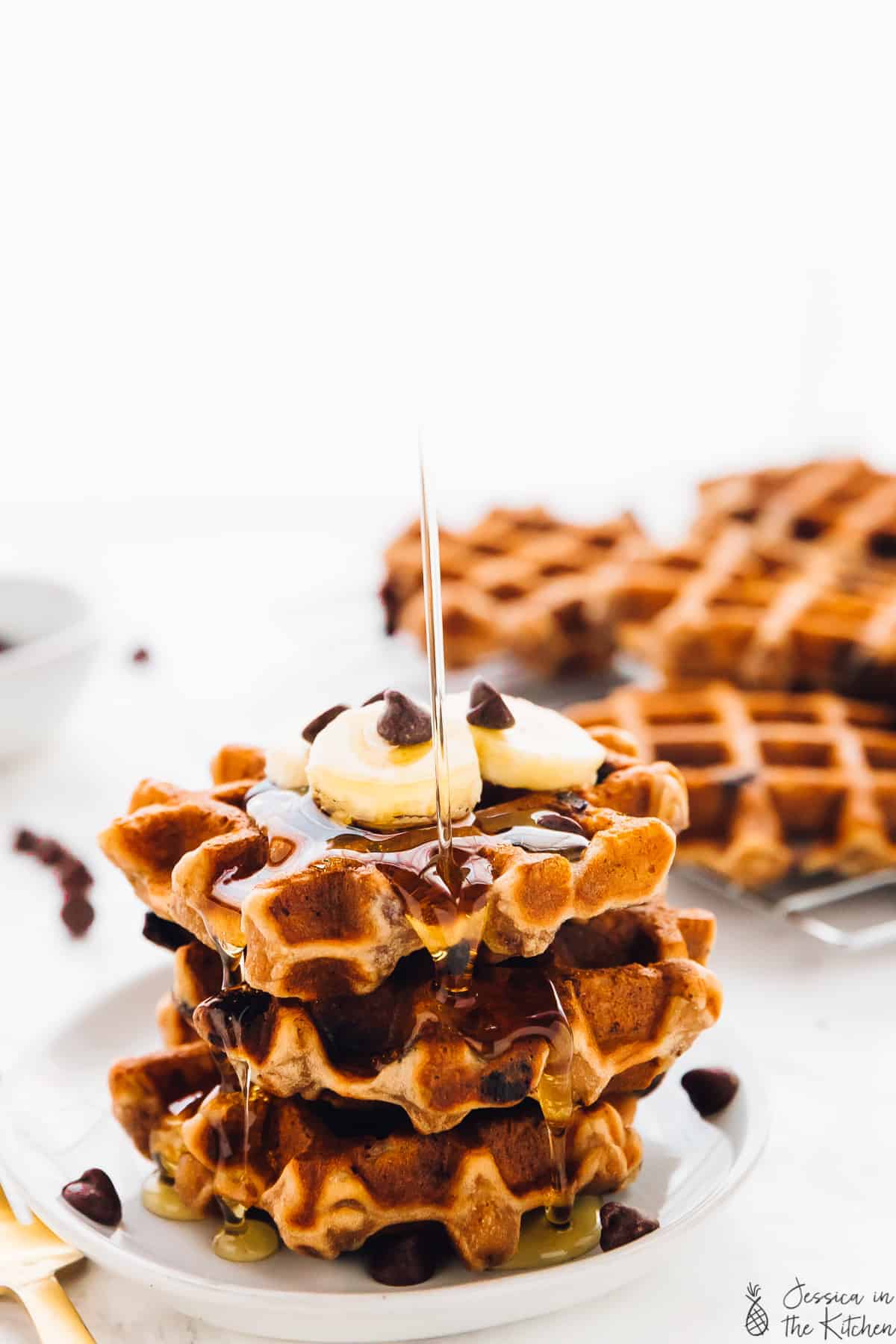 "These are the best waffles I've ever had". That was what my friend Ashlee, who came to stay with us this month with her husband Tommy, posted on her IG page after I made these waffles. I was recipe testing them, very critical of myself, and put them in the freezer the night before. Needless to say, that comment made it pretty clear that was being harsh on myself, and also that I needed to share this waffle recipe with you guys.
Banana Bread Waffles (with Chocolate Chips). I debated on so many different names for for this recipe. Included were "Chocolate Chip Banana Waffles"and "I Want To Eat These All The Time Waffles". Ultimately, I settled on Banana Bread Waffles (with Chocolate Chips) because they really do remind me of enjoying one of my favourite treats for breakfast. These waffles are an adaptation of my Orange Cranberry Waffles and my Lemon Poppyseed Waffles, but are so different that looks like you're just going to have to try all three! Without a doubt – they are worth a try and a recipe I've been making and adapting all of 2019 so far.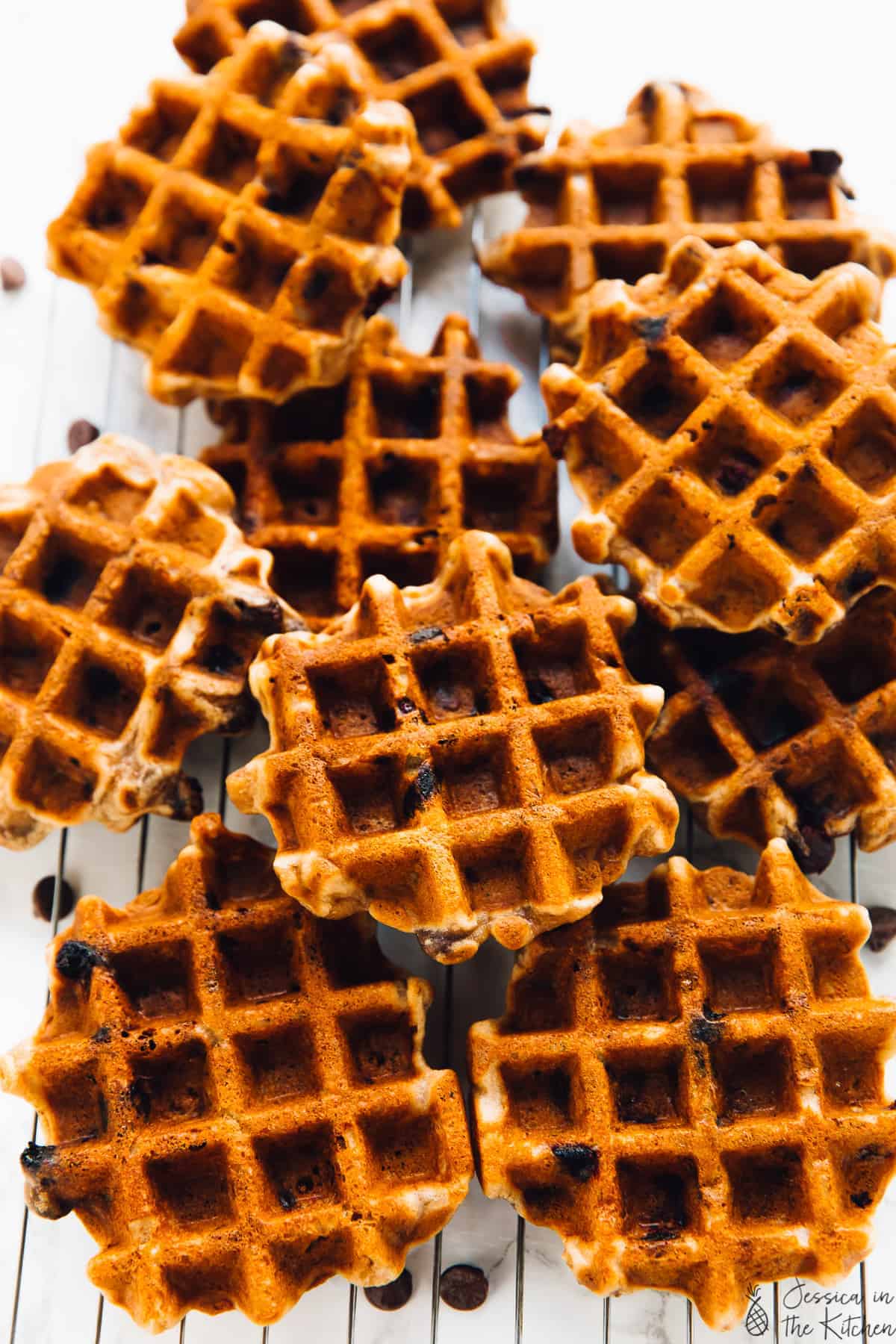 Let me dive right in These banana bread waffles as a secret ingredient. Cassava flour. Ever since I made my healthier blueberry muffins, I've been experimenting with cassava flour in all the things. It has won my heart in terms of single gluten free flours, because of so many reasons. I grew up with cassava in Jamaica, so there's that connection. Cassava flour is also gluten free, paleo, and pretty nutritious. It has a beautifully fine texture (almost like powdered sugar), and tastes so much like wheat flour. I really do mean that – you will not know that these are gluten free.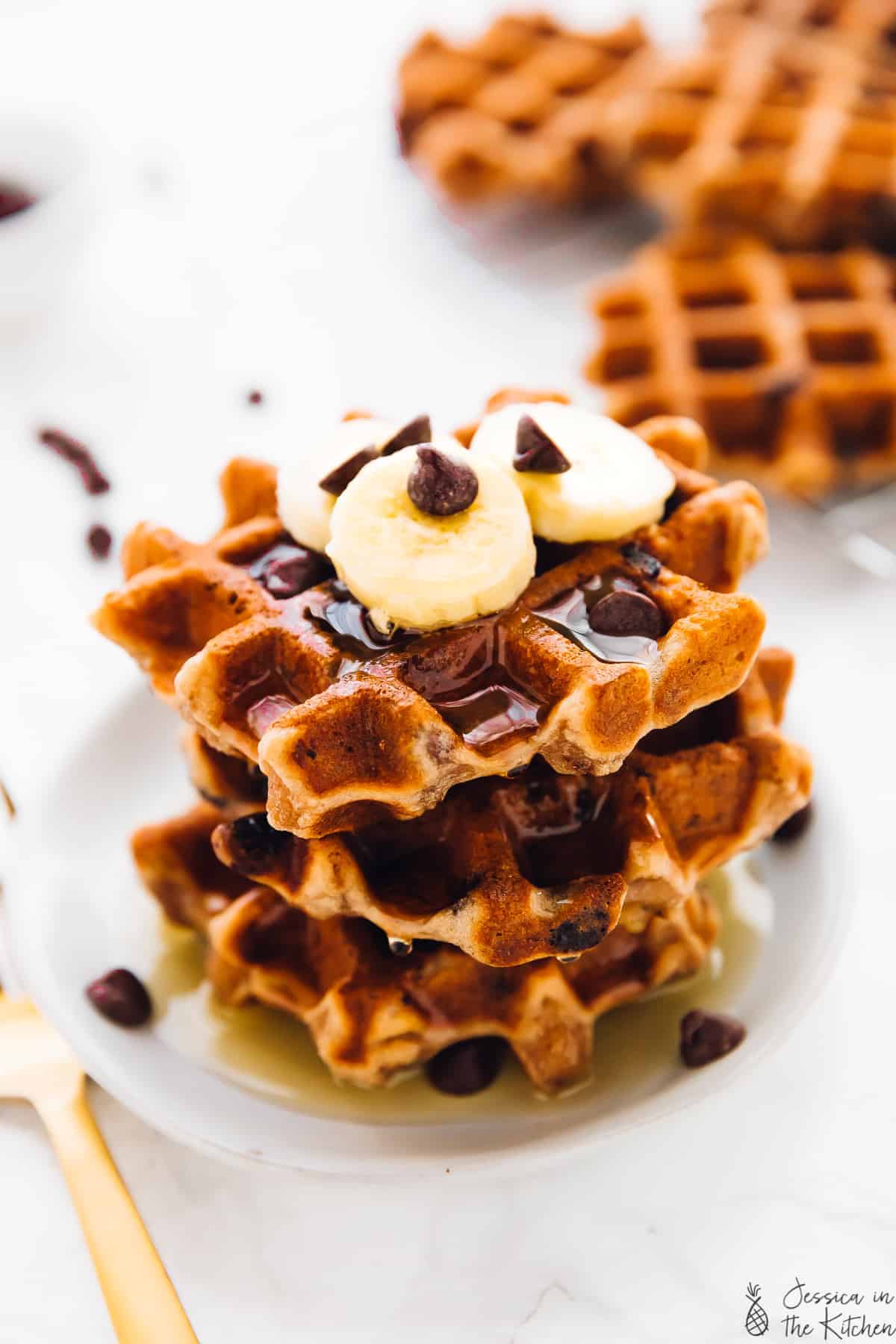 I swapped my usual oat flour for cassava flour in these waffles and I might never go back. While I love the oat flour, the combination of GF flour blend and cassava flour creates that "I ordered this from a breakfast bakery" kind of waffles. That plus the divine subtle banana taste and of course, the chocolate chips. In fact, between the bananas and the chocolate chips (which are totally optional), I didn't add any maple syrup or coconut sugar into these waffles. That's a first for me and anther top reason I'm loving these Banana Bread Waffles. That and the fact that the batter makes 13 waffles – hello meal prep!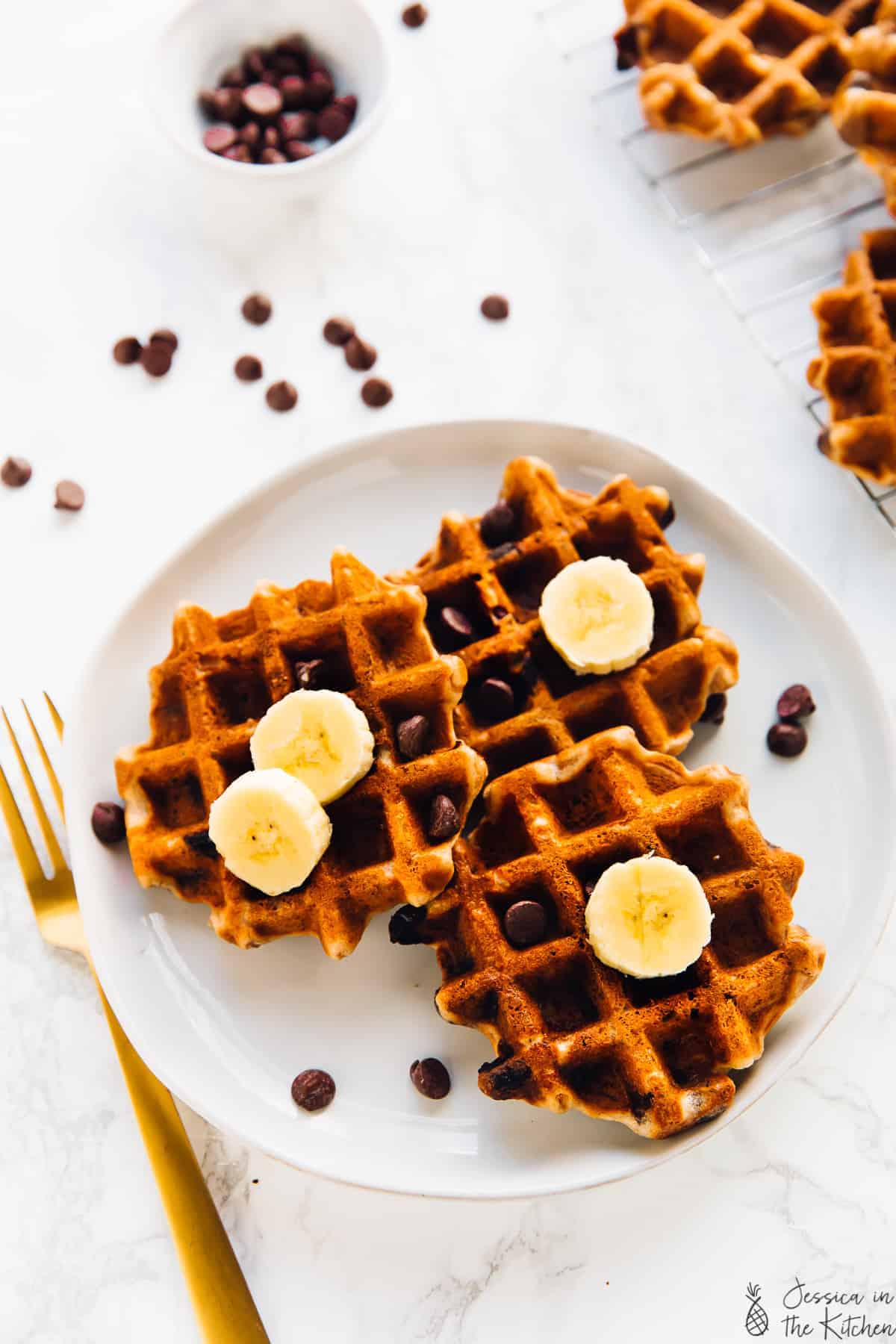 Now that we've gone into all the lovely history behind these waffles, you need to dive in friends. Top them with banana slices and you'll realise you won't even need maple syrup. I mean, I still top them with a tiny bit. But I'm telling you, they are perfect just as they are. Enjoy, friends!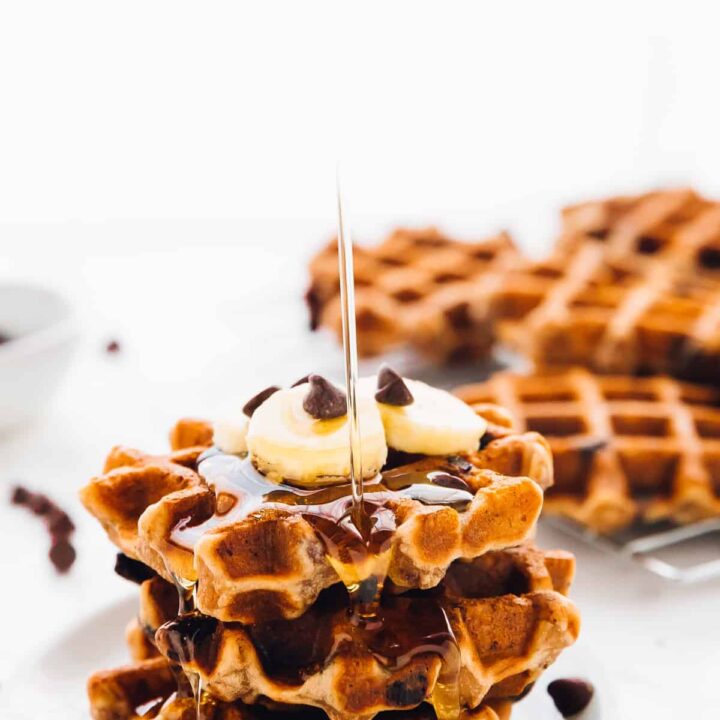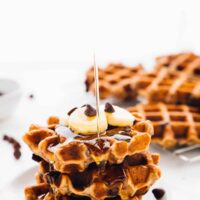 Banana Bread Waffles (with Chocolate Chips)
These Banana Bread Waffles are like having dessert for breakfast, but healthy! They're sweetened with bananas, gluten free and are so meal preppable!
Ingredients
2 cups 500mL any nut milk (I prefer soy milk for vegan buttermilk)
2 teaspoons 10ml apple cider vinegar or white vinegar
87g of cassava flour, (or oat flour)
1 ¼ cups 185g of gluten free flour mix (I use Bob's Red Mill 1:1 Gluten Free Baking Flour
½ teaspoon 2.4g baking soda
1 ½ teaspoons 7.2g baking powder
¾ teaspoon 4.2g sea salt
2 tablespoons 30mL unmelted melted coconut oil or vegan butter
1 teaspoon 5ml vanilla extract (I love Nielsen-Massey)
2 very ripe bananas, mashed with a fork (a bit over ½ cup and a bit less than ¾ cup)
½ cup chocolate chips
1/2 cup chopped nuts, walnuts or pecans are best
Instructions
Mix the nut milk and apple cider vinegar together in a large bowl or large measuring cup. Let sit for at least 3 minutes to create a vegan buttermilk.

In a large bowl, mix the cassava flour, gluten free flour, baking soda, baking powder and sea salt. Set aside.

In the apple cider vinegar and nut milk bowl, stir in the coconut oil/vegan butter, and the vanilla extract.

Pour the wet ingredients into the dry and mix until combined. Add in the mashed bananas, chocolate chips and the nuts.

Turn on and preheat your Waffle Maker according to which done level that you want. I set mine two dials before max because I like mine crisp and brown but also very fluffy. I also tested these on "light" and they work both ways!

When preheated, use a heaping 1/4 cup/62.5ml measuring cup, scoop out some batter and pour/spread into the middle of each side of the waffle maker (so 1/4 cup per side*). You don't need to push it to the edges. Close and remove when the timer on the Waffle Maker is finished and the waffle maker beeps.

Remove each waffle and place on a baking sheet in your oven or toaster oven on "warm" or 200F/95C to keep warm and crispy until finished with the entire batter. Continue with the rest of the batter.

Top with extra bananas and chocolate chips and maple syrup (optional). Enjoy!
Notes
Notes
I used 1/4 cup because the nuts and chocolate chips and banana make this batter very chunky. If you're modifying it and leaving any of those out, you might need to use 1/2 cup.
Calories: 260kcal, Carbohydrates: 38g, Protein: 4g, Fat: 12g, Saturated Fat: 3g, Sodium: 430mg, Potassium: 138mg, Fiber: 4g, Sugar: 10g, Vitamin A: 153IU, Vitamin C: 3mg, Calcium: 96mg, Iron: 2mg
Disclaimer: Although jessicainthekitchen.com attempts to provide accurate nutritional information, kindly note that these are only estimates. Nutritional information may be affected based on the product type, the brand that was purchased, and in other unforeseeable ways. Jessicainthekitchen.com will not be held liable for any loss or damage resulting for your reliance on nutritional information. If you need to follow a specific caloric regimen, please consult your doctor first.