Orange Cranberry Waffles with Maple Cranberry Compote (Vegan)
These Orange Cranberry Waffles are bursting with holiday flavour! They are drizzled with a Cranberry Maple Compote and are vegan and gluten free!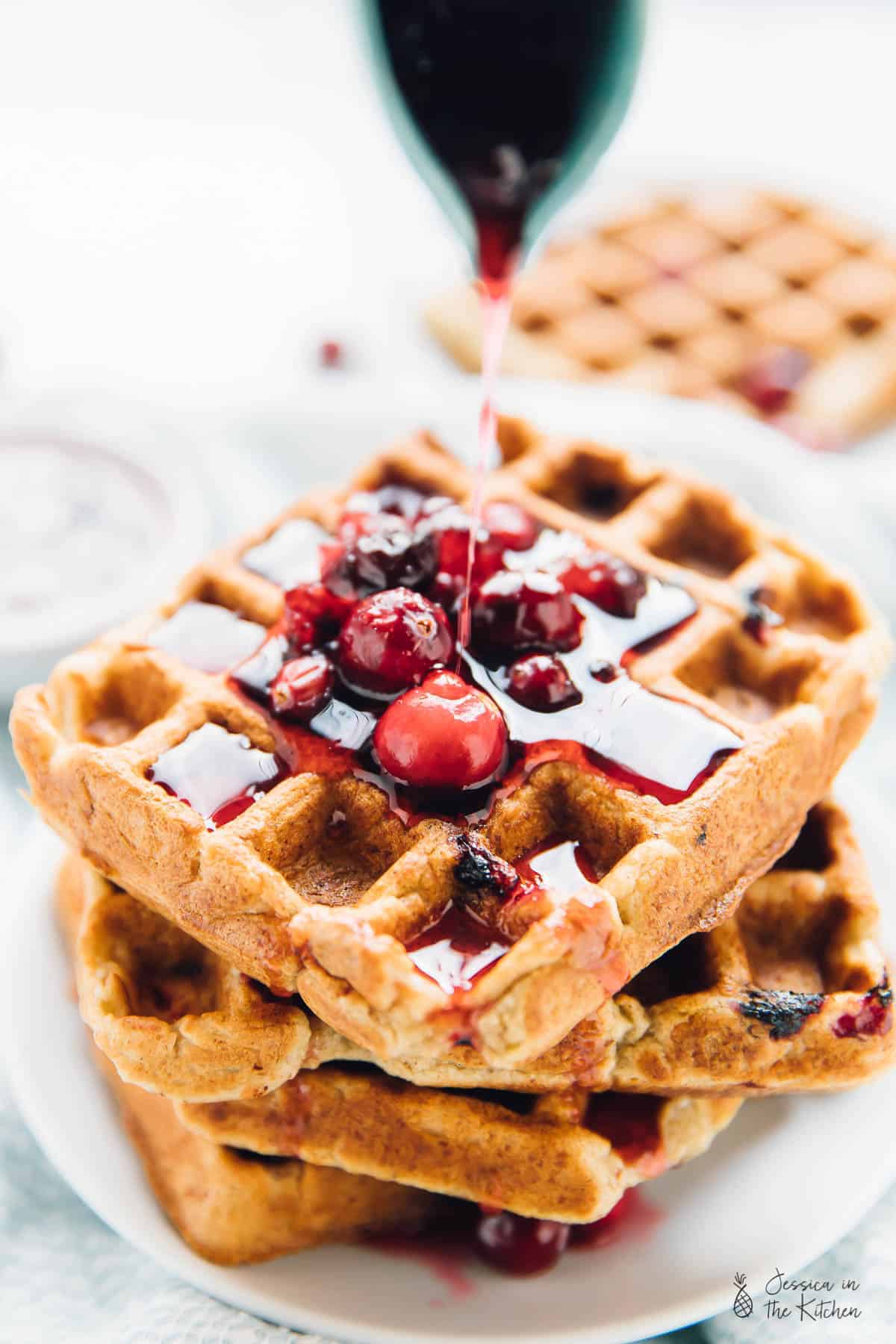 One thing I know for sure is that Christmas is the most wonderful time of year. You guys already know that it's my favourite season, and with that comes ALL the festive foods. I always feel like I'm lacking in festive breakfasts, so wanted to shake it up this year with these Orange Cranberry Waffles with Cranberry Maple Compote. Let me tell you – you're going to need these waffles on your Christmas/holiday table.
We'll be spending Christmas this year as a family away from home, so what better way than to bring a piece of home with me? Of course I'm not actually travelling with these waffles (though I've been known to do that) but you can bet that the waffle maker is coming with me in my suitcase. Yup, it's that good.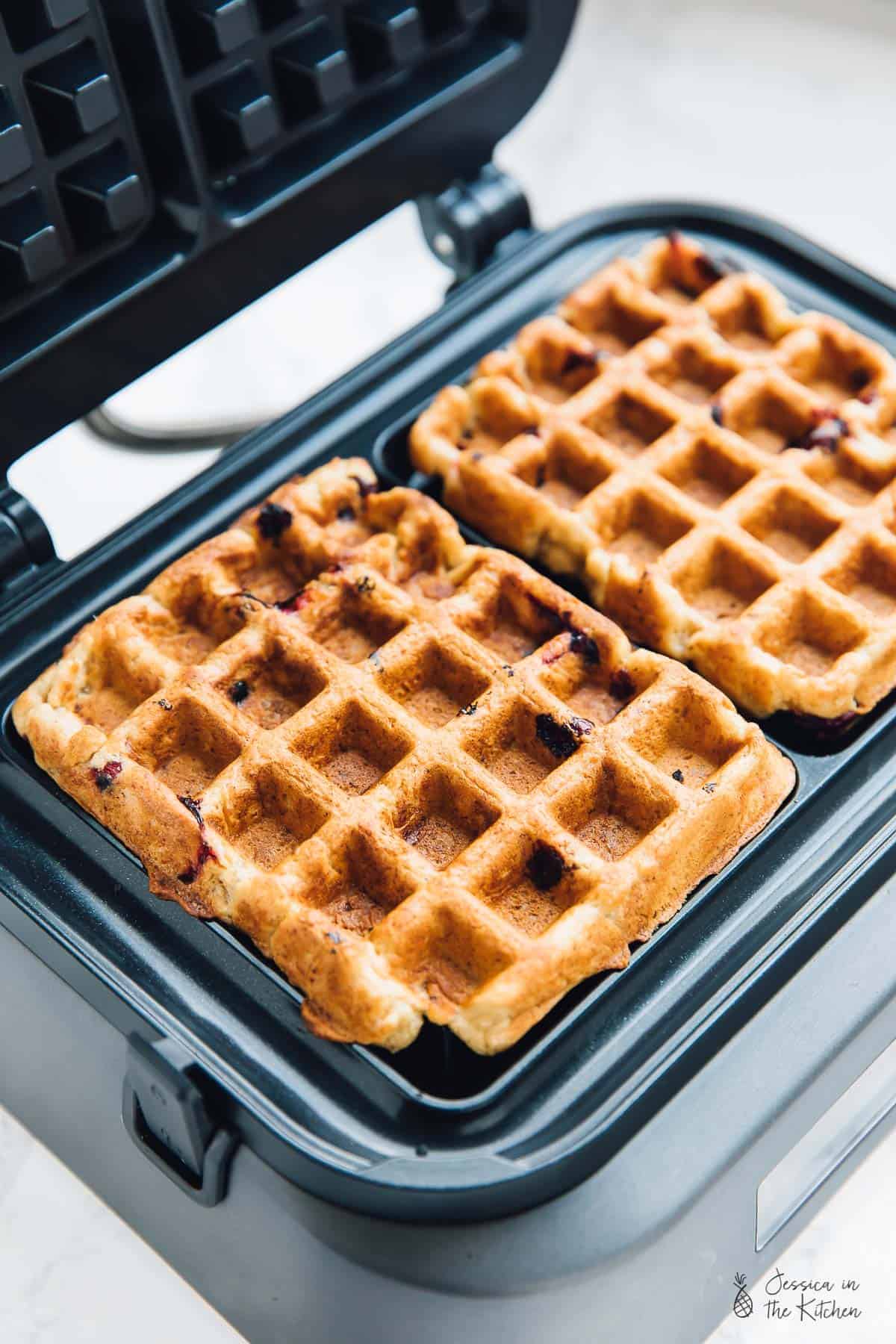 Calphalon's IntelliCrisp Waffle Maker is without a doubt, the best waffle iron I have ever used. If you watched my insta stories then you saw me raving like crazy over it. This is just one amazing appliance in Calphalon's new line of kitchen appliances. This beautiful collection includes the Calphalon Quartz Heat Countertop Oven, the Calphalon Special Brew Coffee Maker, the Calphalon Even Sear Multi-Grill, the Calphalon Digital Sauté Slow Cooker, the Calphalon Intellicrisp Waffle Maker and the Calphalon Auto-Speed Blender. Let me break down my favourite things about this waffle maker:
It BEEPS when it's ready to put the waffle maker is preheated. HELLO, this waffle maker is the thing dreams are made of.
It's ceramic coated so you do not – I repeat – you do not need to oil or butter this. No more praying that this won't stick. It won't stick – simple as that!
There's a sensor that senses the waffles, then counts down the cooking time, then beeps when it's finished. Okay, this saved all stress and anxiety
It locks in place, so when you're taking it down from a high shelf it's super easy to grab
It's gorgeous. Like, this waffle maker is super sleek.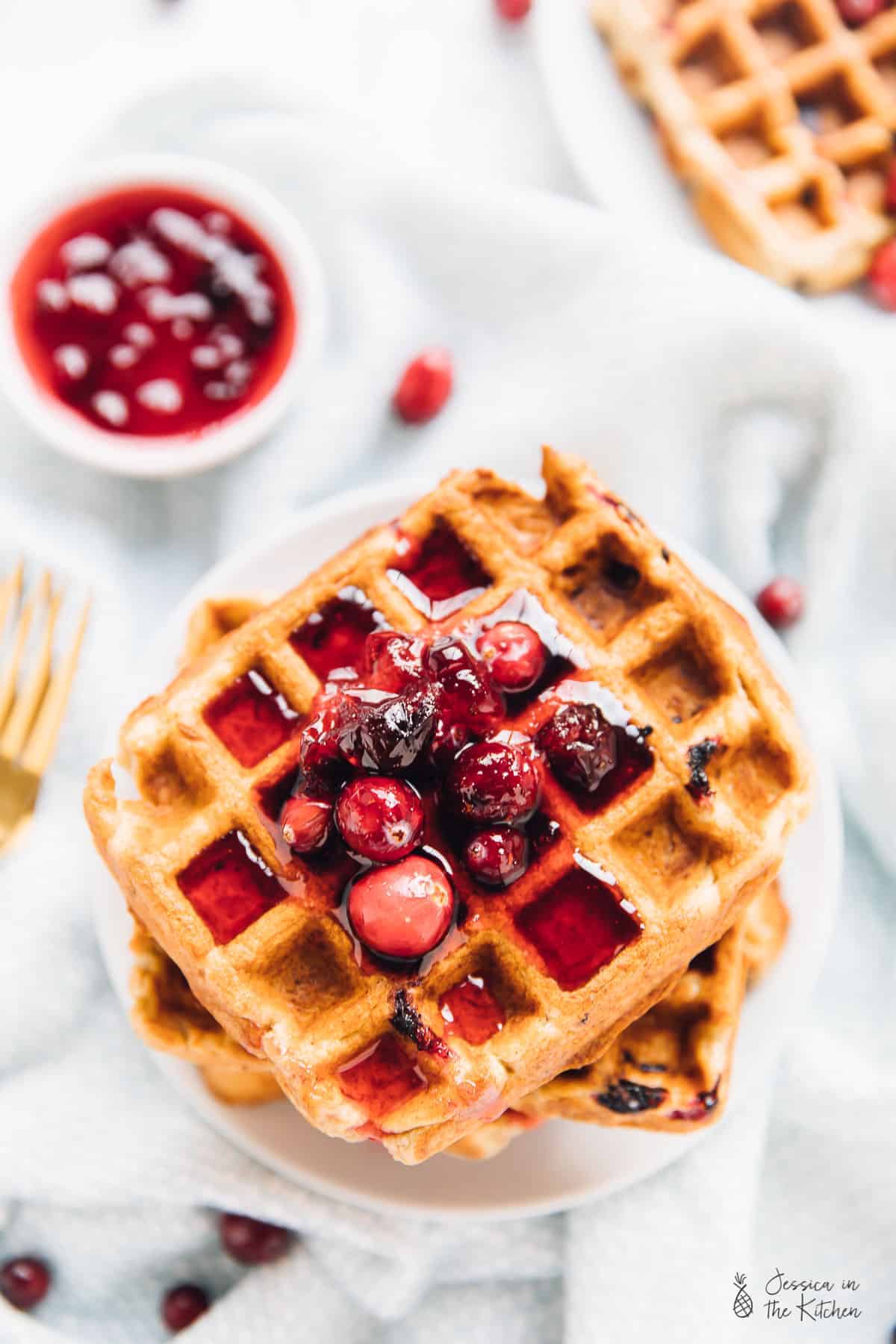 Long story short, go and run out and buy this for everyone you know that loves waffles. Which is pretty much everyone on earth. It'll make the perfect Christmas gift because if I didn't already have it, it would be on my list. Friends, look out for WAY more waffle recipes from me in the future.
Speaking of waffles, yes, these Orange Cranberry Waffles are perfect. The flavour leans more on the cranberry than the orange side, but you could easily up it by swapping out a few tablespoons of the vegan buttermilk for more orange juice. It's speckled with beautiful burst cranberries, and has a subtle hint of orange. So basically this tastes like sunshine.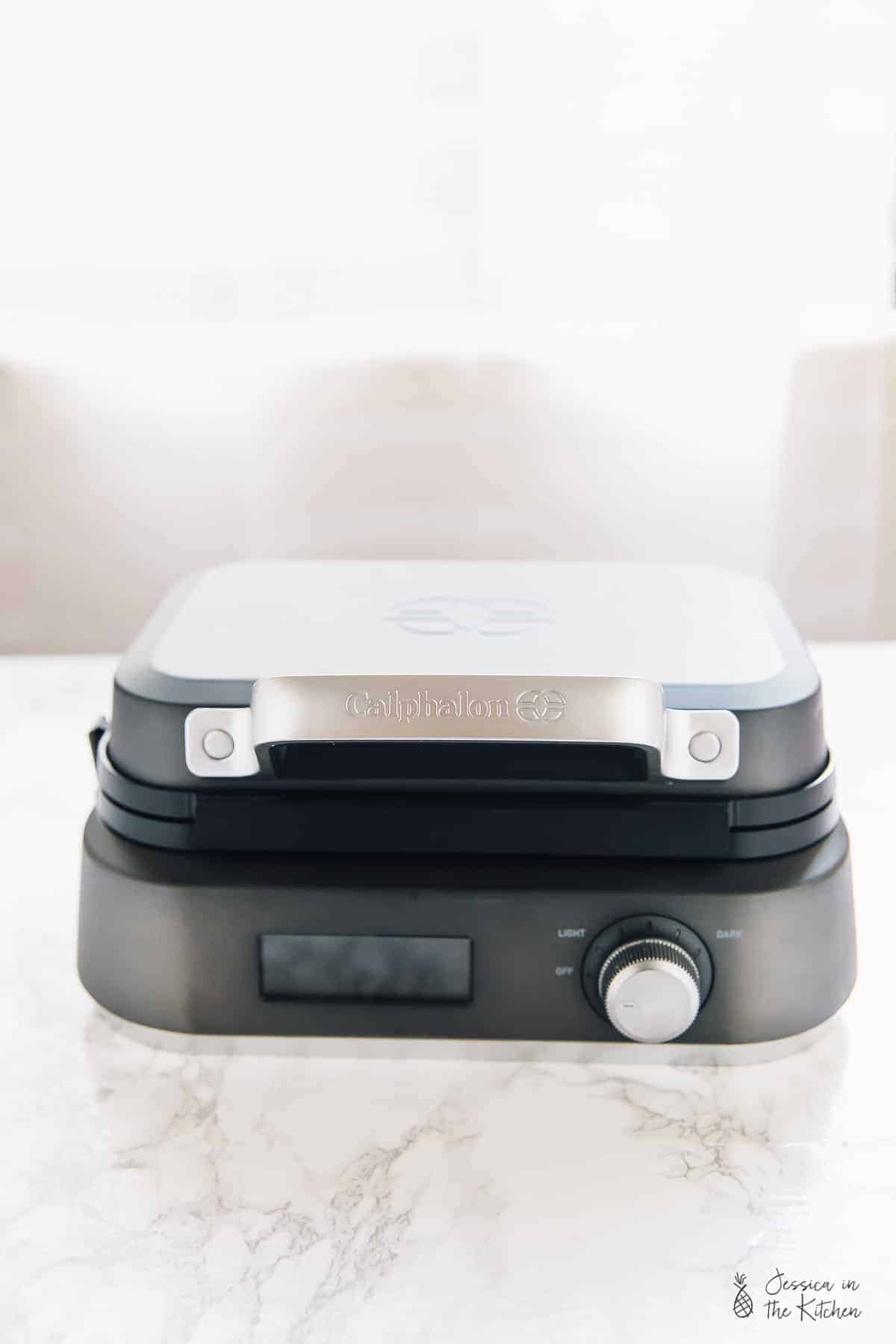 You guys didn't think I was going to add plain ole' (as delicious as it is that way) maple syrup to these festive waffles did you? No. Orange Cranberry Waffles deserve maple syrup spiced with orange zest and cranberries. It's as easy as heating the maple syrup in a pan with a handful of cranberries, a little vanilla extract and a bit of zest until the cranberries pop. Then let it cool while you finish the rest of the waffles. It takes these already perfectly crisp on the outside soft on the inside waffles to another level. You know when you guys are always asking for those little things I do to take my own versions over the top? This is one of them!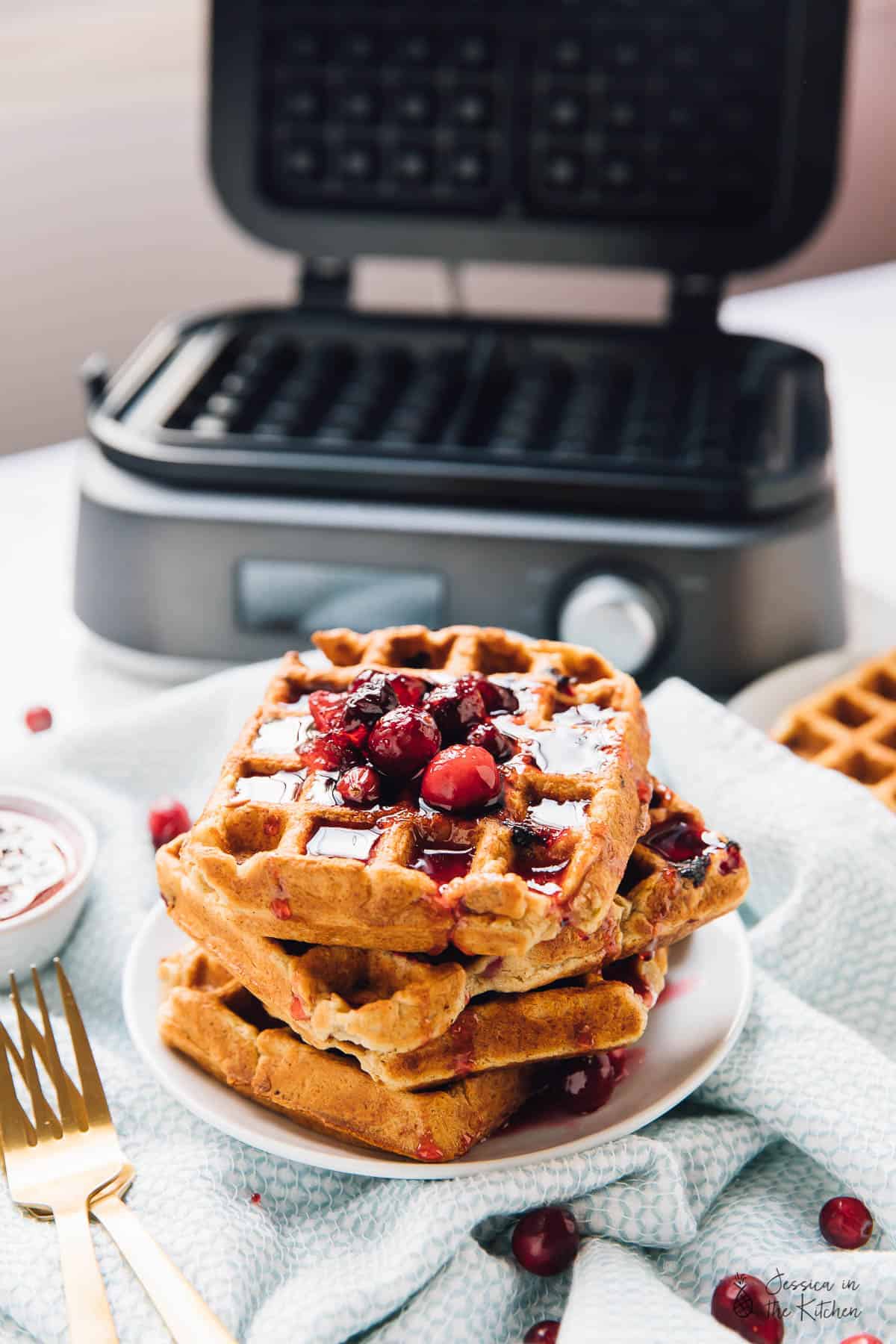 I hope you enjoy these waffles friends! The recipe can be easily doubled, or even tripled. Also, these freeze like a dream. I guarantee that you'll be making them more than once throughout the holiday season, so to make it easier you can freeze your cranberries and even your orange zest. That way the zesting – the "hardest" part – is easy for you. Enjoy, friends!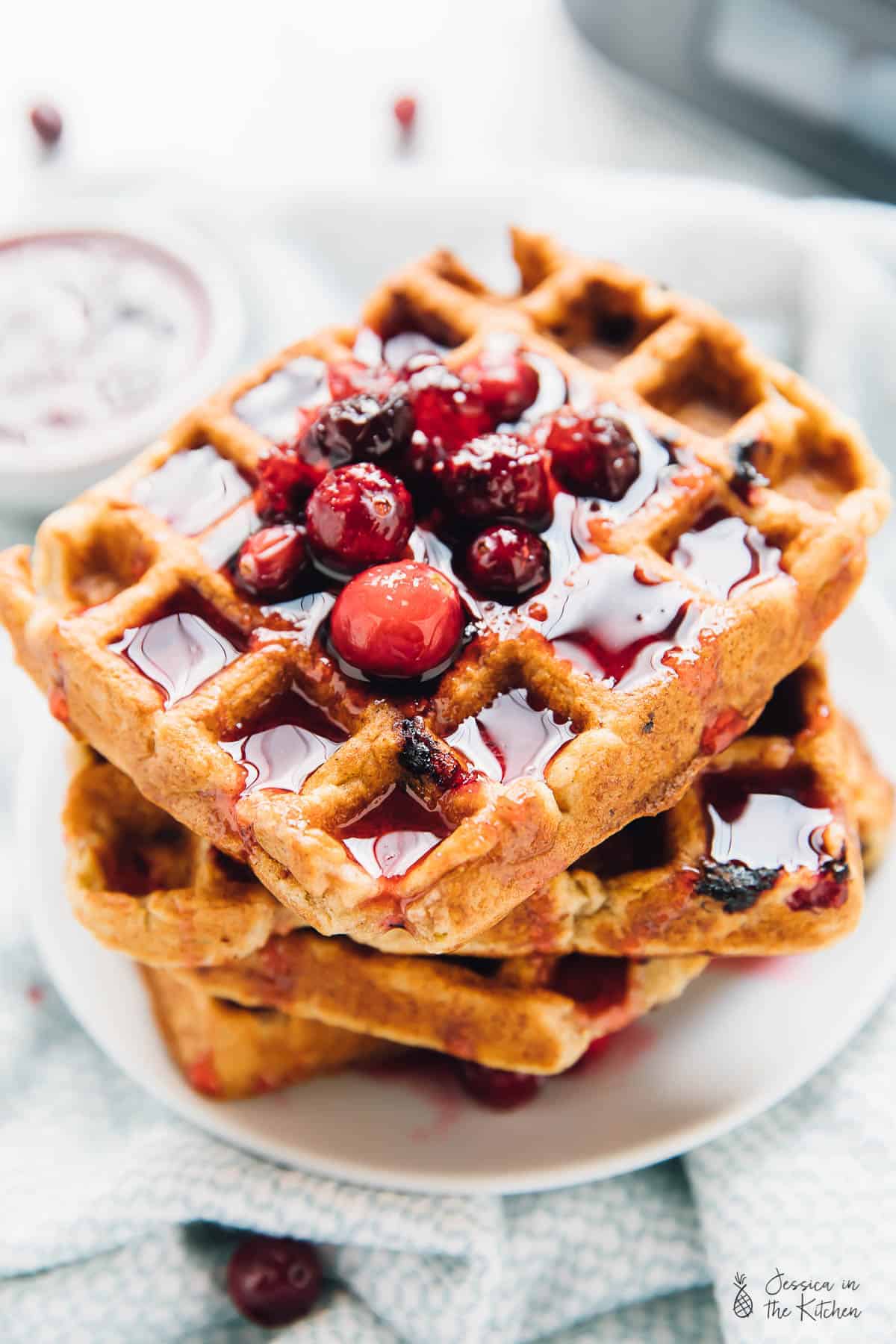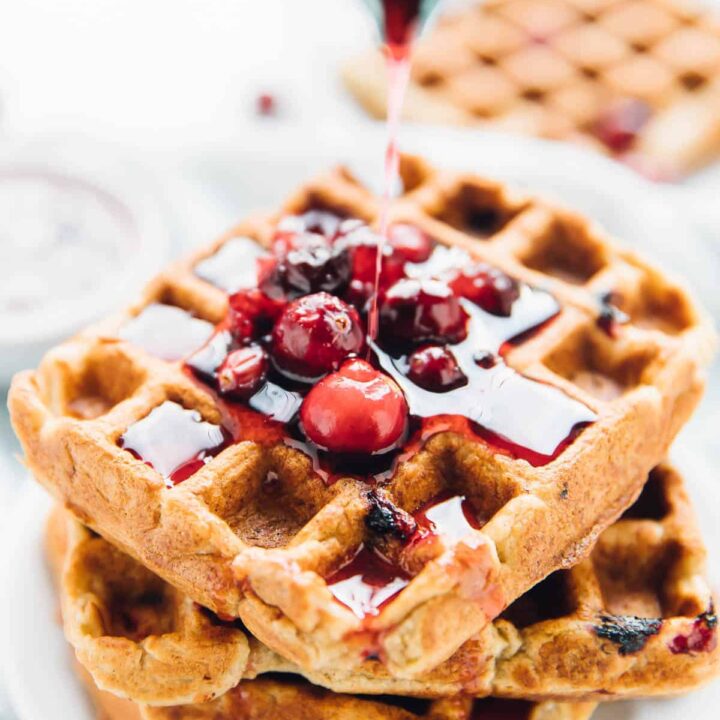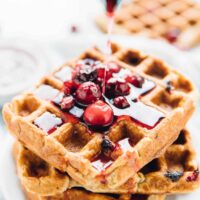 Orange Cranberry Waffles with Maple Cranberry Compote (Vegan)
These Orange Cranberry Waffles are bursting with holiday flavour! They are drizzled with a Cranberry Maple Compote and are vegan and gluten free!
Ingredients
Orange Cranberry Waffles
1 cup 87g of oats, ground into a flour (or oat flour)
1 ¼ cups 185g of gluten free flour mix
½ teaspoon 2.4g baking soda
1 ½ teaspoons 7.2g baking powder
½ teaspoon cinnamon, optional
¾ teaspoon 4.2g sea salt
2 teaspoons orange zest
1 ½ cups 360ml cashew milk (or any nut milk)
2 teaspoons 10ml apple cider vinegar or white vinegar
1 tablespoon 15ml orange juice
¼ cup 44g unmelted melted vegan butter
½ teaspoon 2.5ml vanilla extract
2 tablespoons 30ml maple syrup
½ cup 50g fresh or frozen cranberries
Cranberry Maple Compote
½ cup 120ml maple syrup (or agave)
¼ cup 25g fresh or frozen cranberries
2 teaspoons orange zest
Instructions
Vegan Orange Cranberry Waffles
Mix the cashew milk and apple cider vinegar together. Let sit for at least 3 minutes to create a vegan buttermilk.

In a large bowl, mix the oat flour, gluten free flour, baking soda, baking powder, cinnamon, sea salt and orange zest together. Set aside.

In a smaller bowl, mix all the vegan buttermilk, orange juice, the melted vegan butter, the maple syrup and the vanilla extract.

Pour the wet ingredients into the dry and mix until combined.

Turn on and preheat your Calphalon IntelliCrisp Waffle Maker according to which done level that you want. I set mine two dials before max because I like mine crisp and brown but also very fluffy.

When preheated, use a ½ cup/125ml measuring cup, scoop out some batter and pour/spread into the middle of each side of the waffle maker (so ½ cup per side). You don't need to push it to the edges. Close and remove when the timer on Calphalon IntelliCrisp Waffle Maker is finished and the waffle maker beeps.

Remove each waffle and place on a baking sheet in your oven or toaster oven on "warm" or 200F/95C to keep warm and crispy until finished with the entire batter. Continue with the rest of the batter.

While the waffles are being made, you can prepare your Cranberry Maple Compote.
Cranberry Maple Compote
Add all the ingredients to a pot over high heat. Bring the ingredients to a boil until cranberries begin to pop, and then remove from heat. Allow to cool while cooking the rest of the waffles.


Serve with the waffles and enjoy!
Calories: 335kcal, Carbohydrates: 57g, Protein: 6g, Fat: 10g, Saturated Fat: 2g, Sodium: 593mg, Potassium: 157mg, Fiber: 5g, Sugar: 22g, Vitamin C: 5mg, Calcium: 123mg, Iron: 2mg
Disclaimer: Although jessicainthekitchen.com attempts to provide accurate nutritional information, kindly note that these are only estimates. Nutritional information may be affected based on the product type, the brand that was purchased, and in other unforeseeable ways. Jessicainthekitchen.com will not be held liable for any loss or damage resulting for your reliance on nutritional information. If you need to follow a specific caloric regimen, please consult your doctor first.