Vegan Snickerdoodle Cookies (Thick & Soft)
These Vegan Snickerdoodle Cookies are SO good! They're soft-batch, thick and fluffy, and gluten-free! They're easy to make and so cinnamon-y!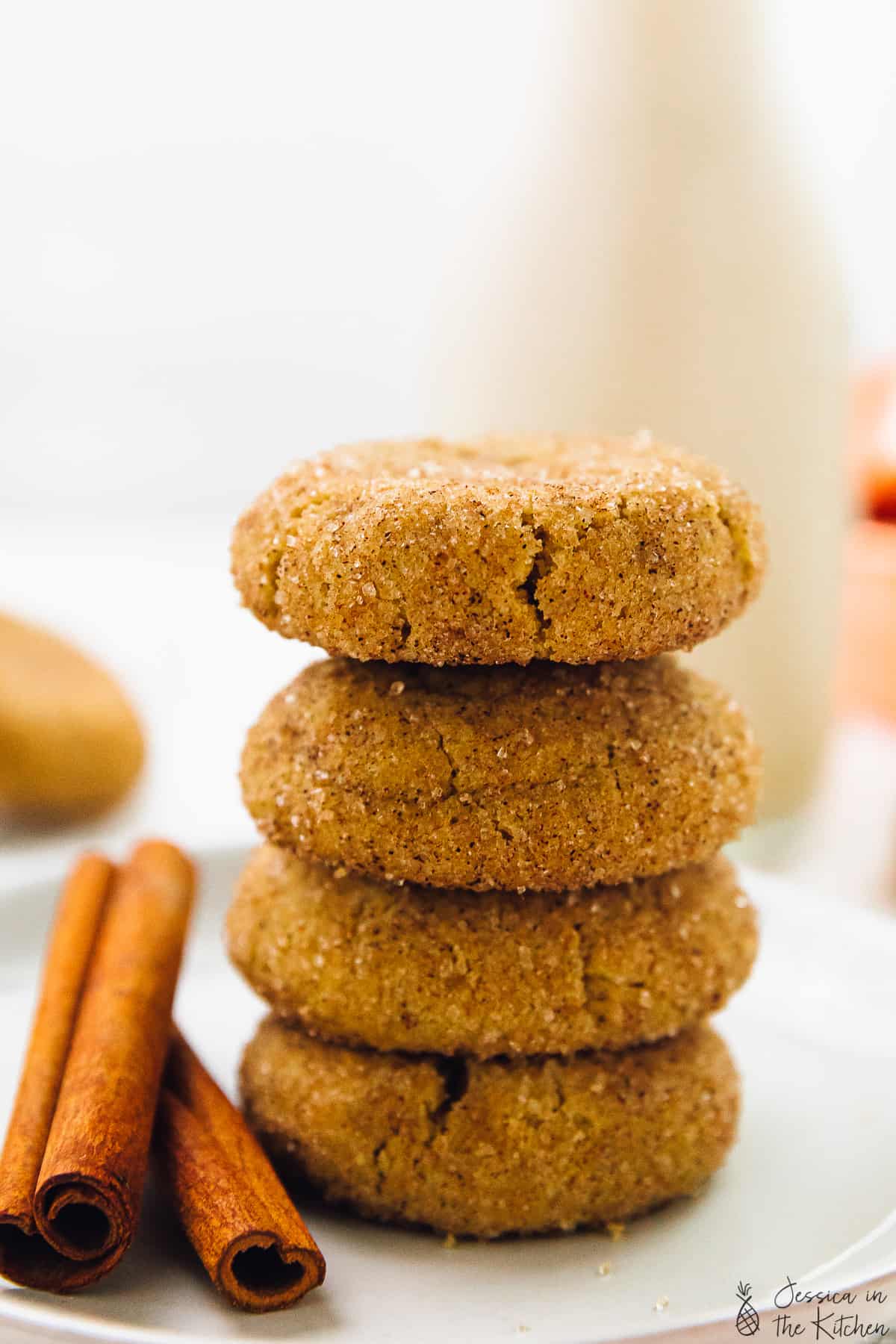 Before I make almost any "traditional" recipe, I usually google it's Wikipedia page first. I like to ensure that I'm keeping it as close to the original definition as possibly, of course while making it vegan and usually gluten free. Imagine my amusement when I found out that "snickerdoodle" is either a German word, or a totally made up nonsense word. Can you say – relatable? I'm pretty sure I make up a new word every week. Wondering when one of mine will be used for something famous in the future?
All that said, starting this way also boosts my brain into learning mode. I love doing that because it helps me to really get into the groove of recipe development. I feel ready to dive in, and throw on some music or in this season's case, a Christmas movie. The result? A recipe development session that is fun for me. And for you? Vegan Snickerdoodle Cookies!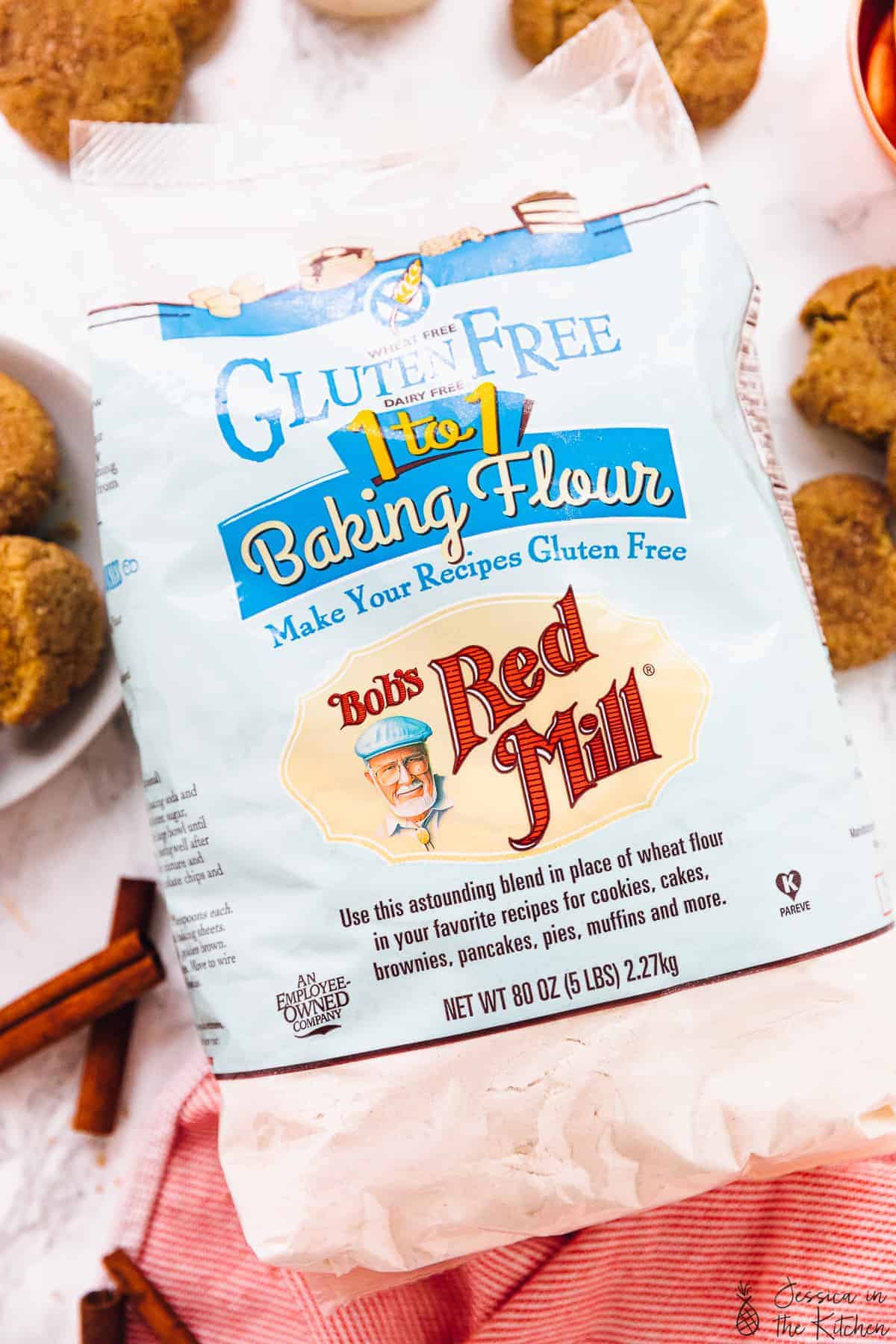 Friends, these Vegan Snickerdoodle Cookies! They are soft-batch, thick and fluffy and man are they good. I am so in love with this flavour that I already know I'll be making these again very soon. They're loaded with so much yummy cinnamon-y flavourful and so great for the holidays. These are some easy to make, no nonsense (see what I did there?!) cookie thanks to Bob's Red Mill Gluten Free 1-to-1 Baking Flour.
Honestly, Bob's Red Mill has changed the way that I bake gluten free. It's the only gluten free flour mix (plus dozens on their other products) that I use and years (aka tried and true in all my gluten free recipes) later, I am still incredibly satisfied with it. It swaps out 1-to-1 so easily that I've made my popular vegan brownies with it too! I'm telling you – it blends so beautifully in these Vegan snickerdoodle cookies. Perfect for a holiday so that everyone can enjoy these cookies!!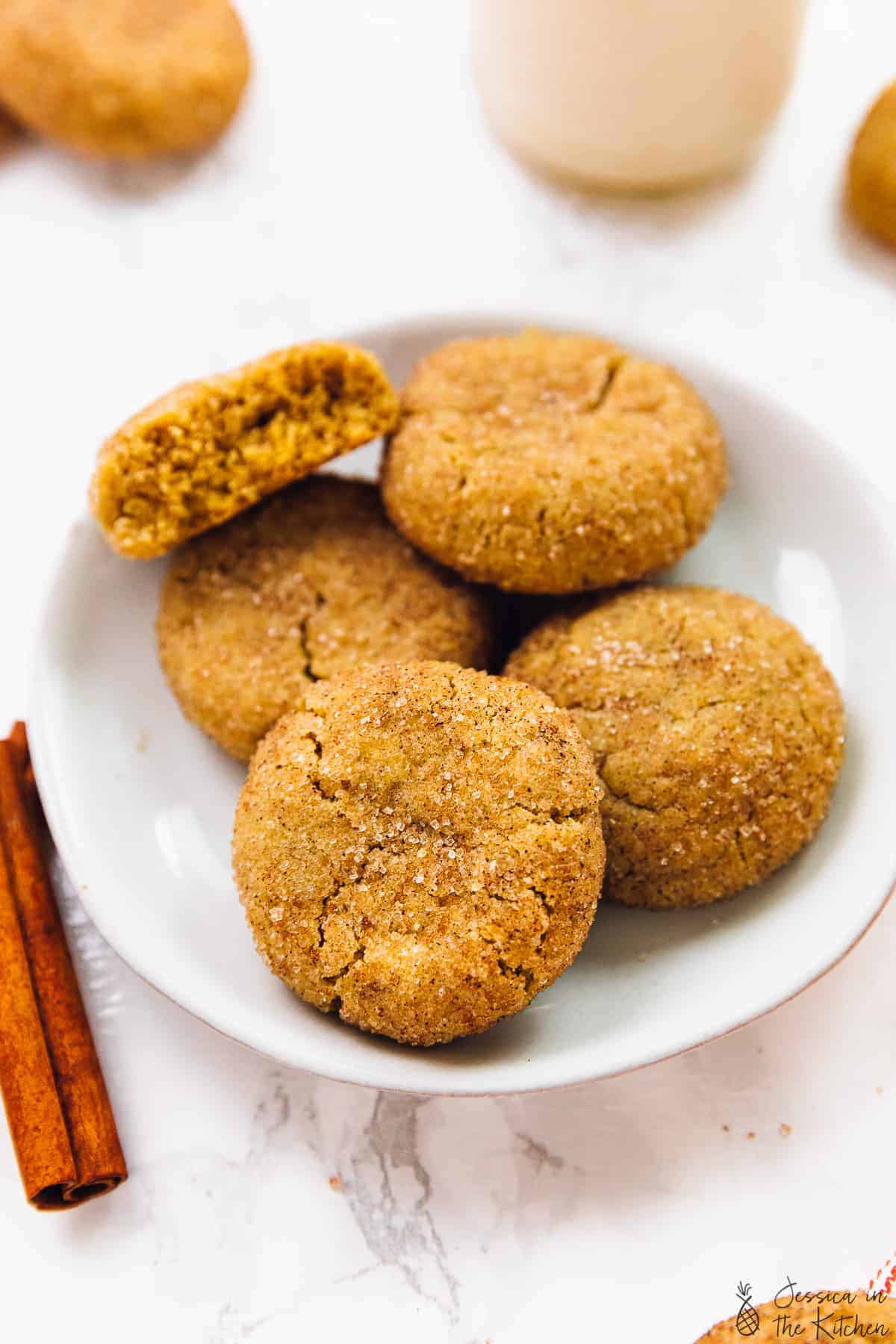 Speaking of which – what are your holiday plans? I would love to know in the comments section so that we can spread the holiday cheer! We're going away as a family for Christmas and I am SO excited! I'll keep it a secret until we reach but let's just say I'm ready!!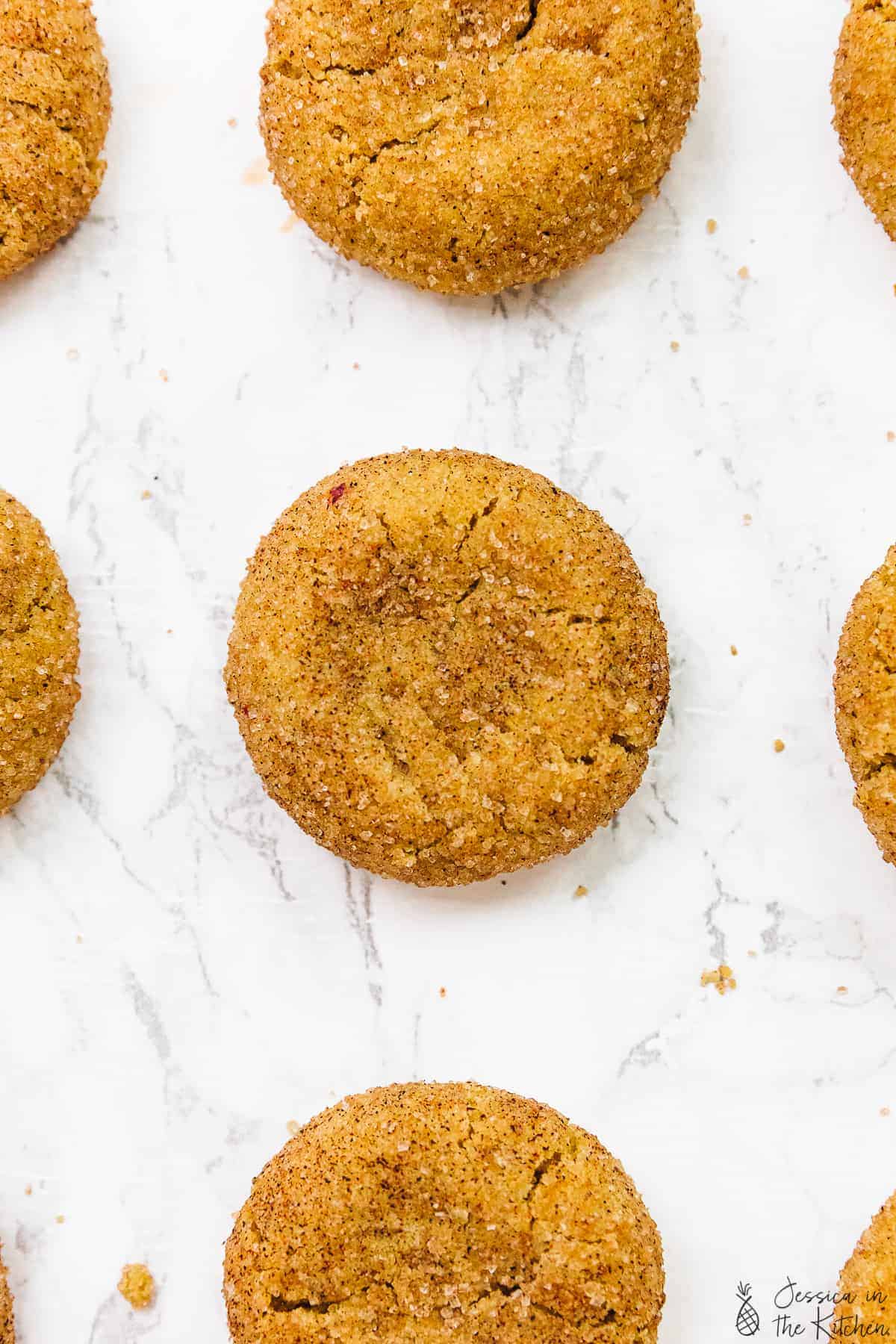 I hope you enjoy these beautiful cookies and that you check out Bob's Red Mill Gluten Free 1-to-1 Baking Flour. It's such a staple in our household that I literally cannot wait for you to try it for it to change your life! If you use it – you know what I mean! Enjoy friends!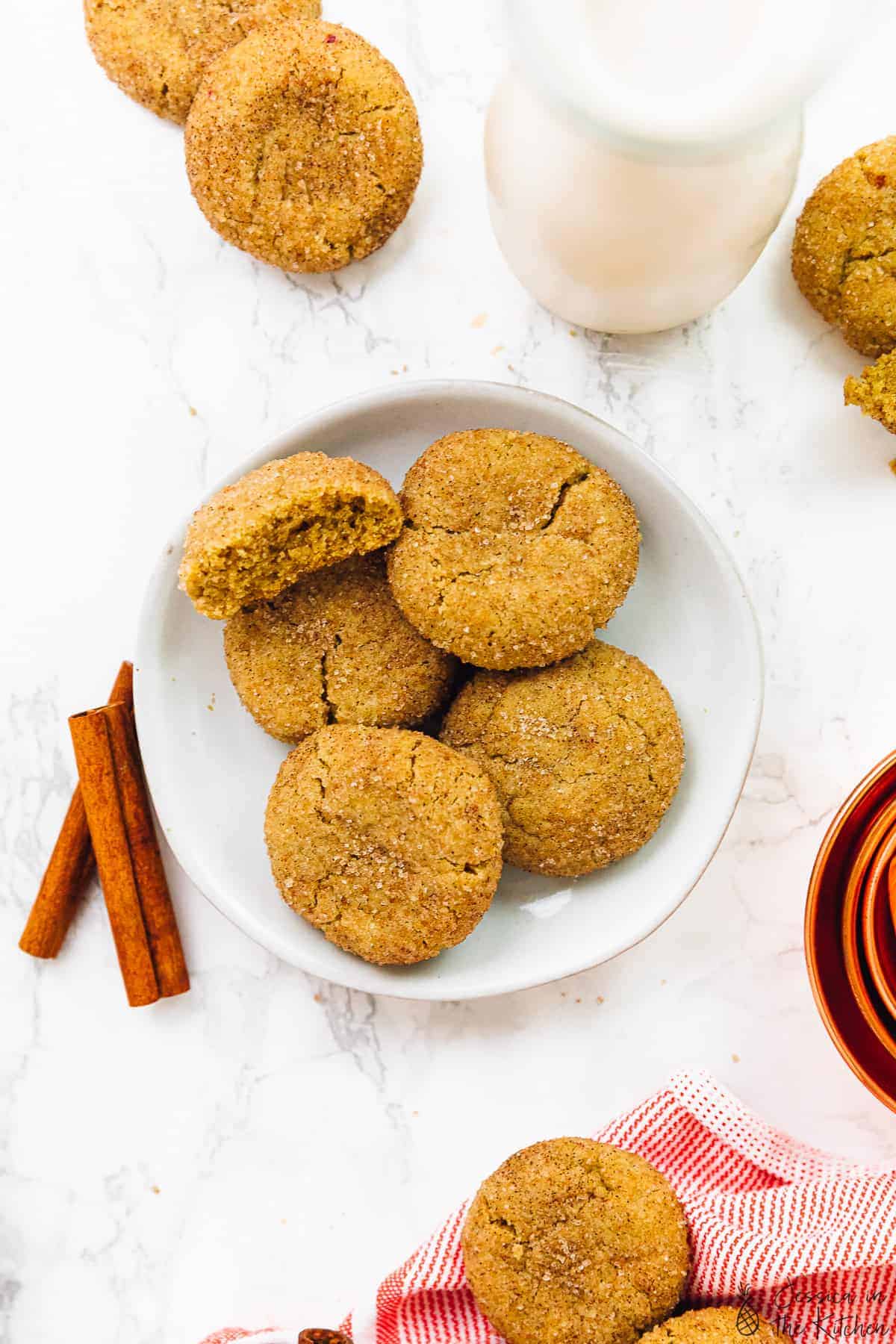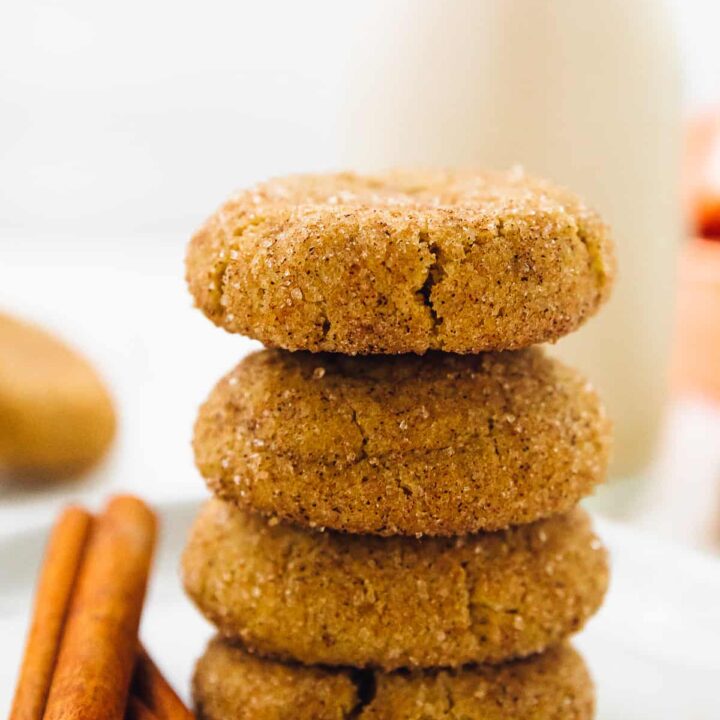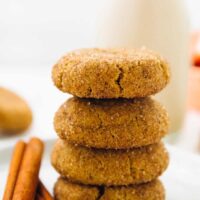 Vegan Snickerdoodle Cookies (Thick & Soft)
These Vegan Snickerdoodle Cookies are SO good! They're soft-batch, thick and fluffy, and gluten free! They're easy to make and so cinnamon-y!
Ingredients
Cinnamon Sugar Coating
¼ cup cane sugar (for rolling), (48g) or any sugar
2 teaspoons cinnamon
Snickerdoodle Cookies
2 ½ cups Bob's Red Mill Gluten Free 1-to-1 Baking Flour, (370g)
1 ½ teaspoons cream of tartar
1 teaspoon baking soda
1 teaspoon ground cinnamon
½ teaspoon sea salt
½ cup cane sugar, (96g) or any sugar
½ cup organic brown sugar, (96g) or any sugar
1 cup vegan butter, softened to room temperature* (226g)
2 Bob's Red Mill Egg Replacer egg substitutes** , or 2 flax eggs
1 teaspoon vanilla extract
Instructions
Cinnamon Sugar Coating
In a bowl, add the sugar for rolling the cookies in. Set aside.
Snickerdoodle Cookies
In a large bowl, using a stand or hand mixer, cream the sugar and butter in a large bowl for at least 5 minutes until creamed and combined. Scrape down the bowl, and mix in the egg replacement, and the vanilla and blend again for another minute.

Add the flour mixture into the mixture mixture in 3 different portions, mixing each time for about 15 seconds. Scrape down the bowl again and mix one more time.


Gather the dough together into a ball and place the container in the fridge while the oven preheats. Preheat the oven to 350°F/180°C degrees.

Once preheated, take the dough out the fridge. Using a 1 tablespoon scoop, scoop the dough and roll into a ball. Roll each cookie dough in the sugar cinnamon mixture to coat thoroughly. Place on a cookie sheet line with a silicone baking mat (you will need more than one if making the entire recipe), allowing 3 inches of space between each cookie.

Press down cookies slightly before baking. Bake for 12 minutes for slightly crisp on the outside and soft on the inside. Don't overbake!

Remove from oven and allow to cool on the baking sheet for at least 2-5 minutes outside of the oven, then transfer to a wire rack to cool for ten more minutes. You don't want to disturb them before that - the cookies are still cooking from the residual heat. Serve and enjoy! Store the cookies in an air tight container once cooled.
Notes
Notes *Most vegan butter is salted! If you use unsalted, compensate it with more sea salt. **Bob's Red Mill's Egg Replacer powder is my FAVOURITE egg replacement for baking, especially cookies!
You can easily half this recipe and I did for the photos above. The cookies are small and very easy to share with family and friends. You can substitute coconut sugar for these, but I didn't use them since I didn't want it to overpower the cinnamon flavour.
Calories: 186kcal, Carbohydrates: 27g, Protein: 2g, Fat: 9g, Saturated Fat: 2g, Sodium: 208mg, Potassium: 53mg, Fiber: 2g, Sugar: 15g, Vitamin A: 479IU, Calcium: 20mg, Iron: 1mg
Disclaimer: Although jessicainthekitchen.com attempts to provide accurate nutritional information, kindly note that these are only estimates. Nutritional information may be affected based on the product type, the brand that was purchased, and in other unforeseeable ways. Jessicainthekitchen.com will not be held liable for any loss or damage resulting for your reliance on nutritional information. If you need to follow a specific caloric regimen, please consult your doctor first.