Lentil Balls with Zesty Rice (Vegan Meal Prep)
These Lentil Balls with Zesty Rice are so versatile! They're easy to make, filled with flavour and so meal preppable!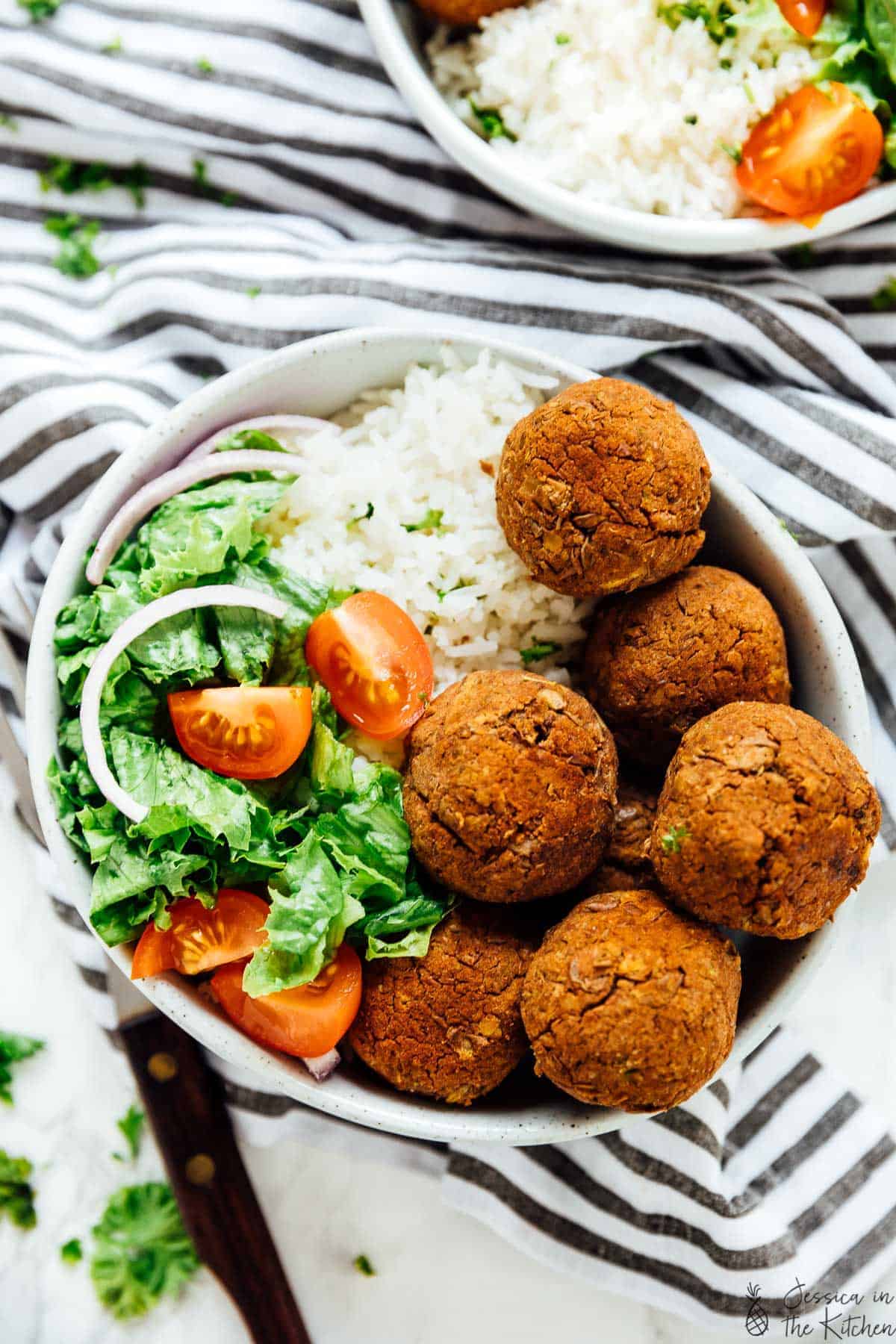 One of things that we are trying to do more in the new year is meal planning. You'd think being a food blog we would always have food in the fridge right? Except like in December aka dessert month on the blog, and as much as I would love to 🙂 I need to eat more meals than just desserts, ya know? That's where meal planning and meal prep comes in. While we tend to meal prep ingredients themselves (hello baked sweet potatoes), we also love recipes that produce lots of servings, thus making life so much easier. These Lentil Balls with Zesty Rice are so perfect for that, that it's now a part of our meal prep plan.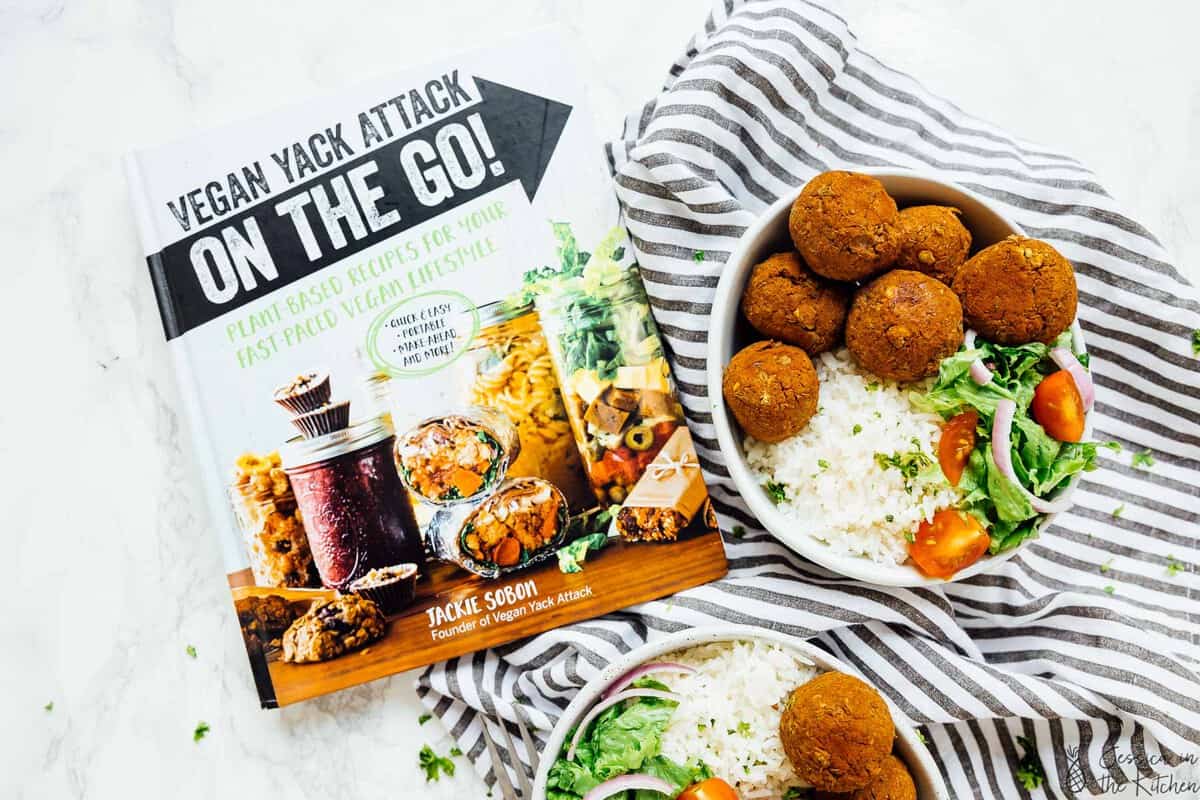 This recipe is from Jackie Sobon of Vegan Yack Attack's new cookbook: Vegan Yack Attack On The Go! #VYAonthego Firstly, this is such an amazing cookbook. Filled with amazing photos, evergreen recipes great for all year, that are easy, simple and taste AMAZING. I was psyched to share a recipe from Jackie's book and this one seemed so perfect. The whole point of Vegan Yack Attack On The Go! is to provide recipes if you're who (like me) is always on the go and want easy additions to make your plant-based life even easier! This recipe does just that.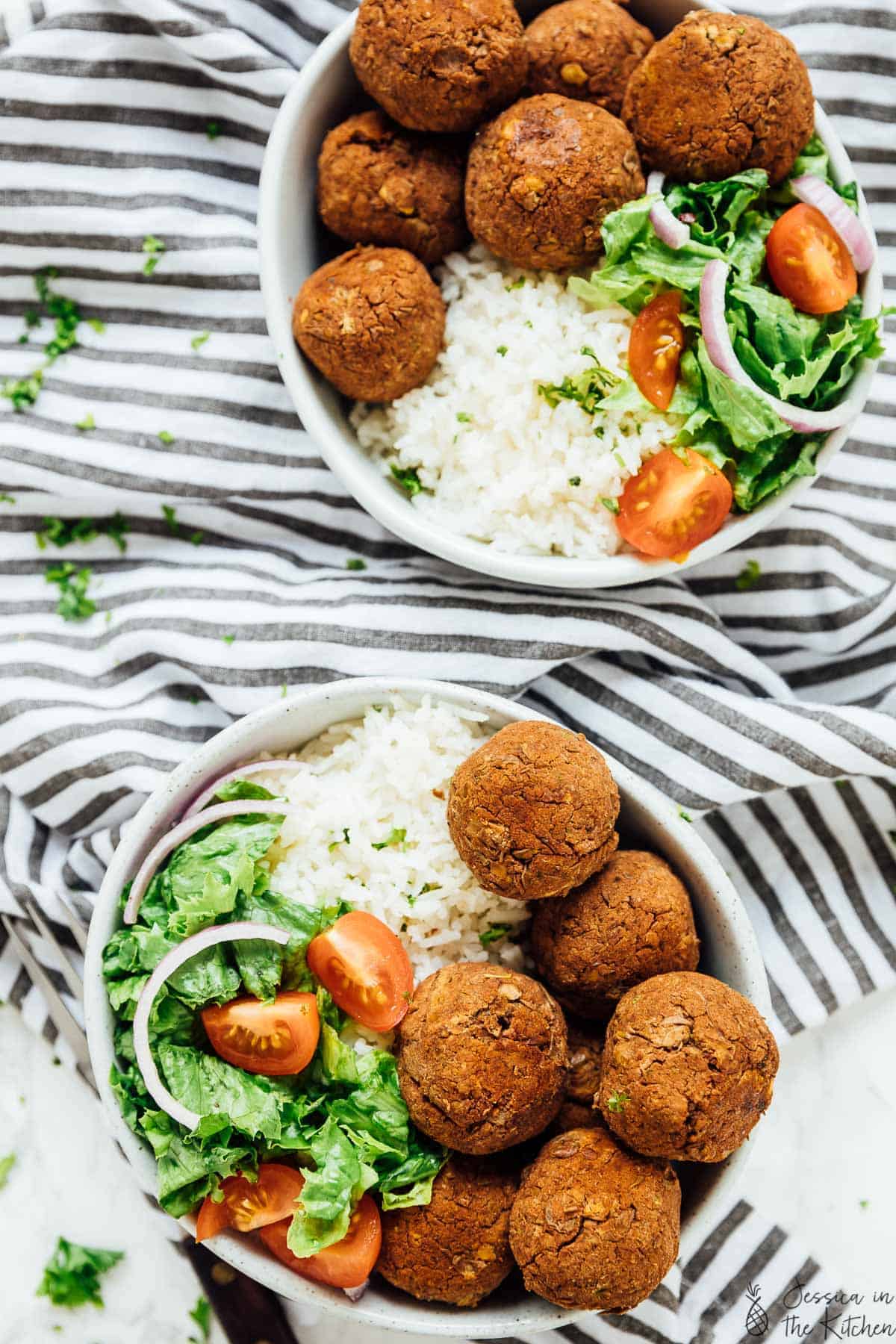 My favourite thing about these Lentil Balls is probably that they are so versatile. In this recipe, Jackie makes and serves them in almost like a Buddha bowl. We did this, but also tried them one day in the sauce from my sticky sesame mushrooms. They worked both ways so well, and by the time I went to get some, Gav had finished them all. Always an amazing sign.

I love the fact that the process to make these lentil balls is so easy. Blend, shape, bake. It means you can actually do these often, and it'll make four great servings. I don't usually eat rice, but I definitely loved the way Jackie treated this rice. It's such a nice and light flavour boost and looks so pretty too. This is just one of so many delicious and simple recipes from her cookbook Vegan Yack Attack On The Go! Also? This would make an AMAZING last minute Christmas gift.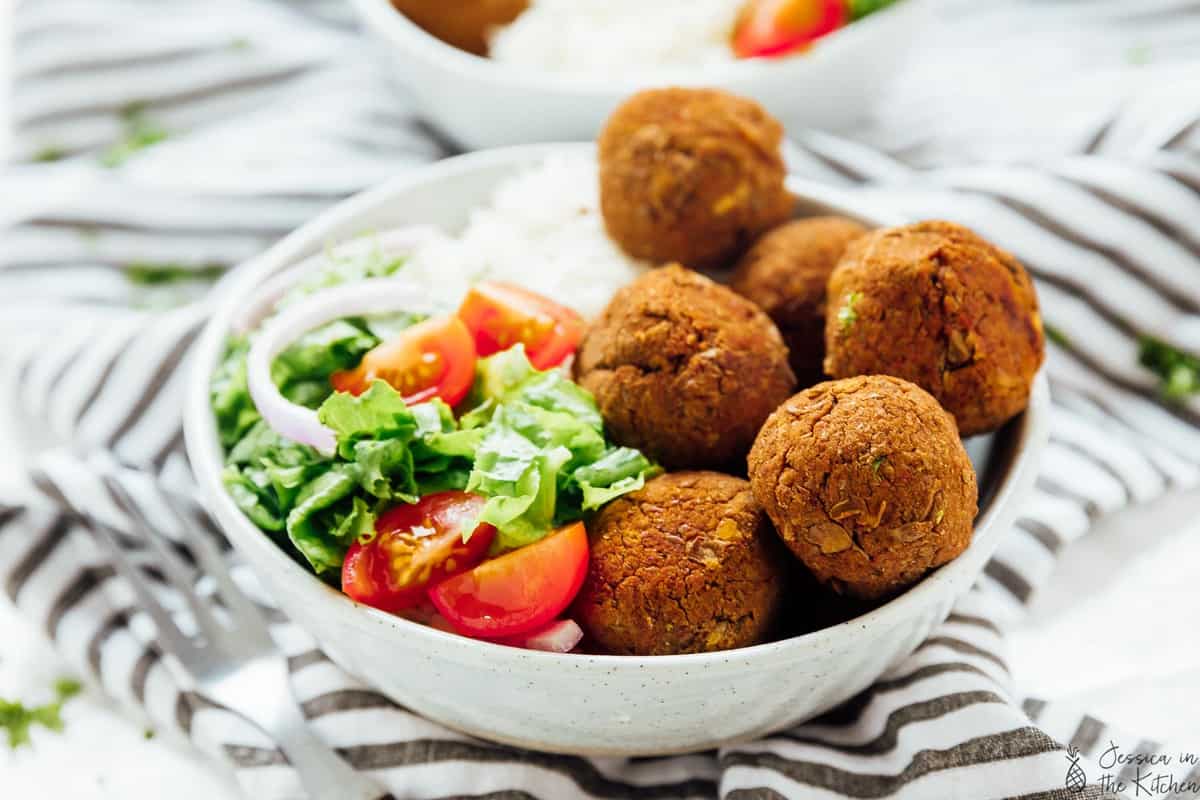 Be sure to check out Jackie's book friends and try this recipe! Enjoy!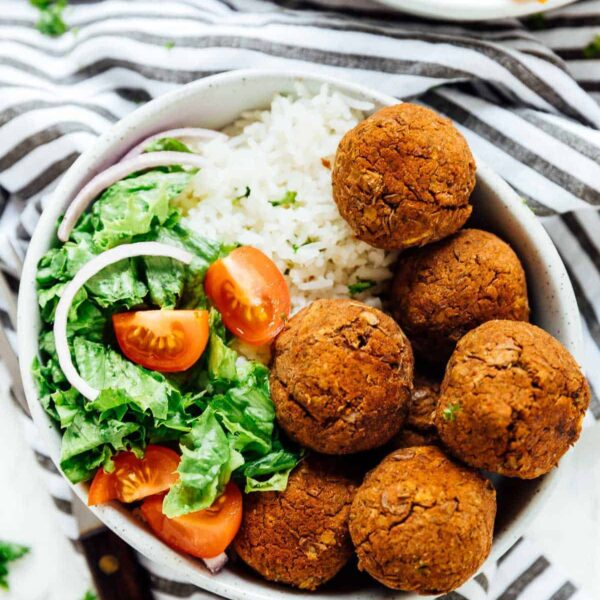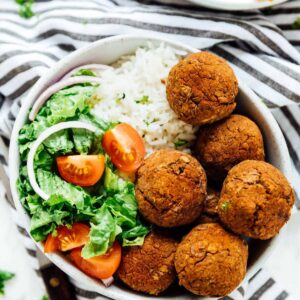 Lentil Balls with Zesty Rice (Vegan Meal Prep)
These Lentil Balls with Zesty Rice are so versatile! They're easy to make, filled with flavour and so meal preppable!
Ingredients
TO MAKE THE LENTIL BALLS:
2 cans, 30 ounces, or 850 g black or brown lentils, drained and rinsed
1 cup walnut halves, (100g)
3 tablespoons chopped dried mushrooms, (5g)
1½ tablespoons tomato paste, (25g)
3 tablespoons fresh parsley, (5g)
½ teaspoon black pepper
½ cup gluten-free bread crumbs, (80g)
FOR THE ZESTY RICE:
2 2/3 cups water, (635ml)
1 1/3 cups uncooked basmati rice, (255g)
2 tablespoons lemon juice, (30 ml)
1½ tablespoons minced fresh parsley, (5g)
2 teaspoons lemon zest, (4g)
1/8 teaspoon salt, or to taste
FOR THE ASSEMBLY:
2 cups chopped lettuce, (100g)
1 cup halved cherry tomatoes, (130g)
¼ cup slivered red onion, (35g)
4 lemon wedges
Instructions
TO MAKE THE LENTIL BALLS:
Preheat the oven to 375ºF (190ºC, or gas mark 5), and line a baking sheet with parchment paper or a silicone baking mat.

Place the lentils, walnuts, dried mushrooms, tomato paste, parsley, salt, and pepper into a food processor equipped with an S-blade. Pulse the mixture until it is broken down into smaller pieces, but is not yet a paste. Fold the bread crumbs into the lentil mixture until combined.Form twenty 2-tablespoon-sized (30 g) lentil balls with your hands, and place them on the baking sheet. Bake for 10 minutes, then flip them over, baking for an additional 10 minutes. Cool on a rack for 7 to 10 minutes before removing them.
TO MAKE THE ZESTY RICE:
In a pot, bring the water and rice to a boil over medium heat. Cover with a lid, and adjust the heat to medium-low. Simmer for 20 minutes, or until the rice is tender. Stir the lemon juice, parsley, lemon zest, and salt into the rice until evenly combined. Taste and add more salt, if preferred.
TO ASSEMBLE:
Combine lettuce, tomatoes, and red onions in a bowl, then divide it between 4 plates or containers. Then, divide the rice and lentil balls between each plate. Garnish with a lemon wedge and serve.
Notes
Tip: The lentil balls can be made in bulk in advance, then frozen for later use!Sometimes bean balls are served with a sauce, but I love this lighter version with zesty rice and salad. The lemon brightens the dish from what is usually a rich recipe. Going light makes this dish versatile, and something that can be enjoyed in warmer months! Vegan Yack Attack On The Go! © 2018 Quarto Publishing Group USA Inc. Text © 2018 Jackie Sobon. First Published in 2018 by Fair Winds Press, an imprint of The Quarto Group, 100 Cummings Center, Suite 265-D, Beverly, MA 01915, USA.
Calories: 338kcal, Carbohydrates: 35g, Protein: 9g, Fat: 20g, Saturated Fat: 2g, Sodium: 141mg, Potassium: 432mg, Fiber: 5g, Sugar: 5g, Vitamin A: 833IU, Vitamin C: 32mg, Calcium: 58mg, Iron: 2mg
Disclaimer: Although jessicainthekitchen.com attempts to provide accurate nutritional information, kindly note that these are only estimates. Nutritional information may be affected based on the product type, the brand that was purchased, and in other unforeseeable ways. Jessicainthekitchen.com will not be held liable for any loss or damage resulting for your reliance on nutritional information. If you need to follow a specific caloric regimen, please consult your doctor first.