Vegan Blueberry Muffins (How to Use Cassava Flour)
These Vegan Blueberry Muffins are fluffy, bursting with blueberry flavour and are gluten free! They're made with cassava flour – read on for more tips on how to perfectly use this flour!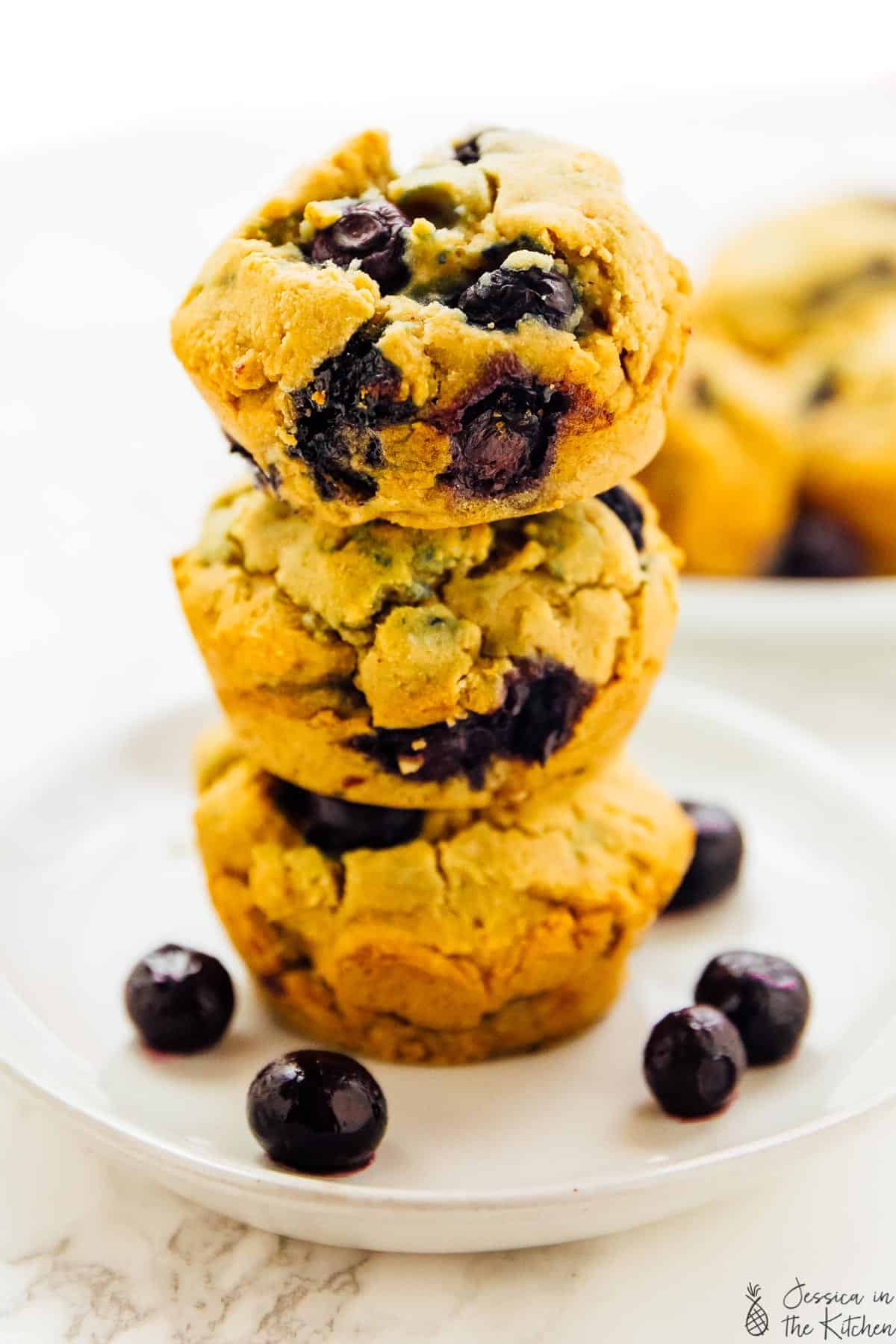 Welcome to my first new recipe of 2019 – these Fluffy Vegan Blueberry Muffins! If you guys have been following along then you know that a lot has changed for me since 2019. We've MOVED, I'm dedicating this year to "finding myself (see OOTK post), I cut A LOT of my hair off, and I have some really exciting plans coming up! With so much going on, one thing hasn't changed – my mission to always bring the very best recipes to you. As you guys know, both Gavin and I are vegan, and we keep a mainly gluten free house. I know that you guys have been asking for more breakfast items/healthy desserts, and the first thing that came to my mind was a staple – Blueberry Muffins.
Growing up, Blueberry Muffins were my favourite muffins. Of course then they weren't gluten free or vegan, and certainly not paleo. I wanted to create a new version, and I believe a better version – that'll not only delight your tastebuds but also suit your dietary needs without any weird tastes or side effects. I'm happy to say that these Blueberry Muffins hit it OUT of the park.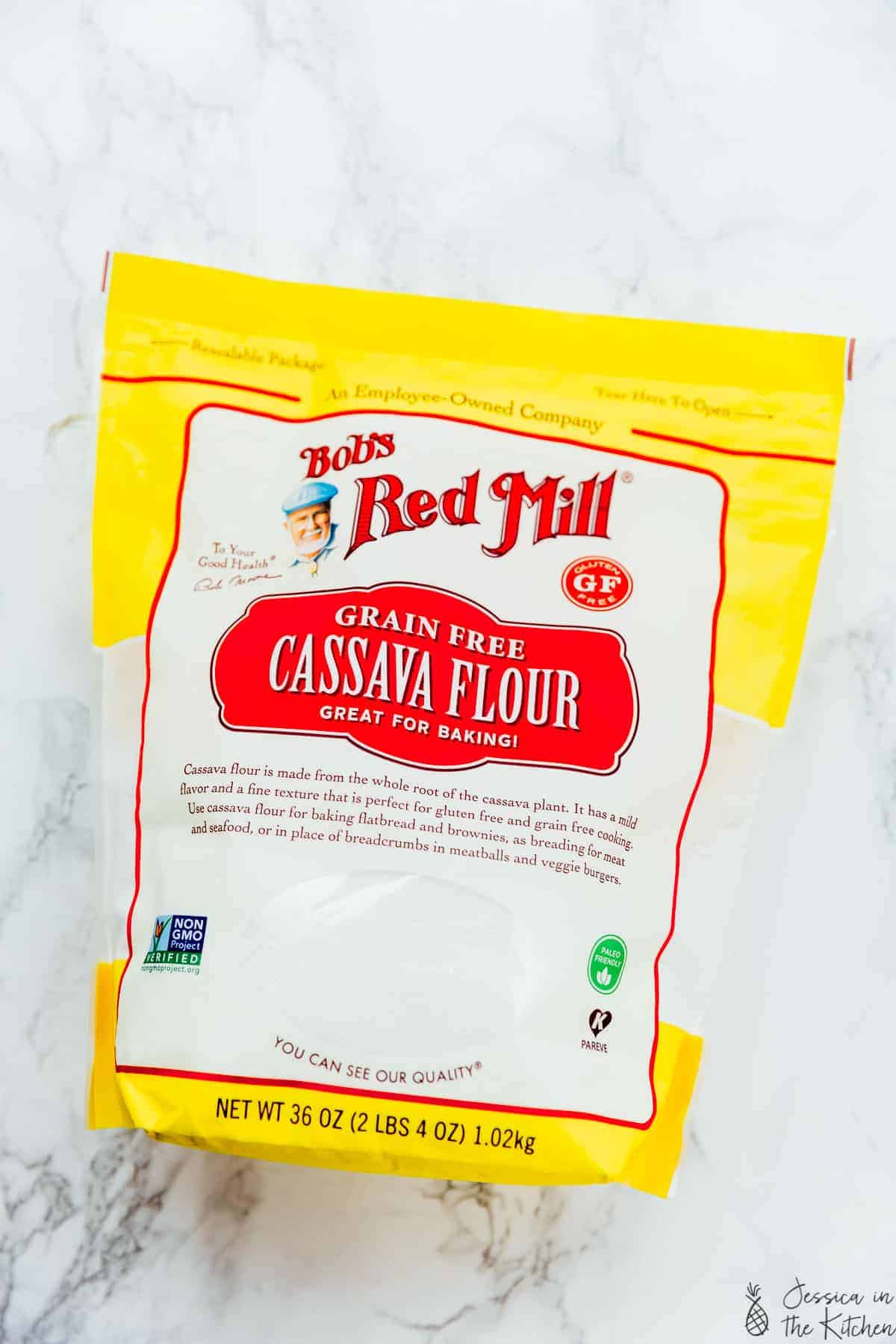 Although I have so many gluten free flours in the house (literally all by Bob's Red Mill), I haven't experimented that much with lot of them. That all changed when I got to try out cassava flour. Fun fact: I grew up with cassava, so when the cassava flour wave started, I was probably more shocked than other people at its capabilities as a flour. I've only known cassava to be used one way – boiled. Needless to say I've been interested, and in the interest of 2019 experimentation + you guys asked for cassava recipes, I gave it a go.
Friends – cassava flour is MAGICAL. Cassava flour is made from the whole root of the ground provision cassava, which is a starchy tuberous root. The Cassava Flour that I've been using is from Bob's Red Mill, which as you know is my favourite company for gluten free flours, egg replacers, oats and SO many more vegan and gluten free life staples. I've been a Bob's Red Mill Ambassador for a while and I'm so happy to be continuing into 2019 as an ambassador again! Bob's Red Mill's Cassava Flour is so beautifully fine in texture, paleo and whole30 friendly, gluten free, and best of all for me: has a NEUTRAL flavour.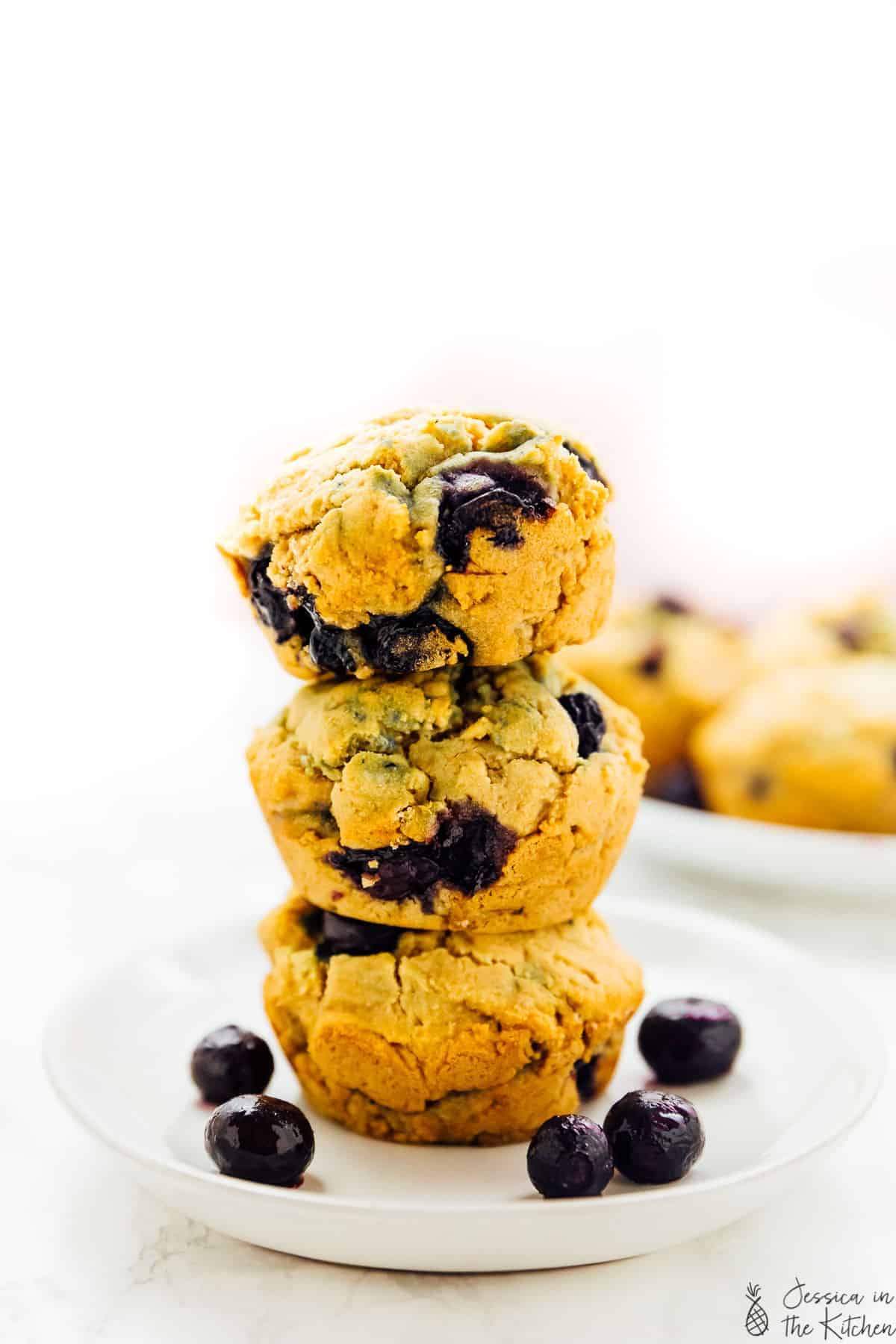 That was a very welcome surprise because I definitely swapped it 1:1 to a few other gluten free recipes that I have and it worked out perfectly. The fine texture really makes it so much like wheat flour, with that neutral flavour! It's the first thing I said to Gav after I made these blueberry muffins – "These are SO good. I don't even taste the cassava."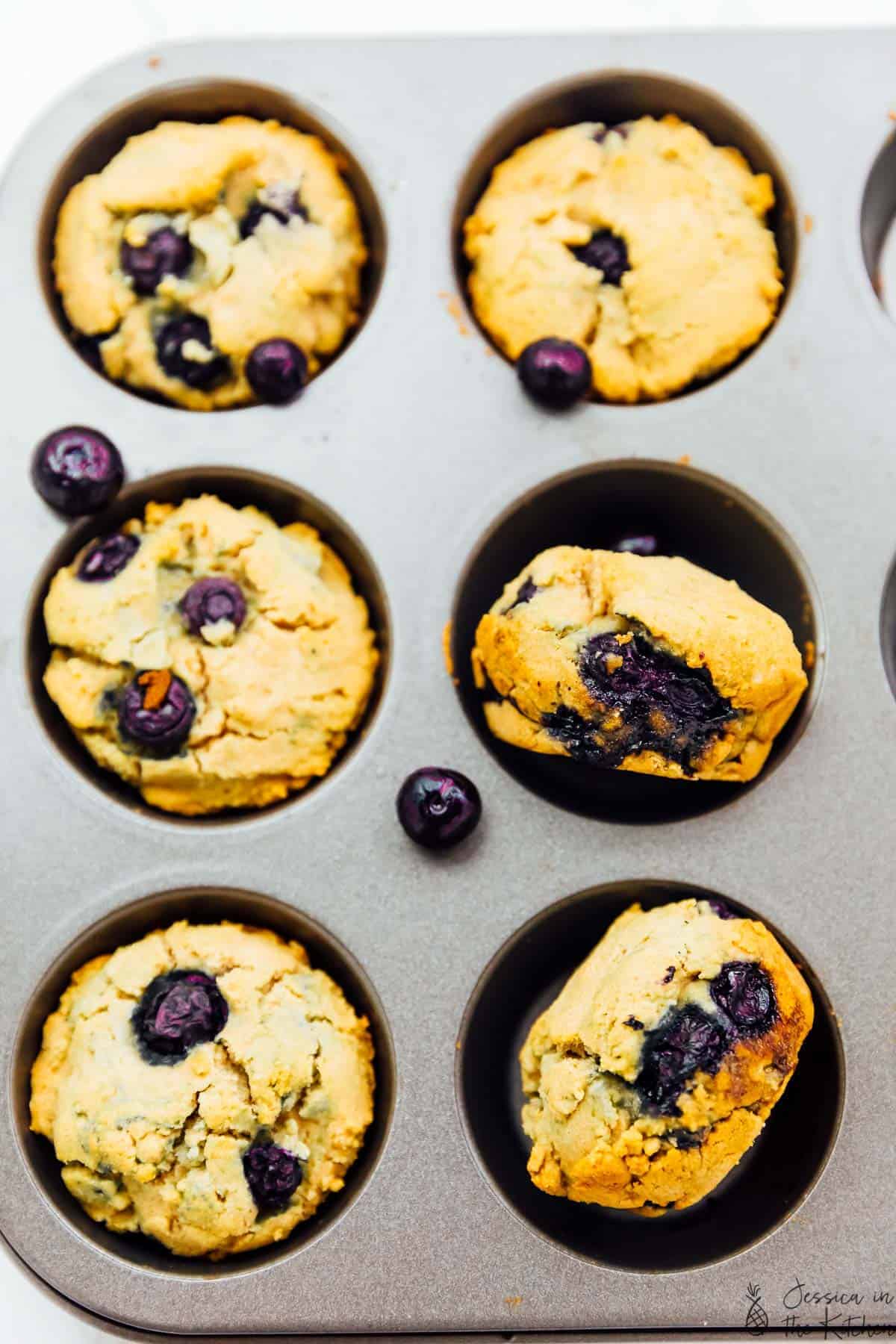 Friends – Get your hands on a bag or three of this Bob's Red Mill Cassava Flour. Be as shocked and happily surprised as I was. Then eat a few muffins. I can't wait to try it in a few more recipes!
CASSAVA FLOUR TIPS:
Go with a trusted brand. For me, that's always Bob's Red Mill. Sure, this blog post is sponsored, but we use Bob's Red Mill products every single day. Going with a trusted brand means no weird surprises.
This flour is very fine, which means it locks up a lot in a mixer. I prefer to fold in it, then turn on the mixer, so there isn't flour flying everywhere.
I recommend doing the 1:1 swapping from other gluten free recipes, but note that you should just start with following cassava flour recipes. For example, cassava flour and tapioca flour would not swap well. But for example, you could probably swap it with most of my recipes that use Bob's Red Mill Gluten Free 1:1 Baking Flour. If you're doing it from a non gluten free recipe, just experiment. Cassava flour absorbs liquid a lot, so just keep that in mind (don't over add essentially). I would start with a recipe you know and love, so you know how to expect the batter to look!
Cassava flour does lend itself to a chewier texture, perfect for breads, pizza doughs and of course – muffins!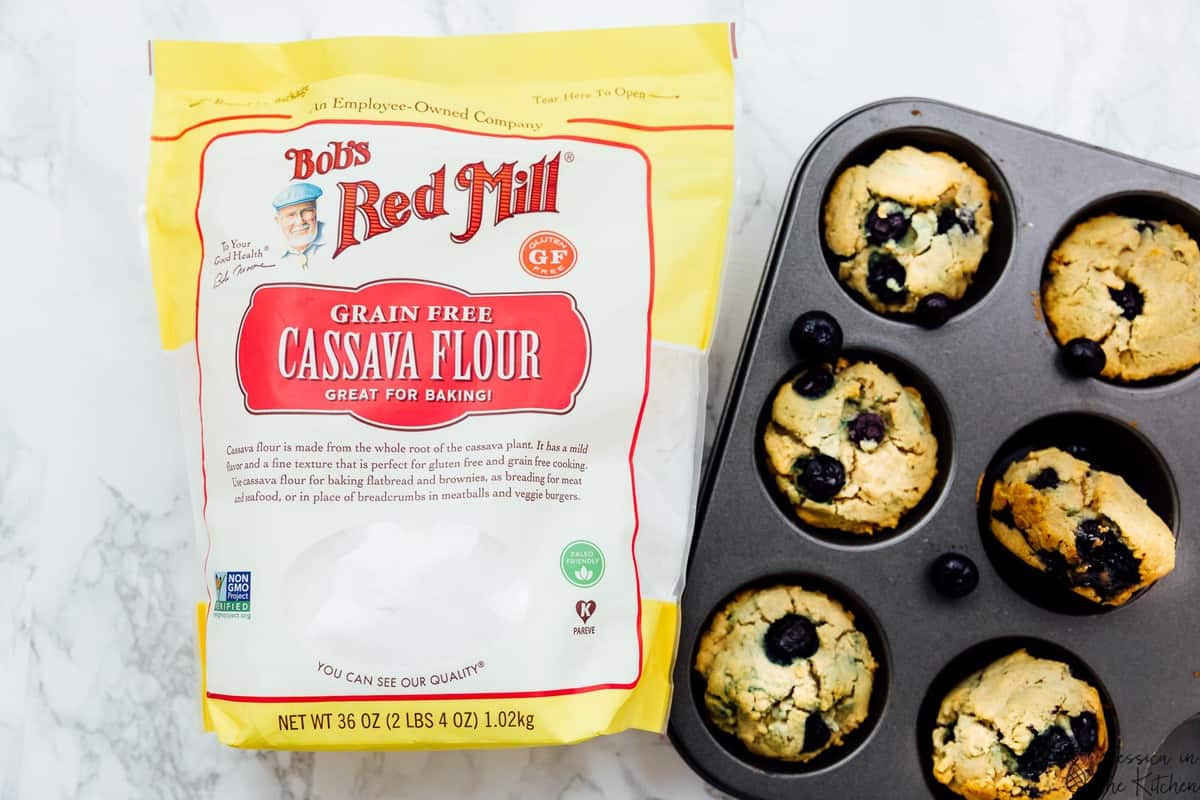 Enjoy, friends!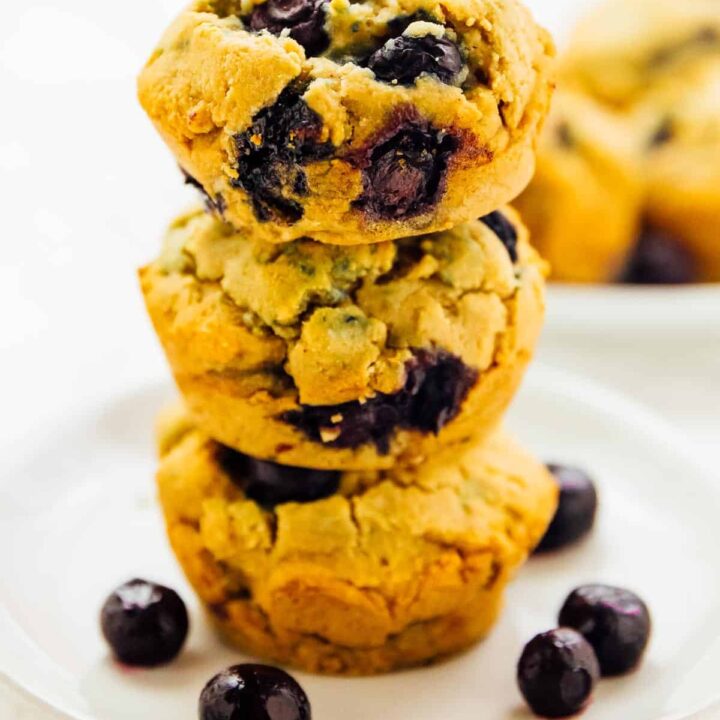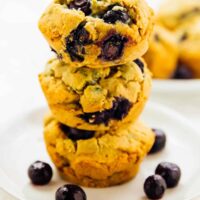 Vegan Blueberry Muffins (How to Use Cassava Flour + tips & tricks!)
These Vegan Blueberry Muffins are fluffy, bursting with blueberry flavour and are gluten free! They're made with cassava flour - read on for more tips on how to perfectly use this flour!
Ingredients
¼ cup 52.2g coconut oil
1 cup 192g cane or coconut sugar
1 cup 240ml soy milk or other nut milk
2 teaspoons apple cider vinegar
2 cups 280g Bob's Red Mill Cassava Flour
2 teaspoons baking powder
½ teaspoon baking soda
1 teaspoon sea salt
1 Bob's Red Mill Egg Replacer equivalent
2 teaspoons vanilla extract
1/2 teaspoon lemon extract, optional
1 cup fresh or frozen blueberries*
Instructions
Preheat oven to 425°F/220°C. Spray a muffin pan with non-stick flour spray or rub with vegan butter and dust with cassava flour, removing excess.

Mix the soy milk and the apple cider vinegar together and set aside to create a vegan buttermilk.

In a bowl of a mixer, mix the coconut oil, sugar, vanilla extract, lemon extract together for about 3 minutes. After that add the Bob's Red Mill Egg Replacer and combine for another 30 seconds, scraping down the bowl.

While that's mixing, in another small bowl, mix the Bob's Red Mill Cassava Flour, baking powder, baking soda and sea salt.

Add the flour mixture to the bowl, alternating with the soy milk until finished, ending with the flour. I did it in sets of three.

Toss the blueberries in some cassava flour, then fold into the batter lightly, so as to not streak too much blueberry all over it. Fold until combined.

Using a 1/4 cup measuring cup, pour the batter into each of muffin hole; they should be filled about 3/4 way high. Alternatively, you can just fill 10 muffin holes for slightly larger muffins. Fill in the muffin tins with any extra batter, and smoother over. The blueberries are chunky so be sure to smooth it over to ensure the best looking muffins.

Bake for 5 minutes, then reduce the temperature to 350 degrees and bake for another 18-20 minutes until a toothpick inserted into a muffin comes out clean. Remove from oven and allow to cool in pan for about 10 minutes. Remove (I just use the same toothpick or a knife) and place on a wire rack to cool completely.
Notes
Notes I generally prefer fresh fruit since it's easier to control, temperature wise. If you can get fresh blueberries, I recommend it!
Calories: 169kcal, Carbohydrates: 30g, Protein: 1g, Fat: 5g, Saturated Fat: 4g, Sodium: 351mg, Potassium: 20mg, Fiber: 1g, Sugar: 11g, Vitamin A: 7IU, Vitamin C: 2mg, Calcium: 71mg, Iron: 1mg
Disclaimer: Although jessicainthekitchen.com attempts to provide accurate nutritional information, kindly note that these are only estimates. Nutritional information may be affected based on the product type, the brand that was purchased, and in other unforeseeable ways. Jessicainthekitchen.com will not be held liable for any loss or damage resulting for your reliance on nutritional information. If you need to follow a specific caloric regimen, please consult your doctor first.