One-Bowl Vegan Banana Bread
This Vegan Banana Bread is so easy to make, you only need one bowl and simple pantry ingredients to pull it off! It's super moist and tender, with a hint of vanilla to complement the banana flavor.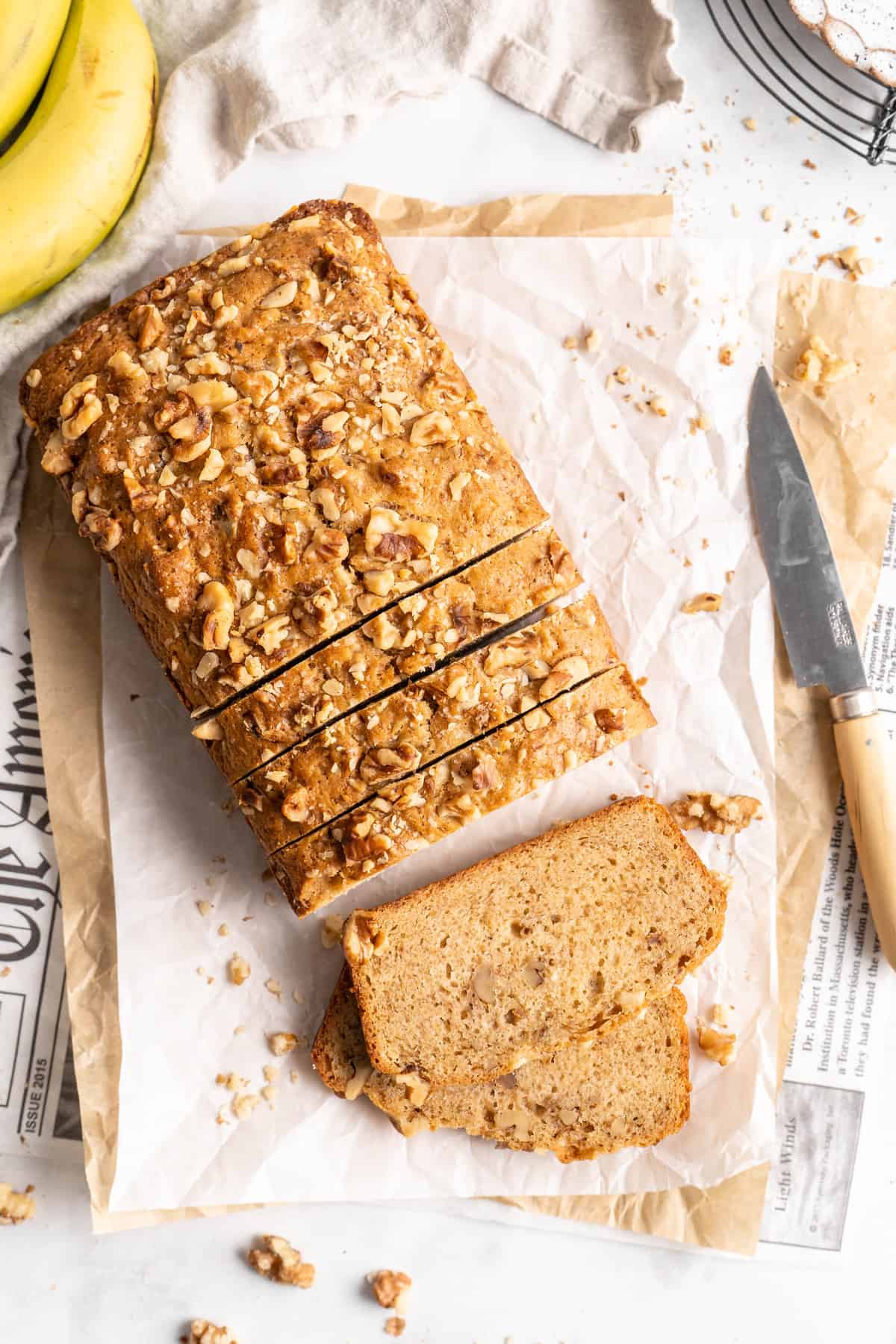 No matter how much you love to bake, cleaning up is a slog. Most recipes require two mixing bowls, and some even have you using three or four. That's why this one-bowl vegan banana bread is such a treat. You can get homemade banana bread without a sink full of bowls to wash afterwards, and you can do it all with simple pantry ingredients.
It's also a treat because, well, it's a treat—it tastes amazing! I add extra vanilla to my banana bread; it's not enough to compete with the banana flavor, but just enough to complement it. If you like, you can add chopped nuts, chocolate chips, or cinnamon for a spiced bread, but you can't go wrong making the recipe without any embellishments either.
Sometimes simple is best. Especially when it comes to banana bread.
(PS – For an even speedier take on banana bread, try my Banana Bread Mug Cake!)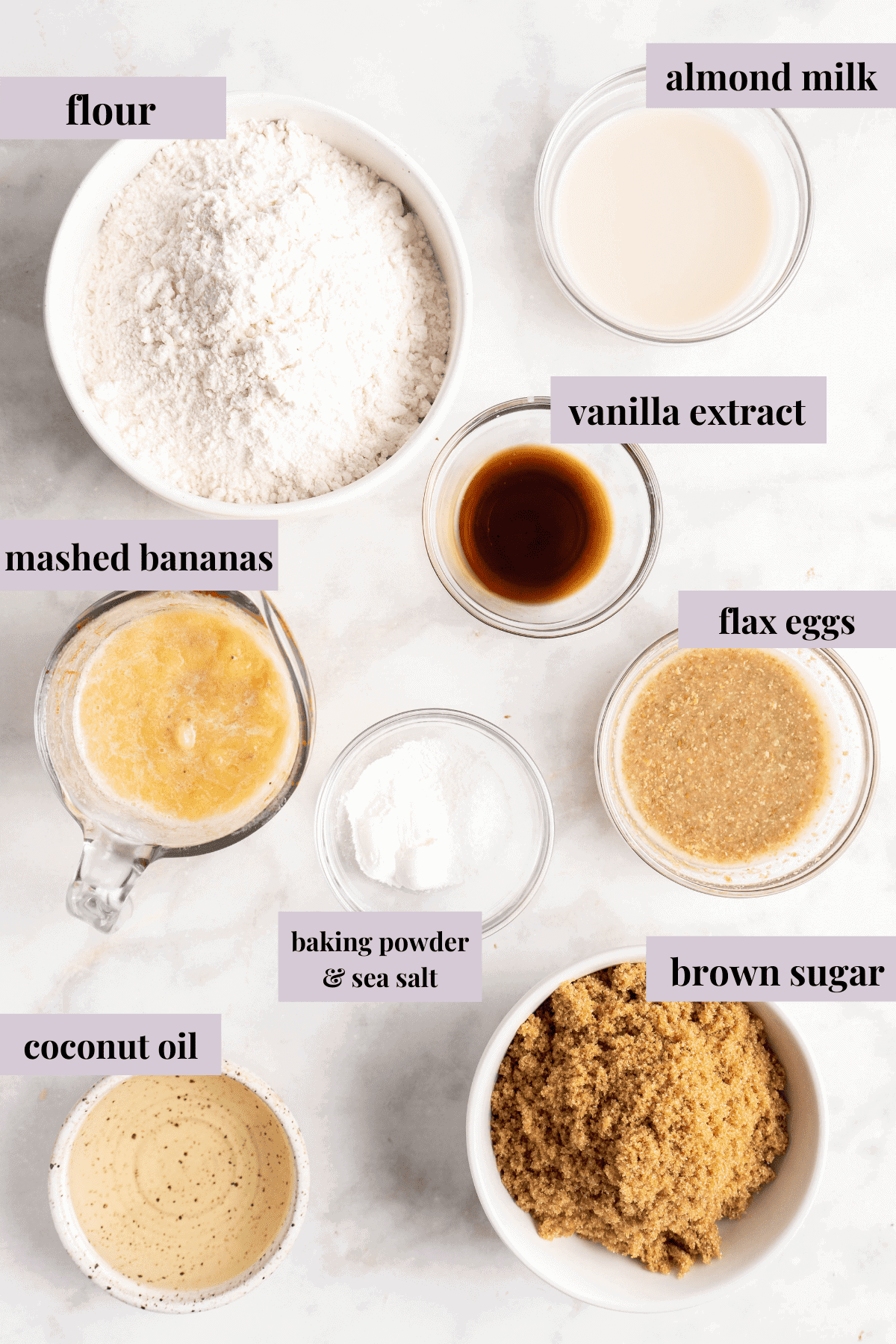 Notes on Ingredients
Please note that this is important information on the ingredients and instructions and the FULL recipe with amounts and details can be found DOWN BELOW (scroll to it) in the recipe card.
Brown or coconut sugar
Coconut oil – I used coconut oil, but feel free to use any oil you have on hand. Note that if you use virgin coconut oil, it will add a hint of coconut flavor.
Flax eggs – Here's how to make flax eggs.
Mashed bananas – Use very ripe bananas, with black skin if possible. You want them so ripe that you would need a spoon to eat them. These make the sweetest and moistest banana bread.
Almond milk – Or another plant-based milk.
Vanilla extract or paste – You could also use almond extract, vanilla paste, vegan butter flavouring—basically any extract you want!
All-purpose flour – I used all-purpose flour for this recipe because I know it's what most of us have on hand. You can easily substitute Bob's Red Mill Gluten Free 1-to-1 Baking Flour for this.
Baking powder
Sea salt
Optional add-ins – Cinnamon, 1/2 cup chocolate chips, and/or 1/2 cup nuts
How to Make Vegan Banana Bread
Ready for the easiest quick bread you've ever made? Here's how to make my one-bowl banana bread recipe.
Prepare. Preheat your oven to 350ºF and spray a 9×5-inch loaf pan with cooking spray or oil.
Mix the wet ingredients. Place the flax eggs, sugar, and coconut oil in a large mixing bowl or the bowl of a stand mixer. Whisk for 3 minutes on medium speed, then add the bananas, almond milk, and vanilla. Whisk for another minute, then scrape down the sides.


Add the dry ingredients. Add the flour, baking powder, cinnamon, and sea salt. Mix for another minute on medium speed, or until just incorporated. Scrape down the sides and fold in the chocolate chips or nuts, if you're using them.
Bake. Pour the batter into the prepared pan, smoothing the top with a spatula. Sprinkle chopped pecans on the top if desired and bake for 60 minutes, or until a toothpick comes out with a few crumbs. For the last 20 minutes of the baking time, tent the banana bread with foil so the top doesn't burn.
Cool. Let the bread cool in the pan for 10 minutes, then carefully remove the bread from the pan and let it finish cooling on a wire rack before serving.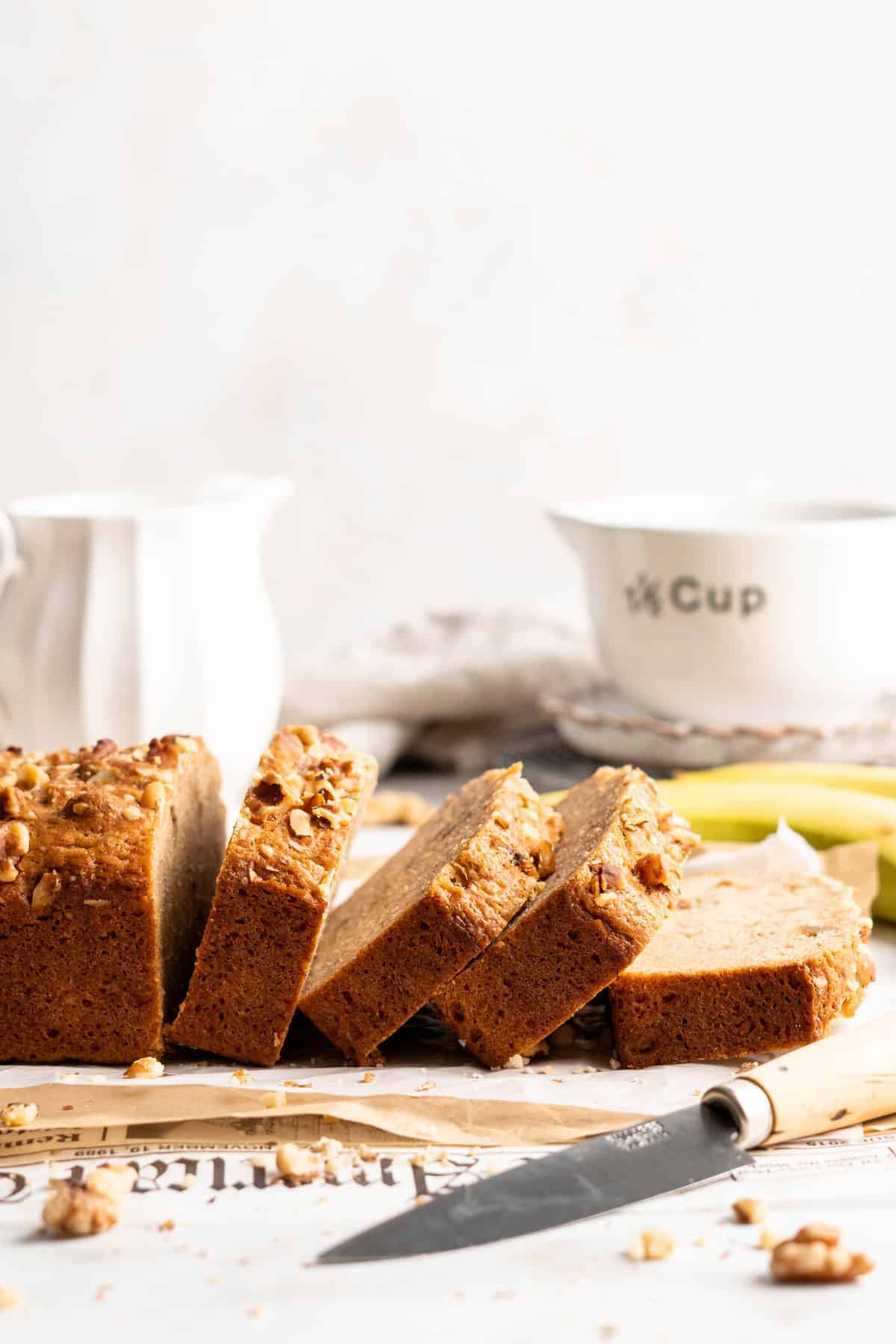 Tips for Success
Here's the thing: vegan banana bread is super forgiving. But there are a few things you should do to make sure it turns out perfect.
Weigh the ingredients. It makes life easier, you don't have to use all those measuring cups, and your bread is guaranteed to come out perfectly!
Don't overbake. Everyone wants their banana bread on the moist side, so don't keep it in the oven too long. This will come out a little underbaked, but the residual heat will keep baking the loaf even after you pull it out of the oven.
Make it your own! There are so many ways to customize banana bread. You can use fresh bananas as described above or thawed frozen bananas; swirl in pecan butter, add cocoa powder, or use any of the add-ins listed in the recipe.
How to Store
Wrap your banana bread or put it in a container with the lid slightly open. Store it on the counter at room temperature for 3 to 4 days. It will last up to a week in the fridge, but it's likely to get dry, so I recommend storing it at room temperature.
Can This Recipe Be Frozen?
Vegan banana bread freezes beautifully! Wrap it well and pop the loaf in the freezer for up to 3 months. Let it thaw at room temperature before serving.
Enjoy friends! If you make this vegan banana bread recipe, please snap a photo and tag #jessicainthekitchen on Instagram! We'd also love it if you would leave a comment below, and give the recipe a rating! Thanks so much!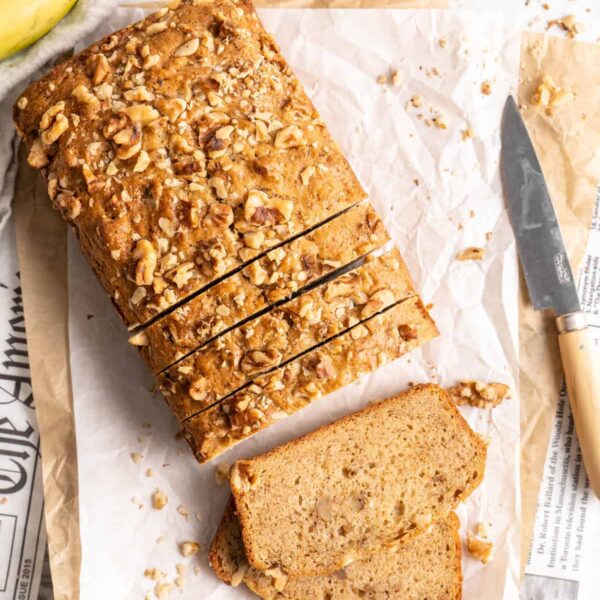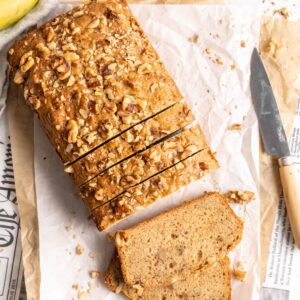 Vegan Banana Bread (One Bowl & Simple)
This Vegan Banana Bread needs only one-bowl and simple pantry ingredients to make. It's so easy to whip up and it's moist and delicious!
Ingredients
1 cup organic brown or coconut sugar, (200g)
1/2 cup coconut oil, melted , (100g) 
3/4 cup mashed bananas,  very ripe bananas – with black skin if possible
¼ cup Almond Breeze Almondmilk
2 teaspoons vanilla extract or paste
10 ounces  flour, I used regular all-purpose flour (284g) or 2 ¼ cups flour
2 teaspoons baking powder
¾ teaspoon sea salt
optional: cinnamon, 1/2 cup chocolate chips and/or 1/2 cup nuts 
Instructions
Preheat the oven to 350 degrees F. Spray a 9×5 loaf pan with an oil Spray to prepare it. Set aside.

In a large mixing bowl or bowl of a stand mixer, add the flax eggs, sugar and coconut oil. Mix together with a whisk for about 3 minutes on medium speed until all fully incorporated. 

Add the bananas, almond milk and vanilla and whisk in for 1 minute until fully incorporated. Scrape down the sides. 

Add in the flour, baking powder, cinnamon (optional but recommend) and sea salt and mix for another minute on medium speed until just incorporated. Scrape down the sides again. If adding the nuts or chocolate chips, fold them in now. 

Pour the batter into the loaf pan and use your spatula to smooth down the top. If using, sprinkle chopped pecans on top. 

Bake the banana bread on the top shelf of your oven for 60 minutes, until a toothpick comes out with a few crumbs. For the last 20 minutes, tent the banana bread with some foil so the top and nuts on top (if using) don't burn. 

Remove from oven and allow to cool for 10 minutes in pan. Transfer the bread to a wire rack by placing the wire rack on top of the bread, then holding the sides of the pan and flipping it over and removing the pan. Hold the sides of the bread to turn right side up. You can also turn the pan over into your hand, and then flip right side up and place on a wire rack.

Allow the bread to cool completely. Slice as desired. Enjoy!
Notes
If you want to be extra, toast your nuts for the batter before the folding into the batter. Don't toast the nuts that should go on top. 
I added in about 1 teaspoon cinnamon and ½ cup chopped nuts. 
TO STORE
Slice up your banana bread and store the slices in a Tupperware container slightly open. I recommend storing on your counter for about 4 days, then transfer to the fridge after that. You can also freeze the banana bread in slices by flash freezing! 
Calories: 194kcal, Carbohydrates: 26g, Protein: 2g, Fat: 10g, Saturated Fat: 9g, Sodium: 272mg, Potassium: 55mg, Fiber: 1g, Sugar: 11g
Disclaimer: Although jessicainthekitchen.com attempts to provide accurate nutritional information, kindly note that these are only estimates. Nutritional information may be affected based on the product type, the brand that was purchased, and in other unforeseeable ways. Jessicainthekitchen.com will not be held liable for any loss or damage resulting for your reliance on nutritional information. If you need to follow a specific caloric regimen, please consult your doctor first.