How To Make Balsamic Glaze
Wondering how to make balsamic glaze? In just a few minutes, you can make this sweet, tangy condiment at home so you can add it to all the things!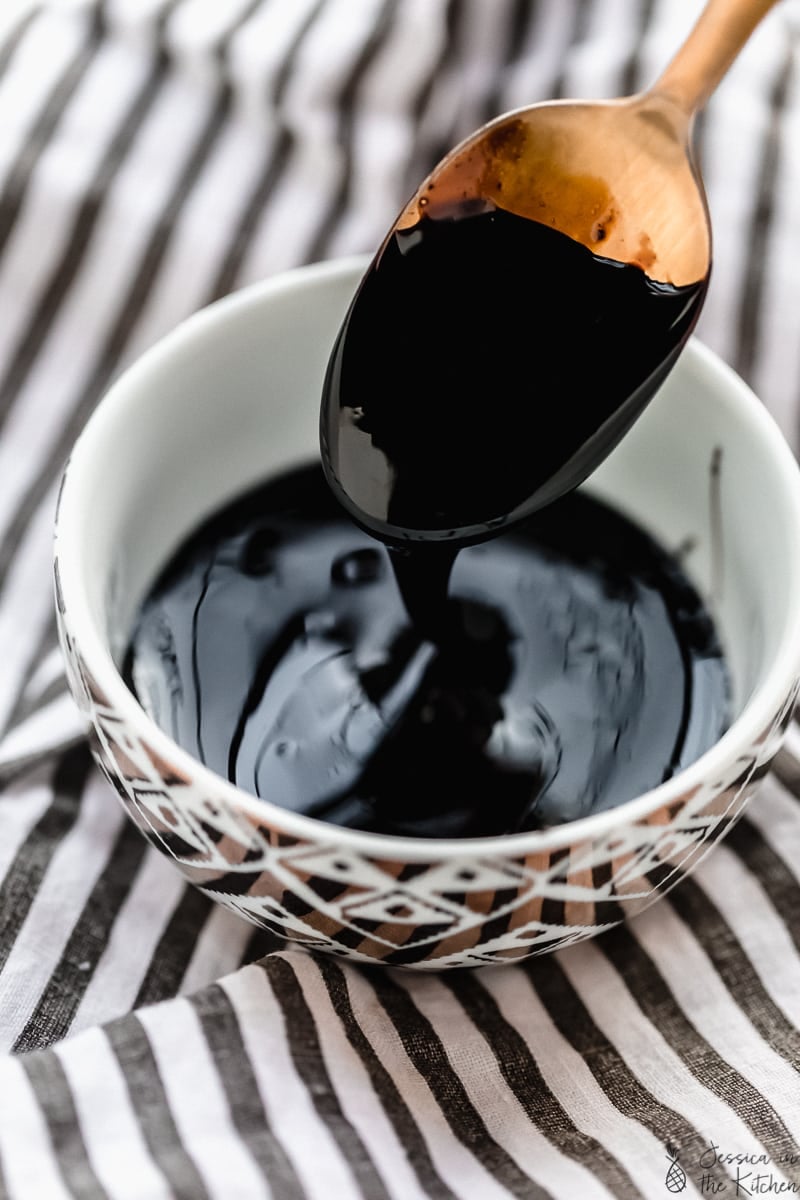 Balsamic glaze is one of those basic recipes everyone should know. It's so simple to whip up and it complements such a wide variety of dishes. Salad? Check. Flatbread and bruschetta? Check. Appetizers, desserts, and fruit? Check, check, and check. It's versatile enough to go with fresh strawberries and roasted Brussels sprouts.
Pretty magical, right?
What is Balsamic Glaze?
Balsamic glaze, also known as balsamic reduction, is a condiment made by cooking down balsamic vinegar until it's thickened into a syrupy consistency that can be drizzled onto foods. The glaze adds a sweet, tangy, umami flavour to any dish.
While you can buy balsamic glaze in a bottle at the grocery store, there's no need to when it's so easy to make it yourself at home!
Notes on Ingredients
Please note that this is important information on the ingredients and instructions and the FULL recipe with amounts and details can be found DOWN BELOW (scroll to it) in the recipe card.
Balsamic vinegar – Use a high-quality vinegar for best results. By boiling it down, you're concentrating the flavour, so if it tastes off to begin with, it's not going to be any better as a glaze!
Raw cane or coconut sugar – You can omit this if you like, especially if your vinegar is sweet to begin with.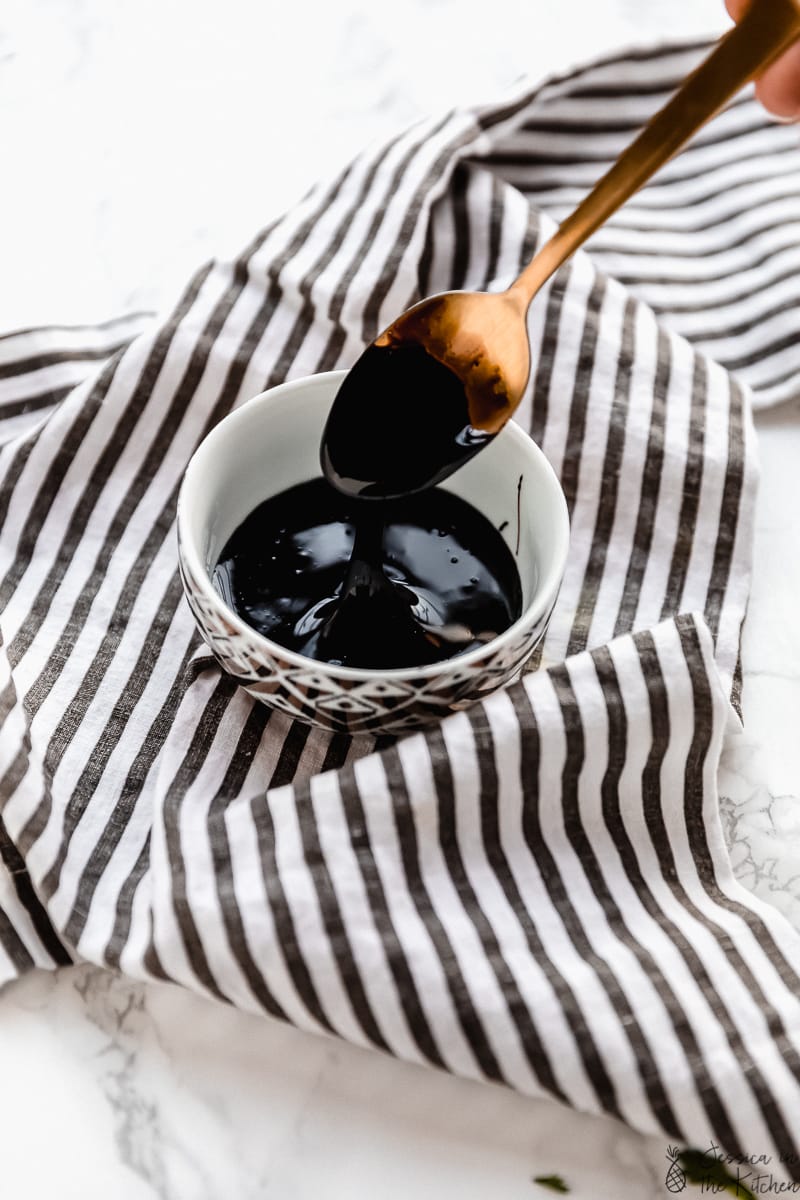 How to Make Balsamic Glaze
There's not much to this recipe, so it's easy to whip up while you're working on other dishes at the same time. Here's what you'll need to do.
Combine the ingredients. Place the vinegar and sugar in a saucepan set over high heat. Stir and bring the mixture to a boil.
Simmer. Reduce the heat and simmer the balsamic glaze mixture for 10 to 15 minutes, until it's thick enough to coat the back of a spoon. Be careful not to over-cook the glaze—it may thicken too much or even burn.
Cool. Remove the pan from the heat and let the glaze cool completely; it will thicken as it cools. The result should be about the consistency of maple syrup.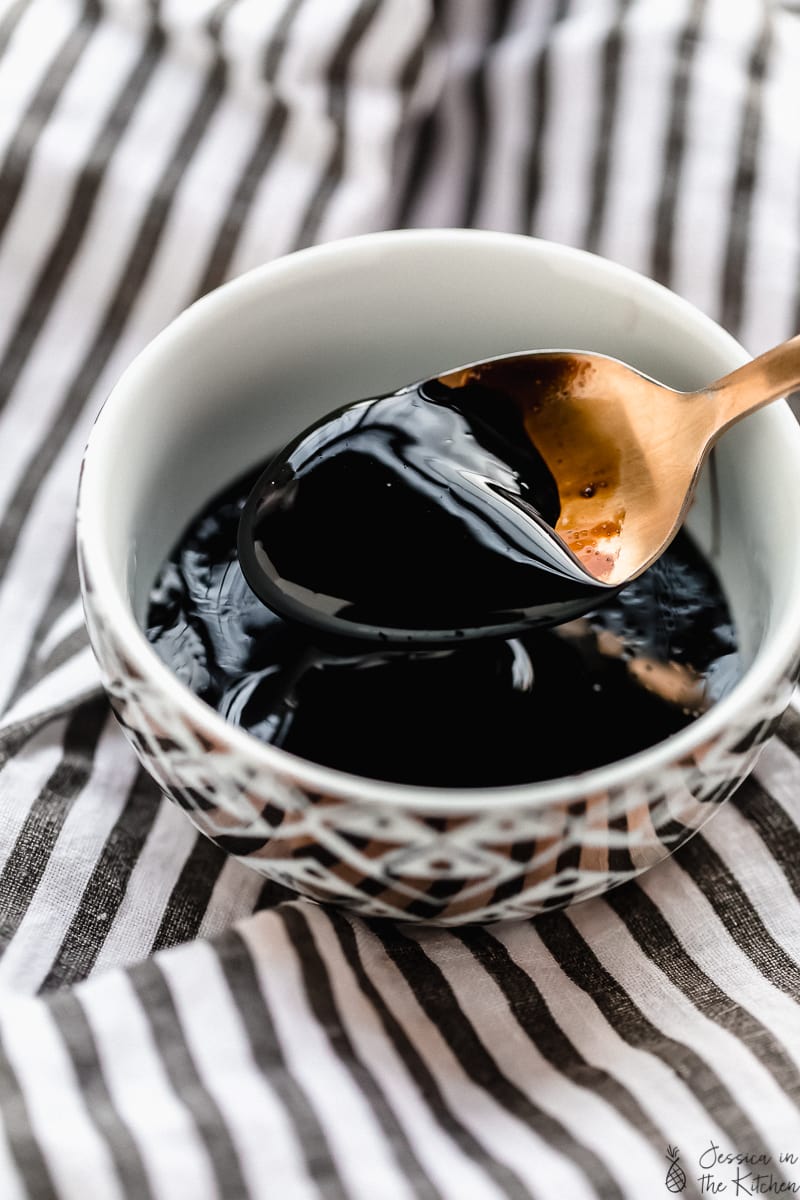 Tips for Success
Balsamic glaze is all about using the right technique. Here are some hints and tips to help.
The cooking time is a suggestion. Some higher quality balsamic vinegars are on the thicker, more syrupy side straight out of the bottle; they may require a shorter cooking time. Other vinegars are very watery and will need the full 15 minutes.
Keep a close eye on the glaze. It can go from nicely thickened to burnt very quickly!
Troubleshooting too thick glaze. If your balsamic glaze is too thick, return the pan to the stovetop and add some water. Heat and stir until the glaze is thinned.
How to Store
Balsamic glaze can be stored in the refrigerator in a sealed jar for about a month.
Can Balsamic Glaze Be Frozen?
I don't recommend trying to freeze a balsamic reduction. When frozen, the acid level in vinegar can change, affecting its flavour. Since you can store balsamic glaze in the refrigerator for a month, there's no need to freeze it!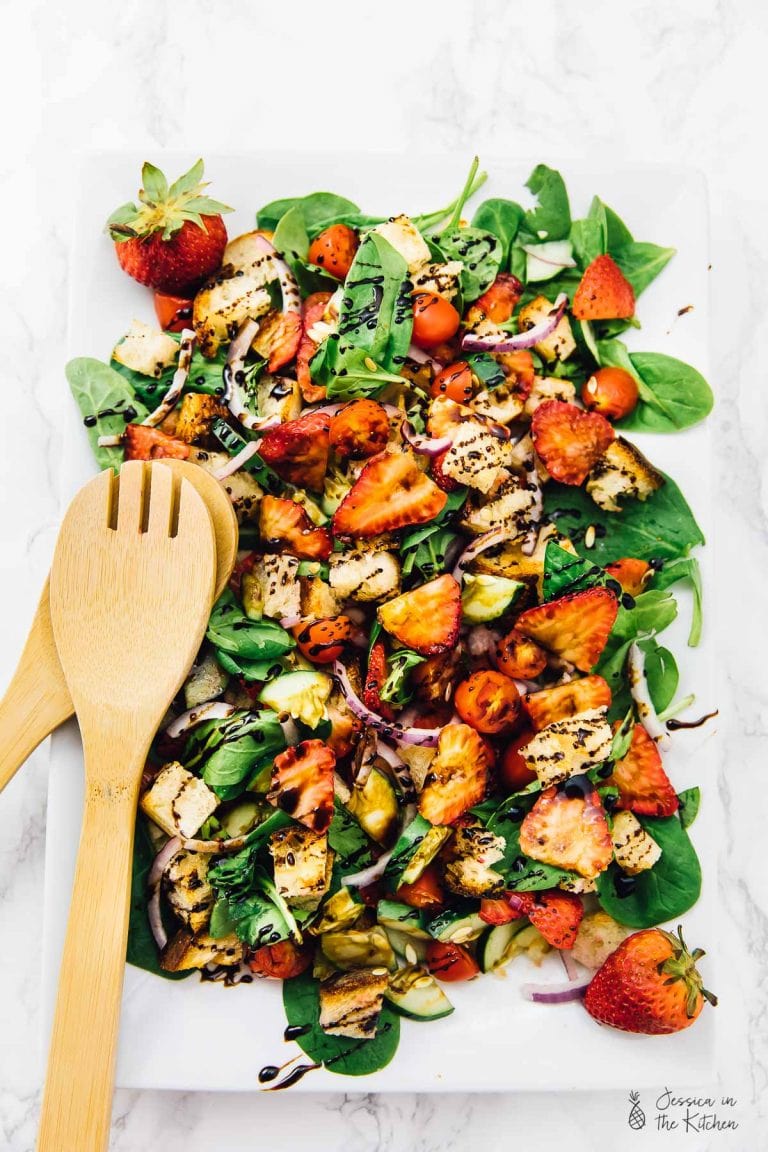 How to Use Balsamic Glaze
The great thing about balsamic glaze is that it works on both sweet and savoury recipes. Here are some of my favourite ways to use it.
Enjoy friends! If you make this balsamic glaze recipe, please snap a photo and tag #jessicainthekitchen on Instagram! We'd also love it if you would leave a comment below, and give the recipe a rating! Thanks so much!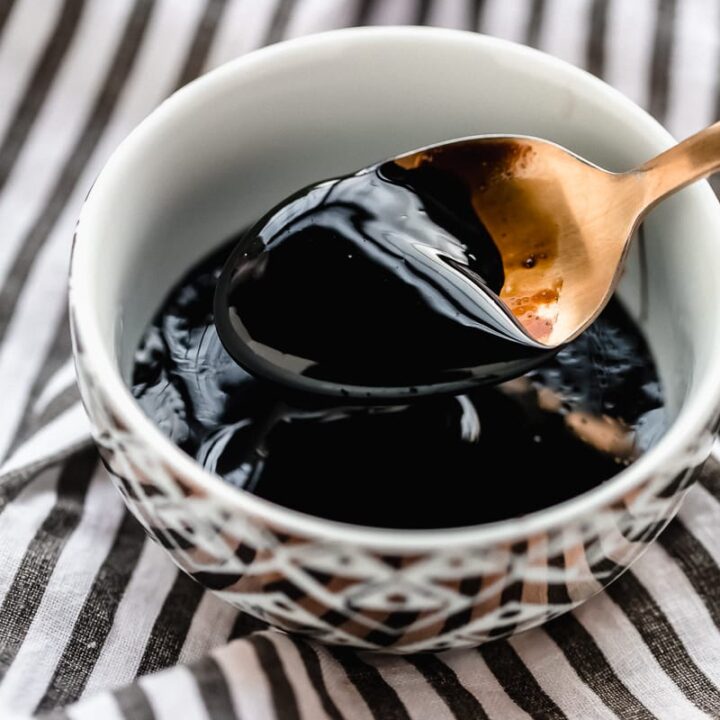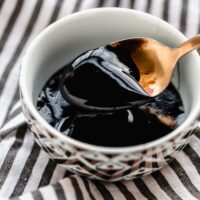 Balsamic Glaze
How to make balsamic glaze in just 15 minutes! It's a delicious, thick, sweet, and tangy condiment that's perfect to drizzle over so many dishes!
Ingredients
1 cup balsamic vinegar
1 tablespoon raw cane or coconut sugar
Instructions
In a pot over high heat, heat all the ingredients and stir. Bring to a boil then lower to a simmer for 10 to 15 minutes (make sure it's actually simmering the entire time). You want it thick enough to coat the back of a spoon, but not to thicken into a glob.

Allow the mixture to cool completely, it becomes thicker once it has cooled. It'll be about the consistency of maple syrup.

The glaze can be stored in the refrigerator in a sealed jar once it has cooled down for at least a month. Enjoy!
Notes
How to store: Store balsamic glaze in a sealed container in the refrigerator for up to a month.
Calories: 44kcal, Carbohydrates: 9g, Protein: 1g, Sodium: 10mg, Potassium: 48mg, Sugar: 8g, Calcium: 11mg, Iron: 1mg
Disclaimer: Although jessicainthekitchen.com attempts to provide accurate nutritional information, kindly note that these are only estimates. Nutritional information may be affected based on the product type, the brand that was purchased, and in other unforeseeable ways. Jessicainthekitchen.com will not be held liable for any loss or damage resulting for your reliance on nutritional information. If you need to follow a specific caloric regimen, please consult your doctor first.