Easy Breakfast Peach Cobbler (Gluten Free & Vegan)
This Easy Breakfast Peach Cobbler (Gluten Free & Vegan) is like having dessert for breakfast! It's so deliciously fresh & only 195 calories per serving!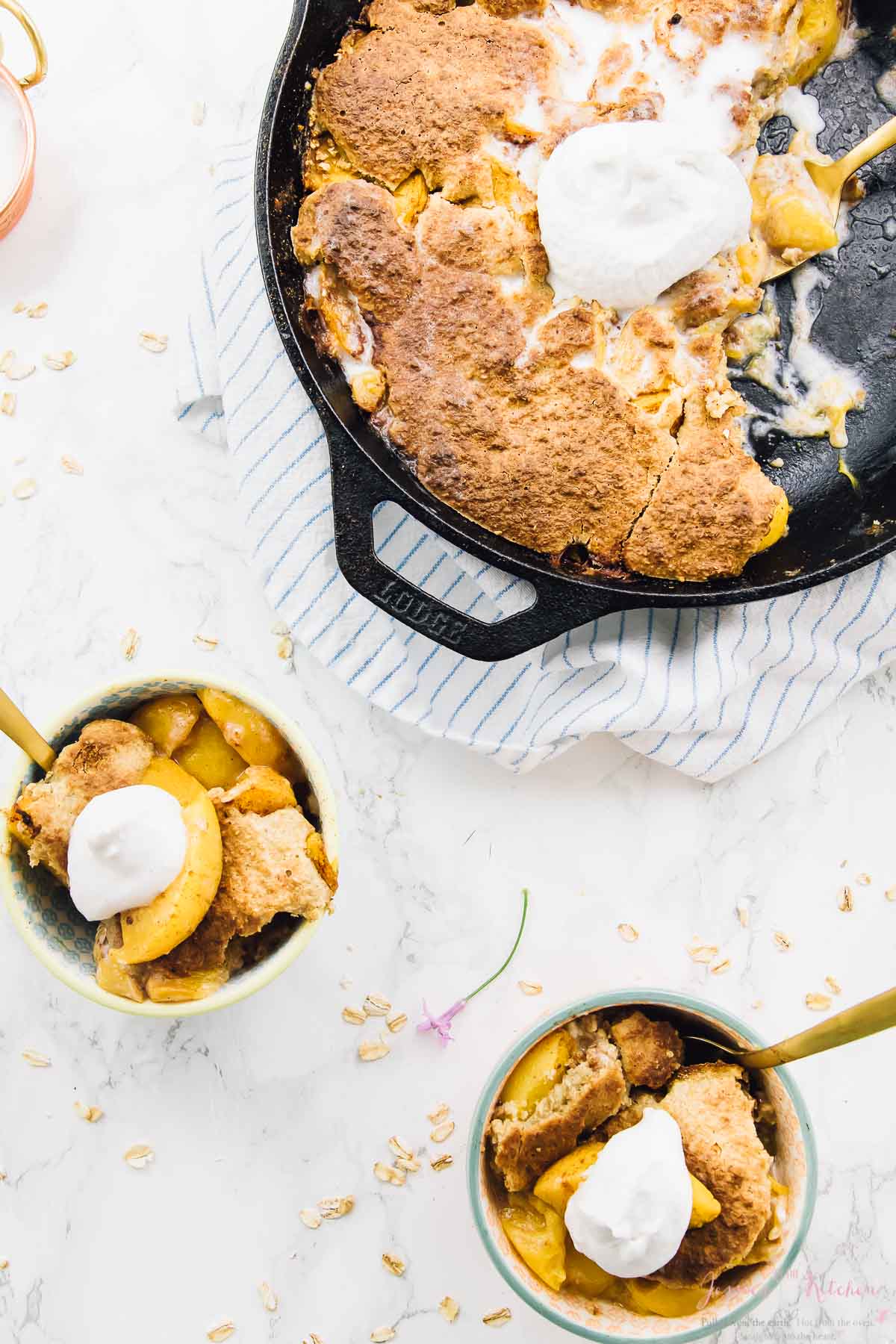 Today I sit with flowers on my desk (no, really) because I have definitely caught spring fever. I didn't even realise you could actually fall in love with spring, but I really have. Even my laptop desktop is a May calendar with a blooming blossom tree. Our plants are also really beginning to bloom/grow, evidenced by all the basil I've been using. Most of all, I want fruits, all the time. This was the inspiration behind this easy breakfast peach cobbler. Who doesn't love cobbler, and wouldn't it be amazing to have it for breakfast, too?! I lightened up my peach cobbler that I usually make for a healthier, but still delicious breakfast version so you can enjoy it all the time, and all year round!
I'm actually super excited to be creating this delicious breakfast peach cobbler in partnership with Libby's Fruits & Vegetables. I decided to use Libby's Peach Slices in 100% fruit & juice concentrate for this recipe since it reminded me so much of spring. It's only 50 calories per serving, so the entire can is 175 calories, and I love that their peaches are kept in such 100% fruit juice liquid as opposed to in syrup.
Also, one of the things really highlighted in my reader survey was that you all wanted more quick & healthy vegan breakfasts, so, ta-da! You guys know I'm all about healthier foods on Jessica in the Kitchen, so I knew these would be perfect! P.S. – Each serving is 195 calories. I know right?! Dessert for breakfast just got a whole lot better.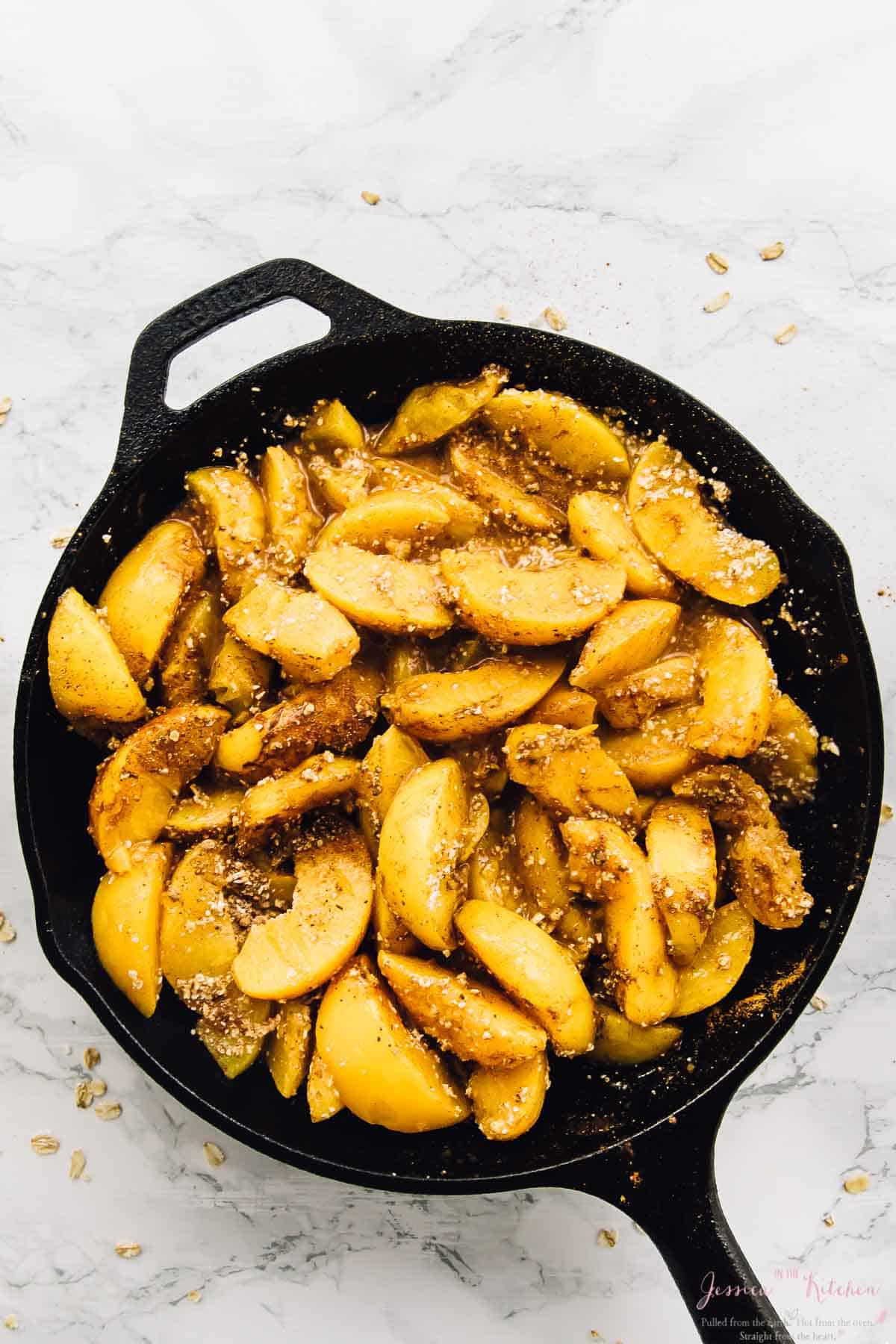 I actually loved using Libby's Yellow Cling Peach Slices products because it was not only super convenient and affordable, but it means making such a quick and healthy breakfast dish, whether you have a small family (like myself and the Mr.) or a large family (like my mom & dad's) was actually really achievable. I used 3 cans in this entire dish, and it's just bursting with natural peach flavour.
The other ingredients are literally what I would also use in my breakfast: oats, maple syrup almond milk and some spices. I made the cobbler crust by simply grinding the oats into a flour, then mixing in the other ingredients to create a cobbler-like topping.
The peach filling is also so incredibly easy. I drained the peaches, then added the spices and oat flour. The oat flour here was a play on the traditional cornstarch in cobblers, but I wanted to keep it nice and breakfast-like and as nourishing as possible. I did not add maple syrup to the filling, but bearing in mind that some people would like a slightly sweeter cobbler, it's definitely an optional addition for you. Thanks to the 100% pure fruit & juice that they peaches are in, the natural peach flavour is maintained. I loved that my cobbler had a fresh breakfast taste, and of course I couldn't resist serving these in gorgeous bowls. You're seeing the total spring fever, right?!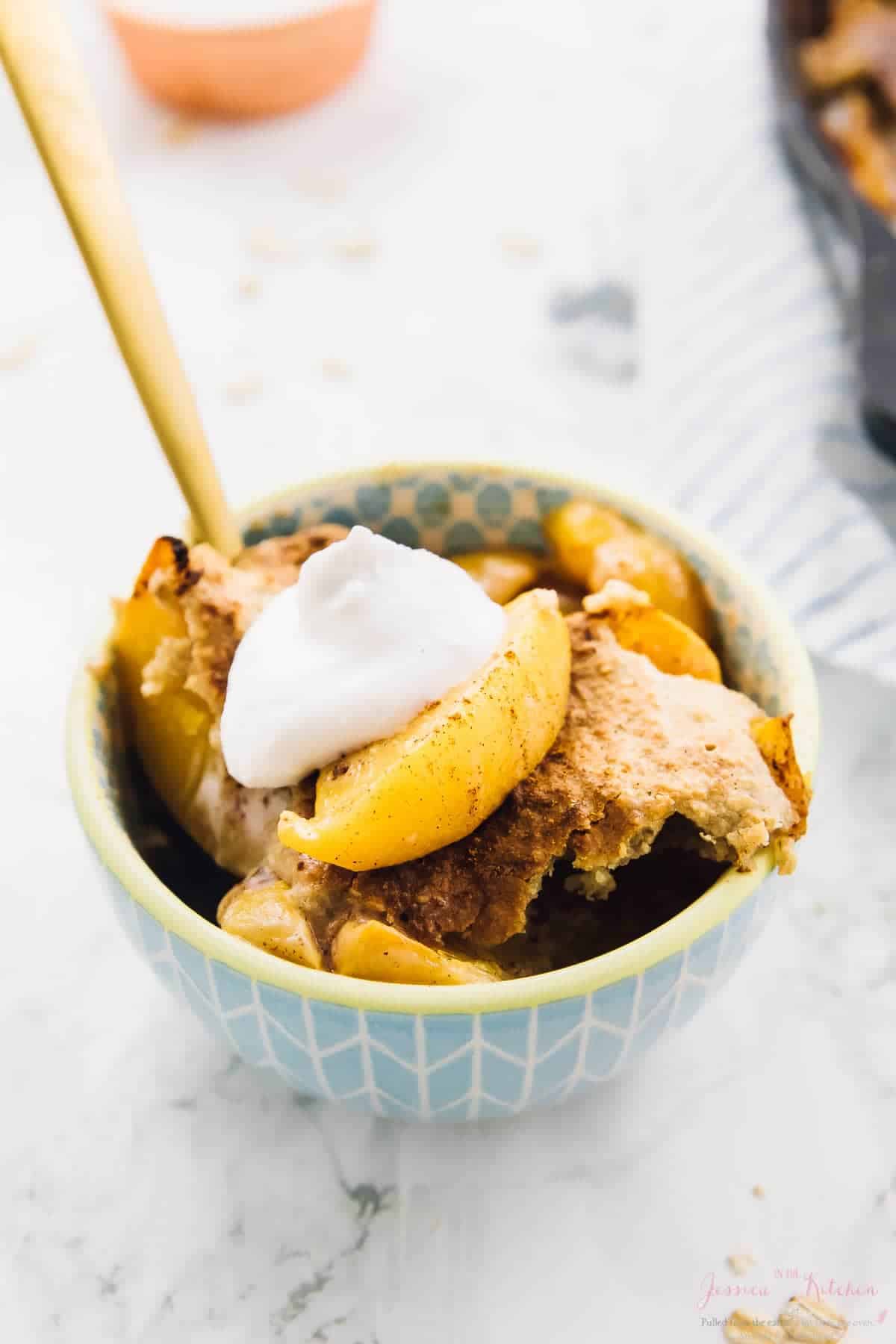 P.S. This takes less than ten minutes to make. Amazing, right?! Straight into the oven for about 30-35 minutes and then you can serve this right away. I topped mine with my homemade coconut cream, and you can do the same or even use vegan coconut yogurt instead. This is also great for leftovers the next day for breakfast so you could definitely add it to your meal prep list for the week!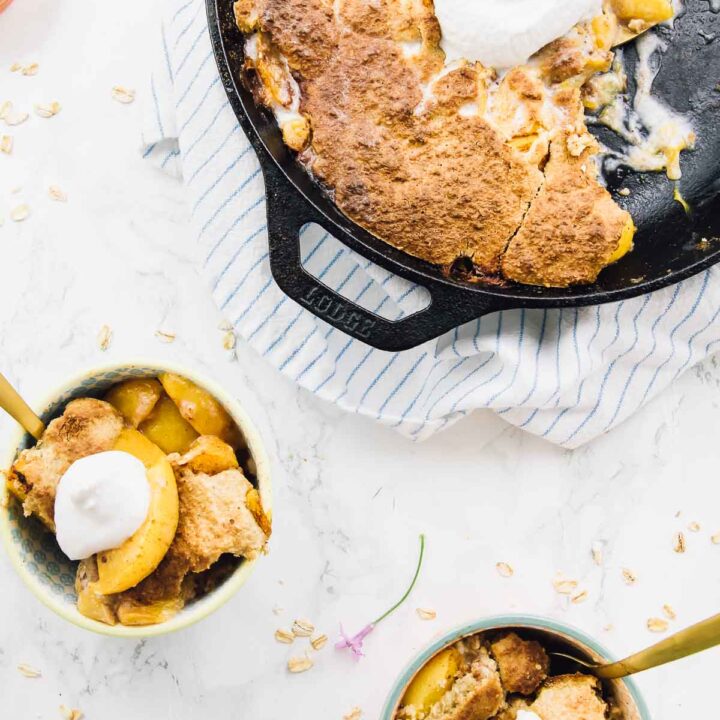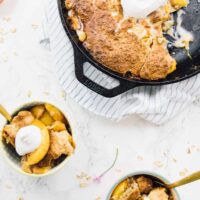 Easy Breakfast Peach Cobbler (Gluten Free & Vegan)
This Easy Breakfast Peach Cobbler (Gluten Free & Vegan) is like having dessert for breakfast! It's so deliciously fresh & only 195 calories per serving!
Ingredients
Pie Crust
2 cups + 2 tablespoons gluten free oats
1/2 teaspoon sea salt
3 tablespoons coconut oil, solid
1/4 cup agave nectar/maple syrup
1/2 cup unsweetened almond milk
Peach Filling
3 15 oz cans Libby's Yellow Cling Peach Slices, drained thoroughly, 45 oz
2 teaspoons ground cinnamon
1/2 teaspoon ground nutmeg
1/4 teaspoon sea salt
2 tablespoon lemon juice
2 tablespoons oat flour
2 tablespoons maple syrup, optional
Instructions
Easy Breakfast Peach Cobbler
Preheat oven to 350 degrees F. Grease a cast-iron skillet lightly with coconut oil and set aside.

In a food processor, blend the oats until it reaches a flour-like consistency. Set aside (you'll need 2 tablespoons for the peach filling).

In a 10 inch cast iron skillet, add all the ingredients for the peach filling, including the 2 tablespoons of oat "flour". Stir until combined. Set aside.

In the food processor from before, add the sea salt and blend again. Add in the solid coconut oil and cut it into the "flour" and pulse slowly until it forms crumbs. Add in agave nectar/maple syrup and almond milk and pulse until a slightly wet dough comes together. Don't over mix.

Dollop/spoon the dough mixture over the peach filling. Bake for 30 to 35 minutes until the cobbler topping has set.
Remove and allow to cool slightly. Serve with coconut cream, an extra drizzle of agave nectar/maple syrup is desired, and even more fruits. Enjoy!
Notes
Notes:
This recipe is gluten free and vegan.
This is a sponsored post written by me on behalf of Libby's Fruits & Vegetables. All opinions and text are my own. Thank you for supporting the brands that support Jessica in the Kitchen!
If you try this Easy Breakfast Peach Cobbler (Gluten Free & Vegan) please let me know in the comment section below, or tag me on instagram with the hashtag #jessicainthekitchen! For more exclusive recipes follow me on Instagram AND on Snapchat: jessinkitchen.
Calories: 380kcal, Carbohydrates: 66g, Protein: 7g, Fat: 12g, Saturated Fat: 8g, Sodium: 386mg, Potassium: 667mg, Fiber: 8g, Sugar: 36g, Vitamin A: 832IU, Vitamin C: 19mg, Calcium: 96mg, Iron: 2mg
Disclaimer: Although jessicainthekitchen.com attempts to provide accurate nutritional information, kindly note that these are only estimates. Nutritional information may be affected based on the product type, the brand that was purchased, and in other unforeseeable ways. Jessicainthekitchen.com will not be held liable for any loss or damage resulting for your reliance on nutritional information. If you need to follow a specific caloric regimen, please consult your doctor first.