Watermelon Feta Salad with Balsamic Reduction
This Watermelon Feta Salad is fresh, juicy and drizzled with a delicious balsamic reduction. It's made in just 15 minutes!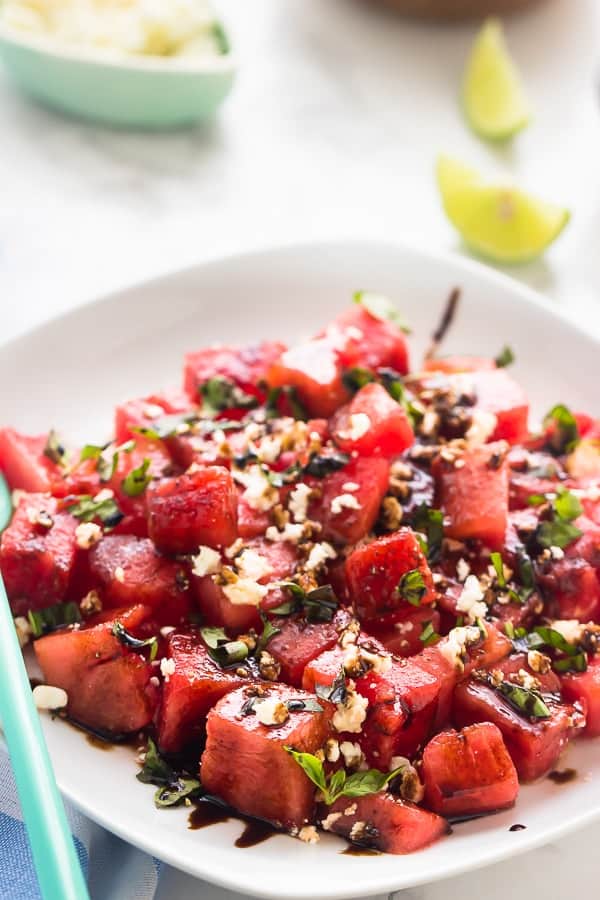 Random fact about me: when it comes to fruits or veggies for snacks, I'm a fruit girl. Sure, I love carrot sticks and would eat them to no end, but fruits are where it's at. That's probably why I'm currently eating another serving of my quinoa stone fruit salad as I'm typing this. It's not just because fruits are sweet, but they're just so cute. Shallow? Maybe. But fruits also scream summer and are so hard to resist. For example, does this Watermelon Feta Salad above not scream summer to you?!
It certainly did to me. Every last bite.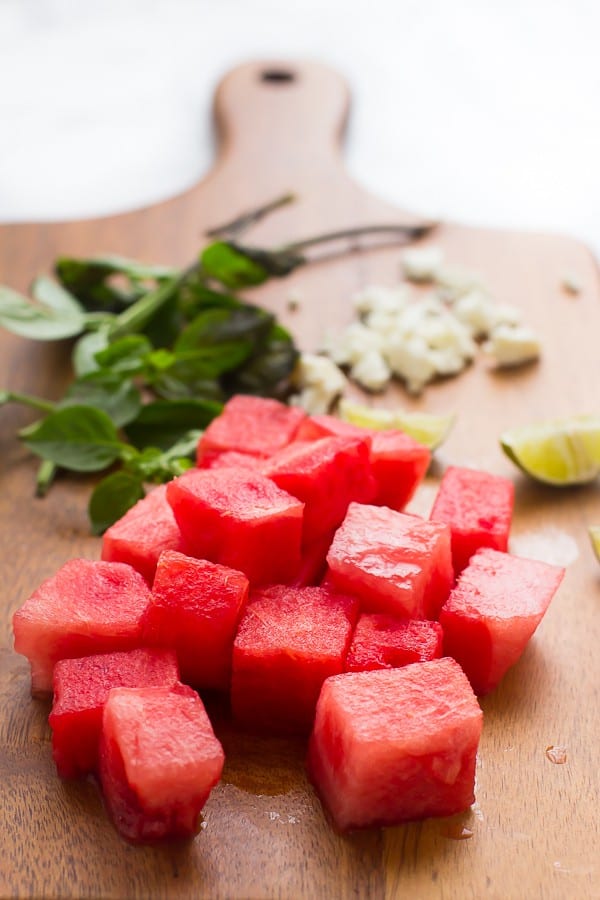 I'll admit, while I really enjoyed making this Watermelon Feta Salad, it was really, really hard not to eat every juicy cube of watermelon. I mean just look at those cubes!! Watermelon is so irresistible, but trying it in this salad totally gave me new perspectives on ways to use this amazing berry.
Watermelon Feta Salad is pretty straight forward in terms of flavours and ingredients. Watermelon, almond feta, basil, salt, pepper, lime and balsamic reduction. The sweet and tanginess of it all works so well that I wonder why this isn't served at every single backyard get together. It's refreshing, perfectly juicy (how many times can I say that in one post), sweet, tangy, and a real crowd pleaser.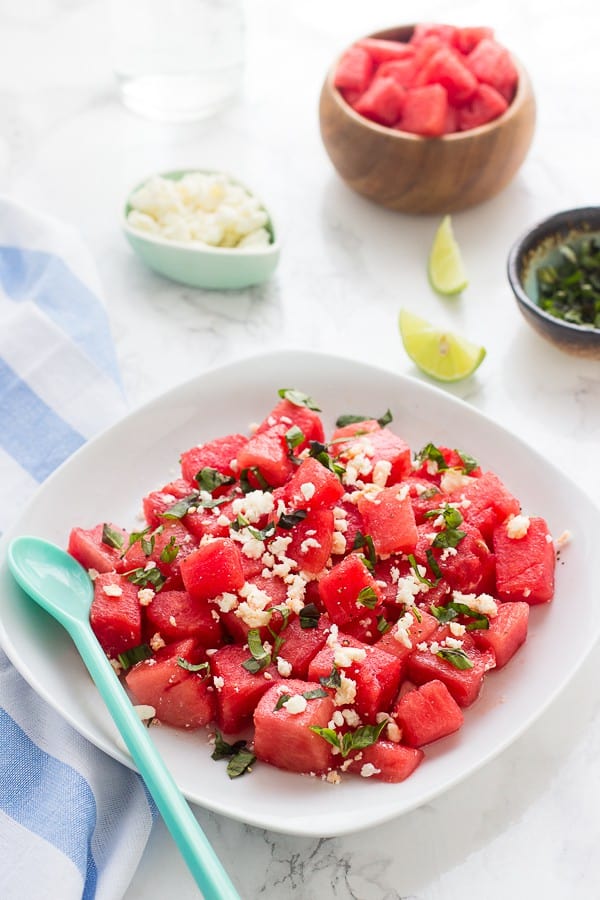 Probably my favourite part of this salad is how easy it is to make. I mean, you literally make the balsamic reduction, then mix everything together. 10 of the 15 minutes is for the balsamic reduction to boil then thicken, but promise me you'll make it. It is SO worth it, and pulls everything together.
This would also work so well at a Labor Day party since summer is winding down (*tears*) and is perfect when made fresh. I did have it two days afterwards and it was great, but it is definitely better when it's fresh, and since it's so easy you can definitely put it together as your guests are arriving. Or you can have a one person party, I do it all the time.
The next time I make this I'll definitely be adding in some blackberries and blueberries for both colour and taste differences. You could easily swap the basil for mint, but as I mentioned before basil is kind of my new BFF. Either way will taste delicious, that's for sure.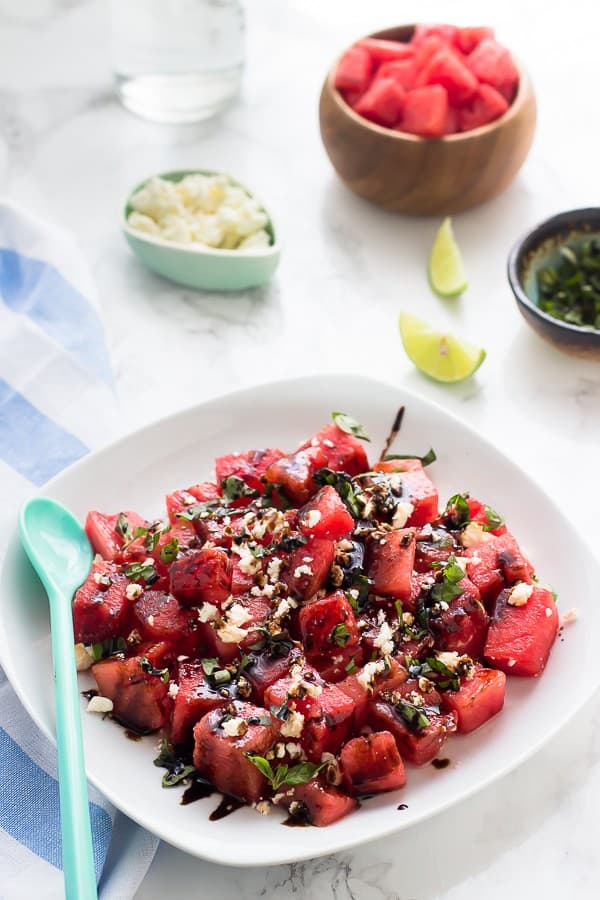 P.S. Here are some of the items I used to make this recipe if you'd like to use them too:
| WHAT YOU'LL NEED // SHOP MY FAVORITE INGREDIENTS & PREP PRODUCTS |


If you try this Watermelon Feta Salad with Balsamic Reduction please let me know in the comment section below, or tag me on instagram with the hashtag #jessicainthekitchen! For more exclusive recipes follow me on Instagram AND on Snapchat: jessinkitchen.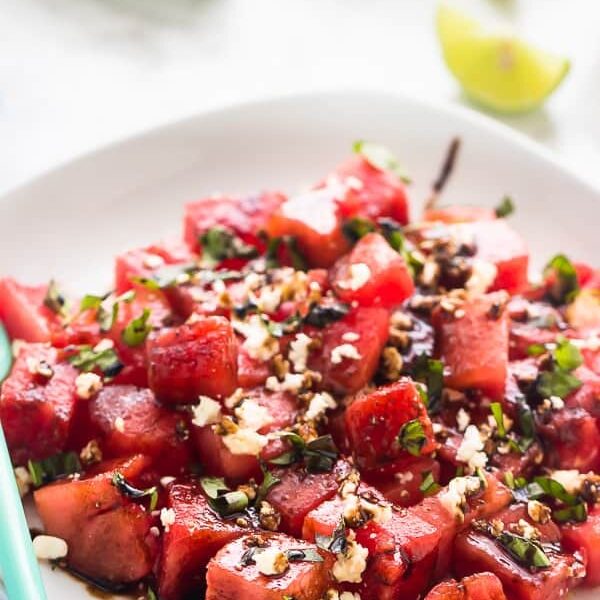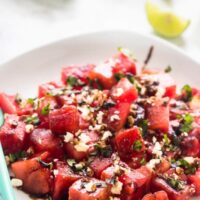 Watermelon Feta Salad with Balsamic Reduction
This Watermelon Feta Salad is fresh, juicy and drizzled with a delicious balsamic reduction. It's made in just 15 minutes!
Ingredients
1/2 watermelon, about 4 cups, cubed
4 ounces almond feta, crumbled or tofu feta
1/4 cup basil, in chiffonade
sea salt and ground black pepper
1/2 lime
Balsamic Reduction (you can store the rest):
1/2 cup balsamic vinegar
1-2 tablespoons coconut sugar
1/2 teaspoon fine sea salt
Instructions
Mix the watermelon, feta, and basil in a bowl.

Grind the sea salt and ground black pepper over it to season, and squeeze the lime over.

Gently stir together to combine.

Drizzle with balsamic reduction.
Balsamic Reduction
In a pot over medium high heat, heat all the ingredients and stir. Watch carefully - the glaze should begin to thicken after 5 minutes and you want it thick enough to stick to the back of a spoon, but not to thicken into a glob. It becomes very thick very quickly so watch carefully.

Once glaze has thickened, remove from heat.
Notes
.This recipe is vegetarian and gluten free.
2.HOW TO STORE Store in an airtight tupperware container for up to 2 days. This salad tastes best when fresh.
3.NOTES
You'll end up with extra balsamic reduction, but you can drizzle it on sandwiches, pizzas, tostadas and just about anything.
Calories: 467kcal, Carbohydrates: 104g, Protein: 12g, Fat: 4g, Saturated Fat: 1g, Sodium: 768mg, Potassium: 1331mg, Fiber: 5g, Sugar: 84g, Vitamin A: 6560IU, Vitamin C: 97mg, Calcium: 178mg, Iron: 4mg
Disclaimer: Although jessicainthekitchen.com attempts to provide accurate nutritional information, kindly note that these are only estimates. Nutritional information may be affected based on the product type, the brand that was purchased, and in other unforeseeable ways. Jessicainthekitchen.com will not be held liable for any loss or damage resulting for your reliance on nutritional information. If you need to follow a specific caloric regimen, please consult your doctor first.
MORE AMAZING WATERMELON RECIPES