Vegan Watermelon Feta Salad with Balsamic Reduction
This vegan watermelon feta salad is a refreshing side dish packed with bold flavours. Sweet watermelon is the perfect contrast with salty vegan feta and tangy balsamic vinegar—and it comes together in just 15 minutes!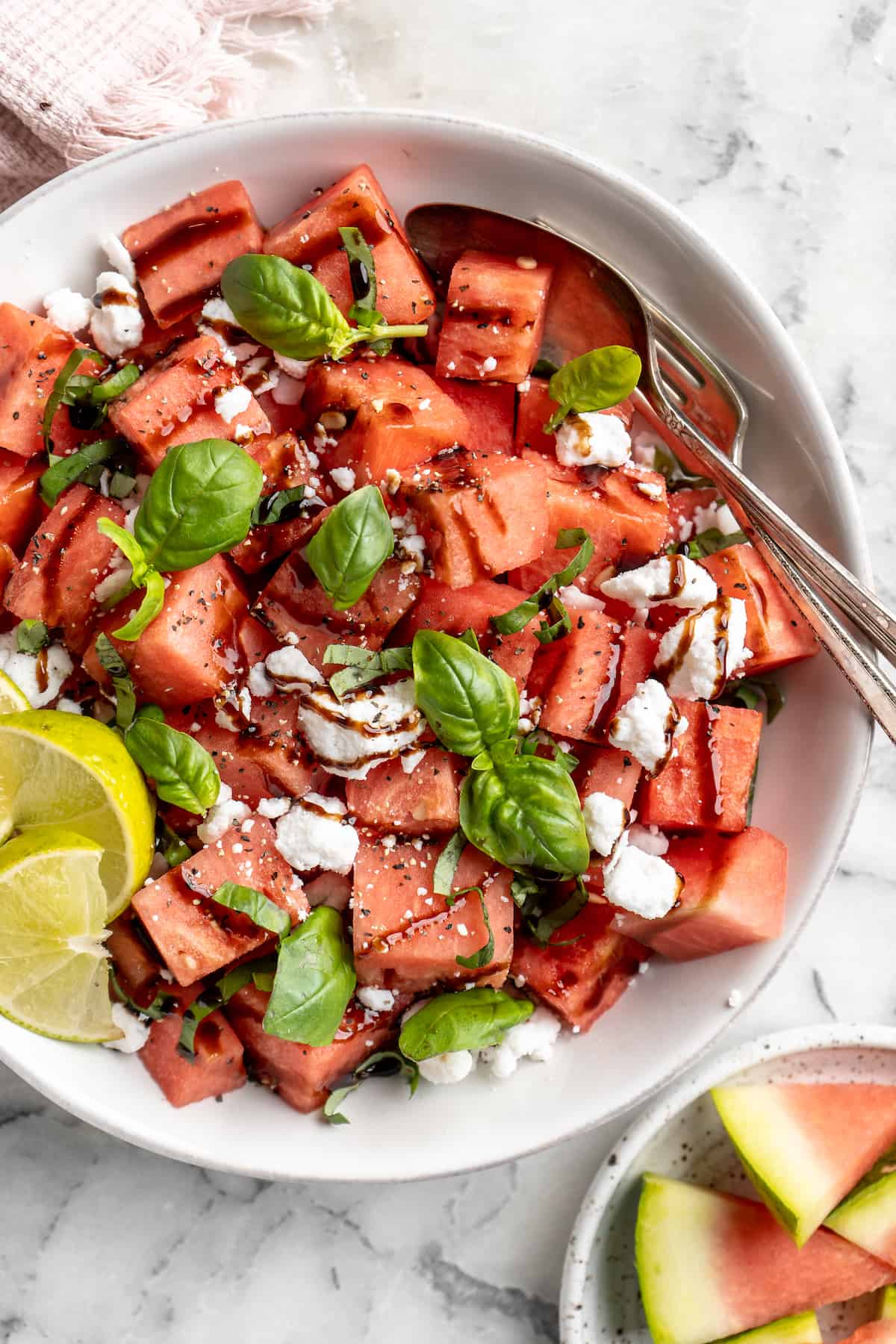 Sometimes when we cook, we look for flavours that match. Other times, it's all about contrasts—and this vegan watermelon feta salad is the perfect example. Rather than pairing watermelon with other sweet ingredients, this salad adds ingredients that contrast with watermelon's sweetness and texture.
You've got the crisp bite of watermelon with crumbly feta; the saltiness of the vegan cheese contrasted with the juicy, refreshing flavour of the fruit. Tart lime juice, herbaceous basil leaves, and a syrupy, tangy balsamic reduction to balance the sweet flavour of sun-ripened watermelon. (Is your mouth watering yet?!)
This is quite possibly the perfect summer salad—it truly belongs at every backyard get-together!—and best of all, it comes together in a matter of minutes. Assemble everything while you make the balsamic reduction, then drizzle that over the top, and watch this vegan watermelon feta salad disappear.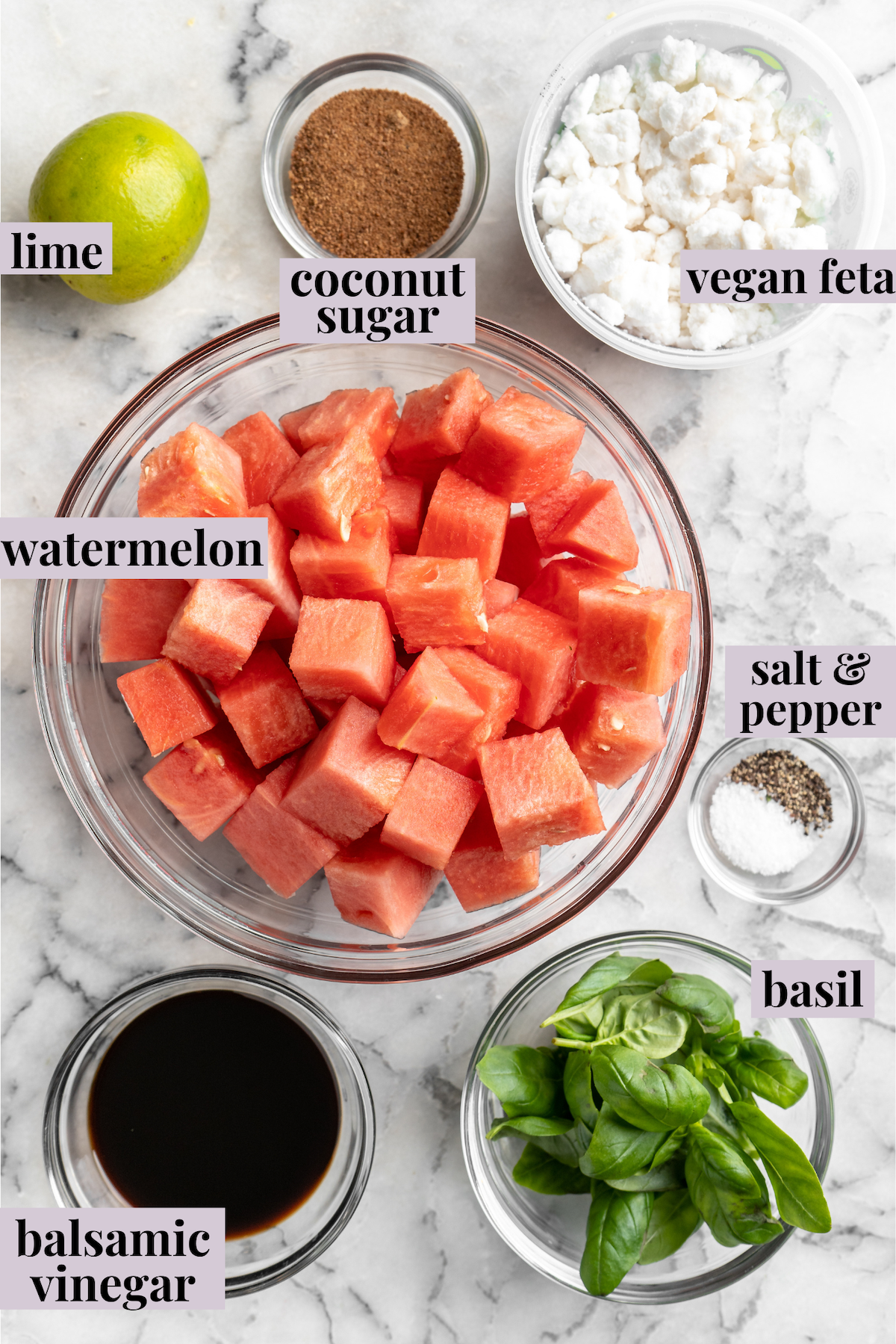 Notes on Ingredients
Scroll down to the recipe card to find the ingredient quantities and recipe instructions.
For the Vegan Watermelon Feta Salad:
Watermelon – I recommend a seedless watermelon to make prep a little bit easier.
Almond feta – You can also use tofu feta or your favourite store-bought version.
Basil
Sea salt and ground black pepper
Lime
For the Balsamic Reduction:
Balsamic vinegar – Because you'll be boiling it down until it's thick, there's no need to pay a lot of money for a syrupy aged variety.
Coconut sugar – Or substitute brown sugar.
Fine sea salt
How Can You Tell if a Watermelon Is Good?
The watermelon is the star of the show here, so you want to make sure you pick one that's at the peak of freshness. Find one that is firm and symmetrical, with a dull (not shiny) color and no soft spots. Give it a good tap and listen for a hollow sound; this means the watermelon is ripe. Finally, when you lift the melon, it should feel heavy for its size.
How to Make Vegan Watermelon Feta Salad With Balsamic Reduction
Start by making the balsamic reduction; while it cooks, you can assemble the salad. Just make sure you're prepping the salad near the stovetop so you can keep a close watch on the glaze and make sure it doesn't burn.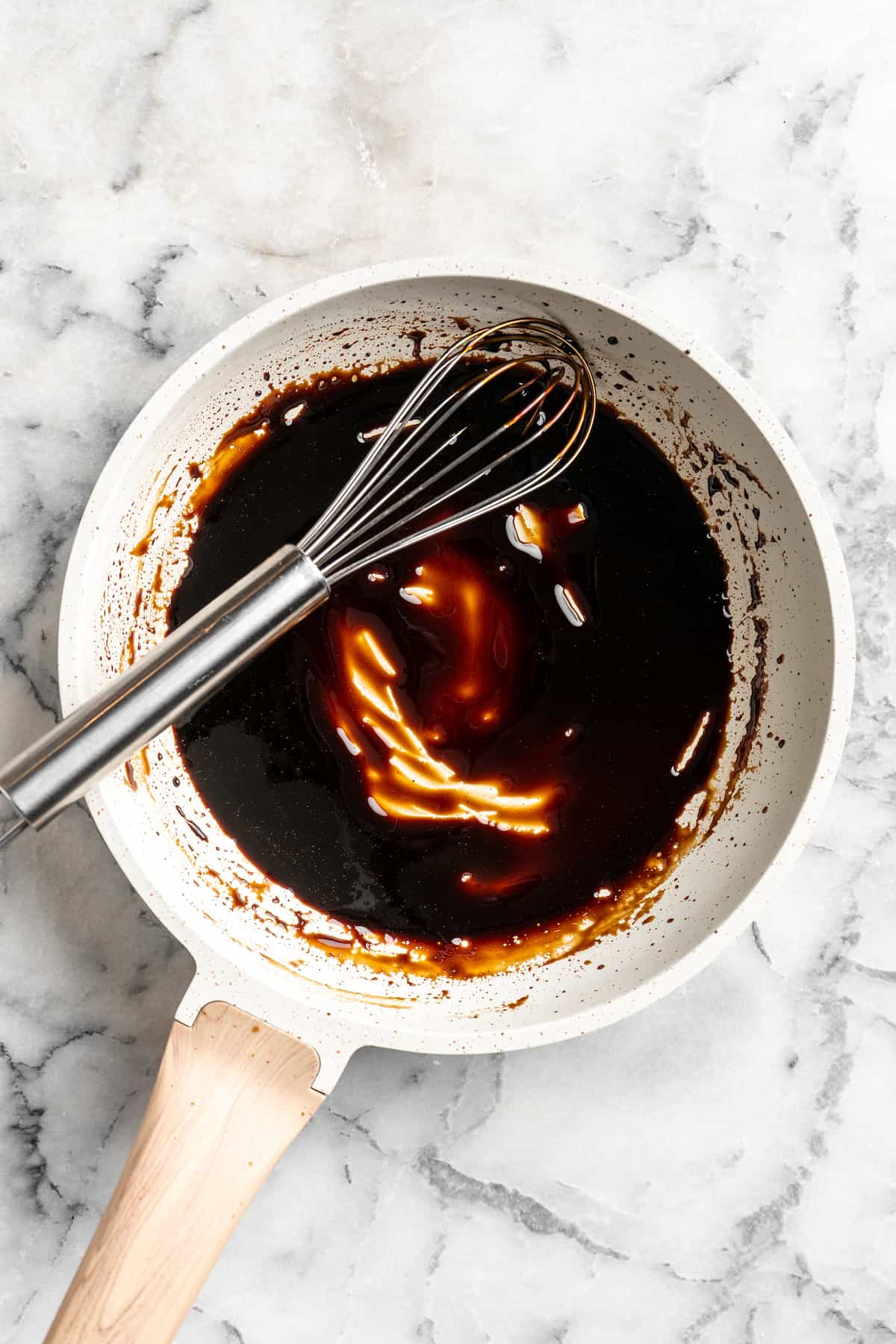 Make the balsamic reduction. Combine all of the reduction ingredients in a pot set over medium-high heat. The glaze should begin to thicken after about 5 minutes; you want it thick enough to coat to the back of a spoon, but the amount of time needed will depend on the consistency of the vinegar you're starting with. Once the reduction has thickened, remove the pot from the heat.
Toss the salad ingredients. Place the watermelon, vegan feta, and basil in a large bowl. Gently toss to combine.
Season. Grind the sea salt and black pepper over the salad, then squeeze the lime juice over the top. Stir again.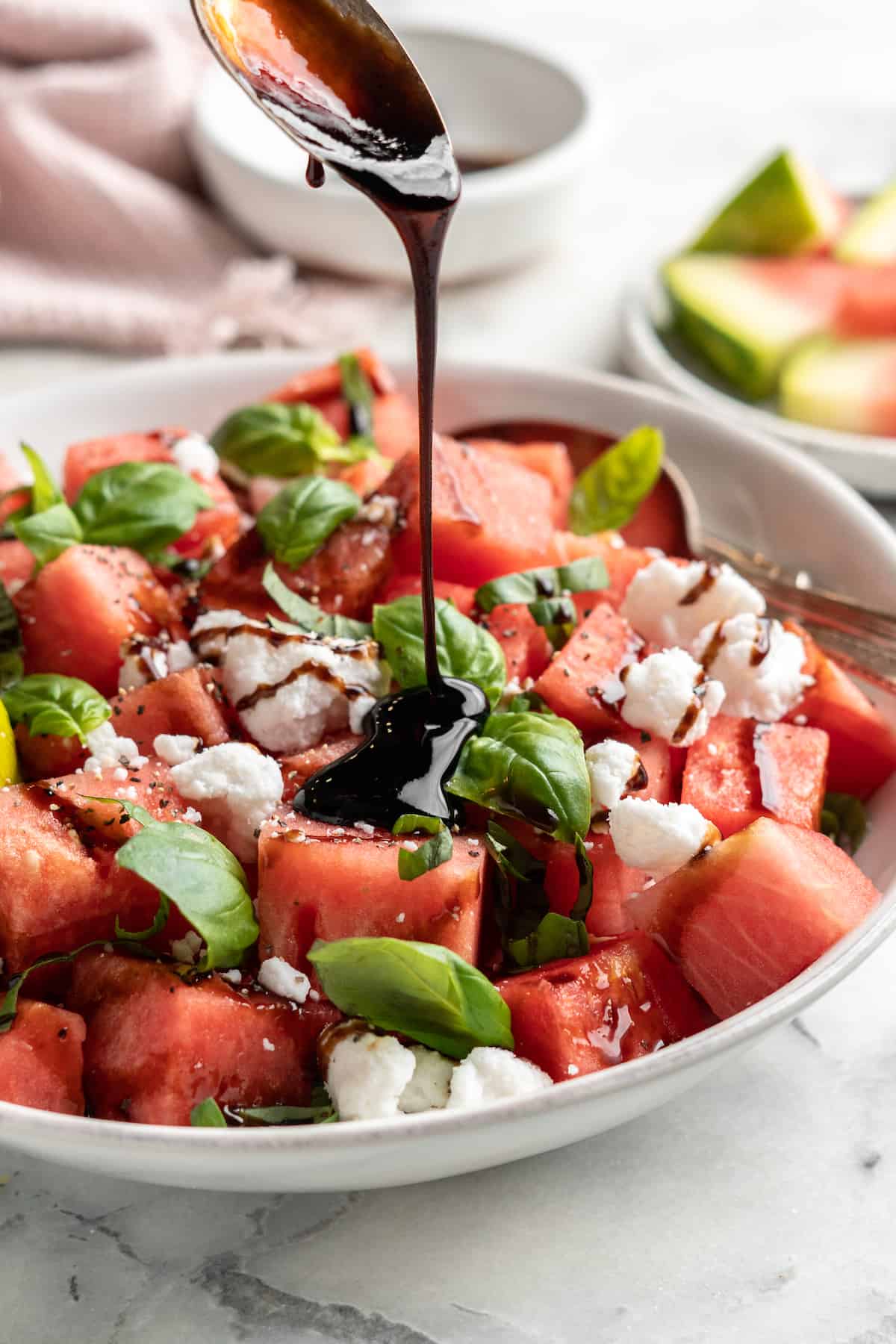 Finish. Drizzle the salad with the balsamic reduction, then serve.
Tips for Success
As you can see, this vegan watermelon feta salad is quite easy, but here are a few additional tips and suggestions.
Get a head start. You can cut the watermelon and make the balsamic reduction ahead of time if you'd like.
Don't toss too much. This isn't a typical green salad! Make sure you toss the ingredients gently to keep the vegan feta from breaking into tiny pieces.
Use the extra reduction. You'll end up with extra balsamic reduction, but you can keep it on hand in the fridge to drizzle on sandwiches, pizzas, salads, or fresh fruit (it's especially good with strawberries and peaches!).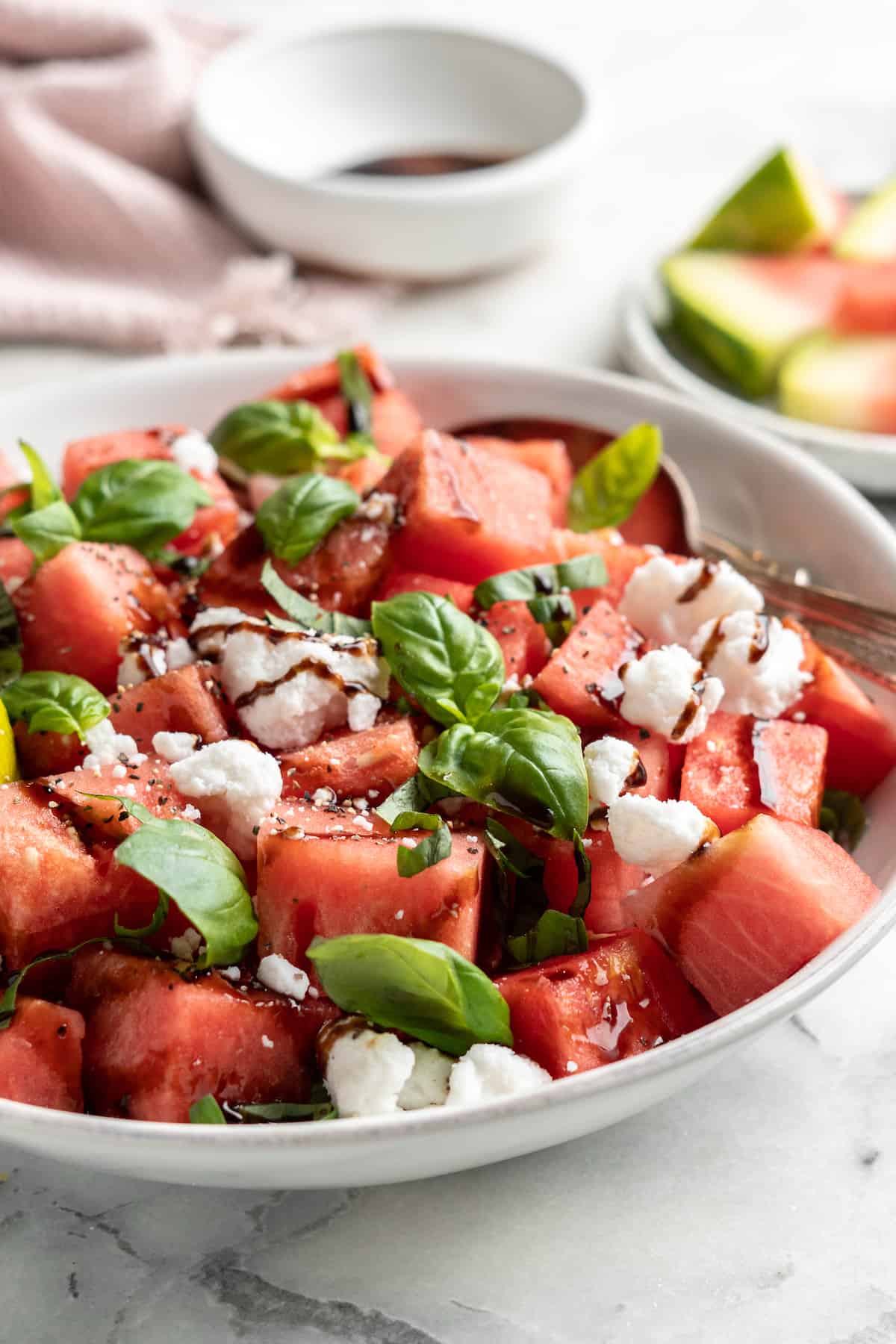 Serving Suggestions
This vegan watermelon feta salad is the perfect summer salad for pairing with Grilled Peach, Basil and Vegan "Goat" Cheese Pizza or a Caprese Sandwich with Parsley Pesto. You can also make it a meal by serving it alongside fluffy quinoa or serving it over a big bed of arugula.
Variations
Try adding blackberries and blueberries for more colour and flavour. To amp up the saltiness, Kalamata olives are a delicious addition. If you're not a fan of feta, you can swap in vegan parmesan or vegan mozzarella. Try mint leaves instead of (or in addition to) basil, or add chopped almonds or pecans for some crunch.
How to Store
This salad is best enjoyed fresh, but you can can refrigerate any leftovers in an airtight container for up to 2 days.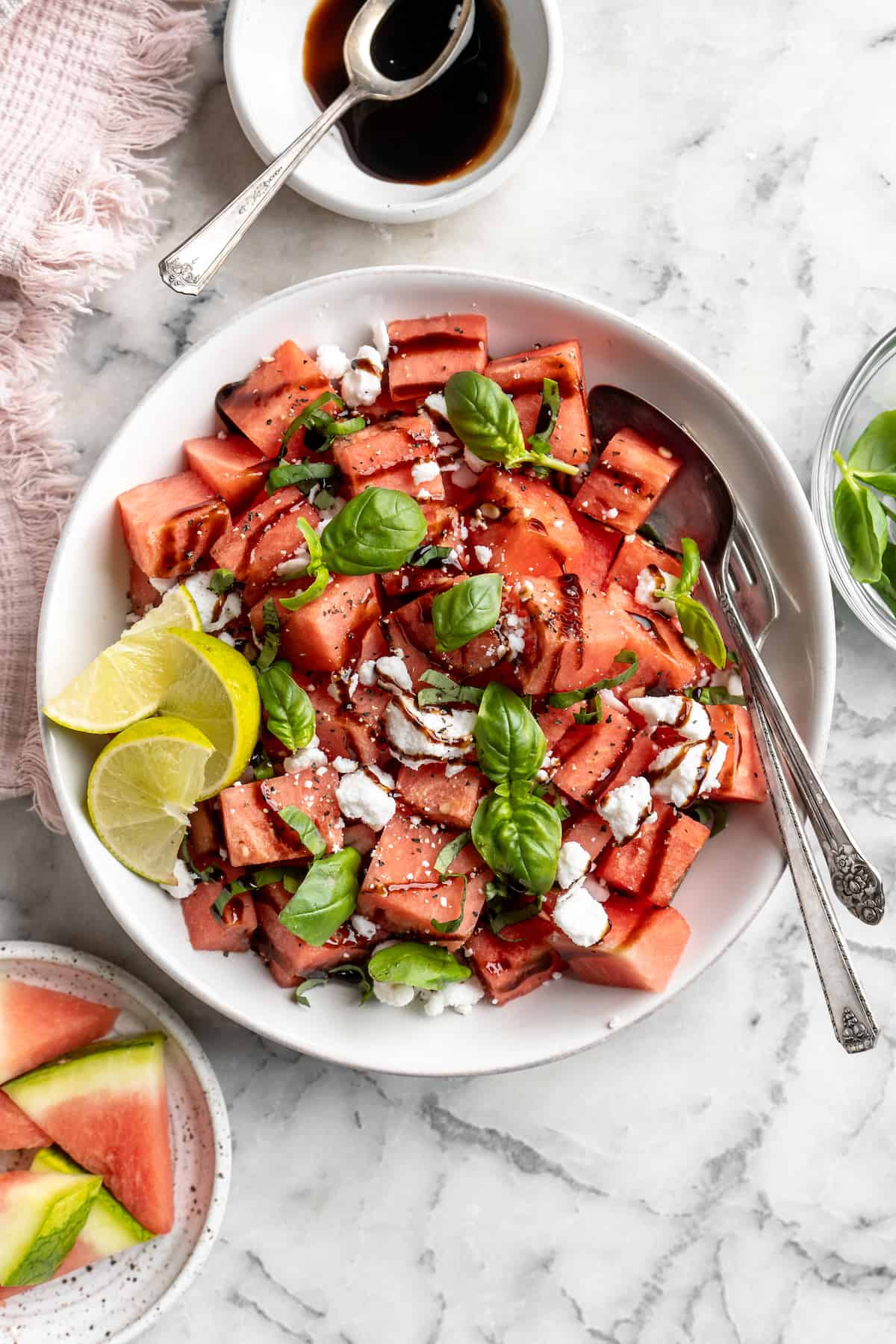 P.S. Here are some of the items I used to make this recipe if you'd like to use them too:
| WHAT YOU'LL NEED // SHOP MY FAVORITE INGREDIENTS & PREP PRODUCTS |


Enjoy friends! If you make this vegan watermelon feta salad, please snap a photo and tag #jessicainthekitchen on Instagram! We'd also love it if you would leave a comment below, and give the recipe a rating! Thanks so much!
More Vegan Salad Ideas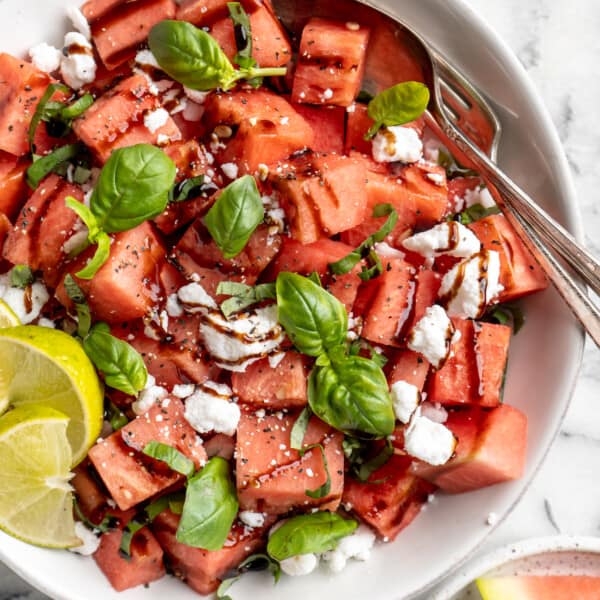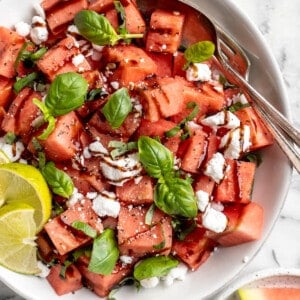 Watermelon Feta Salad with Balsamic Reduction
This Watermelon Feta Salad is fresh, juicy, and drizzled with a delicious balsamic reduction. It's made in just 15 minutes!
Ingredients
1/2 watermelon, about 4 cups, cubed
4 ounces almond feta, crumbled or tofu feta
1/4 cup basil, in chiffonade
sea salt and ground black pepper
1/2 lime
Balsamic Reduction (you can store the rest):
1/2 cup balsamic vinegar
1-2 tablespoons coconut sugar
1/2 teaspoon fine sea salt
Instructions
Mix the watermelon, feta, and basil in a bowl.

Grind the sea salt and ground black pepper over it to season, and squeeze the lime over.

Gently stir together to combine.

Drizzle with balsamic reduction.
Balsamic Reduction
In a pot over medium high heat, heat all the ingredients and stir. Watch carefully – the glaze should begin to thicken after 5 minutes and you want it thick enough to stick to the back of a spoon, but not to thicken into a glob. It becomes very thick very quickly so watch carefully.

Once glaze has thickened, remove from heat.
Notes
To store: Refrigerate in an airtight tupperware container for up to 2 days. This salad tastes best when fresh.  
Calories: 467kcal, Carbohydrates: 104g, Protein: 12g, Fat: 4g, Saturated Fat: 1g, Sodium: 768mg, Potassium: 1331mg, Fiber: 5g, Sugar: 84g, Vitamin A: 6560IU, Vitamin C: 97mg, Calcium: 178mg, Iron: 4mg
Disclaimer: Although jessicainthekitchen.com attempts to provide accurate nutritional information, kindly note that these are only estimates. Nutritional information may be affected based on the product type, the brand that was purchased, and in other unforeseeable ways. Jessicainthekitchen.com will not be held liable for any loss or damage resulting for your reliance on nutritional information. If you need to follow a specific caloric regimen, please consult your doctor first.