5 Ingredient Strawberry Crumble + New Updates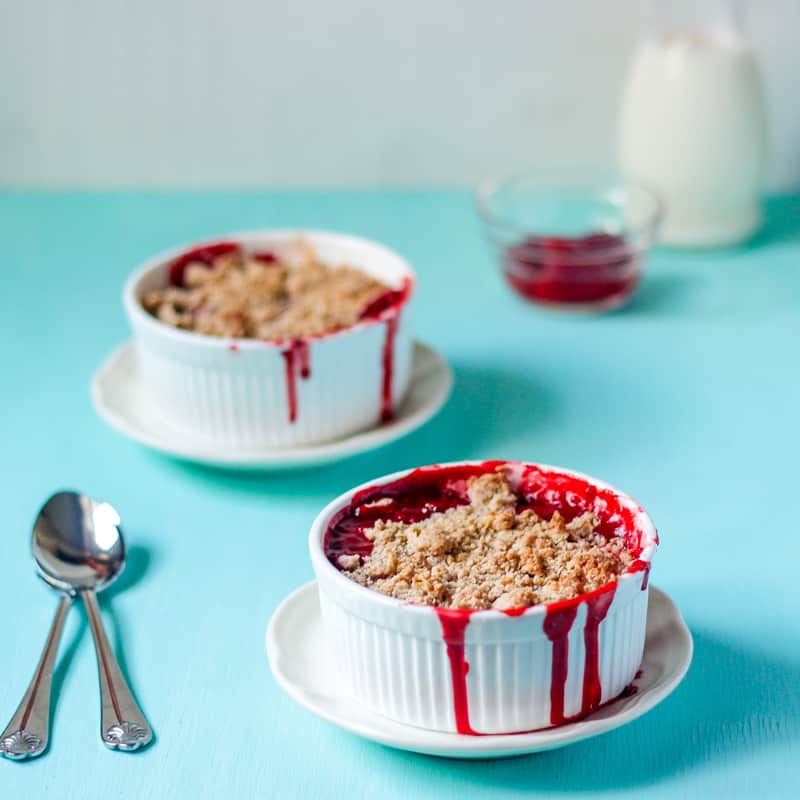 Yesterday, I was published on POPSUGAR! My post was a 5-Ingredient Strawberry Crumble aka the dish that made us fight over the leftovers, while I hid the second one. Oops. I love reading POPSUGAR and I was soo excited! This is honestly one of my favourite photos to date. More on that later.
Here's a snippet of the post:
"Strawberries are often my fruit of choice because no matter what you place them in — a salad, a crumble, or even a vinaigrette — it tends to be bursting with bright, juicy flavor. They're also the perfect fruit if you are looking for a pop of color. This is where this strawberry crumble comes in; it's a perfect, quick dessert that is filled with fruity flavour."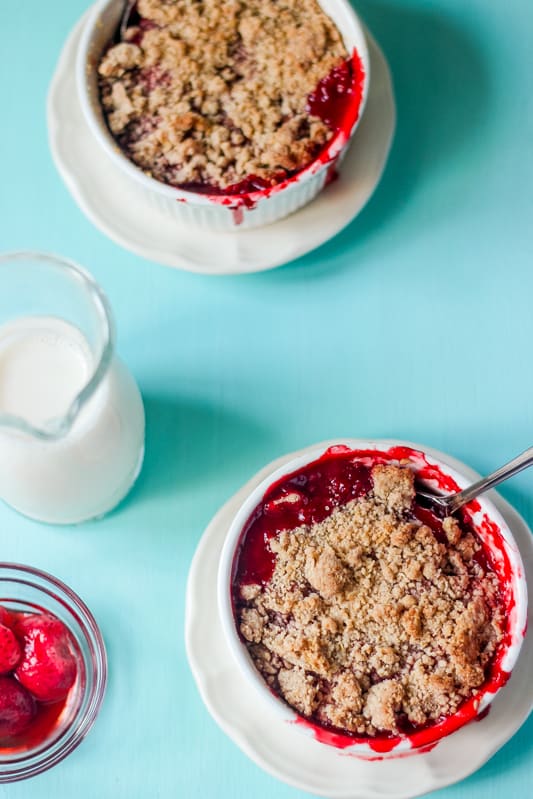 Like I said, this is one of my favourite photos to date – it's so exciting to always hear from you all that my photography has gotten better. Now to the new updates part! I've spent the past 4 months going into food photography and focusing on how to get better. As I've told many of you, I've been blogging for almost 4 years and my biggest regret is abandoning my blog for 2 ½ years of that – YES that's a lot of time! I've spent the past 5 months revamping my blog completely and I would say that food photography is the biggest part of that – and a lot of people have asked how I went from blah to nice photos sooo I created a page on my blog about it! How to Improve Your Food Photography in 4 Steps.
I lay out the 4 steps that I went through to reach here and share them with you! One section includes a ton of tips that I learn only from trial and error that I plan to update as soon as I learn more. Of course I'm not claiming to be an expert (do we always have to say this line for fear of backlash?) but after not doing anything on a food blog for months at a time, it's been the inspiration I needed to continue this always. I love food photography so much!! I could literally spend hours looking at photos and learning more techniques. As you can imagine, it's very nerve wracking to do this but I wish I new some of these things when I was starting out – just a guide with real things that worked, and I'm hoping I can help anyone looking for help. Can you guys help me to spread this by pinning the the food photography page please, I'd really love that!
But that's not all!!
Months ago I published a "How To Start a Food Blog" page and told no one because I was also too nervous, but I updated it the other day and I hope this guide helps! It also sets out help for switching from Blogger to WordPress, which I also wish I had when I had switched from Blogger to WordPress (which is terrible if you don't have proper help). You can pin that page by clicking here.
That's it for now! I would love your feedback and help on spreading the pages. I love doing this but I love helping even more. I've answered all the questions I've ever gotten in emails or person in these two guides on these two topics and I hope you enjoy!
Lastly, I promise, I also updated my About Me page – I just got a wee bit more personal, and re wrote a lot of it. I totally need to update that picture.
Toodles until next time!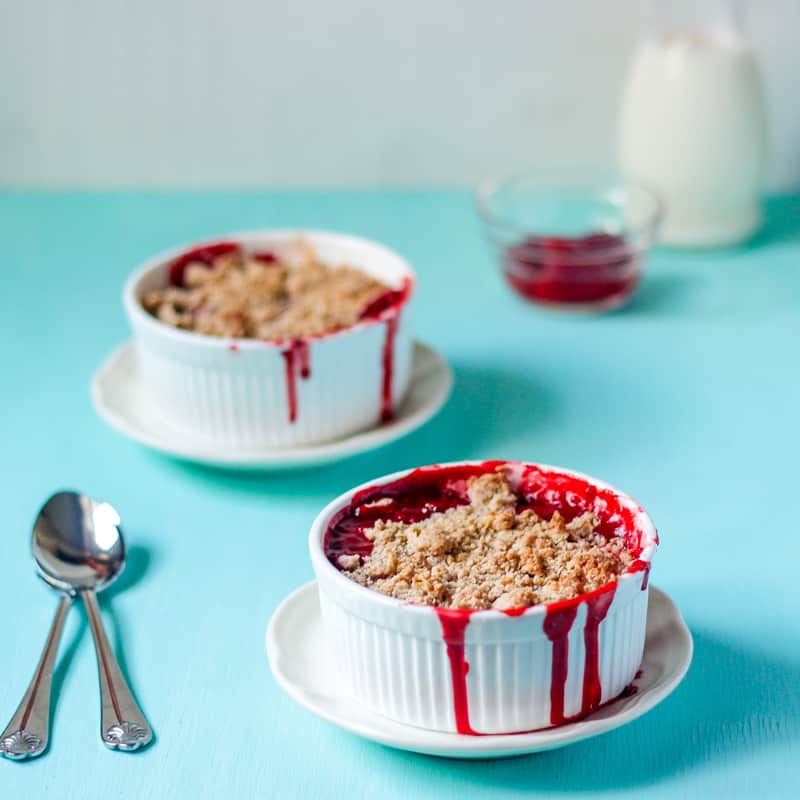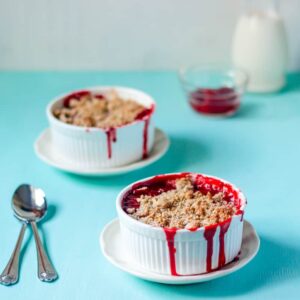 5 Ingredient Strawberry Crumble
A delicious strawberry crumble that's so easy to make!
Ingredients
2 1/2 tablespoons sugar, divided
1/2 cup plus 1 1/2 tablespoons all-purpose flour, divided
1 1/2 pounds strawberries, chopped
1/2 teaspoon sea salt
1/2 cup oats
2 tablespoons melted vegan butter
Instructions
Preheat oven to 375°F.

In a bowl, whisk together 1 1/2 tablespoons of the sugar, 1 1/2 tablespoons flour, and the sea salt. Add the strawberries and toss to coat. Allow to sit for 10 minutes to bring out the flavor of the strawberries and to thicken their juices.

In another bowl, mix together the oats, remaining 1/2 cup flour, and 1 tablespoons sugar. Add the melted butter bit by bit until a loose crumble forms. Don't over mix it.


Divide the strawberry mixture evenly between two ramekins. Top with the oat mixture, dividing the topping equally between the two ramekins.


Place the ramekins on a half sheet pan to catch any juices that bubble out of the ramekin. Bake for 30 minutes. Allow to cool for 10 minutes before serving.
Calories: 452kcal, Carbohydrates: 79g, Protein: 8g, Fat: 14g, Saturated Fat: 2g, Sodium: 678mg, Potassium: 627mg, Fiber: 10g, Sugar: 33g, Vitamin A: 41IU, Vitamin C: 200mg, Calcium: 65mg, Iron: 4mg
Disclaimer: Although jessicainthekitchen.com attempts to provide accurate nutritional information, kindly note that these are only estimates. Nutritional information may be affected based on the product type, the brand that was purchased, and in other unforeseeable ways. Jessicainthekitchen.com will not be held liable for any loss or damage resulting for your reliance on nutritional information. If you need to follow a specific caloric regimen, please consult your doctor first.