Grilled Peaches with Coconut Ice Cream
Grilled Peaches with Coconut Ice Cream is the perfect summer treat! The peaches are juicy, smoky and sweet and the coconut ice cream on top completes it all!
There's nothing quite like biting into a grilled peach. I mean, raw peaches themselves are pretty amazing. When grilled, its natural juices have been perfectly caramelised so it's a mix of smoky, sweet, juicy and fruity all in one. Now when you add the perfect vegan ice cream on top of that? It's the kind of experience to blog about! This is going to be one of your go to favourite ever desserts for this summer and beyond.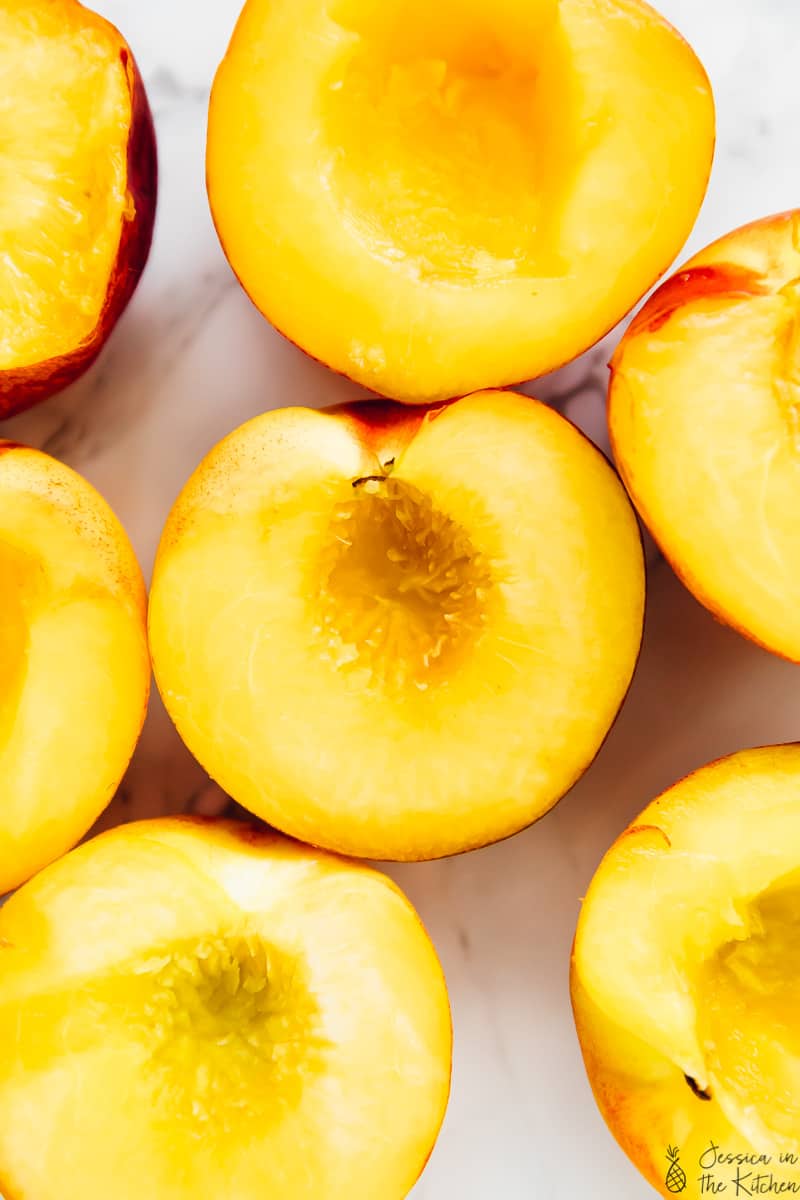 I've been grilling peaches for a few summers now and been on the hunt for the best vegan ice cream to pair with them. Last January that hunt finally came to an end. I was introduced to Coconut Bliss at the same conference that I won my award so you can definitely say that this was a win win kind of a night! We sat there taking photos that awards night, and were fortunate enough to get to try one of their at-the-time brand new products.
Fast forward and it was the only vegan ice cream I bought in my 5 weeks in LA. It's since become my favourite vegan ice cream and frozen treats line. So it's an absolutely delight to be partnering with them on this blog post for their rebranding! Not only was I already in love with their ice cream, but their rebrand is absolutely stunning!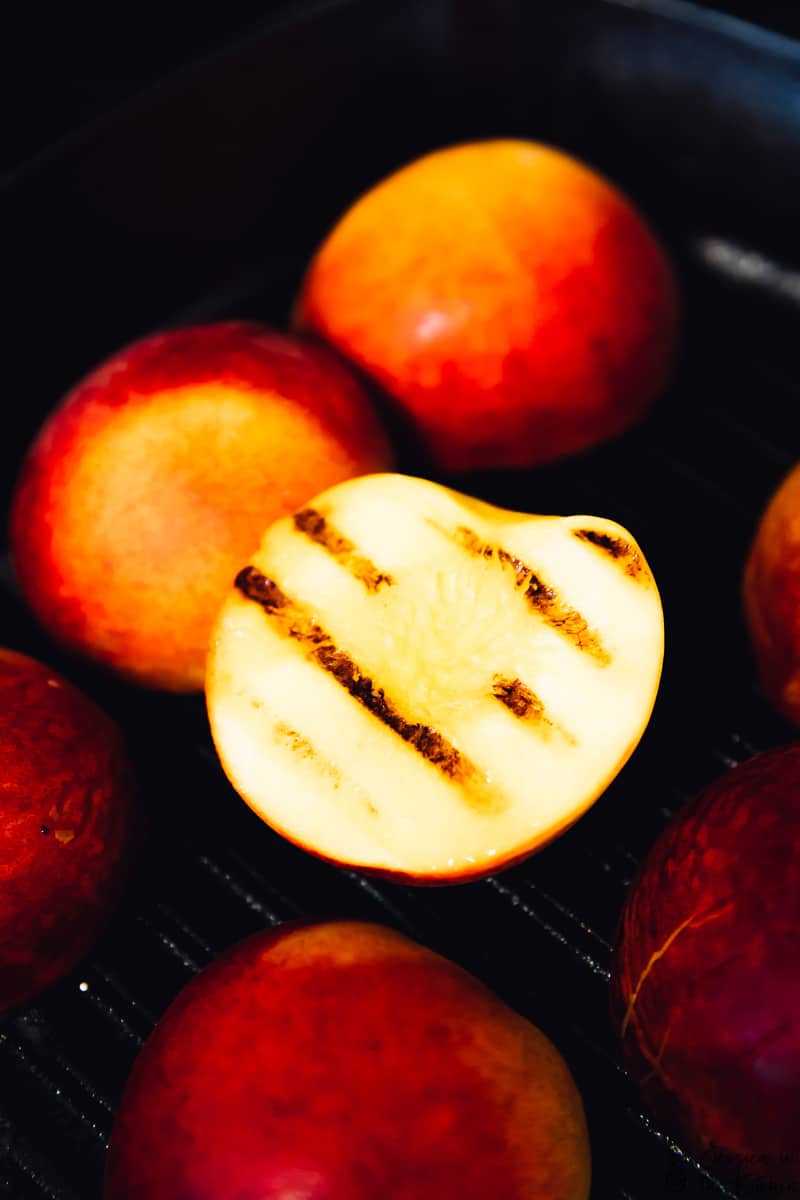 Coconut Ice Cream
Coconut Bliss Ice Cream is so creamy! You won't get any iciness from this ice cream at all. absolutely delicious, organic, and they have the best flavours! You can choose from over a dozen flavours to enjoy, and I love their approach to creating such a sustainable product too. I went with Infinite Coconut for this flavour because it was an ode to Jamaica, the tropical life, and I love coconut!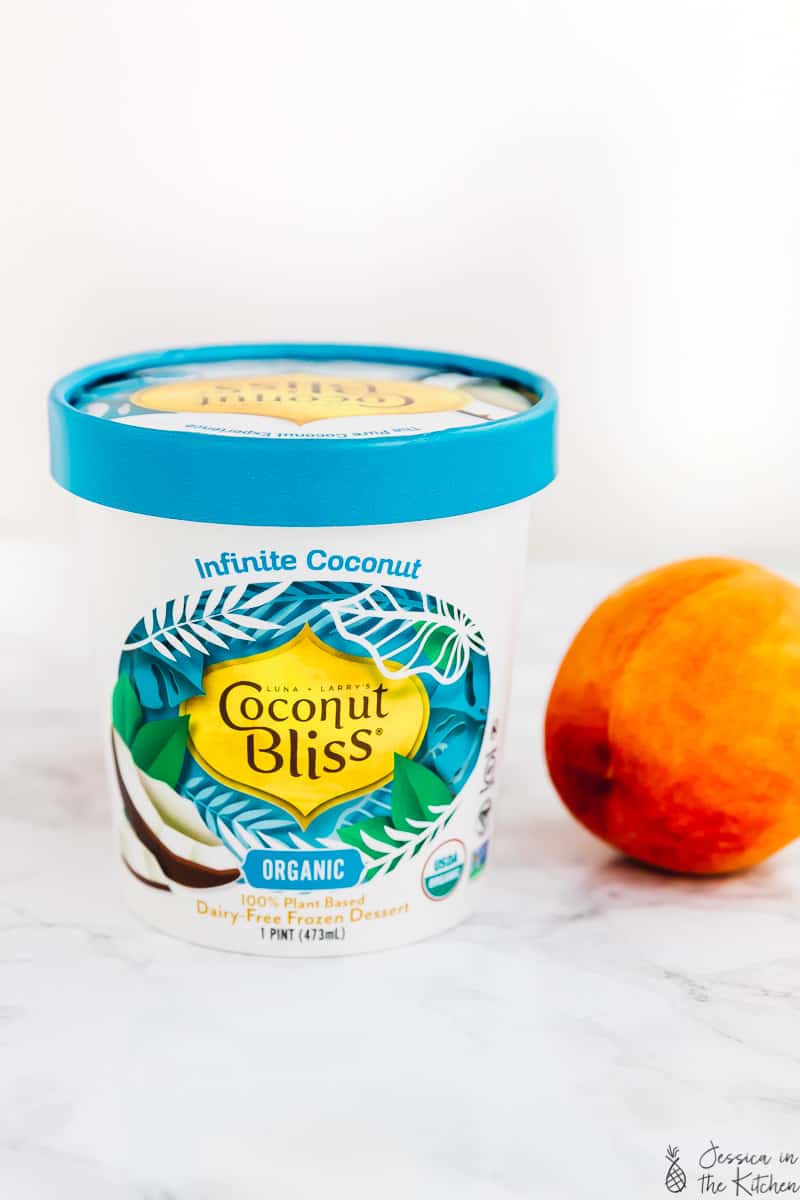 Infinite Coconut has a divine coconut flavour that's subtle with a light vanilla flavour in it too. I love the bits of coconut that are in it too. Not going to lie I had to spread the love with this ice cream because every single bite was so good. On top of these grilled peaches, it was the most satisfying treat.
How to Grill Peaches
Let's get right into it. Grilling peaches is a lot easier than it may seem, and it really is one of those perfect treats for the summer. I love that you can easily grill them outside on your grill or even on a grill cast iron pan if you're opting to stay inside on that day instead. They come out basically perfect either way.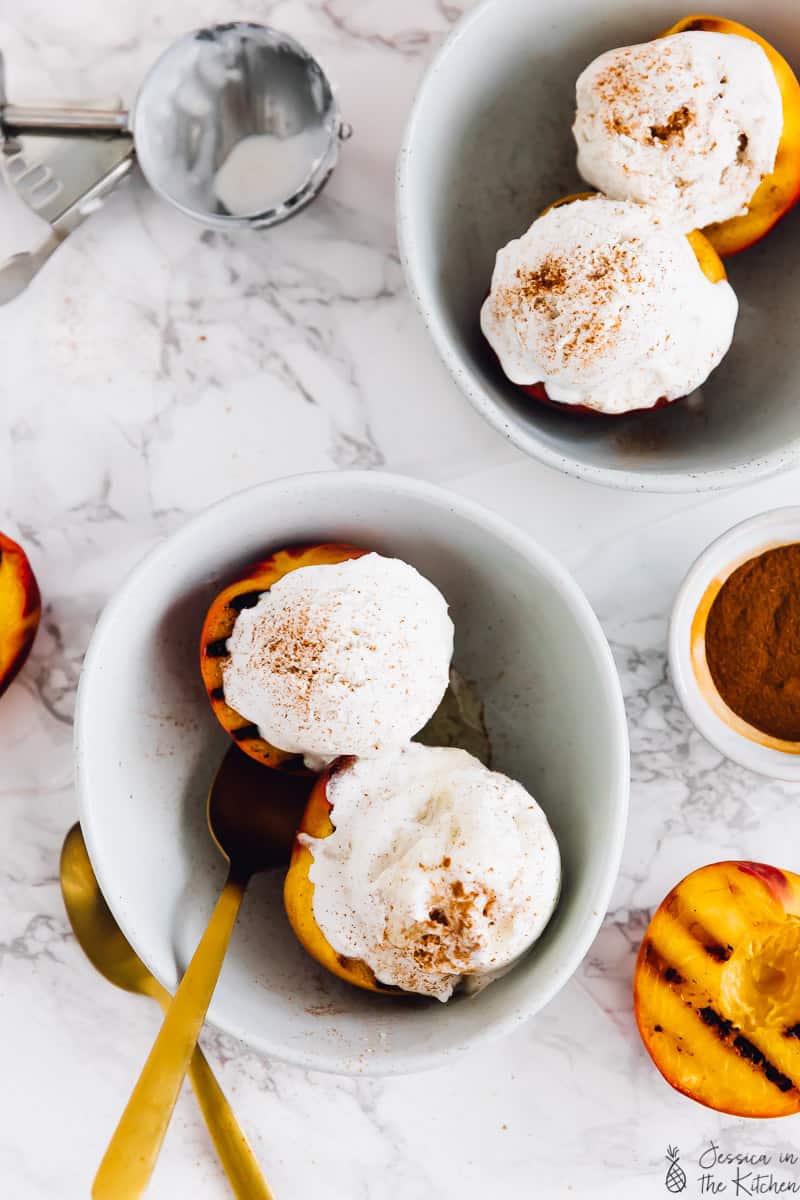 To grill a peach, you want to pit the peach first and remove it. There are lots of great videos online showing this process. Then you brush the peach halves with an oil that has a high smoke point – my favourites are coconut, algae oil and avocado oil for this. Then you grill the peach halves, exposed side down. That's it! It's such a simple process that you could and definitely should enjoy it all summer long!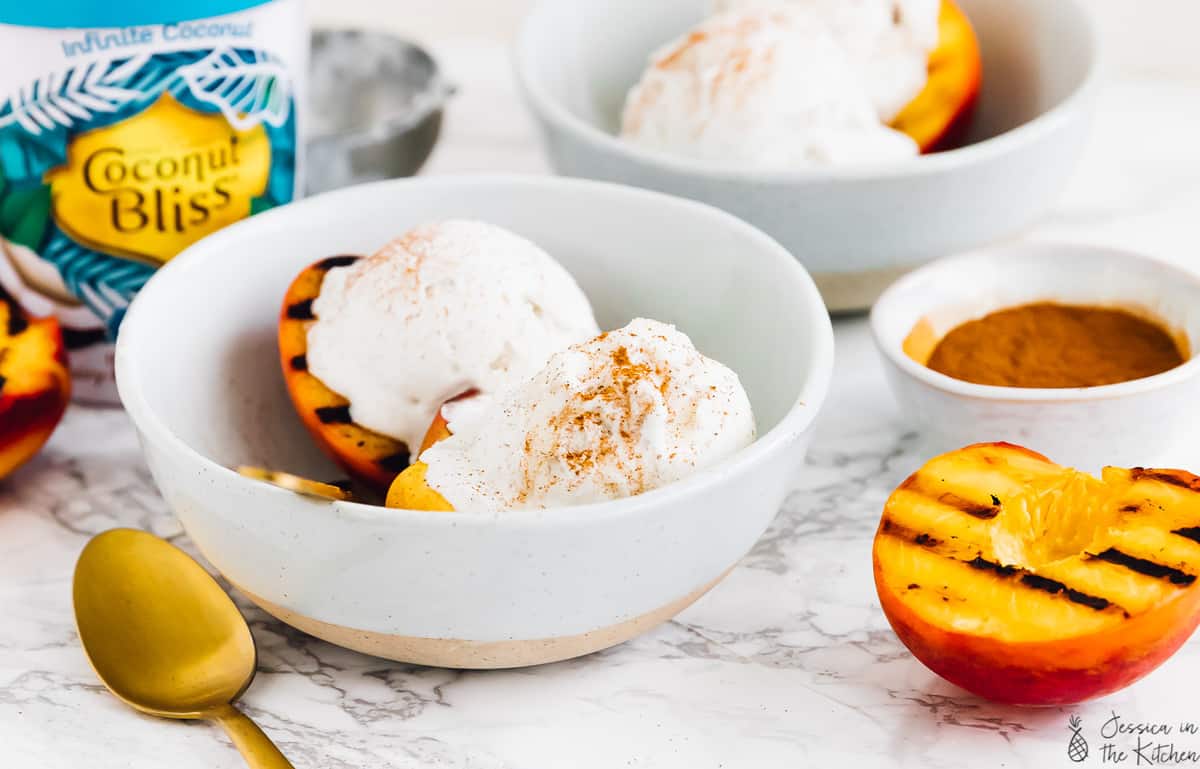 Tips for choosing great peaches to grill
The key to grilling peaches are choosing peaches that are firm, just ripe or even slightly under ripe. You definitely do not want over ripe or old peaches since they just aren't the right candidate here. You also want to ensure that you chose a sharp knife to cut your peaches so you end up with the prettiest cuts too.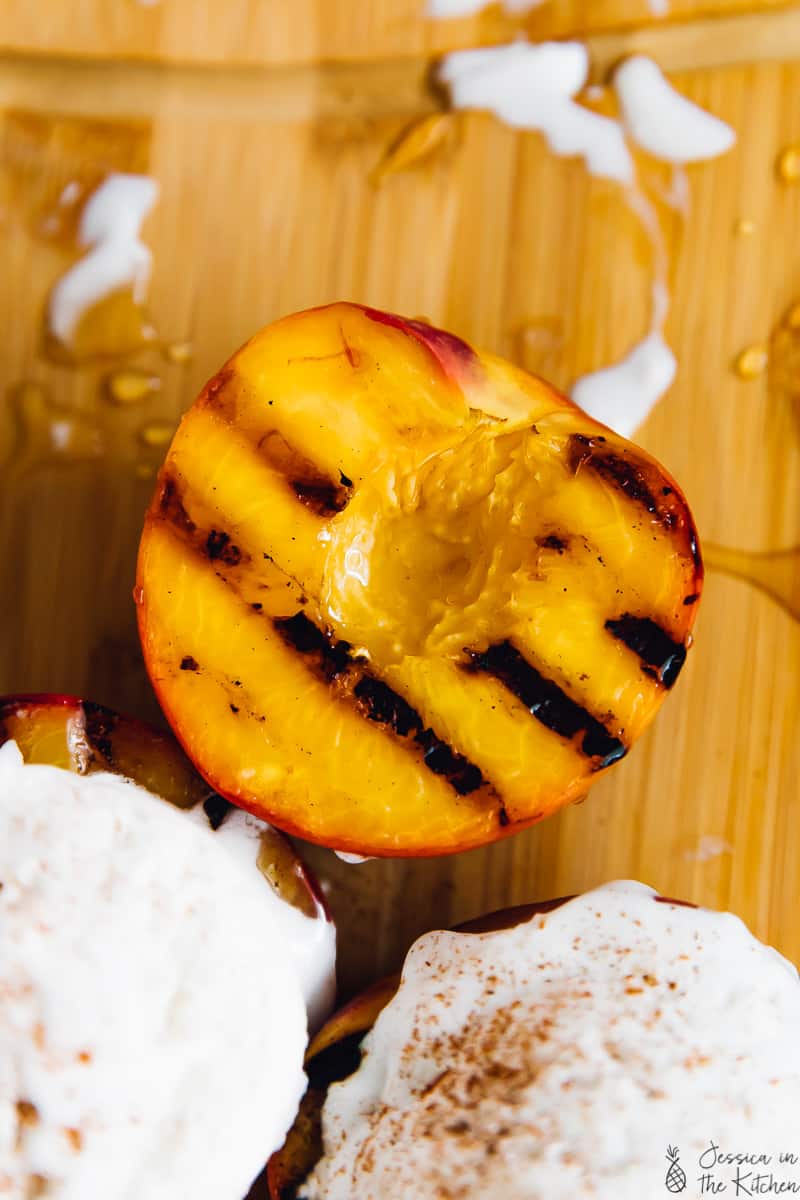 That's it friends! Time to get grilling and topping off! P.S. feel free to triple sample your Coconut Bliss Vegan Ice Cream while your peaches are grilling! I won't tell.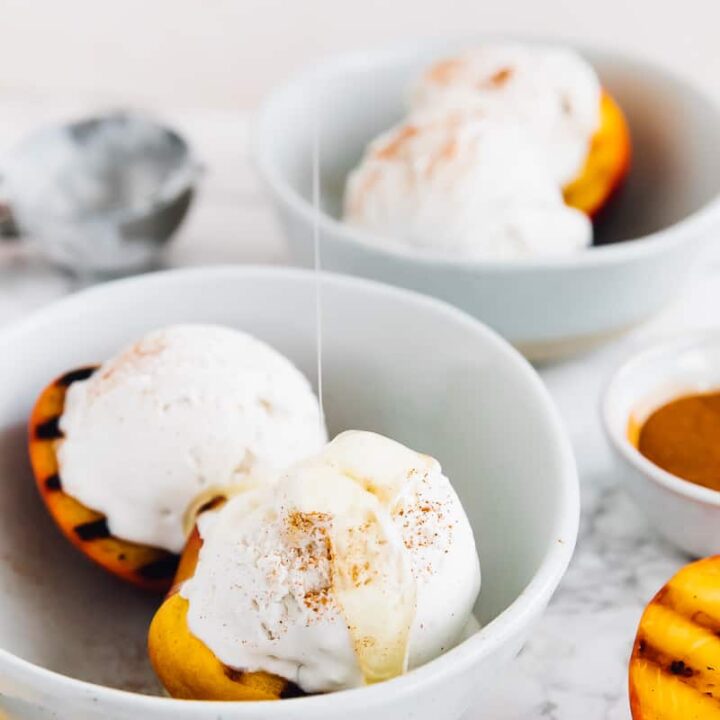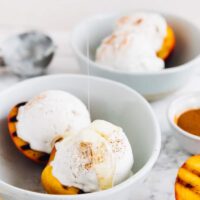 Grilled Peaches with Coconut Ice Cream
Grilled Peaches with Coconut Ice Cream is the perfect summer treat! The peaches are juicy, smoky and sweet and the coconut ice cream on top completes it all!
Ingredients
5 peaches, pitted and halved
1/2 tablespoon oil, coconut, algae or avocado
1 container Coconut Bliss Infinite Coconut Vegan Ice Cream
cinnamon, to sprinkle
Optional: Drizzle of maple syrup
Instructions
Heat your grill or grill pan to medium high heat.

Brush the peach halves with the oil before putting on the grill. Have a tray or plate nearby to remove.

Place each half down on the grill and cover, grilling for up to 4-6 minutes and until the stone fruit have softened and grill marks are present. Check to ensure they don't burn. Some marks may look like burns but they are just dark caramelisations, and vice versa. ou can rotate 90 degrees to get criss cross on the stone fruit. Remove onto a plate.

Serve two half into a bowl, and scoop a scoop of Coconut Bliss Infinite Coconut Vegan Ice Cream onto one half or both, sprinkling with cinnamon. If you'd like, you can also brush the peaches with maple syrup when they come off the grill or drizzle a little on top. Enjoy!
Calories: 71kcal, Carbohydrates: 14g, Protein: 1g, Fat: 2g, Saturated Fat: 1g, Sodium: 1mg, Potassium: 285mg, Fiber: 2g, Sugar: 13g, Vitamin A: 489IU, Vitamin C: 10mg, Calcium: 9mg, Iron: 1mg
Disclaimer: Although jessicainthekitchen.com attempts to provide accurate nutritional information, kindly note that these are only estimates. Nutritional information may be affected based on the product type, the brand that was purchased, and in other unforeseeable ways. Jessicainthekitchen.com will not be held liable for any loss or damage resulting for your reliance on nutritional information. If you need to follow a specific caloric regimen, please consult your doctor first.