Avocado Toast Recipe (with Pickled Onions) (Vegan + Best Tips)
This Avocado Toast is my go to breakfast and is so incredibly easy to make! It's so delicious, made with tasty ingredients and takes only 10 minutes!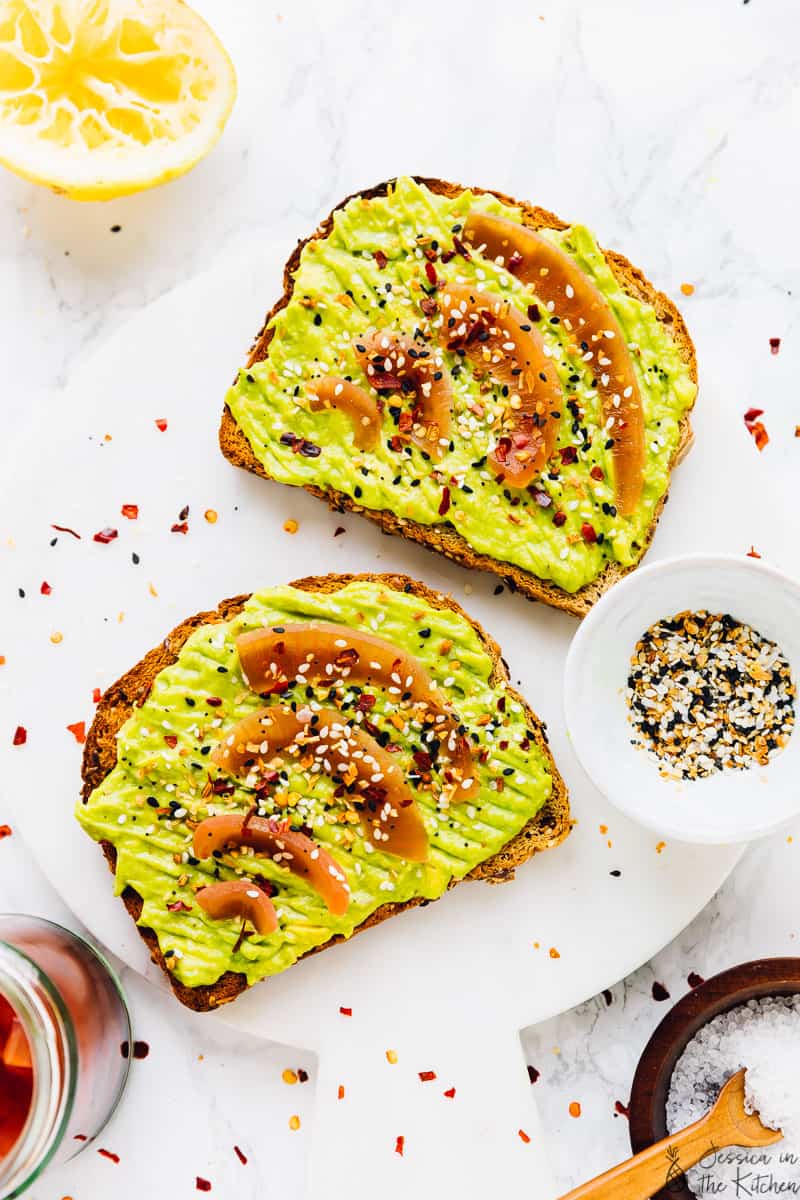 I get asked so often "
what do you eat everyday?
" and I realise I don't have a blog post of my ultimate go to breakfast: avocado toast. You know, I've always thought about making a recipe for my favourite avocado toast but then there was the avo toast craze. It was everywhere, something I was very happy with. But I used that as an excuse that you guys probably had a recipe for it by now.
Silly, right? There can never be too much avocado toast and there can never be too many recipes on this blog! So in honour of that question – this, my friends, is what I usually eat everyday. Workout, protein shake, avo toast. My favourite avo toast in the world is simply seasoned avocado on some bread, topped with
deliciously pickled onions
, red pepper flakes and everything bagel seasoning. That's it! It's SO good it's insane.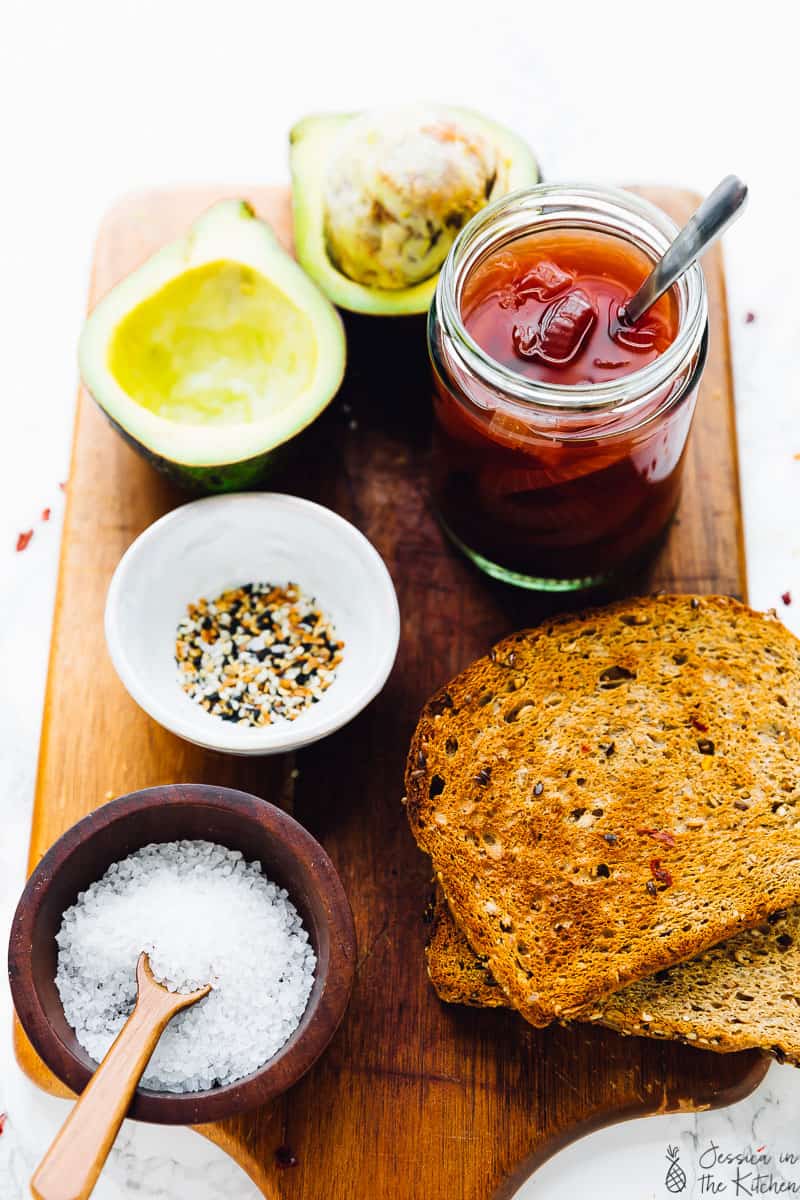 There are so many great and crucial reasons that Avocado toast is my go to breakfast. Firstly, it's a high fat meal which I not only love, but I also thrive on. I always ensure to use my favourite lower carb/loaded with amazing fibre bread which is Dave's Killer Bread. Of course choose your favourite bread here!
The next reason is that it is loaded with so many delicious nutrients. As we know, Avocado is loaded with monounsaturated fats aka good fats, as well as so many vitamins such as Vitamin C, K, E and A. Then of course, there's the time it takes. This avocado toast takes ten minutes to whip up which is absolutely incredible. That means you can have an amazing and nutrient packed breakfast every single day from scratch. Of course, you'd have to make the
pickled onions
first. That's a one time thing and they last you so long.

Tips on how to make the best avocado toast
The right avocado – you want to choose an avocado that is firm with a slight give when you press into it, but not too mushy.
Season your avocado separately – I've definitely seasoned my avocado portion on the toast itself and while it was fine, it's so much better to pre-season and mash it in a little bowl, then to transfer it onto your bread. Plus it makes it way prettier for photos!
Have it fresh – don't try to meal prep this one ahead of time. Avocado toast is best freshly made. Trust me, I literally tested it for you!
Definitely add toppings: sure, avocado sea salt pepper and lime are great by itself. But this is your time to shine! Avo toast's toppings are what also takes it over the top so definitely jazz it up with some toppings!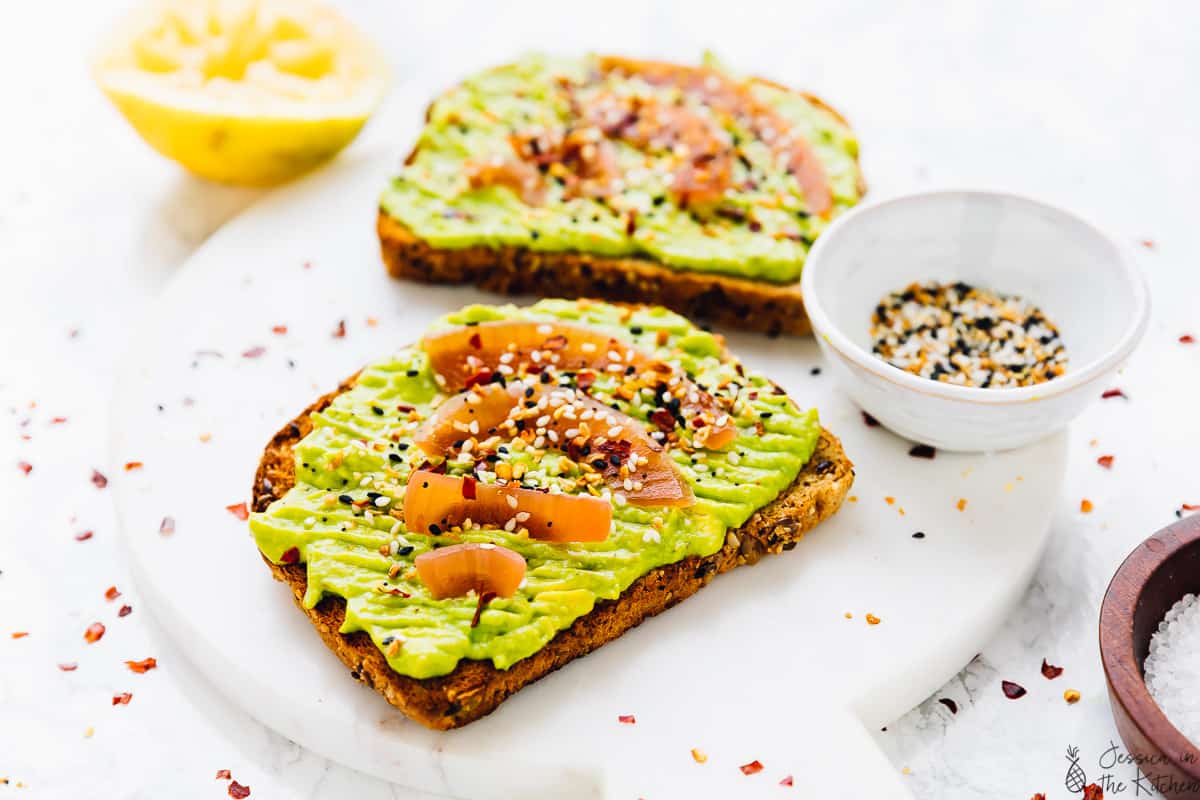 Some ideas for your avocado toast
If you want to dress this up even more/switch it up, here are some extras:
Black sesame seeds
Drizzle of truffle oil
vegan feta cheese
burst tomatoes
Anyway – let's get into the recipe friends! This is so precious to me so I hope that you enjoy!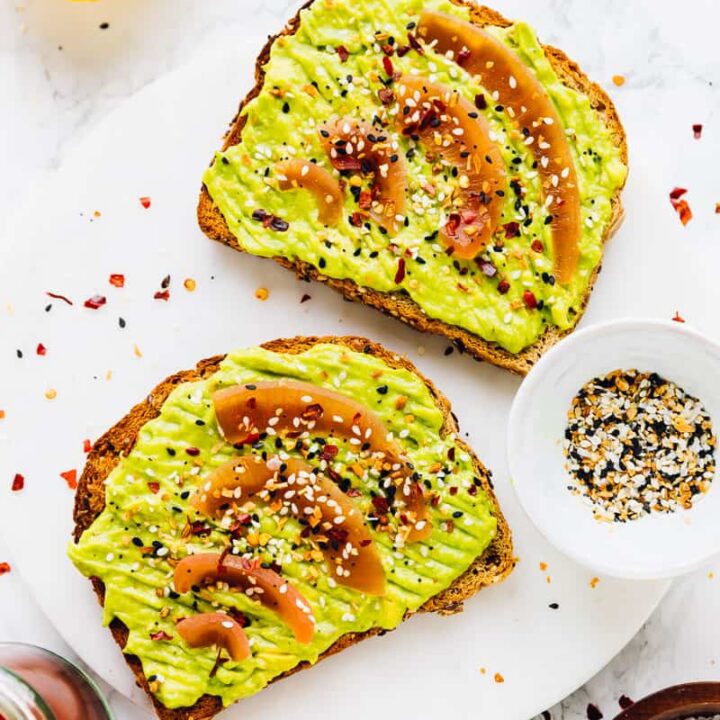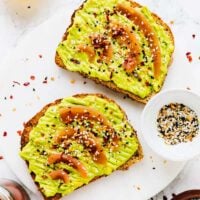 Avocado Toast Recipe (with Pickled Onions) (Vegan + Best Tips)
This Avocado Toast is my go to breakfast and is so incredibly easy to make! It's so delicious, made with tasty ingredients and takes only 10 minutes!
Ingredients
2 slices bread, I love Dave's Killer Bread because it's lower in carb that regular breads and higher in healthy fats
½ medium avocado (mine weighed 9.7oz with the large pit still inside, 6.1pz with the pit removed and avocado still in skins
⅛ teaspoon Sea salt
1/8 teaspoon Black pepper
Juice of 1/2 lime
sprinkle of Red pepper flakes
optional: a shake of everything bagel seasoning
Instructions
Toast your bread until golden brown.

While your bread is toasting, scoop out your avocado from the skin and place it in a bowl. Squeeze in the lime, and sprinkle in the sea salt and black pepper. Using a fork, mash it until it's to the texture you prefer.

Spread the avocado on the toasts evenly.

Sprinkle/put on the rest of the topics and enjoy!
Calories: 185kcal, Carbohydrates: 25g, Protein: 5g, Fat: 8g, Saturated Fat: 1g, Sodium: 305mg, Potassium: 375mg, Fiber: 6g, Sugar: 5g, Vitamin A: 222IU, Vitamin C: 14mg, Calcium: 63mg, Iron: 1mg
Disclaimer: Although jessicainthekitchen.com attempts to provide accurate nutritional information, kindly note that these are only estimates. Nutritional information may be affected based on the product type, the brand that was purchased, and in other unforeseeable ways. Jessicainthekitchen.com will not be held liable for any loss or damage resulting for your reliance on nutritional information. If you need to follow a specific caloric regimen, please consult your doctor first.