Mexican Breakfast Burritos
These Mexican Breakfast Burritos are crisp on the outside and creamy and delicious on the inside. They are very freezer friendly and were a family favorite easy breakfast!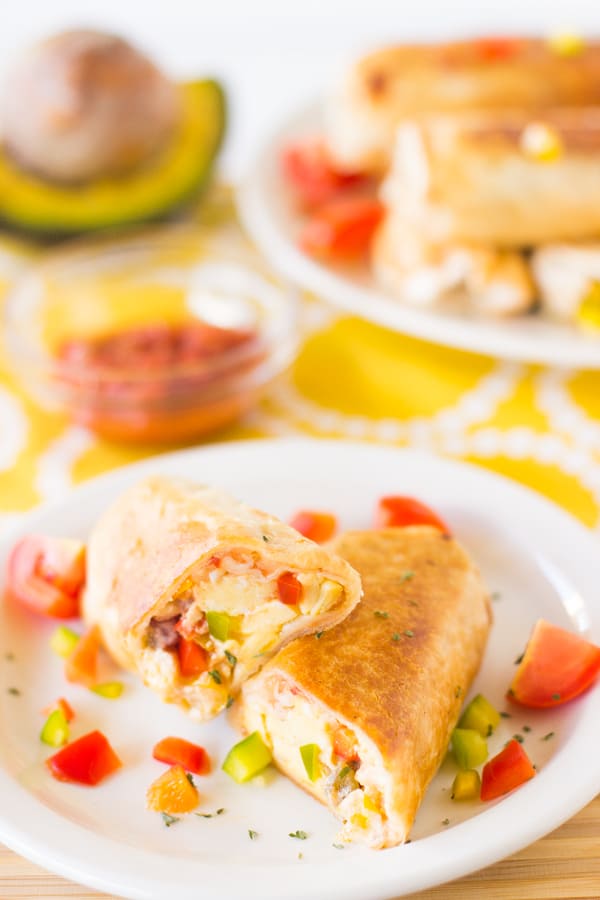 As you can probably tell, I've got Mexican food on my mind. Breakfast is my fav meal of the day and I've wanted to share these burritos for weeks. Let's just say that after one bite, I went into a total food haven. I know, I've been holding out on you, but alas you don't have to wait anymore! Introducing my new favorite make-on-the-weekend-for-the-entire-week-meal. Yup, I just made up that phrase.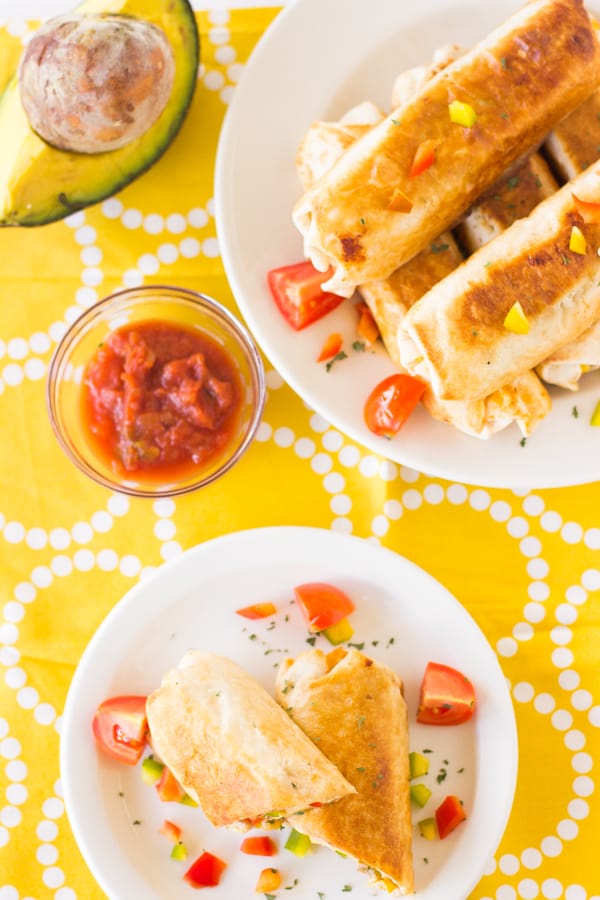 These Mexican Breakfast Burritos are probably one of the easiest meals I've ever made while making six separate meals at once. Yes, you read that right, this recipe not only makes six burritos at once, but it's freezer friendly. Whether you are a busy mom, someone who doesn't have a lot of time in the morning or just a human being who probably doesn't want to have to cook breakfast every single day (cue: me and my hungry stomach), these will be perfect for you. You just have to pop them into the microwave into the morning and, self-tested, the taste just as great as the first day they were made.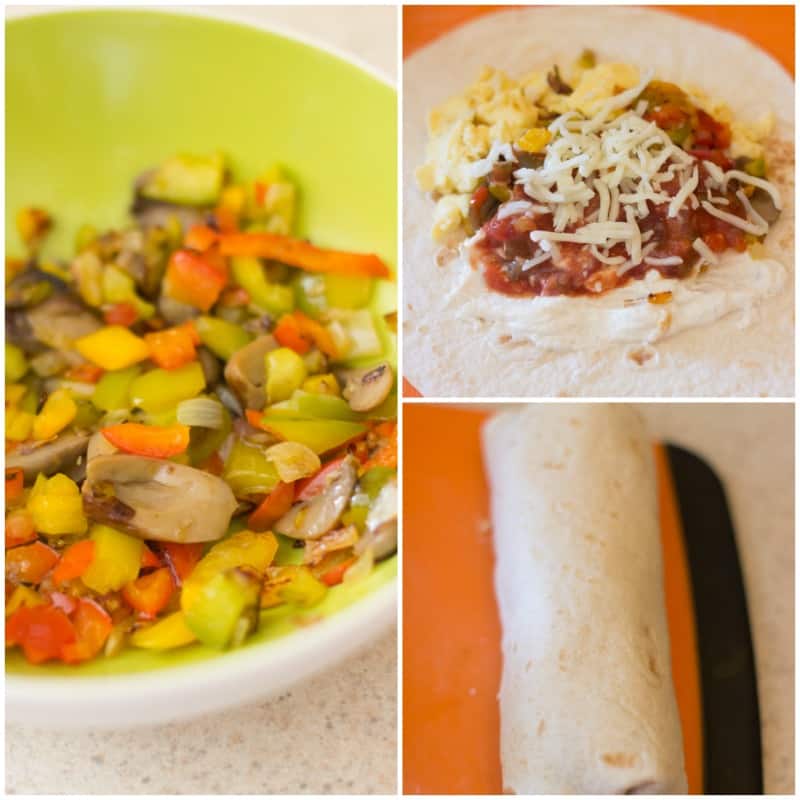 So let me describe these for you. You get a mix of creamy mushrooms, onions, and bell peppers sautéed together, then creamy scrambled eggs, delicious, tart greek yogurt, shredded cheese and everyone's favorite, salsa. These are all combined into a tortilla and each side is toasted so that you get a crispy toasted outside and a soft and creamy plus crazy flavorful inside. I like to think of this as an omelette inside a crispy tortilla except 10x better.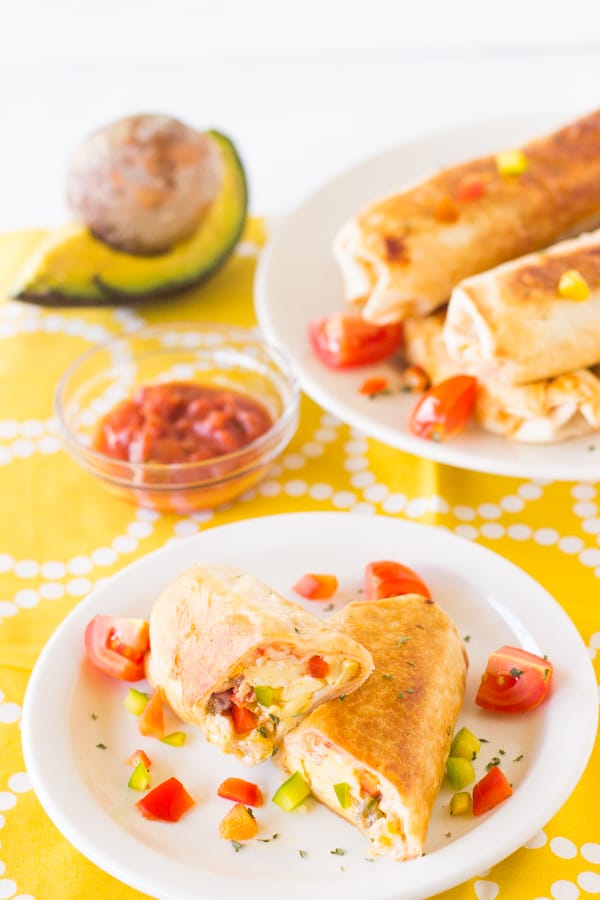 As usual, this recipe is totally customisable. You could add tomatoes, more mushrooms, less cheese…anything you want to. Ensure you try these out! I promise they'll become a favorite among your family members and will save your sanity in the mornings! Best of all? They are pretty healthy! You get a filling, protein packed recipe that's about 220 calories each! I'm not sure what's better…low calories and delicious, or super easy to make and freezer friendly, but I'm going to go with both factors and dive right into enjoying these all over again!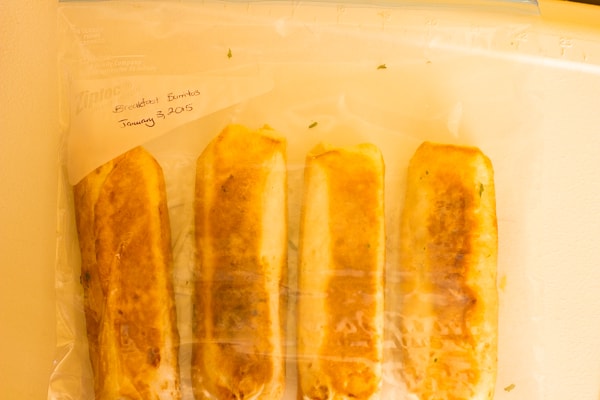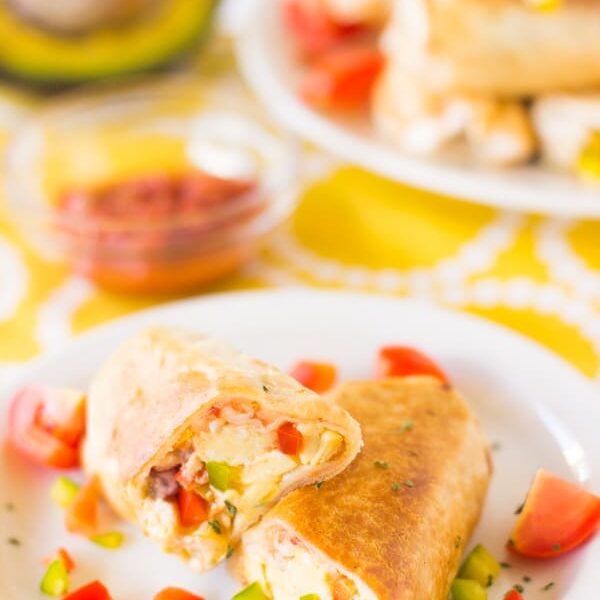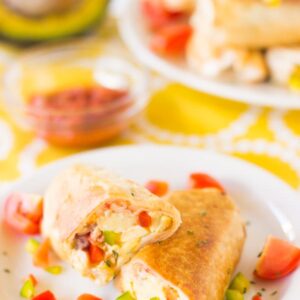 Mexican Breakfast Burritos
These Mexican Breakfast Burritos are crisp on the outside and creamy and delicious on the inside. They are very freezer friendly and were a family favorite easy breakfast!
Ingredients
6 8- inch tortillas
1/2 large onion, chopped
1/2 large bell pepper, diced (I mixed red and green)
3 tablespoons mushrooms, sliced
7 eggs
salt
pepper
dash of almond milk, per egg
6 tablespoons salsa
6 tablespoons Greek yogurt
2 1/2 teaspoons garlic powder
6 tablespoons shredded cheese
Instructions
Eggs
In a pan over medium heat, scramble your eggs as you always would with salt, pepper and a dash of almond milk (or regular milk if you prefer). If you make all 7 at the same time like I did, it may take a while; about 5-8 minutes.
Seasonings
While the eggs are cooking, at the same time heat a tablespoon of oil in another pan over medium high heat. Add the onion, bell pepper and mushrooms and sauté for about 5 to 7 minutes until onions are translucent.
Healthier Sour Cream
Mix the greek yogurt and the garlic powder together. Set aside.
Assemble
Spread 1 tablespoon of greek yogurt over each tortilla, leaving a bit of space around the edges. Add in the eggs, then the season mix on top, then a tablespoon of salsa. Roll the tortillas (towards you and then folding in the two sides) so that there are four sides. You can roll all of your tortillas at the same time before you heat them.

In a large pan over medium heat, spray with cooking spray. When the pan is hot, add all six burritos into the pan, placing on the side where the rolling of the tortilla ended. Heat for 2 minutes on that side (so it's sealed off) and until golden brown and crispy, and then rotate until all four sides have been heated for 2 minutes each.

Cut in half and serve immediately.
TO FREEZE
After preparing the burritos, place in a freezer safe ziplock bag and place flat so that they freeze without touching each other. You should label the bag. I like to eat them within two weeks of when they were made. To defrost, prick with a fork a few times and microwave for 3 minutes, or you could prick with a fork and place in the toaster oven at 350 degrees for 6-8 minutes so that it's still crispy. Each microwave and toaster oven are different so test to see what time works best to defrost your burritos.
Calories: 280kcal, Carbohydrates: 31g, Protein: 15g, Fat: 10g, Saturated Fat: 4g, Cholesterol: 198mg, Sodium: 648mg, Potassium: 295mg, Fiber: 2g, Sugar: 5g, Vitamin A: 722IU, Vitamin C: 14mg, Calcium: 149mg, Iron: 3mg
Disclaimer: Although jessicainthekitchen.com attempts to provide accurate nutritional information, kindly note that these are only estimates. Nutritional information may be affected based on the product type, the brand that was purchased, and in other unforeseeable ways. Jessicainthekitchen.com will not be held liable for any loss or damage resulting for your reliance on nutritional information. If you need to follow a specific caloric regimen, please consult your doctor first.