Vegan Breakfast Pizza
This vegan breakfast pizza features plant-based eggs, cheese, hash browns, and sausage, all baked on a crispy, chewy crust. It's a satisfying, savoury breakfast that will help you start your day off right!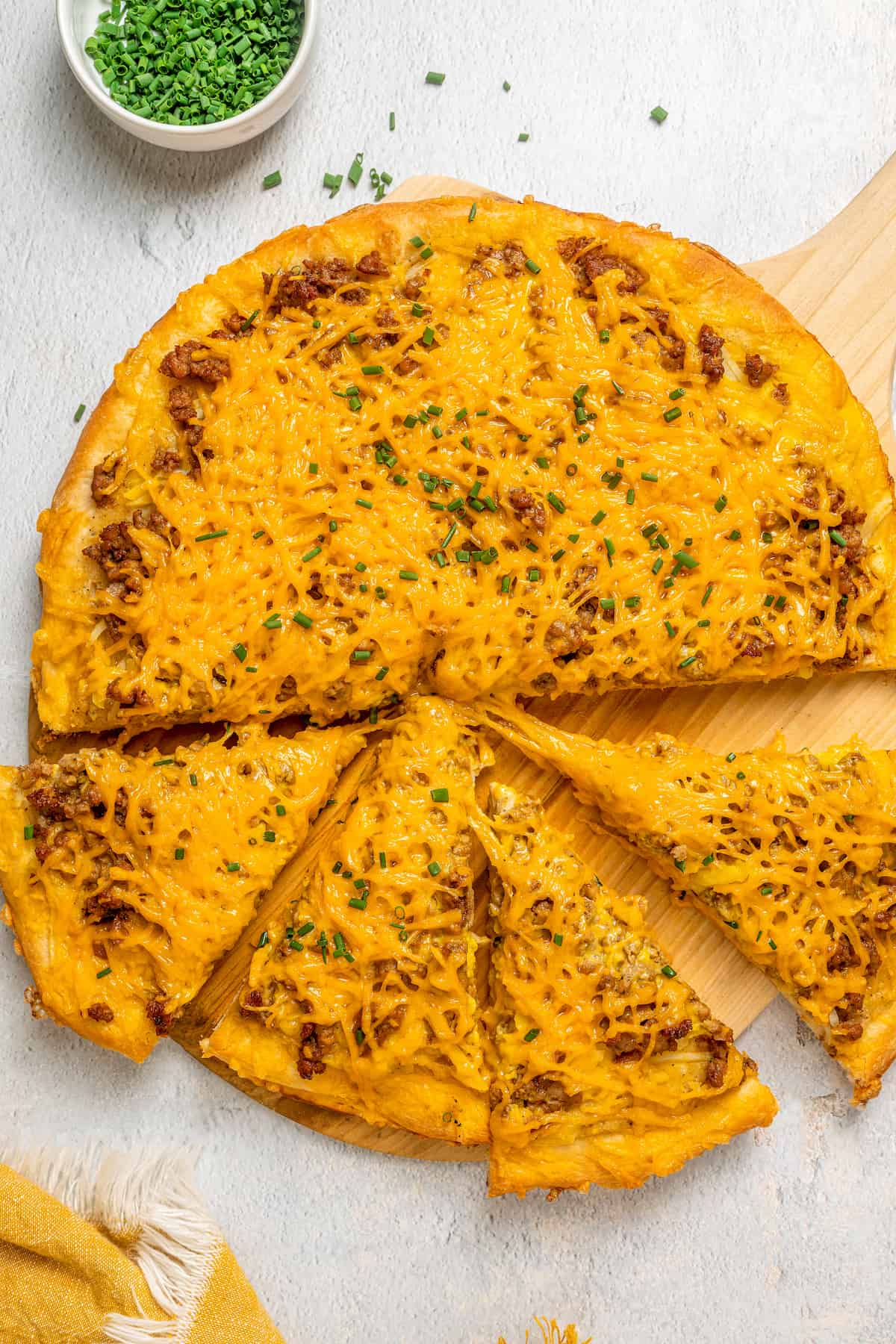 Pizza for breakfast doesn't have to mean a cold slice of leftovers from last night's dinner! While leftover pizza for breakfast is a great post-pizza-night tradition, you can do better—like this vegan breakfast pizza!
If you miss savoury breakfast foods like eggs, sausage, and cheese since going vegan, you're going to love this pizza—it has all of those flavours in a single slice, and it's completely plant-based. Over the years, plant-based meats, cheeses, and eggs have come a long way, and this is a recipe where we take advantage of those store-bought ingredients to put together a vegan breakfast pizza that comes together lickety-split.
In fact, if you use a store-bought crust (or make your own pizza dough ahead of time), this whole recipe takes only 10 minutes of prep. That's it! Pop it in the oven for 15 minutes, and you've got a piping hot breakfast pizza ready to devour.
And, just like those pizza night leftovers, this vegan breakfast pizza will last a few days in the fridge, making it ideal for meal prep. (Yes, you can even eat it cold if you want!)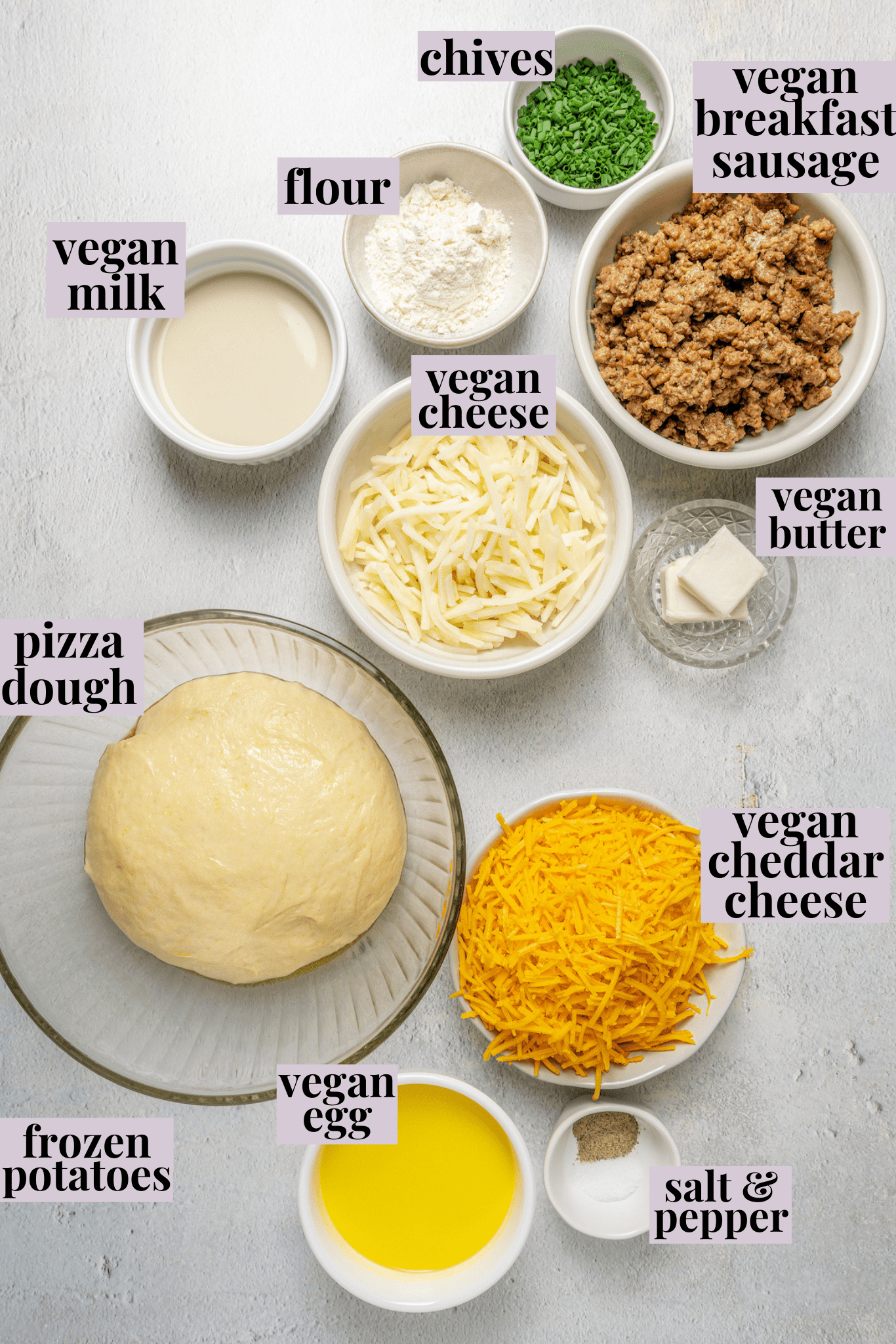 Notes on Ingredients
Scroll down to the recipe card to find the ingredient quantities and recipe instructions.
Pizza dough – You can use store-bought vegan dough, or use my homemade pizza crust recipe.
Vegan butter – Store-bought or homemade butter.
All-purpose flour
Plain unsweetened plant milk – Use any variety you like, just make sure it's unflavoured and unsweetened!
Salt
Cracked black pepper
Frozen small diced potatoes or shredded hash browns
Vegan breakfast sausage – I recommend Beyond Breakfast Sausage, Impossible Sausage, Maple Breakfast Jack Sausage by Jack & Annie's, or Gimme Lean Sausage.
Vegan egg batter– Options include Just Egg, VeganEgg by Follow Your Heart, or Simply Eggless Plant Based Egg.
Vegan shredded cheddar cheese – I like Daiya, So Delicious, Follow Your Heart, and Violife brands.
Green onion or fresh chives
Do Vegan Eggs Taste Like Eggs?
Vegan eggs taste surprisingly similar to regular eggs, although, like any vegan substitute, they're not totally identical. Of course, all brands are slightly different, with some tasting more eggy than others, but generally speaking, these products have a taste and texture that mimics eggs quite well.
How to Make Vegan Breakfast Pizza
If you're making the pizza dough from scratch, you can easily make it the night before and minimize prep time in the morning.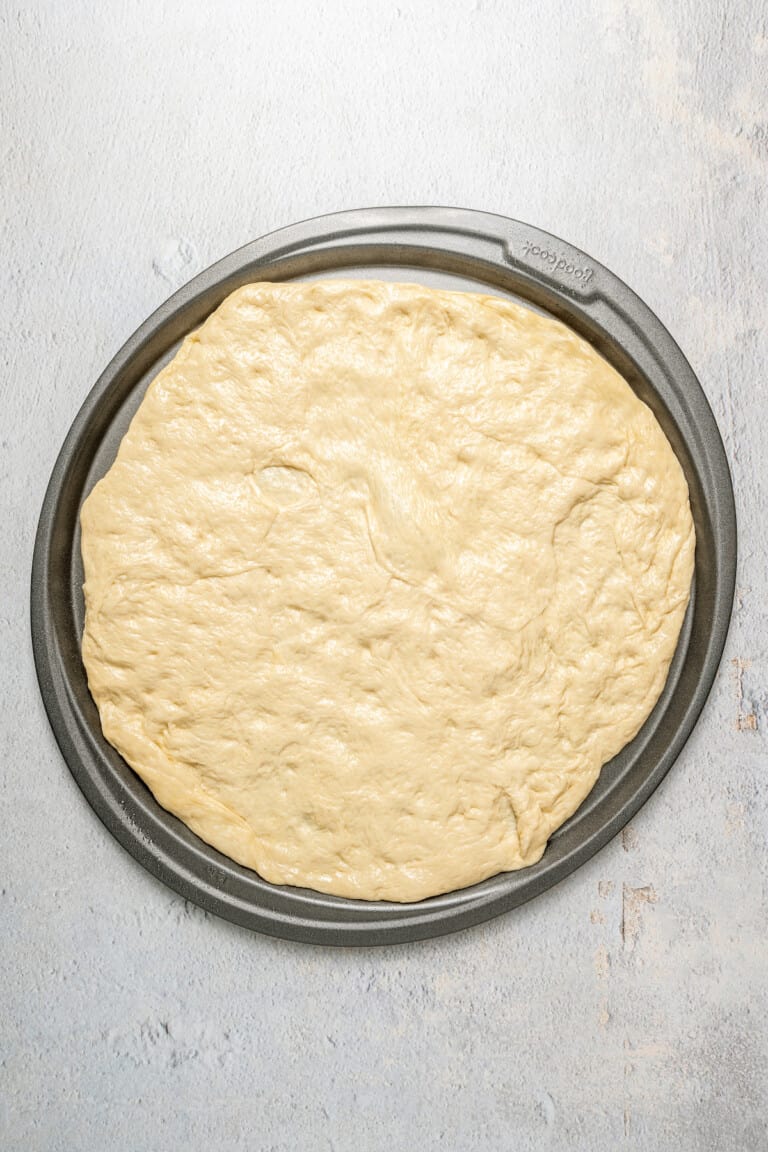 Prepare. Preheat your oven to 450°F and grease a pizza pan with oil or cover it with parchment paper.
Roll out the dough. Place the pizza dough on a clean work surface that has been dusted with flour, or set it directly on the prepared pan. Use your hands to flatten and press it into shape.
Make the gravy. Melt the vegan butter in a small saucepan over medium heat. Whisk in the flour and cook for a minute or two, continuing to whisk occasionally. Slowly whisk in the milk, then remove from heat and season with salt and pepper.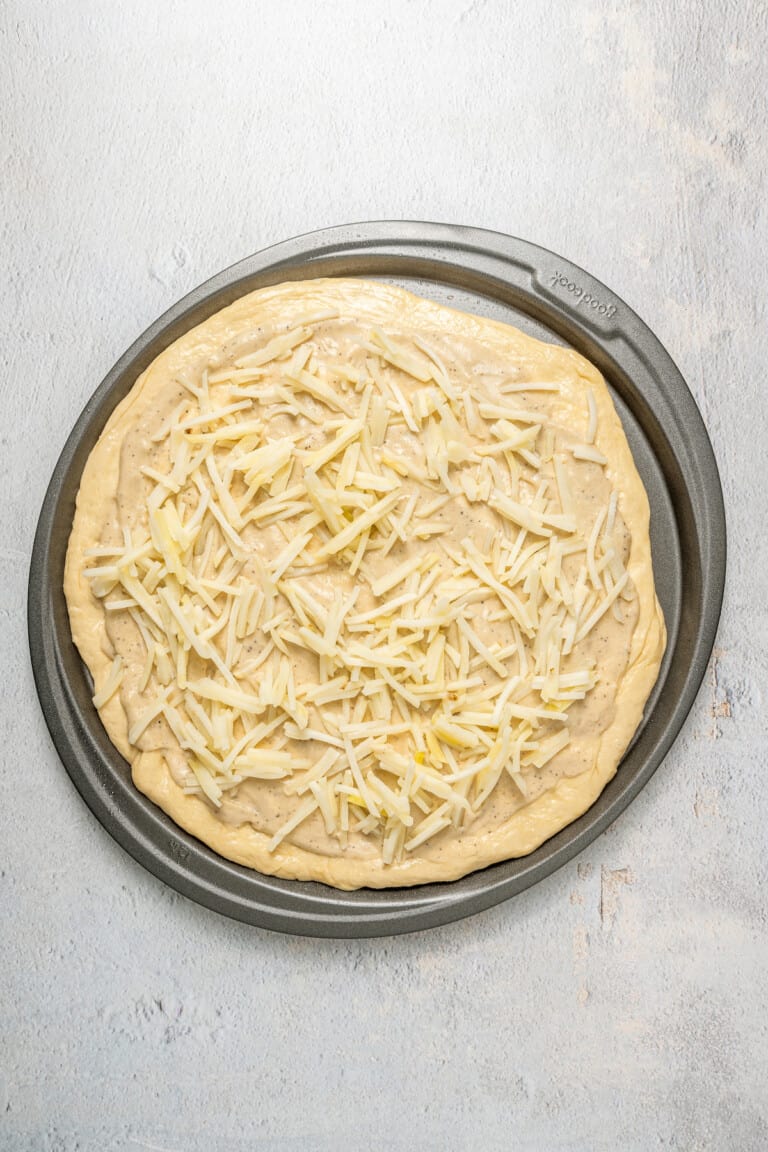 Assemble. Spread the gravy evenly over the pizza dough, followed by the frozen potatoes, vegan sausage, vegan egg, and vegan cheese.
Bake. Place the pizza in the oven and bake for 15 minutes. Garnish with green onions or chives, then cut and serve.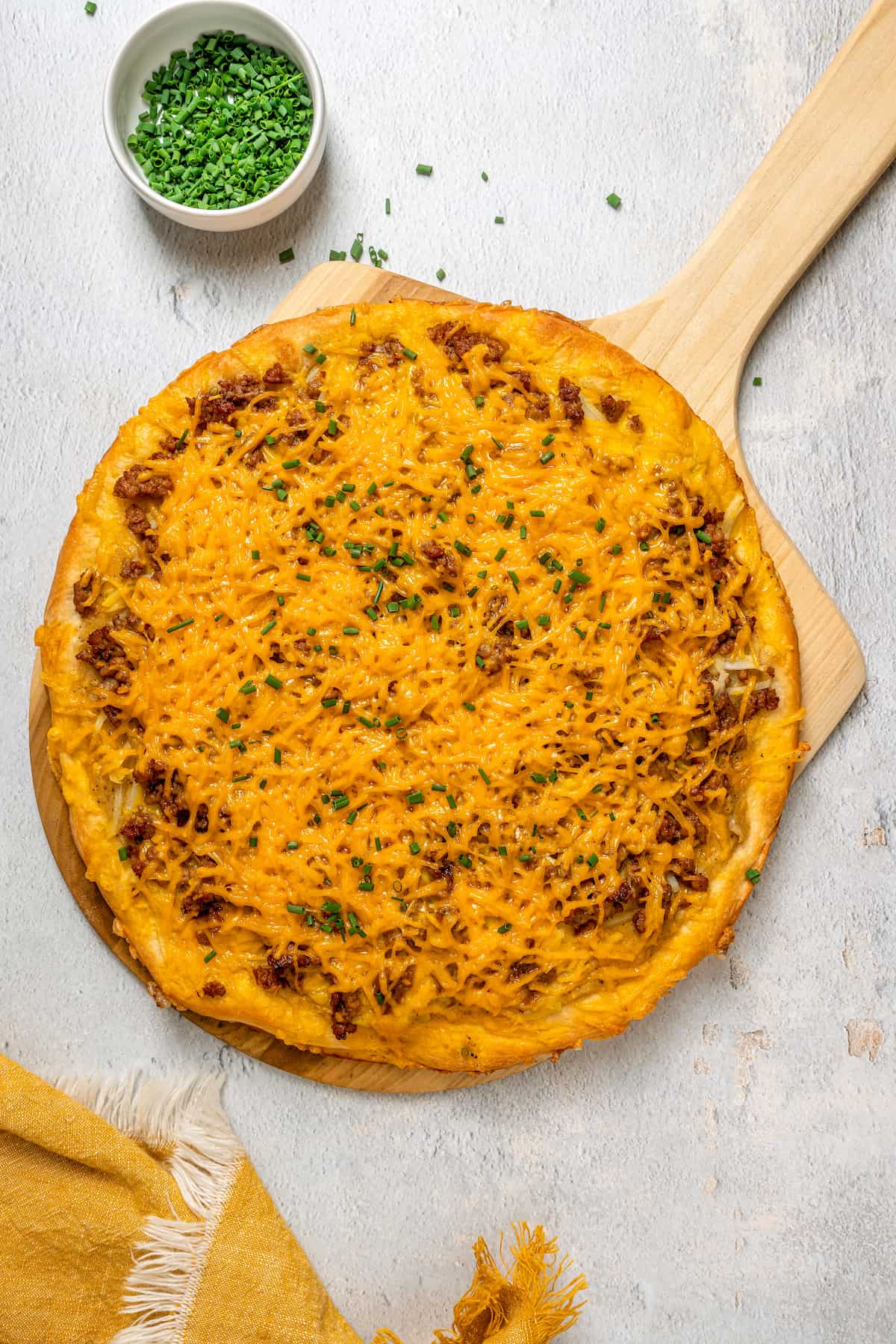 Tips for Success
These simple tips will help you make sure your vegan breakfast pizza turns out perfect!
Keep the vegan egg from spilling over. When forming the crust, make sure the edges are a little bit taller then the centre to hold the egg in and keep it from leaking off of the crust.
Use pizza dough. This recipe was developed using unbaked pizza dough, not the shelf-stable pre-baked pizza crusts you find near the pizza sauces at the grocery store.
Prevent the edges from over-baking. If you notice that the edges of the crust are beginning to brown while the rest of the pizza is still cold, you can place strips of foil over them to shield them from direct heat and slow their cooking.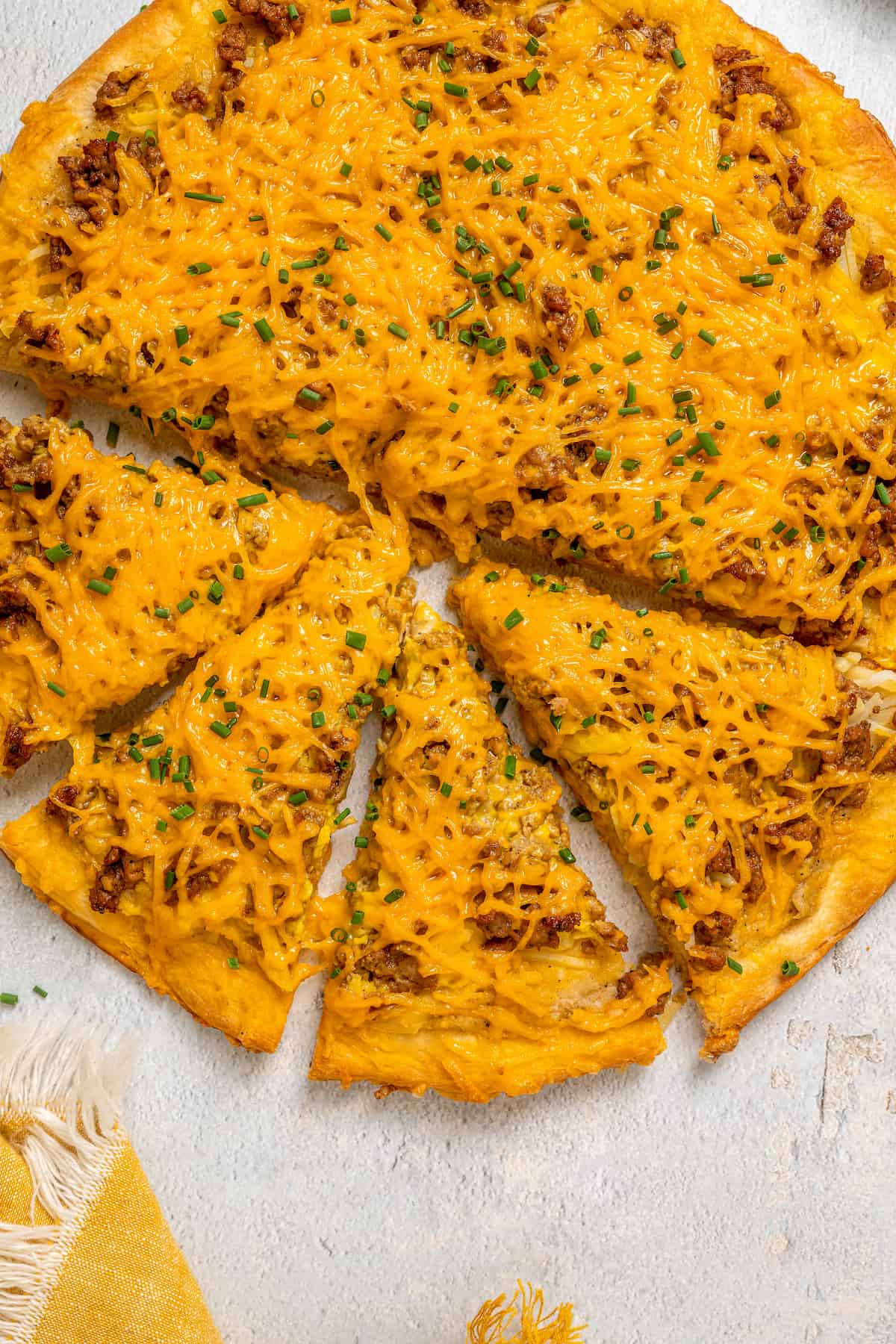 Serving Suggestions
I always love pairing a savoury breakfast with a little something sweet! If you're serving this for a brunch, that might be Overnight Baked French Toast Casserole or Vegan Lemon Poppyseed Muffins. When I'm making this for meal prep for myself, I'll serve it with a side of fresh fruit.
Variations
Prefer bacon to sausage? You can swap the vegan sausage with your favorite store-bought vegan bacon, or try my tempeh bacon recipe. Another option is to switch up the vegan cheese—vegan pepper jack shreds gives this breakfast pizza a little Tex-Mex flavour, especially when served with restaurant-style salsa on the side for dipping.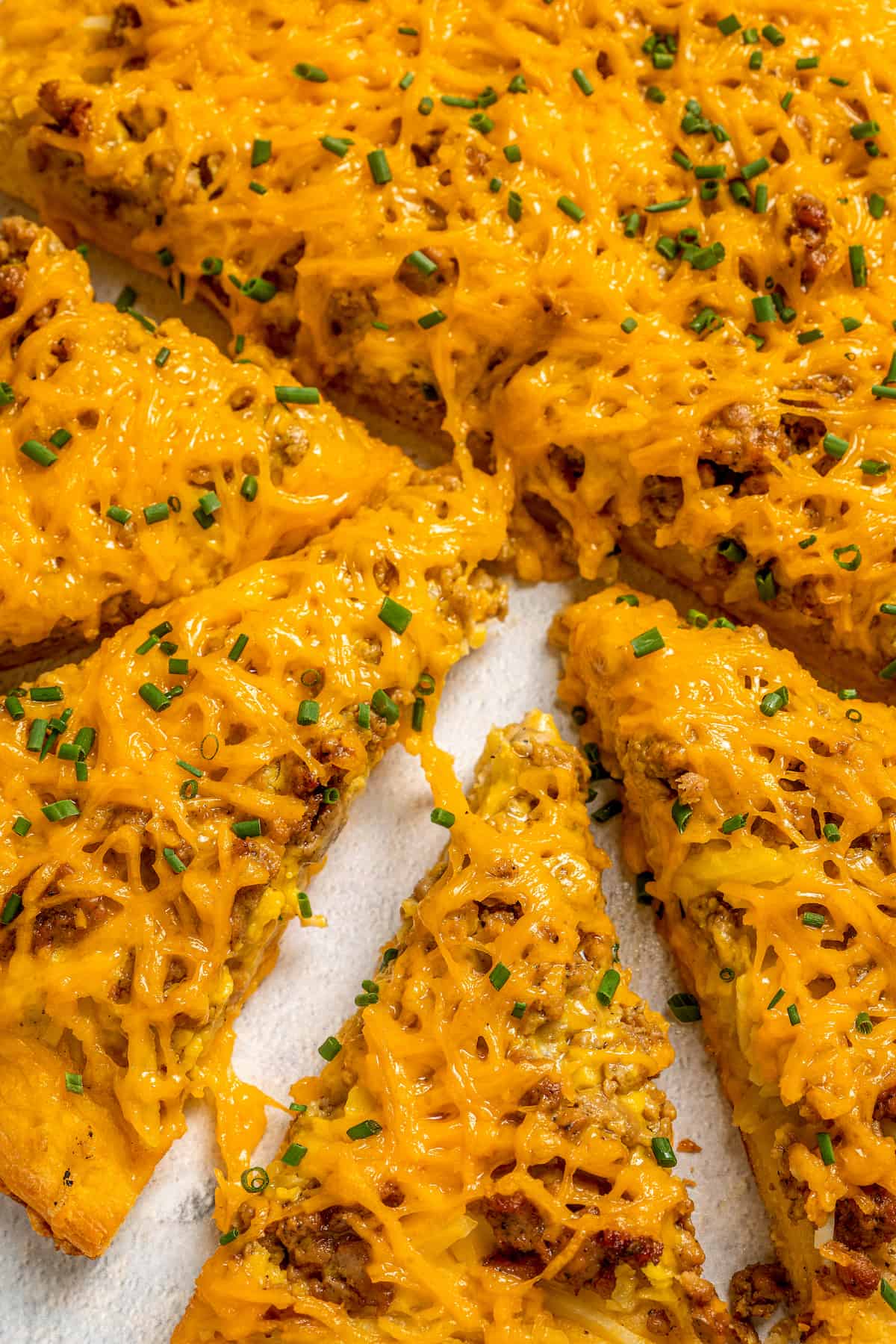 How to Store
Refrigerate leftover vegan breakfast pizza in a food-safe airtight container for up to 1 week. Reheat it in the microwave or a 350ºF oven.
Can This Recipe Be Frozen?
You can freeze vegan breakfast pizza for up to 2 months. Store it in an airtight container or freezer bag and let it thaw in the refrigerator overnight before reheating according to the instructions above. (While you can reheat it from frozen, it will reheat more quickly and evenly when thawed first.)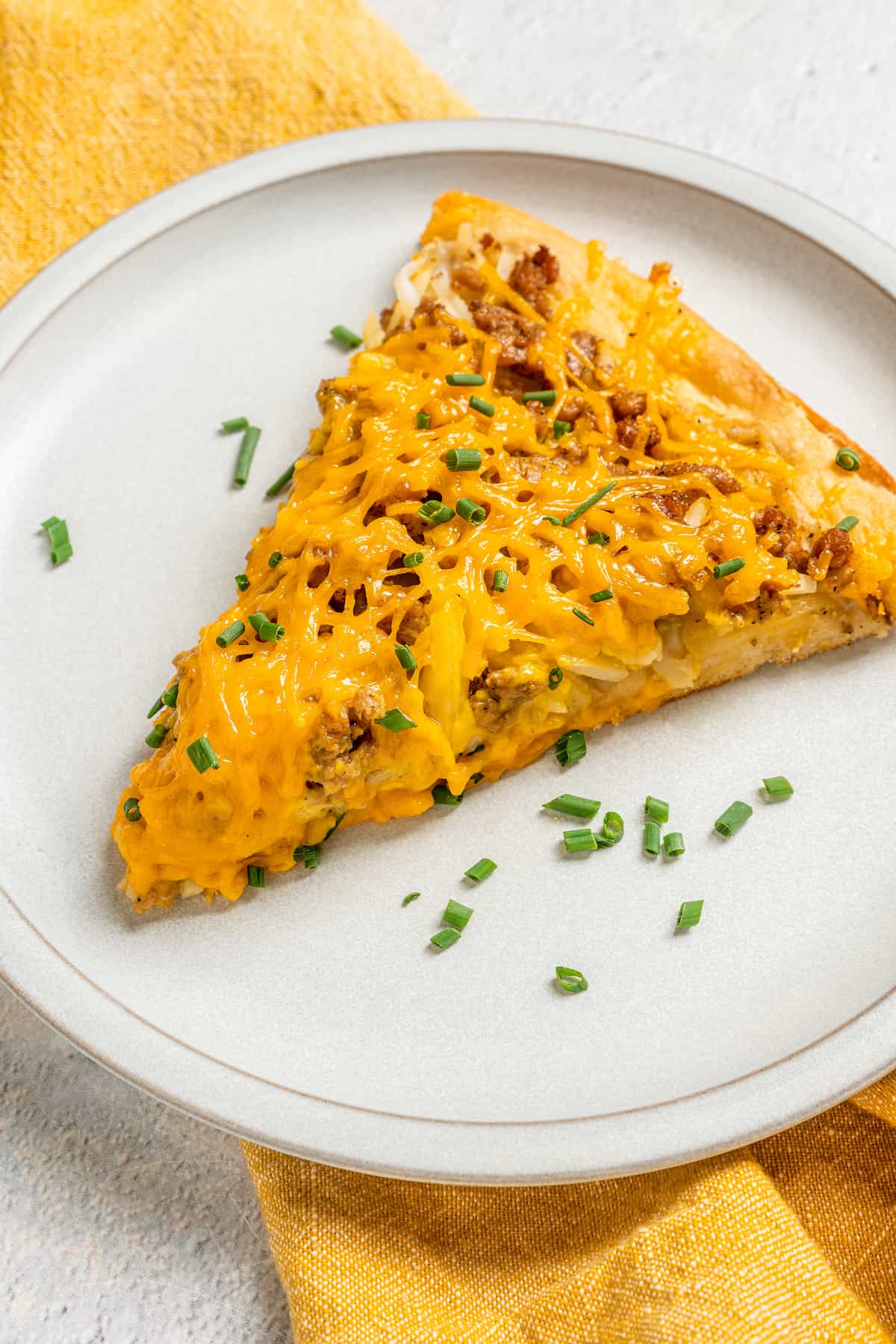 More Vegan Breakfast Ideas
Enjoy friends! If you make this vegan breakfast pizza, please snap a photo and tag #jessicainthekitchen on Instagram! We'd also love it if you would leave a comment below, and give the recipe a rating! Thanks so much!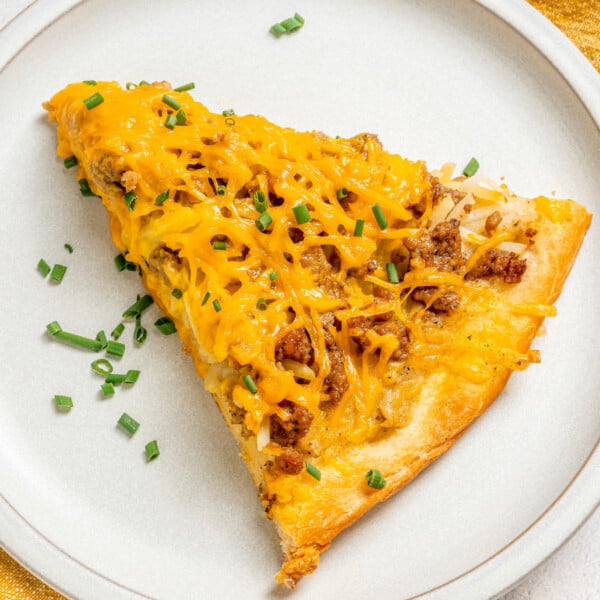 Vegan Breakfast Pizza
This vegan breakfast pizza features plant-based eggs, cheese, hash browns, and sausage, all baked on a crispy, chewy crust. So good!
Ingredients
1 Pizza Dough, 16 ounces/454 grams store-bought or use homemade pizza dough
¼ cup Vegan Butter, 57 grams
¼ cup All-Purpose Flour, 31 grams
⅔ cup Plain Unsweetened Plant Milk, 165 grams
½ teaspoon Salt, 4 grams
½ teaspoon Cracked Black Pepper, 1 gram
2 cups Frozen Small Diced Potatoes or Frozen Shredded Hash Browns, 200 grams
7 – 8 ounces Vegan Breakfast Sausage, cooked and diced (210 – 228 grams) *see brand recommendations below
1 ⅓ cup Vegan Egg Batter, 12 ounces or 340 grams *see brand recommendations below
8 ounces Vegan Shredded Cheddar Cheese, 227 grams *see brand recommendations below
A handful of sliced green onion or fresh chives for garnish, optional
Instructions
Preheat the oven to 450°F. Drizzle a small amount of olive oil on a pizza pan and spread it around to coat the surface or cover the pizza pan with a layer of parchment paper.

Place the pizza dough ball on a clean kitchen surface that has been dusted with flour or place it directly on the pizza pan and roll it out to fit the pan. Set aside.

In a small saucepan over medium heat, add the butter and melt completely.

Add the flour and whisk to combine. Cook for 1 – 2 minutes, whisking occasionally.

Slowly pour in a little of the milk at a time while whisking until it is fully combined.

Remove the gravy mixture from the heat and whisk in the salt and black pepper.

Spread the gravy mixture evenly over the pizza dough.

Sprinkle the frozen potatoes in an even layer over the pizza.

Sprinkle the vegan sausage on the pizza.

Pour the vegan egg batter evenly onto the pizza.

Sprinkle an even layer of vegan cheese across the pizza.

Place the pizza in the oven and let it bake for 15 minutes. When the pizza is done, sprinkle green onion or chives over the top, cut it, and enjoy! Store leftovers in a food-safe airtight container in the fridge for up to 1 week. You can also freeze the pizza for up to 2 months.
Notes
Vegan Pizza Dough: You can find raw vegan pizza dough in the freezer section of
almost any grocery store.
Vegan Breakfast Sausage: The best vegan breakfast sausage products for this recipe are:

Beyond Breakfast Sausage by Beyond Meat
Impossible Sausage by Impossible Foods
Maple Breakfast Jack Sausage by Jack & Annie's
Gimme Lean Sausage by Lightlife

Vegan Egg Batter: The best vegan egg batter products for this recipe are:

Just Egg by Eat Just (a 12 ounce bottle is the exact amount needed for this
recipe)
VeganEgg by Follow Your Heart (You can use the entire 4 ounce package and
follow recipe instructions on the label for this recipe)
Simply Eggless Plant Based Egg by Simply Brand Foods (You can use an entire 16 ounce bottle for this recipe if preferred or stick to the 12 ounces within the
recipe.)

Vegan Shredded Cheddar Cheese: The best vegan cheese brands for this recipe are:

Cheddar Style Shreds by Daiya
Plant-Based Cheddar Style Shreds by So Delicious
Finely Shredded Cheddar Cheese by Follow Your Heart
Just Like Cheddar Shreds by Violife
Calories: 667kcal, Carbohydrates: 69g, Protein: 22g, Fat: 33g, Saturated Fat: 10g, Polyunsaturated Fat: 5g, Monounsaturated Fat: 7g, Trans Fat: 0.1g, Cholesterol: 301mg, Sodium: 1791mg, Potassium: 180mg, Fiber: 4g, Sugar: 7g, Vitamin A: 1132IU, Vitamin C: 3mg, Calcium: 142mg, Iron: 5mg
Disclaimer: Although jessicainthekitchen.com attempts to provide accurate nutritional information, kindly note that these are only estimates. Nutritional information may be affected based on the product type, the brand that was purchased, and in other unforeseeable ways. Jessicainthekitchen.com will not be held liable for any loss or damage resulting for your reliance on nutritional information. If you need to follow a specific caloric regimen, please consult your doctor first.