Easy Southwestern Tofu Scramble (+ Breakfast Tacos)
This Easy Southwestern Tofu Scramble will become your new vegan breakfast idea!! It's beyond simple to make and you can even make it into breakfast tacos!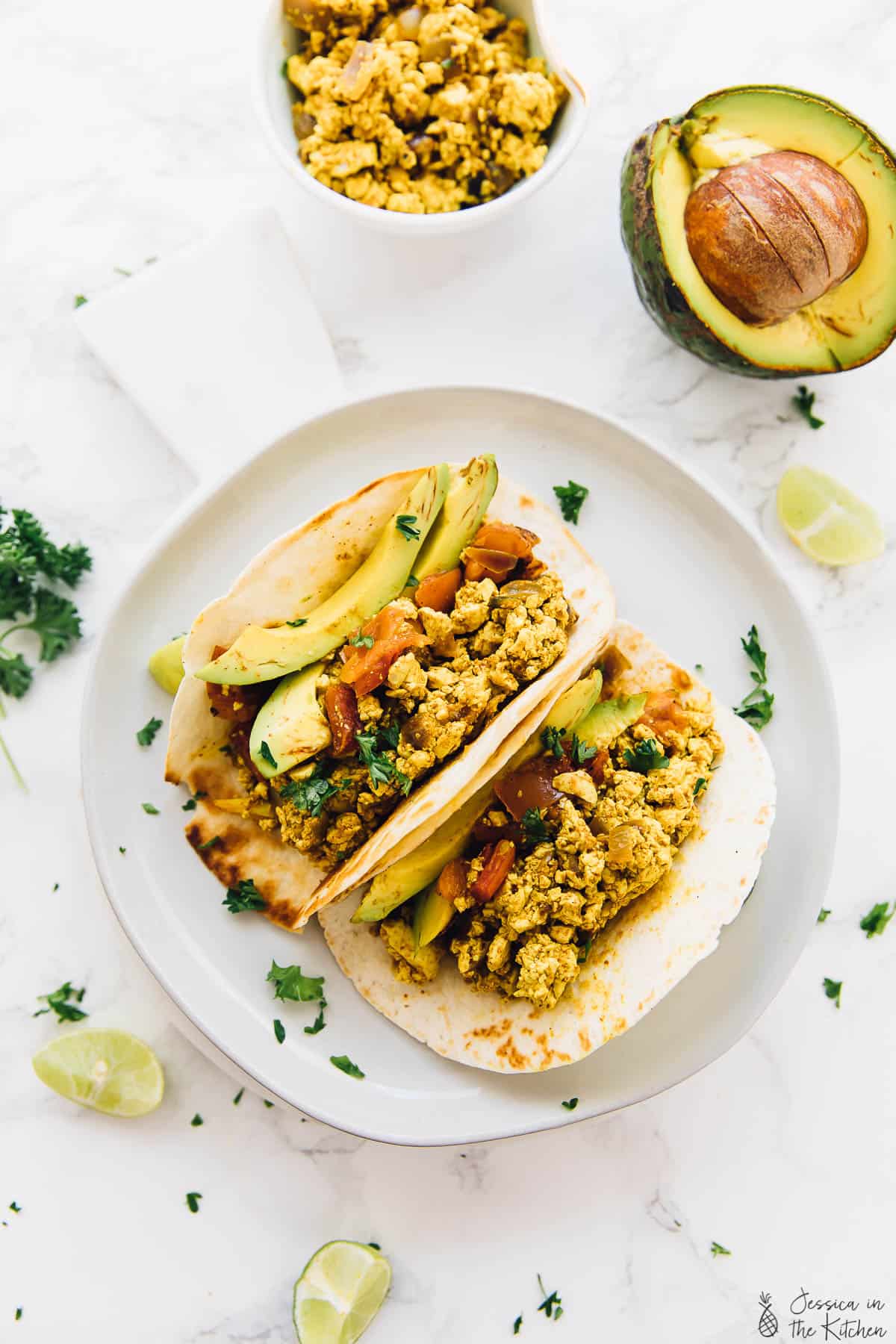 I'll admit it – I was very skeptical about this. Tofu scramble? But, I know you guys are always asking for more breakfast options, so I gave it a try.
UMMMMMM. HOW. This is one of the best vegan breakfast ideas I have EVER done. First of all, this doesn't taste like scrambled eggs. It tastes WAY BETTER. It is a fusion of divine seasonings, the perfect texture AND you can reheat it. No risk of rubbery breakfast here. Even better? I made you tacos with it too.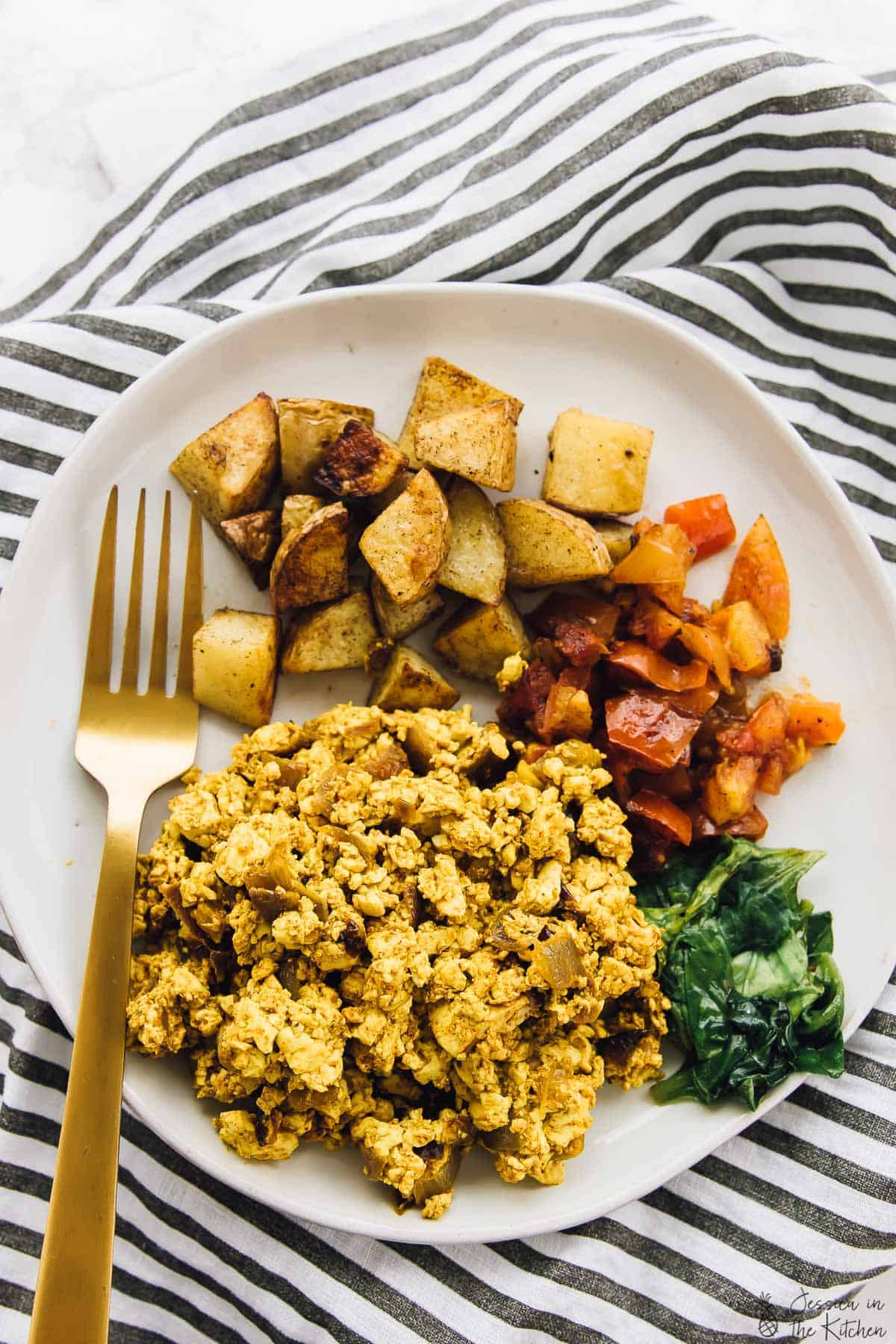 So tofu. Let's talk about you. I have tofu maybe once every three months. Honestly I just haven't found that much to do with it, so every now and then I grab a block. Well, I'm pretty much convinced that I'll be grabbing a block way more often, just to remake this tofu scramble. Let's talk about how easy this is to make. You literally crumble the tofu in your pan.
Yes, that easy. I have a video coming out this weekend to show it, but you sauté the veggies, then add in the tofu, the Southwestern seasonings and everything else. Some people prefer to use a potato masher, but I think that your fingers give it the perfect texture. Also, you get to play with your food! Everything comes together pretty quickly and easily, and the best part is, unlike scrambled eggs, it's pretty hard to mess this up.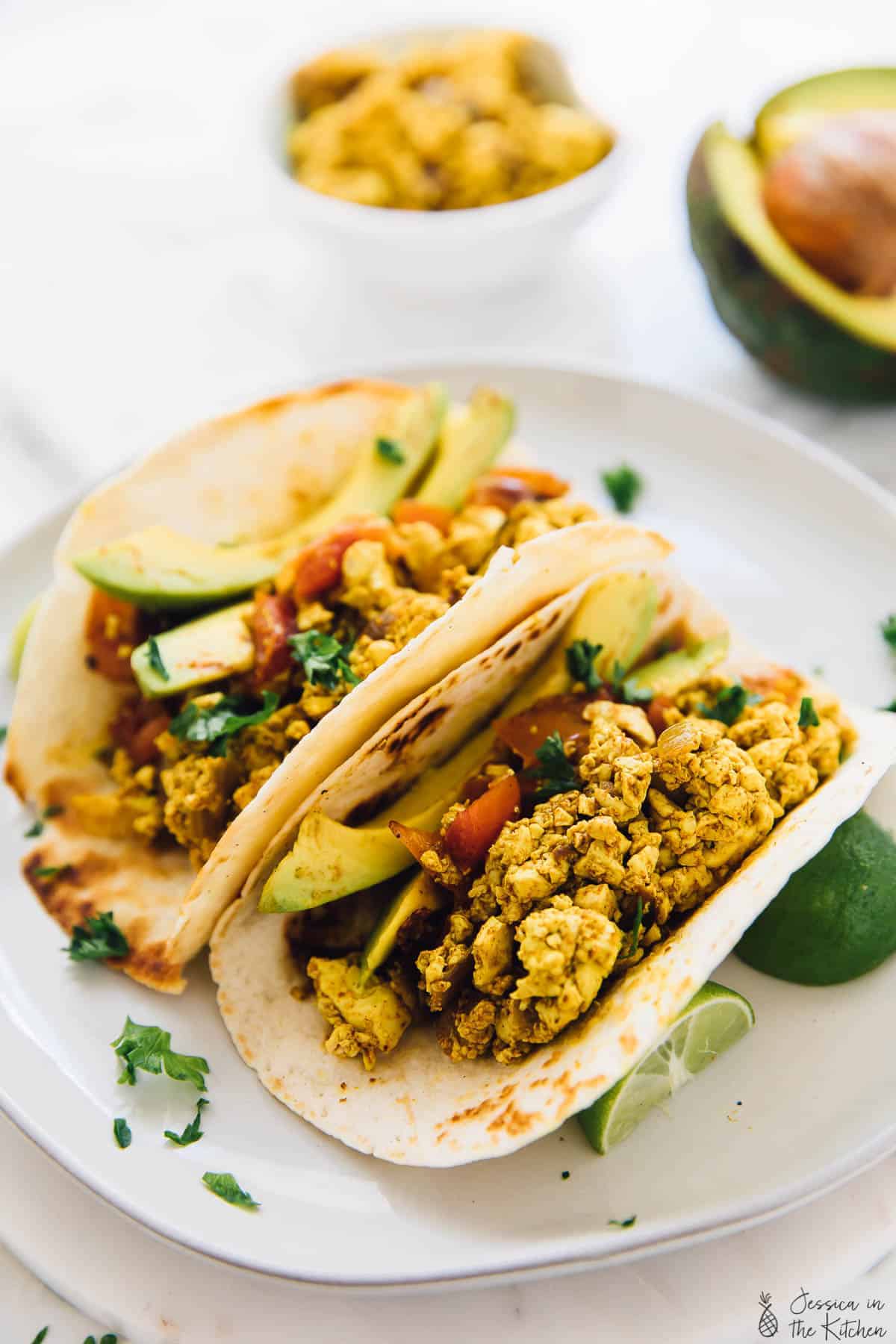 You guys may or may not know this, but videoing a recipe is NOT easy. Especially when you want to cook it afterwards. So I accidentally left these on the eat for a while. Then I photographed them. THEN I reheated them so I could ya know, survive. PERFECT. Like, you would never even know. Plus, adding in the almond milk gives it an even better creaminess so it's basically all heaven in a forkful. If we're talking seasoning love, the mix of paprika, nutritional yeast and turmeric give it that gorgeous burnt yellow colour with an amazing taste.
Now, feel free to play this tofu scramble is up. I was feeling for Southwestern flavours of cumin, oregano and paprika so I used those. Want to add black beans and tomatoes, do it. Add roasted potatoes on the side. OR, do what I did and make a breakfast taco. This pairs perfectly with avocado, soft taco shells that are heated over fire (okay, or on your stove top in a little coconut oil) for a slight crispness in each bite. Oh, and most importantly HOT SAUCE. Make my
Scotch bonnet pepper sauce
because you will NEVER want to eat anything else after having this combination.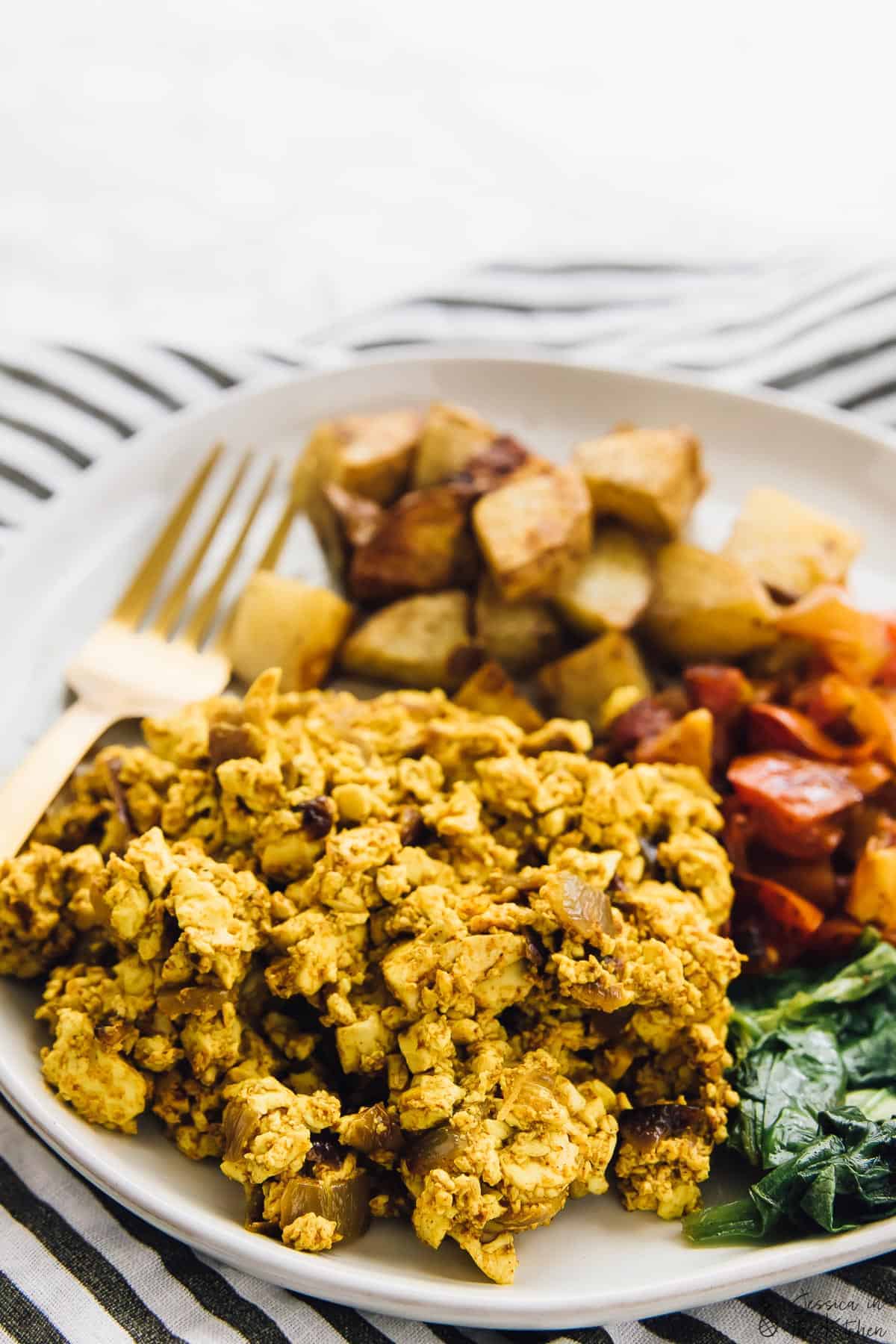 Enough chatter, more cooking! Eat up, and enjoy friends!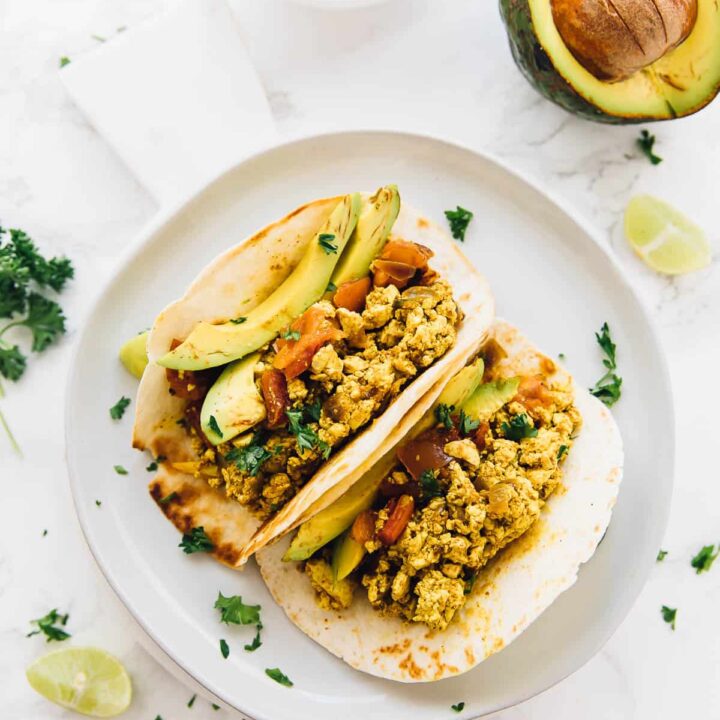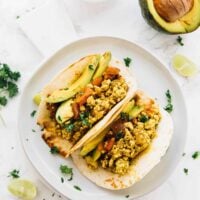 Easy Tofu Scramble (+ Breakfast Tacos)
This Easy Southwestern Tofu Scramble will become your new vegan breakfast idea!! It's beyond simple to make and you can even make it into breakfast tacos!
Ingredients
2 teaspoons coconut oil
½ red onion
5 cloves garlic, minced
1 block of firm tofu - pressed
¼ teaspoon dried oregano
¼ teaspoon cumin
1 teaspoon paprika
1 teaspoon ground turmeric
½ teaspoon sea salt
¼ teaspoon ground black pepper
1 tablespoon nutritional yeast, feel free to add more
2 tablespoons almond milk
serve optionally with the below:
Breakfast Tacos (optional)
Roasted potatoes
corn taco shells
parsley or chives
avocado slices
hot sauce
Instructions
In a pan over medium heat, heat the coconut oil. Add in the onions and the garlic, and sauté for about 5 minutes until translucent and fragrant.

Take the pressed tofu block in your hand and crumble it into the pan with your hands.

Mix all the seasonings in a bowl, including the salt and pepper, and then sprinkle it over.

Stir to combine, until the seasonings are fully incorporated. Add in the milk and stir again. Low to medium low and allow to cook for about 5-8 minutes, stirring frequently. Taste test and add any more seasonings that you want.

Remove from heat. Serve as you'd like by itself, with breakfast potatoes or in a taco with the ingredients in that section of the recipe. Enjoy!

Calories: 99kcal, Carbohydrates: 5g, Protein: 8g, Fat: 5g, Saturated Fat: 2g, Sodium: 245mg, Potassium: 77mg, Fiber: 1g, Sugar: 1g, Vitamin A: 197IU, Vitamin C: 2mg, Calcium: 114mg, Iron: 1mg
Disclaimer: Although jessicainthekitchen.com attempts to provide accurate nutritional information, kindly note that these are only estimates. Nutritional information may be affected based on the product type, the brand that was purchased, and in other unforeseeable ways. Jessicainthekitchen.com will not be held liable for any loss or damage resulting for your reliance on nutritional information. If you need to follow a specific caloric regimen, please consult your doctor first.