Restaurant Style Blender Salsa
This Restaurant Style Blender Salsa is made with fresh tomatoes, is incredibly addictive and takes only 10 minutes to make and devour the entire bowl!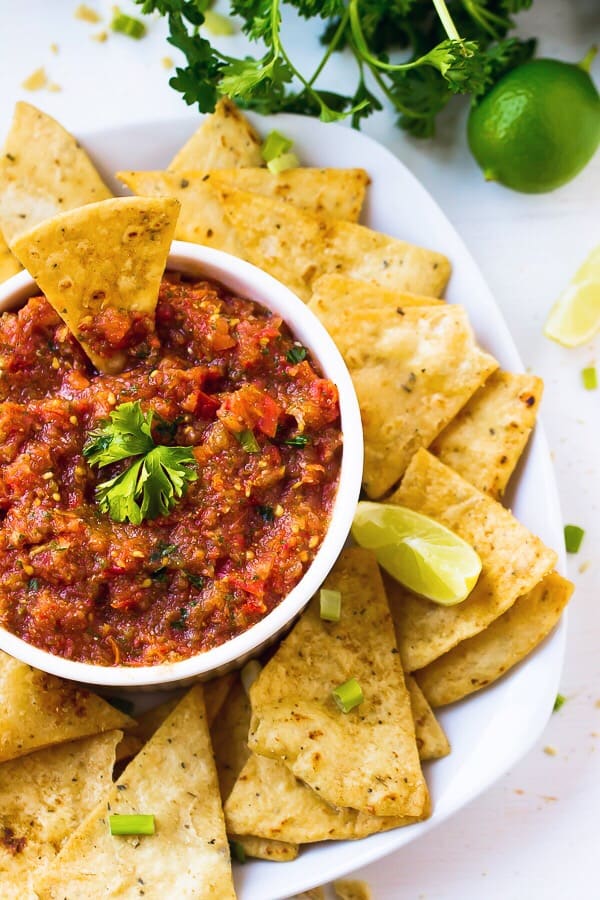 The very first time I tried Restaurant Style Blender Salsa was when the Mr. and I were in Paris. We visited a Mexican Tapas Restaurant. I quickly learned that Mexican tastes amazing no matter where in the world you are. Needless to say, I haven't gone back to inauthentic metallic salsa or anything other than this amazing concoction. I researched it by typing "salsa they serve in Mexican restaurants" in our hotel that same night. I realised after that restaurant style blender salsa is a love of many amazing people around the world, and for such excellent reasoning. It is the BEST version of salsa there is. Just in time for Cinco de Mayo, friends, here is my favourite salsa recipe ever. It didn't even last 24 hours in our household.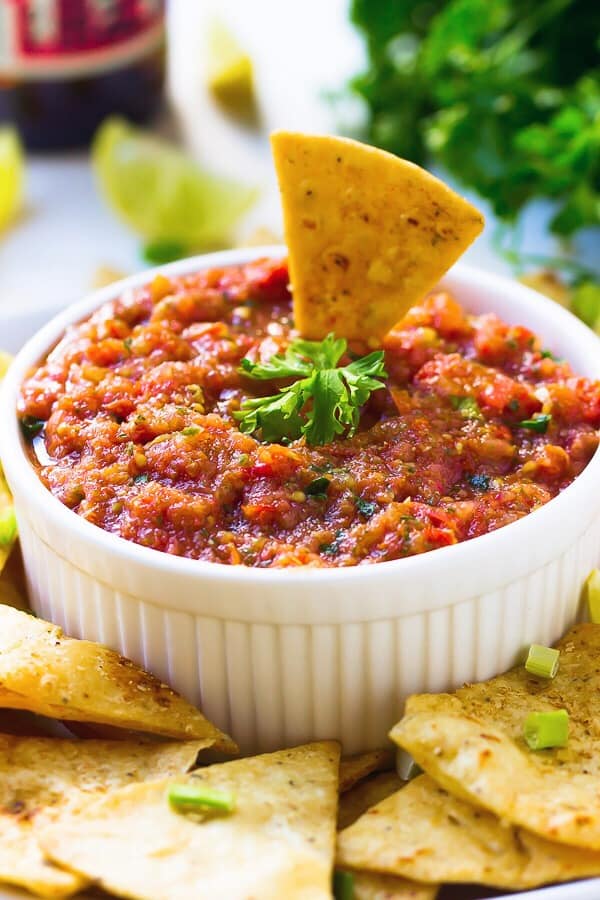 The truth is, this salsa would've been finished in about 2 hours. I however made it in the night and wanted to photograph it in the daytime, so the Mr. and I paced around the fridge until dawn broke, photographed it, then devoured it.
I'm kidding, kind of. I did wake up really early to shoot it so that that immense pressure of not devouring it first was completely gone, then we devoured it. This salsa is the perfect mixture of heat, brine, acidity, immense flavour and such a great texture. Every bite brings more addiction and pretty soon, you'll be saying "I thought this recipe made 2 cups…how is it finished already?"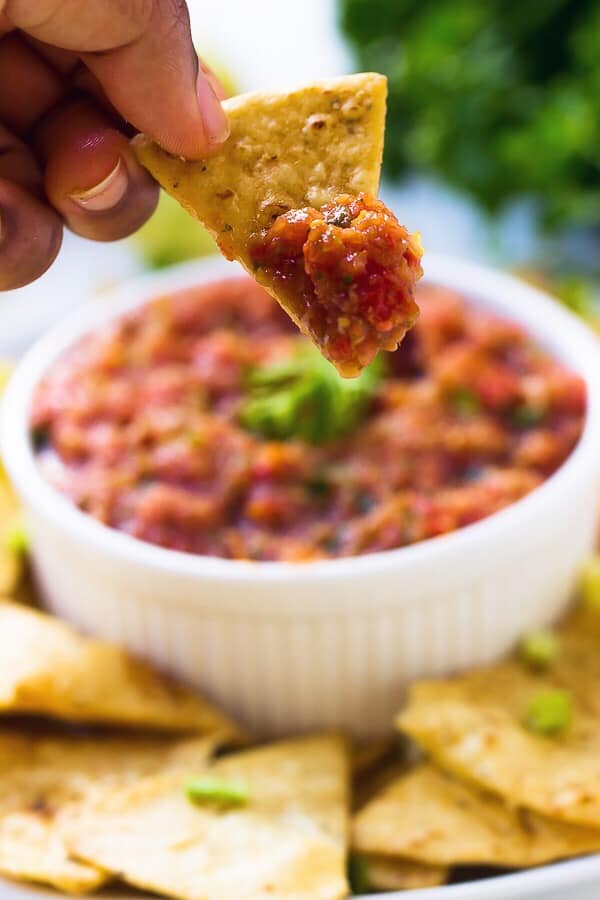 This salsa has all the makings of a keeper. When it comes to salsa to chip ratio, I'm on the as-much-salsa-as-possible team, then I go back for more chips. It really, really isn't fair that we can't eat chips and salsa for breakfast, lunch and dinner everyday. Although, with Cinco de Mayo tomorrow, I will not judge you one bit since that's what I'll be doing. Our secret.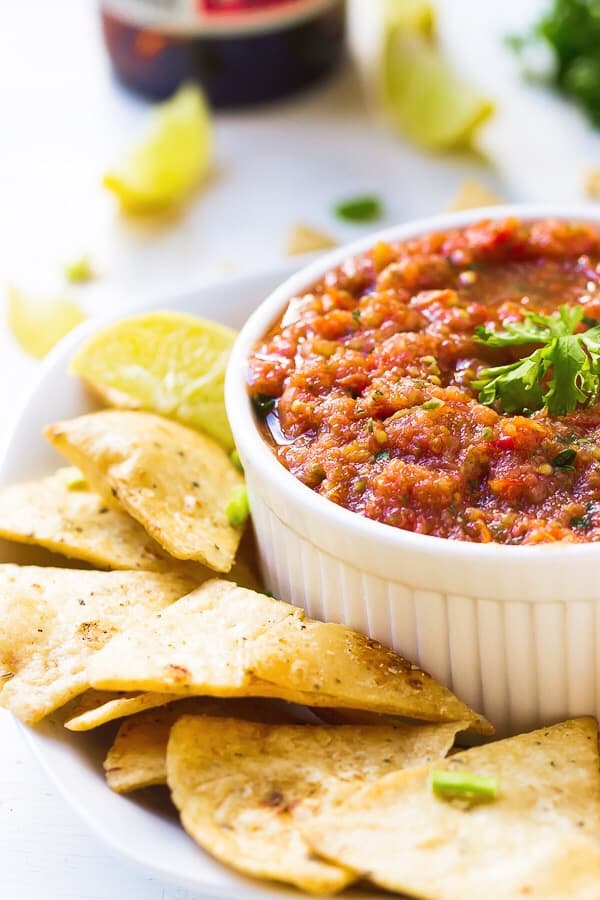 P.S. Here are some of the items I used to make this recipe if you'd like to use them too:
| WHAT YOU'LL NEED // SHOP MY FAVORITE INGREDIENTS & PREP PRODUCTS |


If you try this Restaurant Style Blender Salsa, please let me know in the comment section below, or tag me on instagram with the hashtag #jessicainthekitchen! For more exclusive recipes follow me on Instagram AND on Snapchat: jessinkitchen.
Don't forget to check to my Cinco de Mayo roundup!
MORE SALSA RECIPES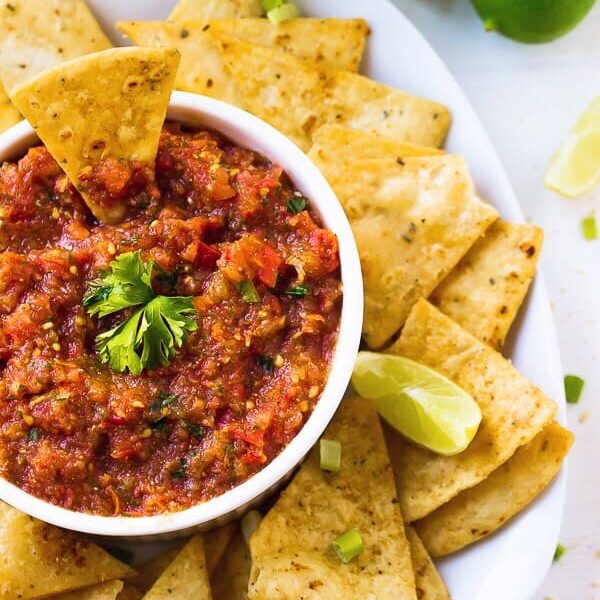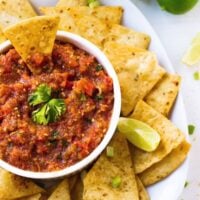 Restaurant Style Blender Salsa
This Restaurant Style Blender Salsa is made with fresh tomatoes, is incredibly addictive and takes only 10 minutes to make and devour the entire bowl!
Ingredients
20 oz fresh tomatoes*, chopped (if you don't have fresh tomatoes you can use canned) 567 g
1/4 cup chopped onion
2 tablespoons jalapeño slices
3 cloves garlic, peeled and chopped
1/2 teaspoon coconut sugar
2 teaspoons ground cumin
Juice of 2 limes, about 3 tablespoons worth
3/4 tsp salt, add more to taste
3/4 teaspoon ground black pepper to taste
3-4 tablespoons parsley or cilantro, de-stemmed
Instructions
Add all the ingredients to your blender. Blend for a few seconds until everything is incorporated, leaving maybe only a few chunks if you desire.

The salsa will be pink, but will turn red soon (see notes**). Taste and decide if you want to add more salt, heat or seasonings.

If you like your salsa a bit thicker, strain over a sieve like I did and remove excess liquid.

Allow the salsa ingredients to marry for about 30 minutes in the fridge.

Serve with tortilla chips and enjoy!
Notes
1.*Smaller/cherry tomatoes have more seeds, making them potentially more bitter when blended. If you can use larger tomatoes that would produce a better fresh tomato salsa. **I would strongly recommend allowing the salsa to rest in the fridge. The pink colour will turn red after just about 30 minutes in the fridge or up to an hour. The flavours will blend much better if the salsa is left to rest in the fridge.
This recipe is vegan and gluten free.
2.HOW TO STORE SALSA
You can store your salsa in an airtight tupperware container in the fridge for up to 4 days, although I doubt you'll have salsa in your fridge for four days and not eat everything :).
Calories: 26kcal, Carbohydrates: 6g, Protein: 1g, Fat: 1g, Saturated Fat: 1g, Sodium: 224mg, Potassium: 215mg, Fiber: 2g, Sugar: 3g, Vitamin A: 656IU, Vitamin C: 20mg, Calcium: 19mg, Iron: 1mg
Disclaimer: Although jessicainthekitchen.com attempts to provide accurate nutritional information, kindly note that these are only estimates. Nutritional information may be affected based on the product type, the brand that was purchased, and in other unforeseeable ways. Jessicainthekitchen.com will not be held liable for any loss or damage resulting for your reliance on nutritional information. If you need to follow a specific caloric regimen, please consult your doctor first.