Vegan Caramel Popcorn
This Vegan Caramel Popcorn is made with 7 ingredients in just 25 minutes. It's SO addictive, really easy to make and perfect for parties or gifts!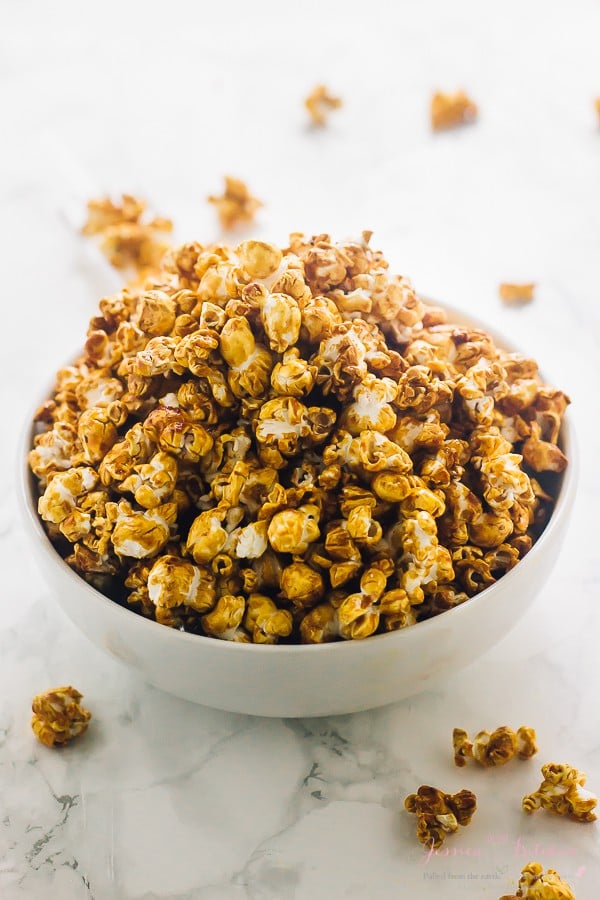 Guess what? It's only two weeks until Halloween, which means only two weeks until the first excuse of the year to eat as much candy as your heart desires (moderation, of course!).
Guess what should be on your list of snacks as you stay at home and watch terrifying Halloween movies (WHY was Don't Look Under The Bed a kid's movie?!)? This Vegan Caramel Popcorn. You get all the candy-sweet satisfaction that you want, with a whole lot less guilt and calories. Also, in just 25 minutes.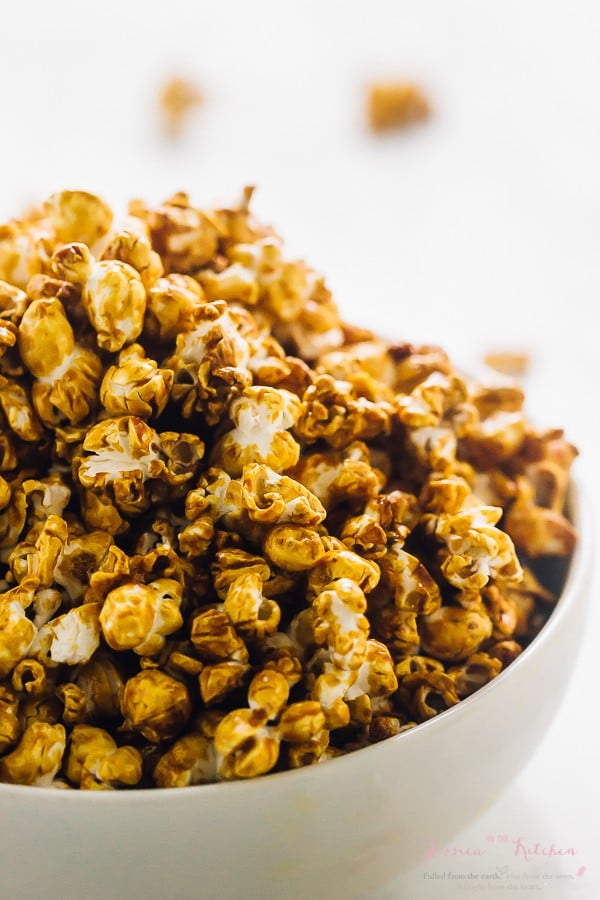 We've been making this vegan caramel popcorn (do you say popcorn or vegan caramel corn? ) for the last two years, albeit a much harder version. Fast forward to years, this version tastes even better, is done in just 25 minutes from start to finish, and is a lot healthier.
The vegan caramel sauce for this caramel popcorn is made with salt, vegan butter, almond milk, maple syrup, cane sugar and vanilla. This caramel is so addictive that I knew I had to do a separate post on a vegan caramel sauce (yes yes yes!). The key ingredient to turning this delicious caramel sauce into salted caramel popcorn is, *drumroll* baking soda. Baking soda completely changes the texture of the caramel as it's bubbling and makes it much lighter, and much easier to coat the popcorn with. This was the missing ingredient from our first vegan caramel popcorn and let me tell you, the difference is phenomenal. All you have to do next is coat the popcorn, then bake. Done, and done.
Don't forget to share! Seriously, this vegan caramel popcorn makes an amazing gift (HINT to any of my friends). It's very easy to care for, easy to make, and a pretty cheap but thoughtful gift. Of course; you should make your own batch, and a batch for your friends.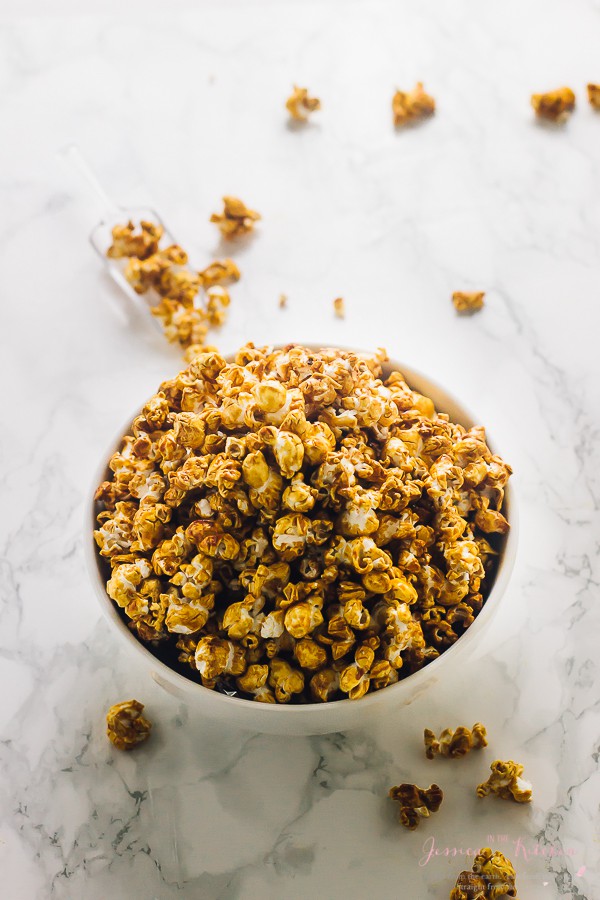 P.S. Here are some of the items I used to make this recipe if you'd like to use them too:
| WHAT YOU'LL NEED // SHOP MY FAVORITE INGREDIENTS & PREP PRODUCTS |

WW SMART POINTS: 5
MORE VEGAN CARAMEL RECIPES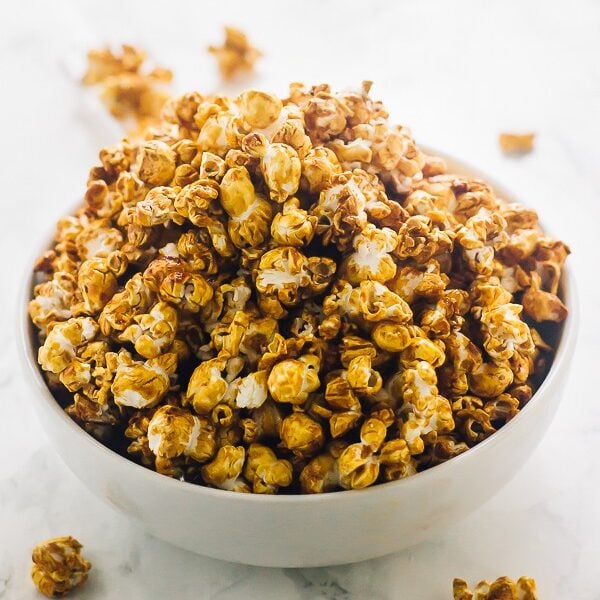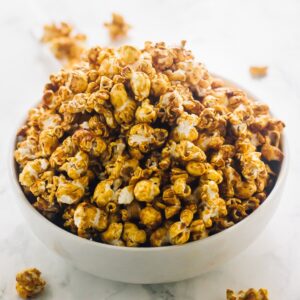 Vegan Caramel Popcorn
This vegan caramel popcorn recipe is the perfect snack. It's salty, sweet, crunchy, and easy to make!
Ingredients
10 cups organic, freshly popped popcorn, unsalted
2 tablespoons vegan butter
½ teaspoon salt
2 tablespoons almond milk
¼ cup maple syrup
¼ cup coconut sugar or raw cane sugar
1 teaspoon vanilla
¼ teaspoon baking soda
Instructions
Preheat oven to 300 degrees. Line a baking sheet or two with parchment paper or a silicone mat. Place popcorn into a large metal bowl. Set aside.

In a pot over medium high heat, add the vegan butter, half the salt, the almond milk, maple syrup, coconut sugar and vanilla and stir to combine.

Allow to come to a boil and then add in the rest of the salt. Add the baking soda and watch closely. The mixture will change colour and is more susceptible to burning now, so reduce heat and stir frequently for 1 minute. Remove from the heat and pour over popcorn. Working quickly, toss with a spatula to evenly distribute over all the popcorn.

Spread popcorn onto the baking sheets until evenly distributed.

Bake for 15 minutes. Remove from oven and allow the popcorn to cool on a fresh sheet on parchment paper. They popcorn will crisp up.

Eat immediately, or place in an airtight tupperware container to keep crispy. Enjoy!
Notes
If you don't eat your vegan caramel corn immediately, you can store it in an airtight container to keep it crispy for up to 1 week at room temperature, or 3 weeks in the refrigerator.
Calories: 119kcal, Carbohydrates: 22g, Protein: 2g, Fat: 3g, Saturated Fat: 1g, Polyunsaturated Fat: 1g, Monounsaturated Fat: 1g, Trans Fat: 0.01g, Sodium: 219mg, Potassium: 70mg, Fiber: 2g, Sugar: 9g, Vitamin A: 161IU, Calcium: 17mg, Iron: 0.5mg
Disclaimer: Although jessicainthekitchen.com attempts to provide accurate nutritional information, kindly note that these are only estimates. Nutritional information may be affected based on the product type, the brand that was purchased, and in other unforeseeable ways. Jessicainthekitchen.com will not be held liable for any loss or damage resulting for your reliance on nutritional information. If you need to follow a specific caloric regimen, please consult your doctor first.