Vegan Lettuce Wraps with Sweet Sriracha Sauce
Vegan Lettuce Wraps with Sweet Sriracha Sauce are healthy, delicious, and easy to make. You'll love the unique walnut filling!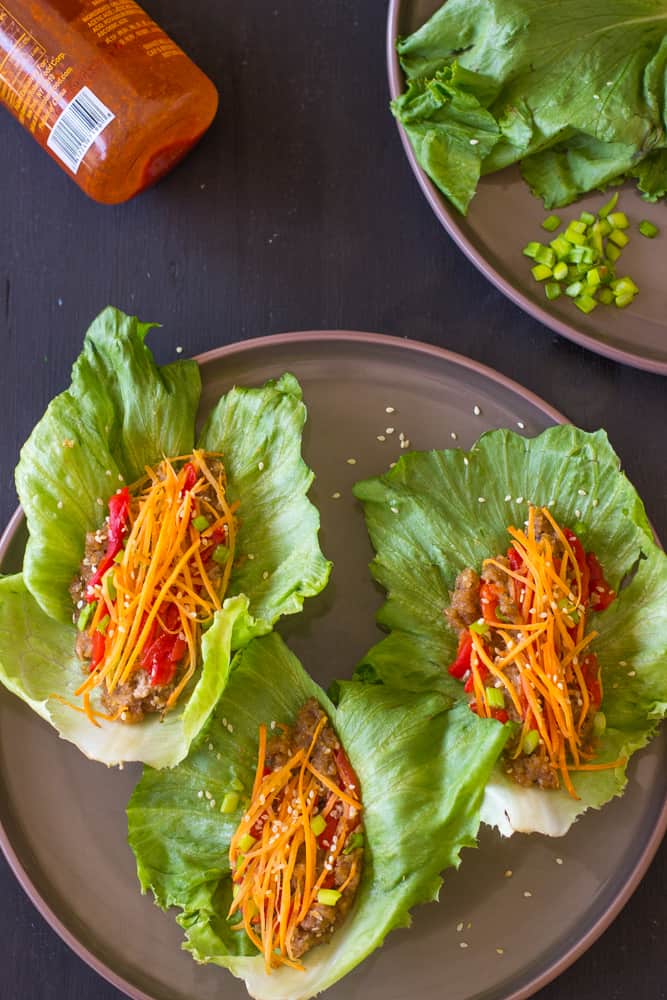 I'm very excited to share these vegan lettuce wraps with you today, mainly because my mind was blown when I took a bite and I immediately fell in love with these lettuce wraps. You might be thinking, is that meat? No, and it's not tofu either. Want to take a wild guess?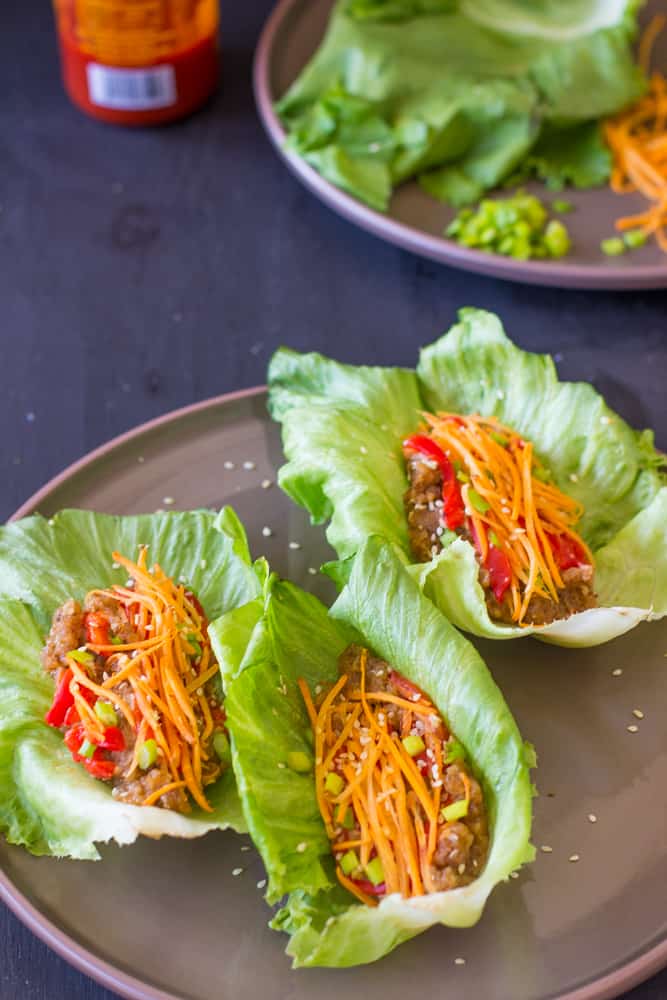 Walnuts. Yes! Some of you may have already known, but there is such a thing as walnut meat also known as this-tastes-like-amazing-mince-how-did-I-just-discover-this. I have been reading up about walnut "taco meat" for a while and finally decided to give it a go. Most recipes I read soaked the walnuts for 4-6 hours, but I didn't have that kind of time so I soaked them in boiling hot water for about 10 minutes which worked perfectly.
You'd be amazed that after a few pulses walnuts become the best meat substitute I have ever met. Also, because of it's neutral flavour, pretty much any seasoning that you put into these will work. My mind is already on tacos on every shape and size, pita bread filings, wraps…I'm basically obsessed. Let me put it this way: Mr. Bakes came just as I was finishing up shooting, got a piece and said "Whoa, this tastes amazing! What is that meat substitute?? It's so good!"
I generously shared one of my lettuce wraps with him. I know, how kind.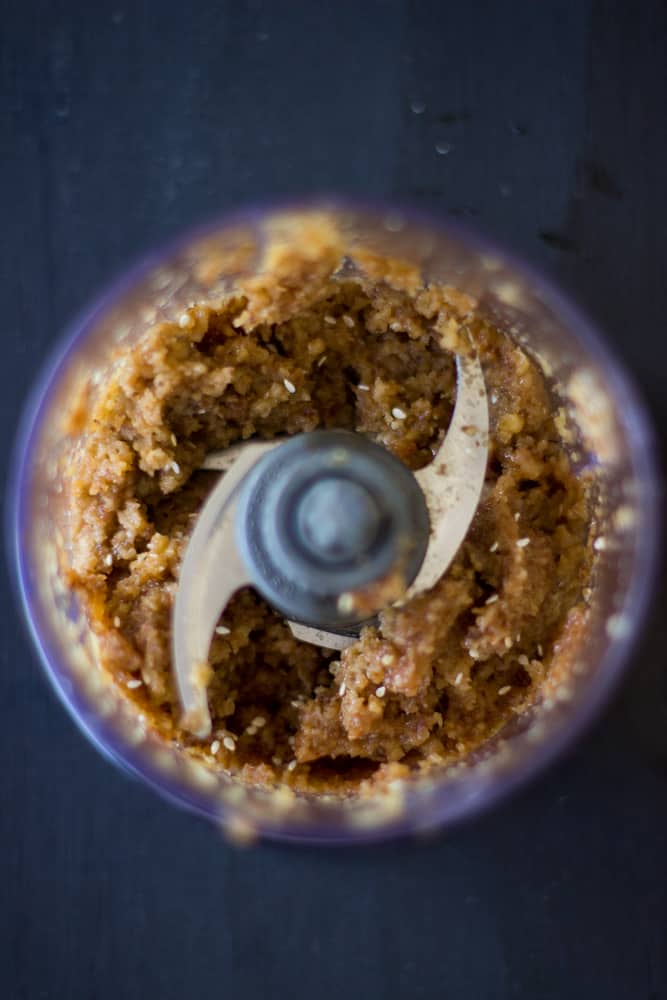 Now, on to the lettuce wraps overall. Sriracha is one of my favourite ingredients, and I "blame" Mr. Bakes for his insane spicy tooth because ever since we've been together I've been having way more pepper. Not that it's ever a bad thing, but I make sure to tone down every recipe I post here because of it! All the asian flavours worked perfectly in these wraps, and the topping of the red peppers (I roasted them, they work just as fine with regular ones), carrots, sesame seeds and scallions complemented the walnut meat so well! I wasn't a big fan of lettuce wraps prior to making these, and now they are definitely going on my weekly rotation.
Right alongside my daily oatmeal, hummus and impatience for the new season of Orange is the New Black.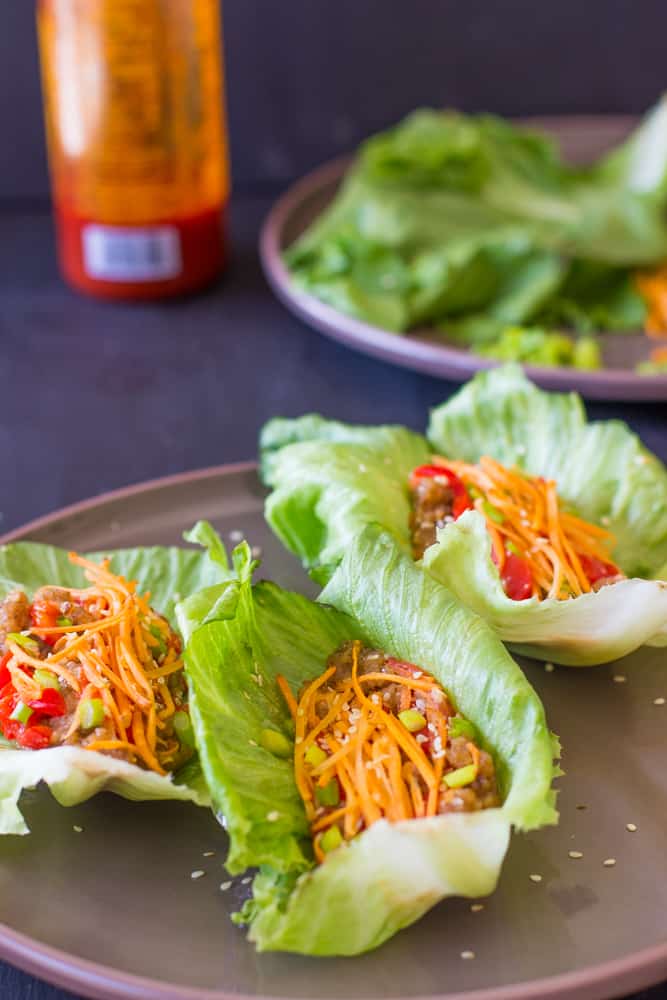 Can I make a super important point here? You don't have to cook anything. Like, no heat except the water for the walnuts, which if you want it to be 100% raw you could just soak them for 4-6 hours before using. This is especially important since 90 degrees Fahrenheit is now the new normal here, with many days clocking in at 100, which yes, is as scary as it sounds. I am very much over using the oven right now, so meals like this that come together in 20 minutes with no heat and pretty much perfect!
As always, Happy Monday! 🙂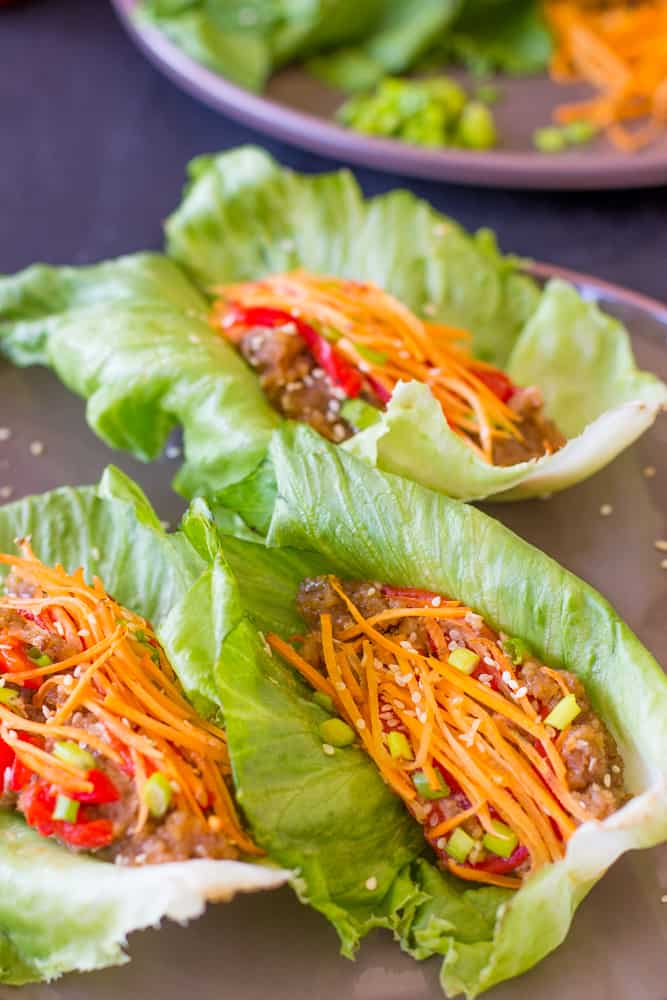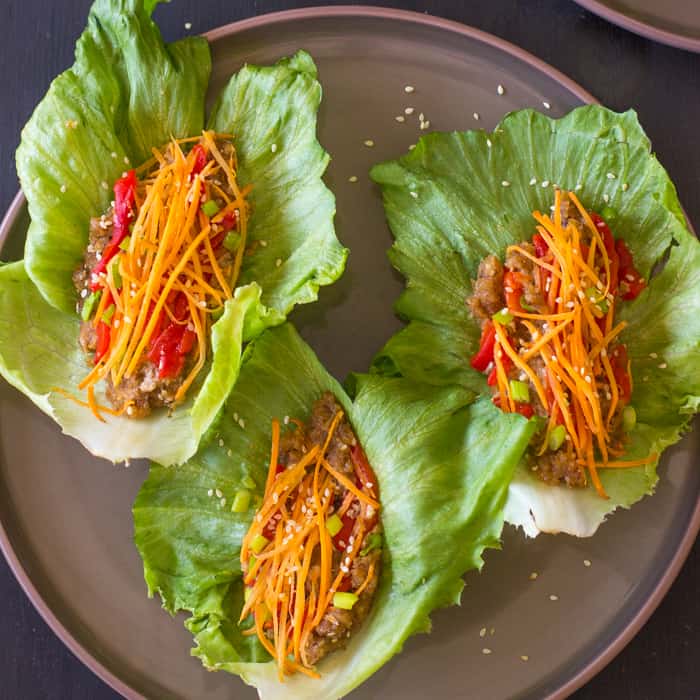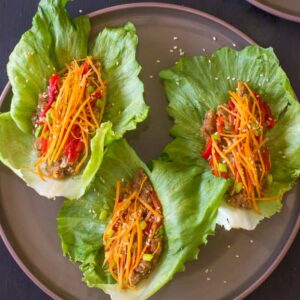 Vegan Lettuce Wraps
Vegan Lettuce Wraps with Sweet Sriracha Sauce are healthy, delicious and made with an incredible unique filling!! 
Ingredients
Walnut Meat:
1 cup raw walnuts
2 teaspoons liquid aminos
1/2 teaspoon ginger
1 tablespoon olive oil
1 clove garlic
Sriracha Sauce:
1/2 tablespoon sriracha
2 tablespoons maple syrup or 1 tablespoon date syrup
1/4 teaspoon sesame seeds
Lettuce Wrap:
3 curly lettuce leaves, washed and dried (take out of fridge right when you need it)
2 carrots, shredded
1/4 red bell pepper, sliced
Pinch of Sesame seeds
1 stalk scallion, chopped
Instructions
Walnut Meat
Soak the walnuts in hot water for about 10 minutes, then drain.


In a food processor, add the walnuts and all the other ingredients. Pulse about 3-6 on 1 second pulses until the walnuts resemble a mince, but not all the way until its mushy. Use a spatula to scrap down to ensure everything is incorporated. Add in the Sriracha Sauce ingredients and pulse for 3 more times to incorporate, using the spatula to help you (you want to ensure everything is just incorporated).
Put together
In a lettuce leaf, add some of the walnut meat mixture and spread.


Top with your serving of shredded carrots, bell pepper slices, sesame seeds and scallions.


Enjoy!
Notes
This recipe can be easily doubled or tripled!
Calories: 361kcal, Carbohydrates: 20g, Protein: 7g, Fat: 30g, Saturated Fat: 3g, Sodium: 306mg, Potassium: 381mg, Fiber: 4g, Sugar: 12g, Vitamin A: 8218IU, Vitamin C: 20mg, Calcium: 71mg, Iron: 1mg
Disclaimer: Although jessicainthekitchen.com attempts to provide accurate nutritional information, kindly note that these are only estimates. Nutritional information may be affected based on the product type, the brand that was purchased, and in other unforeseeable ways. Jessicainthekitchen.com will not be held liable for any loss or damage resulting for your reliance on nutritional information. If you need to follow a specific caloric regimen, please consult your doctor first.