Vegan Swiss Chard Wraps
These Vegan Swiss Chard Wraps are an easy and incredibly tasty light meal that are drizzled with an insane Sweet Sriracha Sauce!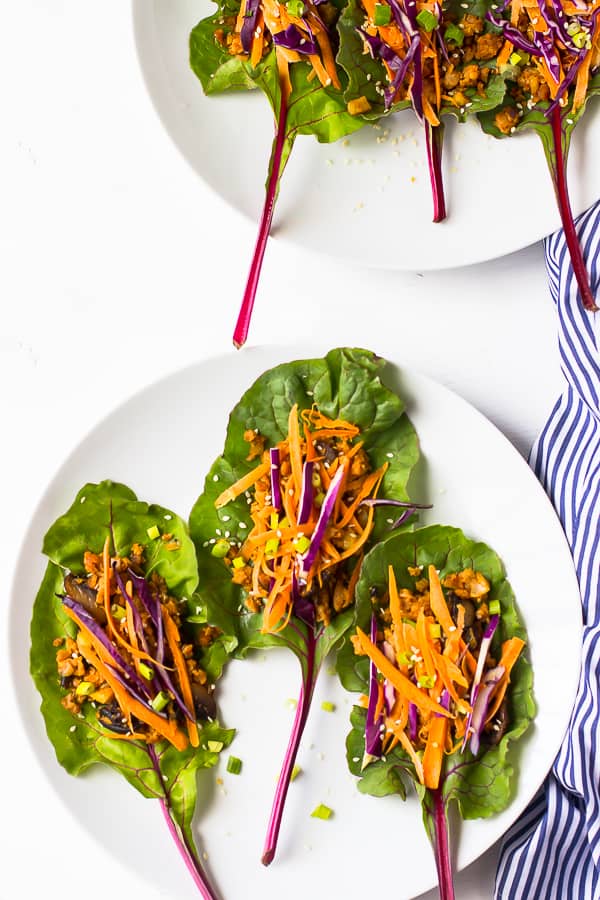 I don't know about you, but I had way too much salsa on Cinco de Mayo. I know, who even says that? The girl who hosted a two-person-turned-four-person mini party and made a double batch of salsa. Yeah well, I had to taste test the salsa numerous times before, because you know, I care about my friends! Totally. Anyway, all I want right now is something light, totally delicious, and incredibly easy to make.
In steps in these Vegan Swiss Chard Wraps – light, rolled up like a burrito wraps that are drizzled with the best sweet and sriracha. I've shared this sauce before, and it was so good, I had to share it again.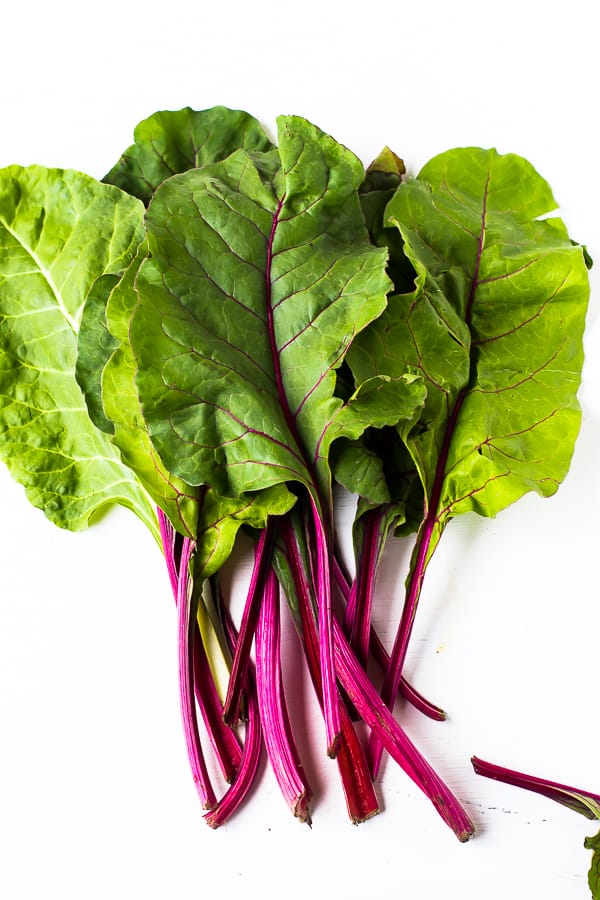 If this sounds familiar to you at all, you've seen my Vegan Lettuce Wraps. I did the exact same thing but instead this time used these beautiful Swiss Chard/Rainbow Chard Wraps instead. Side note, I adore that they are also called Rainbow Chard. I mean, they are SO pretty! I would eat these for the colour of the stems alone.
These Wraps are made up of a secret insanely delicious ingredient – Walnut Meat. I know, wait what?? Walnut meat is exactly that – walnuts softened and ground that taste like taco filling. The first time I made these for my husband, he was in shock. He had tasted so many of my dishes, but still couldn't believe how delicious this filling tasted. Walnut meat can be made in 10 minutes if you haven't pre soaked them, and they can adapt any flavour sauce you put on them. Aka, it's perfect.
Speaking of sauce, this Sweet Sriracha Sauce. It's the perfect balance of sweet and spicy with that extra kick. The walnut meat soaks in right in so you can be guaranteed that your wraps will taste amazing. I said it before, and I'll say it again. These are definitely going right back into my weekly rotation.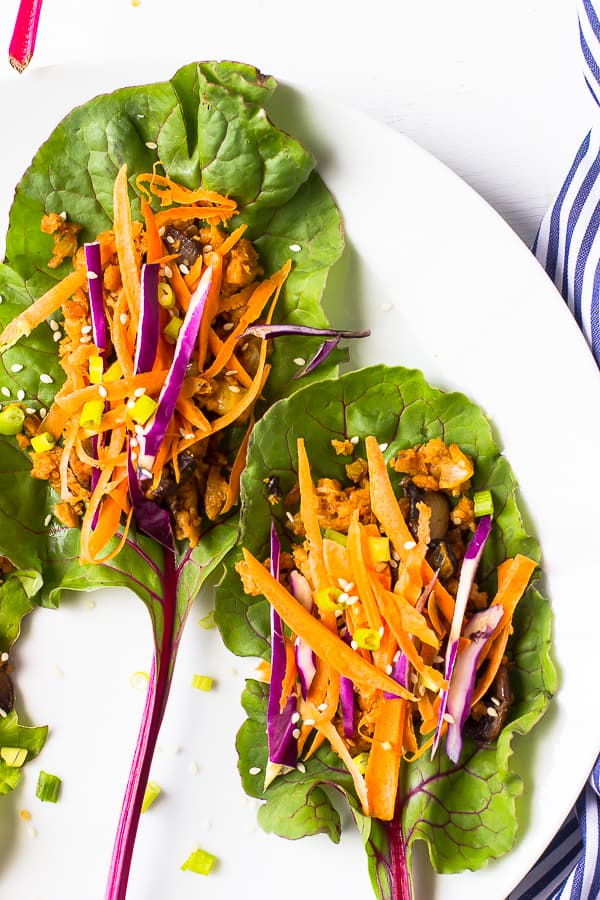 If you try these Vegan Swiss Chard Wraps, please let me know in the comment section below, or tag me on instagram with the hashtag #jessicainthekitchen! For more exclusive recipes follow me on Instagram AND on Snapchat: jessinkitchen.
RELATED RECIPES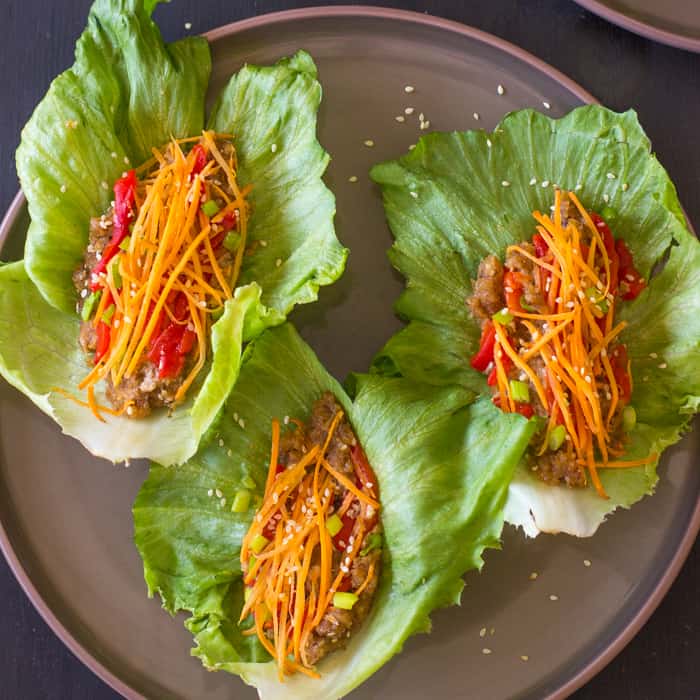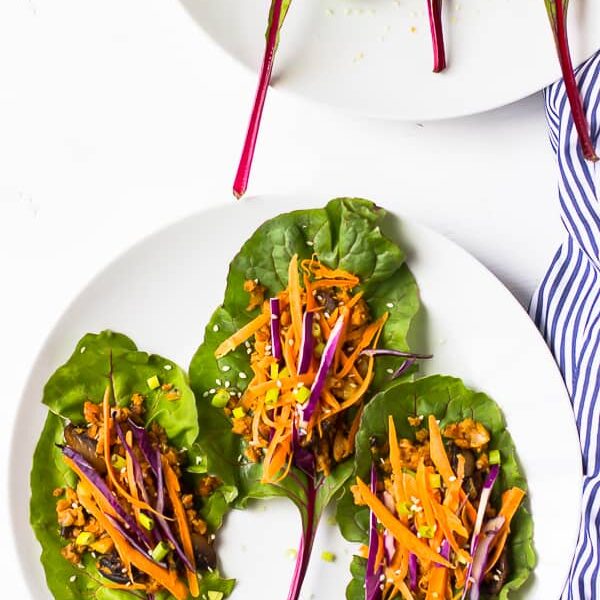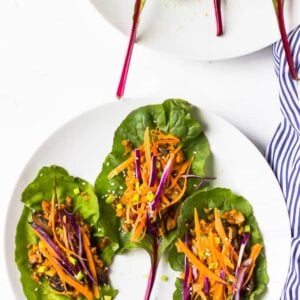 Vegan Swiss Chard Wraps
These Vegan Swiss Chard Wraps are an easy and incredibly tasty light meal that are drizzled with an insane Sweet Sriracha Sauce!
Ingredients
Walnut Meat:
2 cups raw walnuts
1 tablespoon liquid aminos
1/2 teaspoon ground ginger
2 tablespoons olive oil
2 cloves garlic, minced
Sriracha Sauce:
1 tablespoon Sriracha
4 tablespoons maple syrup or 2 tablespoon date syrup
1/2 teaspoon sesame seeds
Swiss Chard Wrap:
6 swiss chard leaves, washed and dried
2 carrots, shredded
1/2 cup purple cabbage, chopped
Pinch of Sesame seeds for garnish
1 stalk scallion, chopped for garnish
Instructions
Sriracha Sauce
Mix the ingredients together. Set aside.
Walnut Meat
Soak the walnuts in hot water for about 10 minutes, then drain.

In a food processor, add the walnuts and all the other ingredients. Pulse about 3-6 on 1 second pulses until the walnuts resemble a mince, but not all the way until its mushy. Use a spatula to scrap down to ensure everything is incorporated. Add in the Sriracha Sauce ingredients and pulse for 3 more times to incorporate, using the spatula to help you (you want to ensure everything is just incorporated).
Put together
In a swiss chard leaf, add some of the walnut meat mixture and spread.

Top with your serving of shredded carrots, cabbage, sesame seeds and scallions.

Enjoy!
Notes
This recipe is raw, vegan and gluten free.
HOW TO STORE You can store the ingredients separately for this wrap, and then put together when ready to assemble. If making for lunch that day, you can make this the morning of, then roll together and store in the fridge until ready to eat.
Calories: 358kcal, Carbohydrates: 19g, Protein: 8g, Fat: 30g, Saturated Fat: 3g, Sodium: 338mg, Potassium: 467mg, Fiber: 4g, Sugar: 11g, Vitamin A: 6435IU, Vitamin C: 23mg, Calcium: 89mg, Iron: 2mg
Disclaimer: Although jessicainthekitchen.com attempts to provide accurate nutritional information, kindly note that these are only estimates. Nutritional information may be affected based on the product type, the brand that was purchased, and in other unforeseeable ways. Jessicainthekitchen.com will not be held liable for any loss or damage resulting for your reliance on nutritional information. If you need to follow a specific caloric regimen, please consult your doctor first.
These Vegan Swiss Chard Wraps are an easy and incredibly tasty light meal that are drizzled with an insane Sweet Sriracha Sauce!