Strawberry Jalapeño Salsa
This Strawberry Jalapeño Salsa takes only 10 minutes with 5 ingredients! It's a sweet and spicy salsa that is a total crowd pleaser and great for parties!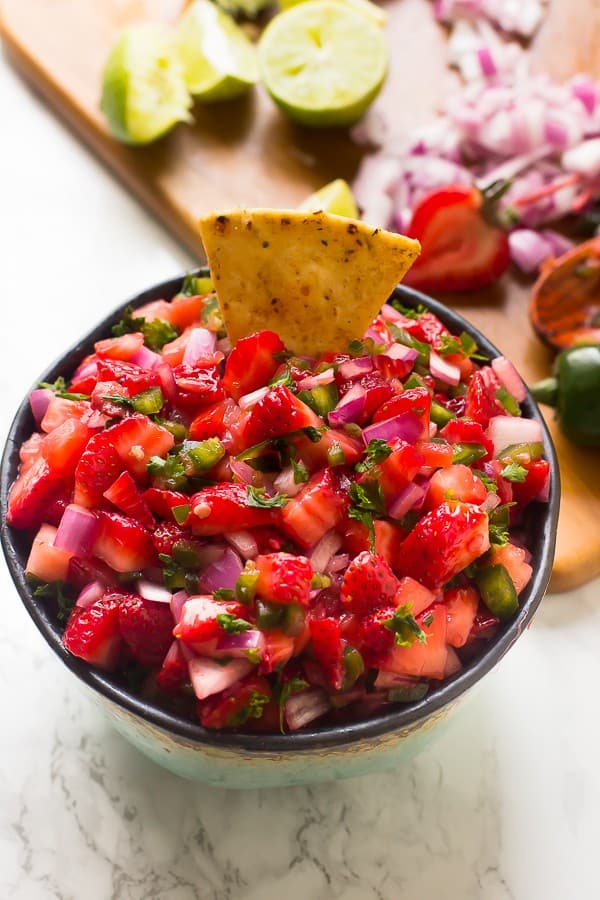 Happy July friends! Isn't it crazy that half the year is now over?! Am I a broken record that just needs to accept that each month only has on average 30/31 days? Probably. In any case, it being July 1 means that the 4th of July is literally only 3 days away. If you want to be the most adored guest at your 4th of July BBQ, this Strawberry Jalapeño Salsa is definitely the recipe for you. It'll take you only 5 ingredients and 10 minutes – and a REAL ten minutes not a timed, rushing 10 minutes.
Is it just me, or are the strawberries this season just divine? They seem to taste way better than the years before and are so incredibly juicy. That's how we start this salsa – with deliciously sweet and tart strawberries. They are such a great base for this salsa because it's like fruit dip on an even better savoury level. Then the rest of the party follows: red onions, jalapeños, lime and cilantro. Dice, chop, squeeze and mix, that's it. Why aren't all recipes this easy?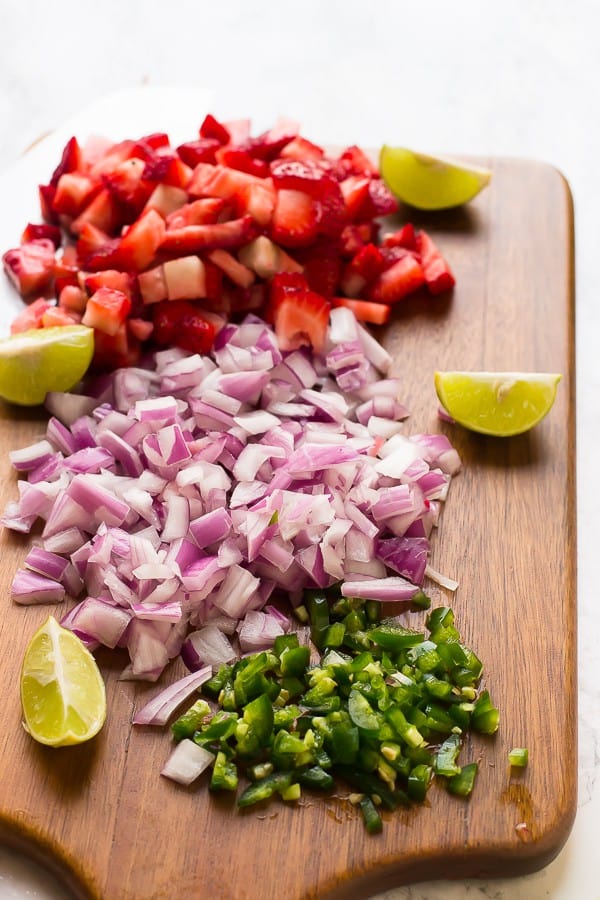 Here's my completely favourite part about this recipe: it's healthy. You know that on Jessica in the Kitchen we are all about easy healthy recipes, and even when I don't say it, you can guarantee that the recipe is healthy and good for you. I kinda had to say it for this one, cause I want you guys to know that you can eat ALL of this dip guilt free. It tastes pretty amazing, is so easy to make and is GOOD for you!! I'm talking loaded with anti-oxidants, fresh and natural and low carb. Win, win friends.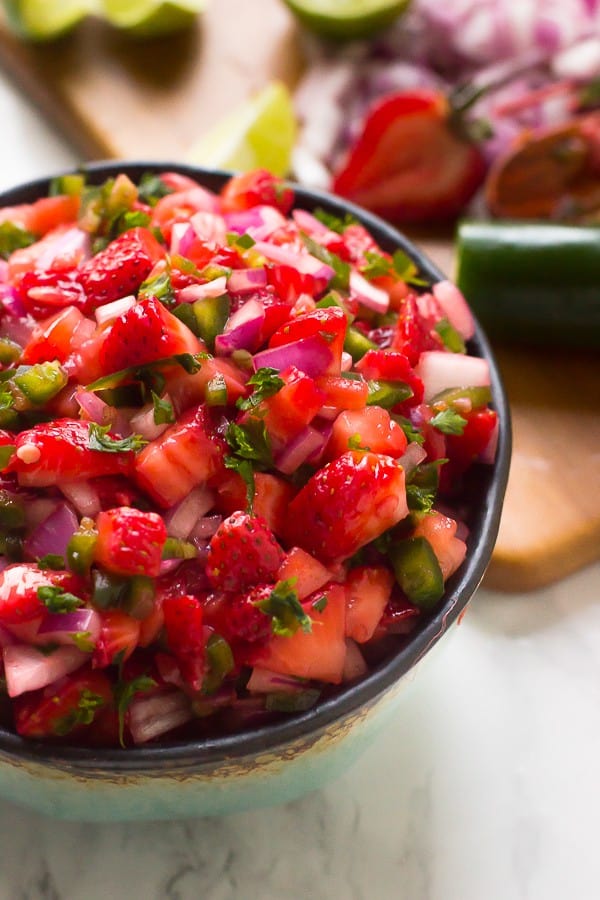 You can whip this up right before your party or bbq, easily store it in a container and bring it over. Eat it with some chips. Or on top of your veggie burger, tacos, burritos…anything your heart desires. Dig in.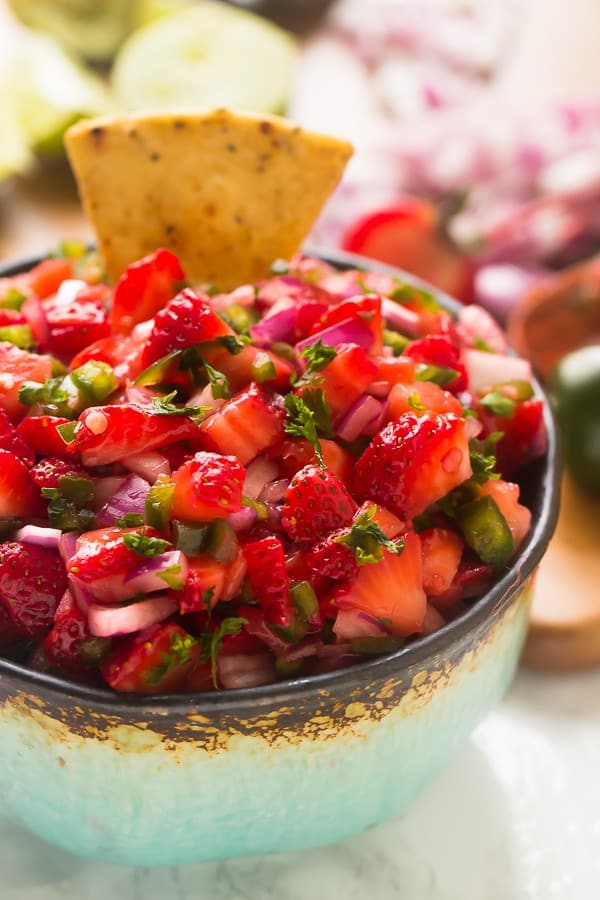 P.S. Here are some of the items I used to make this recipe if you'd like to use them too:
| WHAT YOU'LL NEED // SHOP MY FAVORITE INGREDIENTS & PREP PRODUCTS |


If you try this Strawberry Jalapeño Salsa please let me know in the comment section below, or tag me on instagram with the hashtag #jessicainthekitchen! For more exclusive recipes follow me on Instagram AND on Snapchat: jessinkitchen.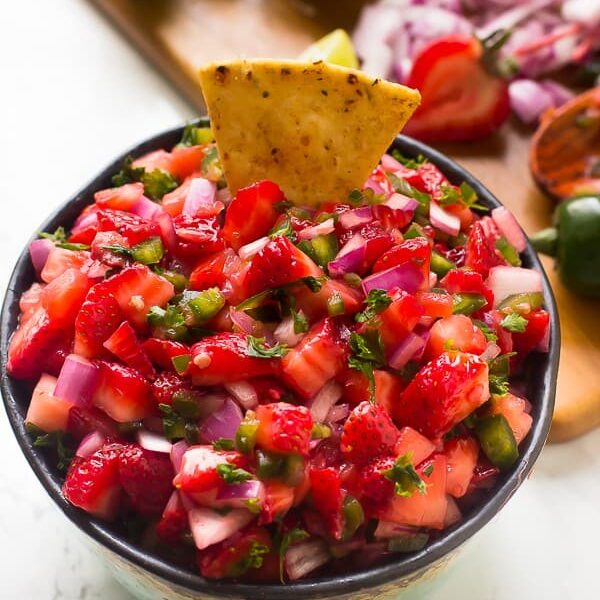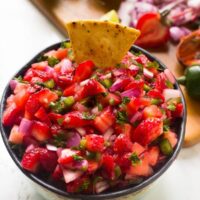 Strawberry Jalapeño Salsa
This Strawberry Jalapeño Salsa takes only 10 minutes with 5 ingredients! It's a sweet and spicy salsa that is a total crowd pleaser and great for parties!
Ingredients
1 cup strawberries, chopped
1/4 large red onion, diced
1 jalapeño seeded and diced
juice of a large lime
3 tablespoons cilantro
Instructions
Mix all the ingredients together in a large bowl and toss lightly to combine.

Let sit for a few minutes for all the flavours to meld.

Serve with chips and enjoy!
Notes
This recipe is vegan and gluten free. You can easily double or triple the recipe depending on your party size.
HOW TO STORE
This salsa is best made and served fresh. While you can store leftovers in the fridge, the strawberry will begin to wilt after being in the fridge for a day or so. I recommend making and serving it fresh.
I don't recommend freezing this salsa.
RELATED RECIPES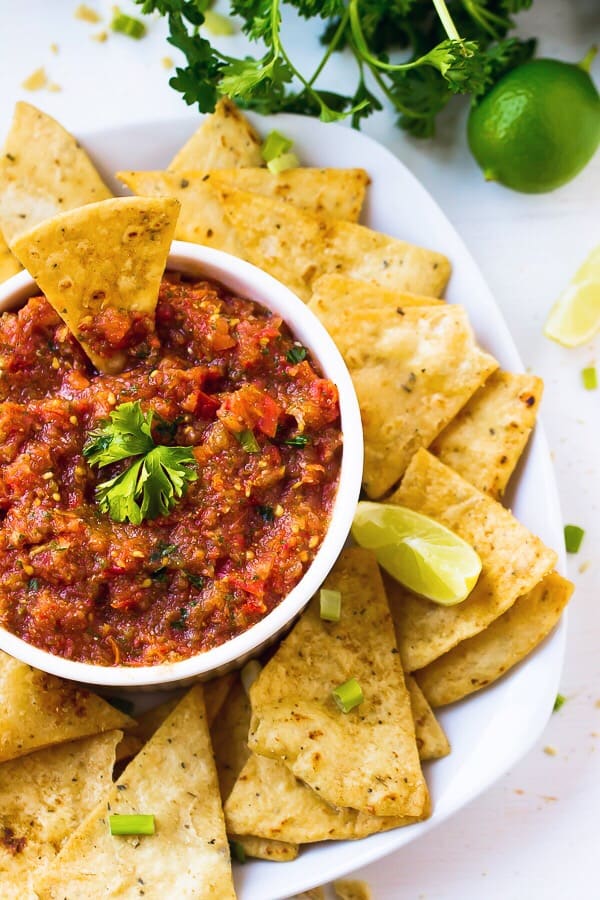 Restaurant Style Blender Salsa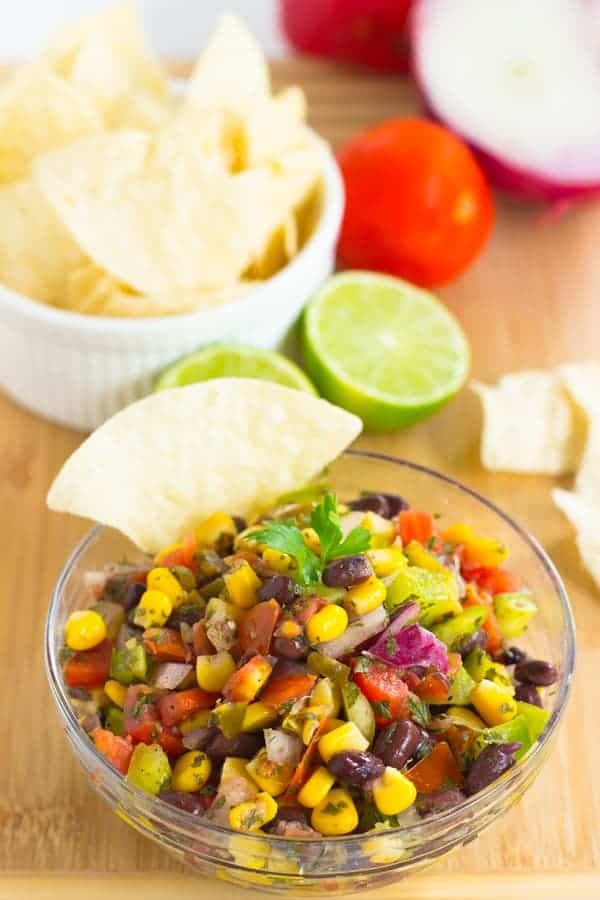 Black Bean Salsa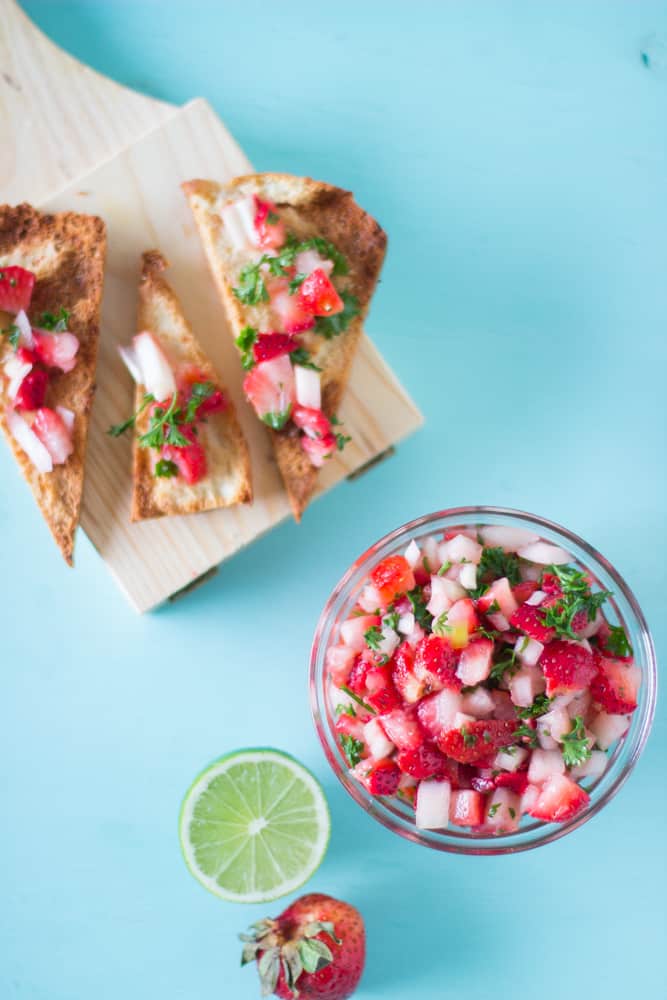 Strawberry Salsa
Calories: 41kcal, Carbohydrates: 11g, Protein: 1g, Fat: 1g, Saturated Fat: 1g, Sodium: 2mg, Potassium: 164mg, Fiber: 3g, Sugar: 5g, Vitamin A: 116IU, Vitamin C: 61mg, Calcium: 23mg, Iron: 1mg
Disclaimer: Although jessicainthekitchen.com attempts to provide accurate nutritional information, kindly note that these are only estimates. Nutritional information may be affected based on the product type, the brand that was purchased, and in other unforeseeable ways. Jessicainthekitchen.com will not be held liable for any loss or damage resulting for your reliance on nutritional information. If you need to follow a specific caloric regimen, please consult your doctor first.