Vegan Crunchwrap Supremes
These vegan crunchwrap supremes are a bunch of fun to make. And with seasoned vegan crumbles and melty vegan cheese sauce, they're even more fun to eat!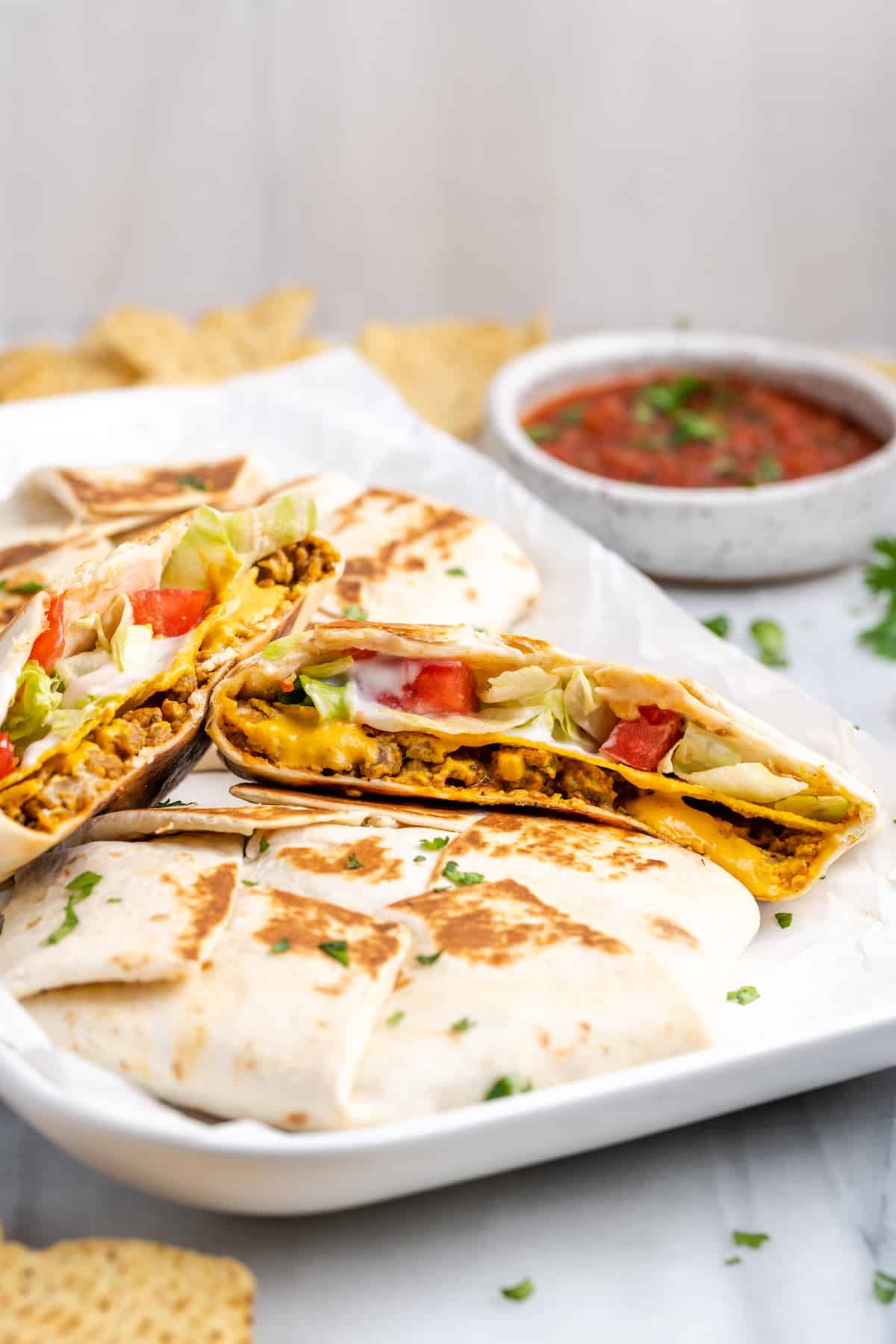 Vegan crunchwrap supremes are one of my new go-to meals. They check all my boxes. They're bursting with flavor from spices, a gooey vegan cheese sauce, and fresh veggies. They're healthy, as all the ingredients are vegan. They only take 20 minutes to make, and they're all kinds of fun.
This recipe is fast Mexican food taken to a new level. It's crunchy, it's mouth-watering, and it's just like Taco Bell … except way better!
Why You'll Love These Vegan Crunchwrap Supremes
This is one of my favorite recipes, and I'm guessing it will soon be one of your favorites, too. Here's some of my favorite things about it.
Fast food at home. Let's be honest: we all have a soft spot for places like Taco Bell. It doesn't matter how healthy you eat, you always get those cravings from time to time. And these vegan crunchwrap supremes satisfy those cravings, but at home. They're just like the Taco Bell version, except vegan, and you can make them all yourself!
As healthy as they are fun. Any recipe that I would describe as both fun and healthy is a good recipe in my book. And that's exactly what these are. With vegan meat crumbles, vegan cheese, and fresh vegetables, these crunchwraps are pretty healthy. But they're every bit as fun as the fast food version, and they're fun to make, too!
Your friends will be impressed. Next time you're with your friends, tell them you made crunchwrap supremes at home. Better yet, show them a picture! Then watch how quickly they invite themselves over for dinner.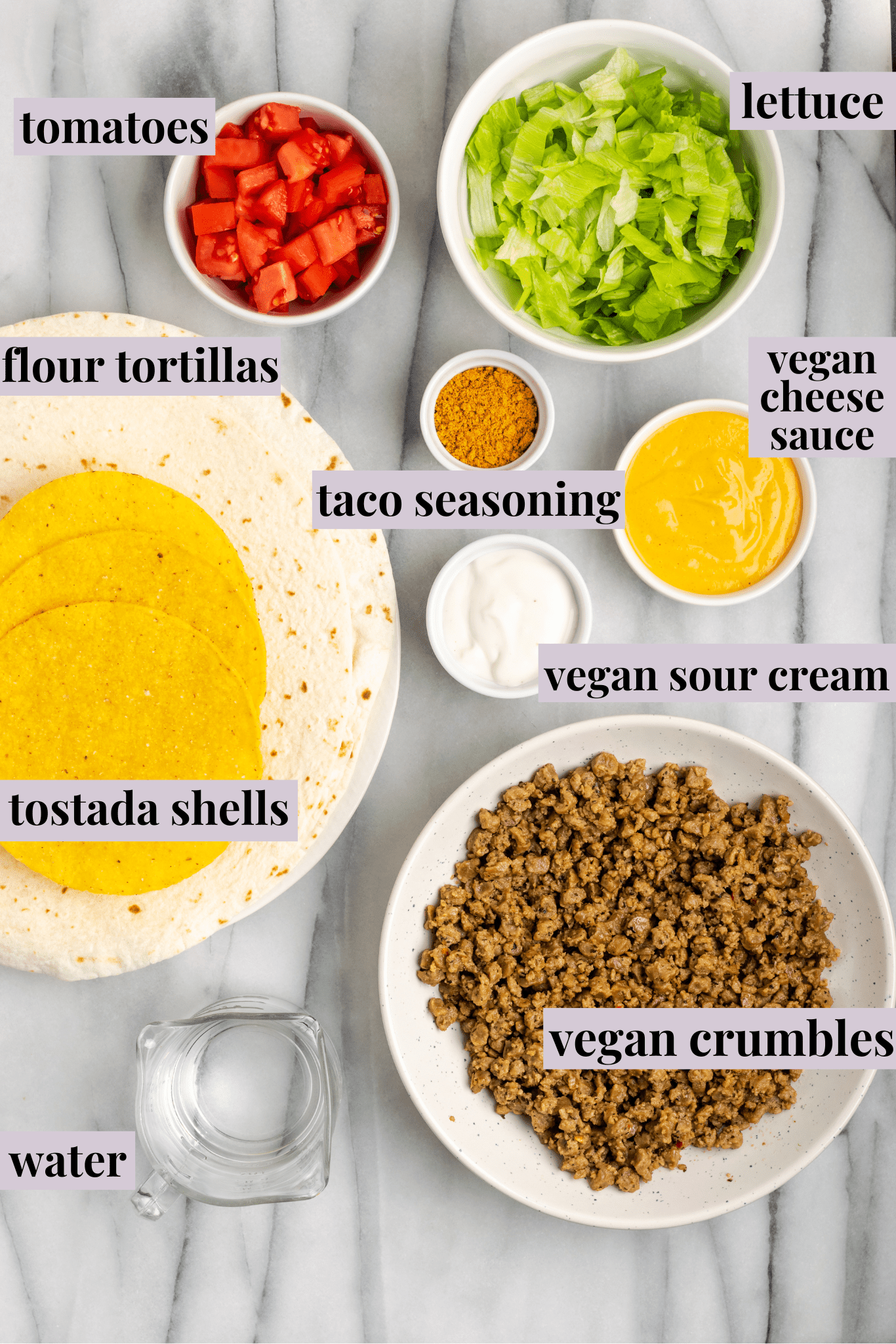 Notes on Ingredients
Here are all the ingredients you need to make vegan crunchwrap supremes at home. Check out the recipe card at the bottom of the article for the exact amounts of each ingredient.
Flour tortillas – Make sure you buy the burrito size tortillas.
Tostada shells
Vegan meat crumbles – The vegan meat should be cooked before you start this recipe.
Water
Taco seasoning
Vegan cheese sauce – This is my favorite recipe.
Lettuce – You should use shredded iceberg lettuce.
Tomatoes
Vegan sour cream
What is Taco Seasoning?
Taco seasoning is a spice blend that you can find at any grocery store. Every brand's blend of spices for taco seasoning is different, but they usually include onion, garlic, paprika, chili, and oregano. You can always make your own taco seasoning if you don't have the premade blend.
How to Make Vegan Crunchwrap Supremes
Here's how to make this fun Mexican dish.
Season the meat crumbles. Add the vegan meat crumbles, water, and taco seasoning to a skillet and cook on medium-high heat until the water evaporates. Stir the mixture occasionally as it cooks.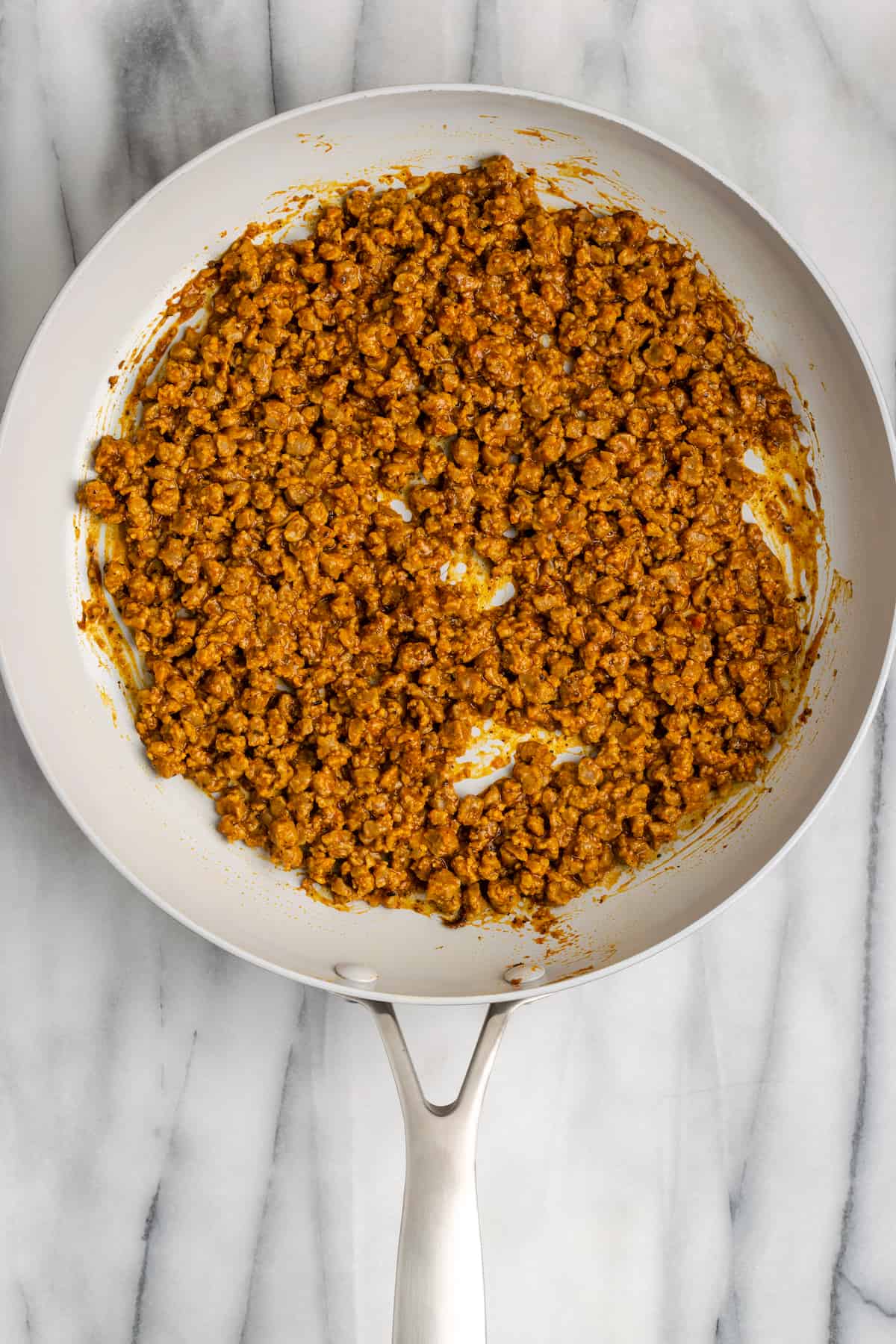 Start assembling. Place roughly ¼ of the vegan meat mixture on top of a tortilla. Spread the mixture in a circle that is roughly the same size as your tostada shells.
Add the cheese. Pour some of the gooey vegan cheese sauce over the vegan meat.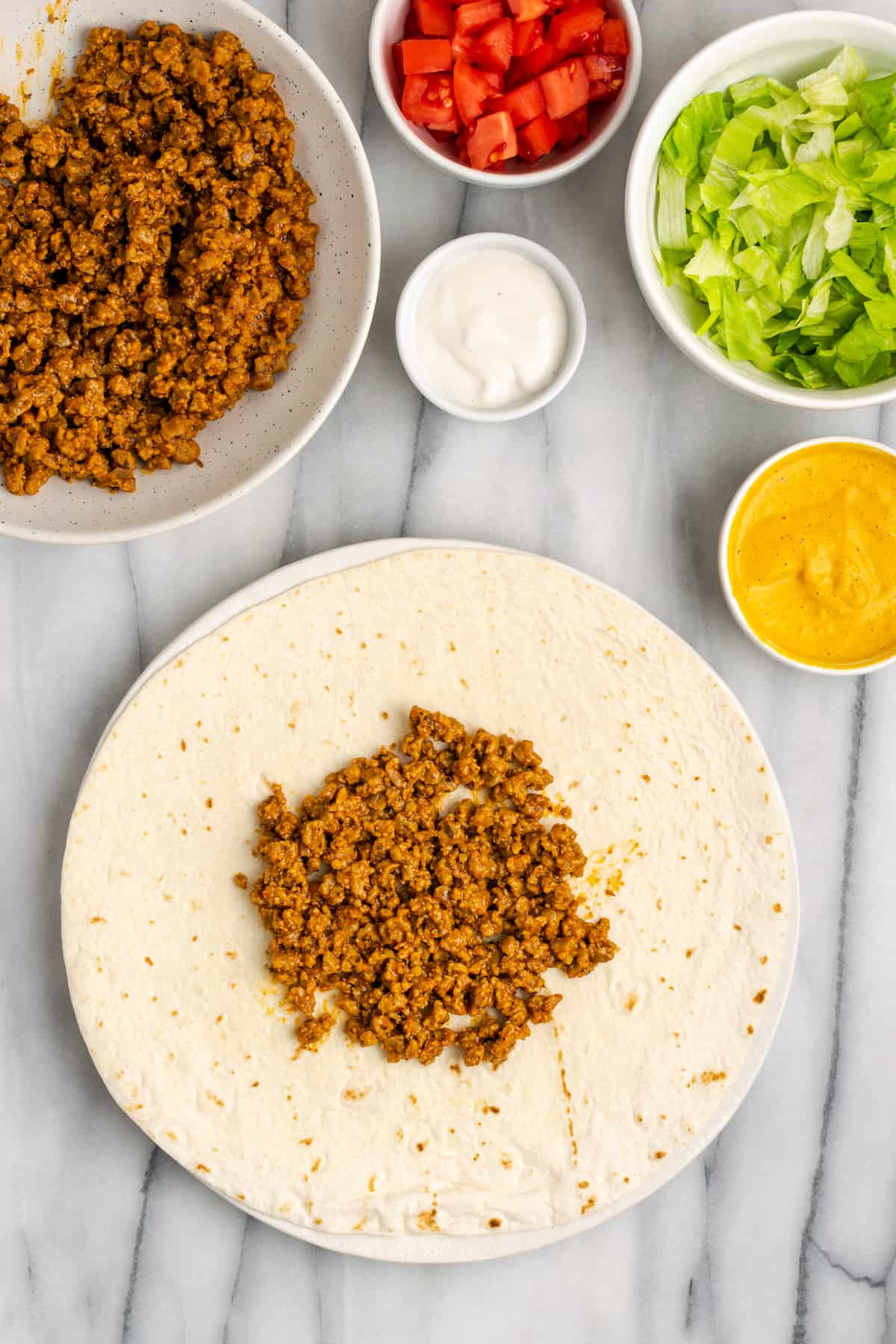 Add the tostada. Place a tostada on top of the cheese sauce.
Add sour cream. Spread sour cream over the top of the tostada.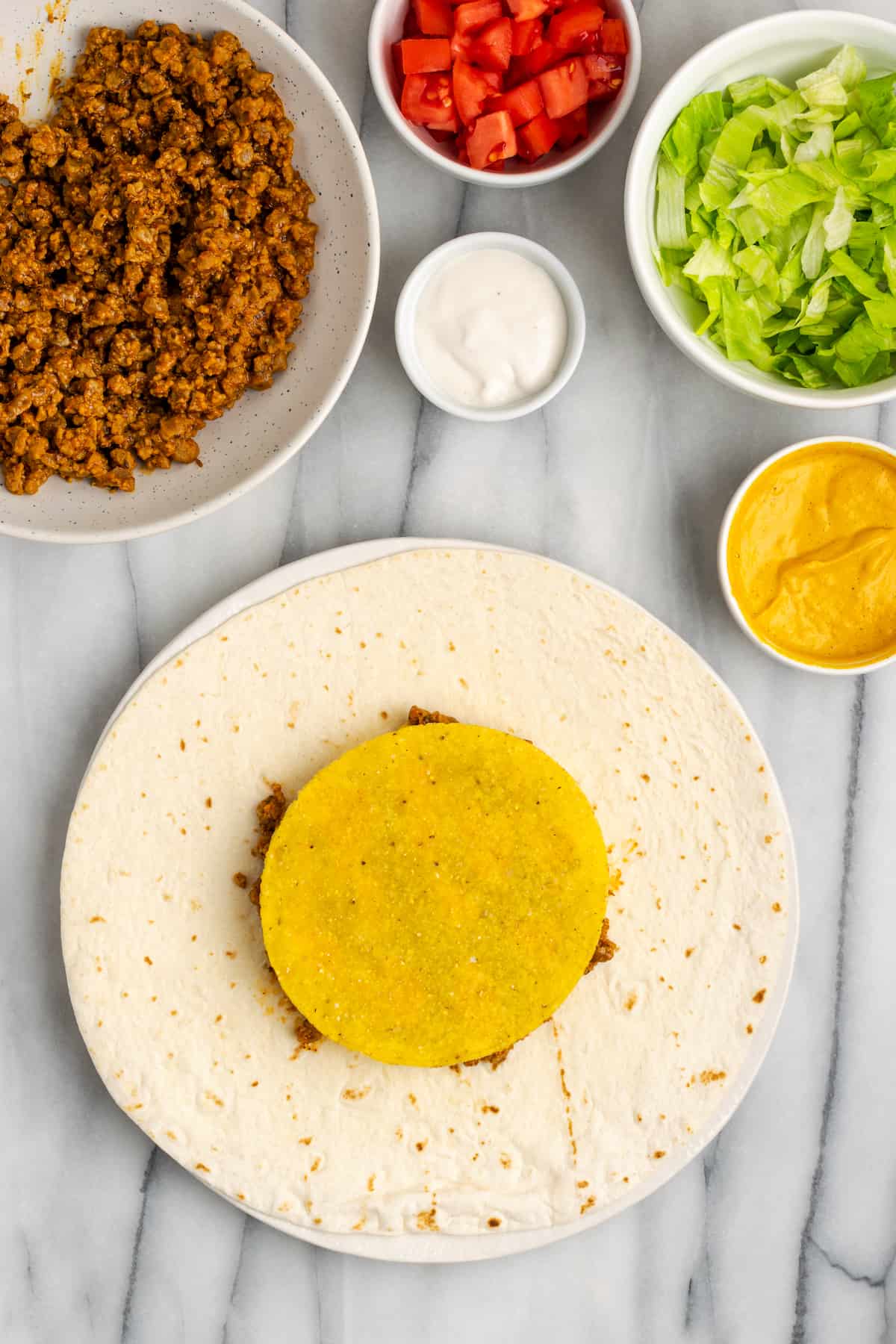 Top with veggies. Put the lettuce on top of the sour cream, and then put the tomatoes on top of the lettuce.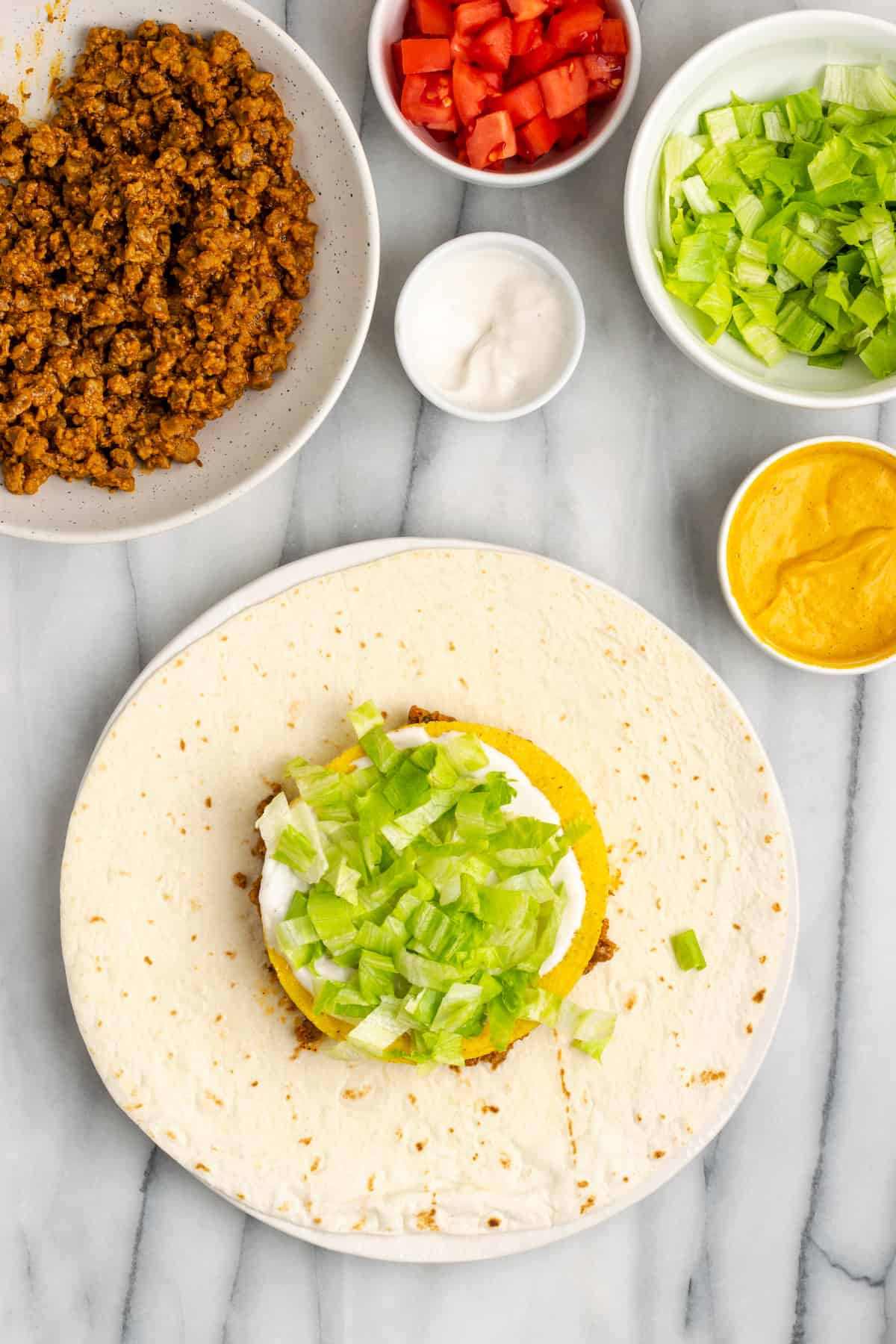 Fold. Carefully fold the tortilla around the fillings. If it doesn't quite cover the fillings, you can tear a small piece off of another tortilla.
Seal. Heat a skillet over medium heat. Place the crunchwrap in the skillet, folded side down. Cook for 2 minutes, then flip and cook for 2 more minutes. Then serve!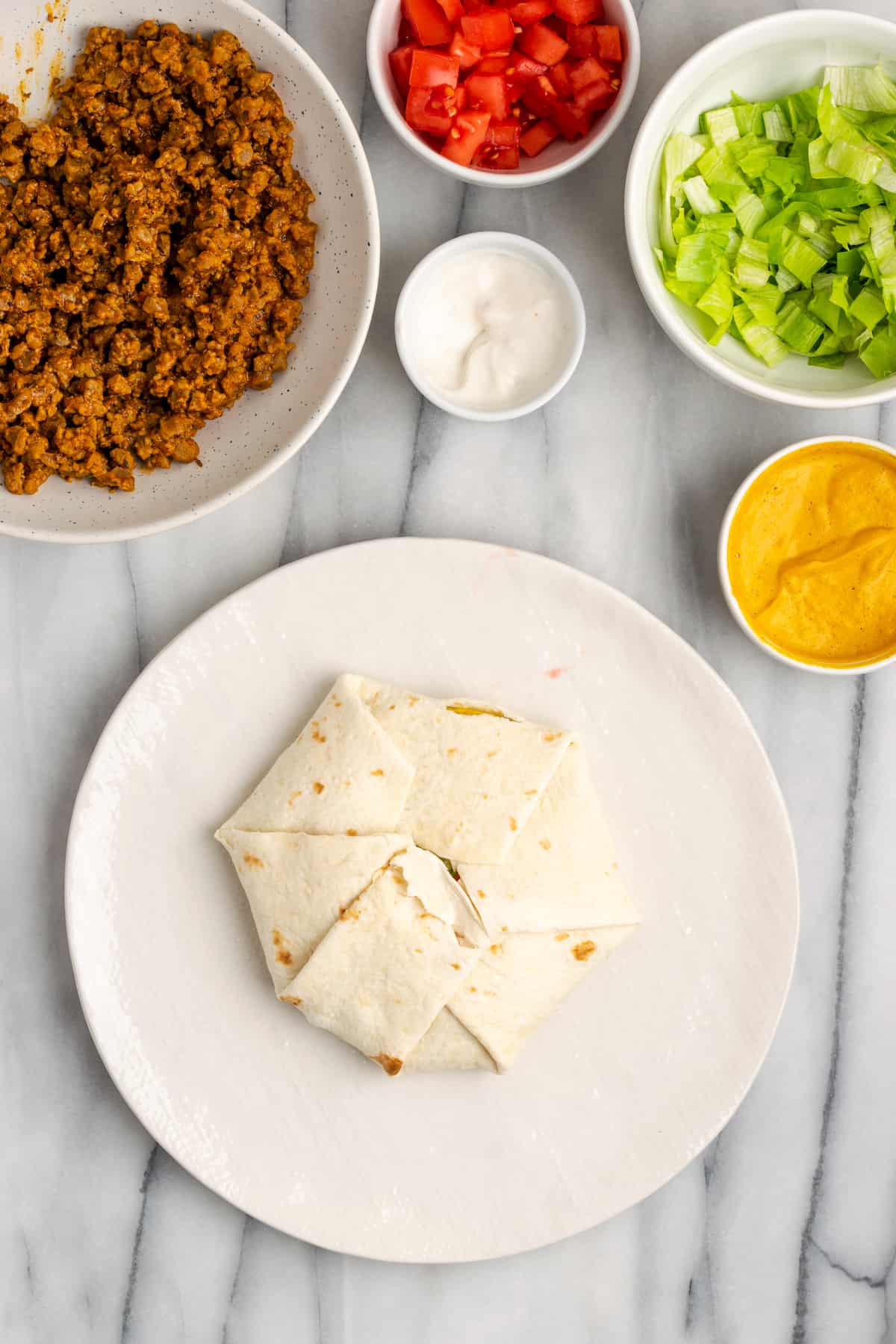 Tips for Success
Here are some tricks and tips for making the best vegan crunchwrap supremes.
Warm the tortillas. Before assembling, briefly warm the tortillas in a dry skillet or in the microwave. If the tortilla is warm, you'll have an easier time folding it without ripping it.
Keep your hands wet. When folding the crunchwrap, make sure that your hands are a little bit damp. This will make it easier for you to work with the dry tortilla.
Use chips if you need to. If you can't find tostada shells, don't worry! Just place tortilla chips in the shape of a circle instead.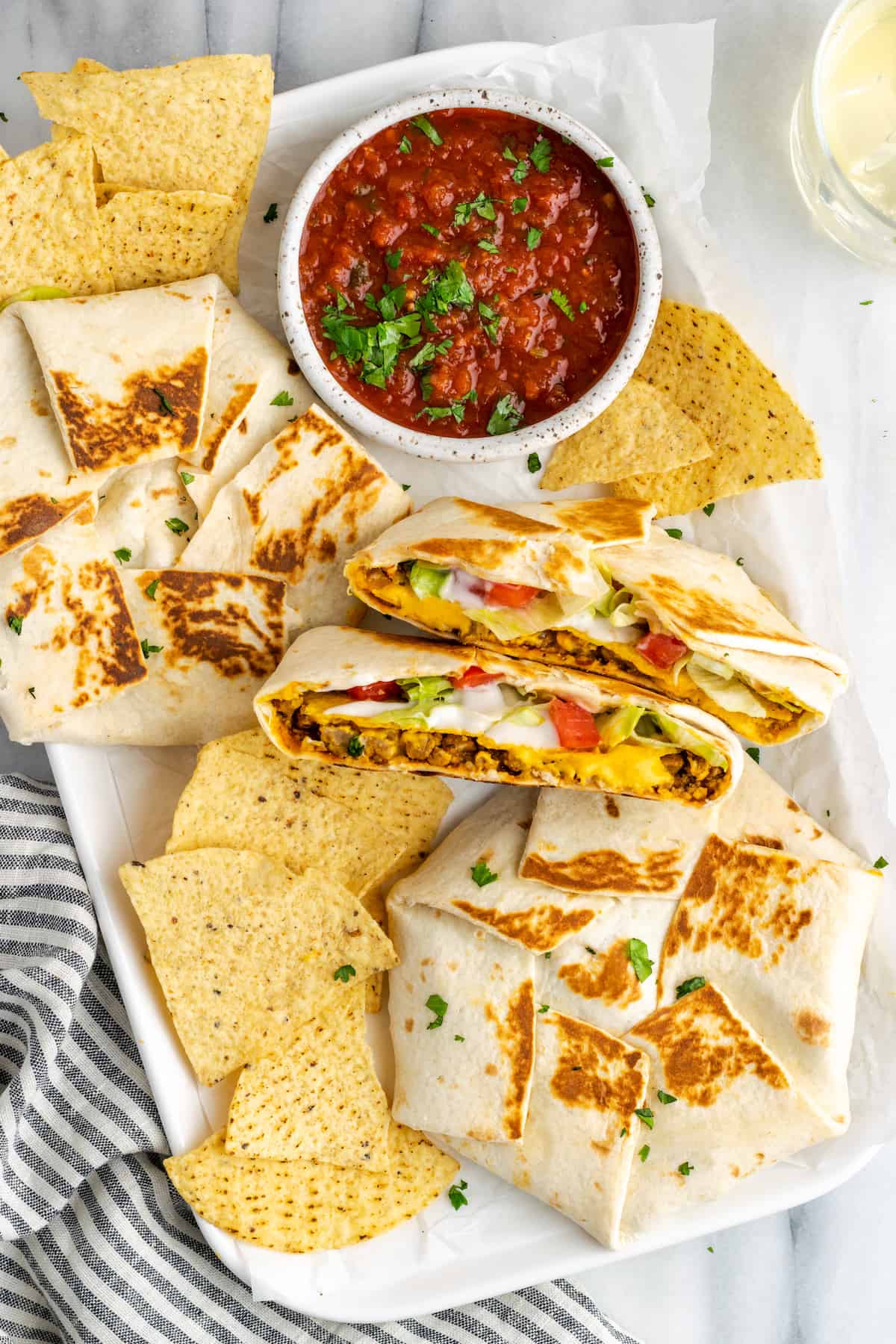 Variations
Here are some fun ways that you can switch up these vegan crunchwrap supremes.
Replace the vegan meat crumbles. If you don't feel like eating vegan meat, or if you don't have any, then replace the crumbles with black beans, refried beans, roasted cauliflower, or roasted potatoes. 
Use shredded vegan cheese. Vegan cheese sauce is one of my favorite foods, but shredded cheese is pretty darn good too. If you prefer vegan shredded cheese, you can use it instead of the cheese sauce. Or better yet, you can use both! I recommend putting shredded vegan cheese underneath the vegan meat crumbles, so that it will melt better. 
Add some fun toppings. These vegan crunchwrap supremes taste fantastic as is, but it's always fun to add new ingredients to them. When you're adding the vegan sour cream, lettuce, and tomatoes, ahh some other of your favorite toppings, like salsa, hot sauce, guacamole, cilantro, green onions, or pickled jalapeños.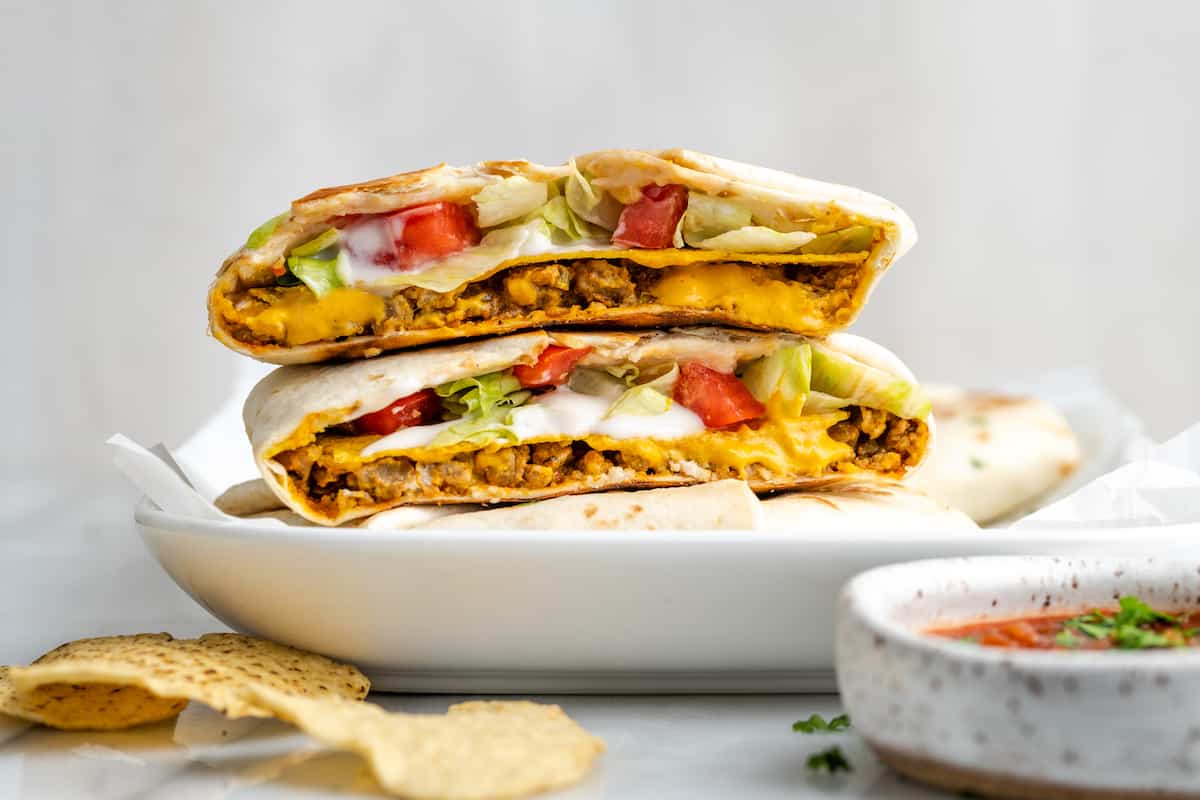 How to Store Vegan Crunchwrap Supremes
You can store these crunchwraps in an airtight container in the fridge for up to 3 days. That said, this recipe really doesn't store very well. The corn tortilla will get soggy, and the flour tortilla will get mushy. I recommend only making as many vegan crunchwrap supremes as you intend on serving.
Can I Freeze This Recipe?
I don't recommend freezing these crunchwrap supremes. But if you do, they'll last in an airtight container in the freezer for 3 months. To reheat, wrap them in aluminum foil and cook in a 350F oven for 5-10 minutes.
Some More Mexican Recipes to Make
If you enjoyed this recipe, then check out some of my other favorite Mexican recipes.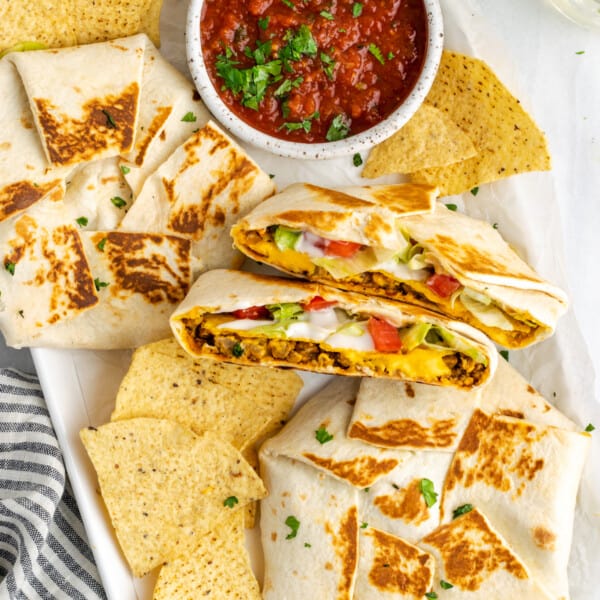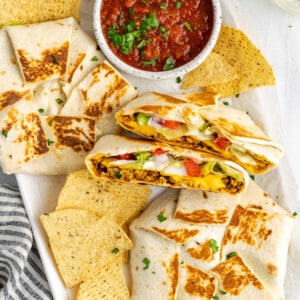 Vegan Crunchwrap Supremes
These vegan crunchwrap supremes are just like the fast food version, except better, healthier, and more fun! They're quick and easy to make, and packed with vegan meat and cheese sauce.
Ingredients
5 10-inch burrito flour tortillas
4 tostada shells
10 ounces vegan meat crumbles, cooked according to the package
1/2 cup water
2 tablespoons taco seasoning
1 cup Vegan Cheese Sauce
1/2 cup lettuce, shredded
1 tomato, diced
1/4 cup vegan sour cream
Instructions
Add the cooked vegan crumbles, water and taco seasoning to a large skillet. Cook over medium-low heat, stirring occasionally, until the water has cooked away.

Place a flour tortilla on a plate.

Top tortilla with about 1⁄4 of the taco crumble mixture. Spread it into a circle about the size of the tostada shell.

Drizzle vegan nacho cheese over the crumbles.

Add the tostada shell.

Top with vegan sour cream, lettuce and tomato.

With damp hands, crease and fold the tortilla over on itself to wrap it around the filling. If you have too much filling and there is a gap, use a portion of the extra flour tortilla to fill in the space.

Heat a non-stick skillet over medium heat. Add the crunchwrap to the pan with the folded side down. Cook until lightly browned, about 2 minutes then flip over and cook the bottom for another 2 minutes.

Serve immediately.
Notes
For the cheese sauce, I like to use this recipe.
To make it easier to work with the tortillas, heat them up before using them, and keep your hands damp when folding them.
If you can't find tostadas, use tortilla chips instead, placing them in a circle.
I don't recommend storing this recipe, but if you have leftovers, you can keep them in an airtight container in the fridge for 3 days, or in the freezer for 3 months. 
Calories: 488kcal, Carbohydrates: 64g, Protein: 6g, Fat: 25g, Saturated Fat: 9g, Polyunsaturated Fat: 11g, Monounsaturated Fat: 5g, Trans Fat: 0.1g, Sodium: 1137mg, Potassium: 217mg, Fiber: 5g, Sugar: 6g, Vitamin A: 665IU, Vitamin C: 3mg, Calcium: 61mg, Iron: 2mg
Disclaimer: Although jessicainthekitchen.com attempts to provide accurate nutritional information, kindly note that these are only estimates. Nutritional information may be affected based on the product type, the brand that was purchased, and in other unforeseeable ways. Jessicainthekitchen.com will not be held liable for any loss or damage resulting for your reliance on nutritional information. If you need to follow a specific caloric regimen, please consult your doctor first.