Vegan Chocolate Cake Recipe
This Vegan Chocolate Cake Recipe has been my favourite for over 10 years! It's moist, decadent, fluffy and made with easy pantry ingredients so anyone can make this! I've made it literally hundreds of time for hundreds of people and it has rave reviews all around!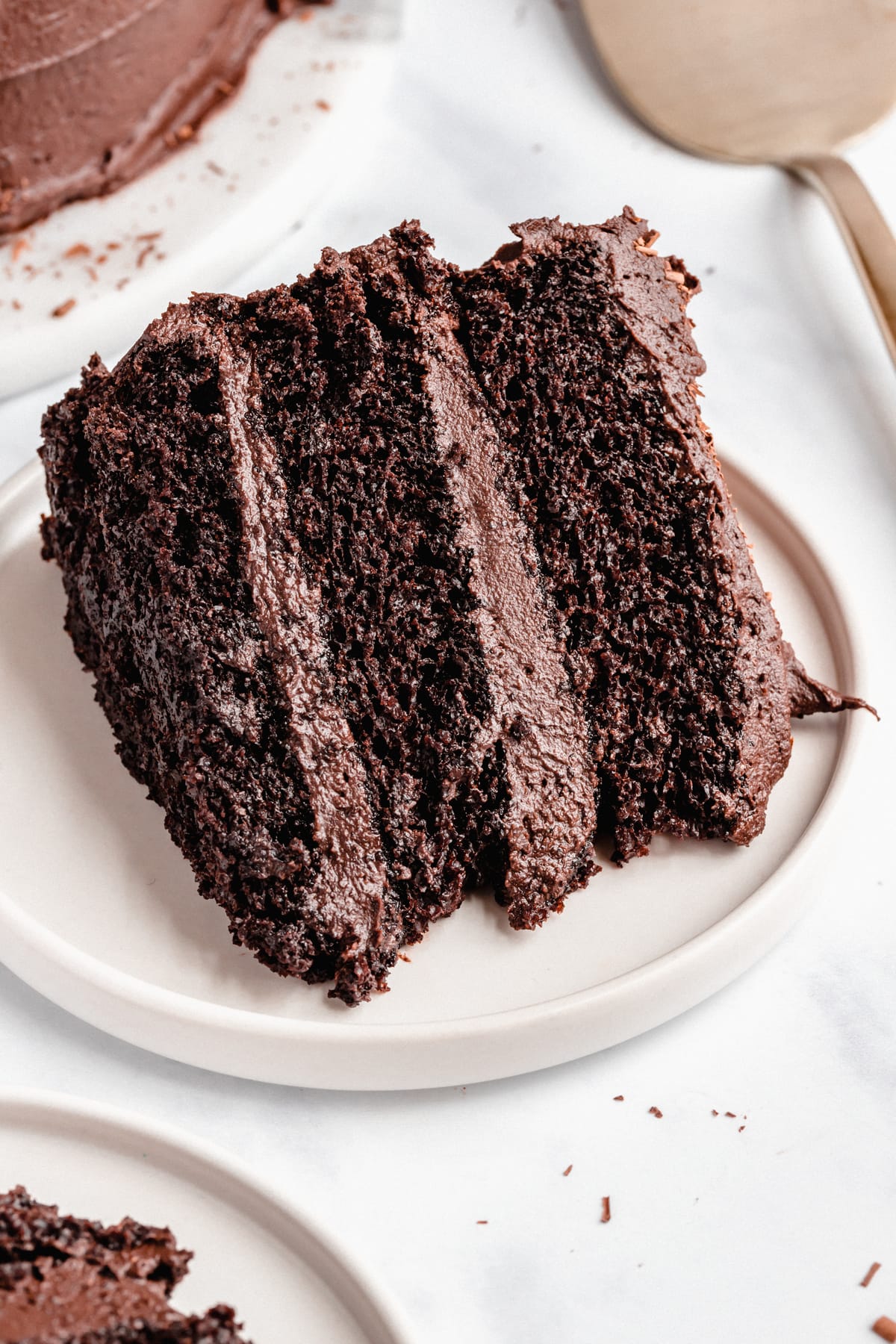 I've baked more chocolate cakes than I can count. I'm talking, hundreds. That's what happens when you have a baking company and everyone wants the chocolate cake. Needless to say, I learned how to make it flawlessly AND I love chocolate cake! Now that I've been baking for over 10 years and now that I'm vegan, I knew I would need a vegan version of this. It's shocking to me that I haven't share one before, but here we are today.

Super Simple Ingredients
I had one clause: this vegan chocolate cake HAD to be simple. No special ingredients like flax or chia seeds, no complicated steps. I want everyone to be able to make this from pantry ingredients. After a few tries modifying my original recipe, I created the best vegan chocolate cake!
The frosting is also super simple, too. If you don't usually any powdered sugar in your pantry, you can just make some at home. I know, SIMPLE right?!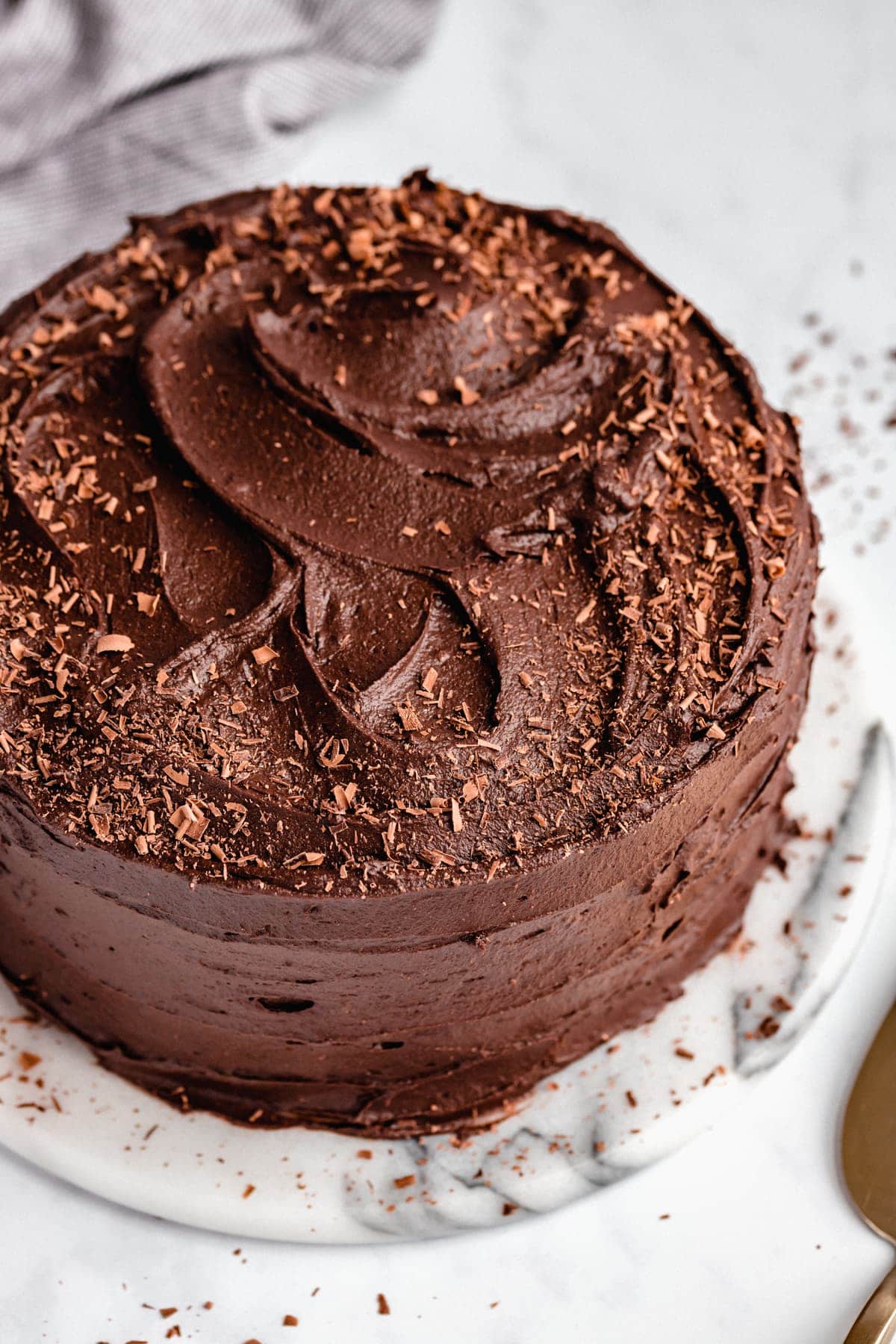 It's moist, decadent, fluffy and so chocolate-y. It's the kind of vegan cake that you would never know is vegan, and that's the point! 
Uses for this vegan chocolate cake
Apart from the fact that it's a delicious cake to whip up for the weekend, this cake is so good that you can use for any of your special occasions. It's the perfect vegan birthday cake and for:
baby showers
holidays
dinner parties
graduations
more birthdays
bbqs
family reunions and the list goes on!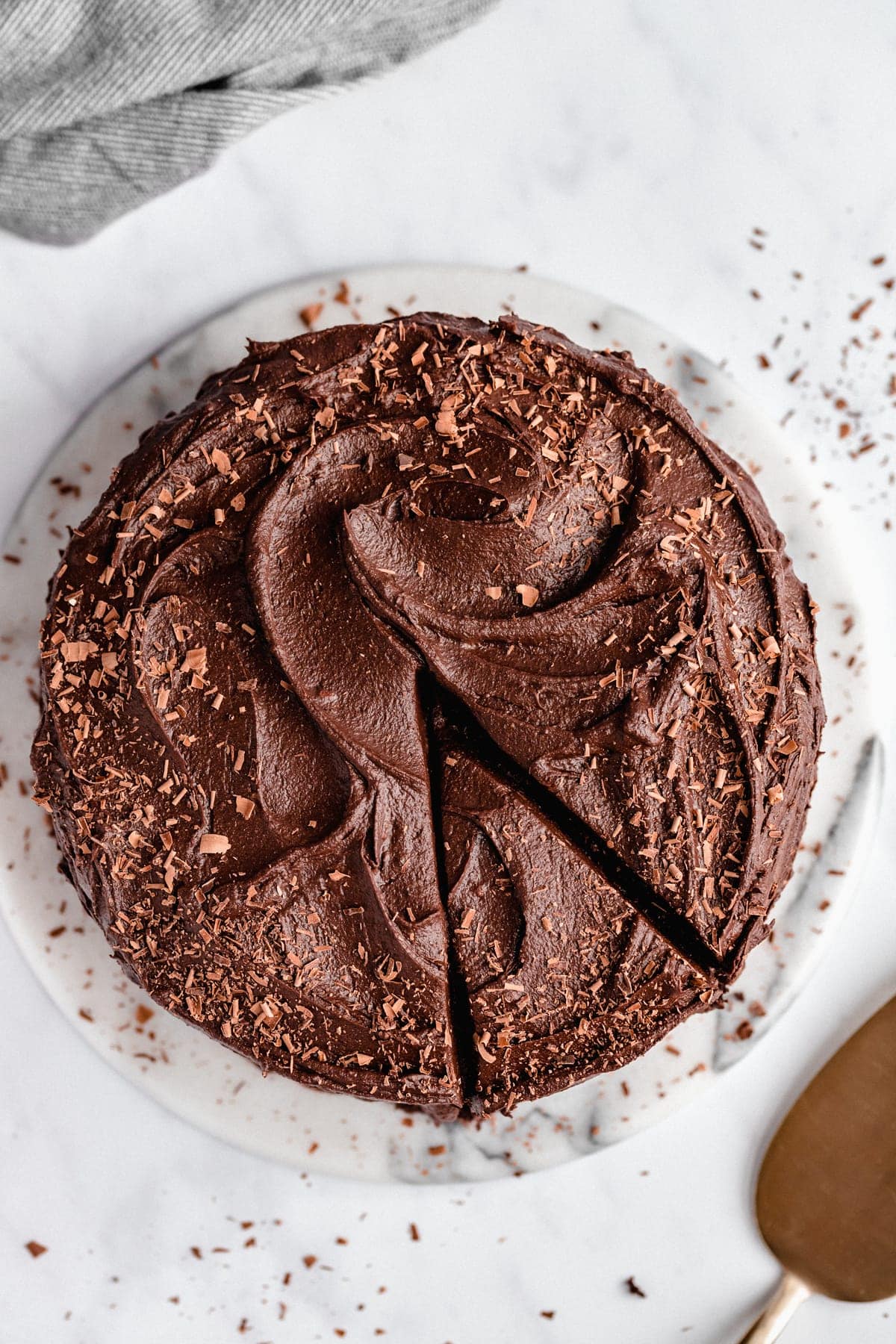 It's been way too long since I've baked a cake, making this cake has really inspired me to create more vegan cake recipes. I'm definitely making a vanilla version, red velvet and so many more. Let the baking continue!
P.S. if you want a smaller quicker single-serving version, be sure to check out my vegan mug brownie or check out my vegan brownies! If you're looking for some other vegan chocolate recipes, check out of favourite too!
Enjoy friends! If you make this Vegan Chocolate Cake Recipe, please snap a photo and tag #jessicainthekitchen on Instagram! We'd also love it if you would leave a comment below, and give the recipe a rating! Thanks so much!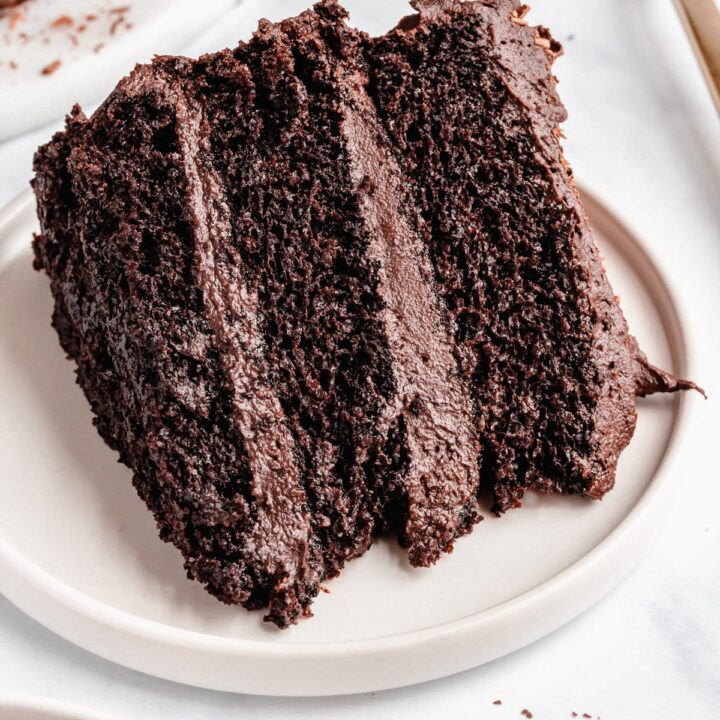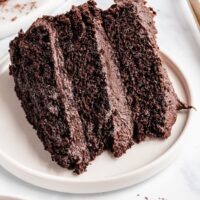 Vegan Chocolate Cake Recipe
This Vegan Chocolate Cake Recipe is the BEST and has been my favourite for over 10 years! It's moist, decadent, fluffy and made with easy pantry ingredients so anyone can make this! I've made it hundreds of time for hundreds of people and it has rave reviews all around!
Ingredients
2 tablespoons apple cider vinegar 
1 cup soy milk or other vegan milk, (240mL)
2 cups sugar, (400g)
2 cups all-purpose flour, (240g)
3/4 cup unsweetened cocoa powder, (60g)
1 teaspoon baking powder
2 teaspoons baking soda
1 teaspoon sea salt
1/2 cup + 2 teaspoons oil , (100g + 2 teaspoons)
2 teaspoons vanilla extract
1 cup boiling water + 1 tbsp instant coffee mixed in until dissolved , (243mL) stir these together right before you need it so it's still hot
Vegan chocolate frosting
1 cup unsweetened cocoa powder, (80g)
1/2 cup unsalted vegan butter, (softened)
1 teaspoon vanilla extract
pinch sea salt
2 1/2 cups to 3 cups powdered sugar , (390g for 3 cups)
1/3 cup vegan milk, + 1 tablespoon extra if needed 
Instructions
Vegan Chocolate Cake
Grease and flour two 9" cake pans and line with parchment paper. It's essential so that the cake doesn't stick. If making an 8" cake, check the notes.

Heat oven to 350°F/180°C. 

In a small bowl, add the apple cider vinegar and the soy milk together and stir to combine. It will curdle. Set aside. 

Whisk together sugar, flour, cocoa, baking powder, baking soda and salt in a large bowl until thoroughly combined. Add milk mixture, oil and vanilla and the coffee water. Beat with an electric whisk on medium speed for about 2 minutes until everything is just combined. Scrape down the sides of the bowl and stir one more time to ensure everything is incorporated. 

Pour the batter equally into the cake pans and bake for 35 minutes. Remove from oven and allow to cool for at least 30 minutes to 1 hour in the pan on a wire rack before removing from the pan and to the wire rack to cool completely.  
Vegan Chocolate Frosting
Add the cocoa powder, vegan butter, 2 1/2 cups of the powdered sugar, vanilla extract, sea salt and half the vegan milk to the bowl of an electric stand mixer or a hand mixer. Start mixing it together at slow speed, gradually increasing speed until it's very thick and smooth. Add the 1/2 cup of the extra powdered sugar at a time until it reaches your desired thickness and consistency. If needed, add in the other half of the milk about 1 tablespoon at a time.
Putting it All Together
Frost cakes and decorate. The frosting will set at room temperature. Enjoy!

Place 1 of the fully cooled cakes on a platter (or any plate wide enough) and dollop half of the frosting on top. Cover the top and the sides, distributing it equally.

Place the remaining cake upside down on top of the frosted cake and spread the remaining frosting on the top and sides, blending the upper and lower portions of the sides as you go.

If you're using 3 layers, do the same, but split into thirds instead.

Decorate with some shaved chocolate or extra cocoa powder! The frosting sets at room temperature perfectly. Slice and enjoy!
Notes
You can also make this cake with three 8" cake pans. Bake it for about 30 to 35 minutes! Coffee Water If you want that deep rich chocolate flavour, please don't skip this! The cake doesn't taste at all like coffee, and instead the coffee enhances the chocolate flavor like crazy. You can use decaf coffee, or just use a cup of boiling hot coffee instead of the instant coffee. To Freeze This Cake Slice the cake into even slices and freeze each slice, flat, in foil. You can store it further in a freezer safe zipped bag if storing for more than a month, but if under a month you don't have to. To thaw, let the cake thaw at room temperature or in the fridge.
Calories: 348kcal, Carbohydrates: 62g, Protein: 4g, Fat: 13g, Saturated Fat: 3g, Sodium: 442mg, Potassium: 189mg, Fiber: 4g, Sugar: 44g, Vitamin A: 328IU, Vitamin C: 1mg, Calcium: 85mg, Iron: 2mg
Disclaimer: Although jessicainthekitchen.com attempts to provide accurate nutritional information, kindly note that these are only estimates. Nutritional information may be affected based on the product type, the brand that was purchased, and in other unforeseeable ways. Jessicainthekitchen.com will not be held liable for any loss or damage resulting for your reliance on nutritional information. If you need to follow a specific caloric regimen, please consult your doctor first.
Recipe by: Jessica Hylton – Jessica in the Kitchen | Photography by: Eat Love Eats