Vegan Coconut Cake
This recipe for Vegan Coconut Cake is truly worthy of a celebration! Fluffy cream cheese frosting topped with tender coconut shreds crowns a tender, moist crumb made with naturally rich coconut milk, infusing tropical flavor into every layer.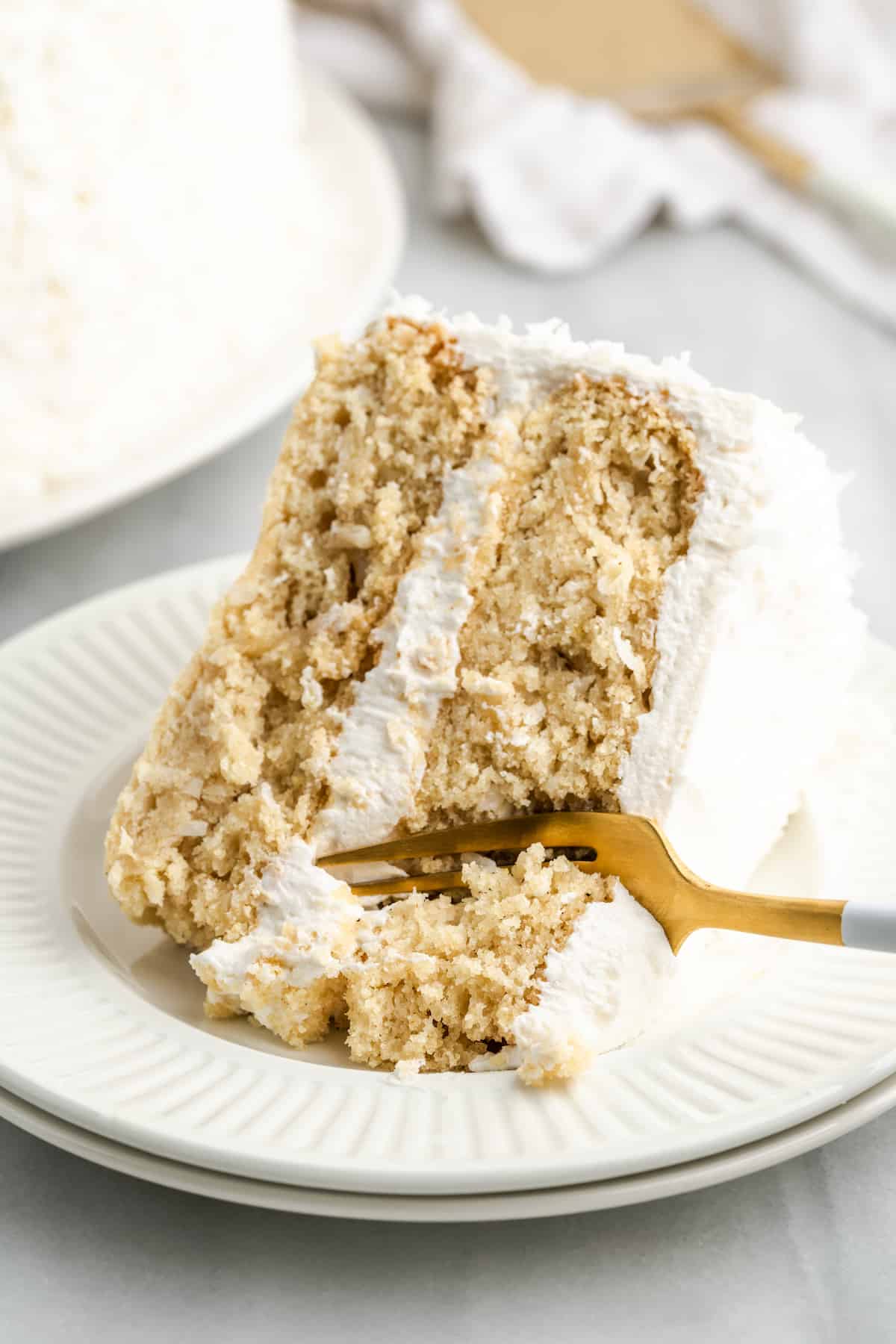 Whether it's a birthday, holiday, or just a gathering of friends, there's nothing like a showstopping dessert to make it feel special. No one will know that this homemade treat is so quick or easy. It comes with built-in decoration thanks to the layer of shredded coconut on top, so there's no need to fuss with piping bags. You don't need to worry about getting the frosting perfectly smooth either!
As beautiful as it looks, it tastes even better. Dressed up like a giant white snowball, coconut cake is a classic southern Christmas staple. Elegant yet unfussy, it's the perfect grand finale to any feast. Of course, you don't have to wait for wintertime to indulge. These timeless flavors are always a hit year-round!
Why You'll Love this Vegan Coconut Cake Recipe
Trends come and go, but this cake has truly withstood the test of time. This recipe is a keeper because it's…
Great for a crowd. Depending on how generously you slice your cake, you can get 12 to 20 servings out of a single batch.
Made from simple ingredients. There's nothing crazy or exotic you need to shop for. Everything can be found in most mainstream grocery stores.
Easy, even for new bakers. Just dump, stir, and bake! It's a great opportunity to get kids in the kitchen as helpers, too.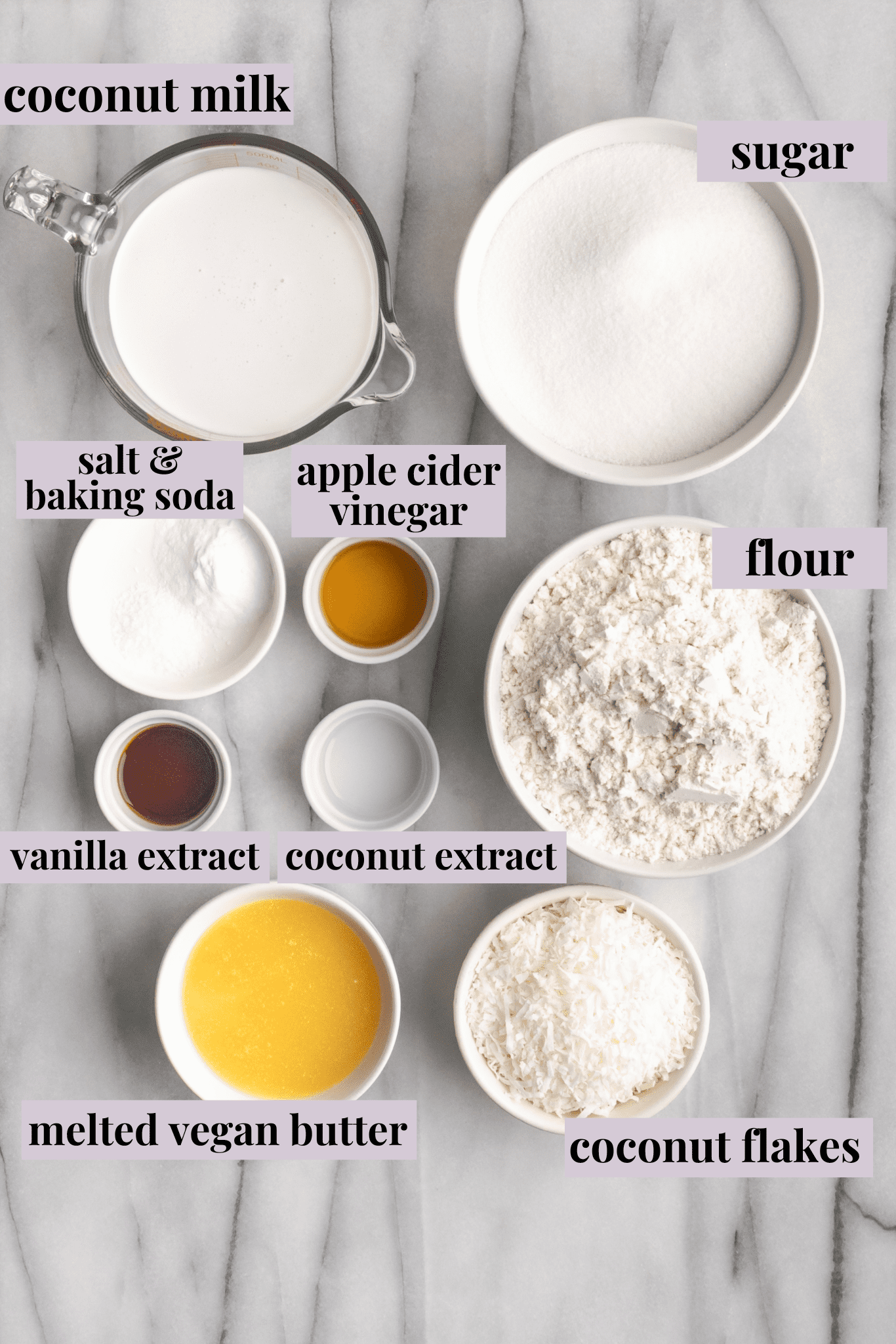 Notes on Ingredients
Please note that this is important information on the ingredients and instructions and the FULL recipe with amounts and details can be found DOWN BELOW (scroll to it) in the recipe card.
Coconut milk – Full fat canned coconut milk is essential for creating the incredibly rich texture and rounded flavor in this cake. Do NOT substitute refrigerated coconut milk beverage which is much thinner and rather bland.
Apple cider vinegar
Granulated sugar
Flour – All-purpose flour works well for just about any baked goods, true to its name. For a particularly soft, fluffy, and delicate treat, cake flour will take this recipe to the next level. Cake flour has less gluten, which is what creates chewy loaves of bread.
Baking soda
Kosher salt
Vegan butter
Vanilla extract
Coconut extract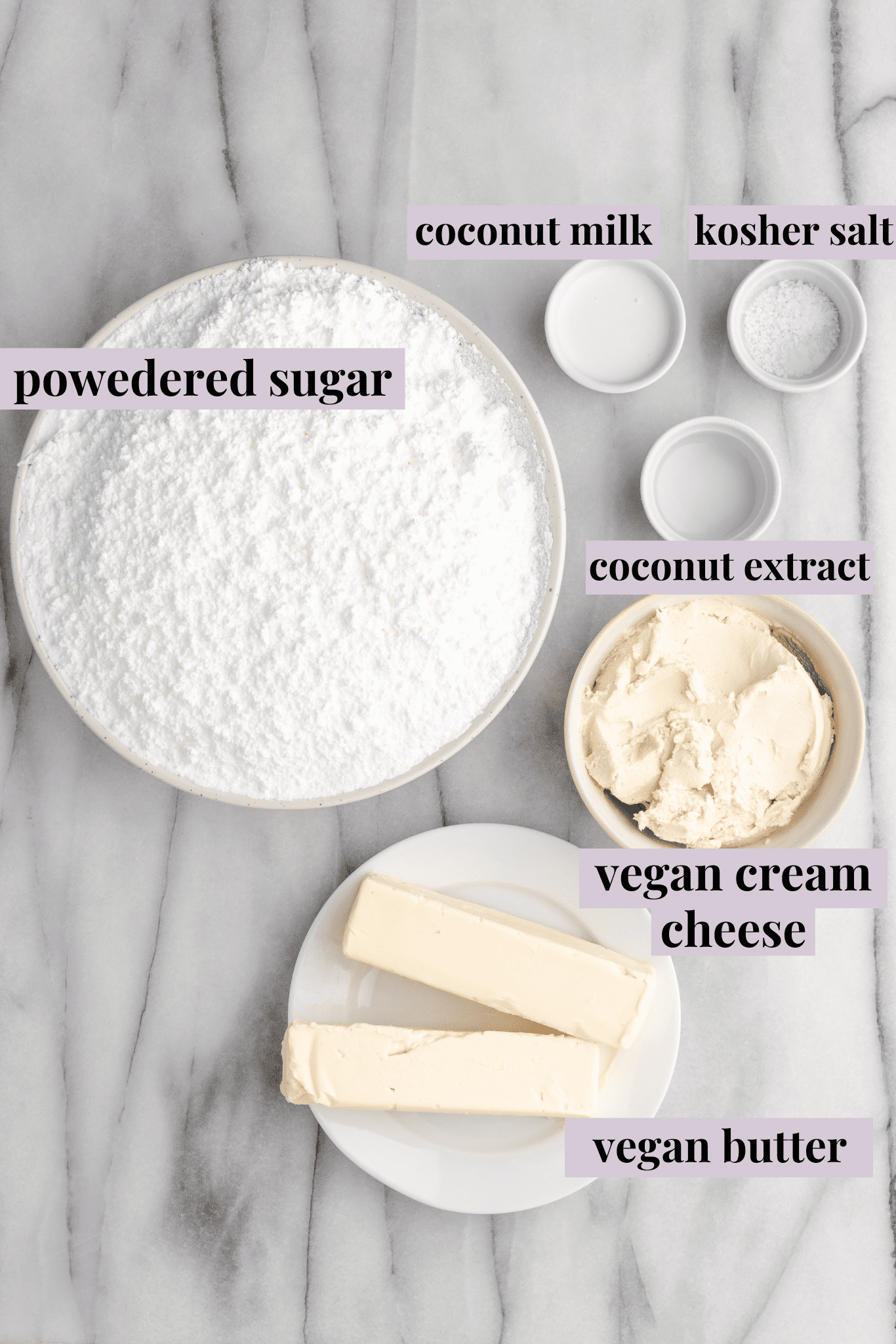 Unsweetened coconut shreds
Vegan cream cheese
Powdered sugar – Also known as confectioner's sugar and 10x sugar, this is the finest consistency that looks like freshly fallen snow, perfect for creating super-smooth frosting and icing.You can also make your own by grinding granulated sugar in your blender with a tiny pinch of cornstarch!
How to Make Vegan Coconut Cake
Though the recipe is very easy, you should plan in advance so there's enough time to fully cool and frost your cake. Here's the game plan:
Preheat the oven to 350 degrees. Lightly grease your baking dish, line it with parchment paper, and set aside.
Combine the coconut milk and vinegar. Let it sit and allow it to curdle, creating a dairy-free buttermilk substitute.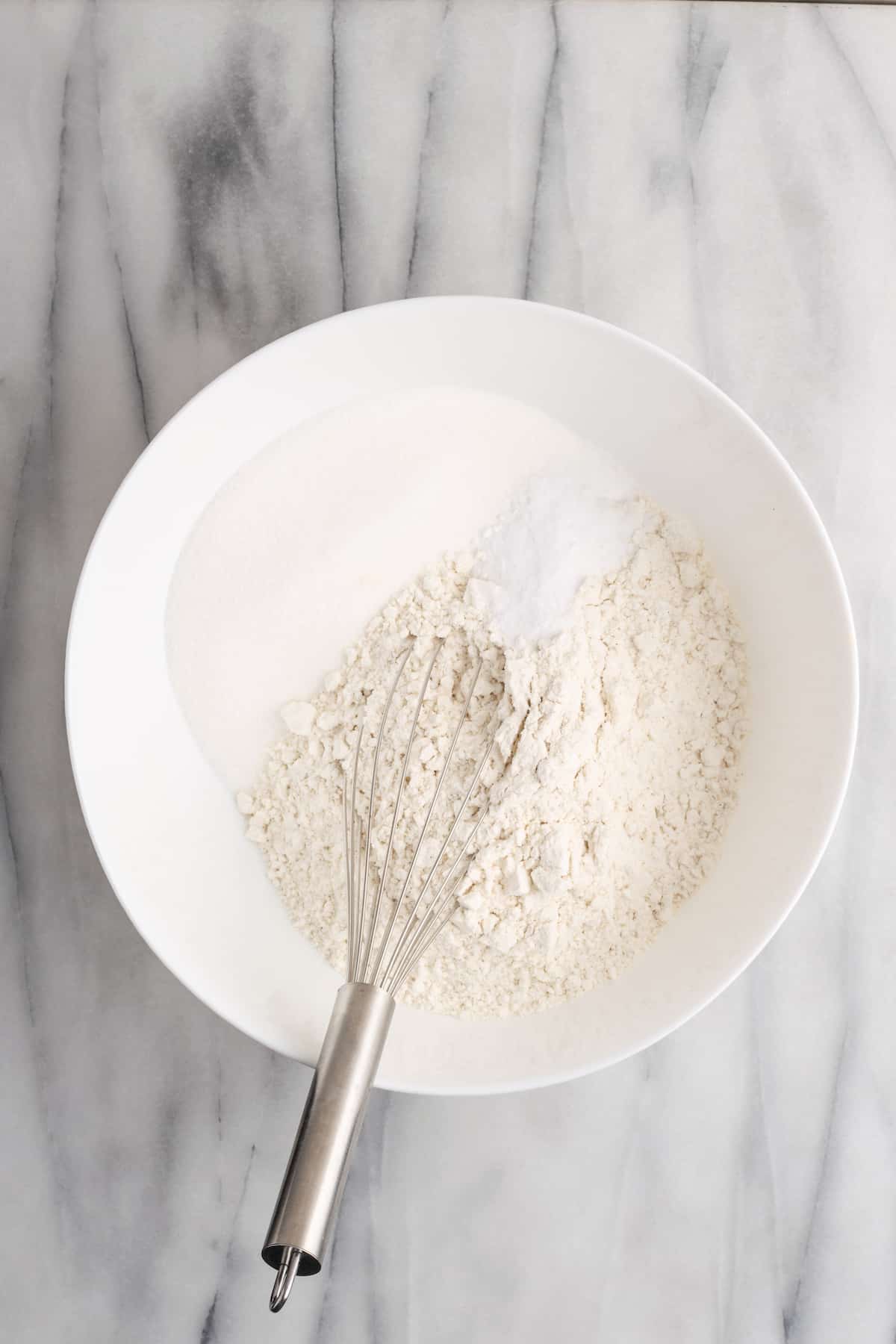 Whisk together the dry ingredients in a large bowl to combine. Add the liquid ingredients and stir until incorporated, being careful not to over-mix.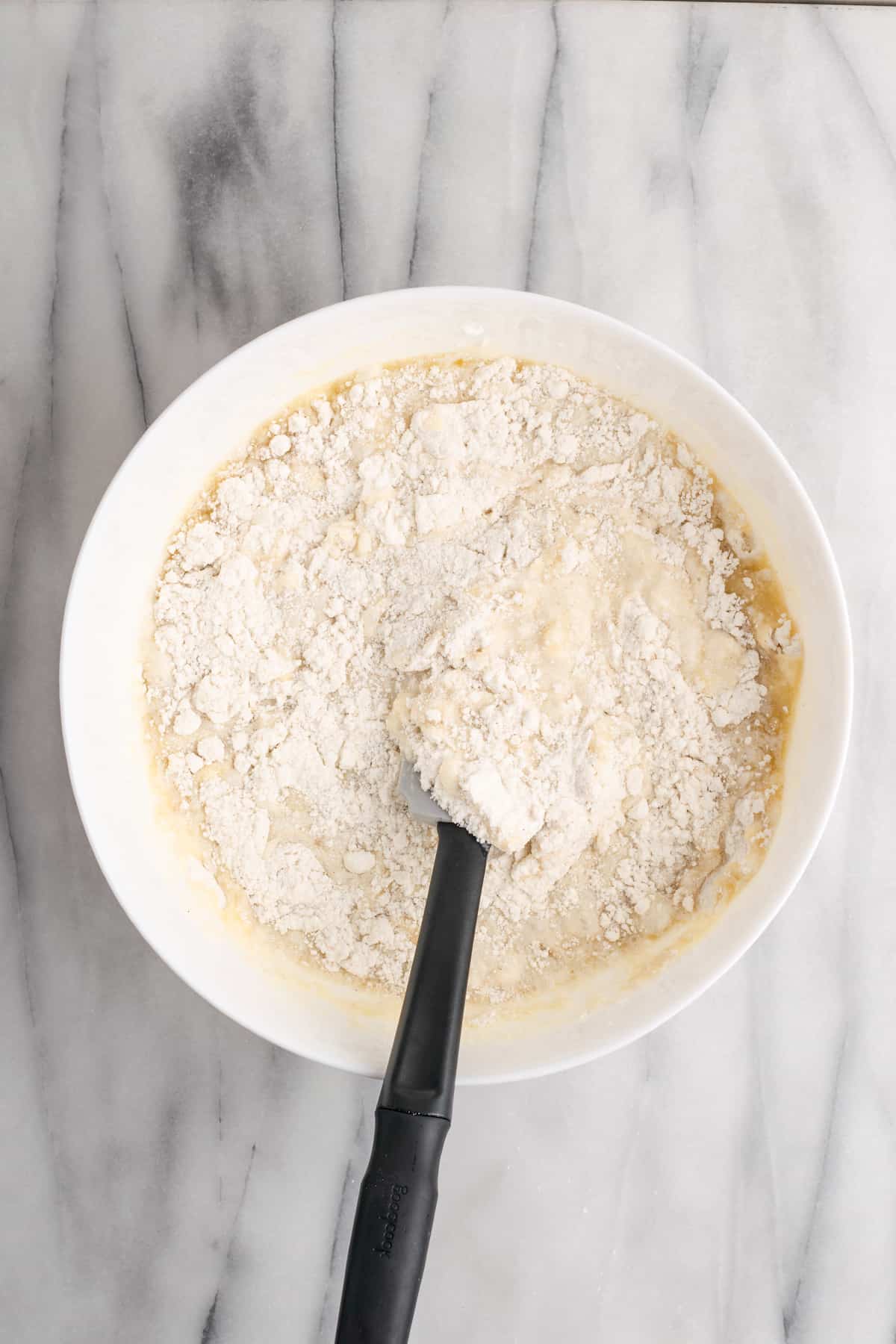 Fold in the coconut shreds.
Pour the batter into the prepared pan. Tap it gently on the counter to remove air bubbles.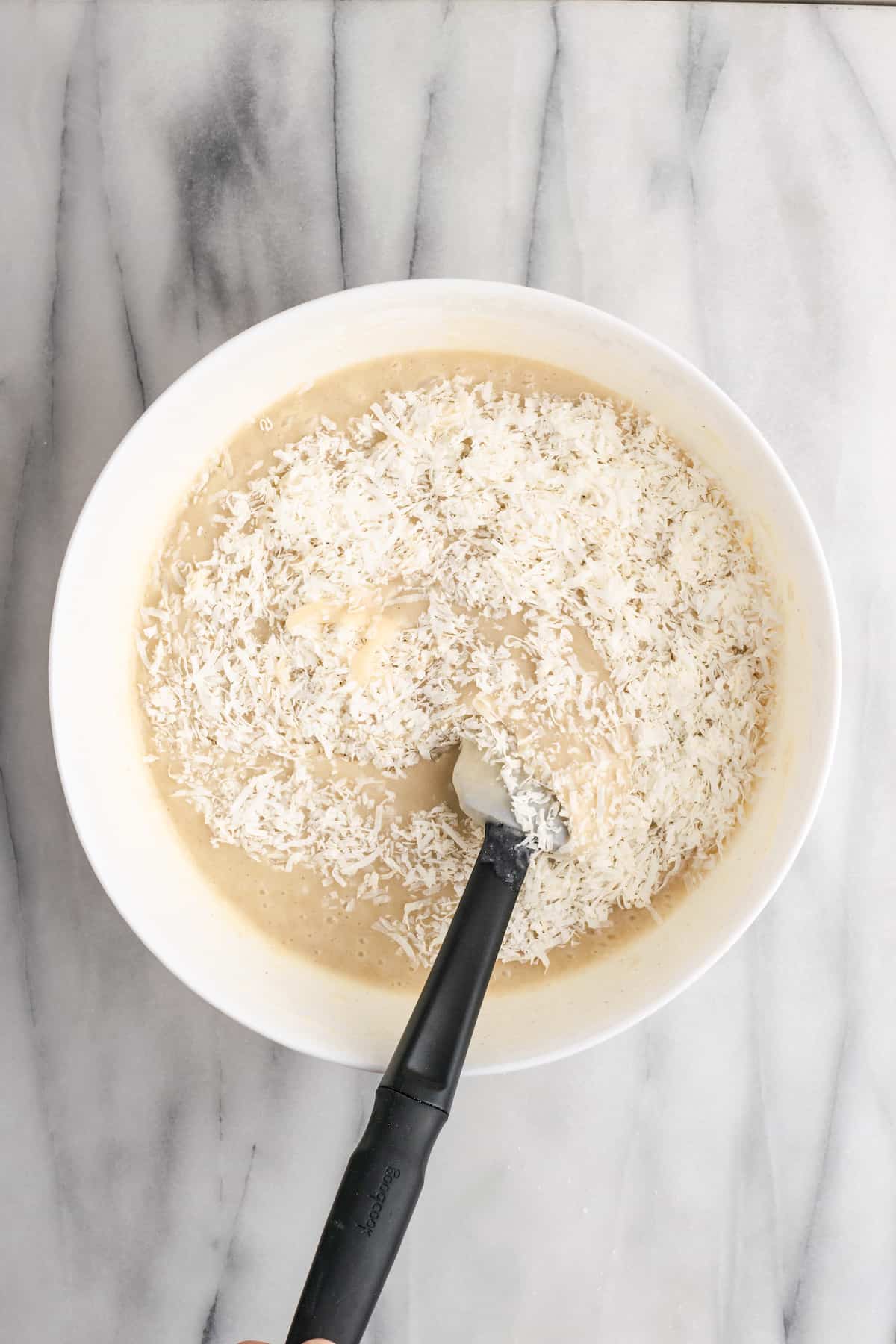 Bake until the center is set and a toothpick inserted into the middle comes out clean. Let cool completely in the pan before removing.
To make the frosting, beat together the butter, cream cheese, and coconut extract until fluffy. This should take about 2 to 3 minutes.
Add 1 cup of powdered sugar at a time. Mix slowly until incorporated, then beat for another minute between each addition.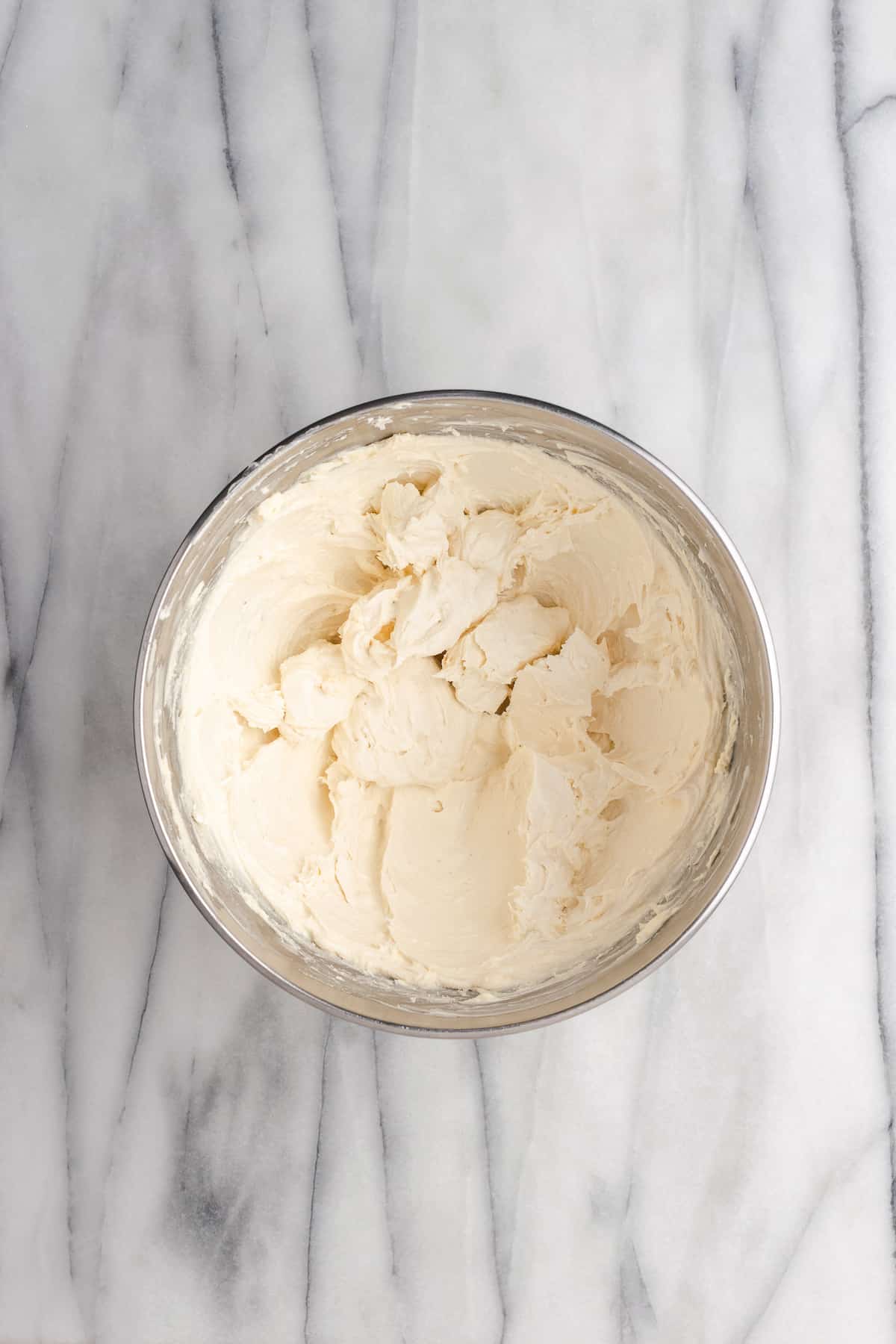 Add the coconut milk ½ tablespoon at a time until it reaches your desired consistency. It should be thick and spreadable, not runny.
Continue to whip for about 5 minutes. Scrape down the sides of the bowl with you spatula as needed, until fluffy, white, and smooth.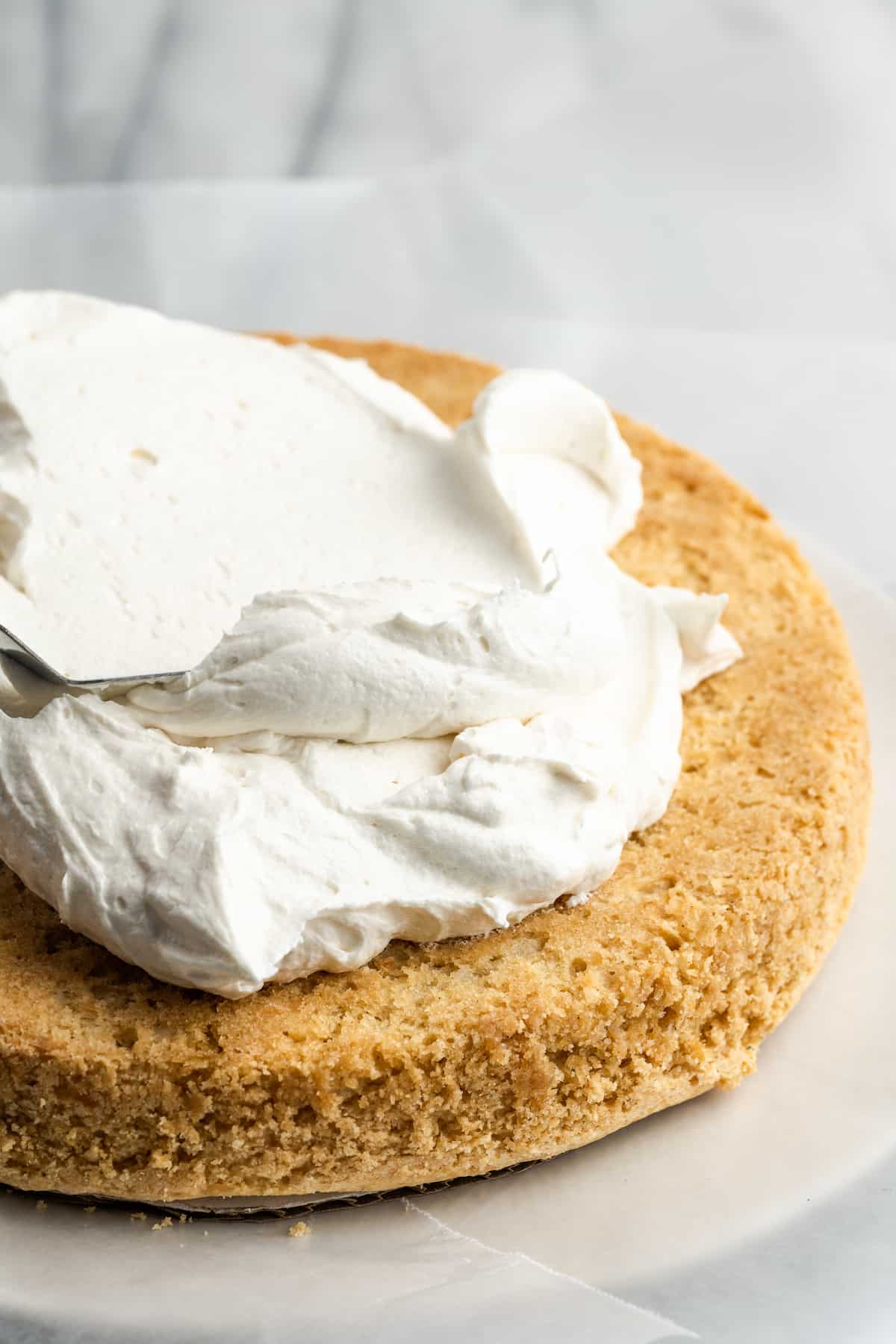 Frost your cake as desired. Add some extra coconut flakes on top!
Tips for Success
If you're nervous about baking or simply lack experience with the art of cake making, this is the perfect place to start! You can look like a master of the trade by keeping a few tips and tricks in mind:
Sift the flour and powdered sugar. You'll be able to measure more accurately and remove any clumps this way.
Be careful not to over-mix. Stir just until the batter comes together and don't go crazy trying to get out every lump. Mixing too much will create a more dense, tough crumb.
Let the cake cook completely before frosting. If it's still warm, the frosting will melt and soak into the cake, making it soggy and sticky.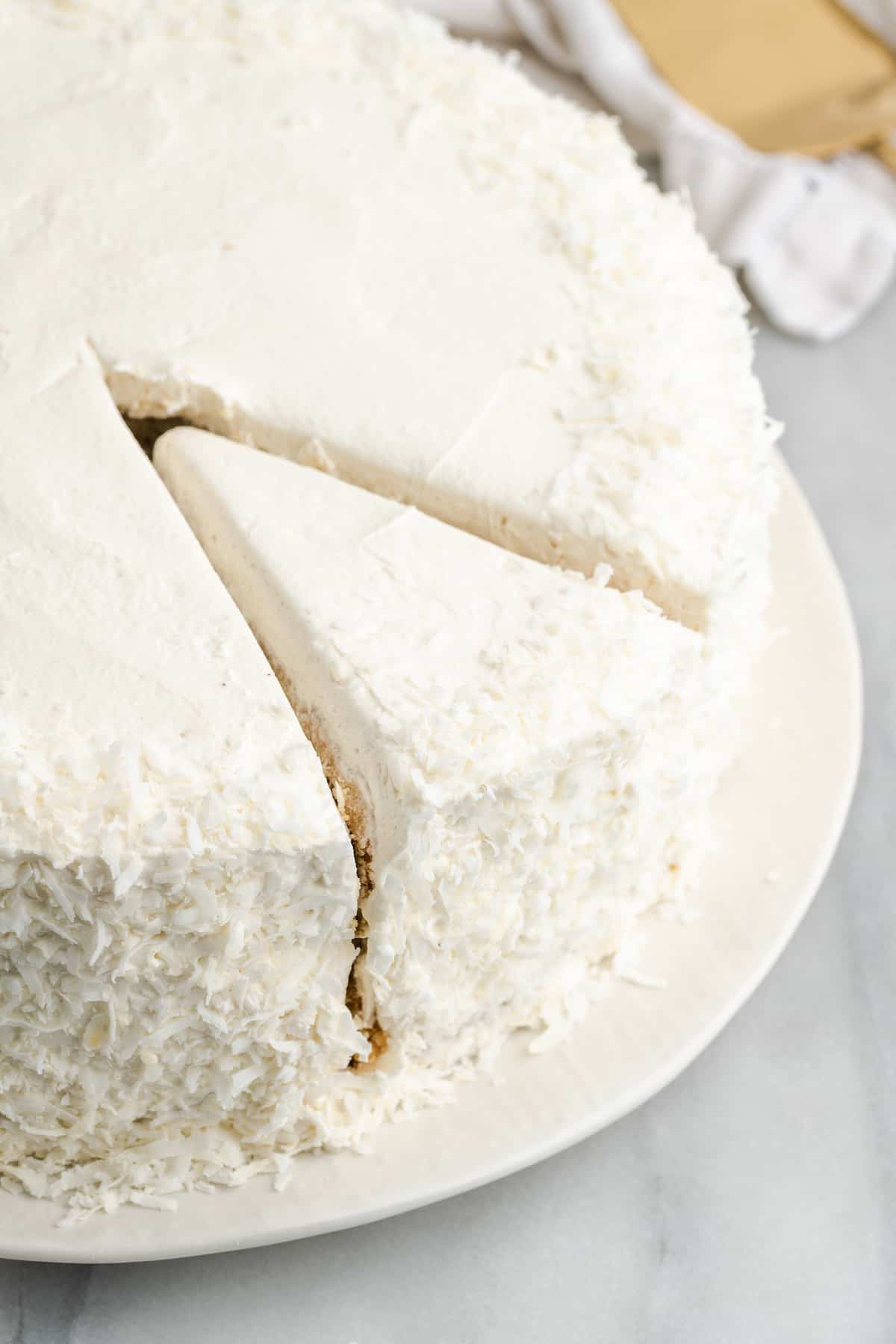 How Can I Make This Into A Layer Cake?
Everyone loves a lofty layer cake, and it's a snap to convert this layer cake into a 9×13 sheet pan cake. Simply grease and line a 9×13-inch baking dish with parchment paper, leaving some paper overhanging on the sides. Bake in the center of the oven for 35 to 40 minutes, until set in the center and a toothpick comes out clean. Cool completely in the pan.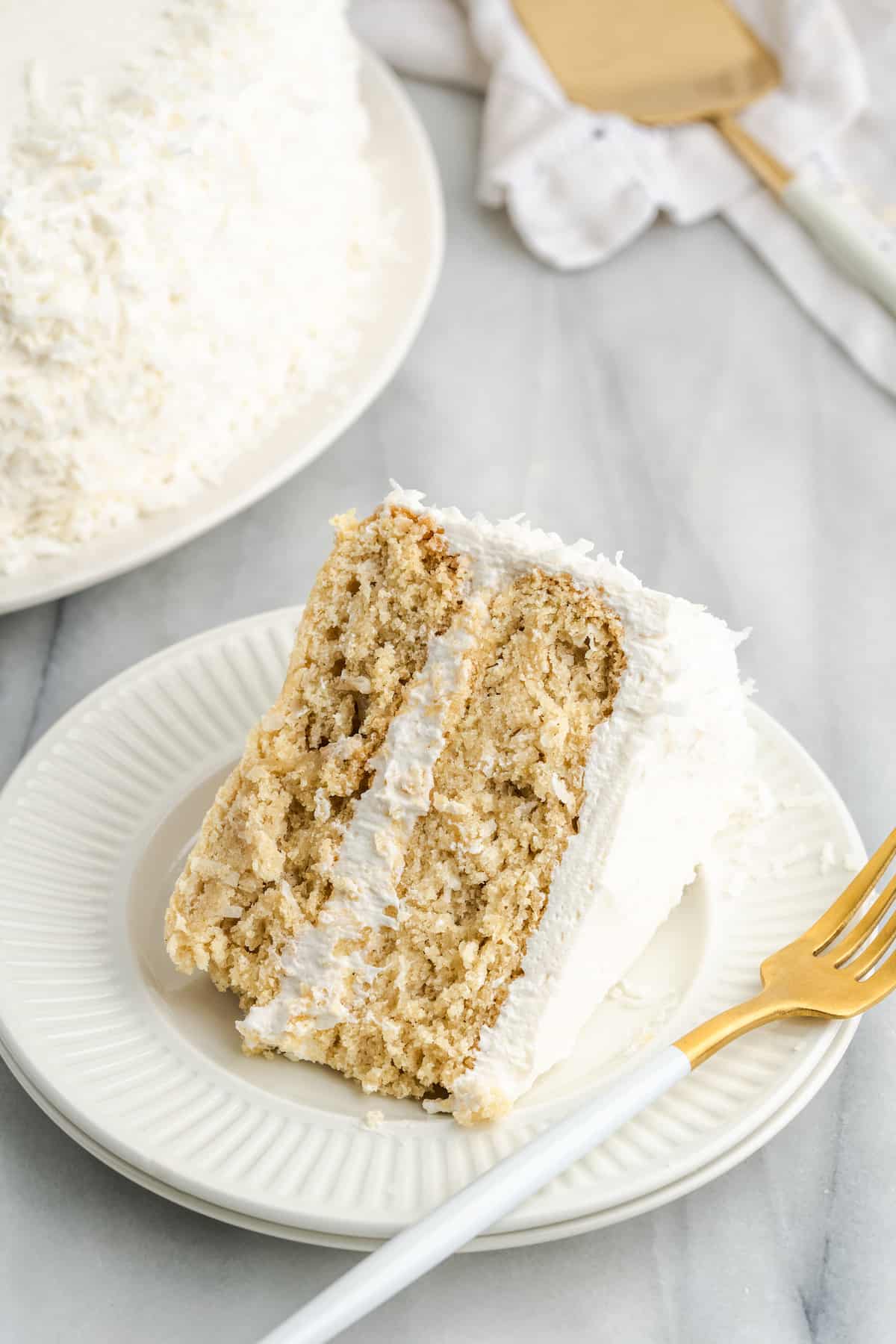 How to Store Coconut Cake
Cake is generally best served at room temperature, so it's perfectly fine to keep your cake out on the counter for one day. Beyond that, you'll want to consider further methods of preservation.
The frosting acts as a barrier, keeping moisture in, without the need for any additional wrapping. You can store a frosted, uncut cake in the fridge without a cover for up to three days. If the inside is exposed, you might want to cover it with an overturned bowl, which will also help prevent anything from accidentally knocking into the sides.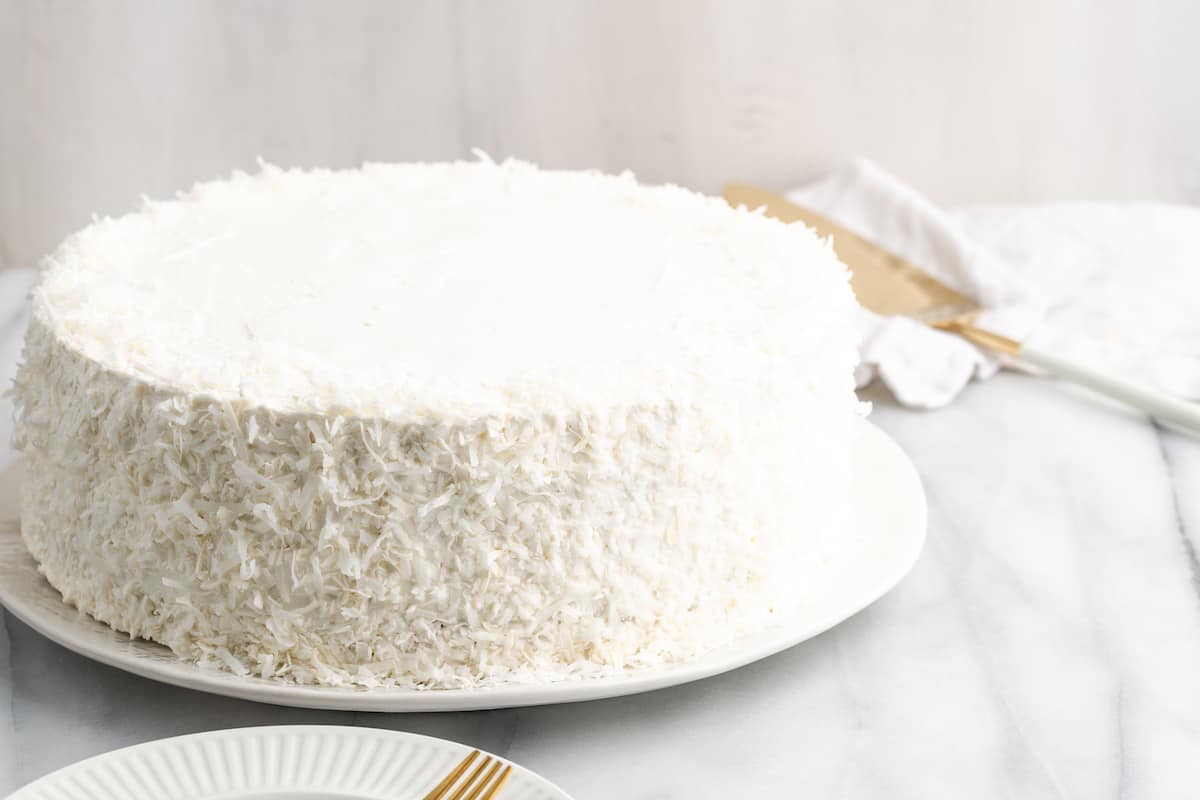 Can I Freeze This?
This cake freezes brilliantly, which makes it an excellent make-ahead dessert.
The best approach is to bake the cake and let it cool completely. Then, wrap it tightly in plastic wrap to make sure it's airtight. Label it with the date and store it in the freezer for up to 6 months. When you're ready to serve, let it thaw out on the counter at room temperature for about 30 minutes. Frost and decorate as desired and enjoy!
If you end up with leftovers, you can also freeze the slices separately and so you can easily have a single serving whenever cravings strike.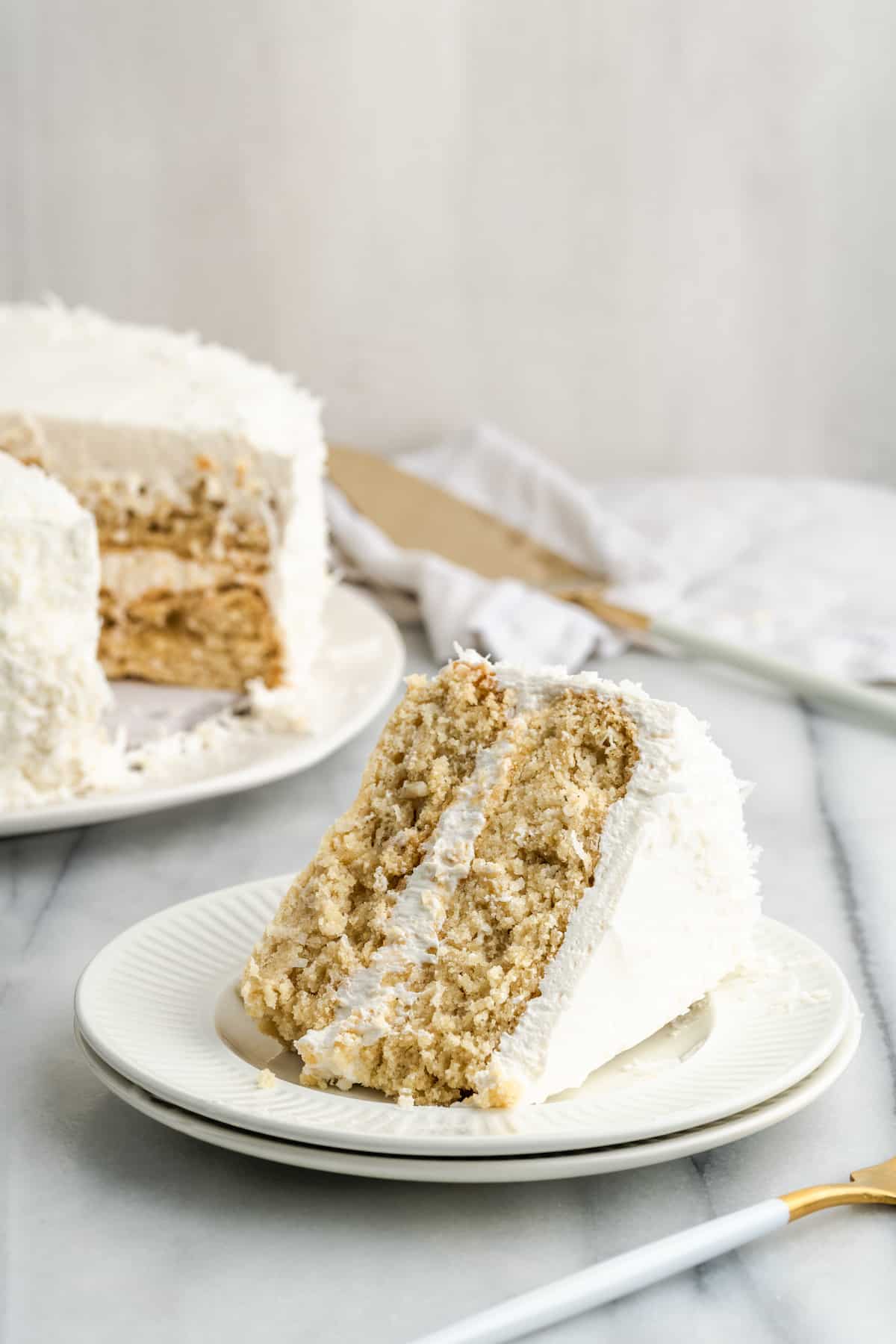 More Vegan Cake Recipes
Satisfy your sweet tooth with a wide range of vegan cake recipes for any occasion. Here are more recipes for you to try next!
Enjoy friends! If you make this (insert recipe name here), please snap a photo and tag #jessicainthekitchen on Instagram! We'd also love it if you would leave a comment below, and give the recipe a rating! Thanks so much!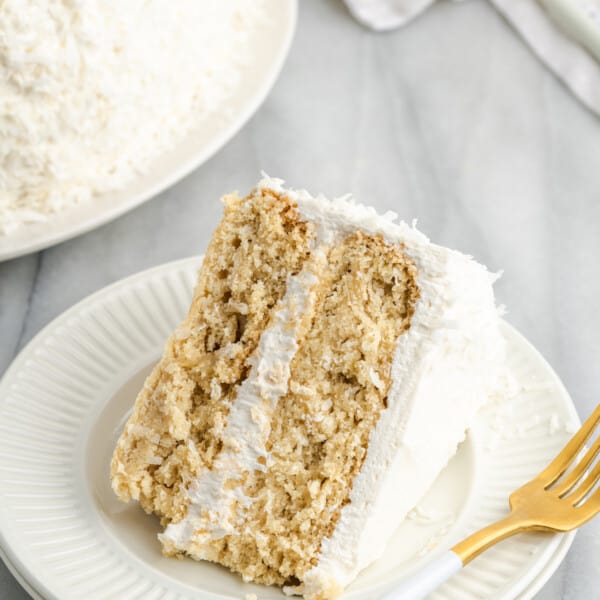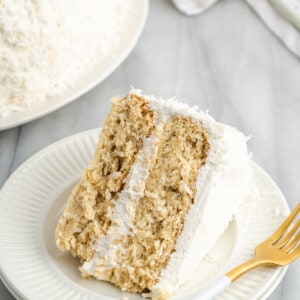 Vegan Coconut Cake
This is the ultimate recipe for coconut cake! It's rich, boldly flavorful, and very easy to make.
Ingredients
Coconut Cake
2 cups canned full-fat coconut milk, well shaken, at room temperature
2 tablespoons apple cider vinegar
2 cup granulated sugar
3 cups all-purpose flour or cake flour
2 teaspoons baking soda
1/2 teaspoon kosher salt
2/3 cup vegan butter, melted
2 teaspoons vanilla extract
1 teaspoon coconut extract
1 cup unsweetened coconut shreds
Coconut Buttercream Frosting
1 cup vegan butter, softened
1 cup vegan cream cheese, softened
1/2 teaspoon coconut extract
4 cups powdered sugar
1 – 2 tablespoons coconut milk
1/4 teaspoon kosher salt
shredded coconut, for garnish
Instructions
Cake
Grease and flour two 9-inch round cake pans.

Preheat the oven to 350°F/180°C.

In a measuring cup or bowl, combine the coconut milk and vinegar. Let this sit while you prepare the cake batter, until slightly curdled.

Whisk together the sugar, flour, baking soda, and salt in a large bowl until combined.Add milk mixture, melted butter, and vanilla and coconut extracts. Stir until just combined. Do not over-mix.

Fold in the coconut shreds.

Pour the batter into the prepared pan. Tap on the counter three times lightly to remove any air bubbles.

Bake in the center of the oven for 28 to 33 minutes, until set in the center and a toothpick comes out clean. Cool completely in the pan.

Once fully cooled, frost with buttercream frosting and shredded coconut.
Frosting
Beat the butter, cream cheese, and coconut extract for about 2-3 minutes with a stand mixer or a handheld mixer, until fluffy.

Add 1 cup of powdered sugar. Fold it in with a spatula so it doesn't fly everywhere, then beat for about 1 minute. Add the rest of the powdered sugar, 1 cup at a time, until fully incorporated.

Add in a 1/2 tablespoon of coconut milk at a time until it reaches your preferred volume and consistency. It should be thick and spreadable, not too soft or runny.

Beat for about 5 minutes, using the spatula to scrape down the sides regularly, until the frosting is fluffy, white, smooth and creamy.
Notes
You can use this recipe to make a single layer 9×13 cake. Grease and line a 9×13-inch baking dish with parchment paper, leaving some paper overhanging on the sides. Bake in the center of the oven for 35 to 40 minutes, until set in the center and a toothpick comes out clean. Cool completely in the pan.
Calories: 783kcal, Carbohydrates: 105g, Protein: 6g, Fat: 40g, Saturated Fat: 19g, Polyunsaturated Fat: 6g, Monounsaturated Fat: 9g, Trans Fat: 0.1g, Sodium: 624mg, Potassium: 229mg, Fiber: 3g, Sugar: 76g, Vitamin A: 1199IU, Vitamin C: 1mg, Calcium: 58mg, Iron: 4mg
Disclaimer: Although jessicainthekitchen.com attempts to provide accurate nutritional information, kindly note that these are only estimates. Nutritional information may be affected based on the product type, the brand that was purchased, and in other unforeseeable ways. Jessicainthekitchen.com will not be held liable for any loss or damage resulting for your reliance on nutritional information. If you need to follow a specific caloric regimen, please consult your doctor first.