Walnut Lentil Bolognese
This walnut lentil bolognese is a fun and healthy take on a classic Italian dish. It's rich, filling, comforting, and vegan!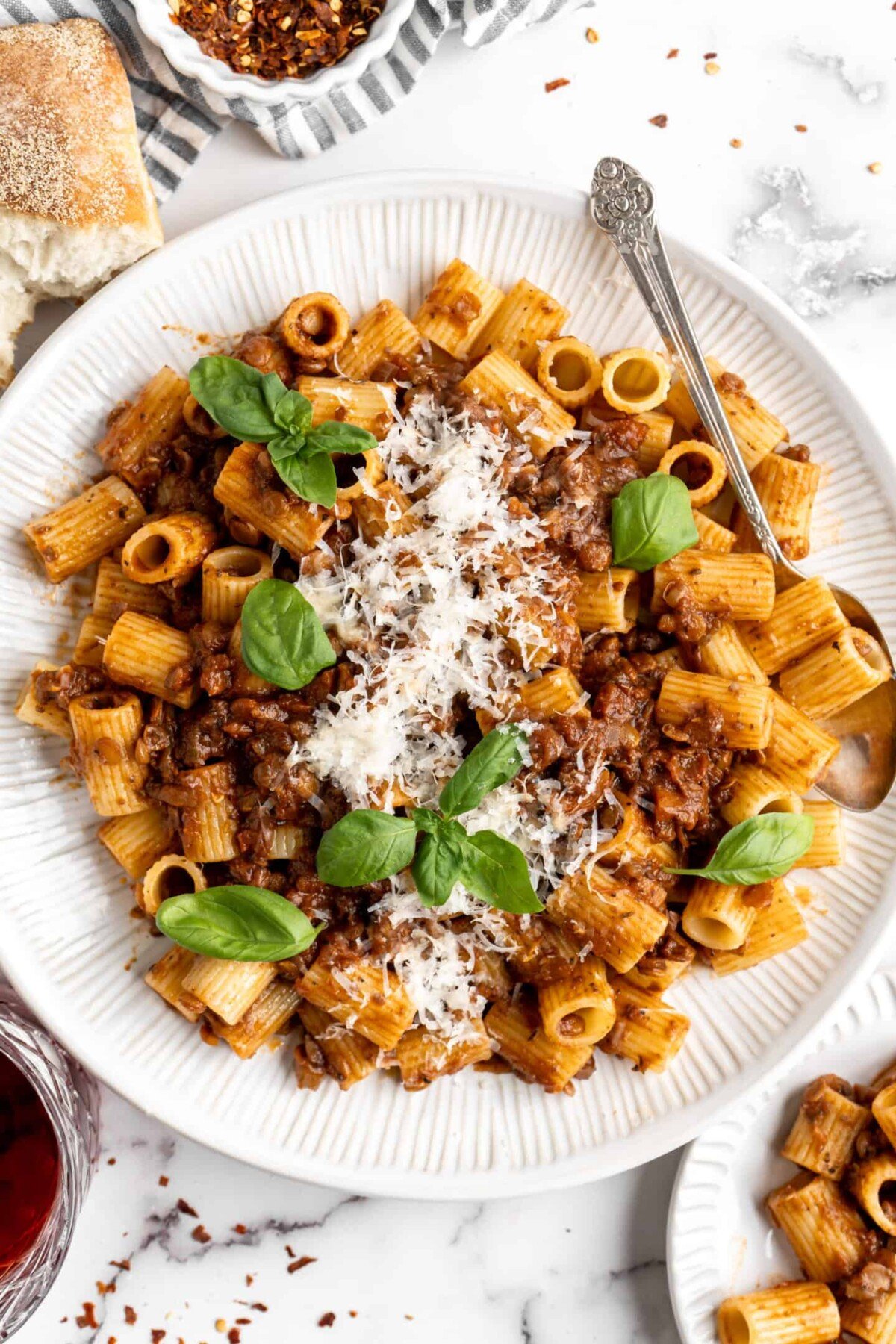 I'm a big fan of bolognese, and this vegan walnut lentil bolognese recipe is my new favorite way to make this dish. The hearty lentils and the buttery walnuts do a great job of replicating the meaty flavor of a traditional bolognese. And they pair so well with the rich, deep flavors of tomatoes, tomato paste, veggie broth, and wine.
Replacing meat with lentils and nuts makes this a super healthy pasta recipe. And the recipe only takes an hour to make, despite tasting like it's been cooking all day. Plus, it's entirely vegan!
What is Bolognese?
Bolognese is one of the most popular and traditional Italian pasta sauces. It's a meat-based sauce that is made with beef, and sometimes some pork as well. The meats (or in this case, the lentils and walnuts) are cooked down in a mixture of onions, carrots, and celery, creating a thick and rich pasta sauce.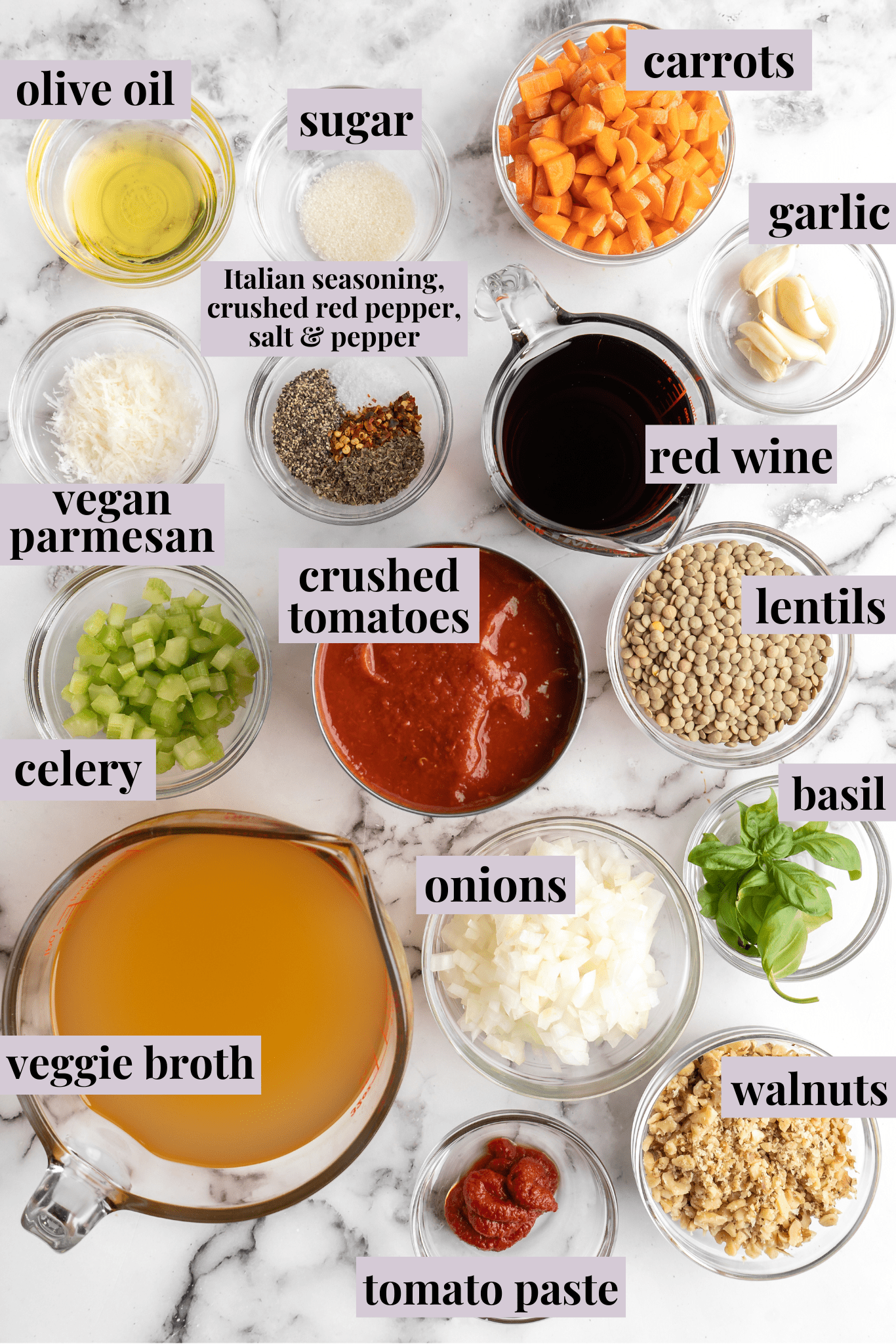 Notes on Ingredients
Here are all the ingredients that you need to make this walnut lentil bolognese sauce. Make sure to check out the recipe card at the bottom of the article to find the exact quantities for each ingredient.
Olive oil
Carrots
Celery stalks
Yellow onion – You can use any other type of onion if you don't have a yellow one.
Walnuts – Make sure you're using raw walnuts, and not roasted ones.
Tomato paste
Garlic cloves
Italian seasoning
Crushed red pepper flakes
Black pepper – For best results, use freshly-cracked black pepper.
Kosher salt
Red wine – You want to use a dry red wine for this recipe.
Lentils – Green or brown lentils work well with this bolognese. Make sure the lentils are rinsed and sorted.
Vegetable broth – Try to use a low-sodium broth so that it's easier to control the seasoning in the recipe.
Crushed tomatoes
Sugar
Basil
Cooked pasta – Spaghetti is the most common type of pasta to pair with bolognese in America, while tagliatelle is the traditional Italian choice.
Vegan parmesan cheese
What is Italian Seasoning?
Italian seasoning is a common spice blend that you can find in almost any grocery store. The exact recipe varies from company to company, but Italian seasoning usually consists of basil, rosemary, thyme, oregano, and marjoram. If you don't have any Italian seasoning, you can make your own spice blend using some or all of those dried herbs.
How to Make Walnut Lentil Bolognese
Here's how to make this easy vegetarian pasta dish.
Cook the veggies. Heat the oil in a pan over medium heat. Add the carrots, onions, and celery, and cook until the vegetables are soft. This should take about 6 minutes. 
Add the nuts. Place the walnuts in the pan, and cook, stirring constantly, until you can smell them toasting, which should take about 2 minutes.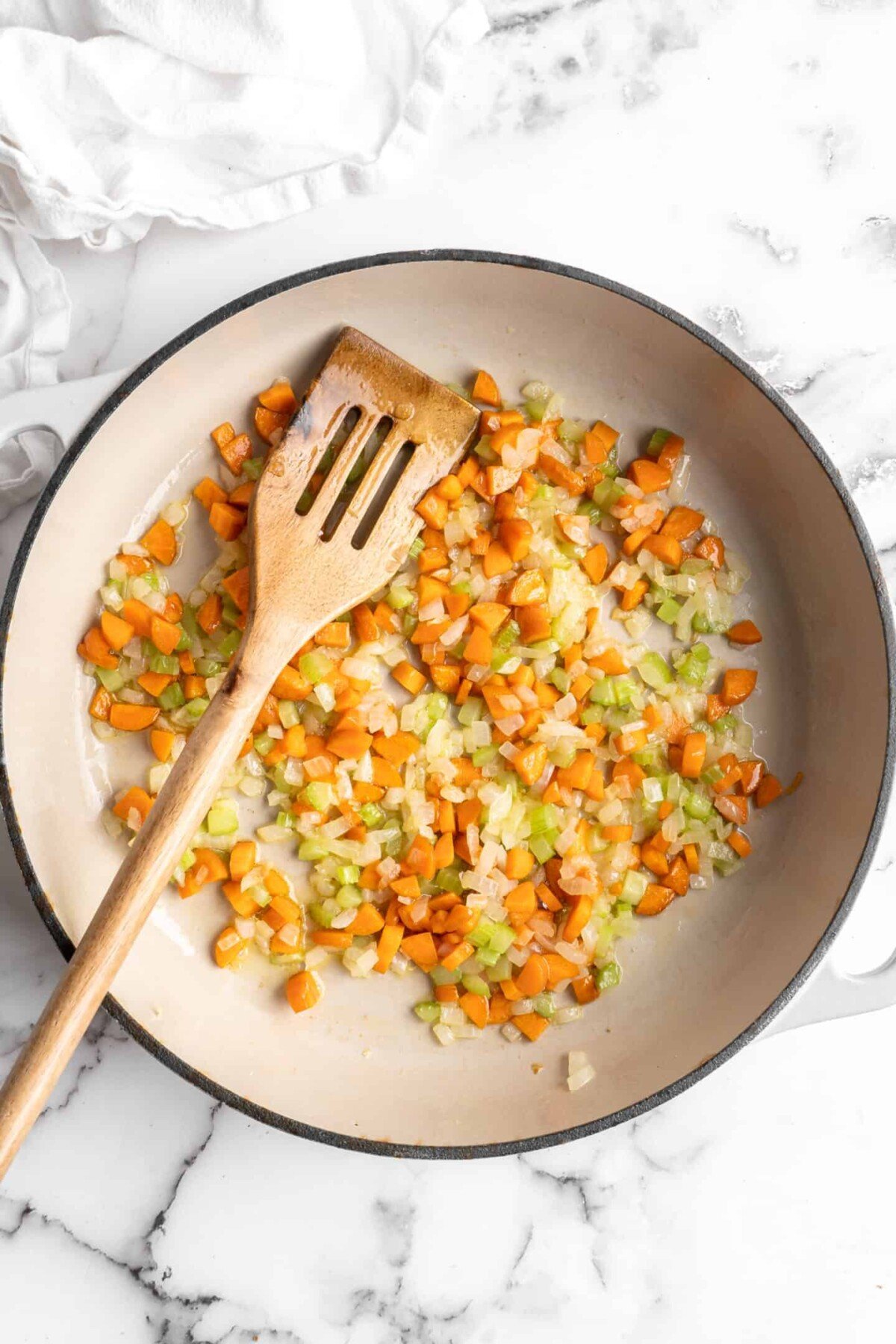 Add wine. Pour the wine into the pan, and scrape up any bits of food that are stuck to the bottom of the pan. Cook until the wine has reduced a little bit, about 2 minutes. 
Add the lentils, broth, tomatoes, and sugar. Stir well, then bring to a boil over high heat. Reduce the heat to medium-low and simmer, uncovered, stirring occasionally, until the sauce thickens and the lentils are soft, about 40 minutes. If the sauce is thickening too quickly, cover the pot. 
Season. Add the tomato paste, garlic, salt, pepper, Italian seasoning, and red pepper flakes to the pan. Stir and cook until the mixture is fragrant, which should take about a minute. 
Finish the sauce. Add the veggie broth, canned tomatoes, and sugar to the pan. Stir to combine, then turn the stove to high, and heat the sauce until it is boiling. Drop the heat to medium-low and let the sauce simmer until it is thickened and the lentils are soft. This should take about 40 minutes. Stir occasionally as the sauce simmers.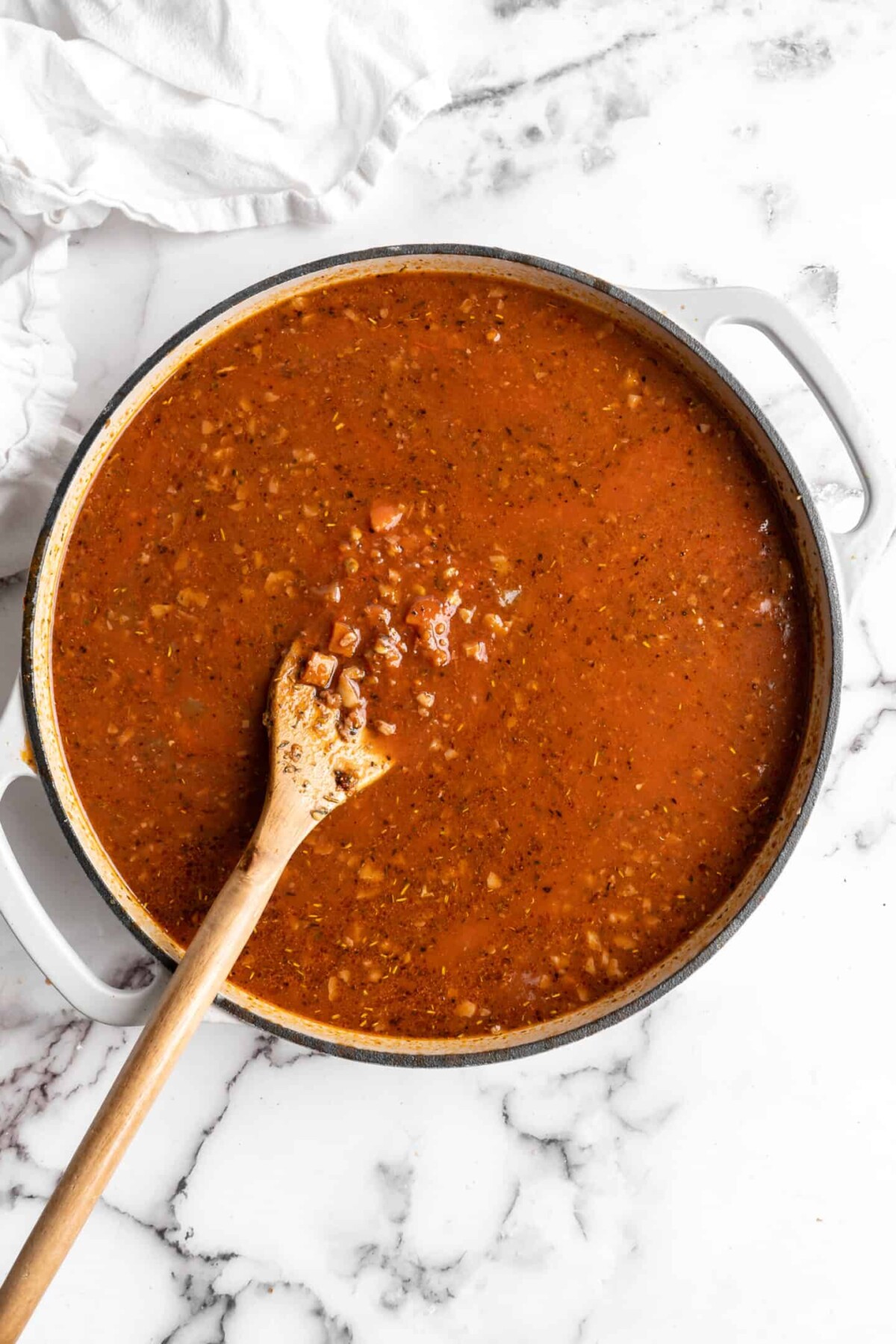 Serve. Stir the basil into the sauce, and serve it over cooked pasta. Top with optional vegan parmesan, and then devour!
Tips for Success
Here are some tricks and tips for making this vegan bolognese.
Take your time. Bolognese is a sauce that is traditionally cooked over many hours, with the flavors slowly melding together over time. I love this recipe because it gives you a lot of the same results in just one hour. But if you have the time, you'll get an even deeper, richer flavor if you cook this walnut lentil bolognese slowly. If you do cook the sauce longer, just make sure to turn the heat down to low.
Blend it to your favorite texture. Bolognese is traditionally served as a chunky sauce. But if you prefer smooth sauces, then no one is stopping you. Once the sauce is done cooking, use an immersion blender to make the vegan bolognese the perfect texture for your taste.
Keep an eye on the sauce. Since the bolognese simmers for a while, you want to keep an eye on it while it cooks. If it seems like the sauce is evaporating and thickening too quickly, put the lid on. If it's still too thick, add a little bit of water or veggie broth.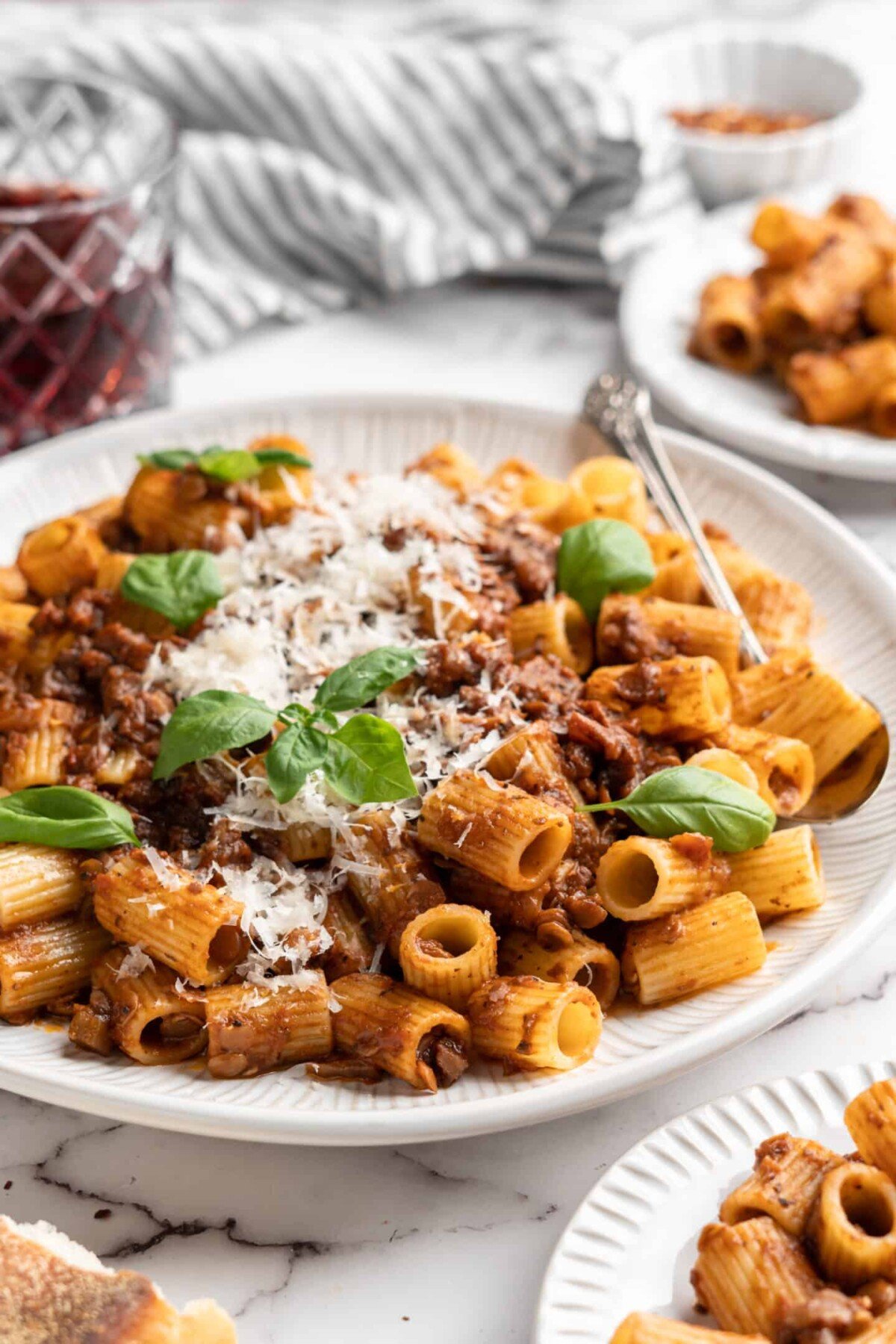 How to Store Leftovers
This vegan pasta will last in an airtight container in the fridge for up to 3 days. To reheat, cook on the stove over medium-low heat until warmed through, about 2-3 minutes. You can also reheat the vegan bolognese in the microwave by cooking it for 30-second increments on medium heat until it's hot. If the sauce looks too thick, add a spoonful of water to it before reheating.
Can You Freeze Walnut Lentil Bolognese?
You definitely can! This vegan pasta will last in the freezer for up to 3 months if it's stored in an airtight container. Thaw overnight in the fridge before reheating.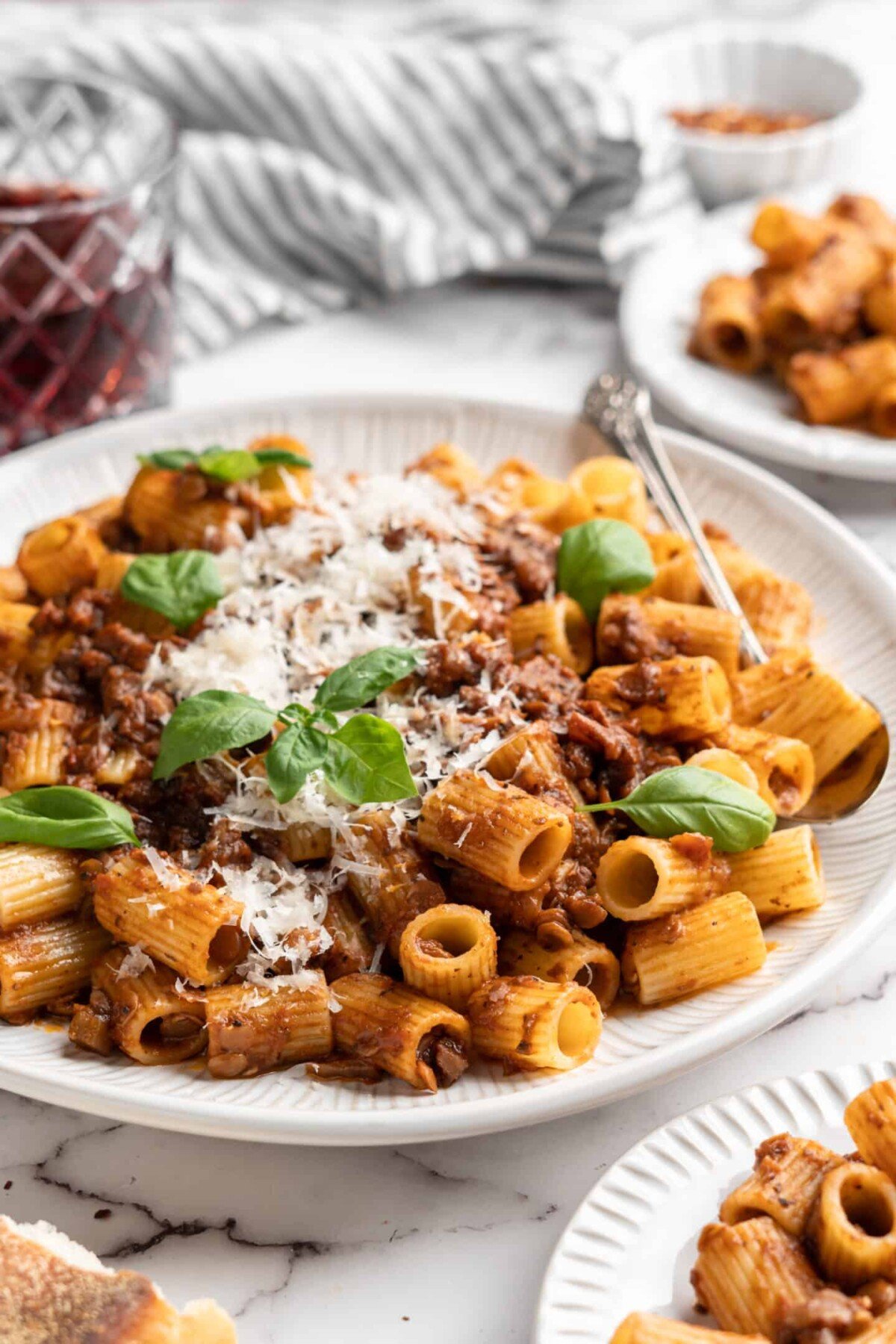 More Pasta Recipes to Make
I hope you loved this vegan walnut lentil bolognese. If so, here are some of my other favorite pasta dishes to make.
Enjoy friends! If you make this walnut basil bolognese, please snap a photo and tag #jessicainthekitchen on Instagram! We'd also love it if you would leave a comment below, and give the recipe a rating! Thanks so much!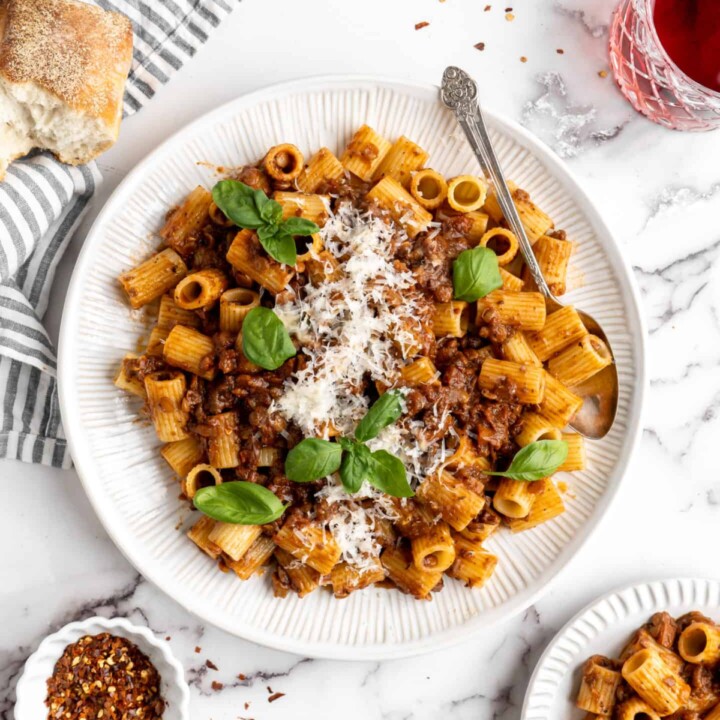 Walnut Lentil Bolognese
This vegan walnut lentil bolognese is healthy and mouth-watering. It's full of rich and hearty flavors, and a fun take on an Italian classic.
Ingredients
1 tablespoon olive oil
2 large carrots, diced
2 celery stalks, diced
1 medium yellow onion, diced
1 cup raw walnuts, finely chopped
2 tablespoons tomato paste
6 cloves of garlic, minced
1 tablespoon Italian seasoning
½ teaspoon crushed red pepper flakes
2 teaspoons freshly cracked black pepper
1 teaspoon kosher salt
1 cup dry red wine
1 cup brown or green lentils, rinsed and sorted
4 cups low-sodium vegetable broth
1 28-ounce can crushed tomatoes
1 teaspoon sugar
fresh basil, torn
cooked pasta, for serving
grated vegan parmesan, for serving
Instructions
Heat the oil in a large pot over medium heat. When hot, add the carrots, celery, and onions and cook until softened, about 6 minutes. Add the walnuts and cook until toasty smelling, about 2 minutes, stirring constantly, then add the tomato paste, garlic, Italian seasoning, red pepper flakes, black pepper, and salt, and cook until fragrant, about 1 minute.

Add the wine, scraping up any browned bits on the bottom of the pot, and cook until slightly reduced, about 2 minutes.

Add the lentils, broth, tomatoes, and sugar. Stir well, then bring to a boil over high heat. Reduce the heat to medium-low and simmer, uncovered, stirring occasionally, until the sauce thickens and the lentils are soft, about 40 minutes. If the sauce is thickening too quickly, cover the pot.

Optional: For a smoother sauce, use an immersion blender to partially blend the sauce, leaving some chunks intact, or transfer 2 cups of the sauce to a blender, puree, and return to the pot.

Stir in the fresh basil and serve over cooked pasta with vegan parmesan.
Calories: 319kcal, Carbohydrates: 16g, Protein: 7g, Fat: 23g, Saturated Fat: 2g, Polyunsaturated Fat: 14g, Monounsaturated Fat: 5g, Sodium: 652mg, Potassium: 290mg, Fiber: 4g, Sugar: 5g, Vitamin A: 225IU, Vitamin C: 6mg, Calcium: 67mg, Iron: 2mg
Disclaimer: Although jessicainthekitchen.com attempts to provide accurate nutritional information, kindly note that these are only estimates. Nutritional information may be affected based on the product type, the brand that was purchased, and in other unforeseeable ways. Jessicainthekitchen.com will not be held liable for any loss or damage resulting for your reliance on nutritional information. If you need to follow a specific caloric regimen, please consult your doctor first.