Vegan Pumpkin Cupcakes
These vegan pumpkin cupcakes are moist, tender, and full of fall flavors. They're also easy to make, take less than 40 minutes, and are a perfect Christmas dessert. Plus, they're vegan!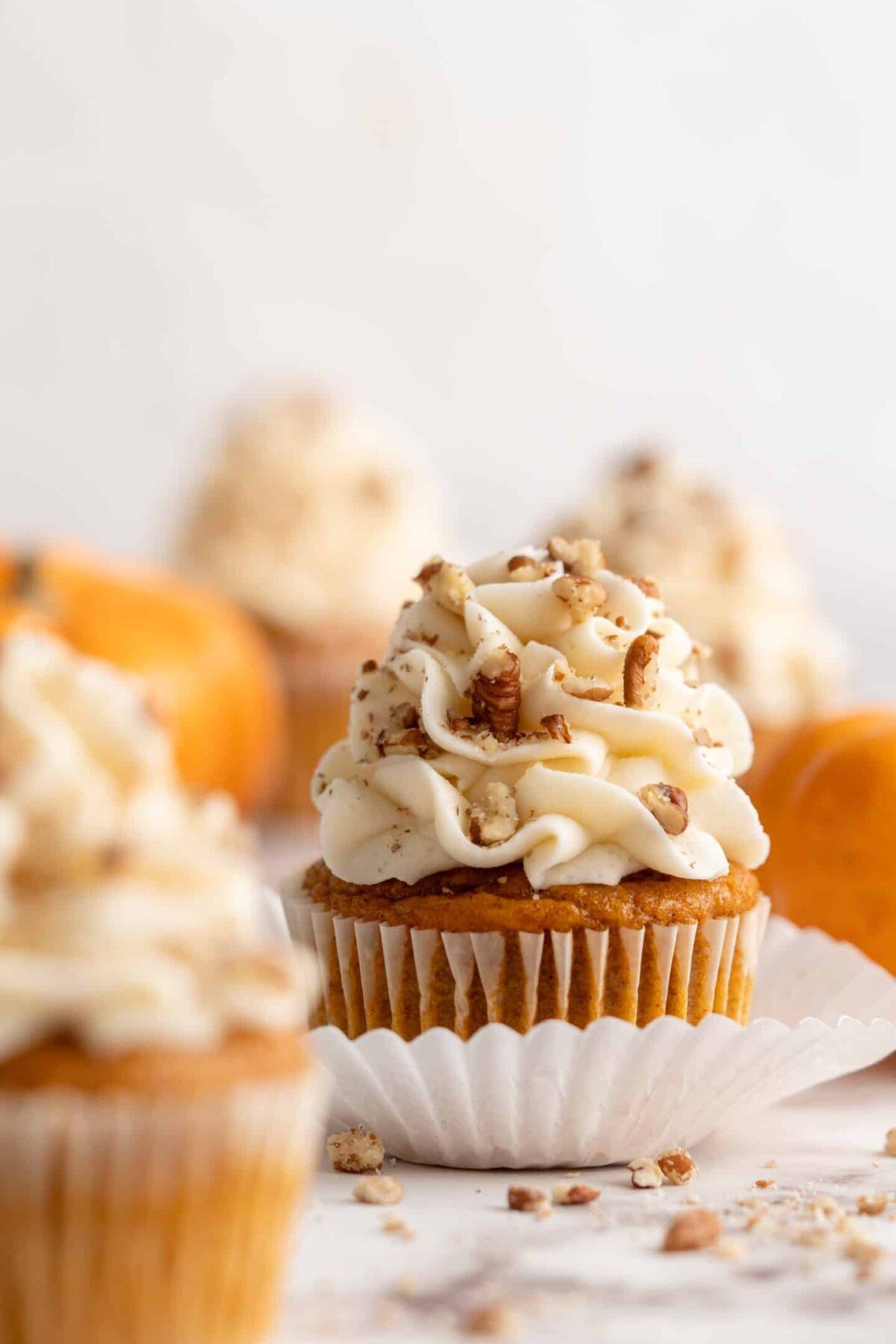 I'm a big fan of baking during the colder months. There's something special about a warm oven and a sweet smell wafting through your home in the fall and winter. This recipe for vegan pumpkin cupcakes is one of my favorites when the weather starts to drop. Not only are these cupcakes soft, moist, and rich, but they're full of autumnal flavors like pumpkin, cinnamon, nutmeg, and vanilla. And a creamy vegan cream cheese frosting makes this dessert taste pretty indulgent.
These pumpkin cupcakes are fully vegan, and you can easily adapt them to make them gluten-free. The recipe is straightforward and easy to make, and it only takes 38 minutes. These cupcakes are perfect as an afternoon treat with a cup of whipped dalgona coffee, or as a party-pleasing dessert during the holidays.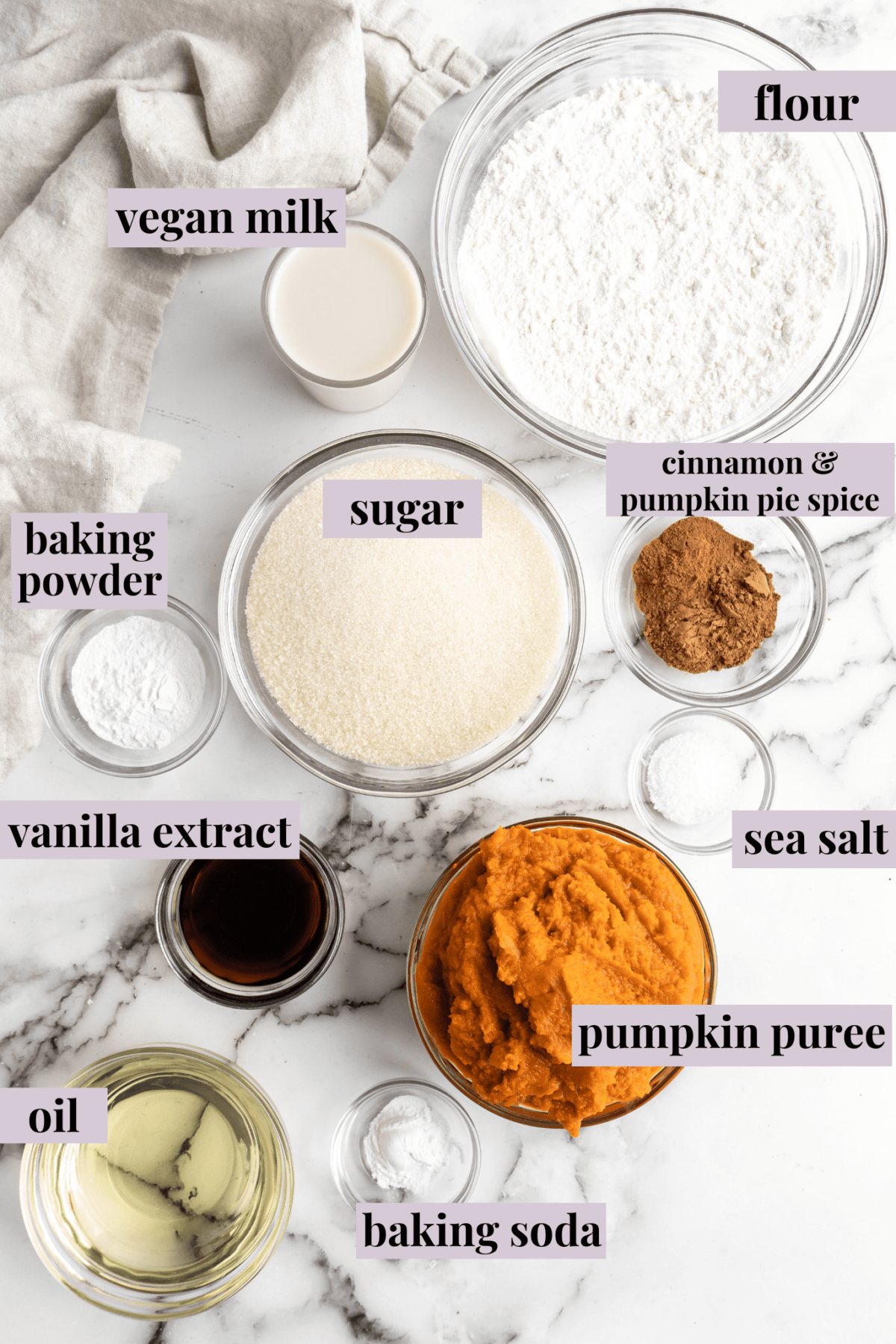 Notes on Ingredients
Here are all of the ingredients that you'll need to make these vegan pumpkin cupcakes. The recipe card at the bottom of the page has the exact amounts of all the ingredients.
For the Cupcakes:
All-purpose flour – To make this recipe gluten-free, replace this with your preferred gluten-free flour mix.
Baking powder
Baking soda – Using both baking powder and baking soda will make these cupcakes extra fluffy.
Sea salt
Cinnamon
Pumpkin pie spice
Pumpkin puree – Make sure to use plain pumpkin puree, not pumpkin pie filling.
Sugar – You can use any kind of sugar for this recipe. I like to use simple cane sugar, but you can use coconut sugar or brown sugar for a cupcake with more of a caramel flavor.
Oil – Any type of neutral oil will work.
Vegan milk – Use whatever type of dairy-free milk you prefer, just make sure it's unflavored and unsweetened.
Vanilla extract – Be sure to use a 100% pure vanilla extract.
For the Cream Cheese Frosting:
Vegan cream cheese
Vegan butter – Make sure to use unsalted butter.
Vanilla extract – You can also use vanilla paste if you prefer.
Sea salt
Powdered sugar
Cornstarch
What is Pumpkin Pie Spice?
Pumpkin pie spice is a spice blend that you can find at just about any grocery store. It was made to add to pumpkin puree as the seasoning when making pumpkin pie. Every company has a slightly different formula, but pumpkin pie spice usually is made out of ground cinnamon, nutmeg, cloves, allspice, and ginger. If you don't have pumpkin pie spice, you can season these cupcakes with those individual spices.
How to Make Vegan Pumpkin Cupcakes
Here's how to make these moist and creamy Christmas cupcakes.
Prep. Preheat the oven to 350F, and line muffin cups with cupcake liners.
Mix the dry ingredients. Add the flour, salt, cinnamon, pumpkin pie spice, baking powder, and baking soda to a mixing bowl. Stir to combine.
Mix the wet ingredients. Add the milk, pumpkin puree, vanilla extract, oil, and sugar to a bowl. Using a stand mixer or a hand mixer, beat the ingredients together on medium speed for at least 3 minutes. The ingredients should be fully incorporated.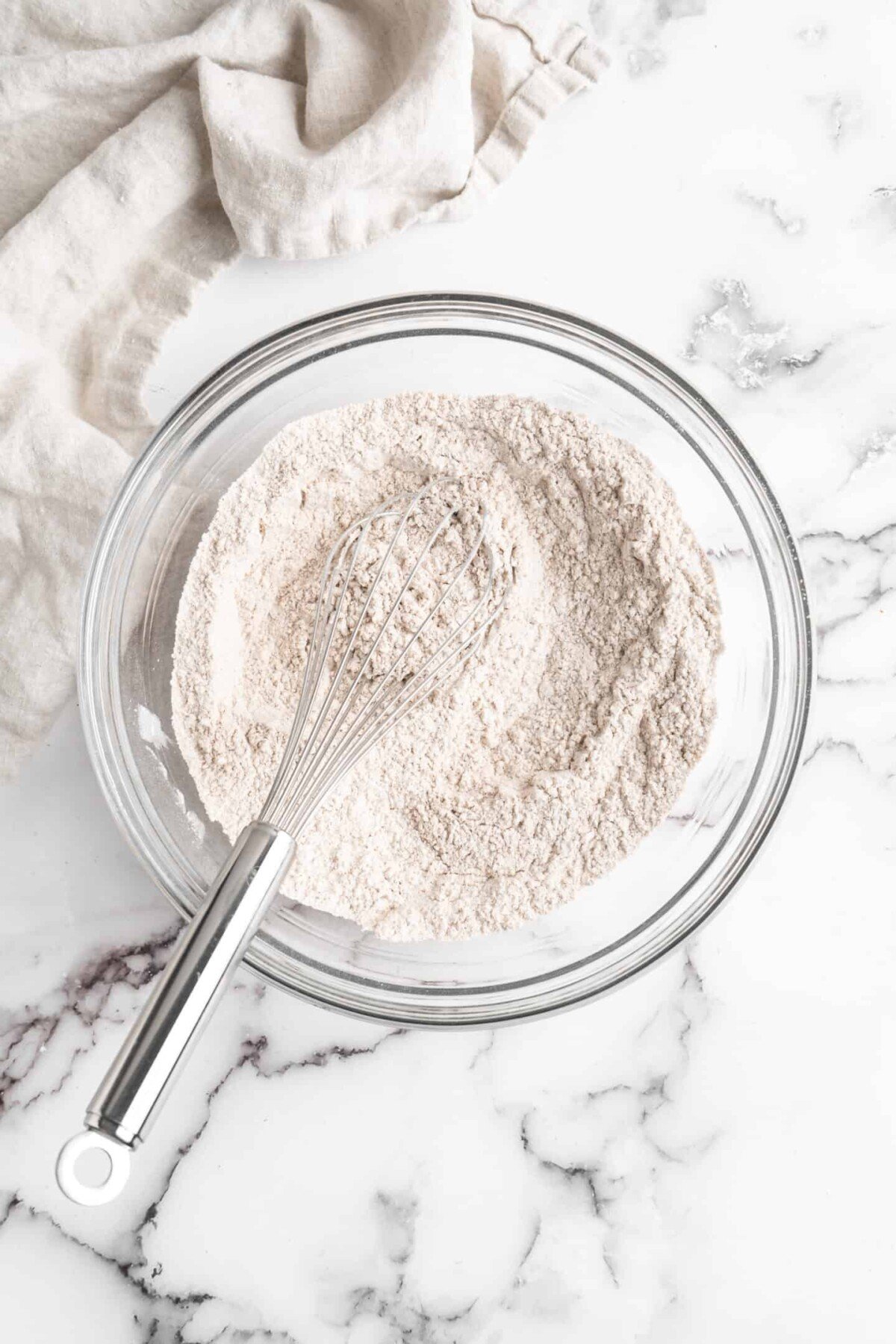 Add the dry ingredients to the wet ingredients. Pour half of the dry mixture into the bowl with the wet mixture, and beat for 30 seconds. Add the rest of the dry mixture and mix until everything is fully incorporated.
Put the batter in the liners. Divide the vegan pumpkin cupcake batter evenly between the 24 cupcake liners.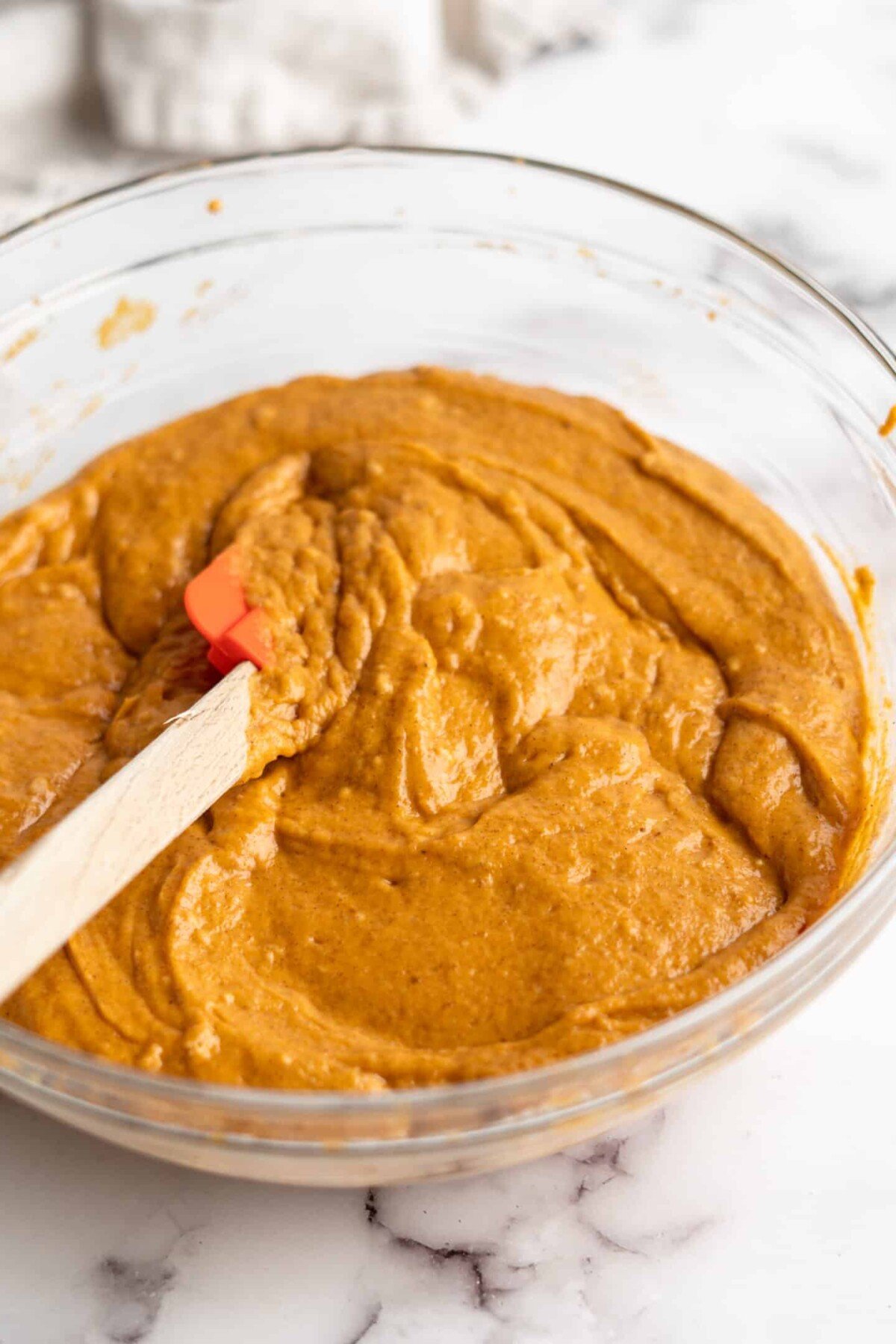 Remove the air bubbles. Lift up the cupcake pan and tap it on the counter three times. This will help remove the air bubbles from the batter.
Bake. Place the cupcakes in the oven on the center rack. Bake until the center is cooked all the way through, about 20-22 minutes, then place the cupcakes on a wire rack to cool.
Beat the cream cheese. Place the cream cheese and butter in a bowl, and beat with a mixer until fully incorporated. This should take about 2 minutes.
Flavor. Add the vanilla and salt, and mix together.
Add the sugar. Pour in a cup of the sugar and all of the cornstarch. Beat until incorporated, about 1 minute. Continue adding sugar until the frosting is the consistency that you prefer.
Frost. Using a spatula or a piping bag, frost the cooled cupcakes with the vegan cream cheese frosting.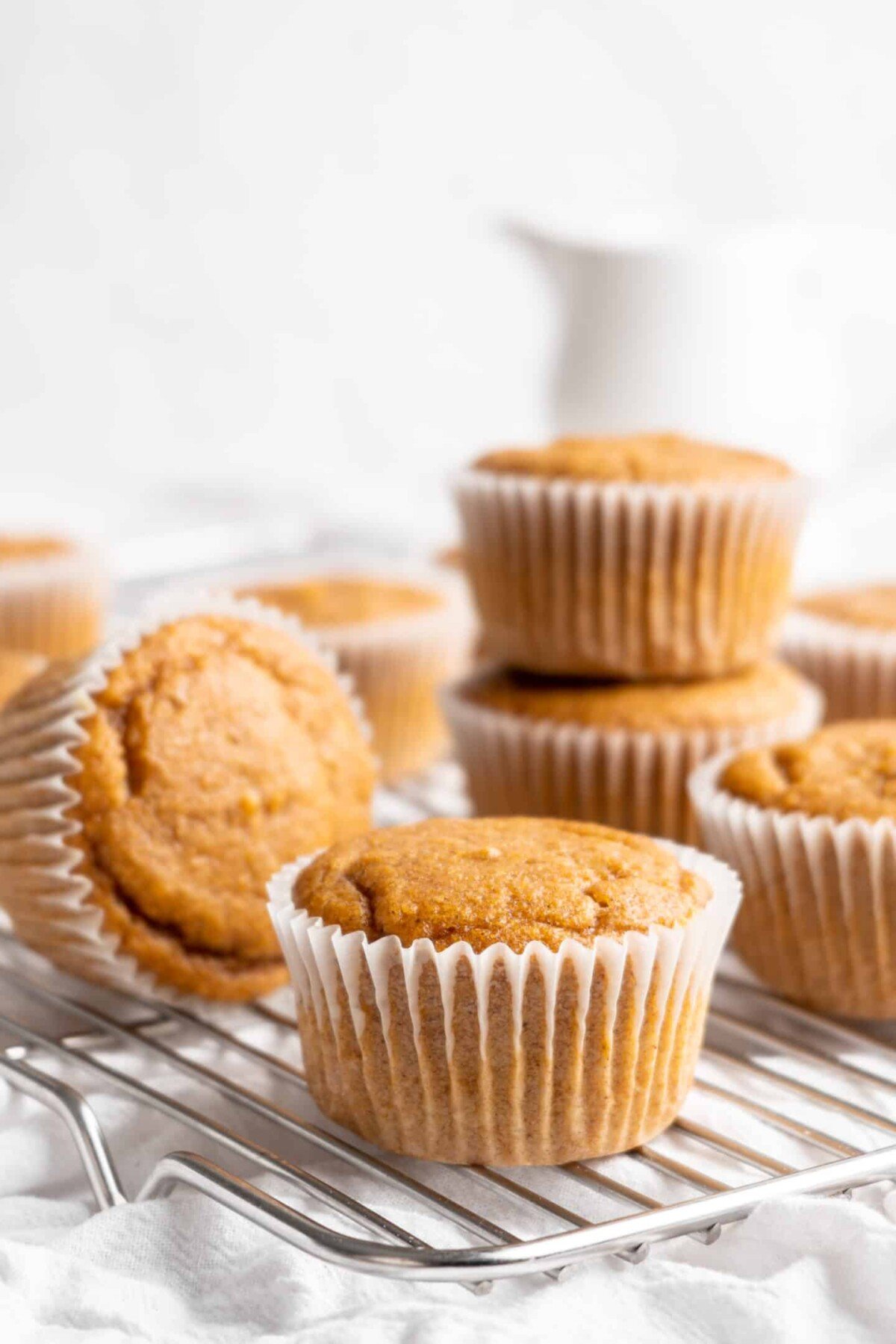 Tips for Success
Here are some tips to help you make the best vegan pumpkin cupcakes every time.
Make the frosting ahead of time. You can frost these cupcakes as soon as the frosting is done. However, it will be even better if you make the frosting ahead of time, and let it sit in the fridge for at least 4 hours, and ideally overnight. This will thicken up the frosting and make it even more indulgent, while also intensifying the flavors.
Make sure the cupcakes are fully cooled. It's important to only frost the cupcakes when they've finished cooling. If the pumpkin cupcakes are still warm when you frost them, the frosting might melt.
Use room temperature ingredients. When making the frosting, use room temperature vegan butter and cream cheese. When these ingredients are cold, they don't break down and mix with other ingredients as well. Using them when they're at room temperature ensures that the frosting comes together nicely, and is smooth and creamy.
Check the middle with a toothpick. To know when your cupcakes are done, insert a toothpick into the middle of one of them. If the toothpick comes out clean, the cupcakes are done baking, and you can take them out of the oven.
Add some toppings. You can add an extra element of flavor and texture with some toppings on top of the frosting. I like to add pecans, but you can also try other nuts, cinnamon, orange zest, or mini chocolate chips.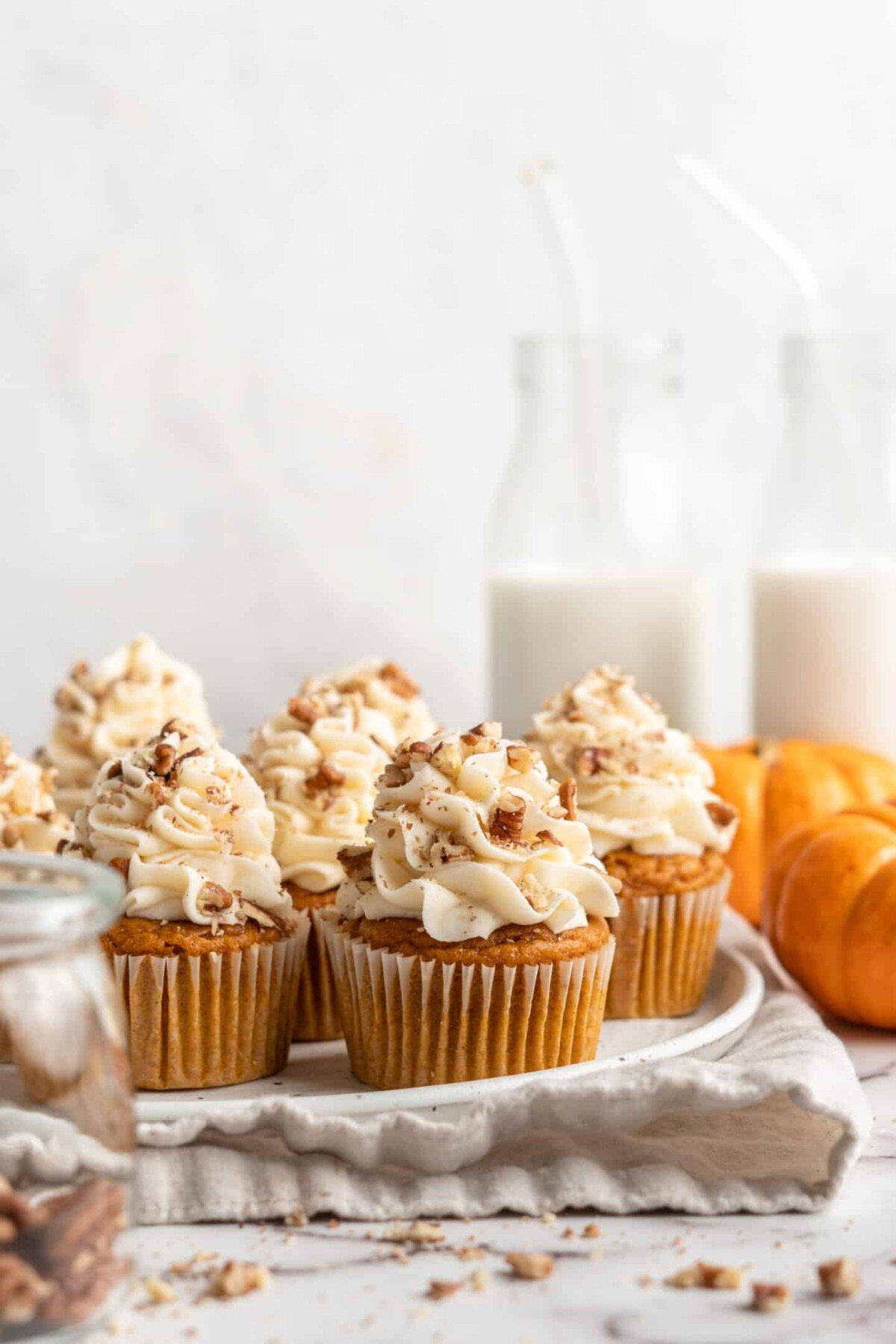 How to Store Vegan Pumpkin Cupcakes
Store these cupcakes in an airtight container or bag. They'll last at room temperature for 2 days or in the fridge for 1 week.
Can I Freeze This Recipe?
You can freeze these vegan pumpkin muffins in an airtight container for up to 3 months. Thaw at room temperature or overnight in the fridge before eating.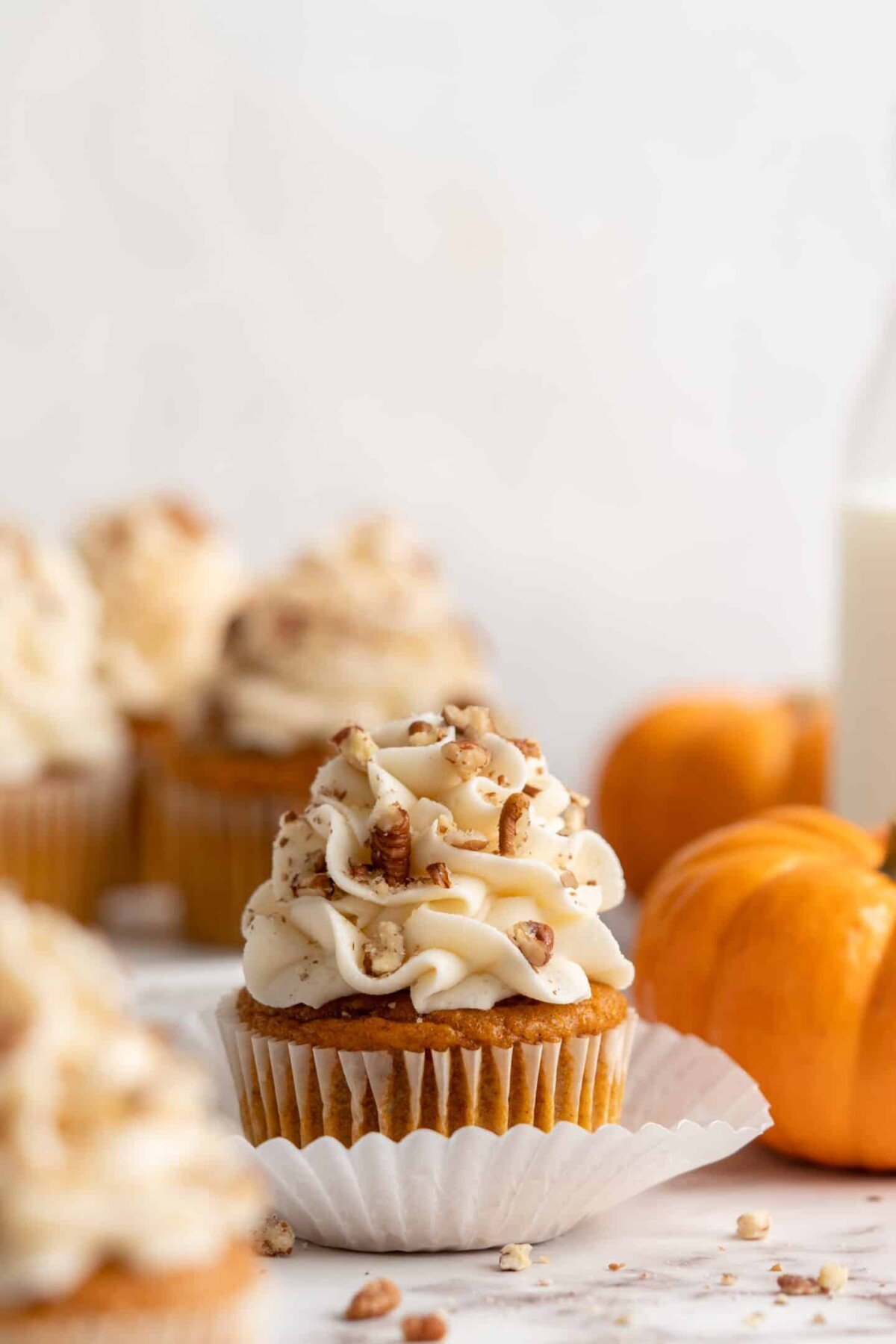 More Pumpkin Recipes to Make
Hopefully you enjoy these fall cupcakes as much as I do. And if you do, then check out some of these other autumnal pumpkin recipes.
Enjoy friends! If you make this vegan pumpkin cupcake recipe, please snap a photo and tag #jessicainthekitchen on Instagram! We'd also love it if you would leave a comment below, and give the recipe a rating! Thanks so much!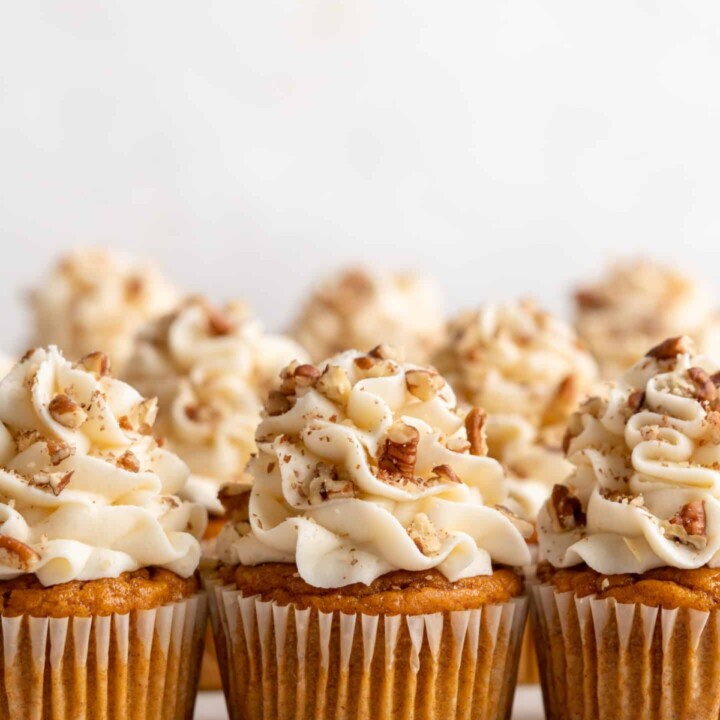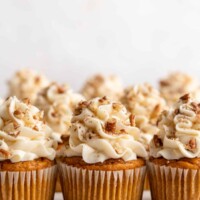 Vegan Pumpkin Cupcakes
These vegan pumpkin cupcakes are full of autumn flavors like pumpkin, vanilla, and cinnamon. They're easy to make, and take less than 40 minutes.
Ingredients
For the Cupcakes:
2 cups all-purpose flour, (240g) (or gluten-free flour mix)
1 tablespoon baking powder
½ teaspoon baking soda
¾ teaspoon fine sea salt
1 teaspoon cinnamon
2 teaspoons pumpkin pie spice
15 ounces canned pumpkin puree, (425g)
1 ½ cups sugar, (300g) (brown sugar, cane sugar or organic white sugar works)
½ cup oil, (100g)
½ cup vegan milk, (120 mL)
2 teaspoons vanilla extract
For the Cream Cheese Frosting:
8 ounces vegan cream cheese, at room temperature
½ cup vegan butter, (4 ounces) (at room temperature)
1 teaspoon vanilla extract, or vanilla paste
pinch sea salt
3 to 4 cups powdered sugar, (360-480g) (sifted)
¼ cup cornstarch, (32g) (sifted)
Instructions
Preheat the oven to 350°F/180°C. Line muffin cups with cupcake liners or foil bake cups.

In a bowl, sift together the flour, baking powder, baking soda, sea salt, cinnamon and pumpkin pie spice. Set aside.

In the bowl of a stand mixer or with a hand mixer in a larger bowl, add the pumpkin puree, sugar, oil, vanilla extract, and milk. Mix together for at least 3 minutes on medium speed until all the ingredients are fully incorporated and mixed together.

Add half the dry ingredients in, mix for about 30 seconds on medium, then add the other half, mixing for another 30 seconds, scraping down the sides as needed. Mix for no more than 2 more minutes on medium speed until everything is fully incorporated.

Working quickly, divide the batter evenly between 24 cupcake liners. You can use an ice cream scoop to help! Tap the cupcake pan on the counter three times (lift and tap down slightly) to remove any excess air bubbles before baking.

Place the pan in the middle rack of your oven and in the center of that rack. Bake for 20 to 22 minutes until the center is fully cooked through.

Remove from the oven and let them cool in the pans for about 5 minutes, then remove onto a wire rack to cool completely.

In the bowl of a mixer, beat the butter and cream cheese together for about 2 minutes until fully incorporated.

Add in the vanilla extract or paste and a pinch of salt.

Add in a cup of sifted powdered sugar and all of the sifted cornstarch. Mix for about 1 minute or until incorporated. Add in the powdered sugar 1 cup at a time until the frosting has reached the desired thickness.

Place the frosting wrapped or covered into the fridge for at least 4 hours or overnight, until being used. You can enjoy it right away, but it will thicken up beautifully in the fridge.

Frost cupcakes and decorate. The frosting will set at room temperature. Enjoy!
Notes
Store in an airtight container on the counter for 2 days, in the fridge for 1 week, or in the freezer for 3 months. 
Calories: 261kcal, Carbohydrates: 40g, Protein: 2g, Fat: 11g, Saturated Fat: 2g, Polyunsaturated Fat: 2g, Monounsaturated Fat: 5g, Trans Fat: 1g, Sodium: 218mg, Potassium: 54mg, Fiber: 2g, Sugar: 29g, Vitamin A: 2768IU, Vitamin C: 1mg, Calcium: 51mg, Iron: 1mg
Disclaimer: Although jessicainthekitchen.com attempts to provide accurate nutritional information, kindly note that these are only estimates. Nutritional information may be affected based on the product type, the brand that was purchased, and in other unforeseeable ways. Jessicainthekitchen.com will not be held liable for any loss or damage resulting for your reliance on nutritional information. If you need to follow a specific caloric regimen, please consult your doctor first.