Pumpkin Chocolate Chip Pancakes (Vegan)
These Pumpkin Chocolate Chip Pancakes are prepped in 10 minutes! Absolutely delicious, filled with pumpkin flavour, trust me you're going to want to make these!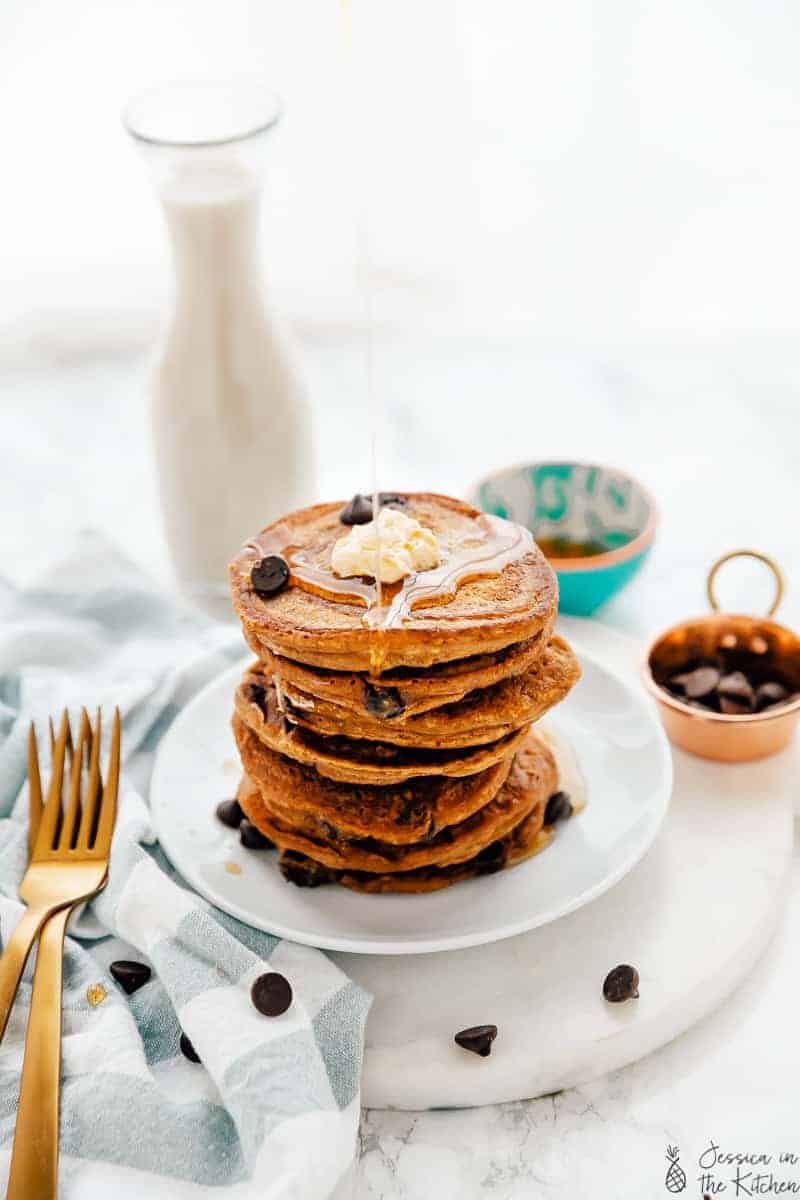 This blog post is sponsored post by Bob's Red Mill. Thanks so much for supporting the brands who support Jessica in the Kitchen! All texts and opinions are my own.
I'm trying to do more of the things that make me genuinely happy. Hello chirping with the bird next door. Hello dancing like no one is watching. Hey there daily journaling. Why, hello standing in the sun (with sunscreen of course) to soak up some vitamin D! I briefly mentioned it on my IG because, life is meant to be living it to the max!
Believe it or not, these pancakes line up exactly with that. I LOVE making breakfast, it's my favourite meal of the day. So much so that you can sometimes find me having breakfast for dinner, and no, I don't mean brinner meals like chilaquiles that easily transfer (although these are amazing and need to be a blog post). I mean good old pancakes or Ackee and saltfish for dinner. Adulting at its finest.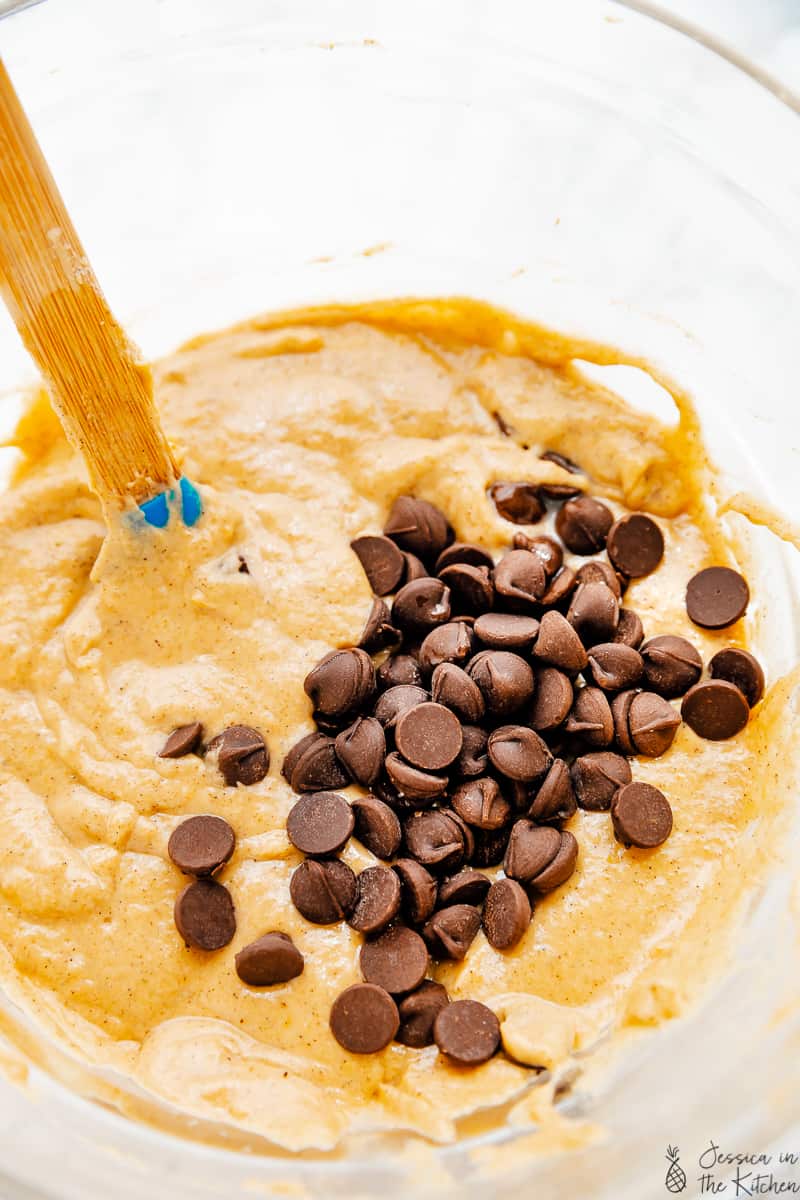 I love pancakes of all shapes and sizes. In fact, it might be the most found recipe on the blog! I had a REAL pining to make these Pumpkin Chocolate Chip Pancakes. I'm having like pumpkin fever, and Gav just bought even more pumpkin for me to purée. So I got up the next morning and whipped these pancakes into shape! The batter smelled absolutely heavenly and I couldn't wait to taste one right out the pan, piping hot, melting chocolate. Good grief.
Hello heaven! These pumpkin chocolate chip pancakes are DIVINE! I even used my keto chocolate chips so I wasn't going heavy on the sugar too early in the morning. They're a delicious, spiced and tasty breakfast to enjoy as many times throughout this season and beyond.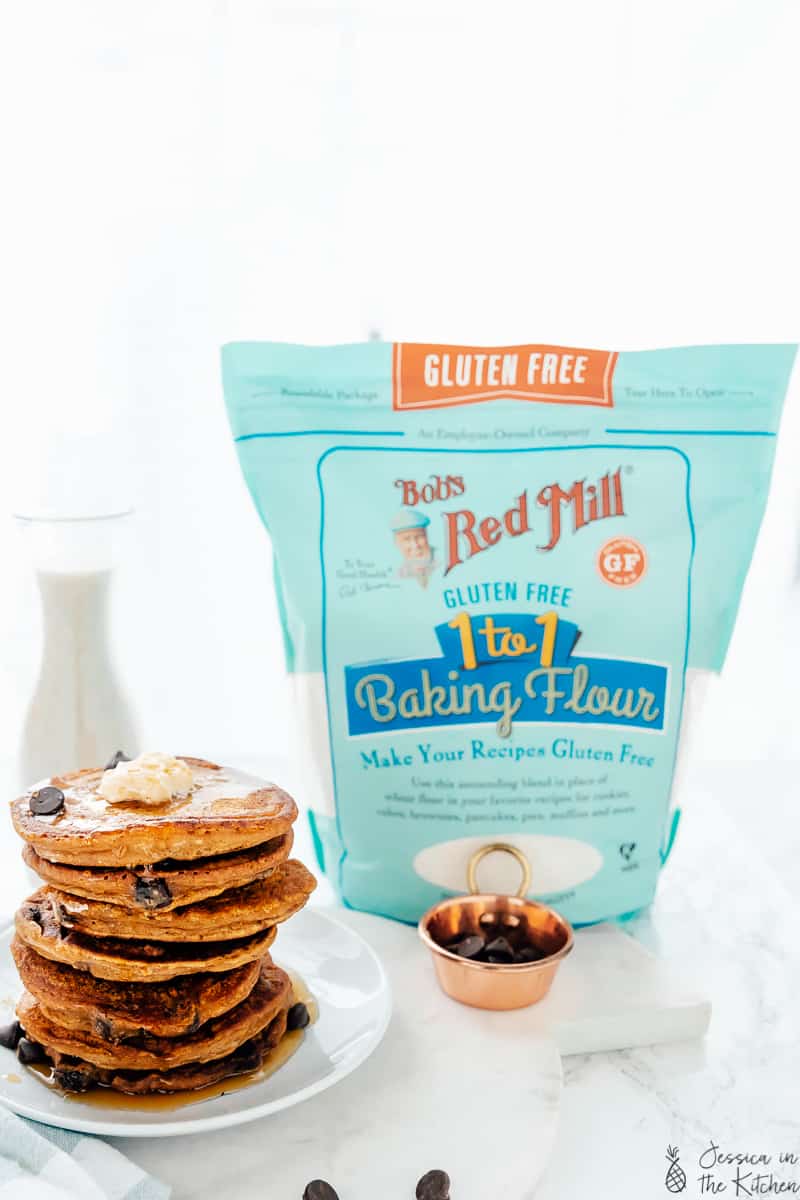 How to Make Pumpkin Chocolate Chip Pancakes
Making these pancakes couldn't be easier. The batter is whipped up literally in 5-10 minutes, then you cook them. I always let my nut milk and apple cider vinegar sit first to make a vegan buttermilk, then mix the rest of the ingredients in the meantime.
As usual, I used my favourite gluten free flour for these pancakes – Bob's Red Mill Gluten Free 1-to-1 Baking Flour. If you've read any of my gluten free recipes then you know I love this flour so much and have been using it for years, constantly. I constantly have bags of this flour in our fridge because I use it for – EVERYTHING. For new recipes and old, including my favourite vegan mug brownie. It substitutes perfectly every time for regular flour and leaves me doing a little gluten free dance.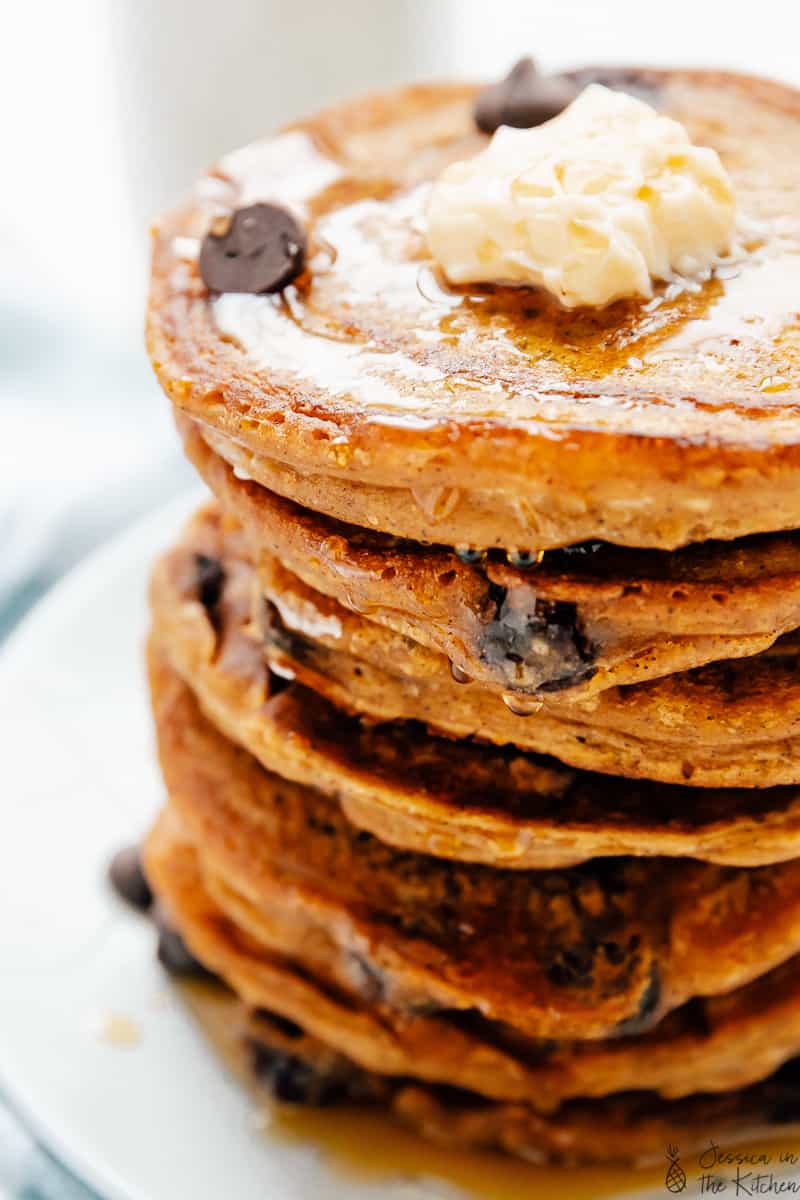 Okay, dances and pancakes and mug brownies aside, this Bob's Red Mill Gluten Free 1-to-1 Baking Flour really is fantastic. I absolutely love the consistency – it's fluffy and light – and truly is my favourite blend. Sweet or savoury, it's your friend. While I love using it in pancakes, I think my most memorable use of it is in my cauliflower bites last year. My goodness. Those were such a treat! My point is, know that you will definitely be using the entire bag of this flour. I know often times you guys may worry if your gluten free flours will go waste, and this is so versatile it works for everything. Instead, you'll be re-ordering new bags when it runs out!
Pancake Ingredients
The ingredients in these pumpkin chocolate chip pancakes are pretty straight forward and all lend to a perfect pancake. There's of course pumpkin! Apart from the fact that these are actually pumpkin pancakes, it's the perfect fat replacement and adds a unique and delicious flavour to the pancakes, while adding fibre. Instead of my usual maple syrup, I added organic cane sugar since I always picture pumpkin with a cane or brown sugar. Pumpkin spice is a MUST here, and if you can't find it, know you can easily mix some spices in your cupboard together to make it yourself!
I hope you enjoy these pancakes friends! They're amazing to make with kids too, by the way! Eat up and enjoy!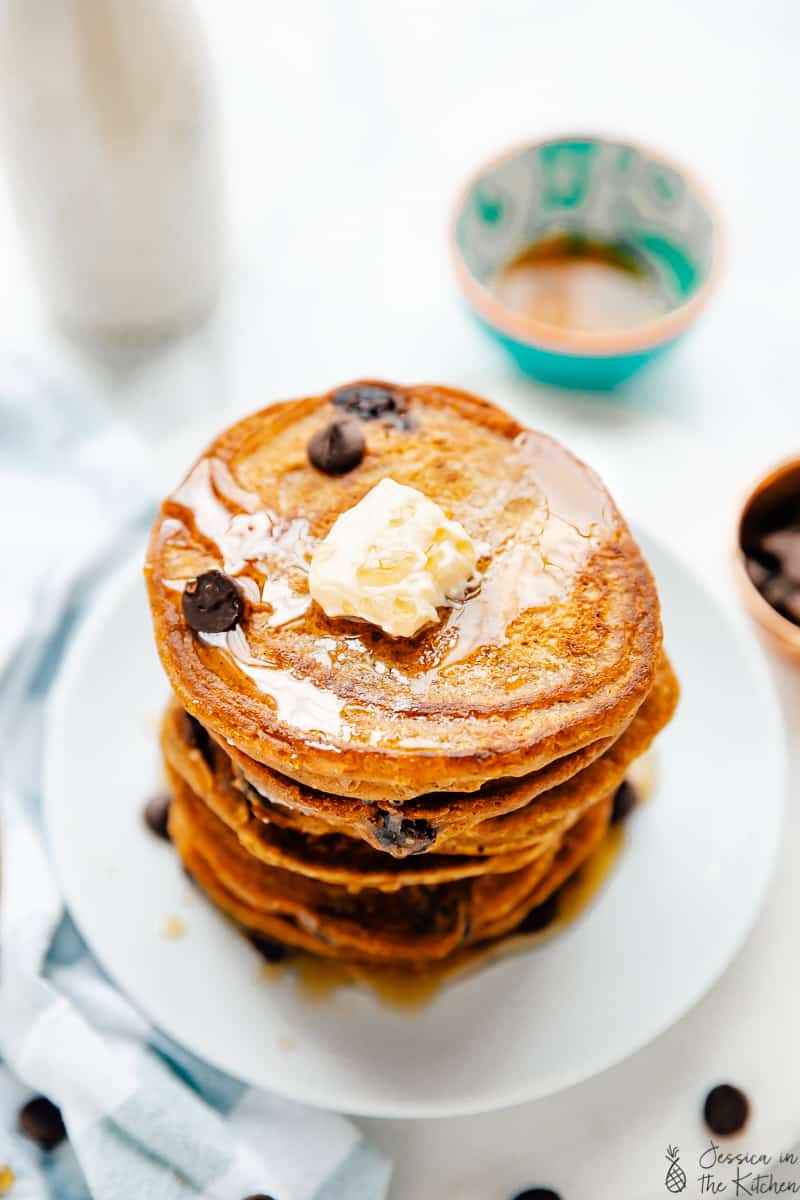 More Pumpkin Breakfast Recipes
If you love these pumpkin chocolate chip pancakes, check out some of these other pumpkin breakfast ideas!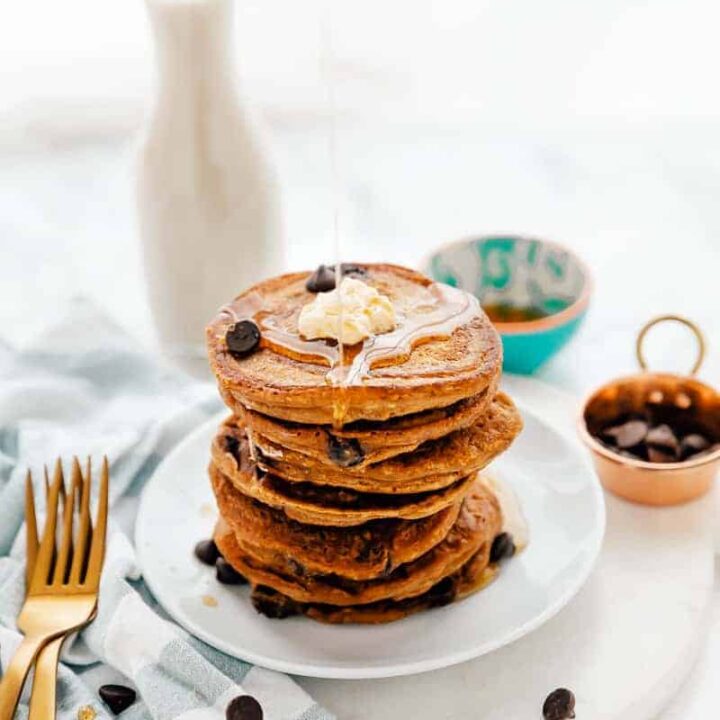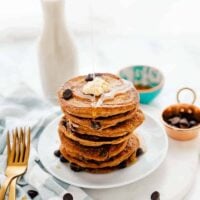 Pumpkin Chocolate Chip Pancakes (Vegan)
These pumpkin chocolate chip pancakes are the perfect breakfast for fall! Packed with pumpkin pie spice, melty chocolate chips, and rich pumpkin puree, they're sure to put a smile on your face.
Ingredients
1 1/4 cups unsweetened almond milk or any nut milk + two teaspoons lemon juice or apple cider vinegar
1 1/2 cups 222g Bob's Red Mill Gluten Free 1-to-1 Baking Flour
1 teaspoon baking powder
1/2 teaspoon baking soda
1/4 teaspoon sea salt
1 teaspoon pumpkin pie spice
1 flax egg
3 tablespoons cane sugar or brown sugar
1/2 cup pumpkin puree
1/4 cup chocolate chips
Instructions
Mix the nut milk and the lemon juice or ACV together in a small bowl/measuring cup. Set aside – this will make the vegan buttermilk.

In a large bowl, whisk the gluten free flour, baking powder, baking soda, salt and pumpkin pie spice.

Add the flax egg, brown sugar and pumpkin into the vegan buttermilk mixture and whisk until just combined and smooth. Pour into the dry ingredients and mix together until just mixed, folding over to fully incorporate. Add in the chocolate chips and fold over one more time. The batter will thicken slightly while you wait for the griddle pan to heat up.

Heat a griddle pan or a cast iron skillet over medium heat and brush with coconut oil or vegan butter.

Pour about ¼ cup of batter into the pan/skillet for one pancake. Wait until some bubbles start to form on top, then pop. Allow to cook for 2-4 more minutes and then flip the pancakes over. Cook for about 2-4 more minutes until batter is cooked through.

Serve pancakes hot and drizzle with maple syrup on top and your favorite toppings.
Calories: 111kcal, Carbohydrates: 21g, Protein: 3g, Fat: 3g, Saturated Fat: 1g, Sodium: 198mg, Potassium: 38mg, Fiber: 3g, Sugar: 7g, Vitamin A: 1906IU, Vitamin C: 1mg, Calcium: 89mg, Iron: 1mg
Disclaimer: Although jessicainthekitchen.com attempts to provide accurate nutritional information, kindly note that these are only estimates. Nutritional information may be affected based on the product type, the brand that was purchased, and in other unforeseeable ways. Jessicainthekitchen.com will not be held liable for any loss or damage resulting for your reliance on nutritional information. If you need to follow a specific caloric regimen, please consult your doctor first.