Vegan Ackee and Saltfish (Jamaican Breakfast Feast)
A vegan take on Jamaica's National Dish and my favourite breakfast in the world: Ackee and Saltfish. This is one of the most flavourful breakfasts ever and perfect comfort food!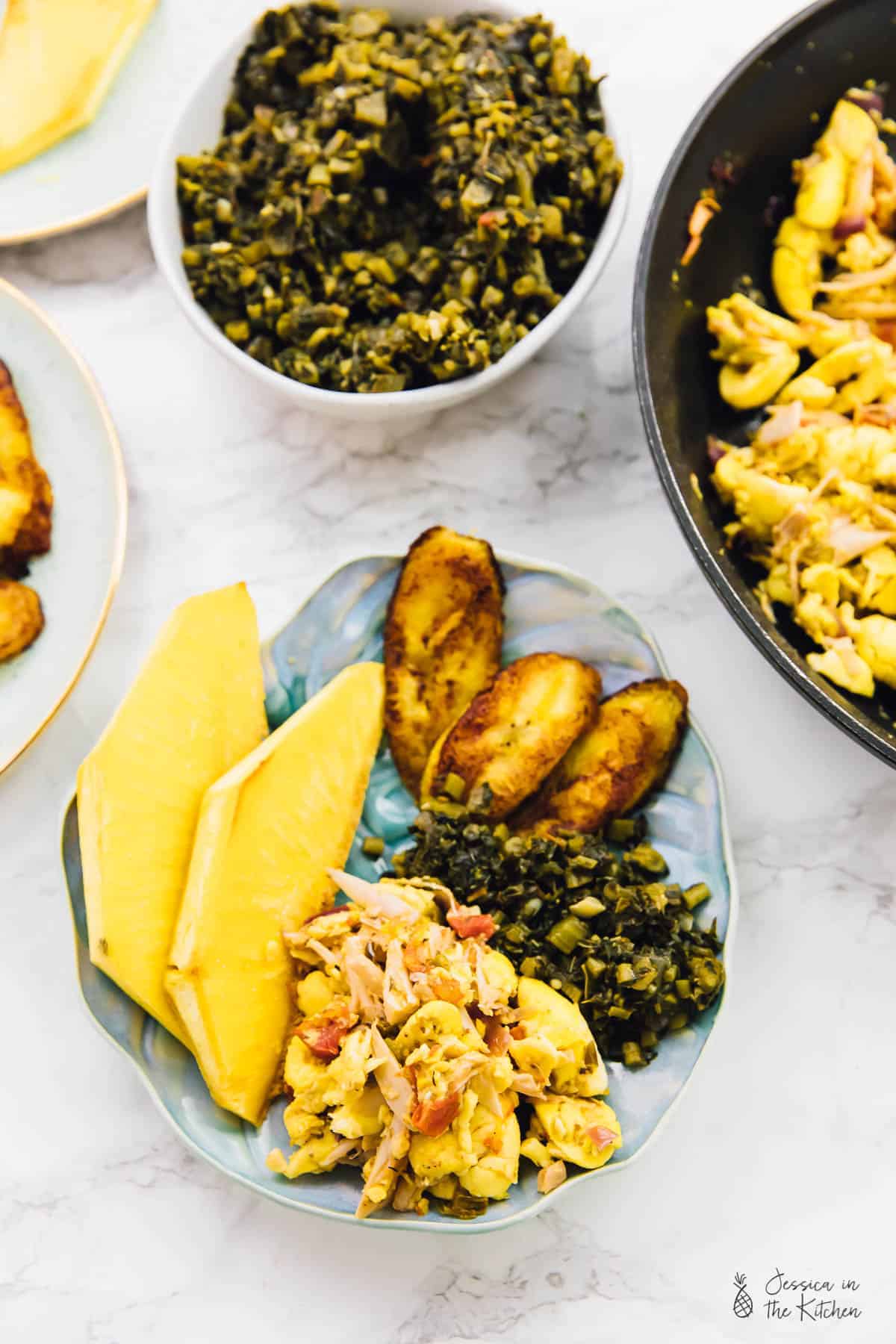 Where do I even start with this blog post? I've always heard from you guys that you want to see way more Jamaican recipes from me. Or anything really with a more Caribbean vibe. Not going to lie – it hasn't been an easy task. You see, growing up with these recipes, there wasn't really any "recipe". You cook with love and feeling, and that doesn't leave that much room for exact precision. Regardless of that, I saw the reaction from you all after I shared the recipe for Jamaican Jerk Sauce. It really touched my heart since it's always been a slightly scary thing to share this part of me. So, Gav and I worked together in order to bring you a recipe from my favourite breakfast in the entire world – Vegan Ackee and Saltfish.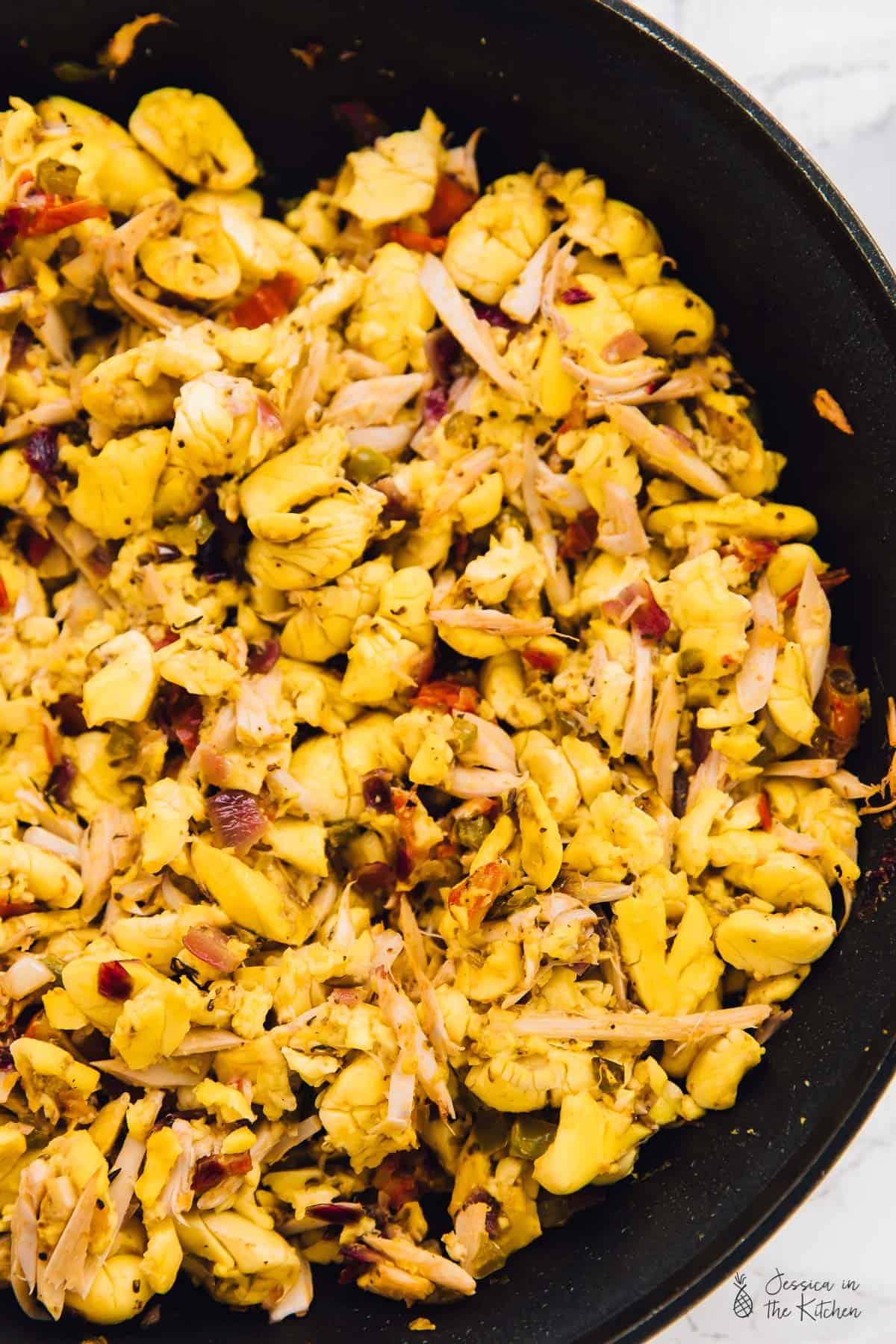 First, a quick intro and explanation. Ackee and Saltfish is Jamaica's national dish. Ackee is a fatty fruit that must be picked only when ripe, and then properly cleaned by someone who knows what they are doing. Saltfish is salted cod. It's usually paired with all sorts of side dishes. Anything from boiled dumplings, roast breadfruit and boiled banana to fried dumplings, callaloo, fried breadfruit, (I show you all of this in the video coming tomorrow on my YouTube channel –
subscribe to be up to date!
) fried plantain and slices of pear (that's what avocado is called in Jamaica) to so many other side dishes. The latter set of pairings is definitely my more favourite, which I confess is probably as a result of all of the fried components. What can I say? One taste and you'll get it too.
The combination makes a creamy and salty dish paired with all the carbs in the world. It's hard to describe how divine it is, until you taste it. It's something I've had my entire life, including when I wasn't living in Jamaica. My mom would make it for us all the time. Even after I became vegetarian, she would "cook it up" – adding in all sorts of divine seasonings that I didn't even miss the Saltfish. Then, after I got married, I was blessed with a husband who knew exactly how to cook it Cook up Ackee, just like mom does. While I've always enjoyed their recipes, I was curious to see if I could perhaps create a vegan version of Saltfish. After making my vegan fish tacos, hearts of palm has been haunting me. It flakes just like Saltfish, and I know that it's very capable of absorbing flavour. So I took the experiment to the kitchen.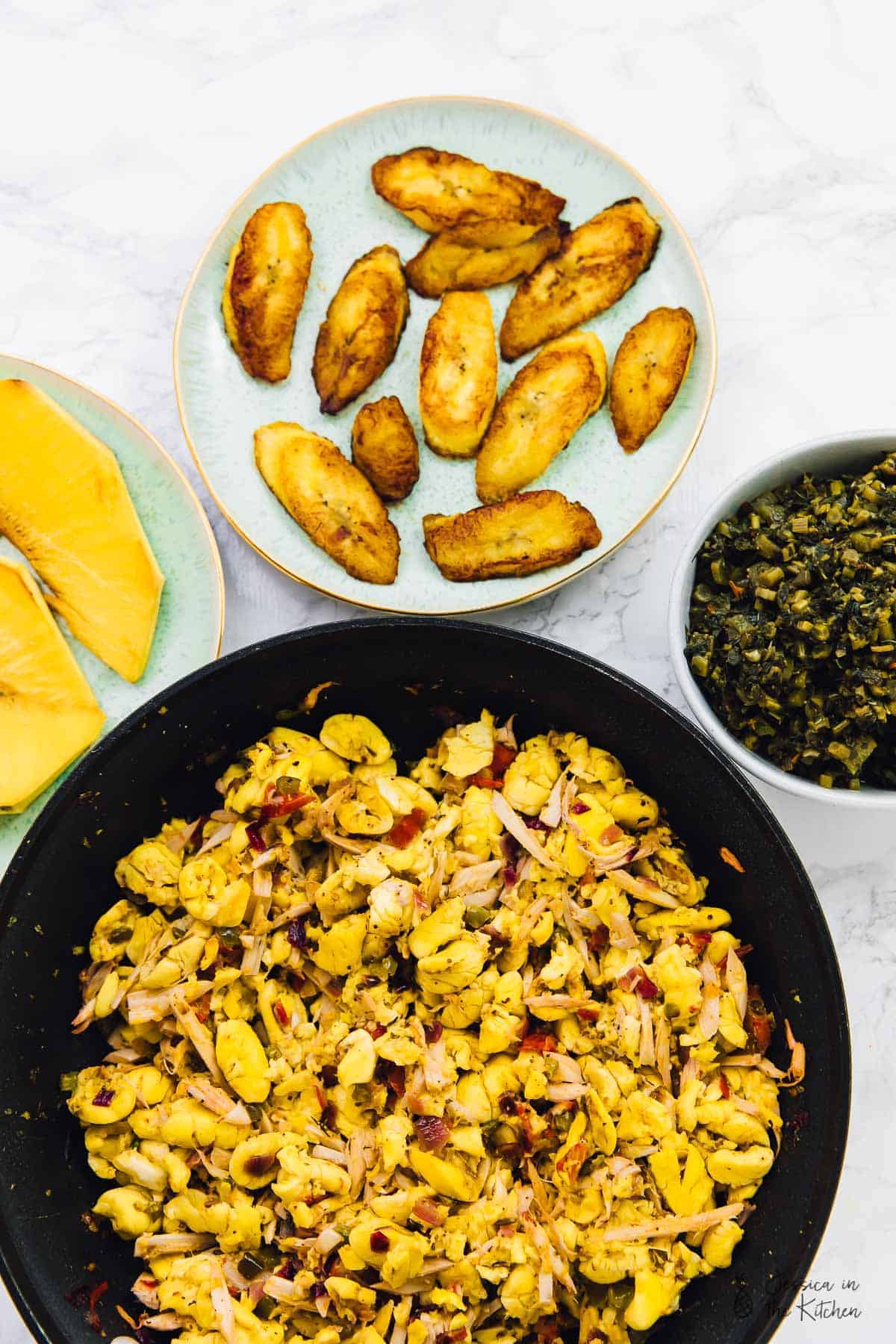 I'm happy to say that this experiment worked like crazy. The vegan Ackee and Saltfish you see tastes exactly like the Ackee and Saltfish from my childhood that my mom would make for us in the British Virgin Islands where I grew up. Every bite brought me back to those fond childhood memories. Needless to say I will definitely be making this over and over and I wanted to share it with you today.
I paired my Vegan Ackee and Saltfish with callaloo, fried breadfruit and fried
plantain
. If I had avocado I would definitely add it. We usually serve it with a sprinkle a little bit of salt on each slice and serve that too. I showed you guys how to prepare all of this in the video, so be sure to check it out too. If you've never tried anything like this, think of this as the perfect opportunity to give a new cuisine a try. As you can probably see, everything except the Saltfish is vegan, making a Jamaican breakfast almost 100% vegan naturally. That was the only change I needed to make and voila!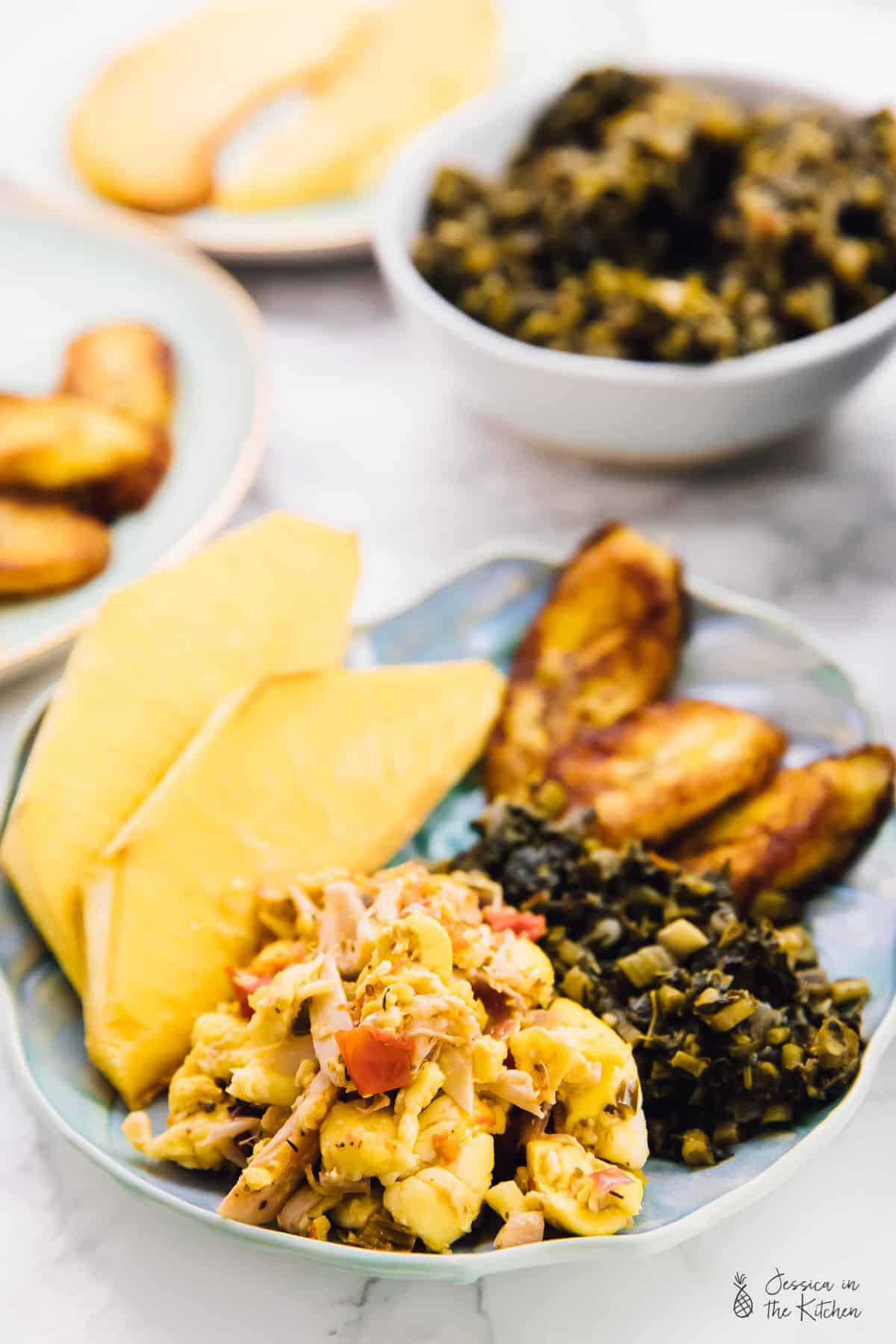 I hope you enjoyed this little history lesson and this dish friends! Be sure to check out the video (coming soon!) for all my tips, including the safest way to handle Ackee. Enjoy!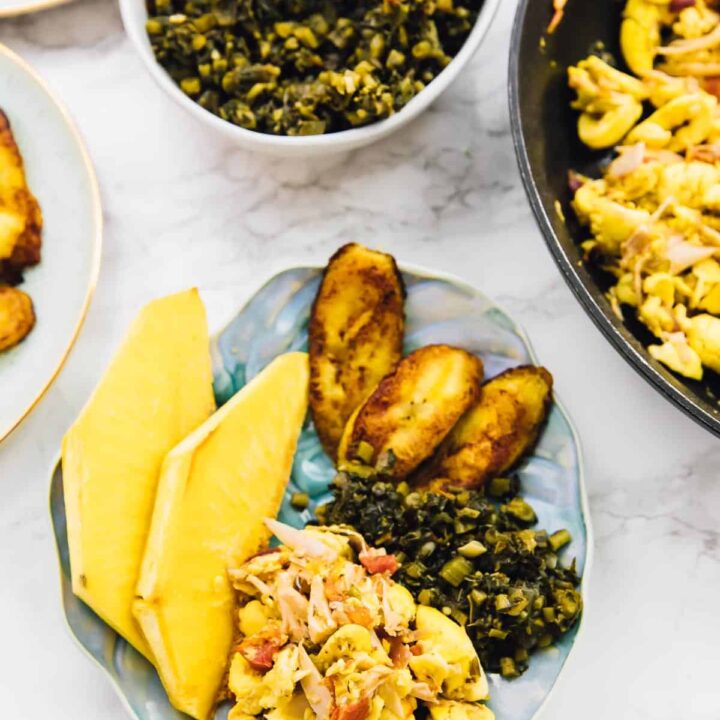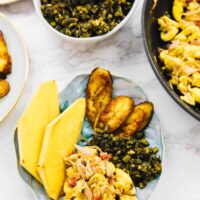 Vegan Ackee and Saltfish (Jamaican Breakfast Feast)
A vegan take on Jamaica's National Dish and my favourite breakfast in the world: Ackee and Saltfish. This is one of the most flavourful breakfasts ever and perfect comfort food!
Ingredients
Vegan Saltfish
1 can, 14 oz/396g of Hearts of Palm
1 cup filtered water
1 tablespoon sea salt
2 teaspoons kelp or nori flakes, optional
Ackee
1 lb cooked ackee or canned/tin ackee*, (454g)
Up to 2 tablespoons coconut oil
4 cloves of garlic, finely diced
2 plummy or Roma tomatoes, roughly chopped
1 medium sized bell pepper, roughly chopped
½ red onion, roughly chopped
3-4 stalks fresh thyme, stems removed
¼ of Scotch bonnet or more for your preferred heat, finely diced
3 stalks scallion, sliced
sea salt and ground black pepper to taste**
Instructions
Vegan Saltfish
You'll need a container of hearts of palm for this recipe. Take out each piece out of the brine, and cut them in half, then diagonally, and then kinda just shred them slightly. This will give you that saltfish look (demonstrated in video). After you're finished shredding the entire can or jar's contents, add it in a mason jar.

Add in a cup of water and a tablespoon of salt which is your salt brine. Stir gently to mix. I also add in some kelp flakes to add to that fishy taste. Long story short you want to ensure that the entire container of vegan saltfish is covered with the brine. Set aside and allow it to brine for at least 30 minutes, up to a few hours.
Ackee
Heat a tablespoon of coconut oil in a pan. Add in the garlic, tomatoes, bell peppers, onions and cook down until it's soft and the onions are translucent, for about 5-8 minutes. Add in the thyme and stir. 

Now we are going to add in your vegan saltfish! Drain off the salt brine, rinse well and pat dry. Ensure the heat is hot and add the Saltfish to the seasonings. If it looks dry add a couple more teaspoons of oil. Stir to combine and let the Saltfish crisp up a bit with the seasonings for about 5 minutes. 

At this point you can add in your fully cooked and drained fresh Ackee or your canned Ackee. Stir gently with everything, especially if using canned Ackee since it's delicate and you don't want it to break apart. You'll definitely want to re-season the dish with some more salt and top it all with a lot of black pepper. 

Remove from heat and serve alongside callaloo, breadfruit and fried plantain and/or of your favourite side dishes. Eat and enjoy!


Ackee and saltfish can be stored in a container in the fridge for up to a few days. Simply reheat in your microwave or back on the stovetop until hot again. Callaloo can be reheated the same way. I recommend only cooking enough plantain and breadfruit for when you need it since it tastes best fresh! 
Notes
*Ackee is a fruit that you cannot consume unless it's fully ripe and cooked. If you're outside of Jamaica, you'll probably be having canned ackee (linked here) which is found pretty much in any international/imported/Caribbean food aisle. This is 100% cooked and completely safe to eat! All you need to do is drain off the liquid in the can, and rinse it.
If you have fresh ackee, please ensure that you know what you are doing OR just have someone who does clean it for you.
** Putting an accurate salt amount is difficult here. Once the ackee is added in the salt quantities change completely, and then you don't want to add to much and the brine from your vegan saltfish throws it off. I would start with ½ teaspoon and add from there. The same with pepper.
Calories: 178kcal, Carbohydrates: 10.1g, Protein: 3.9g, Fat: 14.1g, Fiber: 2.5g, Sugar: 3.8g
Disclaimer: Although jessicainthekitchen.com attempts to provide accurate nutritional information, kindly note that these are only estimates. Nutritional information may be affected based on the product type, the brand that was purchased, and in other unforeseeable ways. Jessicainthekitchen.com will not be held liable for any loss or damage resulting for your reliance on nutritional information. If you need to follow a specific caloric regimen, please consult your doctor first.