Cuban Quinoa Bowls with Pineapple Salsa
These Cuban Quinoa Bowls are loaded with seasoned black beans, juicy plantains and an addictive sweet and spicy pineapple salsa!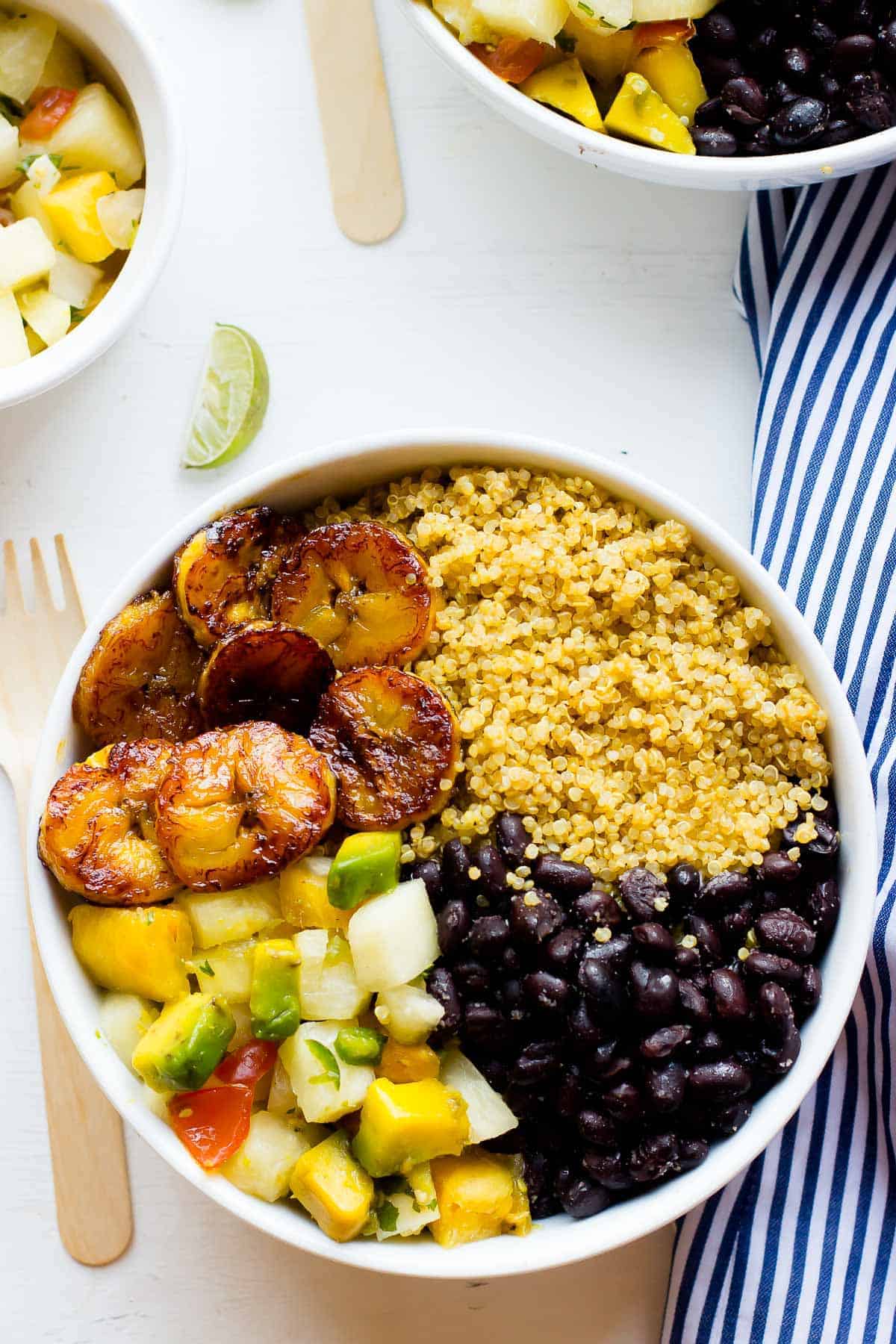 So here's a bold statement: I'm pretty sure I was doing bowl foods before everyone else was; everyone else being the internet. I know…what?! Yet I'm sure that many of us woke up one day, saw that bowl foods were a thing and thought, that's how I've ALWAYS been eating!! Food in bowls seem to just taste better; all the flavours are mixed, you get a wide range of textures and you can arrange food beautifully – win, win and win. These Cuban Quinoa Bowls with Pineapple Salsa are no exception; so much to the point that I have made them about five different times in month, which is major for me. My absolute favourite part? Those INSANE plantains.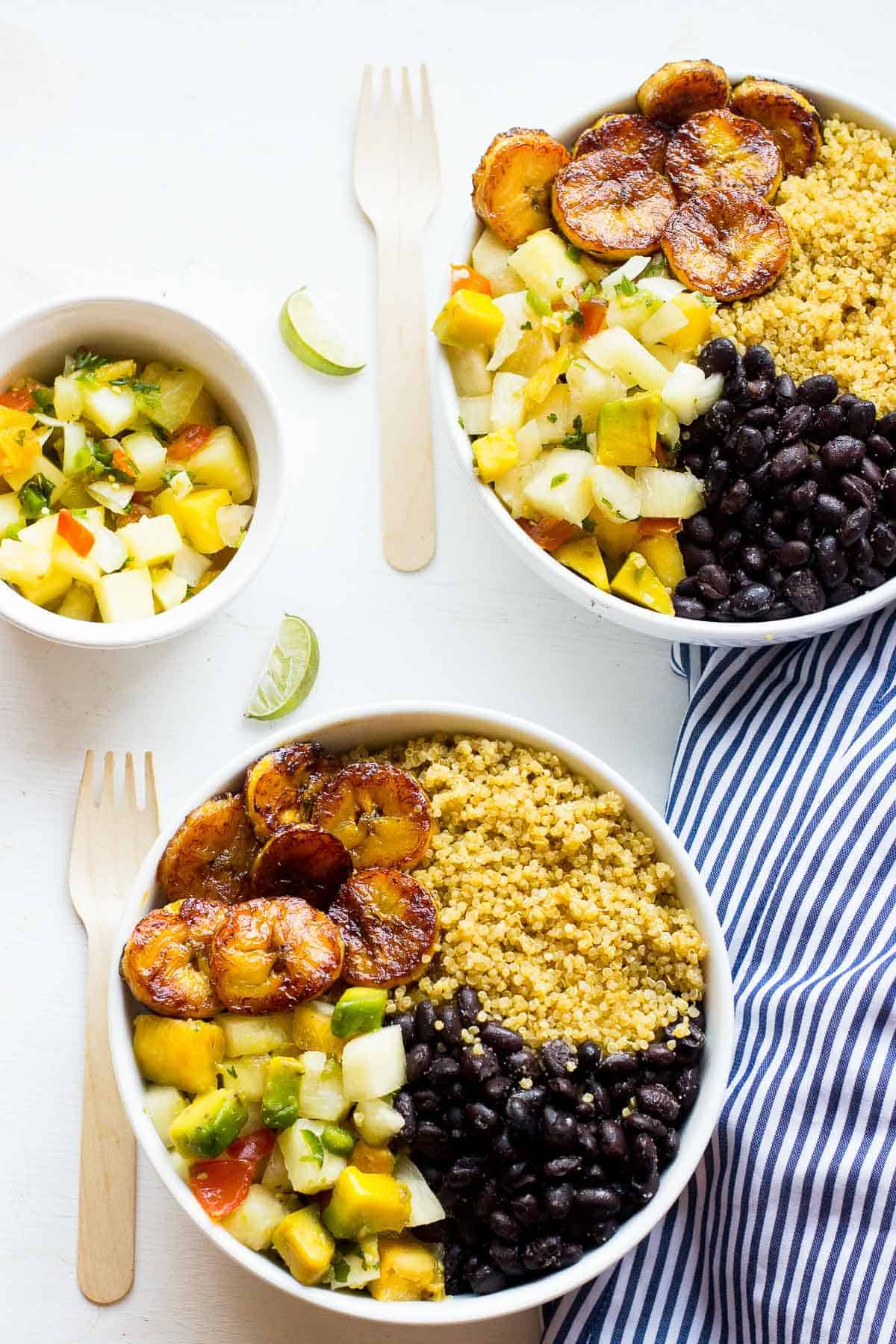 These Cuban Quinoa Bowls are a play on Cuban Rice Bowls, except with quinoa of course, which I am officially obsessed with (it is always in our fridge). Putting together this bowls was also really easy since 1) I actually always have all of these ingredients in my house, all the time, 2) because none of them take a lot of time to prepare separately and 3) I eat plantains with everyone and anything as much as possible, so I was EXTRA excited to putting this bowl together.
Simply put, this is one of the best bowl foods I've ever had. The combination of well seasoned black beans, delicious fluffy quinoa, avocado sweet and spicy pineapple salsa and fried plantains works so incredibly well. Let's talk about this pineapple salsa for a bit. Make sure you get a sweet pineapple and pair it with raw jalapeños if you can. You get the best combination of flavours this way and the best delicious contrast of sweet and spicy. This salsa actually goes with pretty much every bowl food one earth so be prepared to see it featured here again. The plantains? Oh wow. I buy plantains at the farmer's market every time I go, and the key is making sure your plantain is extremely ripe before pan frying it – so I'm talking black skin. It's the sweetest at this point and the best texture. I love pan frying mine – just a bit of coconut oil and frying on either side until golden bake, but you could also easily bake these.
All in all, this is a complete winner, and already on rotation in my household. Make this, and I guarantee it'll be one of the best things you've done all year. Even better, make this for me and invite me over, m'kay?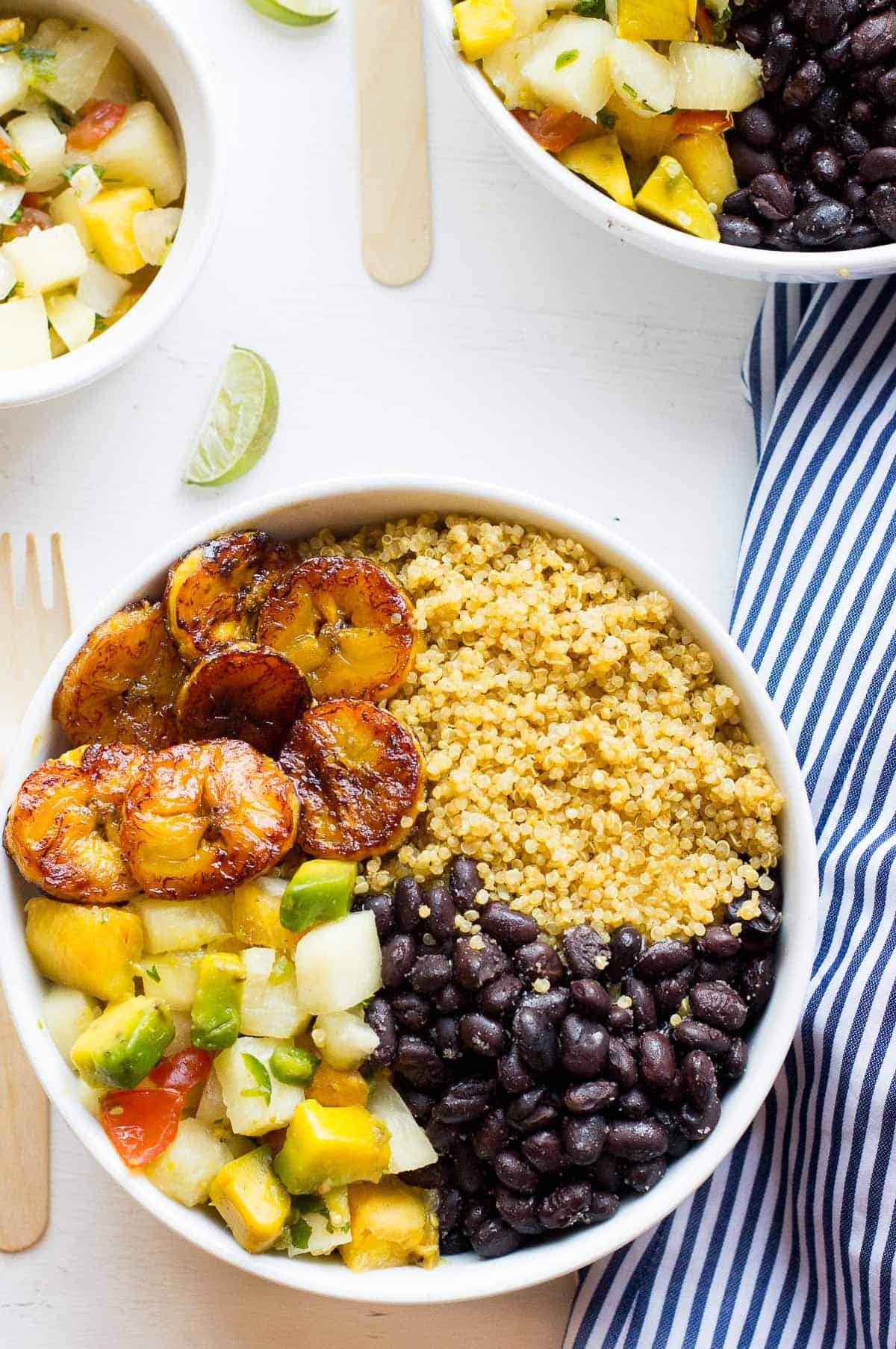 If you try this Cuban Quinoa Bowl with Pineapple Salsa, please let me know in the comment section below, or tag me on instagram with the hashtag #jessicainthekitchen! For more exclusive recipes follow me on Instagram AND on Snapchat: jessinkitchen.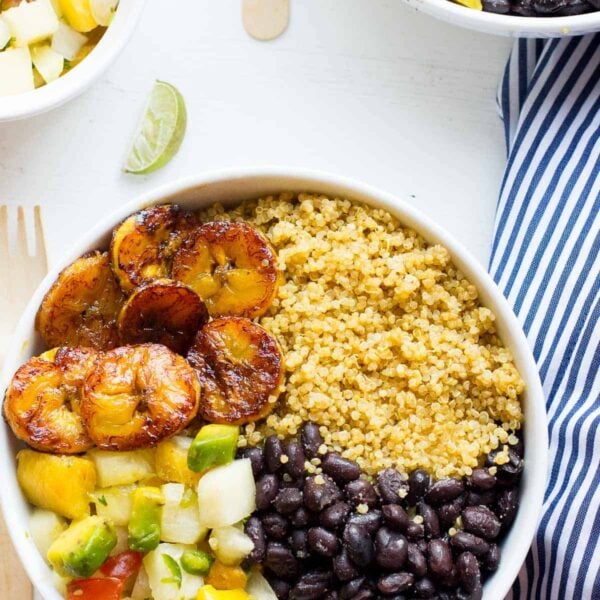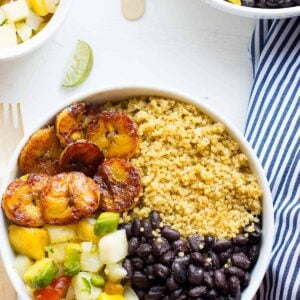 Cuban Quinoa Bowls with Pineapple Salsa
These Cuban Quinoa Bowls are loaded with seasoned black beans, juicy plantains and an addictive sweet and spicy pineapple salsa!
Ingredients
Pineapple Salsa:
2 cups pineapple
2 tablespoons chopped parsley/cilantro
1/4 cup diced tomatoes
1 tablespoon lime juice
sea salt and ground black pepper to taste
1/4 cup finely chopped onion
2-3 teaspoons chopped jalapeño
Seasoned Black Beans:
1/2 tablespoon coconut oil
2 cups black beans, cooked and drained
1/2 teaspoon cumin
1/2 teaspoon garlic powder
1/2 teaspoon onion powder
sea salt and ground black pepper to taste
1/2 teaspoon chopped cilantro or parsley
Plantains:
1 tablespoon coconut oil
1 large ripe plantain, peeled and thickly sliced ( 1/4 inch)
sea salt to taste
Instructions
Pineapple Salsa
Mix the ingredients for the pineapple salsa together in a bowl. Set aside and allow the flavours to meld together until ready to use.
Black Beans
In a pan over medium high heat, heat the ½ tablespoon coconut oil. Add the black beans, cumin, garlic powder and onion powder, stirring to combine with the black beans. Season with salt and pepper to taste. Lower the heat and allow everything to cook together for about 5 minutes. Remove from heat and stir in the chopped cilantro. Set aside
Plantains
In a pan over medium high heat, heat the coconut oil. Add the plantain slices to the oil and pan fry on each side for about 4 minutes or until golden brown. Remove the heat and season with sea salt. Set aside.
Quinoa Bowl
Add ½ cup cooked quinoa, ½ cup seasoned black beans, ½ cup pineapple salsa and ¼ fried plantains slices to each bowl. Feel free to mix and match and increase or decrease any quantities that you want, and enjoy!
Notes
This recipe is gluten free and vegan. You can make everything at the same time, or at different times and just use the same pan after each portion is cooked. Remember to use a sweet pineapple and a very very ripe plantain.
HOW TO STORE CUBAN QUINOA BOWL
If you want to prepare this bowl ahead of time, I recommend preparing all the ingredients ahead of time for prep in separate tupperware containers, so that you can just reheat them put the entire bowl together. You can make the bowl a day in advance then eat it, but I wouldn't recommend keeping it together for longer than that.
If you're making this for lunch, just assemble it all together the morning of, or in a mason jar.
Calories: 755kcal, Carbohydrates: 136g, Protein: 26g, Fat: 16g, Saturated Fat: 10g, Sodium: 464mg, Potassium: 1663mg, Fiber: 25g, Sugar: 33g, Vitamin A: 1530IU, Vitamin C: 113mg, Calcium: 114mg, Iron: 8mg
Disclaimer: Although jessicainthekitchen.com attempts to provide accurate nutritional information, kindly note that these are only estimates. Nutritional information may be affected based on the product type, the brand that was purchased, and in other unforeseeable ways. Jessicainthekitchen.com will not be held liable for any loss or damage resulting for your reliance on nutritional information. If you need to follow a specific caloric regimen, please consult your doctor first.