No Bake Brownie Energy Bites
These No Bake Brownie Energy Bites are made with only 5 ingredients, vegan and gluten-free and are a perfect quick healthy
breakfast or snack!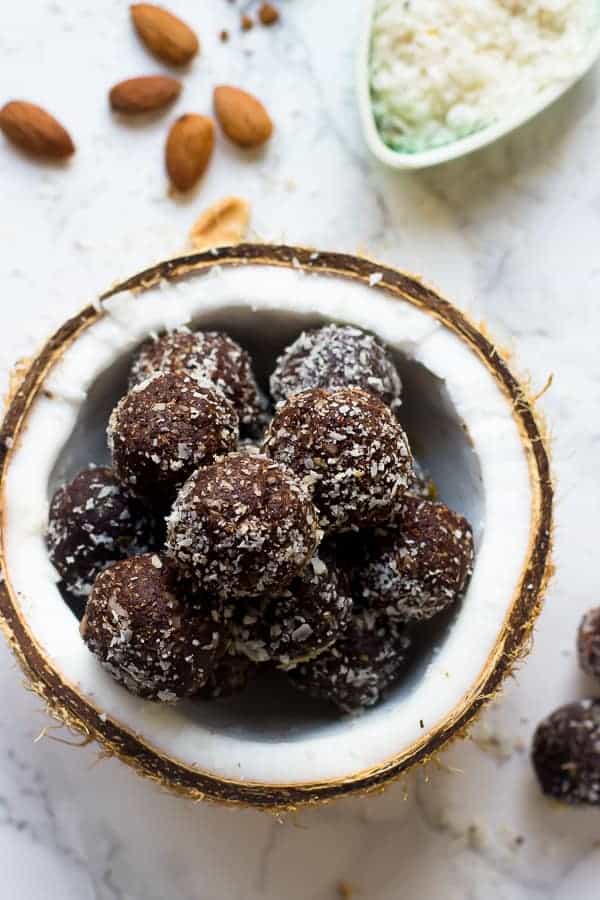 Things I love about summer: flip flops, grilling, summer fruits, and no bake treats. No bake treats made with 5 main ingredients, in 10 minutes, that will add no extra heat to your already hot summer home AND that taste like brownies! Sounds pretty perfect right? Case in point: these No Bake Brownie Energy Bites also known as bliss balls. P.S. I've already made these three times and it's not even summer.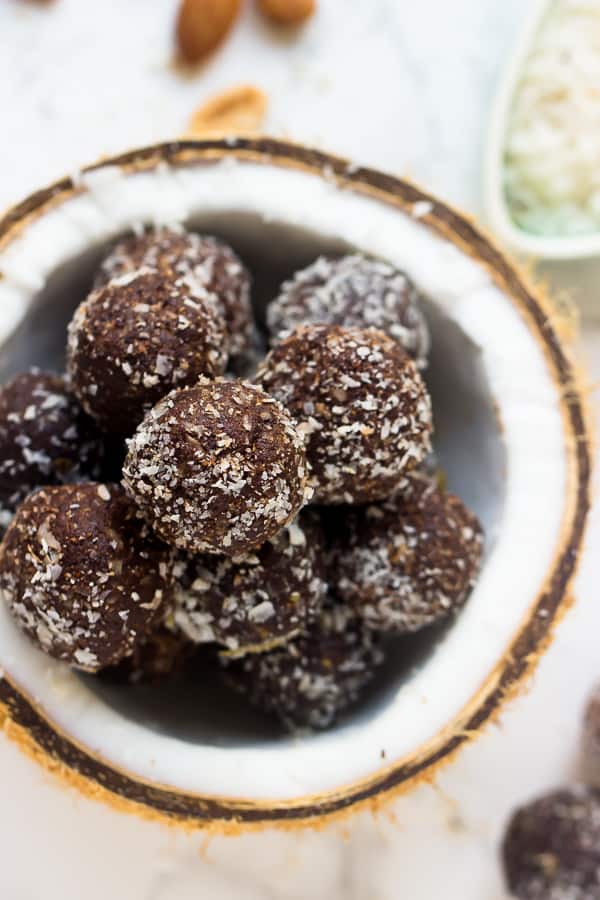 Let's back up a bit: I am really, really bad at making breakfast on time: true story! It's not that I try and skip it, but I seem to find a ton of excuses early in the morning. Extra sleep, fantasising about loaded waffles, promising myself I will have a protein smoothie. When I make make-ahead treats however like these brownies bites, pumpkin pie overnight oats, banana oat breakfast cookies or oat waffles, I am totally on top of my on-time breakfast time.
I've been making these bites consistently for a year now. It's safe to say that not only do they always prove to be easy and convenient, but they taste absolutely amazing, like little chewy and fudgy brownie bites. You won't even realise they're made with total whole food ingredients and filled with tons of energy. The main sweetener here are dates, which are naturally sweet, chewy and loaded with tons of nutrients, vitamins and minerals such as fibre, vitamin A and vitamin K.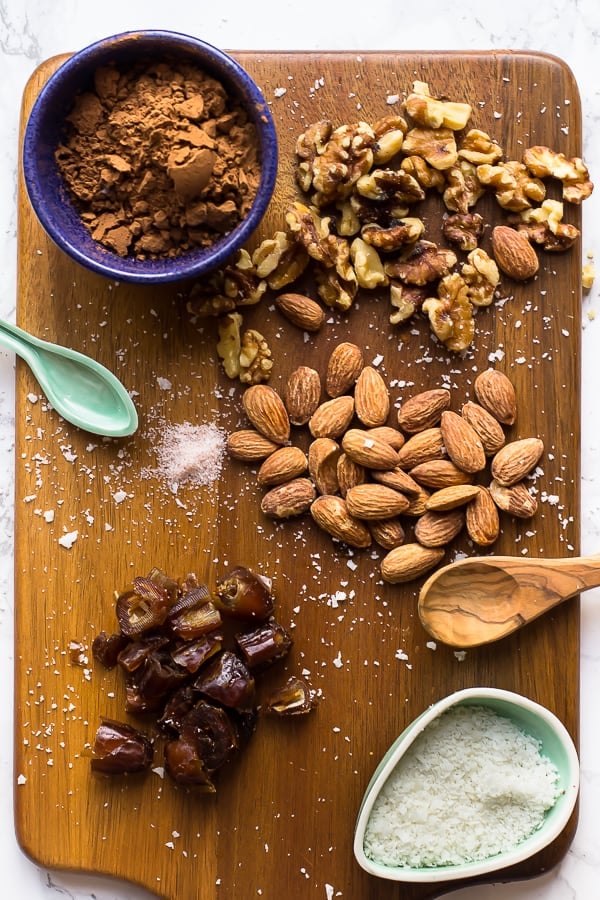 I made these recently again in my healthy plane travel snacks post and for my last trip to Salt Lake City and they really helped not only to keep hunger at bay, but also to help stave off the sweet sugary treats in the airport. I randomly added in some coconut then and knew I had to add them permanently to the ingredient list for these babies. Truthfully, when is coconut not the perfect addition? They not only added another layer of flavour, but make the outer layer of these brownies even cuter and pretty heavenly-looking.
Win, win.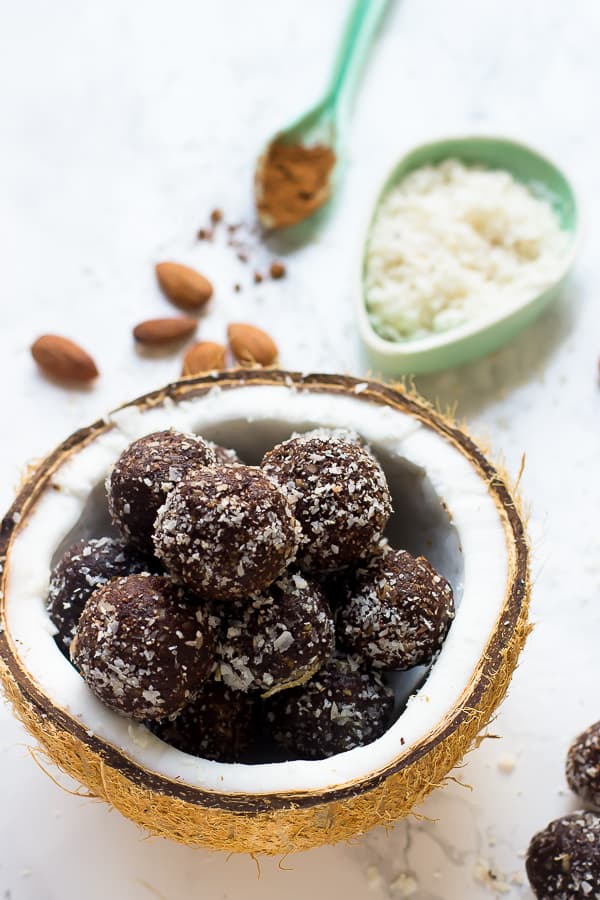 In synopsis, these bites are:
Chocolate-y
Coconut-y
Chewy
Sweet
Cute and
Addictive!
Put them on your to make list for this summer. Put them in a coconut (I am convinced they taste better that way) and eat as much as you like. I promise, you won't be able to stop at just one.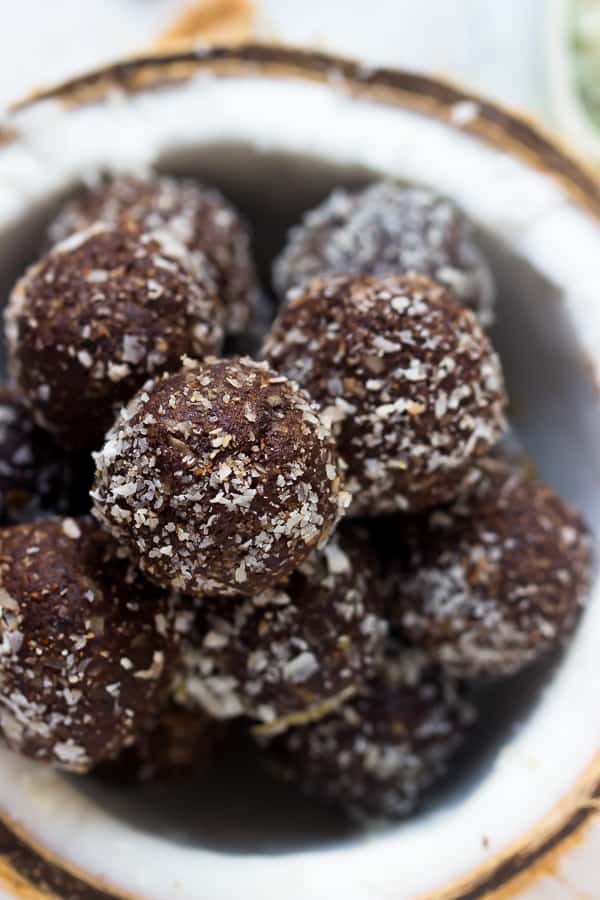 P.S. – WATCH OUR LATEST YOUTUBE VIDEO!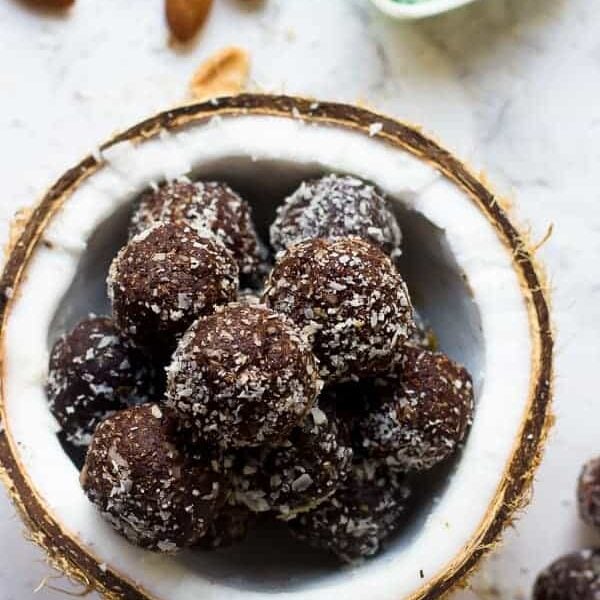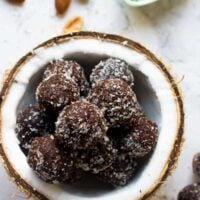 No Bake Brownie Energy Bites
These No Bake Brownie Energy Bites are made with only 5 ingredients, vegan and gluten-free and are a perfect quick healthy breakfast or snack!
Ingredients
1/2 cup walnuts
1/2 cup almonds
1 cup dates, Medjool, chopped
1/3 cup + 2 teaspoons unsweetened cocoa powder
1/2 cup shredded coconut flakes
pinch salt
Instructions
Grind the walnuts and almonds in a food processor, until a dough starts to form. Add the dates, cocoa powder, ¼ cup shredded coconut flakes and salt and process until incorporated and the mixture begins to turn into a dough.

Roll the mixture into round balls using the help of saran wrap (wrap it around the bites to form a circle), until all the mixture is finished.

Roll the balls in the last ¼ cup shredded coconut flakes.

Place in the fridge for at least an hour, then enjoy!
Notes
This recipe is raw, gluten free and vegan. If you're using regular dates, you may need to soak them a bit since they're drier than Medjool dates.
HOW TO STORE
You can store these brownie bites in the fridge in a zipped or air tight tupperware container for at least 3 weeks if the dates are fresh.
If you try these No Bake Brownie Energy Bites please let me know in the comment section below, or tag me on instagram with the hashtag #jessicainthekitchen! For more exclusive recipes follow me on Instagram AND on Snapchat: jessinkitchen.
Calories: 97kcal, Carbohydrates: 10g, Protein: 2g, Fat: 7g, Saturated Fat: 2g, Sodium: 2mg, Potassium: 150mg, Fiber: 3g, Sugar: 6g, Calcium: 22mg, Iron: 1mg
Disclaimer: Although jessicainthekitchen.com attempts to provide accurate nutritional information, kindly note that these are only estimates. Nutritional information may be affected based on the product type, the brand that was purchased, and in other unforeseeable ways. Jessicainthekitchen.com will not be held liable for any loss or damage resulting for your reliance on nutritional information. If you need to follow a specific caloric regimen, please consult your doctor first.